Pinck in Paris?! Oui, oui!
Just last week, the SoP team + friends took on Paris. Leading up to the trip, we were a bit nervous and didn't know what to expect due to the city-wide protests and unpredictable weather calling for rain. Yet, to our surprise, the weather was gorgeous, and the protests were only one night (and we got a front-row seat since they were right below our Airbnb!). From the location of our stay to the food, and of course the shopping, we had such a great time exploring all the city had to offer.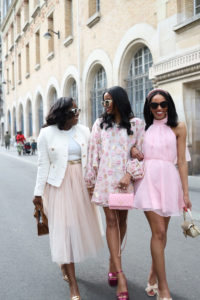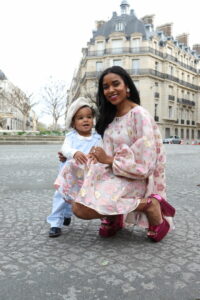 Here are our recommendations for your next trip to Paris!
Where to Stay
Since we were traveling with a large group (7 of us including Teagan!) we thought it would be best to stay in an Airbnb. Located right in the 2nd arr., we were a stone's throw away from the hustle and bustle of the city which made getting to our destinations easier with the Paris traffic. This Airbnb was stunning! The stairwell made you feel like you were in an elegant Parisian palace and the apartment was modern in furniture and amenities, but there were classic touches in architecture. Lucky for us, there was an elevator to help us get to the fifth floor– which is rare in older French apartments! In total there were 4 bedrooms which was plenty of space for all of us, a huge living space with a dining table, and a full kitchen which proved very convenient since we had a toddler with us! If you are traveling to Paris with a large group, I definitely suggest looking into staying at this property or another gorgeous one from this host.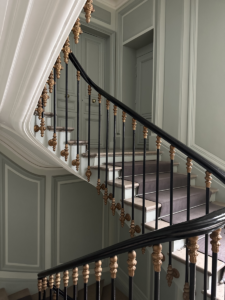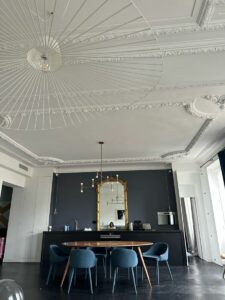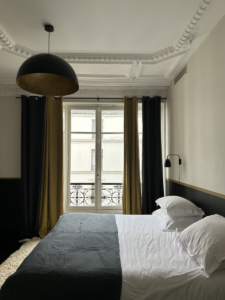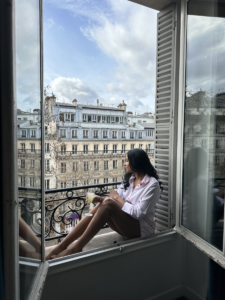 Where to Eat
We started and ended our trip at this quaint little neighborhood café and it lived up to our Parisian café dreams. During our first visit, we enjoyed little glasses of champagne with a cheese and meat board + discovered Roquefort cheese which soon became the staple snack throughout the trip! We later returned for lunch where we enjoyed cocktails and yummy bites like croques madames and cheeseburgers which were sooo good (even rivaled American ones!)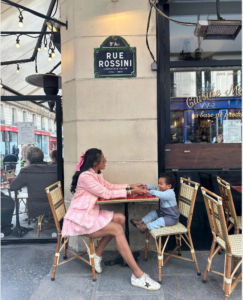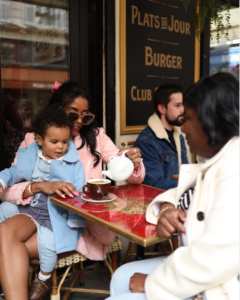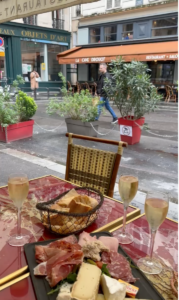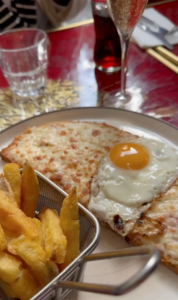 This adorable pink restaurant was just as delicious as pretty! From the neon signs, cascading flowers, and pink chairs, the SoP team could not get enough of the entire aesthetic. Favorite dishes included the truffle rigatoni, cheeseburger, and burrata pizza. We also discovered our favorite drink that we quickly discovered was a popular cocktail across the city: the pornstar martini.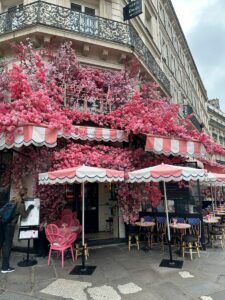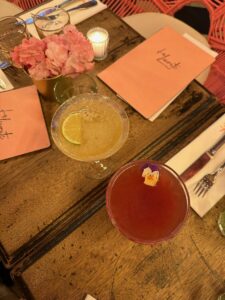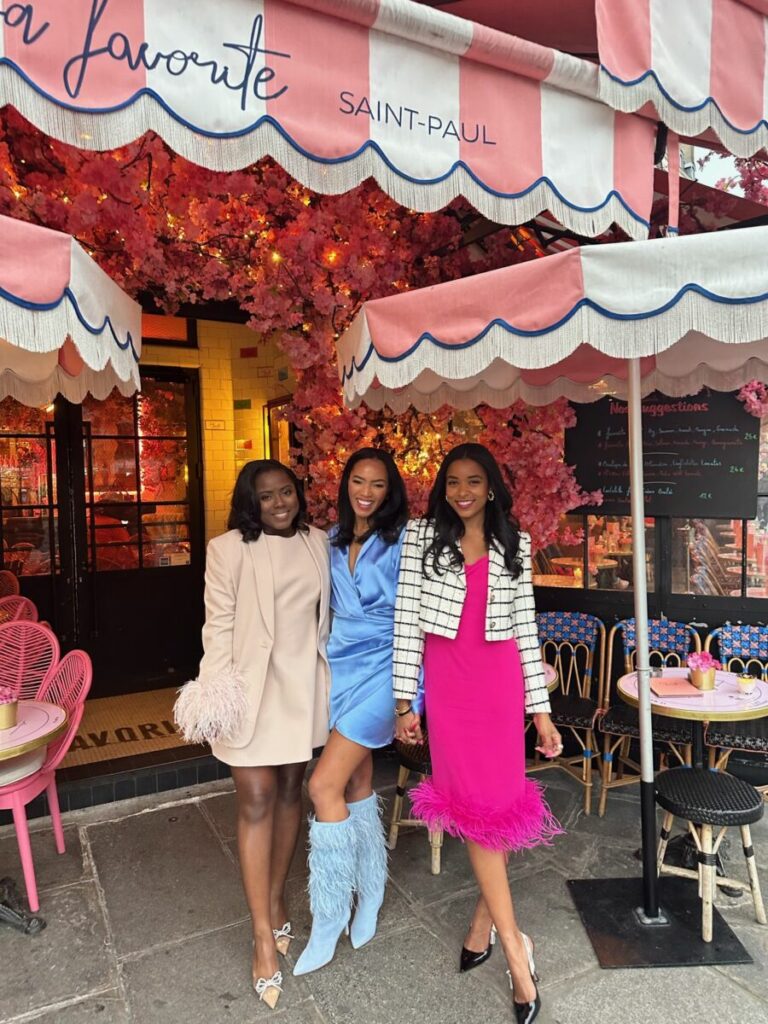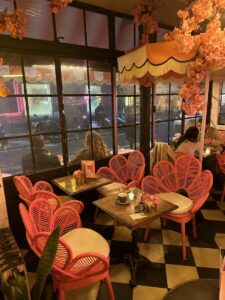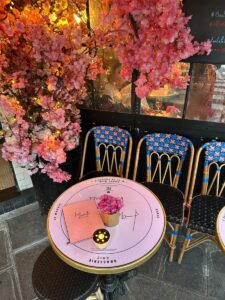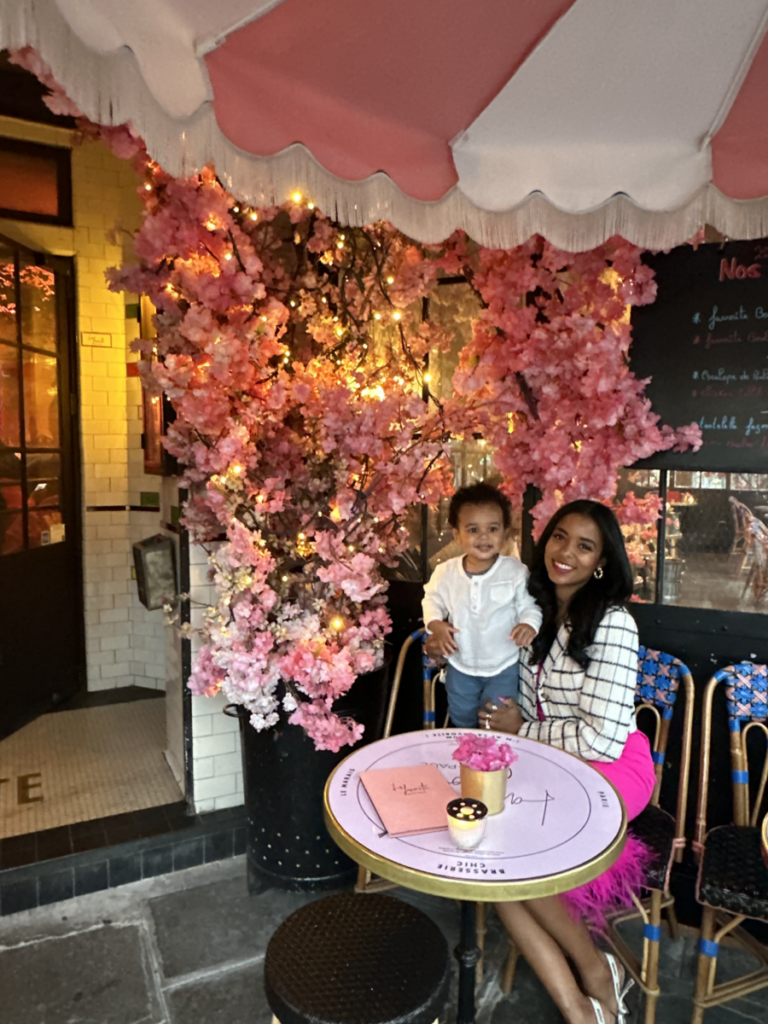 This was another adorable pink café with the cutest aesthetic. We sat outside where each chair had its own pink blanket and sewn hearts hung from the awning. Their brunch menu had a wide variety of dishes, but the star was by far their waffles. From the smoked salmon waffle to the chicken and waffles, we could not get enough. Highly recommend stopping in here for the cute vibe and the yummy food + big portions!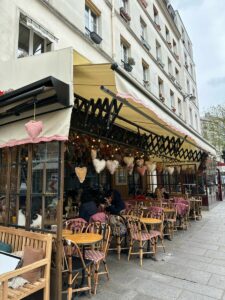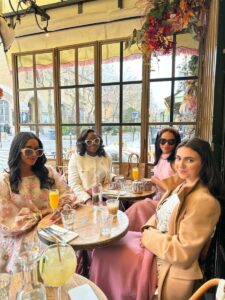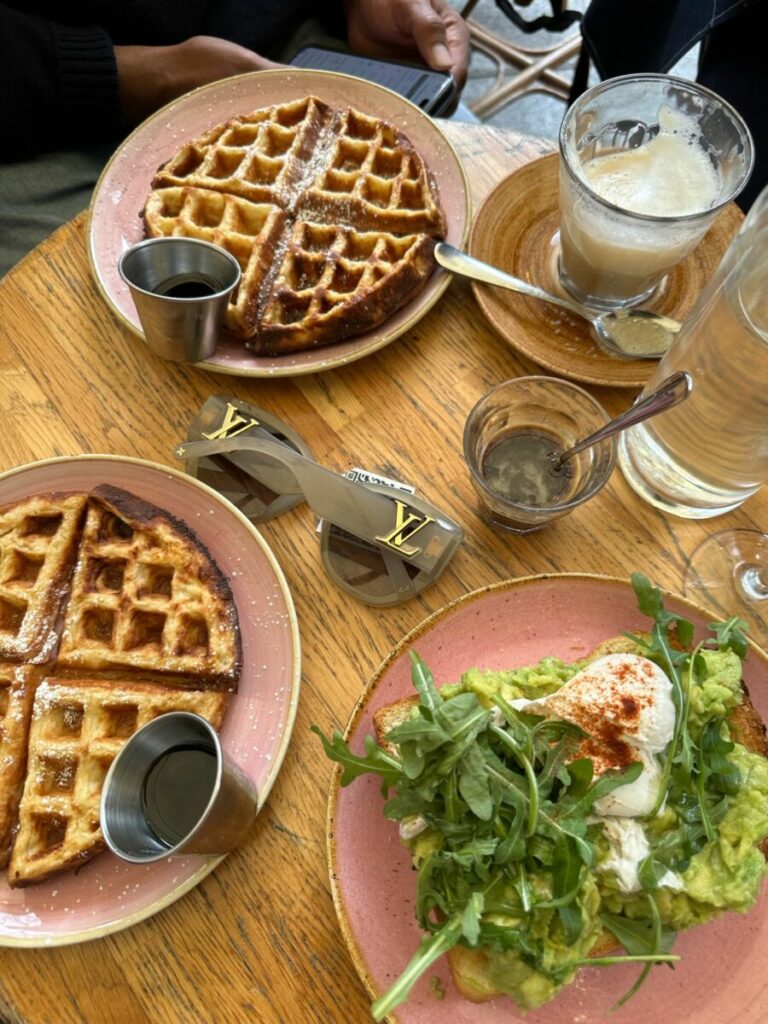 After a night of riots right below our Airbnb + missing our dinner reservation, we stumbled upon this small neighborhood restaurant. Although we did not know what to expect, this charming place served up some delicious French classics like croques monsieurs and ravioles du dauphiné. We all enjoyed ourselves as we sipped on French wines and cocktails before heading out on the town.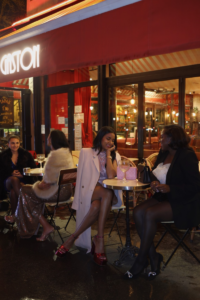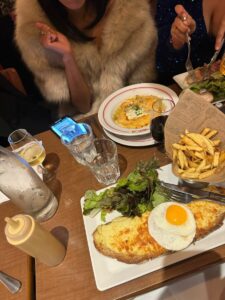 Ladurée is a French classic for macaroons and pastries and is often a spot for many tourists. Although frequently visited, it alwaysss lives up to its reputation. After shopping around Saint Honoré, we stopped in for a quick bite to eat before heading home. They had what seemed like 50 different flavors of macaroons to choose from, éclairs, croissants, hot beverages like lattes and matcha, and so much more. It was such a great place for a sweet treat after our morning at the shops.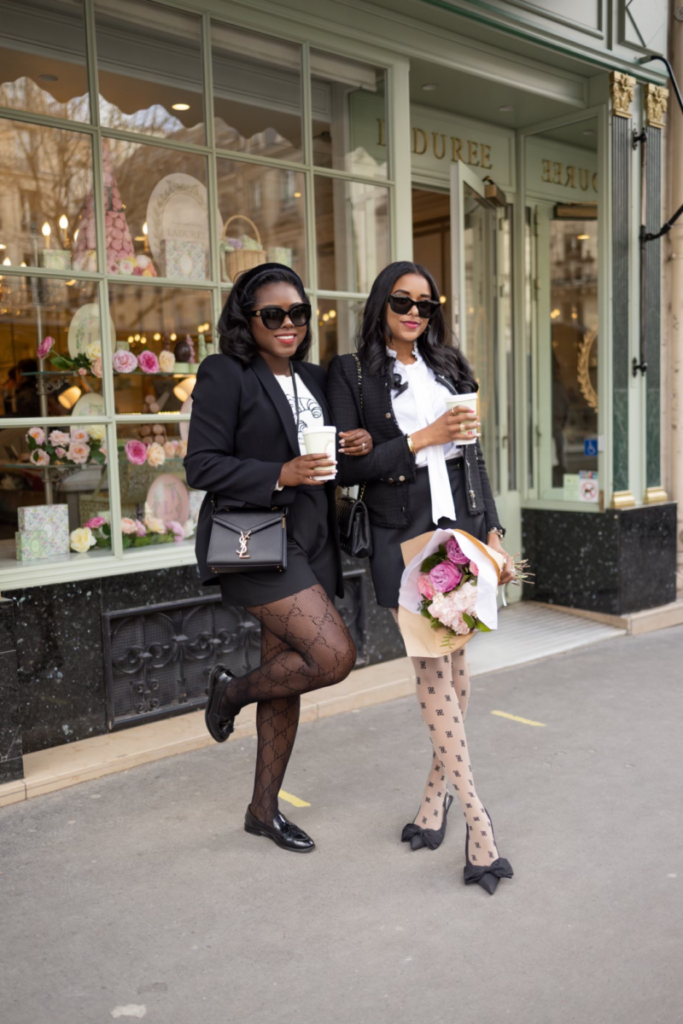 After a rainy day of shooting content, we unexpectedly ended up in this tiny café. Little did we know that many cafés are against photography in their establishments. However, to our surprise, we were able to escape the rain and find a café that was willing to allow us to shoot. Ran by a sweet man and one waitress, this sweet restaurant was just what we needed! We all enjoyed a delicious French bottle of wine over some bread and cheese, which again feature the fan-favorite, Roquefort. We couldn't have asked for a better treat after our day!
This restaurant was by far the best of the trip! Hidden on a back street of the Marais district (so hidden we had to call to find it!). Le Colimaçon is two stories and very much felt like a family-owned establishment with few tables. We happened to sit upstairs which was peaceful and quiet for our meal. We all enjoyed red wines and ordered the tuna tartare + the red peppers stuffed with goat cheese which were both so yummy. For dinner, we had steak with fries, and duck dishes, and of course, ended with the best salted-caramel french toast that was to die for!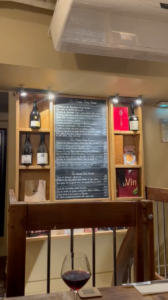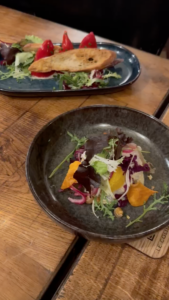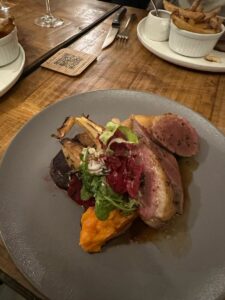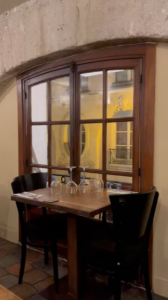 We ate here on our last night in Paris and it was a great way to end our trip. We started with some great glasses of red wine and cocktails. Everyone ordered a little something different, but we all really loved the pasta carbonara! To end the meal, we ordered some salted caramel french toast which was soooo good, and a fruit tart. We really enjoyed this last bite of French cuisine.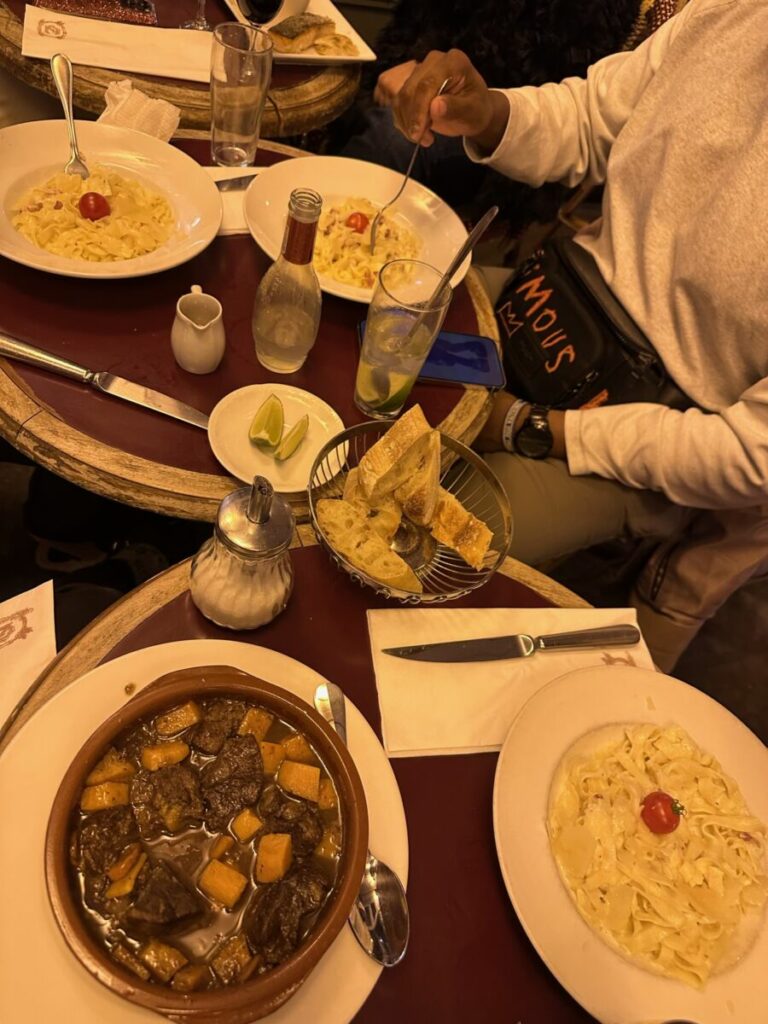 What to Do
Did you know Dior has its own museum? This museum was by far one of the highlights of our trip! To start the tour, you are welcomed into a room to learn the history of Dior as a brand and its founder, Christian Dior. Did you know Christian Dior was very much inspired by flowers and nature around his childhood home? As you walk through the different rooms of the exhibit, you are introduced to designs from different eras of his work. Each room had a different theme that brought to life his creations. We did not have time to do so, but at the end, you can sit down at their Dior Café for a drink and a bite to eat or shop for Dior clothing, bags, and accessories in their store.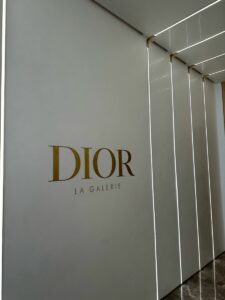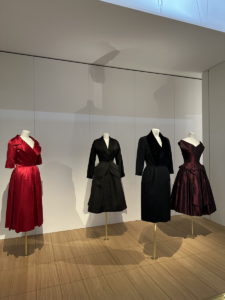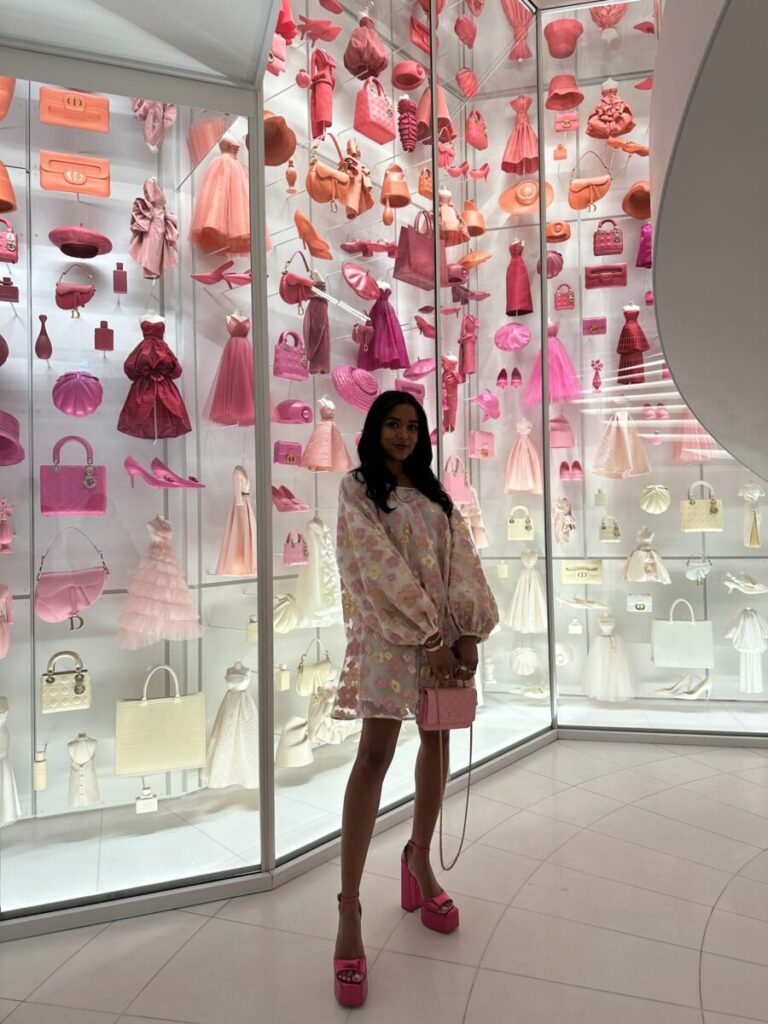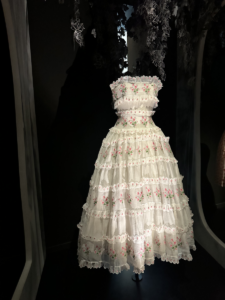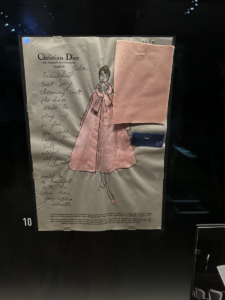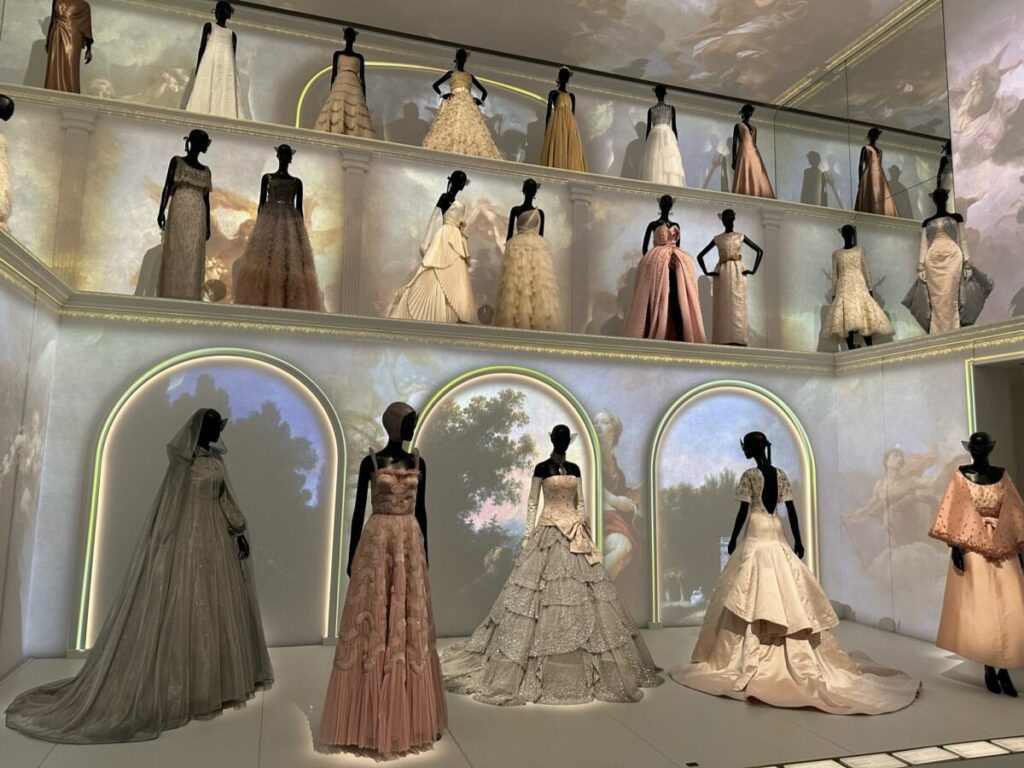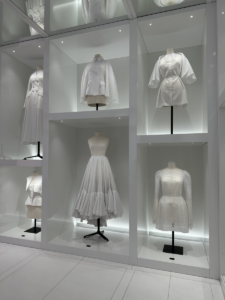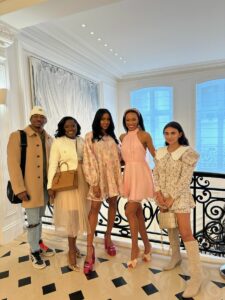 Shop a local supermarket
We were fortunate enough to have a kitchen in our Airbnb so we decided to visit a local supermarket, Monoprix, to stock it up with french goodies. Unlike American supermarkets, French ones are much smaller and sell few options for each product category. From wine to cheese and household goods such as paper towels and laundry detergent, they had everything one could need. And you know we had to get some champagne to celebrate our trip!
Go luxury shopping
Chanel, Dior, and Louis Vuitton are just a few of the classic French brands that line Rue Saint Honoré in Paris. Known for its high-end array of stores, this area has every store you could dream of. The girls (and of course Teagan!) got to stop at Chanel for a little luxury shopping and it was an incredible experience. The store was spread across 3 stories with bags, shoes, cosmetics, and clothing. It was the quintessential Parisian shopping experience. Make sure you head to Rue Saint Honoré to bring home some classic French designs!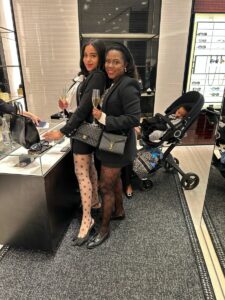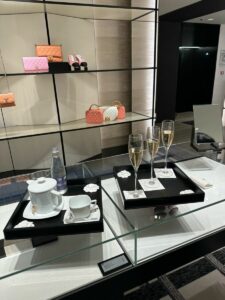 Hit the town for drinks
The nightlife in Paris is unlike any other city. To start off the trip a couple of us headed to Carmona for drinks and a view of the sparkling Eiffel Tower. The restaurant had a moody yet inviting vibe + the drinks were sooo refreshing and good. Later that night we headed to No Entry, a speakeasy that is actually in the basement of another popular restaurant, Pink Mama. To entry of the bar looked like a freezer and on the other side you were greeted by a dark room with walls lined with beakers of plants. We felt like we were in an underground laboratory! The next night we visited yet again another speakeasy called L'Épicier. The entry of this one started in a bodega and as you pulled a box off the shelf, you entered a gorgeous space designed with a Middle Eastern Influence. After a failed attempt to visit another speakeasy on the last night, we stumbled across Bar 38. The music was inviting, the espresso martinis + pornstar martinis were tasty, and the overall vibe was so upbeat and fun. It was a great place to end our trip!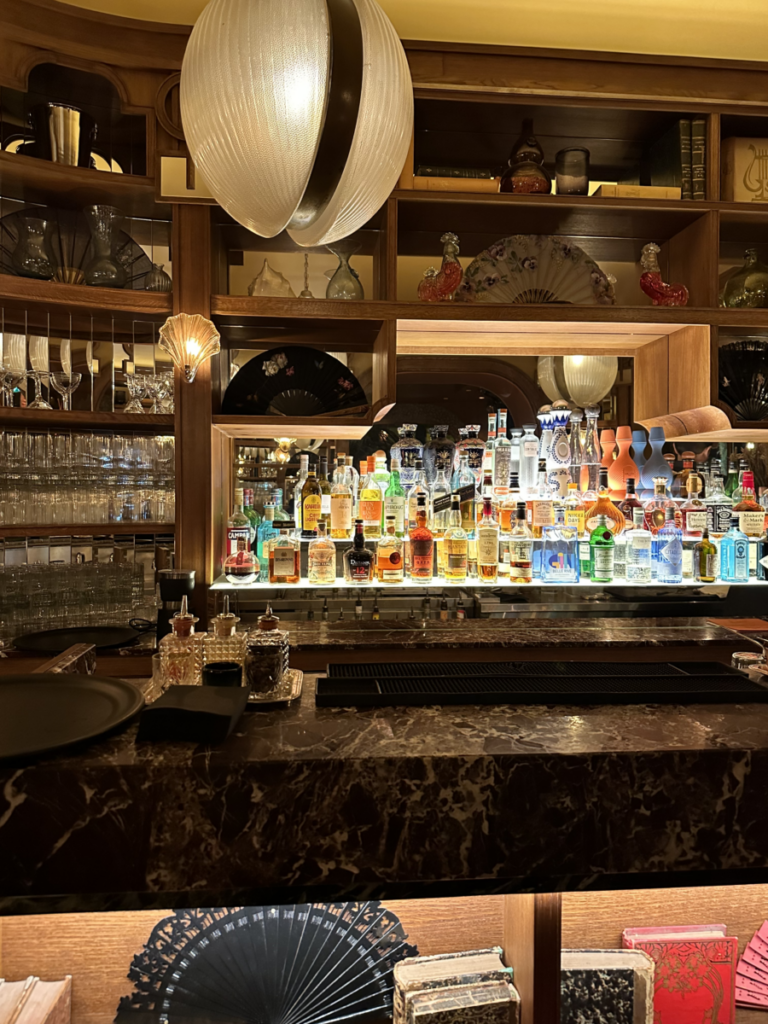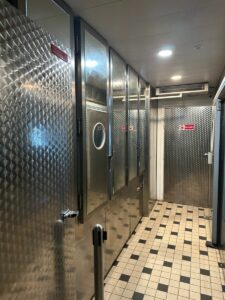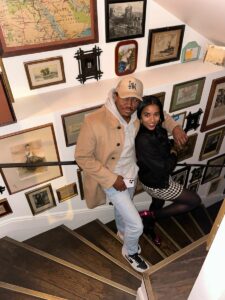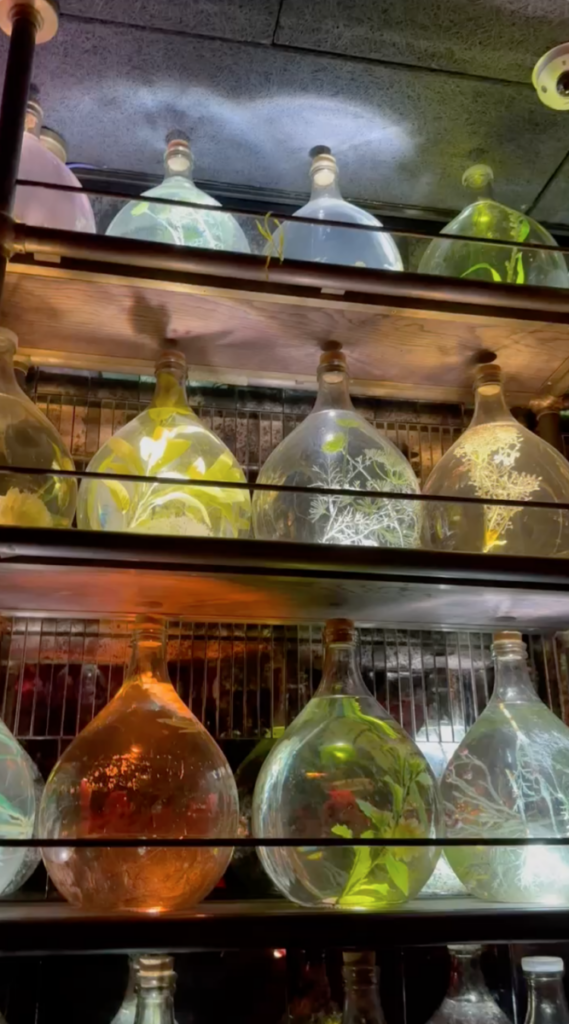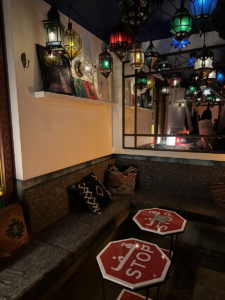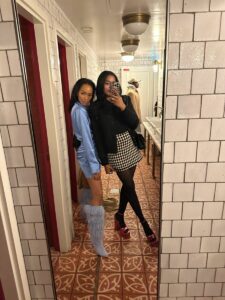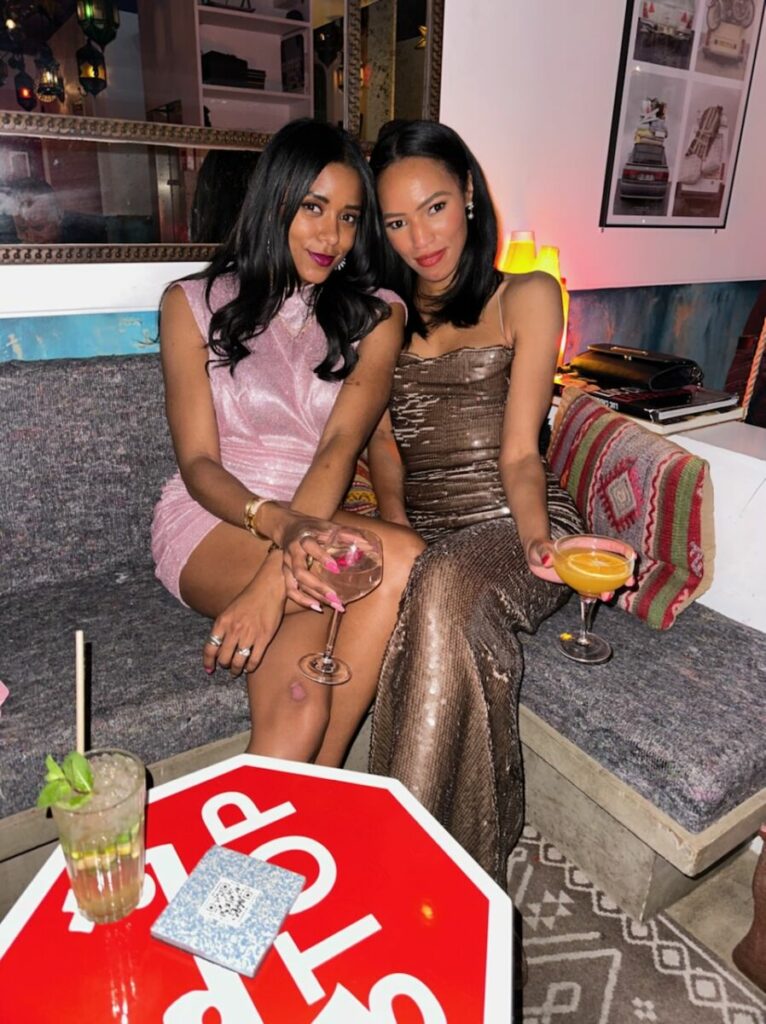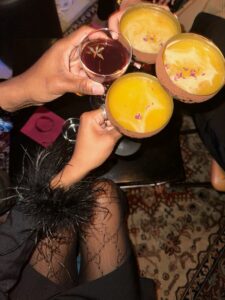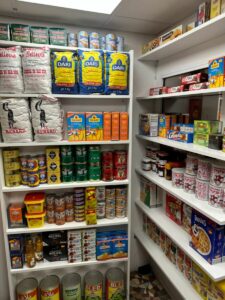 Where to Shop
As mentioned above, Rue Saint Honoré is THE spot for all luxury shopping. We sadly only had time to stop into Chanel, but there is so much more to see. After shopping, there are lots of little restaurants and cafés, like the well-known Ladurée, to grab a bite to eat and fuel up during or after your shopping trip.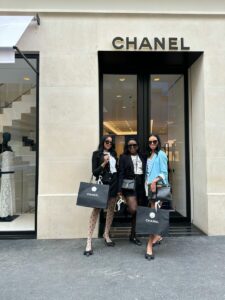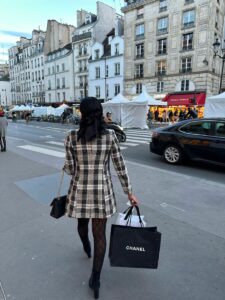 Located in the Le Marais neighborhood, this high-end vintage store had such great finds! From Céline to Christian Dior, there were lots of hidden designer finds. Each rack belonged to a different collector and there were even a couple of pieces that were repurposed and designed by a collector in-house. Dressing rooms made it easy to try on our finds + everyone walked out with something!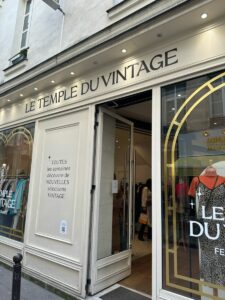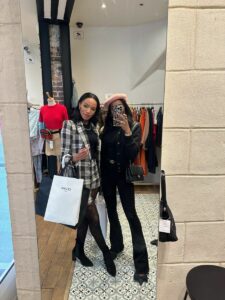 Check out these other images from the trip!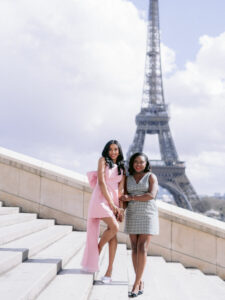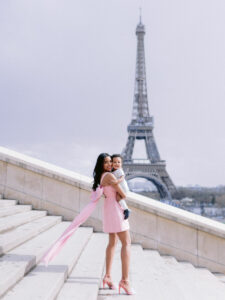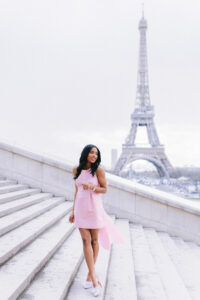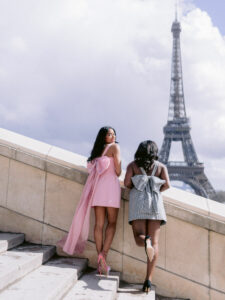 -♡Margaux