Everyone that visits San Francisco immediately falls in love. Its been said that it "is a city where people are never more abroad than when they are home!" For that reason alone, if you have not yet visited you should be planning a trip to the Golden City.
Here are 10 things you should know before your first trip to San Francisco:
1. Its freezing there, even during the summer! Mark Twain once said "the coldest winter I ever spent was a summer in San Francisco". This is not an exaggeration people, this is real! Why is it so cold? Well, the city is right at the mouth of the Golden Gate, the straight that connects the San Francisco Bay to the Pacific Ocean, which draws in wind and fog during the summer causing temperatures to average only in the mid-60s. The best way to avoid being miserable during your trip to San Francisco (or avoid having to buy a completely new weekend wardrobe) is to come prepared. Leave your shorts and t-shirts at home. They won't do you any good here. Instead, pack jeans and lots of layers. Layers are important because they allow you to adjust when the sun breaks through the fog around mid afternoon and temperatures rise for a couple of hours…before dropping once again. I would also stay away from sandals as cold toes make for uncomfortable walks!
2. Cable car lines can have two hour wait times. You've traveled all the way to San Fran, of course you want to ride a cable car, but nothing about that ride is exciting enough to wait in line for hours. If you really want to take a ride on the city's most infamous form of transportation, do it early in the morning. Very few people ride in the morning which allows you to hop on, experience it (without a massive crowd), check it off your bucket list, and then hop off and continue your day. However, if you HAVE to wait until later in the day to jump on a cable car be sure to avoid the lines on Powell and Market streets. Both streets are the beginning of two major cable car routes so they are always frequented by tourists. Instead try jumping on the California Street line. Note: cable car fare is $7 and it isn't an efficient way to get around the city at all, you're only reason for jumping on should be to say you've done it!
3. San Fran is made up of steep hills. Its actually pretty spectacular to be able to stand at the top of a street and look out onto the other side of the city, getting a glimpse of the bay and roads that look like ocean waves frozen in time. What isn't as awesome is looking up at a hill knowing that you have to hike it to get to point B. For that reason, you should really take a moment to plan out your day before you leave your hotel room. Grab a map, yes one of those paper things our parents had to use before smartphones were invented, and determine the smartest, most efficient route for all of your inner city destinations. That way you can spend your day walking down hills instead of up them. Your wallet will also thank you because the fare you spend on a taxi or uber to get you two or three blocks up a hill will add up if you're constantly calling them.
4. You really can find great food on Fisherman's Wharf.  Chances are Fisherman's Wharf is on your list of places to see if you're visiting San Fran for the very first time. But to be honest, there really isn't much there… unless of course you're a fan of people watching or birds that stalk you, awaiting the moment you leave your food unattended. Granted, it is an landmark and it should be seen. Plan your visit to correspond with a mid-day snack so you can zip in, grab some food, walk around, and then head out. Contrary to what snobby foodies may tell you, Fisherman's Wharf does have great options. The lobster roll from The Crab Station is to die for and is worth every bit of the $23 they charge. And sure, these clam chowder bread bowls may not have come from Boudin, but I promise they are just as delicious.
5. Bike, don't walk, over the Golden Gate Bridge. I made that mistake so I'm telling you from experience. It makes way more sense to bike over the Golden Gate Bridge for two reasons. One, bikers kinda have the right of way. There are designated lanes for bikers and walkers, but really if you're walking you just feel like you're always in the way (because you are). And two, the bridge is long and the wind is cold. Therefore, you want to be able to get over it as quickly and as easily as possible. Riding a bike will help you accomplish both of those goals. There are several options when it comes to renting a bike. You can either rent by the hour, or choose a bike tour. Whichever tickles your fancy the most is the one you should choose. Note: to me, driving over the bridge gave me the same amount of satisfaction as walking it did. So don't feel like you HAVE to cross the bridge outside of your car!
6. Union Square shouldn't be your only shopping destination. Sure, you can find almost every high end designer store imaginable in Union Square, but they're no different than the stores in NYC or LA, which means everyone you know either has what's in there, or has seen it. If you really want to get a feel for shopping in San Fran and are on the lookout for something truly unique you should check out their thrift store scene. There's Out of the Closet, Mission Thrift, Held Over, and Wasteland just to name a few. Of course, thrifting takes patience and the vision to see the possibilities a few alternations could make, but its so rewarding. Besides, San Fran was where the hippie movement began…you really think you won't stumble upon a couple vintage gems?
7. Don't expect Haight-Ashbury to live up to your expectations. The Summer of Love was nearly 50 years ago. Long gone are the days of free love, habitual psychedelic drug use, and the belief that a Utopian society could truly exist. Everything in the world has changed since the late 60s, and Haight-Asbury is no exception. The most obvious issue…there's a Ben & Jerry's on the corner of Haight Street and Ashbury Street. This iconic intersection, that was the birthplace of the hippie counterculture and a gathering spot for nearly 100,000 teenagers and young adults looking to escape the social values that were instilled in them, is now occupied by a corporate company that tends to target families. That's just wrong. On top of that, the neighborhood has become more interested in making money off tourists instead of truly preserving it…which is the true antithesis of what this intersection stood for during the Summer of 1967.
8. Set aside time to truly explore Chinatown! Chinatown is one of the neighborhoods that make San Fran so unique. It is the oldest and largest Chinese community outside of Asia and has way more to offer than just those beautiful red lanterns hanging over the Grant Street. Stepping in this neighborhood is honestly like stepping into another country and is the only way you'll ever get to China without a passport. Take time to explore the shops & markets, the Tin How Temple, and especially the restaurants. Note: Yuet Lee is a great place to swing in and grab a box of authentic chow mien!
9. There's a park for Food Trucks to hangout! What better way to taste all that San Fran has to offer than at the SoMa StrEat Food Park.The park is a "culinary carnival and urban playground" with a rotating lineup of trucks and vendors that will satisfy everyone from the self-proclaimed foodie to the pickiest of eaters. The park also features beer & wine sales, carnival games, wifi, TV screens, and heat lamps for cold nights, making it the perfect place to hang out with people (& dogs) of all ages. The park is open Monday through Friday from 11am to 3pm, Saturday from 11am to 9pm, and Sunday from 11am to 5pm. If you're looking for cheap bites with a great atmosphere, this is the place to go!
10. Schedule your trip to allow (at least) a day trip to Napa Valley! You're only an hour and a half from wine country, and one of my favorite cities in America. There's no way you can make it all the way out to San Fran and not take a road trip to one of the world's most famous wine growing regions. Sure, Napa is known for its vineyards and wineries (& you should definitely tour as many as you can – here's a list if you need some suggestions), but it is also home to a pretty vibrant restaurant scene including seven Michelin-Starred restaurants. And because it is surrounded by mountains and has greenery EVERYWHERE, very few places are more beautiful. Trust me, its worth the trip!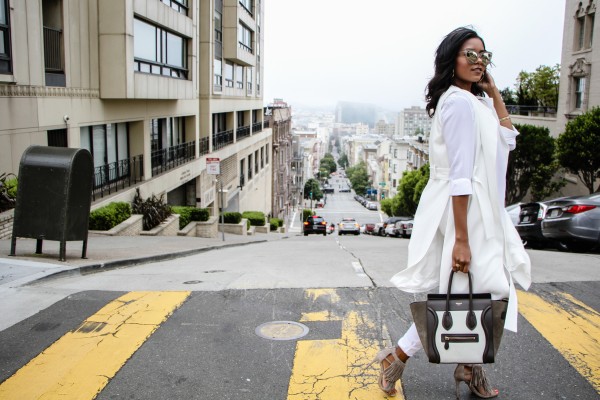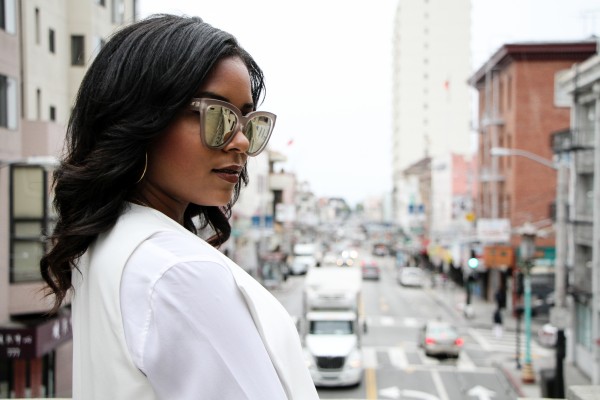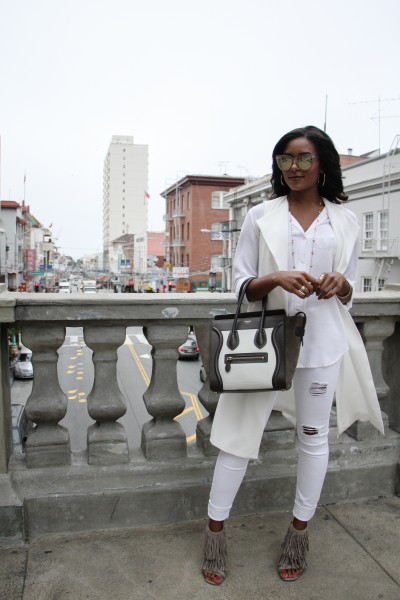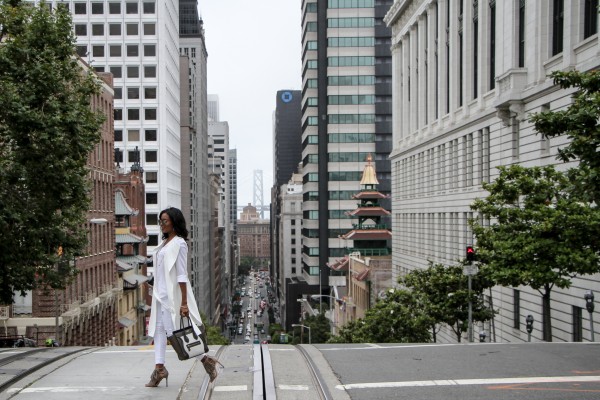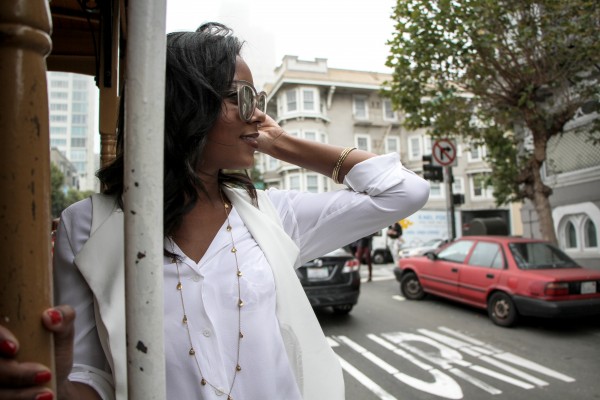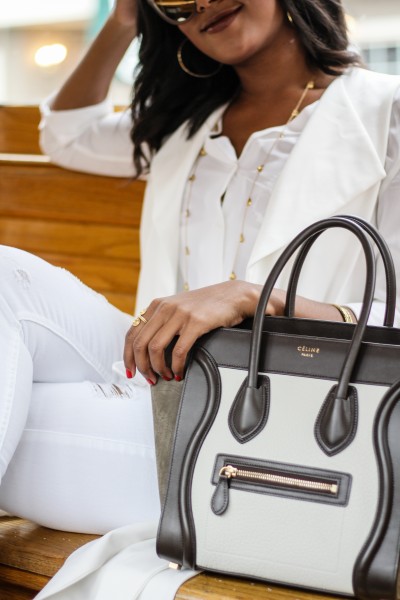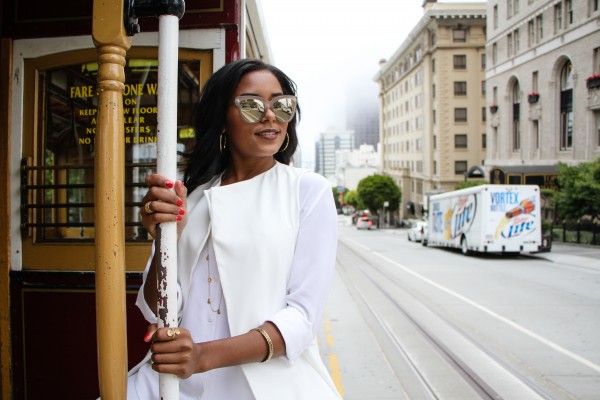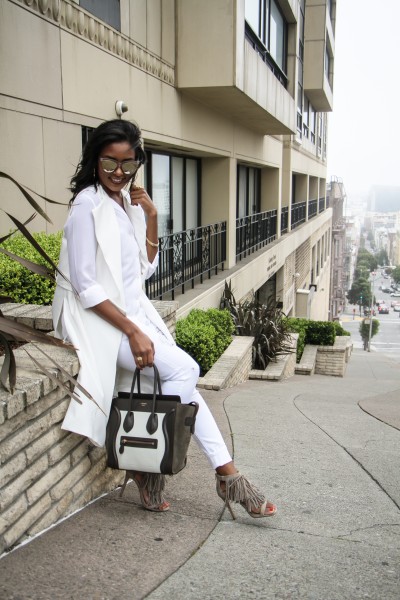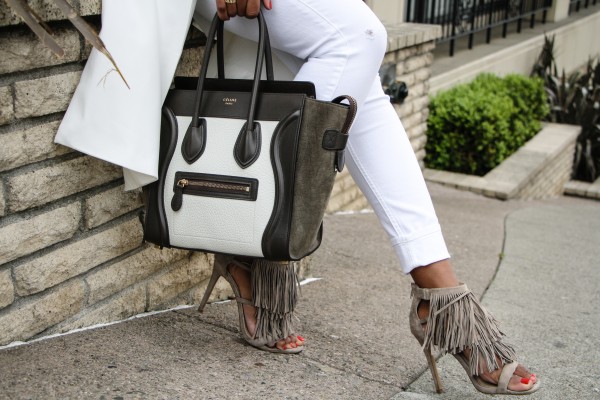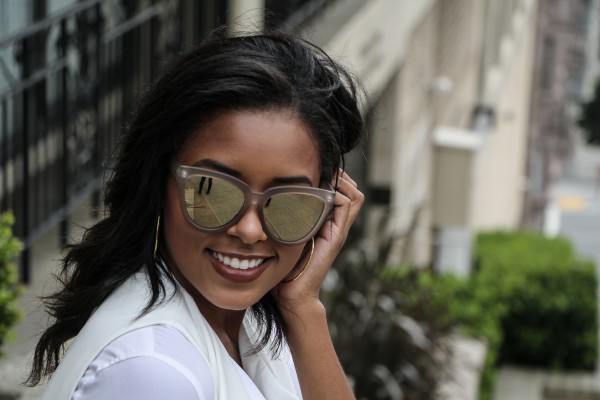 Blouse: Equipment (similar here, here, and here)  // Vest: Zara (similar here, here and here)  // Jeans: 7 For All Mankind // Shoes: Steve Madden // Bag: Celine // Sunglasses: Le Spec  // Lipstick: NARS
All photos: Josephine Tse