Growing up, fall was always an opportunity to reinvent yourself. My mom would take me back to school shopping and we'd spend hours putting together looks that would get me through Christmas break. Still to this day I find that at the end of summer is when I do the most of my wardrobe shopping for the year. I stack my closet with new basics + add in a few trends to get me through the season!
I recently did another "ask me anything" series on IG and got sooo many great questions. But one theme that reappeared over and over again was wanting to know what should be added to your closet. So, I've prepared a list of 10 things that every girl's wardrobe will need to get her through fall in super stylish looks!
1. A Leather Jacket
My most favorite part of fall is being able to throw on a leather jacket. Something about this classic piece makes me feel so bad ass whenever I wear one and so I'm always looking to pair outfits with it. The best part is, it works on super chill days when you want to wear a tee + jeans, but I think it's also so fun to pair with an unexpected feminine dress! Here are a few of my favorite styles: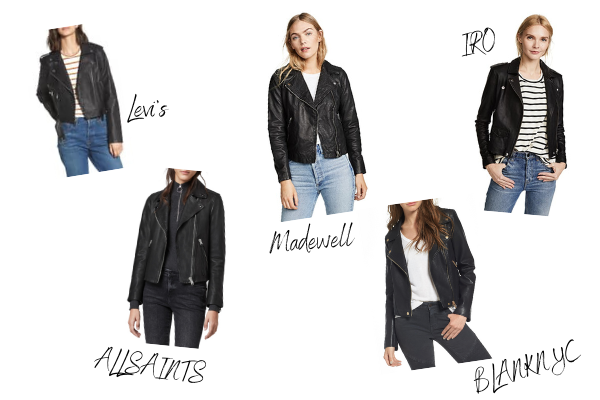 Save: BLANKNYC, Levi's // Satisfy: MadeWell, ALLSAINTS, // Splurge: IRO
2. An LBD
A little black dress is something that every woman should own, but you shouldn't confuse simple with boring. While the dress should act as as base that you could build millions of outfits in top of, it should still have something special that adds a little element of surprise. Here are a few of my faves right now: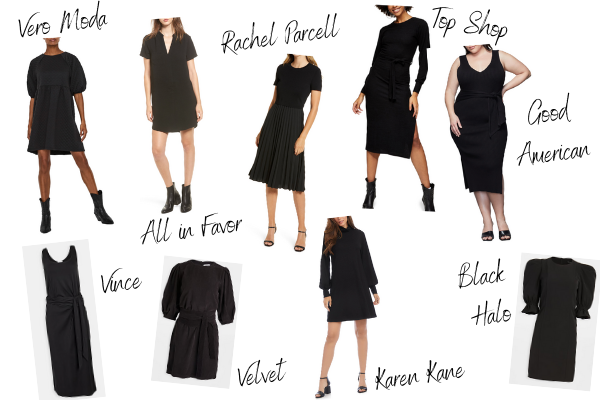 Save: VERA MODA, Topshop, All in Favor // Satisfy: Rachel Parcell, Good American, Karen Kane // Splurge: Vince, Black Halo, Velvet
3. Leopard Print Flats
I live my the motto that leopard is a neutral, so it should be no surprise that I can't live without leopard print flats in the fall! Not only can they take you from day to night, you'll be surprised by how many outfits you style that they'll actually pair perfectly with!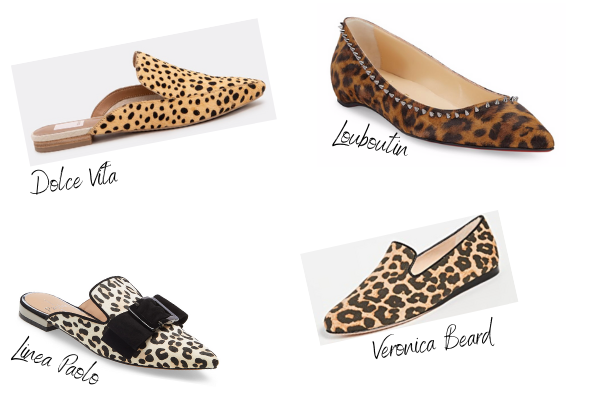 Save: Dolce Vita, Linea Paolo // Satisfy: Veronica Beard, // Splurge: Louboutin
4. A Black Hat
Sometime this season you're bound to have a bad hair day, or two! On those occasions I don't even stress. I simply reach for a black hat and pair it with any kind of black boots. No matter what's in between you're going to look effortlessly fabulous! I love a wide brim hat, but fisherman caps are definitely my jam too!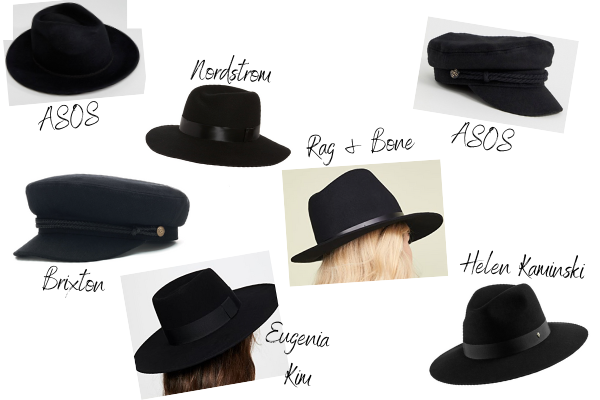 Save: ASOS, ASOS , Nordstrom, Brixton // Satisfy: Rag & Bone // Splurge: Helen Kaminski, Eugenia Kim
5. A Versatile White Jacket
Break any stereotypes that say "you can't wear white after Labor Day" by adding a simple white jacket to your wardrobe. Use it to stay warm on chilly mornings and break up any monocratic look– but it looks sooo good with any all black outfit!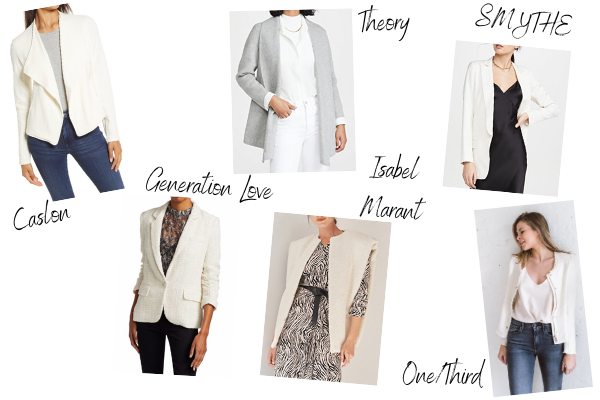 Save: Caslon, One/Third // Satisfy: Generation Love, SMYTHE // Splurge: Theory, Isabel Marant
Use Code Pinck15 for 15% off One/Third
6. A Super Feminine White Blouse
My go-to outfit in the fall is a good pair of denim with a super feminine white blouse. With little effort, it allows you to appear put together and fashionable, yet approachable. Here are some tops to get you through denim days and days where you have to choose something much more elevated.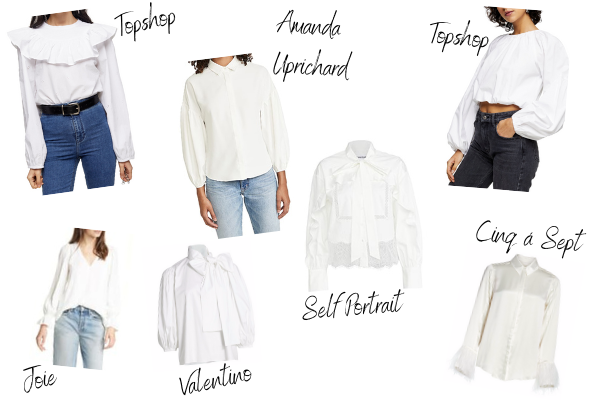 Save: Topshop, Topshop // Satisfy: Joie, Amanda Uprichard // Splurge: Self Portrait, Cinq à Sept, Valentino
7. A Neutral Tote
I couldn't get through my work week without a neutral tote. But just because I use it as as work bag doesn't mean it shouldn't be fashionable enough to match whatever I'm wearing that day. Here are a few totes to keep you stylish as you power through the season!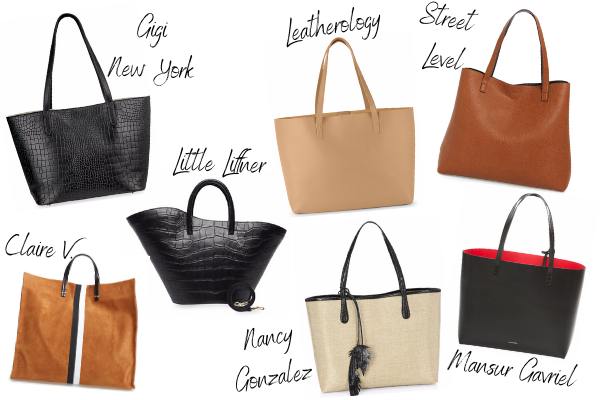 Save: Street Level, // Satisfy: Leatherology, Claire V. , Gigi New York // Splurge: Mansur Gavriel, Little Liffner, Nancy Gonzalez
8. Black Over the Knee Boots
Nothing screams fall more to me than boots, and if you haven't yet added a pair of black over the knee boots to your wardrobe than this is the year to do it. I love them because they instantly add unmatched level of sophistication and glamour. Pair these with jeans or a dress for effortless chic.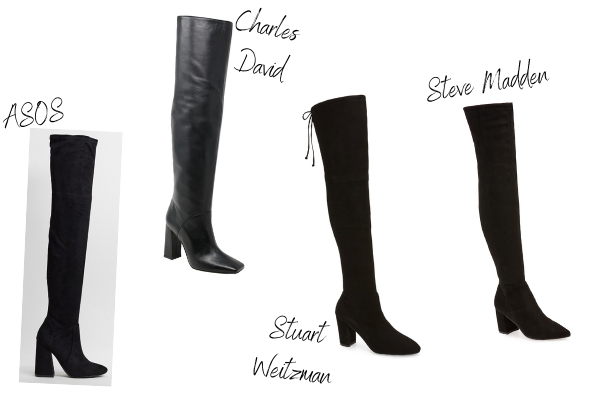 Save: ASOS, Steve Madden // Satisfy: Charles David // Splurge: Stuart Weitzman,
9. A Solid Midi Skirt
I'm all about pieces that I can wear every single week and create brand new looks each time. A midi skirt is so necessary because it truly is one of the most versatile pieces: dress it down with sneakers, keep it cozy with booties, stay casual with a sweatshirt, get down to business with a blazer or be super chic and create a monocramatic look. Whichever vibe you choose– a mid skirt will get you there.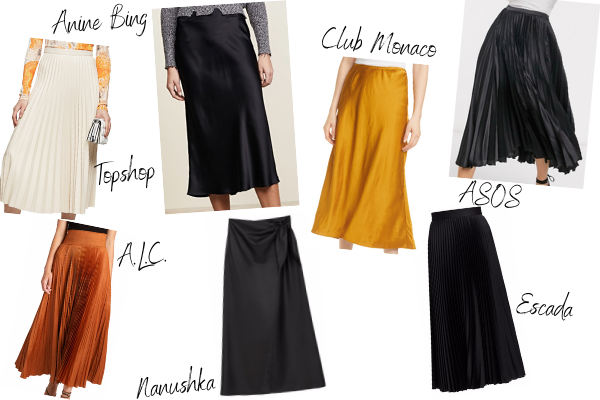 Save: Topshop, ASOS // Satisfy: Anine Bing, Club Monaco, Nanushka // Splurge: A.L.C., Escada
10. A Black Top Handle Bag
A classic black bag is something that will never go out of style, but I've really been loving super feminine top-handles lately. So to round out my list of the top 10 things your closest needs this season is a little bag that Jackie O would have carried!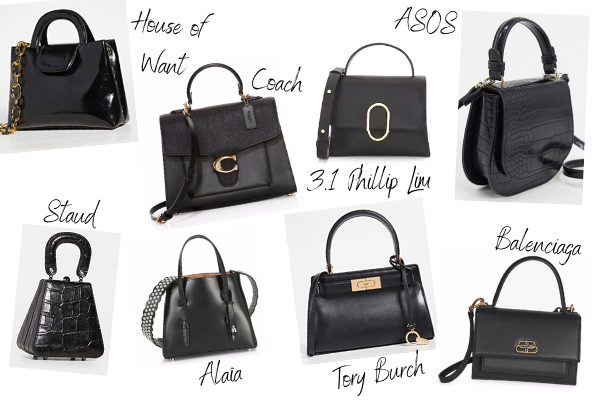 Save: ASOS, House of Want // Satisfy: Staud, Coach, Tory Burch // Splurge: 3.1 Phillip Lim, Alaïa, Balenciaga