This past weekend Todd + I had the opportunity to meet Emeline, a unique boutique hotel experience in the heart of Charleston's French Quarter district.
After checking in with the kindest service (Kevin at the front desk makes you feel like you're the most important guest) + a welcome drink (y'all know I'm a fan of places that greets me with a libation), I took a little tour with Shannon, the marketing director, and she gave me the complete rundown of Ms. Emeline! …and I hope you read that in a Southern accent 😉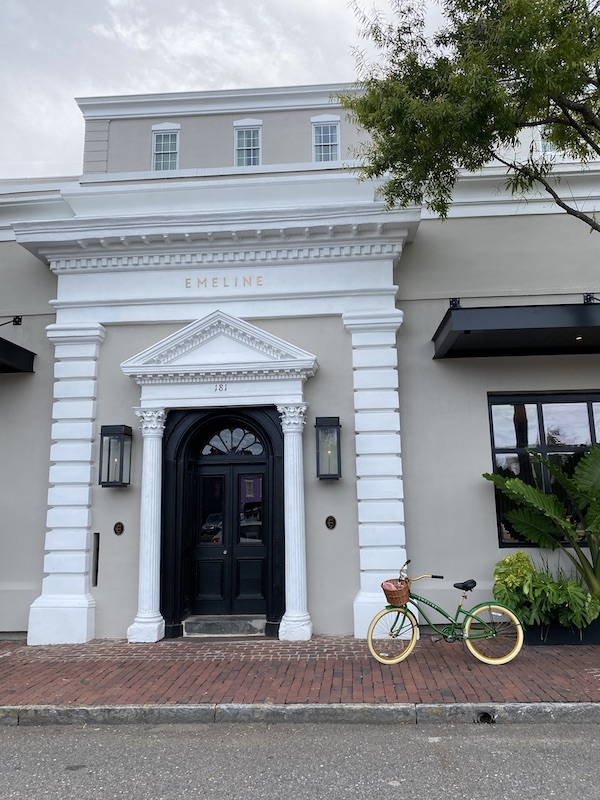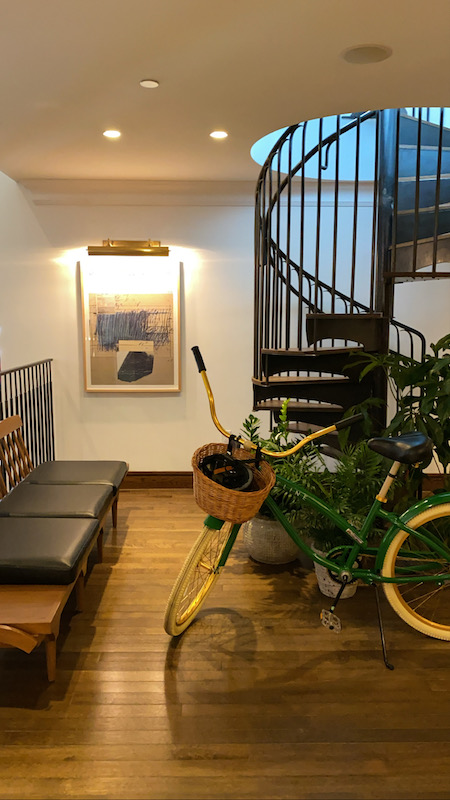 So, Emeline is your classic Southern Belle. Sure, she's full of grace, grit, and determination, but she's also well traveled, uses her eclectic style to tell stories of her experience, and the hotel is her home!
Emeline is the ultimate hostess and elevates each of your senses throughout your experience. Her motto is "surprise + delight". And as you wander throughout every room, taking a peek behind each corner, waiting to discover the next most unexpected thing you'll find things like a squirrel, French lessons in the powder room, different genres of music used in different rooms to set a mood, and a personalized scent that brings a sense of comfort. The best part is you'll get an inviting feeling throughout and soon realize that as a guest here, you have access to everything you'll ever need!
Just beyond her gorgeous black door, that is original to the 1852 building, is her living room filled with contemporary coffee table books to flip through + a collection of records to listen to while you lounge in spaces set up for intimate group settings. If you're the type of guest that loves to see what people display throughout their home, you'll get lost near the ramp where Emeline hides all of her favorite finds from her latest vacations. Trust me– its the most intriguing collection I've ever seen!! When you walk in you will end up in a space that could also be a display case, but is actually the gift shop filled with the neatest little finds from local artisans + small, luxury brands that have personalized product for the hotel… I mean Ms. Emeline!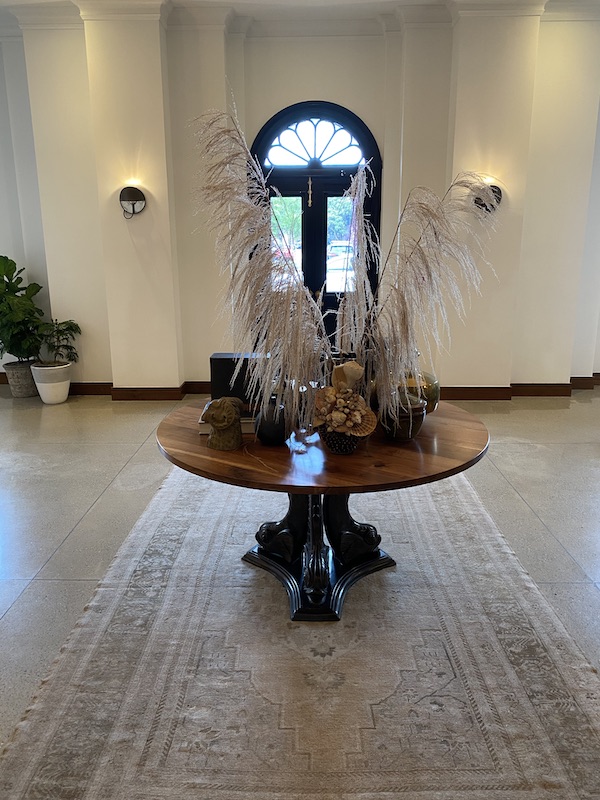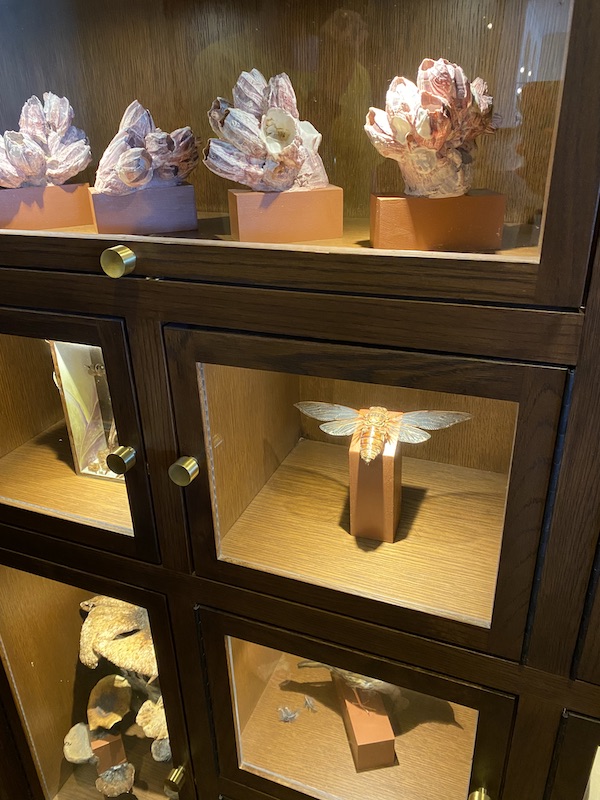 Like most home's kitchens, Clerks, is located directly next to the living area and it's an ode to the wholesale grocery business that existed in the building beforehand. The seating is very communal, the way a kitchen island or breakfast table become when your house is full of people. Clerks is a coffeeshop that offers locally roasted beans, breakfast + lunch in a cozy, handsome setting. But can just as effortlessly be delivered to your room.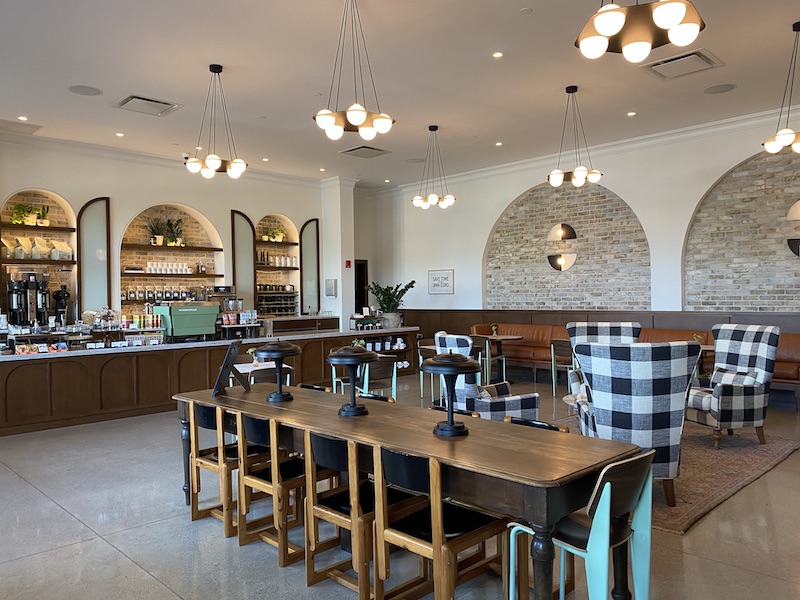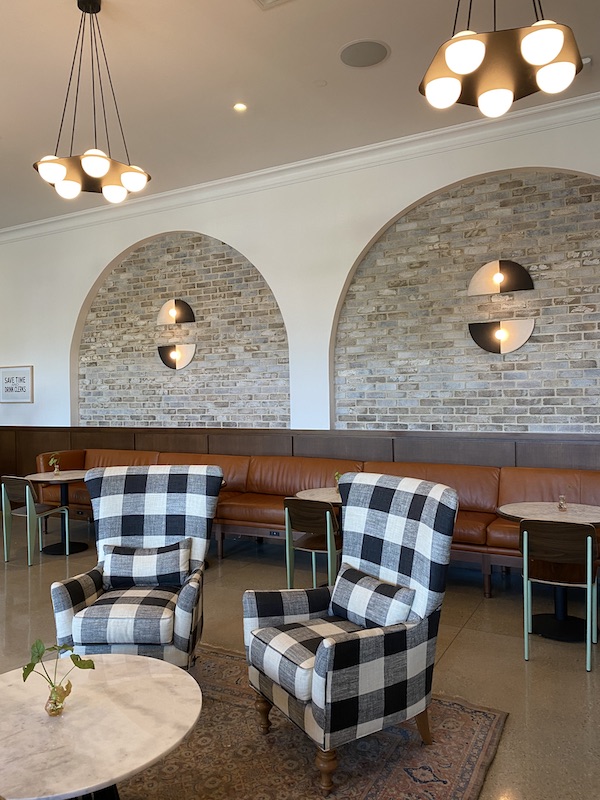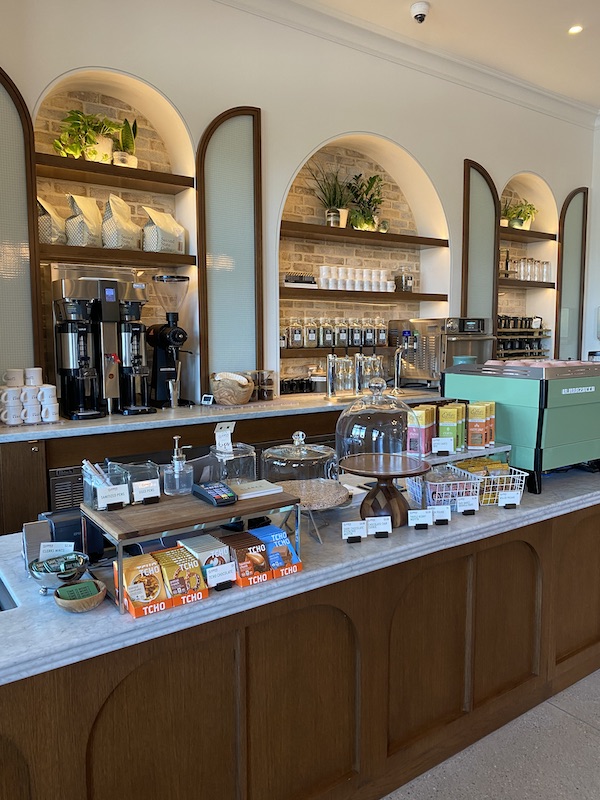 It's worth noting that Emeline has a younger sister, Frannie! She tends to be a little sassier, a little edgier, and sometimes a little more rowdy than her older sister. Frannie + the Fox, the in-house restaurant, is dedicated to her.
Enter through the foxhole, a narrow hallow, completely covered in accent wallpaper + work from several incredible local artists. Here you'll see them make Frannie's favorite meal, wood-fire pizza. And if you look closely you'll find a secret spot to access your next libation 😉
Just past the foxhole is the dining room, which overflows into the outdoor courtyard when the floor to ceiling windows are pushed open! I enjoyed a great deal of time during my stay lounging on the sofas next to the fireplace. But enjoying dinner in the courtyard is a must, even if you aren't staying at the hotel. If you can't snag a seat outside, I promise you won't be too disappointed. The indoor setting is just as cozy + gives ultra chic retro vibes.
**Don't miss their charred corn (omg sooo good), the meatballs, blue crab fritters or Frannie's favorite– a speciality pizza! To drink, I chose tequila-based tear down this wall and loved it!! I'd stop in just for that drink alone.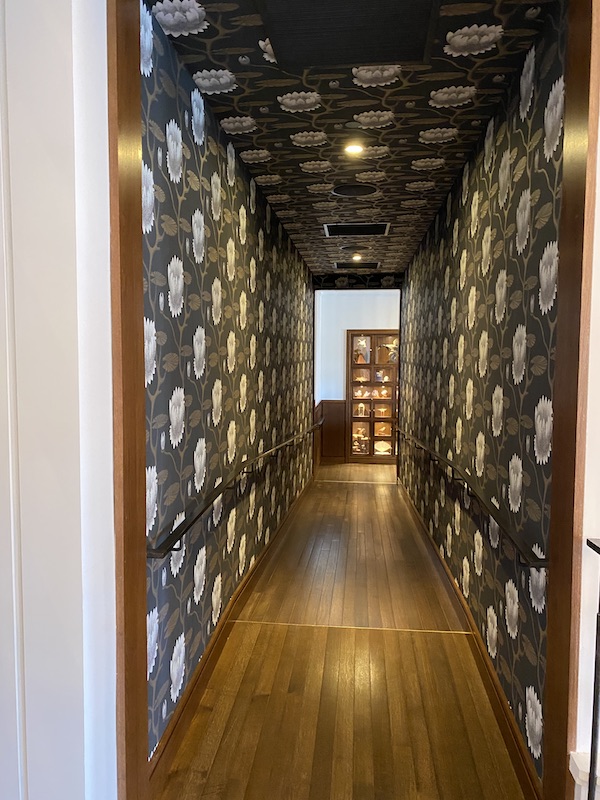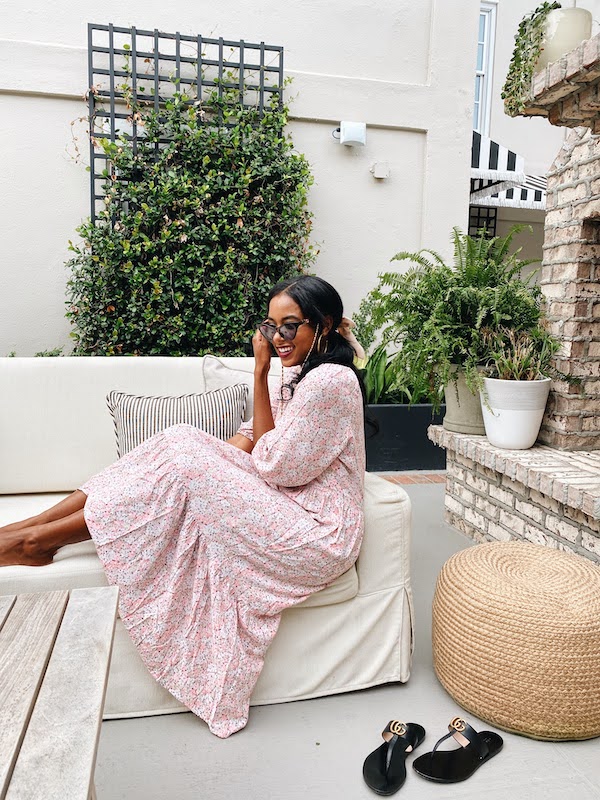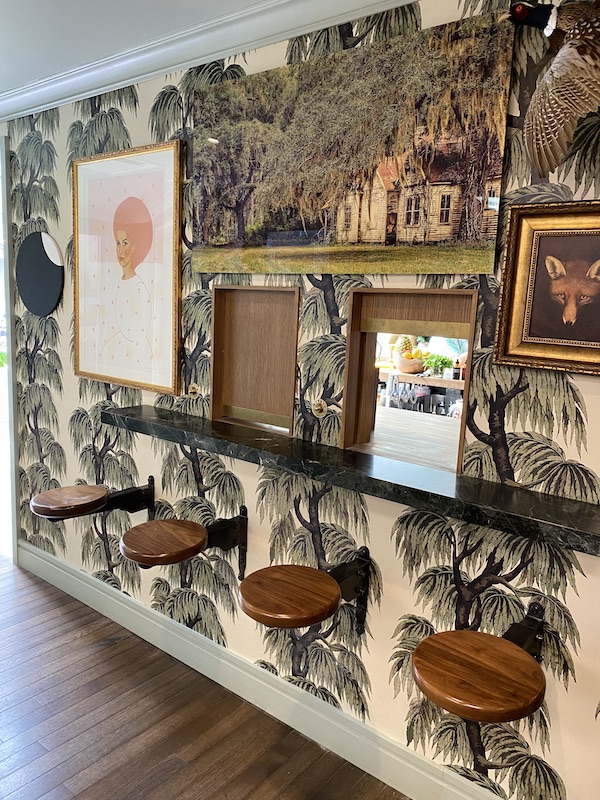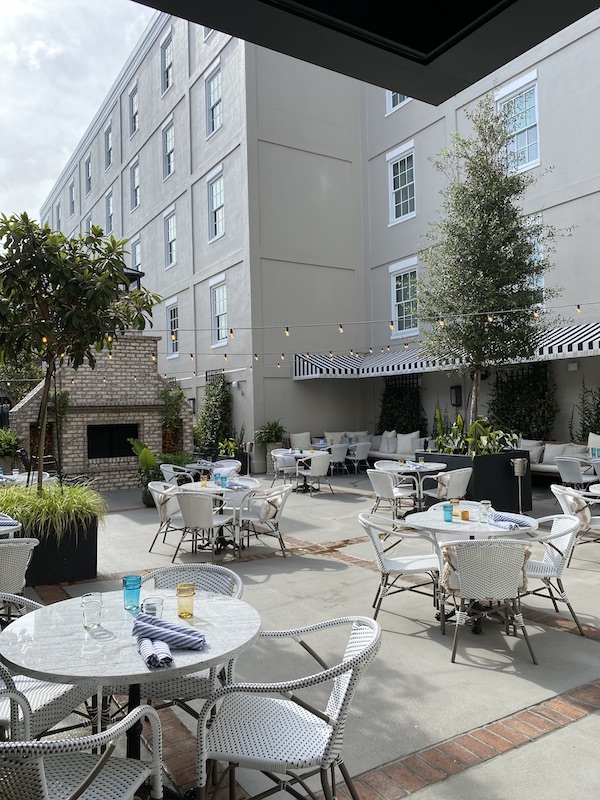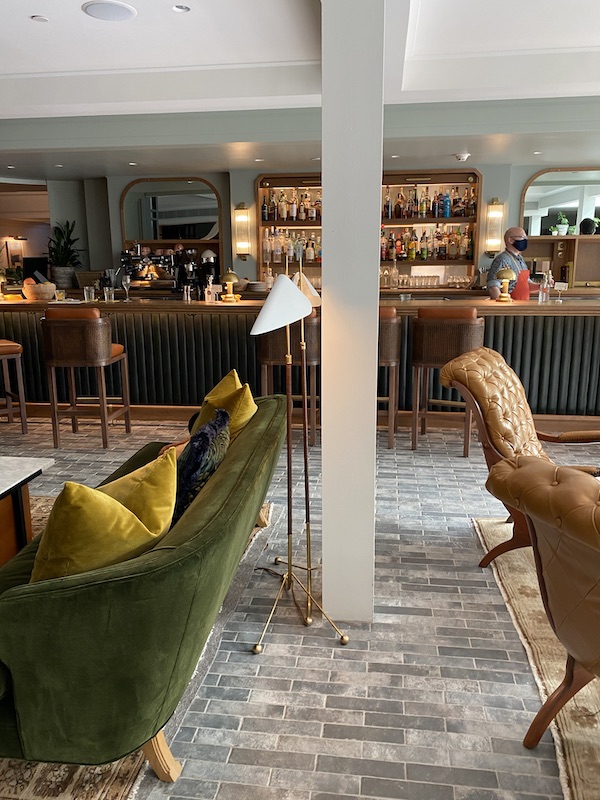 Just upstairs the retro flow continues into your room! A comfortable space with a cool color palette that relaxes + intrigues and more than enough room for you to feel at home. I didn't even mind spending a few hours working on a Friday evening in my room because I felt soo at home.
What made me fall in love with Emeline was finding a custom record that featured all of her favorite songs + a vintage snapshot of Folly Beach. I listened to it + the Nina Simone record I also found on repeat throughout my entire stay. But what made me know she + I would be great friends, was when I found the water filling station (located just off the elevator on every floor). Not only does it provide access to as much filtered water as you need, it also offers sparkling water on tap. And maybe I'm exaggerating just a little…but it was honestly the best sparkling water I've ever had. I'm currently trying to figure out if I can get one installed in my house! LOL.
But what every good hostess knows is that if someone is coming to visit you, they should experience the town just as much as your home. The icing on top of the perfect stay was borrowing Emeline's bikes for a ride South of Broad Street. Because honestly, there's no better way to appreciate Charleston's charm than on a bike!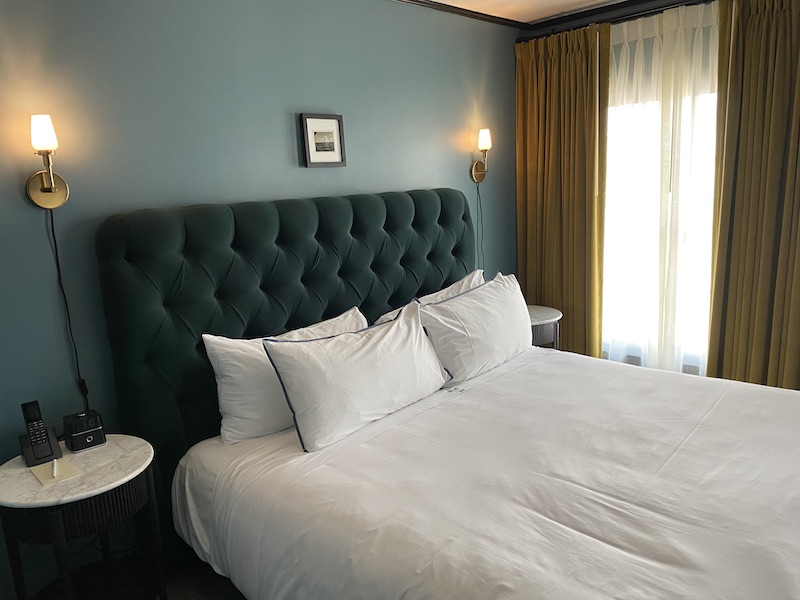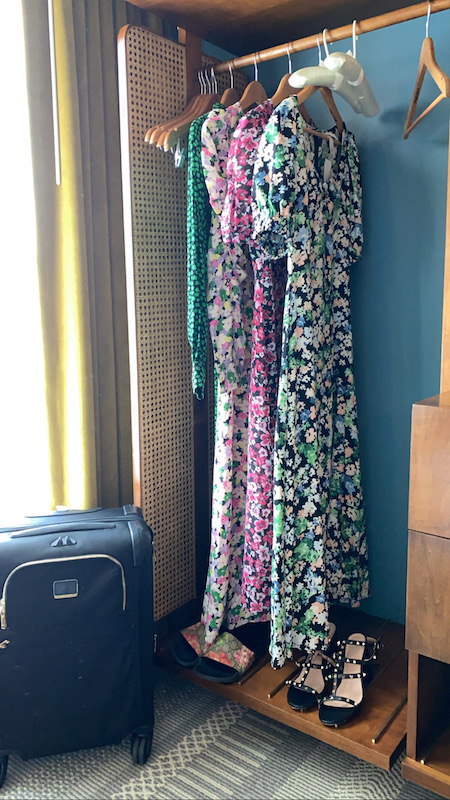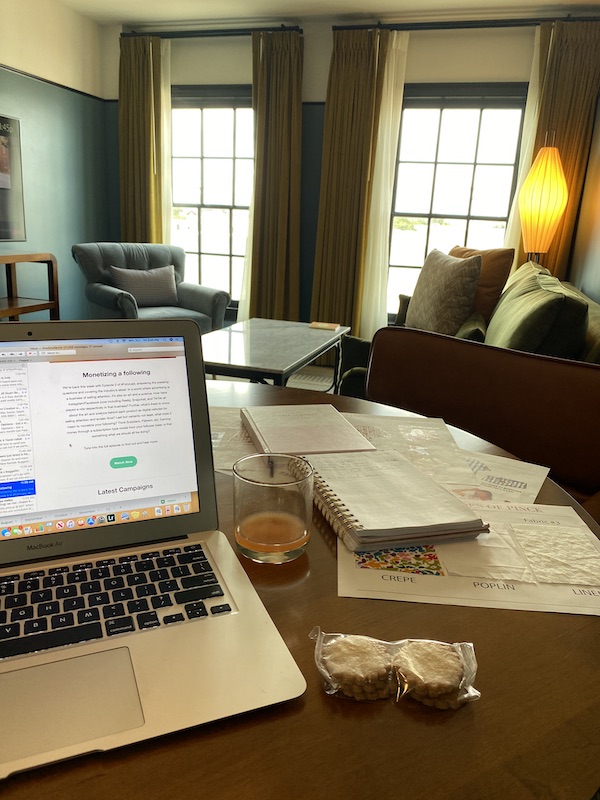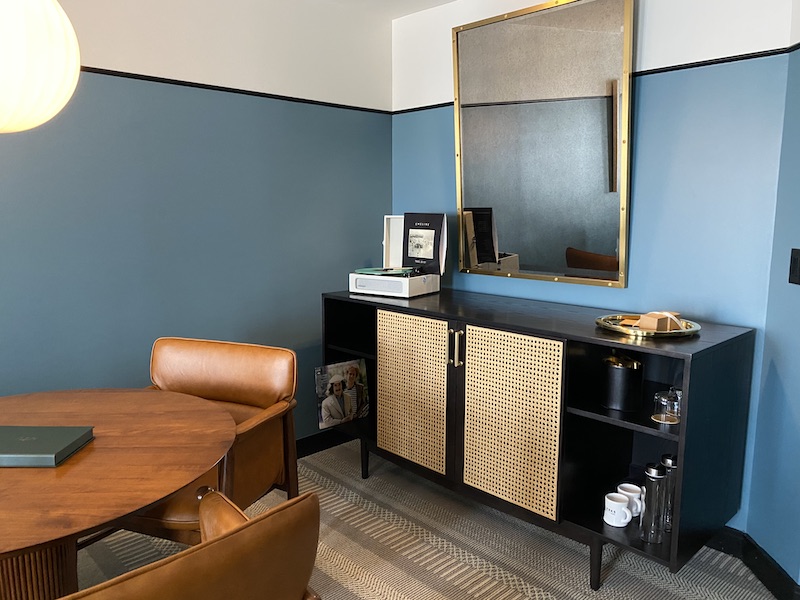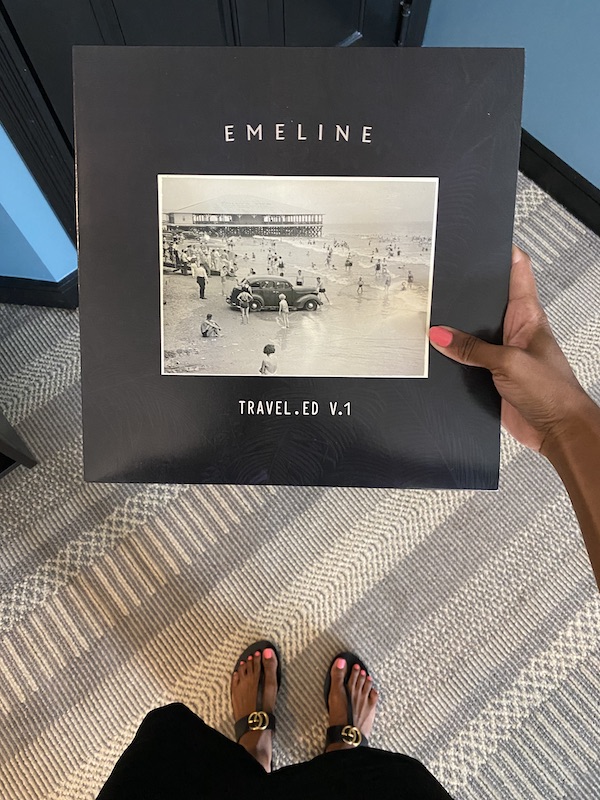 If you haven't yet done so, I highly suggest you meet Ms. Emeline the next time you're in Charleston, SC.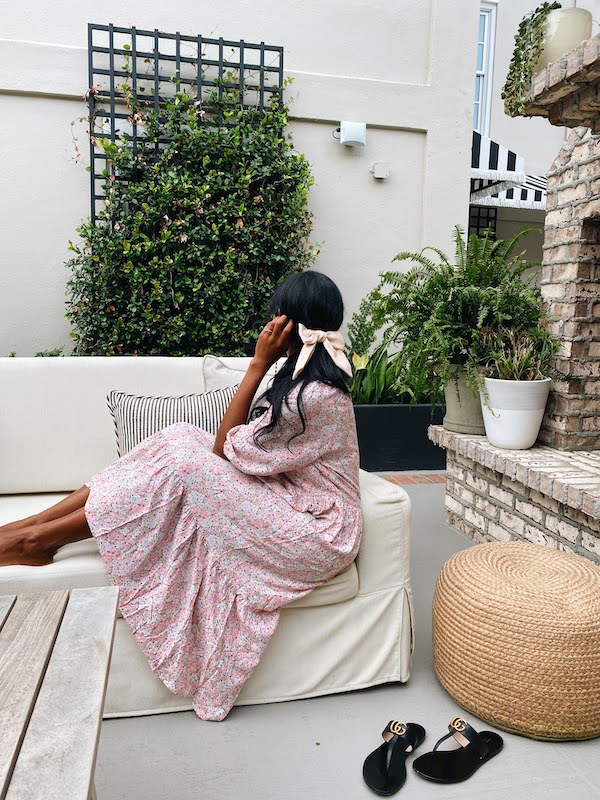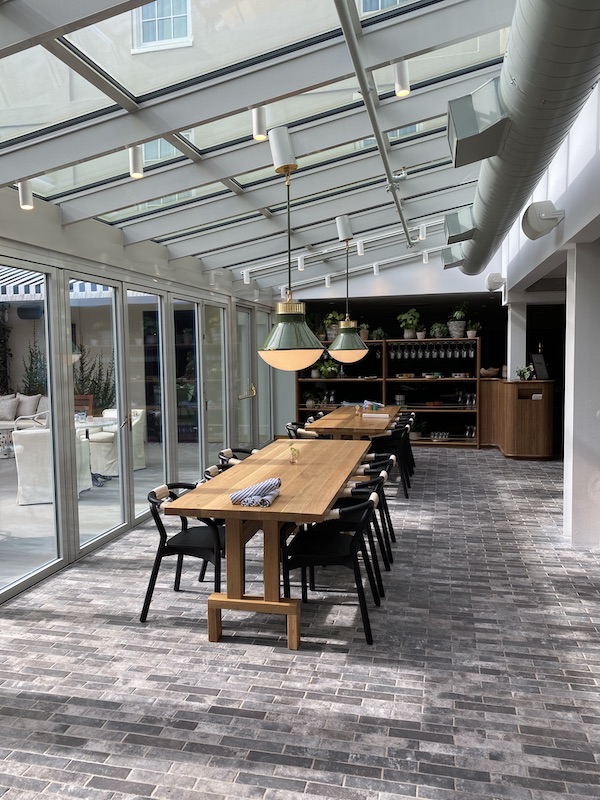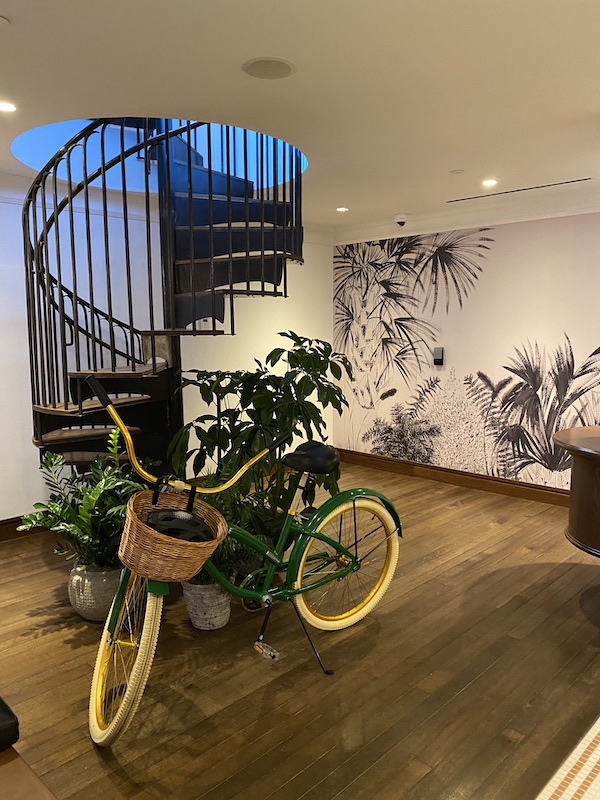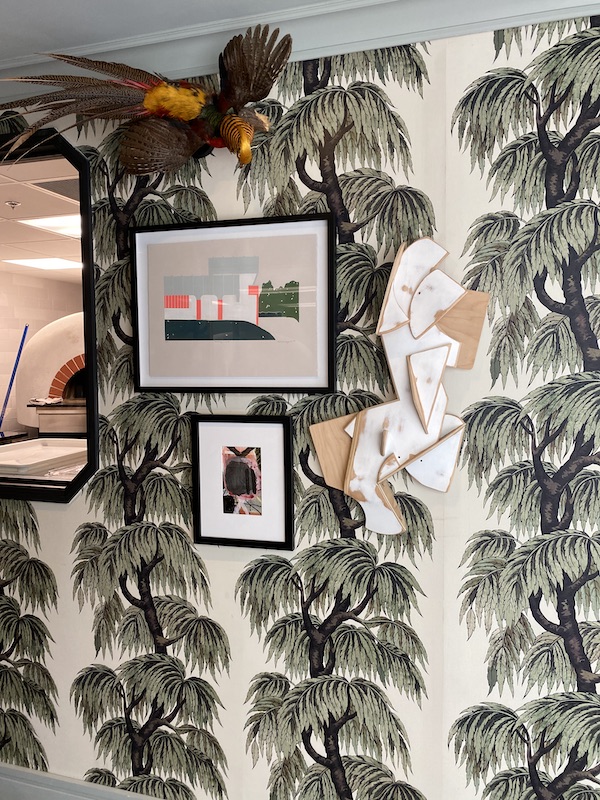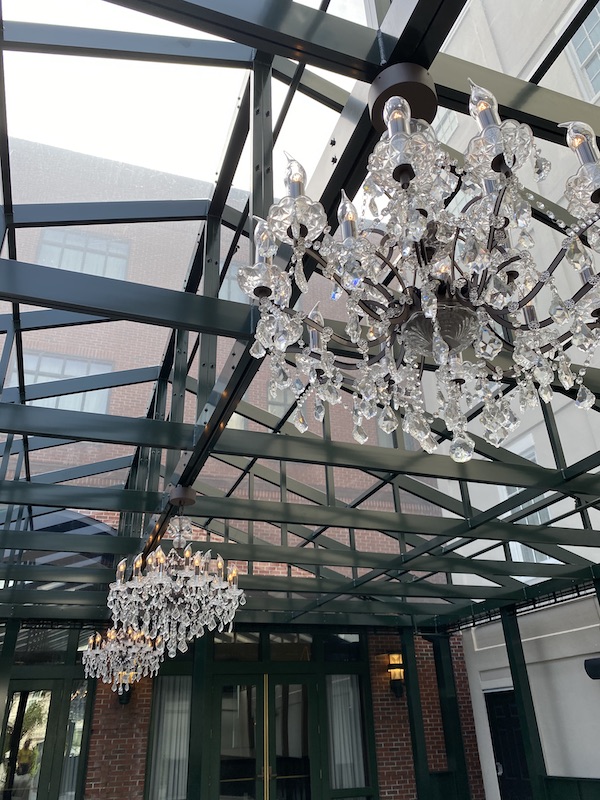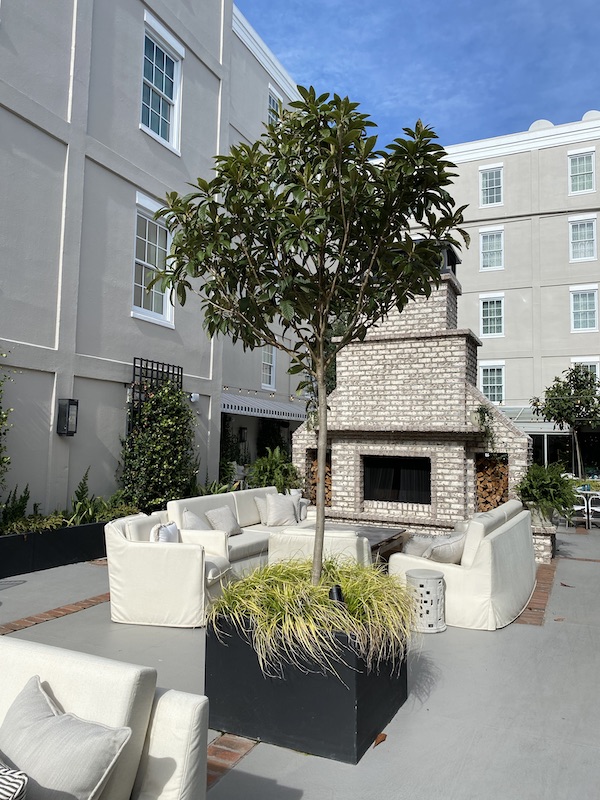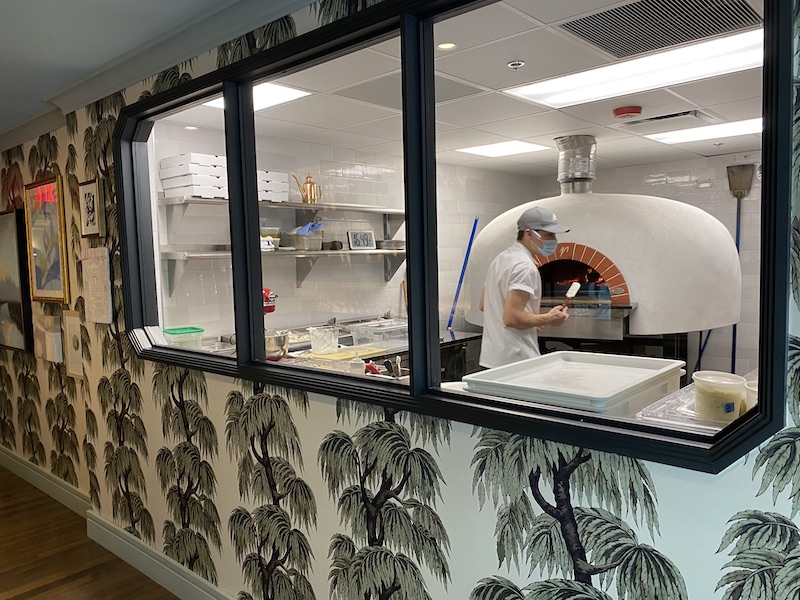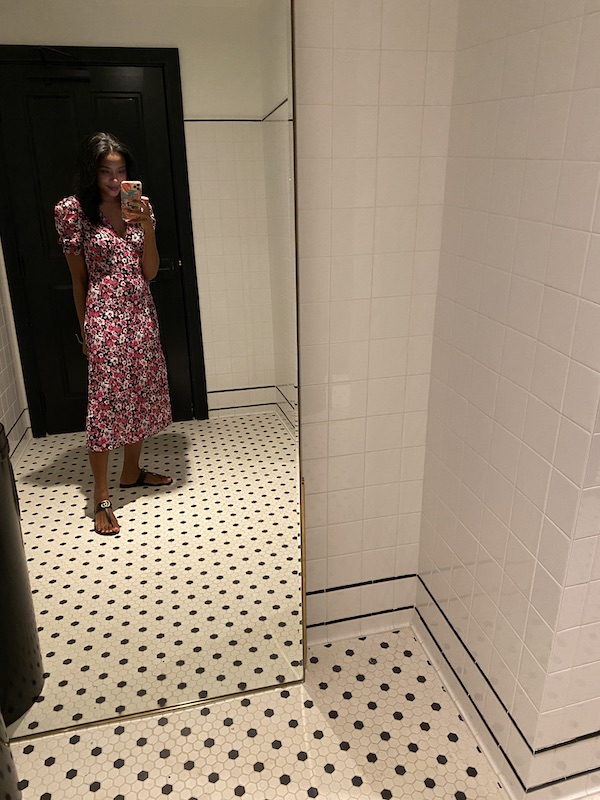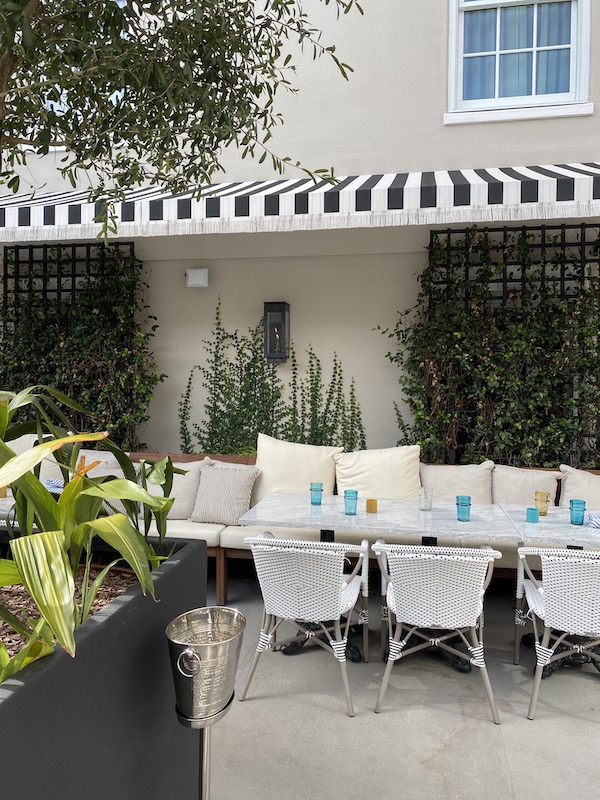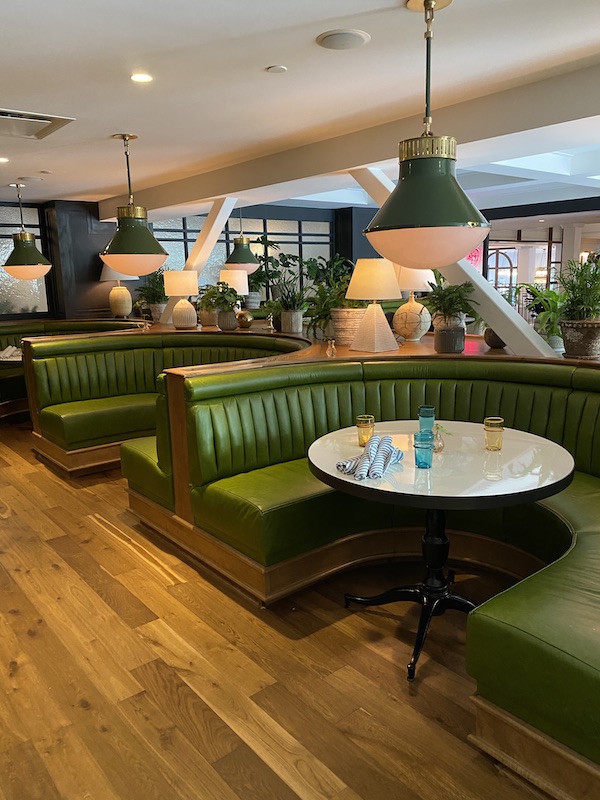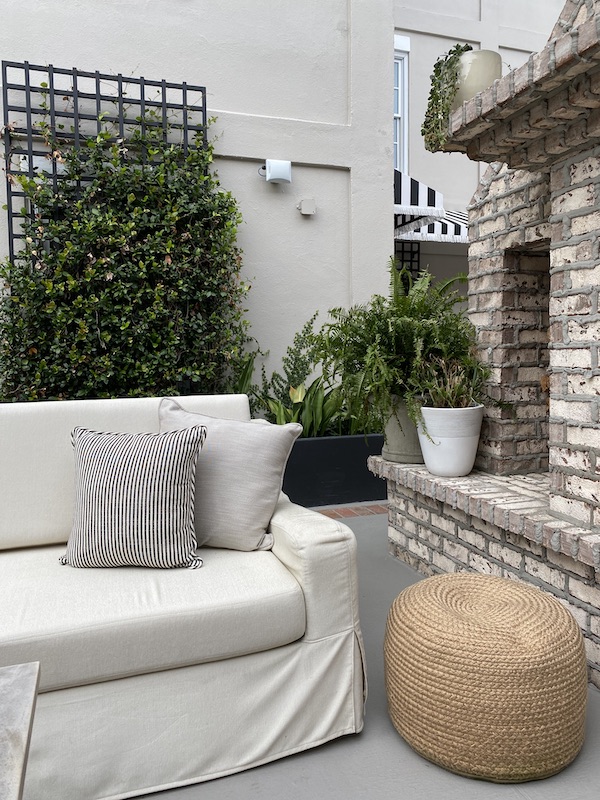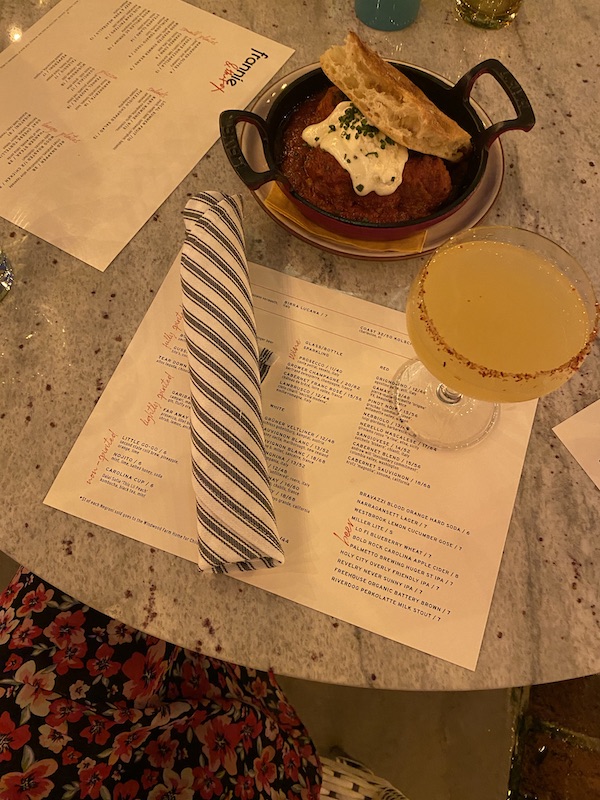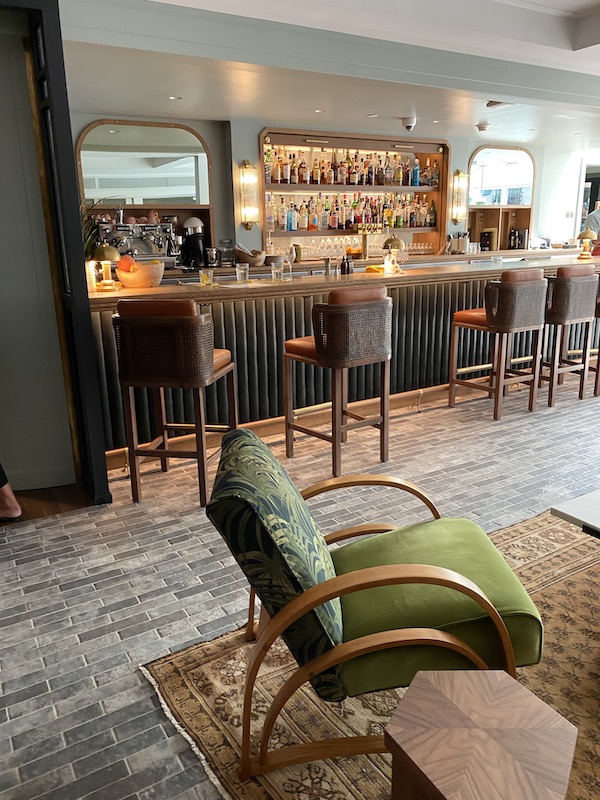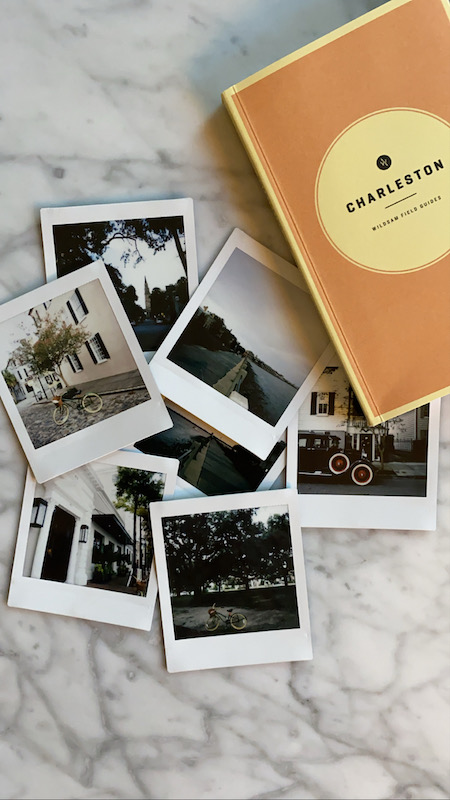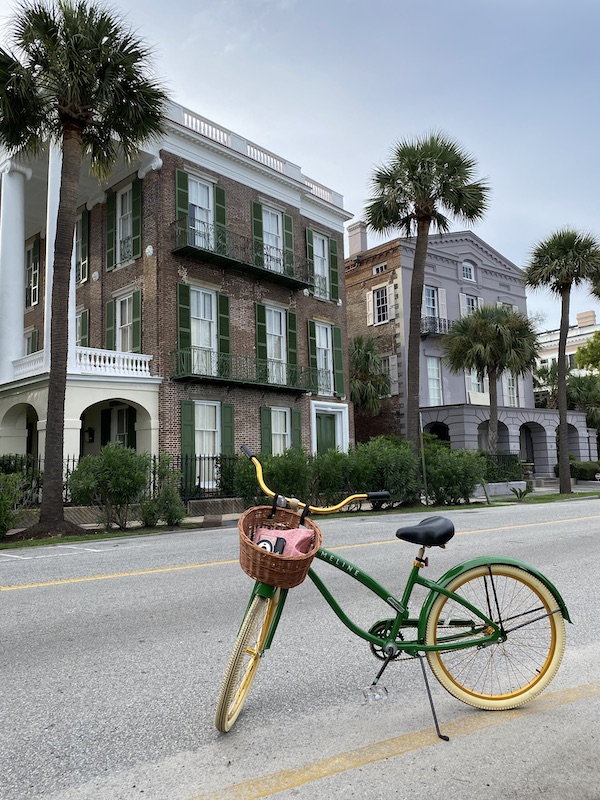 ***This post was sponsored by Emeline Hotel, but all views are my own!