No event has gone unscathed in 2020 and that includes football season! While I'm honestly shocked that games are even happening this year, I can't help but be disappointed that we don't get to enjoy the kind of season I've come to cherish over the past decade.
Sure, the actual games are a thrill, but one of the best parts of college game day is all the fun that takes place before the game. Ya know, the tailgates that happens just outside the stadium!! That's where you get to eat creative apps, chug speciality cocktails + catch up with friends that you don't get to see nearly as often now that you aren't in college!
This Saturday my beloved Gamecocks will be kicking off against Number 13, Auburn, at noon! Unfortunately, there's no way to recreate the full tailgate experience right now, (just gonna have to pray that life looks normal by the 2021 season) but I teamed up with Emilie Blanchard of Tasty As Fit to share a few tips for turning the next game day into a memorable experience + an excuse to safely gather a few friends– that will feel v adult!
Tip #1: Take the Party Outdoors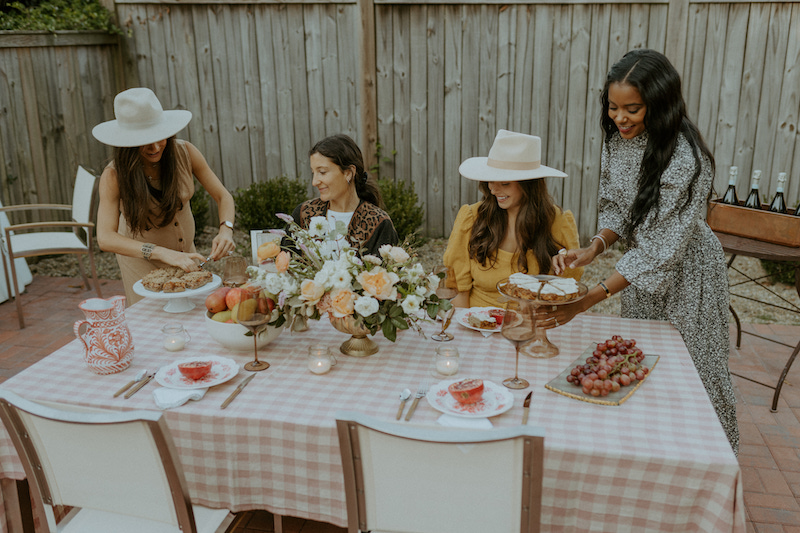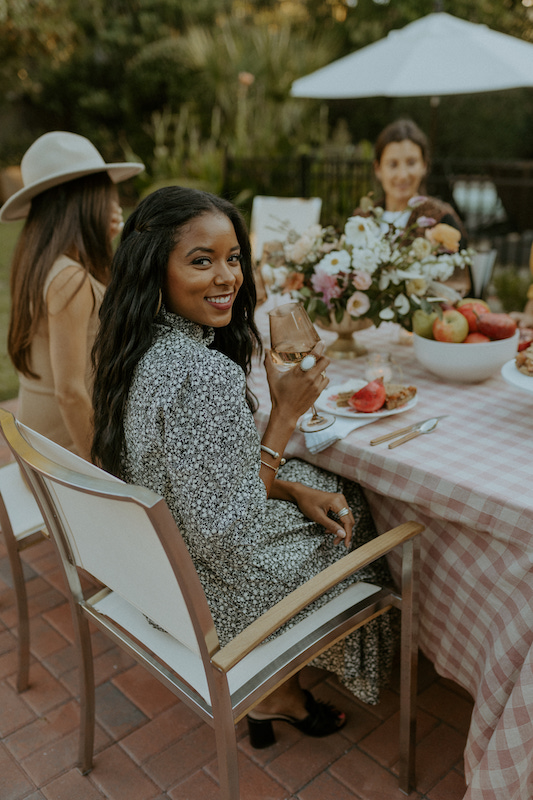 This is a no brainer! Between the current medical climate + the beautiful change in weather, there honestly is no excuse to host anything indoors right now. Instead, create a set-up outdoors that will make your guests feel comfortable enough to want to stay out in the fresh air.
The Carolina/Auburn game starts a noon this weekend, which means it would only be right to pregame with a brunch! Emilie and I used her backyard as the location for our set-up. On this particular morning, the weather was ideal with just the right amount of chill in the air! While I'm sure we could have all enjoyed our time together anywhere, there's something special about taking advantage of the great outdoors.
Tip #2: Get Creative with the Menu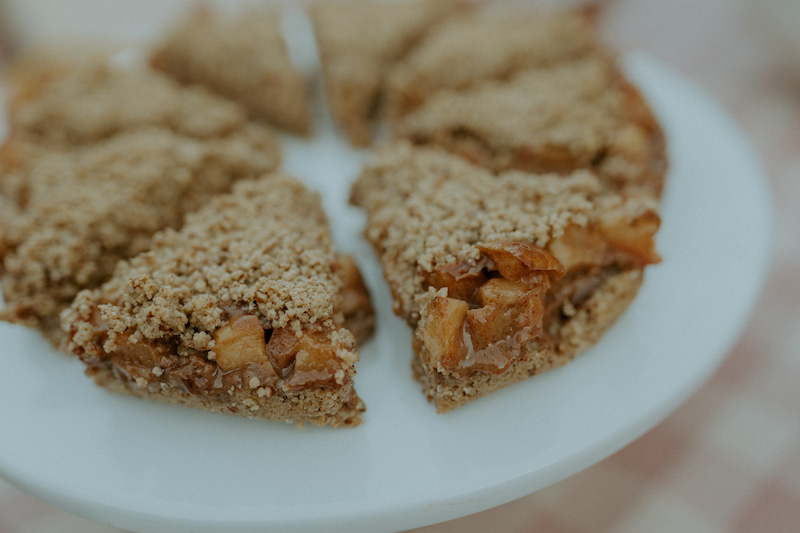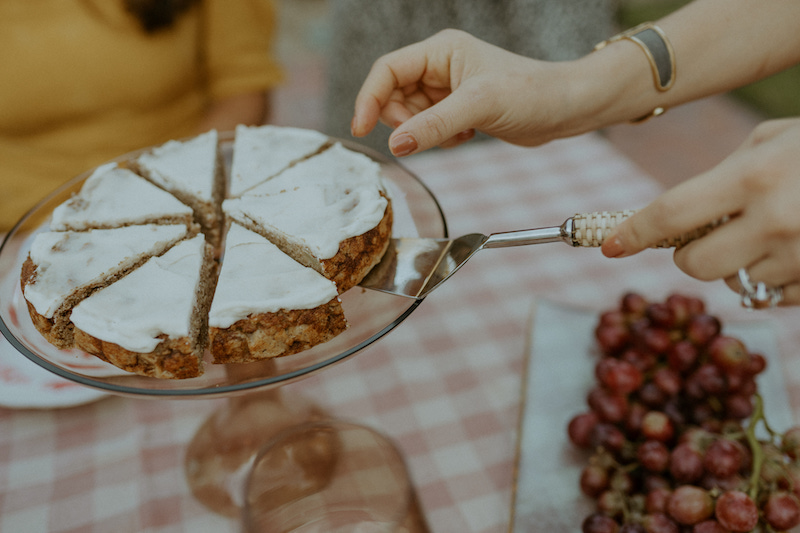 Tailgating from the comfort of your own home, with a mere fraction of the people you would typically hang out with on game days, provides the perfect opportunity to get creative with the menu + offer things that you may typically not be bold enough to provide. Lucky for me I was able to really lean on Emilie for advice on brunch recipes!
If you aren't familiar with Tasty As Fit, you've been missing out! It's a Columbia-based grab-and-go shop that offers one thing: "real food"! Emilie prides herself on only using fresh, plant-based ingredients to create Vegan + gluten-free meals that don't compromise taste. If you're like me, then you're probably reading this and feeling veryyy skeptical because all the healthy food you've had in the past is not good. But I swear Emilie has a gift. She really creates the most delicious recipes using nothing you'll regret later.
For this brunch tailgate Emilie launched two brand new recipes: Apple Crumble Pie + Cinnamon Roll Coffee Cake, and oh my they were both amazing!! If you know me then you know I love eating two things: brunch + sweets, so I was a little apprehensive when Emilie said she'd be creating a pie + cake with only vegan ingredients. But I swear y'all– they were both SOO good. I couldn't believe either thing could be good for me! And she swears both are super easy to make.
Tip #3: Invite Friends You Don't See Often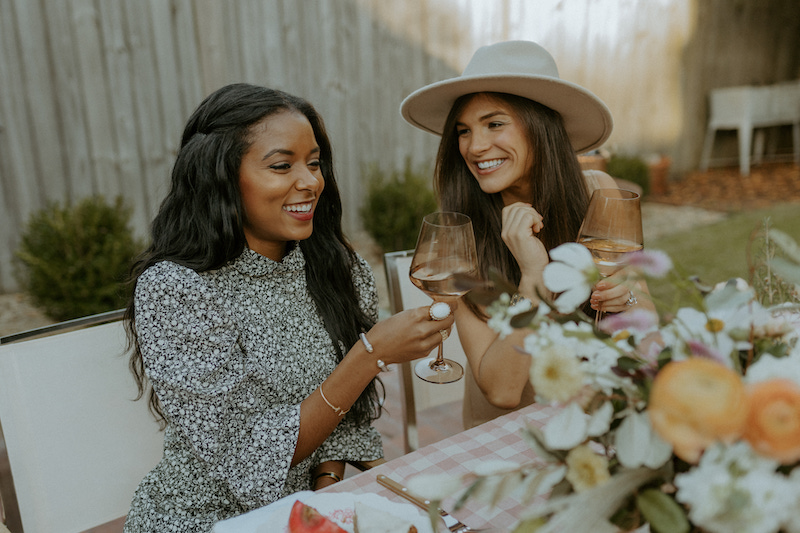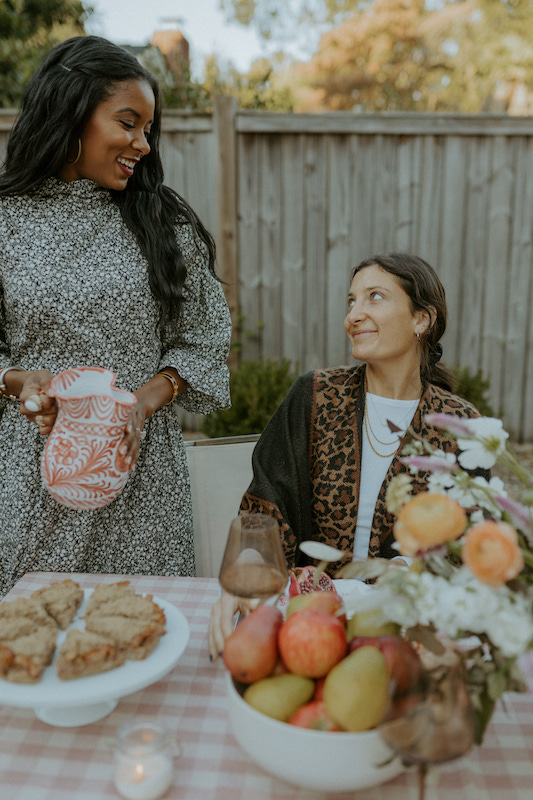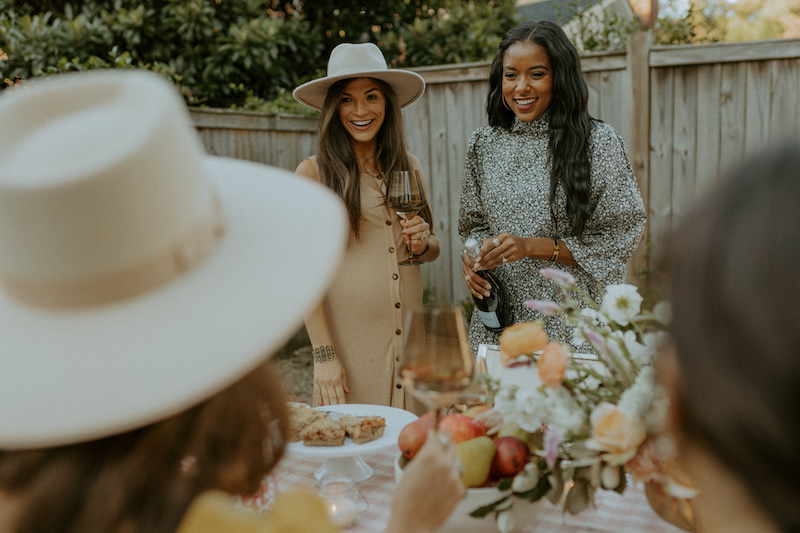 As I mentioned before, one of the best parts about tailgating is never really knowing who you'll run into. With 88k+ seats in Williams-Brice, plus thousands of other unticketed fans, game days are filled with surprises. If you're hosting a tailgate there, you're bound to run into someone you weren't expecting and that's kind of what makes it fun.
Use your at-home tailgate as an opportunity to connect with friends that Covid has forced you to become a little distant to!
Tip #4: Elevate your Setting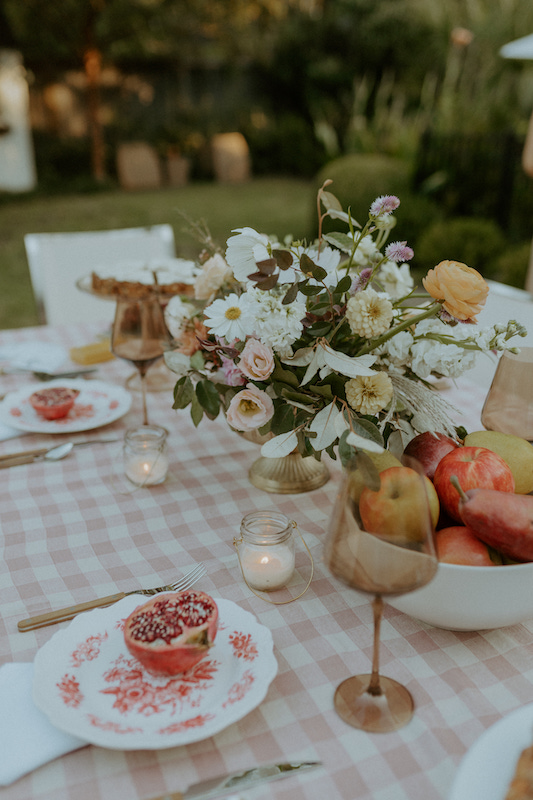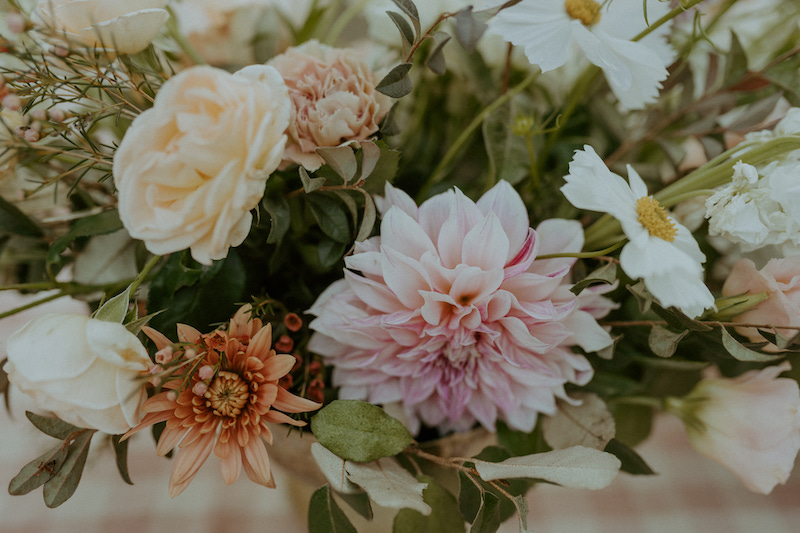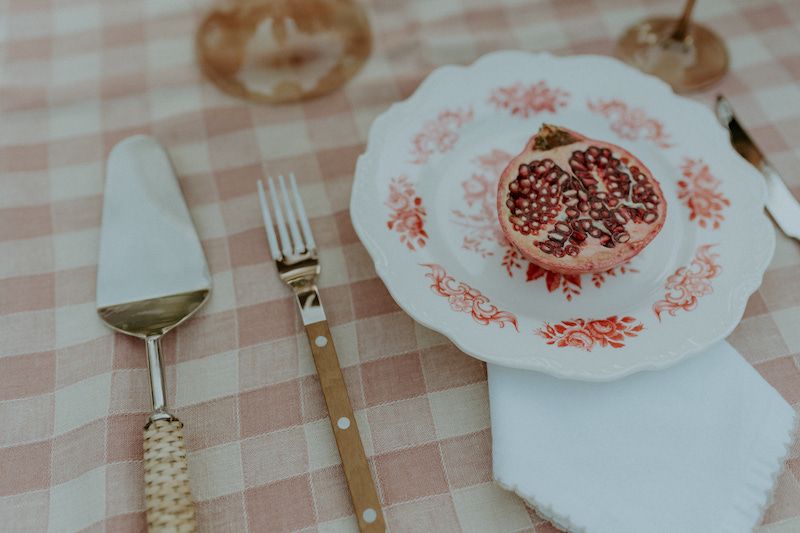 Another way to make an at-home tailgate feel special + very adult is to elevate your setting completely. Usually on game days we're standing behind the tailgate of a truck, underneath a plastic tent with Cocky's face everywhere, along with a flooding of garnet + black. While I have nothing against going all out with the football theme, (in fact– during normal times I'm that host) this is an opportunity to celebrate more than just football. The past few months have been nothing short of crazyyy and I think if we've learned anything from this time it's that life is too short and every day is a gift worth celebrating. So instead of cardboard cutouts of our mascot + plastic footballs, we turned to our friends at The Avenue to help us set a cozy brunch tablescape.
While we wanted to stay true the the garnet motif, we also felt like it was ok to stray a little and incorporate the beautiful colors of the season. We started building the scene with the Gingham Tablecloth, the Garden Rose Plates, and the Amber Wine Glasses. From there Emilie added some fall fruit, we chose the basketweave cake spade + the glass cake stand as pretty serving tools, then we added the hand-painted Spanish pitcher, the bistro flatware set and the handsome Deck of Cards for extra flair! The Avenue truly has the best selection of elevated home goods to take you entertaining up a few levels.
As a final special touch we used gorgeous seasonal blooms from local florist, Fern Studio, as a centerpiece. They always create the most beautiful arrangements, but this one in particular completed the entire look and really allowed us to feel like we were in the midst of fall!!
Tip #5: Make Sure the Libations are Bottomless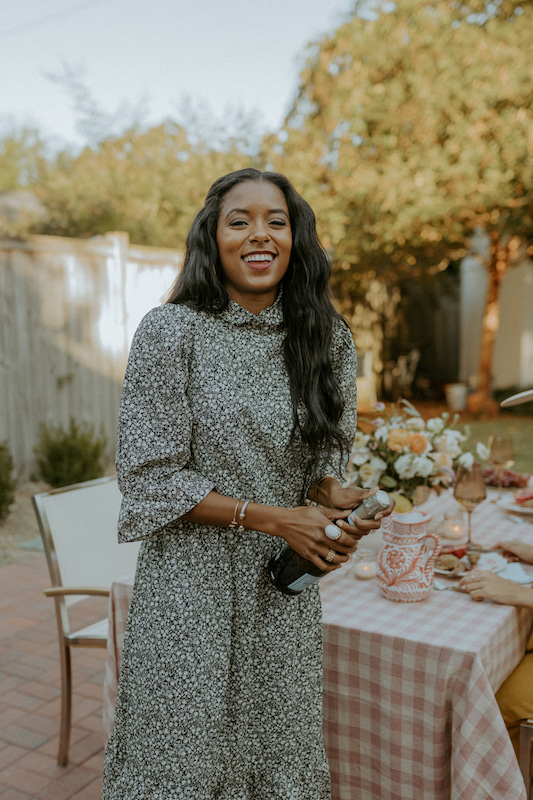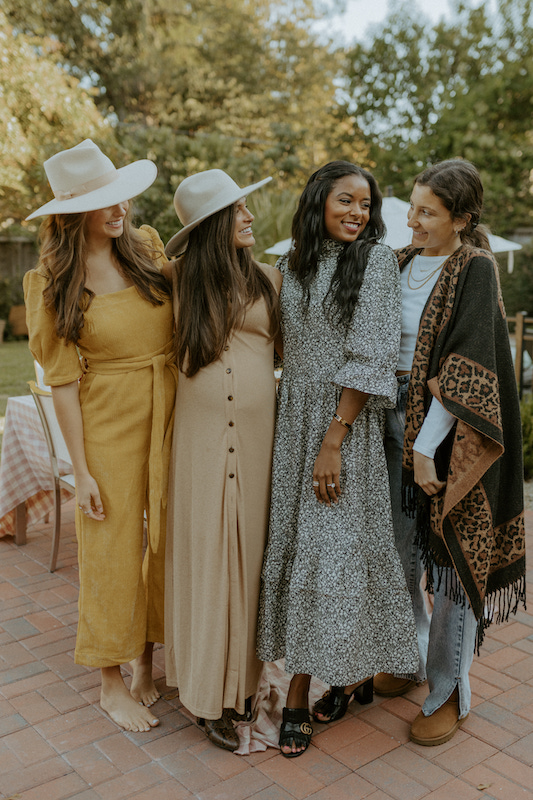 Last, but certainly not least– make sure the drinks keep on comin'! It is a tailgate, after all!! Between a pregame before + a full 3 hour game you could end up hosting guests all afternoon. Be prepared to serve any specialty cocktails or bubbles for the entire duration of the event. Although our lovely Emilie is 8 months pregnant and couldn't enjoy the bubbles we provided, the rest of the girls + I certainly enjoyed the fact that our glasses never went empty!!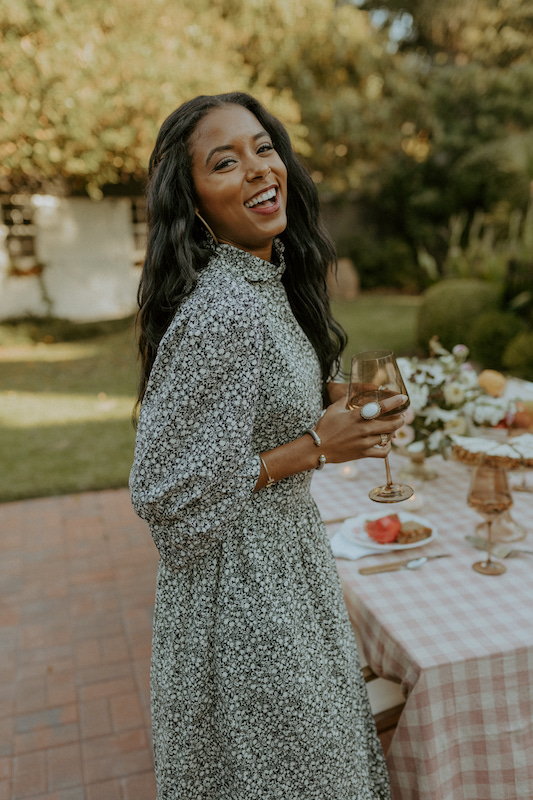 This blog post was in partnership with Tasty As Fit + Only The Avenue, but all views are my own!