My bestie of well over a decade, Josh, got lucky in 2020. When he turned 30 the first week of the year, the Cornavirus had not yet spread around the world so life as we knew it was normal. But this year, his birthday wasn't immune to the restrictions that we've all been dealing with for the last 9 months. So when it came time to discuss how he'd want to celebrate this year he was adamant on a simple dinner at home.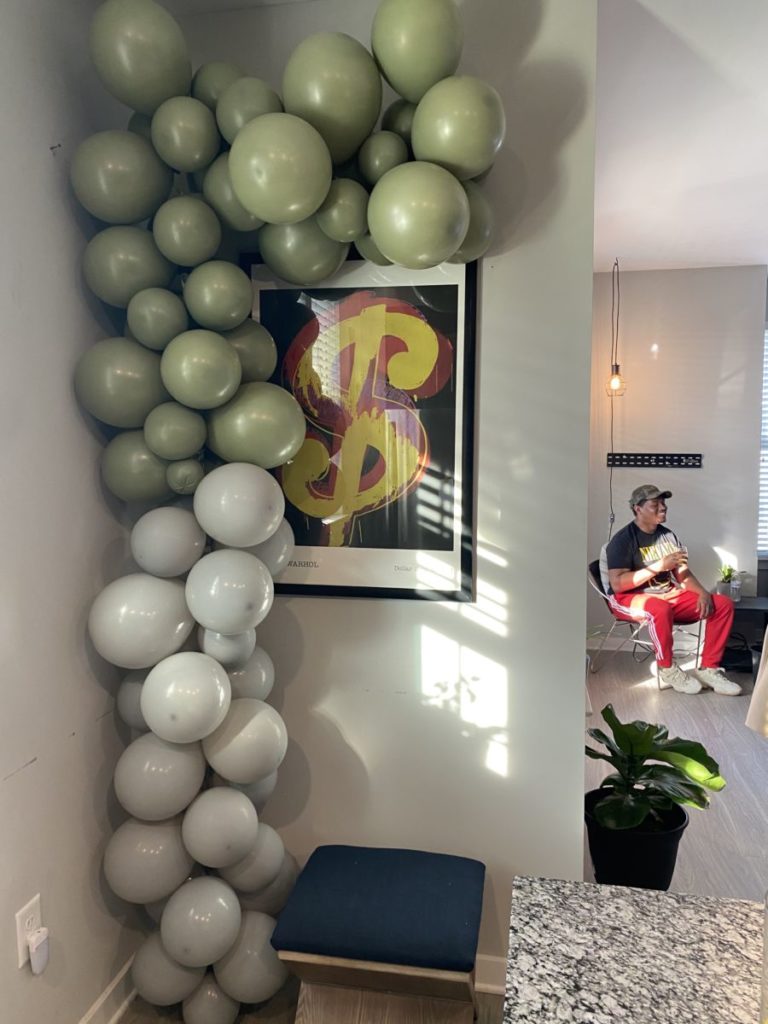 But you guys know how much I loveee a party, and how special I think birthdays should be, so of course I was going to make sure it was anything but "simple". I put my planner hat on and started thinking of how this celebration at home could be just as exciting + memorable as the ones before it. I connected with the other attendees and we began to delegate. By the end of the weekend Josh was telling us it was the best birthday he's ever had, which meant all the planning was worth it!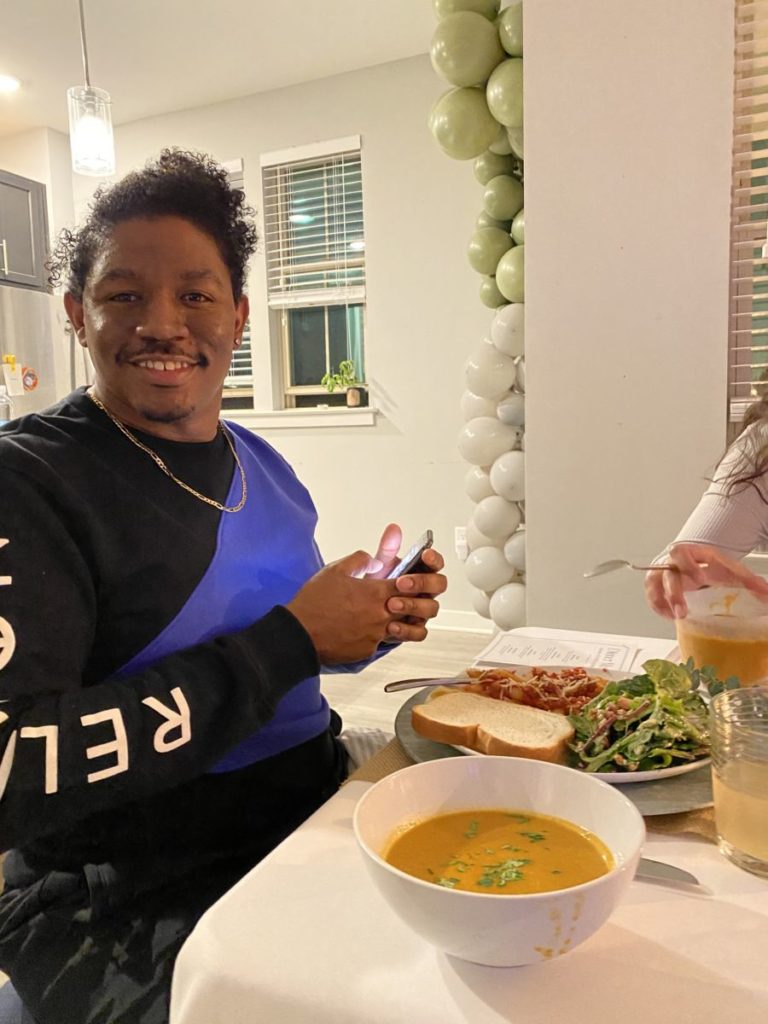 At the end of the day, it really was just a dinner at home. But thanks to a few little decisions the night felt incredibly special. So if you're looking to host a Covid-friendly birthday party for someone you love, or just a dinner party that makes the night feel less mundane… here are a few simple ways to elevate the vibe and have everyone calling you the hostess with the mostest.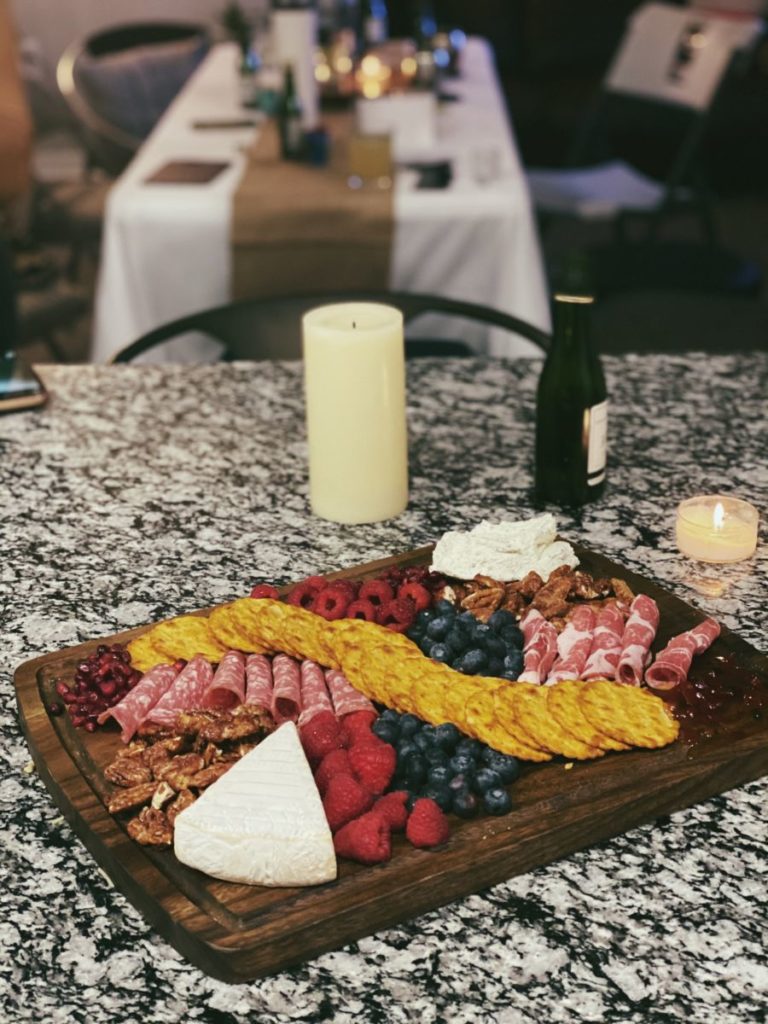 4 Ways to Elevate any At-Home Dinner Party:
1.Create a themed tablescape
Set the vibe for the night right away with a tablescape that is anything but ordinary. Choose a theme or color scheme and build around it. While there are countless way to style a table here are a few things that should be included: a tablecloth and/or table runner, matching utensils + glassware, something underneath your plates (charger or placemat), cloth napkins (extra points if there's a design on them), unscented candles and some kind of live flower/plant.
Josh isn't a flashy guy and his taste is very industrial, so for this party I chose a neutral pallate by including a simple white tablecloth, a burlap table runner + a wooden centerpiece. I added in the industrial feels through tin chargers and striped grey napkins. Then I completed the look with as many candles as the table could hold and fresh eucalyptus down the center + little sprigs on the plate.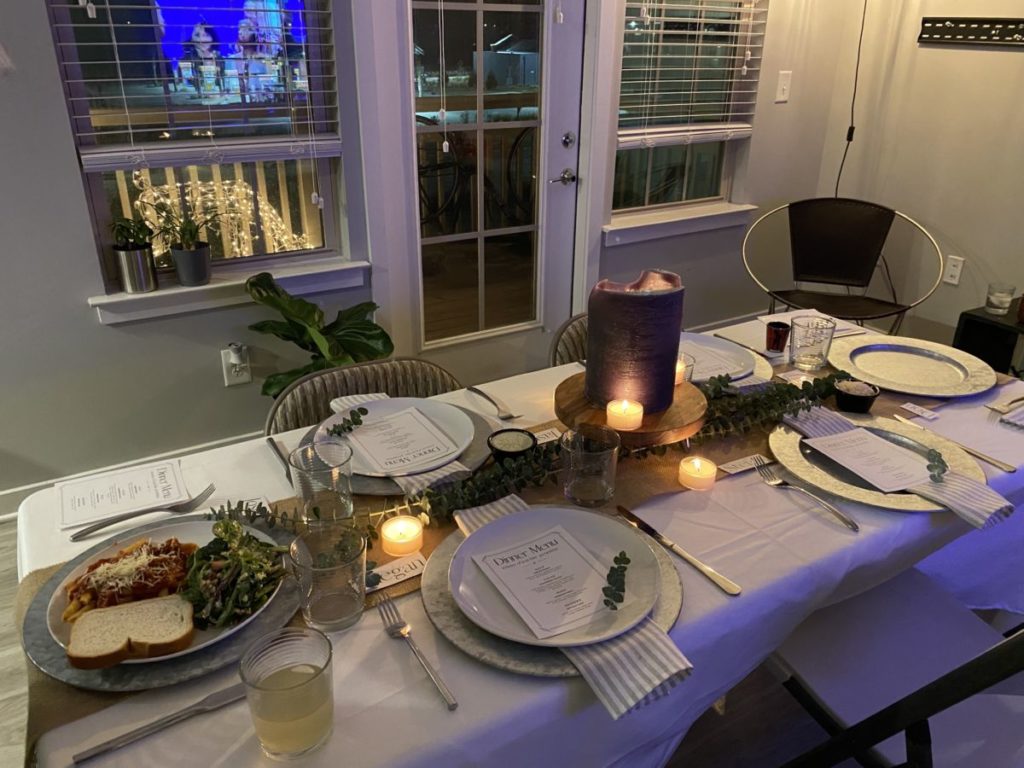 2. Include a specialty cocktail
I honestly think this is a must for any party, but especially a dinner party. Give you guests the freedom of not having to choose from an extensive selection of liquor + mixers by telling them what they'll want. It's best practice to choose something that will pair well with the meal, unless of course you're hosting a mini cocktail hour before dinner is served and in that case it can be whatever you'd like.
Josh loves tequila and Moscow mules, so it was only fitting the cocktail of the night was a Mexican mule! But tbh, after a few rounds the drinks were abandoned and the only thing that was going around was shots! If you can't beat them– join them!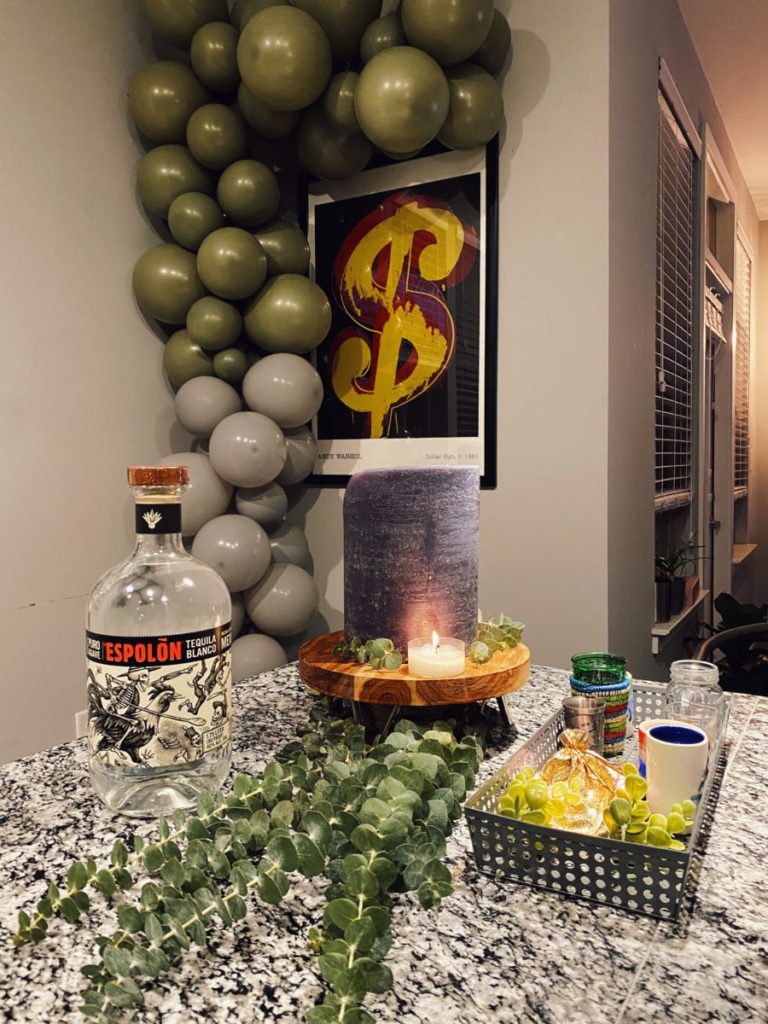 3. Add extra emphasis on the little details
Y'all– if you want something to be successful you have to put extra emphasis on the little details that people wouldn't expect. That can honestly be an array of things, but for this party I decided to include place cards with each guest's name, a balloon wall with Josh's favorite colors (grey + olive), and a personalized menu that displayed his name and everything we'd be eating that night (which I create on Canva.com and then printed at Staples). Each detail received compliments, but the highest praise was definitely for those menus. He said they are what made him feel most special that night and he planned on saving one forever! (What more could a host ask for?!!)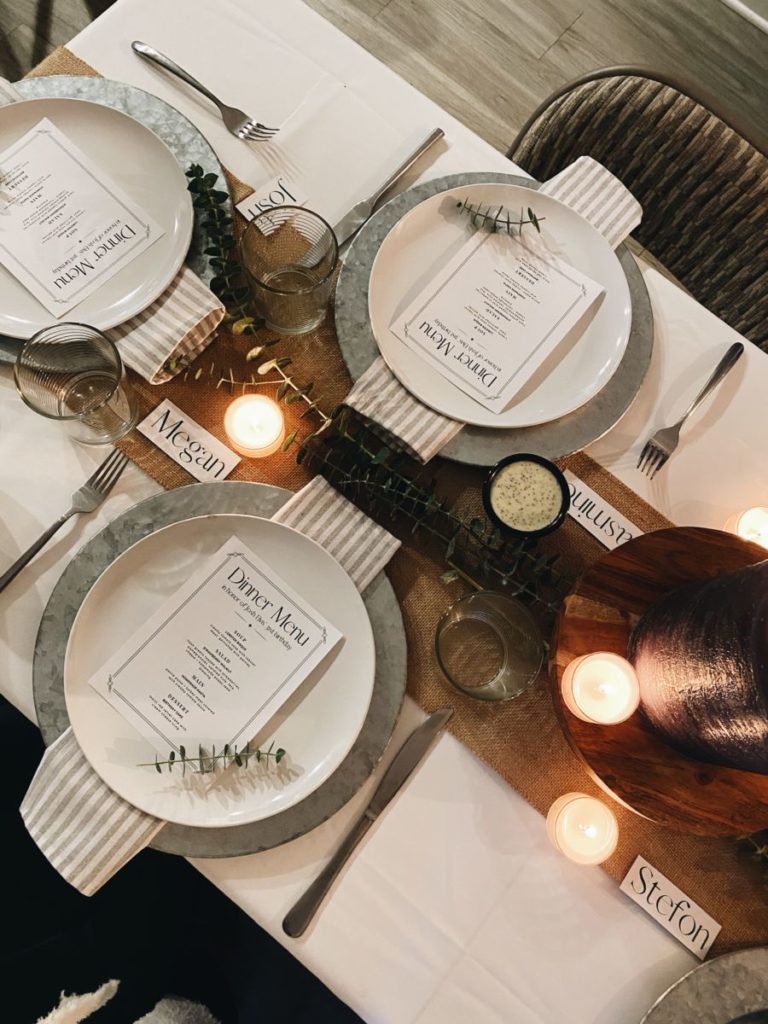 4. Actually make a homemade meal
This may sound like a no brainer, but let me be clear… I am in no way above take-out! In fact, I think sometimes it's totally necessary. But there's nothing like a home-cooked meal made with ingredients made from scratch and that's exactly what Josh got for his birthday.
Lucky for me, I wasn't the only person with the cooking responsibilities so it wasn't too entirely cumbersome. We split up the meal into course and each of us were tasked with bringing that to life. Because we each only had one dish to deal with we got fancy. The lobster bisque was made entirely from scratch, the salad had a dressing that was made from scratch and the pasta had a sauce that was (you guessed it) made from scratch. The party guests ooo-ed and ahhh-ed at each dish throughout the entire meal because at the end of the day food tastes better when it's made with effort + love.
If you don't have a full rolodex of homemade dishes, don't feel bad– you have the internet. Use Pinterest of even instagram to find fool proof recipes that will have your guests thinking you're a master chef.
I was in charge of the salad and used Rachel Parcell's recipe and oh my it was amazing. Not only will I be making it again, I highly recommend you try it out!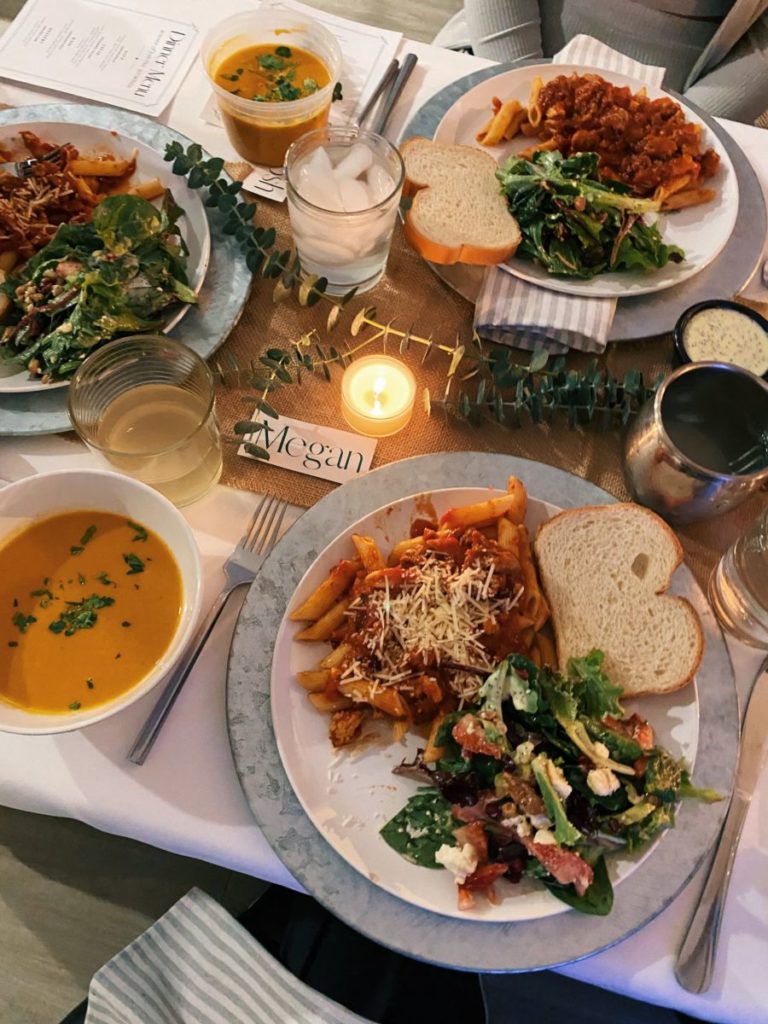 Hosting a dinner party soon and plan on using these tips? I'd love to see how it turns out. Send me an email (megan@shadesofpinck.com) or send me a DM on Instagram @shadesofpinck.
Xx Meg