Almost as soon as Christmas passes, a familiar phrase begins to ring: "New Year, New Me". And while it's easy to minimize the efforts that everyone puts into recreating themselves in January, especially when most relapse back to their "old selves" before the month even ends, I honestly believe the New Year is the perfect time to check-in with yourself and create a plan for achieving more.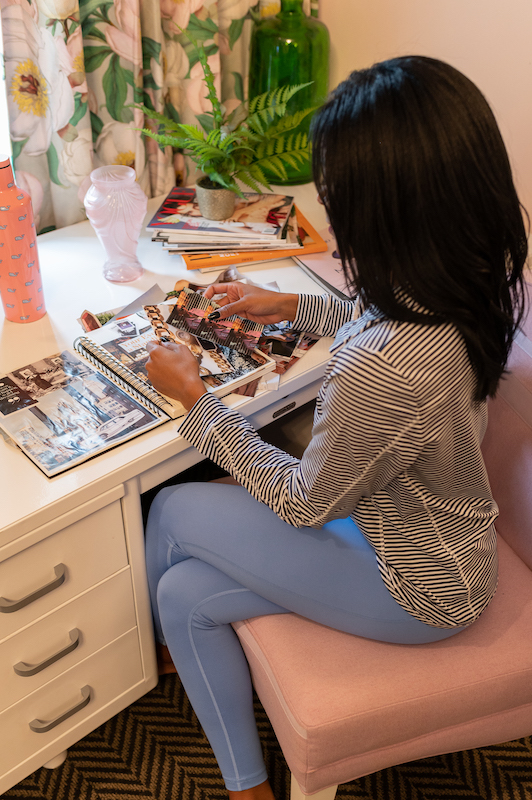 While I try not to fall into the trap of reinventing myself, I have always used the New Year as an opportunity to set new goals to achieve over the following 12 months. And though they may not always come to fruition, I'm certain that the progress + growth I experience every year comes from this exercise.
At the start of each year, I try to visualize what I want life to look like for me. I choose a focus or two (or three) and think of ways I can develop that. One of the best ways to keep your thoughts + intentions in order is to display them on a vision board. I have always enjoyed cutting images out of magazines and putting together collages like puzzles, but there's something superrrr exciting about doing that with a mission in mind: GROWTH! I honestly believe that seeing visuals that inspire + motivate you stimulates your actions which develops your character.
But being goal-oriented is much more than just cutting pretty pictures out of a magazine. It's about staying focused on an end game and doing little things each day to get you there– but also not beating yourself up on days when you may fall behind.
Read below for a list of ways to accomplish everything you've set out for yourself, and find out a few goals I'll be working on throughout 2021.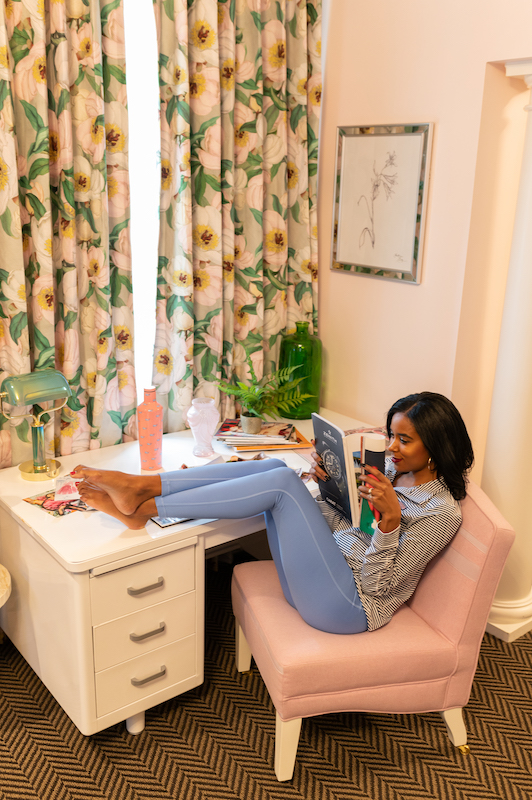 Leggings: Vineyard Vines // Sweatshirt: Vineyard Vines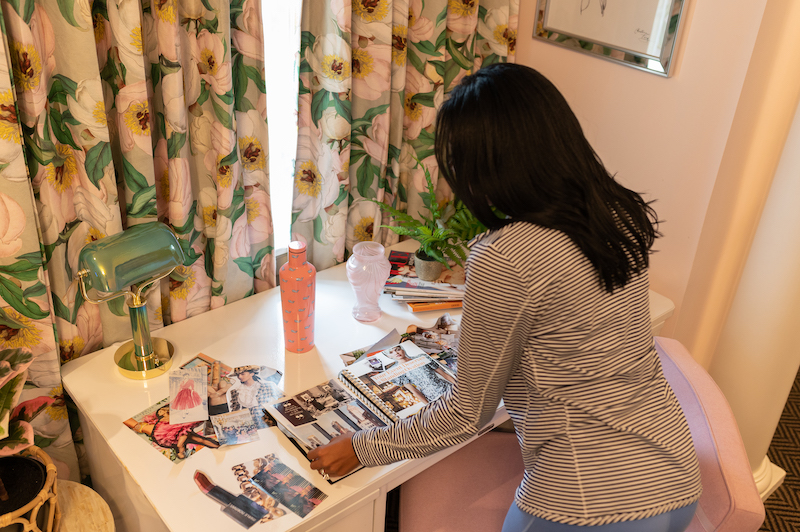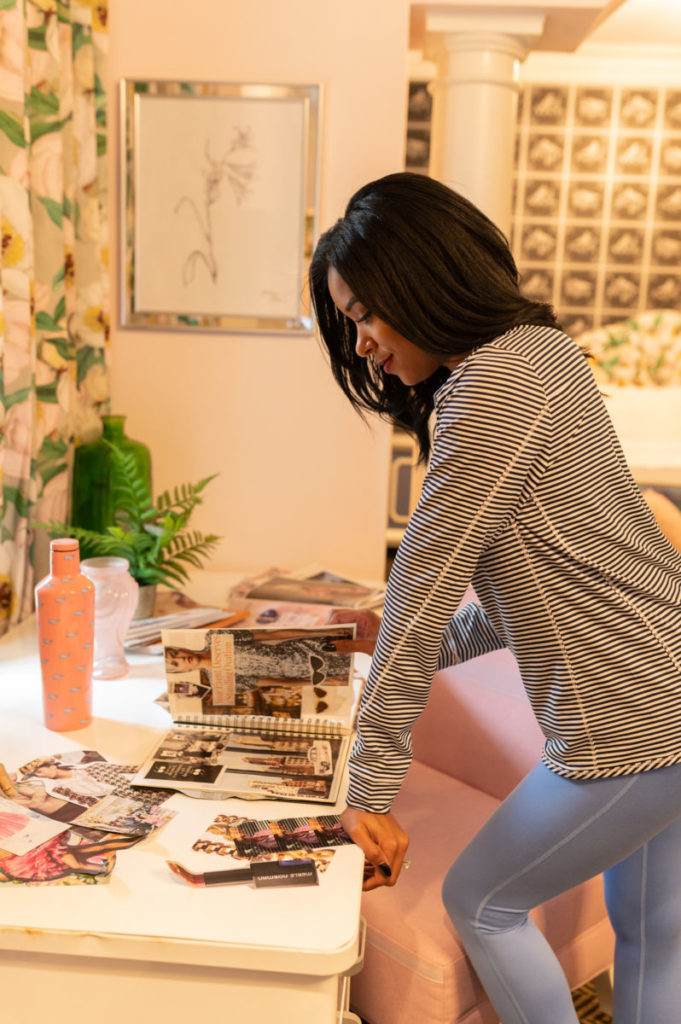 Ways to stay goal-oriented even after January:
Create a vision board using images + textures that inspire you, then hang it in the space you do the most work in.
Make a point to journal every morning or night, documenting what you've achieved or want to achieve (no matter how big or small) that day.
Create weekly to-do lists with tasks that will get you closer to your goals so that you know when one is completed and can move on to the next. Small steps turn into big moves!
Share your goals (and progress) with family + friends that you trust so they can hold you accountable and motivated.
Create a notebook filled with positive affirmations for you to refer to on days when you feel low (because they WILL come) and need some inspiration and stimulation.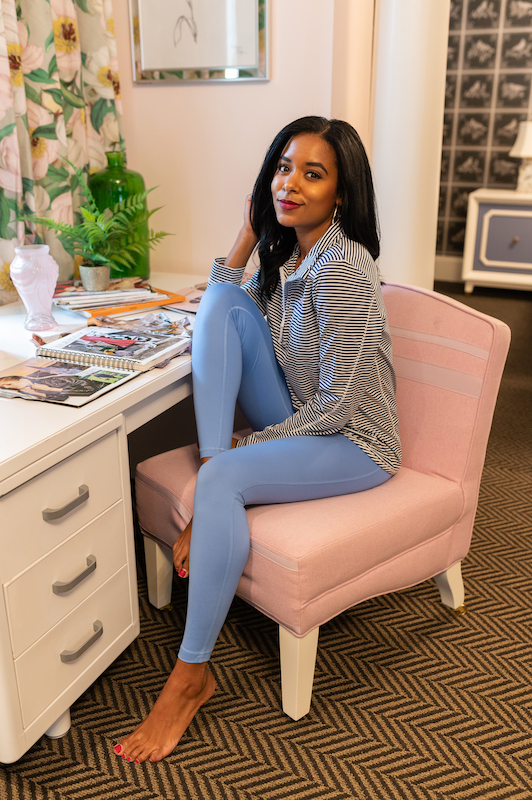 (A Few Of ) My 2021 GOALS:
Make a true and concerted effort to spend more time on the phone with the people that I love, but don't get to see often.
Develop s regular newsletter to email to my loyal audience.
Continue to ensure Shades of Pinck is a "resource" in addition to peek into my life.
Re-establish my roots in my hometown– with my new family!
Host an adult tea party a la Bridgeton (once COVID goes away, of course).
Take manyyyy more Pure Barre classes each month.
Ensure my brand's imagery continues to depict a modern-day Southern Belle with traditional influences.
What are some of your 2021 goals? Leave a comment or send me a DM @shadesofpinck!
Images: Crush Rush Photography