It's hard to believe that today marks ONE MONTH until my due date! I know I've said this a million times already, but my pregnancy has flown by. I can't believe at any moment bebé can decide to make his entrance into this world. But because we're getting so close to the finish line, I knew it was important for me to start preparing for his arrival. One of the most important things I need right now is to have my hospital bag packed. The last thing I want to do while in labor is think about what I'll need for (at least) 48 hours in the hospital and try to get all of that stuff together.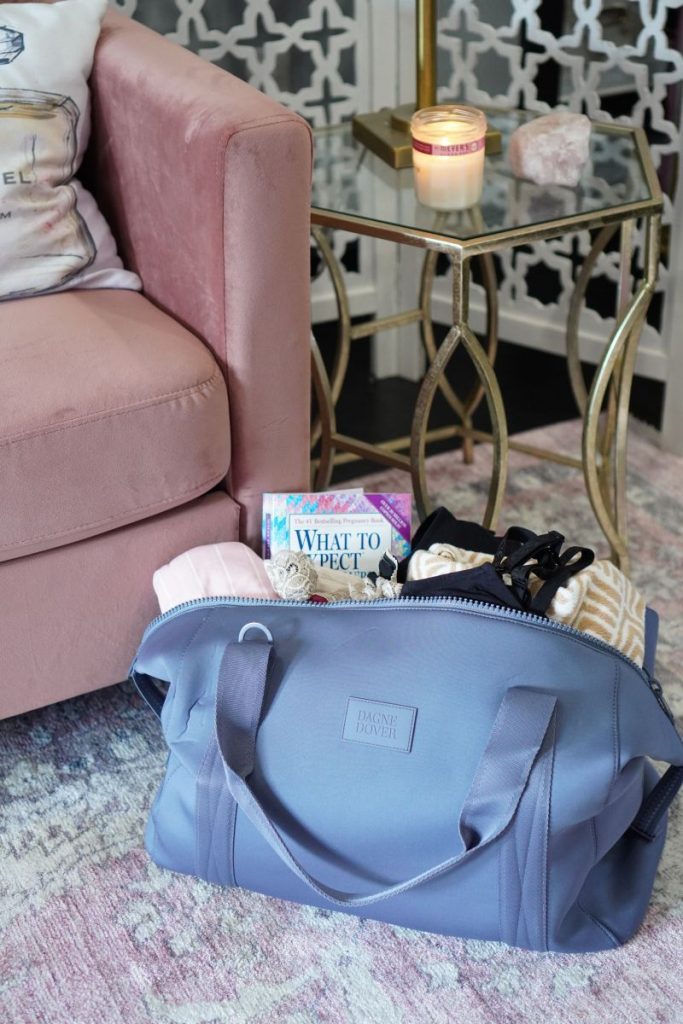 Thanks to help from my friends at Kindred Bravely, a luxury brand for mamas that combines the coziness we deserve with the versatility we need, and lots and lots of research online, I've been able to pack my bag so that I can run out of the door whenever necessary. To help y'all out, I compiled a pretty extensive list of what I expect to need + got a code for you to receive 20% off Kindred Bravely products site-wide: SHADESOFPINCK20! I've put a (*) by all of their products below. 
Delivery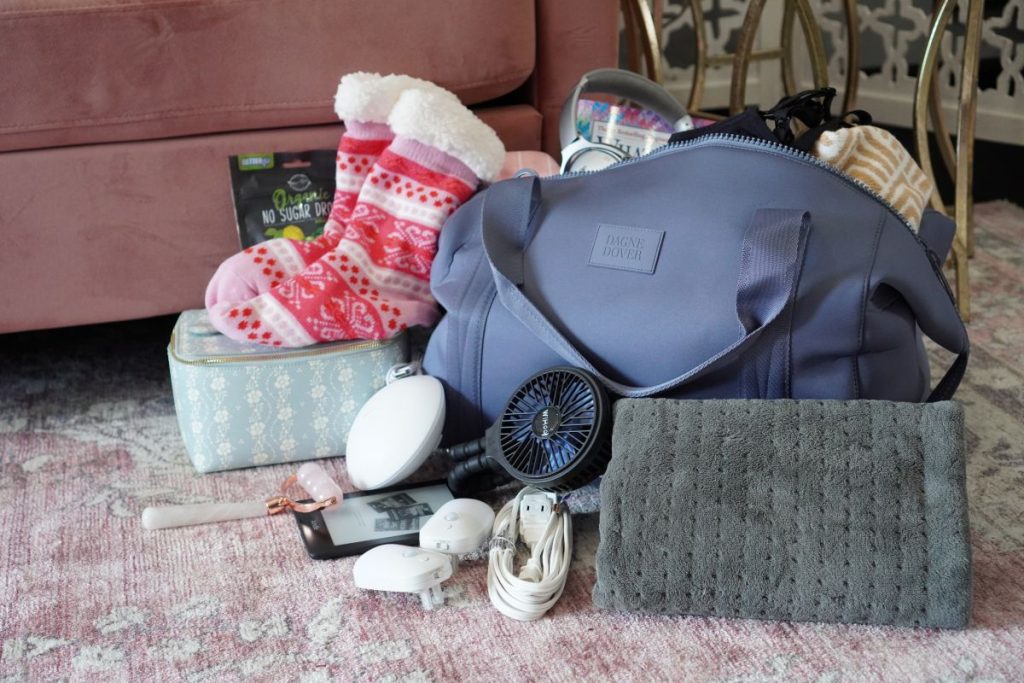 Things you'll need leading up to your actual delivery as I've been told it's a lot of "hurry up + wait" happening!
Birth Plan- I don't personally have one, but if you do this is definitely the time to have it with you. 

Cord Blood Collection Kit- If you're planning to collect your baby's cord blood for storage, be sure you have that kit with you at the hospital so the doctors can safely collect that for you. 

Insurance Card + ID- Your practitioner will probably do most of the work by letting your hospital know they should begin to expect you, but I've been told that it's nice to have these things photocopied together in case they aren't prepared for you, this way it's the last thing you have to worry about…and your partner doesn't have to bother you. 

Pediatrician's Contact Information- You'll need to have this info before you leave the hospital, so it's nice just to have it written down and ready. 

Things to Keep You + Your Mind Busy- This can be a playlist on your phone, movies on your iPad, books on your Kindle, or your laptop! Whatever brings you peace or can take up your time… bring that! Because you could be waiting for quite some time. Just make sure you have whatever corresponding item you may need (like Bluetooth speaker for music, charger for your laptop, or headphones for movies). 

Extension Cord– I've been told there aren't a lot of plugs around the room and they aren't always conveniently located, so make life easier for yourself by packing a small extension cord.
Extra Long Phone Charger– For the same reason as above, your phone shouldn't have to sit on the opposite side of the room from you to charge, so be sure to pack an extra long charge to ensure it's close to you at all times. 

Back Massager/Body Roller

– There's going to be pain, lots of pain, and tightness. This body roller has gotten me through some tough times throughout my pregnancy and I have a feeling I'll want it that day too, so I wouldn't dare leave it behind.

Your Own Pillow- Hospital pillows aren't always the most comfortable, so bringing your own could help you get some rest, but remember that it could get destroyed in the birthing process so either make sure it's one you're willing to part with… or make sure your partner knows to pull it from the bed when delivery starts to go down!!

Sleeping Bag- This could be a great option for your partner's sleep situation as the couch isn't always the comfiest and the blankets they provide aren't always the warmest. 

Belly Pillow + Portable Pregnancy Pillow– I can't sleep without these things and definitely am not going to try when I'm in the hospital!
Chappywrap– I'll need a little piece of home with me in the hospital so that I can feel comfortable and cozy. I've bragged on these blankets a million times bc they mean that much to me, so I'll be certain to take one for me + one for my husband. But I'll have to make sure he pulls them away when delivery starts so that they don't get destroyed. 
Sugarless Lollipops/Candies– Your mouth can get really dry during delivery, so since food is not an option, and ice chips get old quick, try packing these to help you out!

Toiletries- You can't forget the basics-after all it is an overnight "trip." Make sure you have your toothbrush/toothpaste, lotion, face products, lip balm, any makeup you may want + even face and body wipes. 

Robe– Note that it may get destroyed, but it's nice to have something that you can throw on that feels somewhat comfortable and relaxed and, can help with nursing after birth. 

Heavy/Fuzzy Socks- The hospital floor is hard + cold. Pack socks to help you move around easily while staying comfortable. 

Compression Socks– Your body is going to have a lot of fluid, so naturally you may swell. Help cut back on that with these socks!

Slippers + Flip Flops- Pack slippers to walk around the hospital floor comfortably, and flip flops so you can comfortably take showers.  

Hair Clip/Headband- Anything easy to help keep hair off of your neck when that time comes. You won't need anything making you hotter! But, a hair tie create lines and since I don't plan on packing a curling iron the path of least resistance makes the most sense!

Snacks for Partner- He's going to be doing a lot of waiting too, and if you're giving birth during Covid, he won't be able to leave. So make sure you pack some snacks to keep your partner happy + satisfied. 

Heating Pad– Another way to help the cramping + contraction pain to subside! I just bought this one and can't wait to use it.
Nightlights– This was one of the best suggestions I saw because I would have never thought about it.  The lights in the hospital room are harsh and in the middle of the night you may want to move around, but you won't want that blaring light. So pack a light for the room and one for the bathroom!

Water Bottle- They'll give you cups of water, but who wants to keep asking for refills? Bring a bottle so that you can have access to a decent amount of water at a time. 

Gatorade/ Electrolyte Drink- You're pushing your body to the limit, it's going to need some refuel. Pack these to help give you body a little extra boost during this exercise! 

Bath Towel– Why dry off with a hard hospital towel, when you can pack a fluffy one from home?
Portable Fan– You can't control the air in the room, so pack your own! The best part is you can use this on your baby's stroller when the time comes.
Portable Diffuser– Make the room feel more zen and take away that awkward "hospital smell."
What to Expect When You're Expecting– It was your guide throughout your pregnancy …and can be very helpful during this moment as well.  

Sound Machine- You'll need to rest when you can, but don't forget that hospitals are 24-hour businesses. Bring a little machine to block out all the sound coming from the other side of your door. 

Delivery Gown*- Swap the hospital's stiff gown for one a little more comfortable!
Night Gown– You'll want something that is easy to slip on and off when you finally dose off.
Postpartum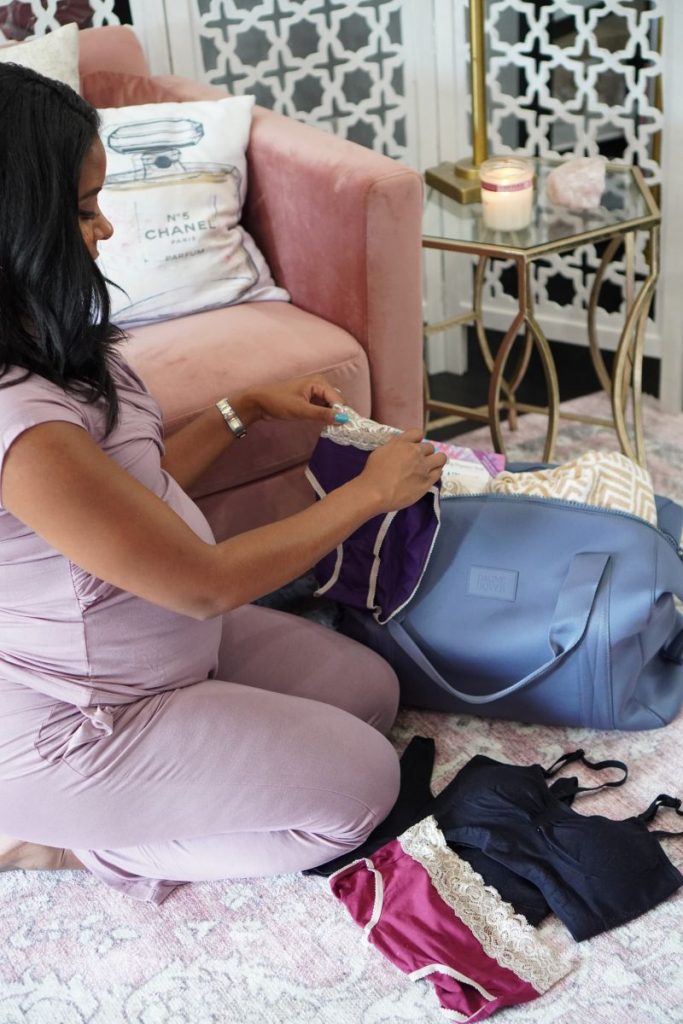 Comfy Pjs with Breastfeeding Access*– These will be your best friend a few hours postpartum, so make sure they're something soft, loose and extremely comfortable.
Change of Clothes for Your Partner- He'll want to freshen up too!
Depends/Postpartum Undies– Your body will continue to expel fluids and other things postpartum. The hospital will provide pads, but I've been told they aren't the most comfortable given how your vagina will feel, so pack some disposable underwear to get you through it as comfortably as possible.
High-Waisted Roomy Underwear*– Once your body has drained, you'll still need undies but will want some that are loose and rest high on your body. I chose these because they're still kinda cute and were made to check all of those boxes.
Nursing Bras- You'll need at least two of these while in the hospital. Here are the ones I've gotten and am excited to try: Lounge Nursing Bra* , Hands Free Pumping Bra*,  Comfort Nursing Bra*. You can also plan to pack Nursing Tank Tops instead.
Waist Trainer– Waist trainers are recommended to support posture especially during breastfeeding, and to speed up postpartum recovery. You can begin to wear it 24-48 after giving birth. I chose to go with a size small and was told that most people size down after a few weeks.
Healthy Snacks- Hospital food isn't always the best, and you may not want to rely on delivery so just make sure you have some of your favorite healthy snacks to enjoy after you've given birth.
Going Home Outfit*– You'll want something comfortable and cozy, but still cute! It's just worth nothing that you'll still have your belly, so make sure whatever you choose is roomy!
Stretch Mark Cream– Your body will have just gone through one of the most daunting exercises it can perform. Be sure you have your stretch mark cream to keep things moisturized!
Nipple Cream– If you plan to breastfeed, latching can be hard in the beginning. Go ahead and pack your nipple cream in case things don't go as planned and you end up needing some relief.
Tucks Pads– Many resources I read said that these were a lifesaver postpartum and that they beat wiping with a dry piece of toilet tissue, so I'm trusting those before me and packing a box of these.
Perineal Spray– Something else I read about, and will just have to take everyone's word for it. Apparently your vagina is going to be uncomfortable for quite some time, so anything you can do to keep it happy should be done!
Peri Bottle– Another alternative to wiping, especially immediately after birth, this bottle helps clean that super sensitive area very easily.
Flushable Wipes– Apparently, the last thing you'll want touching you vagina is tissue paper. So pack some of these to help get you through your trips to the bathroom.
Black Leggings  + Tunic- You'll want to keep this handy as an extra outfit for your hospital stay. I lived in these leggings during pregnancy so I know they'll be great during this time too.
For Baby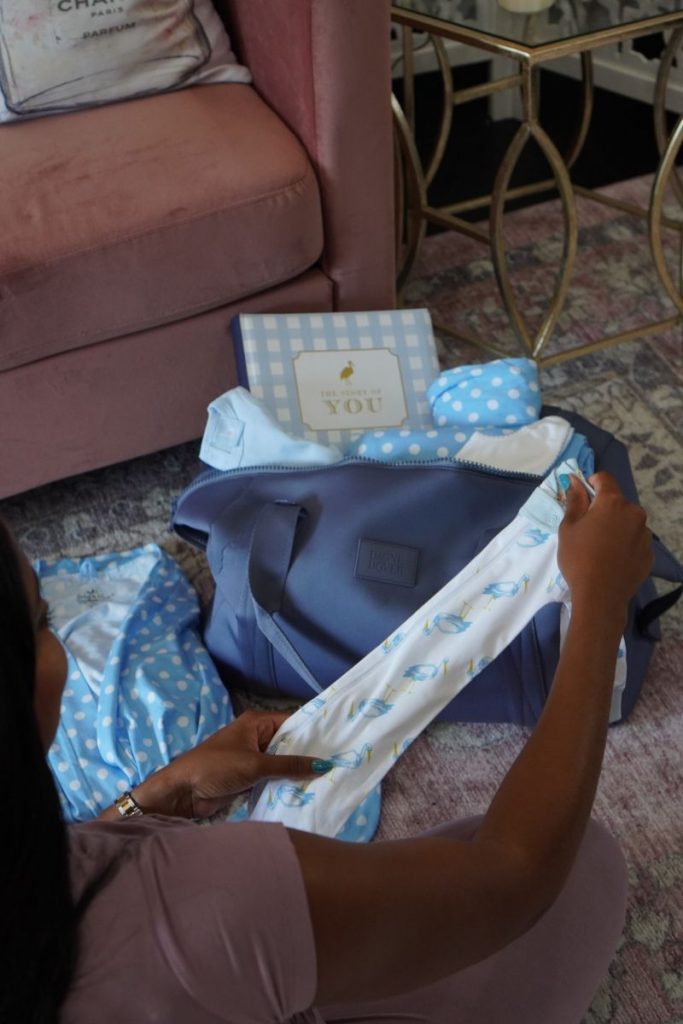 Going Home Outfit for Baby– You'll want something that will keep baby warm and cute as you welcome them into their new home. 
Infant Car Seat– They won't let you leave the hospital without this, so make sure you infant car seat is installed and ready to go before you arrive at the hospital .
Onesie for Hospital– I chose a super soft + simple onesie to use while at the hospital made by a luxury children's brand. 

Hat for Baby- Infants aren't able to regulate their temperature for the first couple of weeks, so pack a few hats to keep them nice and warm from the hospital to home. 

Mommy and Me Outfit– I don't think I'll be able to match him for long, but figured day one would be a great time to do it. I plan on wearing this our first day together.
Nursing Pillow– I'll spend time in the hospital learning to nurse, and have been told this pillow is a lifesaver for your back. 
Bottle– I'll have one of these packed, but honestly don't expect to use it. However, it's always better to be more prepared than less. 

Receiving Blanket- The hospital will probably provide you one, but I you want something much softer plan to bring your own.

Baby Wash– They recommend not washing the baby for at least 24 hours after birth, but you may want to pack your own product in case you're in the hospital for longer than you planned to be. 

Pacifier

– I plan on trying these pacifiers, but ultimately the ones we use will be up to baby!

Diapers/Wipes- The hospital will have these, but if you're particular it wouldn't hurt to bring your own. 

Nail File/Mits– Baby is born with nails, so be prepared to prevent them from scratching their sensitive skin.  

Baby Book for Prints

– If you plan to save hand/feet prints, be sure to pack the book that you want to keep them in!

Announcement Photo Prop

– If you're planning to take photos at the hospital don't forget any props you want to include.