For the last week our country has been in mourning over the inhumane murder of George Floyd, adding one more hashtag to the ever growing list of victims of racial police brutality. Emotions have been high, people have been triggered, and protests have broken out across the nation. I, myself, attended the #icantbreathe protest at the South Carolina State House this past weekend, but then came home and watched as those peaceful protests turned to riots, arson and looting across all corners of America.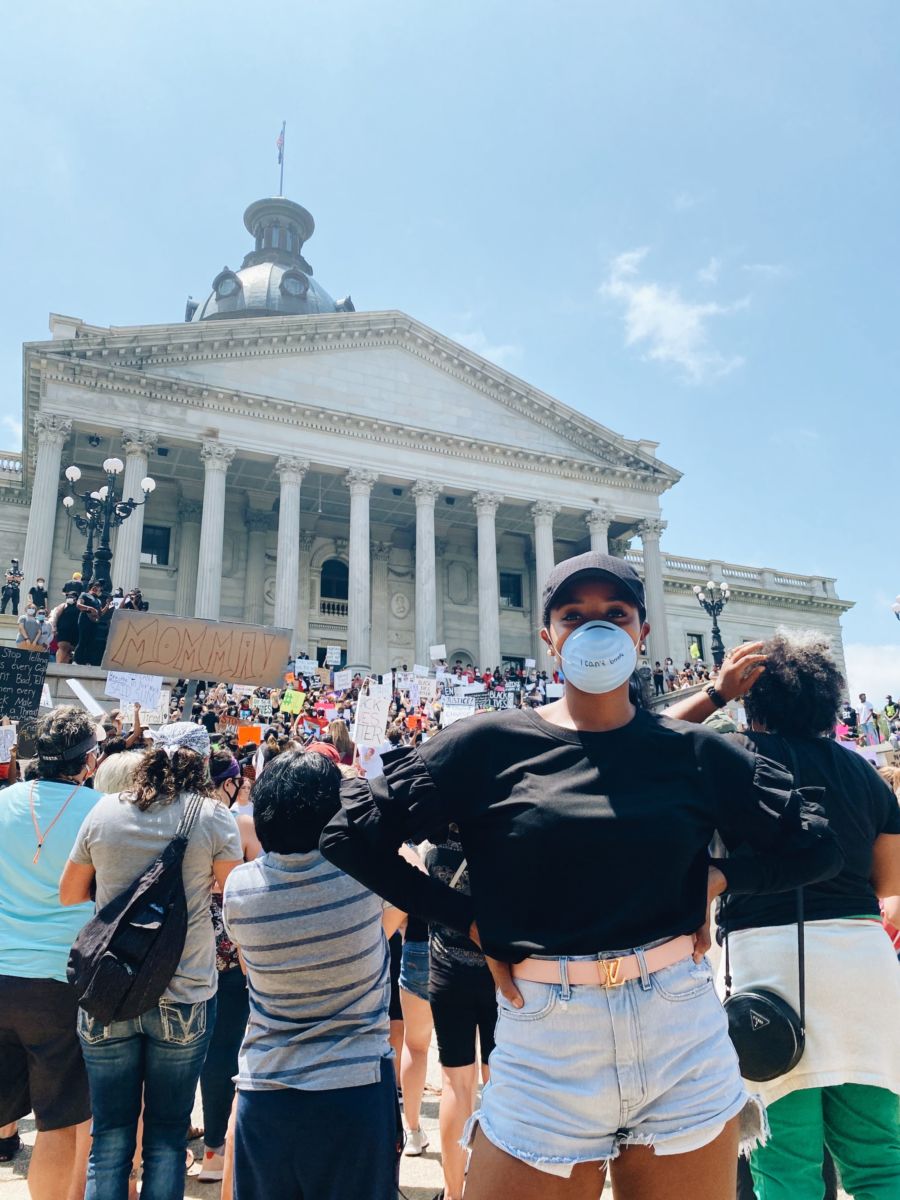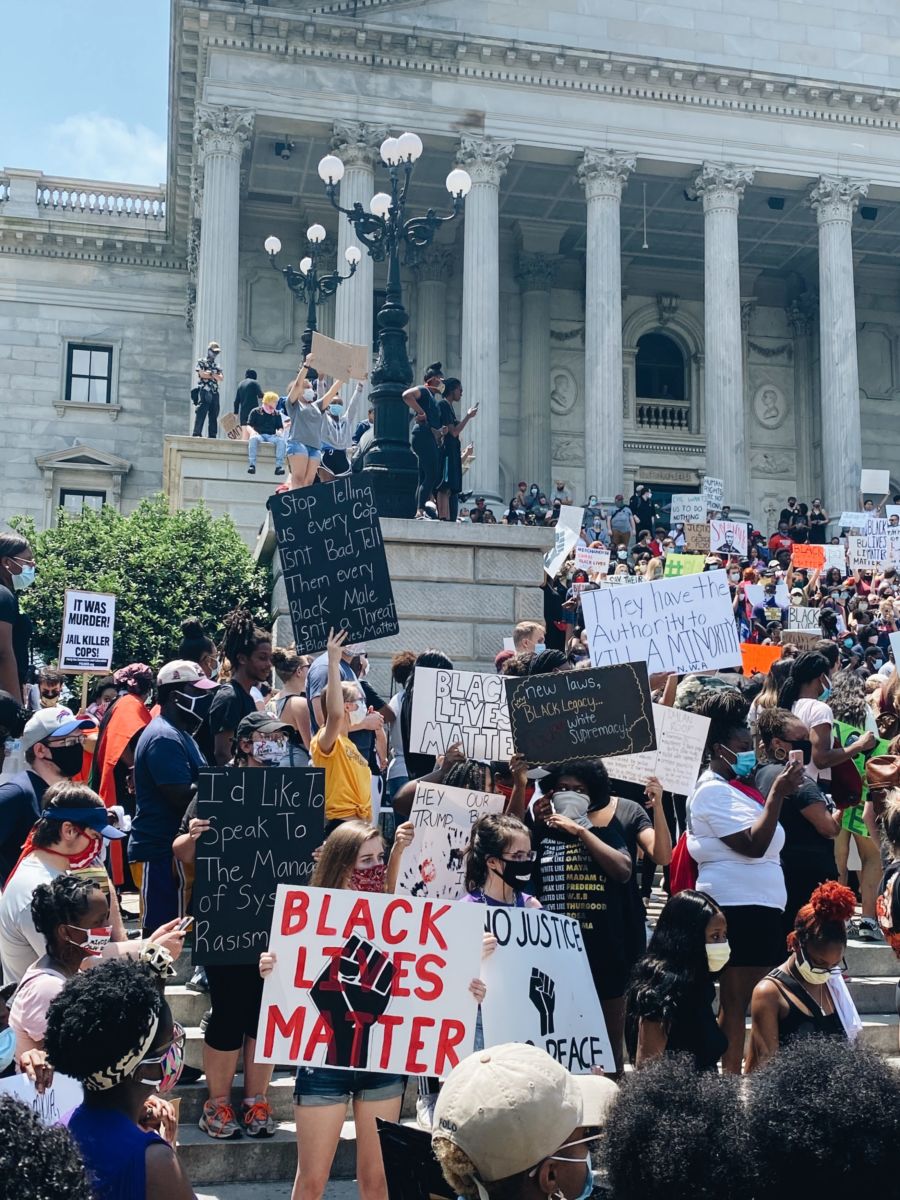 This isn't the first time our nation has felt this pain, or seen this outrage. But it is the first time it's happened in the midst of a pandemic, when everyone feels a little hopeless and has a lot more free time on their hands. However, the biggest difference I've seen now when compared to the tragedies of #ericgarner, #freddygray and #michaelbrown is the specific rally for "white allies" from publications likes Refinery29 and Glamour. A cry for people that aren't personally affected by racial bias or inequality to start taking on the fight too, and speaking out.
To my surprise, I've seen as an entire demographic of people who don't typically share views on injustice, or race, or anything in between speak up and say what we all know to be true: skin color should not be a death sentence! But it's so much more than just police brutality. In this country, oftentimes skin color determines: what type of public education you have access to, what sentence you'll receive for a non-violent crime, which hospitals are located within an ambulance ride from your home, the quality of water you pay for, whether or not you have fresh food available within miles of your home, and yes– what is probable cause to be stopped by the police.
There is so much to be angry about, because there is so much unfairness. But the little hope I still have comes from the messages I have been receiving over the past 48 hrs. Non-Black followers, both friends and not, that want to be educated. They want to understand systemic racism, implicit bias and how 400 years later.. the repercussions of slavery is still ever-present in the Black community. And I'd be lying if I said that compassion wasn't a little comforting.
So I've been in touch with friends across all walks of life for their opinion on how to educate people who want to learn. With the help of those friends, my personal collection and recommendations I've seen floating around, I've curated a few resources for anyone to begin that education. What I believe needs to happen now are honest conversations about the oppression communities of color feel. Because the fear of making others feel "uncomfortable" is why these wounds have been passed on from generation to generation.
I challenge you to become an ally even if this "isn't your fight", because as Dr. Martin Luther King Jr. so eloquently put it: "injustice anywhere is a threat to justice everywhere!"
---
Essays to read:
Fredrick Douglass' "The Meaning of July Fourth for the Negro" Speech
MLK's Letter from a Birmingham Jail
Books to read:
Souls of Black Folk by W.E.B. DuBois
The Search for Common Ground by Howard Thurman
The Half Has Never Been Told: Slavery and the Making of American Capitalism by Edward E. Baptist
Between the World and Me by Tahnesi Coates
Your Silence Will Not Protect You by Audre Lorde
The Fire Next Time by James Baldwin
Youtube videos to watch:
Life of Privilege Explained to High Schoolers in $100 Race
Black Feminism & the Movement for Black Lives: Barbara Smith, Reina Gossett, Charlene Carruthers
TED Talk: "How Studying Privilege Systems Can Strengthen Compassion"
Documentaries to watch:
13th on Netflix
Time: The Kalief Browder Story on Netflix
The Black Power Mixtape 1967-1975
Things you can do in your community:
Actively seek out businesses owned by POC and support them monetarily.
Support Black culture: purchase art by Black artist, watch movies/tv made by Black directors + producers, attend theatre productions with Black casts telling Black stories, purchase books by Black authors, and above all–nurture the talent that is blossoming in the Black children around you.
Ask to for diversity in employment, advertisement + leadership in places you shop, eat and play.
Give your white daughters Black babydolls and Barbie dolls to play with (that aren't just characters or represent people that already exist) so that it encourages empathy and caring of other races.
Call someone out– even when you're Black friends aren't around. If you hear something that would make you cringe if I were sitting beside you, have the courage to tell them it wasn't ok. Muting yourself during those times normalizes that behavior. Shaming someone you love for their racial bias doesn't mean you love them less, it means you love them enough to make sure they are never apart of the problem.
Other resources:
Popsugar's List of Books about Racism White People Should Read
75 Things White People Can Do for Racial Justice
How to Dismantle Racism: Action List
National Museum of African American History and Culture's "Talking About Race" Portal
How to Explain Race + Racism to Children Video
A comprehensive list of anti-racism resources (including great resources for parents) that my friend @whitneyb26 shared with me: bit.ly/ANTIRACISMRESOURCES
Think systemic racism only exists in housing + job? Thing again. Reviews.com recently released an article about Why Minorities are Paying Overpaying for Auto Insurance.
*Know another resource you think we should add to the list? Leave us a comment here or send me message at megan@shadesofpinck.com