One of the most requested topics on my blog is how I plan our trip itineraries. It's definitely taken some practice over the years, but through trial and error, I've found the perfect method that works for my family. It requires a mix of research, organization, dividing responsibilities, and being realistic. Having an itinerary is so important to me because it actually allows for spontaneity. I know, this sounds paradoxical, but the truth is that you can always veer off your plan and make cancellations, but you can't make a last-minute reservation or booking when you're in the midst of traveling. Believe me, it is MUCH easier to have a plan and allow yourself the freedom to skip things than it is to pull off a last-minute excursion.
I like to start this process at least a month out from my trip and there are some key steps to how I make my master itinerary spreadsheets. Here is my method and a blank template below to try it for yourself!
1. Divide and conquer
The best thing you can do to make the planning manageable is to split duties with whoever you are traveling with
Typically for me, I split responsibilities with my husband. He takes care of transport and lodging and I arrange our dining, tours, and entertainment.
2. Begin with the day of the week and date and list from there
This helps visualize your trip
3. First, add transportation
Import all necessary information about planes/trains/rental cars, especially confirmation codes because once that is done, it is easier to plan the rest of your trip
4. Next, add accommodations
You can fill in what you have so far and leave blanks where you know you still need to book
5. Reservations
Needing restaurant reservations is way more common now in a pandemic world… it's best to look for places that take reservations on TripAdvisor, Yelp, or OpenTable!
6. Entertainment/tours
Just like restaurants, the pandemic has made it easy to plan ahead and make reservations in advance for activities, entertainment, and tours
7. Include all addresses
This makes it easy for you and your taxi driver to find where you need to go
8. Color coordinate
Make your schedule color-coordinated to represent different reservations and activities
9. Invite your other trip attendees to the Google Sheet
Share your itinerary with all of the people attending with you so they are on the same page as to what you have planned
10. Print a copy and have it on your phone
Having it on your phone and printed to carry around with you will make sure you aren't missing out on any of the fun plans you have made and makes it easily accessible wherever you are
Some additional tips I have for filling in your itinerary…
Google Flights is the best way to find your flights and look at multiple airlines at the same time
Take trains within Europe, it's the easiest way to get around and such a cool experience
TripAdvisor also has great recommendations for tours
Check Instagrams of restaurants to get real photos of the food and find out what people wear, order, and the overall energy
Include meeting places and all necessary information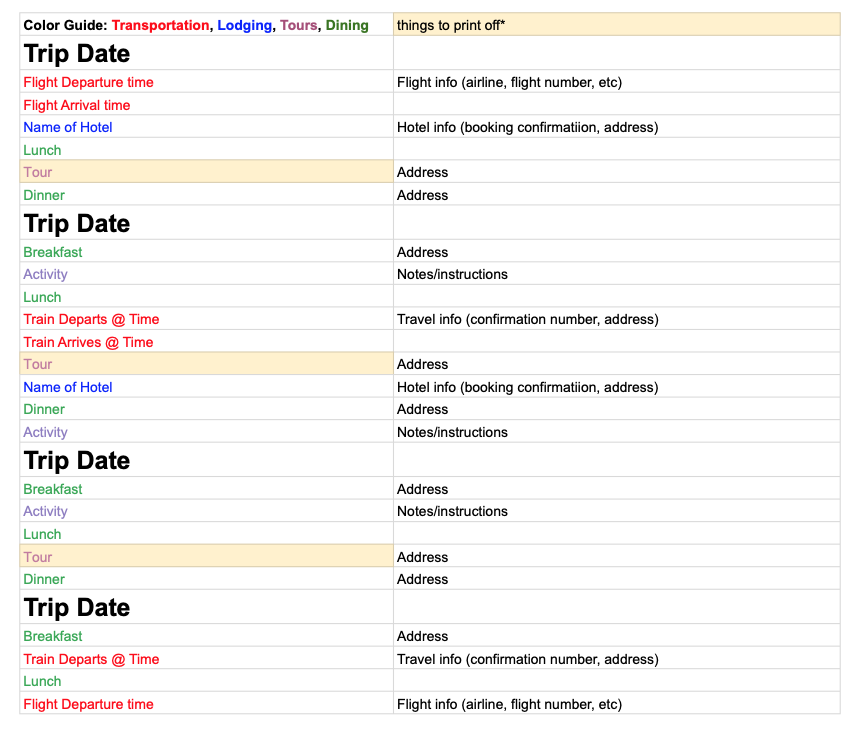 Click HERE to view my Google Sheets Trip Itinerary Template
*simply "make a copy" of the sheet to fill in the info for your trip*