*Updated August 2021*
This week the kids will start back school, but last week felt like our first taste of summer. It was the fist time in nearly 6 months we took a family vacation that required air travel. We're use to spending the summers hopping from location to location, experiencing as much as we can before the kids are back in a Monday-Friday routine, but this summer hasn't seen much adventure, as expected.
I mentioned in my last blog post that we had been planning this trip to Martha's Vineyard for nearly a year now, and when we couldn't cancel we decided to just go for it– and we're so happy we did.
Massachusetts is one of the states that requires visitors coming from high-impact COVID regions *cough South Carolina cough* to receive a test within 72 hours of entering. Once we could prove that we were virus-free, we suited up in masks and face protection and boarded our first flight. To my surprise the plane was pretty full, operating almost at normal capacity. But when we left the South we entered a world that took the virus much more seriously.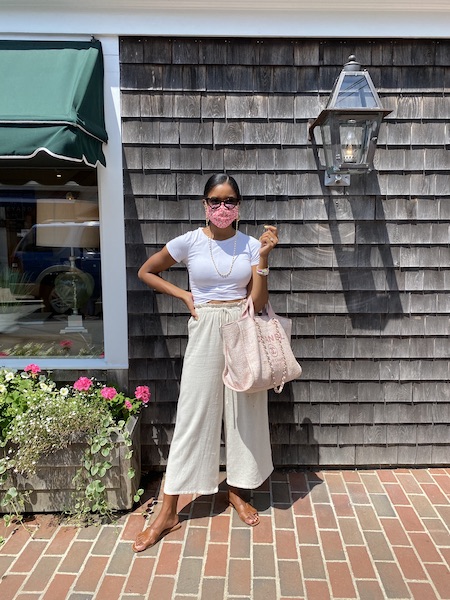 While we've been wearing our masks around South Carolina, we know that not everyone chooses to. On Martha's Vineyard everyone takes this pandemic seriously. If you aren't sitting at a table at a restaurant, your nose + mouth are covered with a mask. PERIODT!
That made us feel extremely safe and gave us the opportunity to (almost) forget about it. Because everyone around you did it, it felt normal enough that you could not think about it and just go about your day. Restaurants were open, activities were happening, life was continuing because people were covered and that made everyone feel comfortable enough to move freely. Which is why this trip felt like our first real taste of summer! For the first time in months we got to go about our days (protected), but without fear that the virus was creeping behind every corner.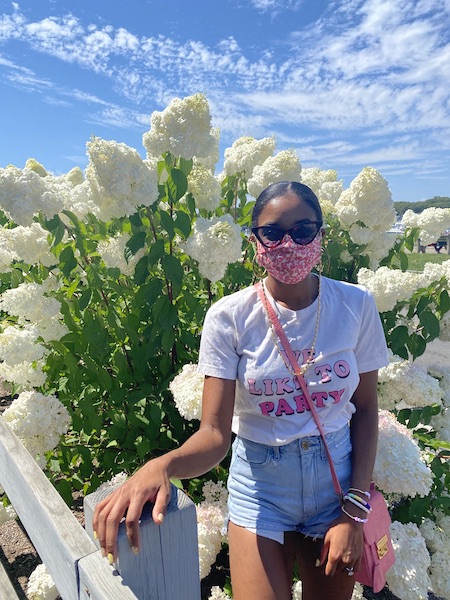 I honestly think everyone should experience Martha's Vineyard, but if you're an African American I highly suggest you add "visit Martha's Vineyard in August" to your bucket list NOW. It's this month, every year, that African Americans from all of the country descend on this island which naturally lead to reunions of all sorts and unexpected connections. Obviously this year was different in that large groups weren't gathering, but the camaraderie of the diaspora could still be felt.
If you ever make it there in August, or any other month in the summer, here's a list of where to eat, where to shop, what to do and everything in between….
Where to eat:
Martha's Vineyard has a variety of choices for any type of gastronomical experience you desire. We found spots for date night, places to take kids, restaurants with great views, the best place for lobster rolls and everything in between. To be such a small island, there really are a ton of great options available.
Breakfast
Waterside Market– Even if you aren't staying in Vineyard Haven, this tasty cafe is worth the drive into town. While they do offer lunch options, we chose this spot to eat breakfast 3x during our trip. The have a speciality coffee, fresh basked pastries + a cozy outdoor seating set up that is the perfect spot to start your day.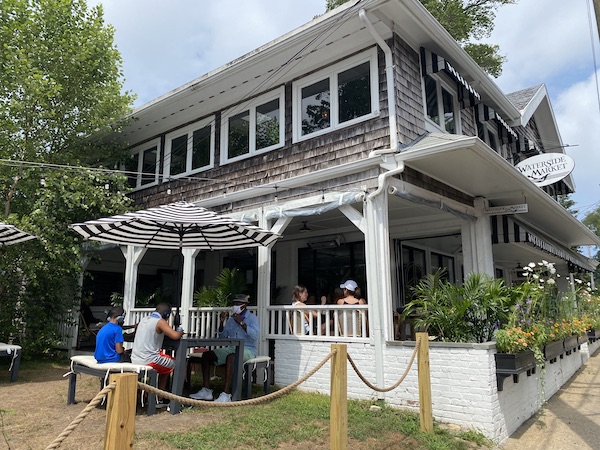 Among the Flowers- This little restaurant is a local fave in Edgartown. Nestled in a tiny dining room (that's currently closed due to covid) and a porch surrounded by colorful blooms, you can find classics like quiche and waffles well into the afternoon. Be prepared to wait a little while!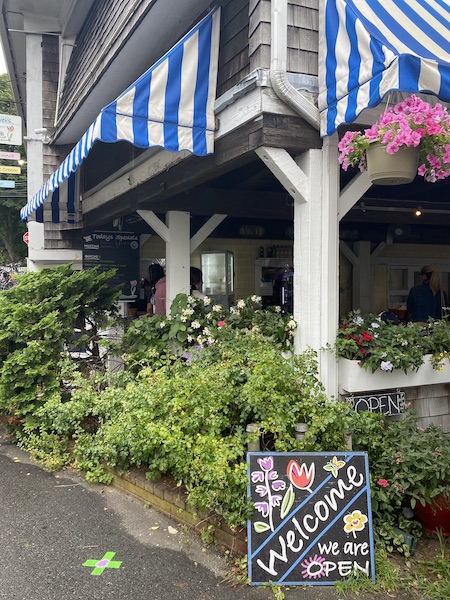 Linda Jean's– Located on Circuit in Oak Bluffs, this diner offers classic breakfast lunch + dinner food all day in the heart of town.
Edgartown Diner– Located below the cinema in Edgartown, this retro diner offers classic breakfast and lunch favorites. I got the Southern Benedict which was cornbread topped with fried chicken, and haven't stopped thinking about it ever since!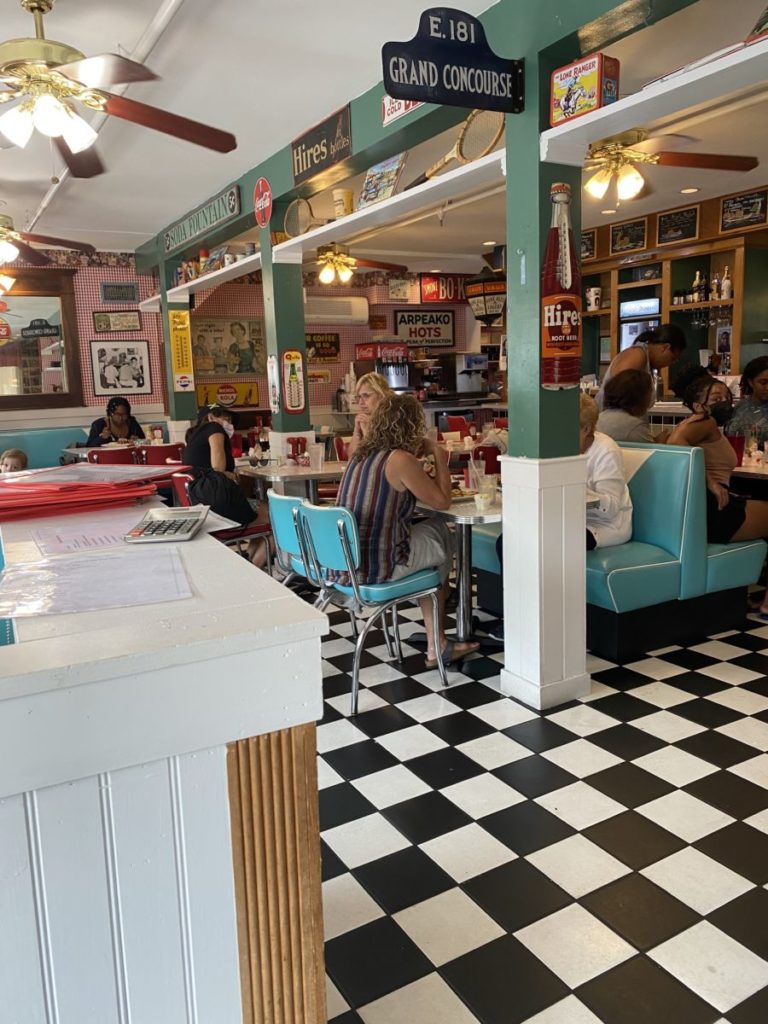 Blissed Out– Tucked away in Vineyard Haven, this little cafe offers a variety of locally produced bowls, avocado toast, burritos, wraps, pressed juices and salads. They have a a few outdoor chairs but it would be best to take this stuff to-do.  But if I'm being completely honest, they had one of the best Acai bowls I've ever tried. And yes, the extra $3 for peanuts butter is definitely worth it!
Back Door Donuts- Ok so the truth this "breakfast spot" is only available from 7-10pm Thursday-Sunday. And yes, you'll wait in a super long line (that moves kinda fast) for an order of donuts. But the good news is they're soooooo good and when you heat them up the next morning to go with a cup of coffee for breakfast you'll feel like waiting the night before was totally worth it!!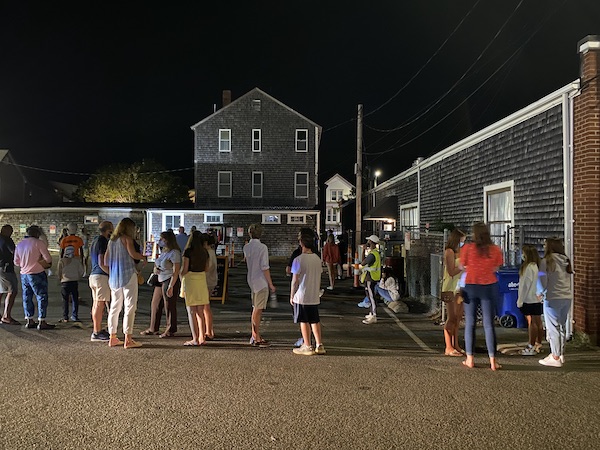 Juice by the Sea- I was soo happy when I found this juice bar in Oak Bluffs. After mornings of waffles and sandwiches and other carbs, I was excited to order a fruit + veggie smoothie to help feel more regulated. I always choose the classic green combo, but they had a few options to choose from. They close at 2pm, but are known to sell out early after running out of fresh ingredientss.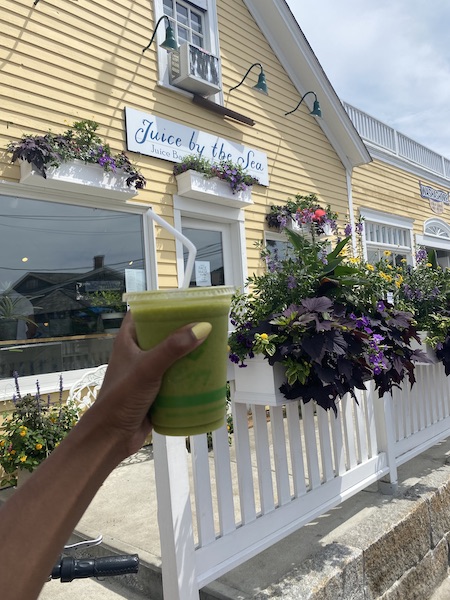 ArtCliff Diner– A collection of elevated American dishes for breakfast or lunch in a retro feel. The entire indoor dining area was closed off due to COVID so we enjoyed the best buttermilk pancakes on the island at one of the picnic tables outside.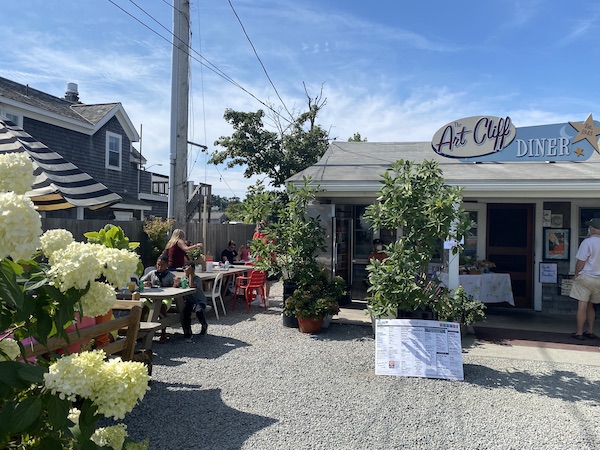 Lunch
Lookout Tavern– Not only does this spot have an amazing view of the steamships that leave from Oak Bluffs, it has the best lobster roll I have ever had. We couldn't resist trying both– the hot + cold, and while they were both life changing, I'm still dreaming of the hot one as we speak.
Sand Bar and Grille– Located in the harbor on Oak Bluffs, this is a great spot for that afternoon when you want to be "in the middle of it all". Enjoy classic bar favorites + seafood with a great view of yachts + sailboats, real beach sand in between your toes, and all the action of bustling tourists around you.
Black Dog Tavern– If you're looking for a side of an amazing view with your lunch, be sure to stop into the original Black Dog Tavern in Vineyard Haven. There are Black Dog stores + cafes all over this island, but this is the first location and view of their dock from their picnic tables out front is worth the elevated classic plates. They offer breakfast all day too!!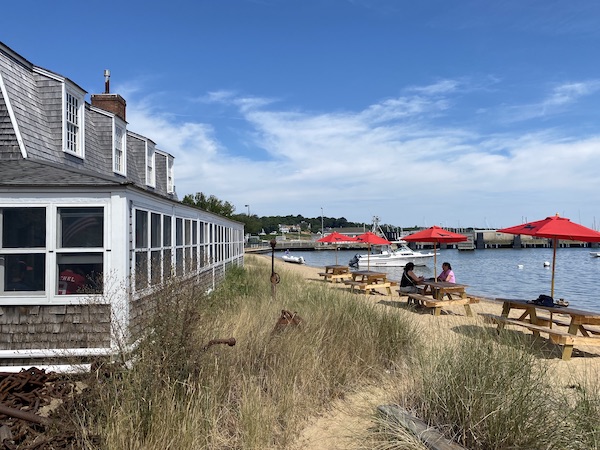 Atlantic Restaurant– We enjoyed the view of the harbor in Edgartown from their patio on a beautiful afternoon. I tried my very first impossible burger here and really really enjoyed it. Everyone around us raved about their meals! While the view really made this place special, I could see how it would be a lovely dinner spot too.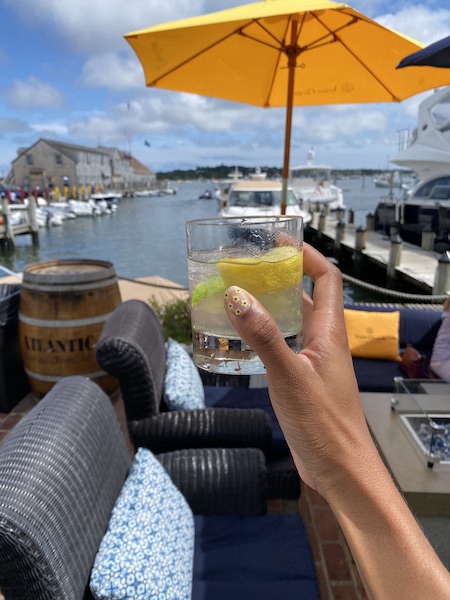 Dinner
Salvatore's– Who knows when we'll be able to travel abroad again, but dinner here felt like we had escaped to Italy for the night. We dined al fresco, a few blocks from the harbor in Vineyard Haven, on authentic Italians plates clearly made with the freshest of ingredients.
The Barn Bowl + Bistro– This upscale bowling alley found a way to push through their COVID closure by turning the former parking lot into a complete outdoor tented patio, equipped with bistro lighting to set the mood, and an excellent menu that had surprise treats like delicious potstickers, speciality personal pizzas, and even a General Tso's Bowl that we couldn't get enough of.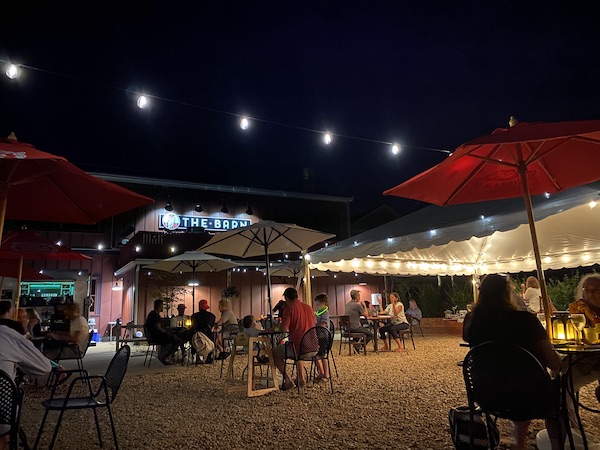 Fat Ronnie's– We took this kids to this Black-owned gourmet burger joint in the heart of Circuit in Oaks Bluff one night and everyone couldn't stop mentioning how good everything was. This could also be a great lunch spot while exploring the town one afternoon.
19 Raw– Yet another charming restaurant in Edgartown that's open for both lunch and dinner! This oyster bar has a delicious menu, that even though is elevated, was kid-approved! They have a selection of specialty cocktails with homemade ingredients and an open air plan that made most of the restaurant feel like everyone was dining outdoors, even if they weren't. We enjoyed a very memorable dinner here one night.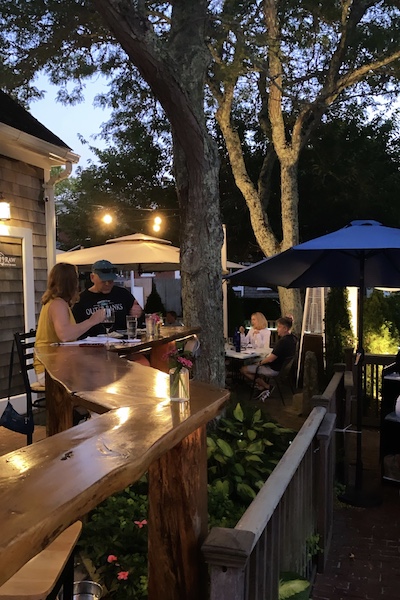 Atria– We enjoyed dinner at this spot soo much the last time we visited the island that when we were invited to join in on a friend's reservation we couldn't say no. If possible, the food improved (not that it was ever not good) and though they had the make changes to accommodate COVID rules, the outdoor seating was incredibly charming.
The Wharf Pub– The night after our sunset cruise we needed to get the kids a quick bite before bed and ended up landing here– an average bar with good food + a kids menu. We sat at the picnic tables outside and enjoyed the cool New England air.
Sarah Brown's– The Vineyard's answer to soul + comfort food! The owner of this spot was born in SC, but has since become a sort of legend on the island. This spot's reputation ensures that it's not always easy to get a table– especially in August! Enjoy traditional Southern favorites like mac + cheese, lima beans, fried chicken, or Sarah's famous burger.
Menemsha Market or Larsen's– Ok so I'll talk more about this experience a little later in this post, buuuut I wanted to mention the two restaurants at this beach where you could purchase fresh lobstahhh for a sunset picnic. We chose Menemsha Fish Market and everything was soo good; order the 1lb Lobster meal + include the clam chowder!! Also loved the tuna melt!! Note: you'll need to reserve a time to pick up your food for the beach!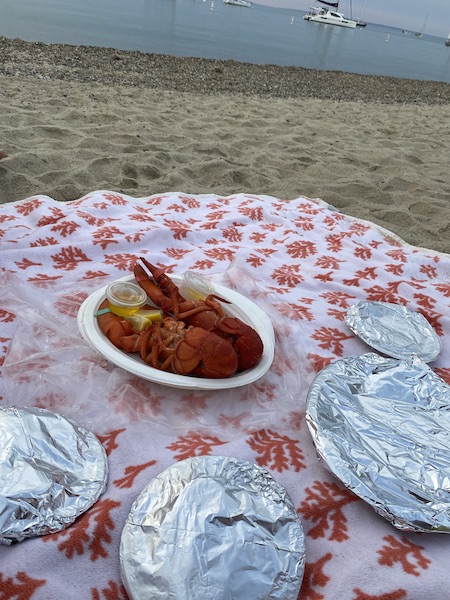 La Soffitta– Located above Waterside Market in Vineyard Haven, this Italian gem should be on your list of places to eat when you're on the island. The food was fresh and inventive and the restaurant itself was super cozy. Plus, the staff was so friendly and honestly a joy to be around! Can't wait to dine here again when we return!
Beach Road– While we were here the Obamas attended a day party here, so of course we had to check it out before we left; I'm so glad we did! Positioned on the Lagoon Pond, this farm to table restaurant has a great view and an even better menu (though it's constantly changing). They even have a resident pastry chef and an extensive list of gourmet chocolate bars for dessert. Definitely a place worth trying if you're looking for an upscale, relaxed beach feel!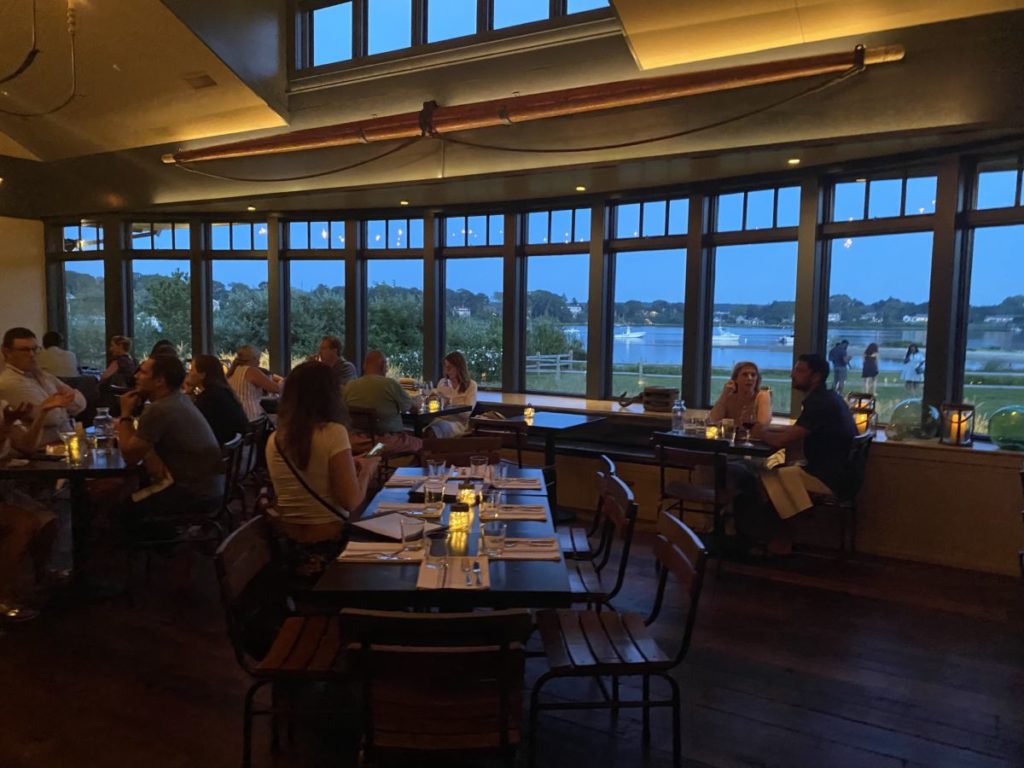 Where to shop:
Oak Bluffs– The best place to shop in town is throughout Circuit. Here you'll find a mix of souvenir shops, island staples like The Black Dog + Vineyard Vines, and even convenience stores. Make it a point to stop into Black-owned C'est la vie for your Inkwell + Vinyard paraphernalia.
Vineyard Haven– If you're in town the best place to shop is on Main Street where you'll find a collection of high quality home goods, clothing stores among more practical stores like the local pharmacy. You'll find an open air market on Saturdays during the season. Make it a point to pop into The Beach House Gift Shop for unique pieces to return home with.
Edgartown– If you're really looking for a place to shop for fashionable pieces that make you look + feel like a local then you'll need to head to Edgartown. This chic town sits on a hill above the harbor and has dozens of locally owned + nationally recognized brands available within walking distance from one another. You could easily spend the afternoon wandering in and out of stores getting a taste of how New Englanders do preppy, beauty summer looks. A few notable mentions: Slate, Past & Presents Antique Store, Nell, Faherty and Sea Legs.
What to do:
1. Discover the Gingerbread Cottages– You'll feel like you've walked into the scene of a storybook when you discover these colorful, charming cottages around Oak Bluffs. There are nearly 300 of these cute little houses located around town center that date back to the 1800s when this corner of the island was frequented by a group of Methodists that held annual religious retreats + meetings. You can find most of them in the area behind Summercamp Hotel (across from the marina) and behind Ocean Park.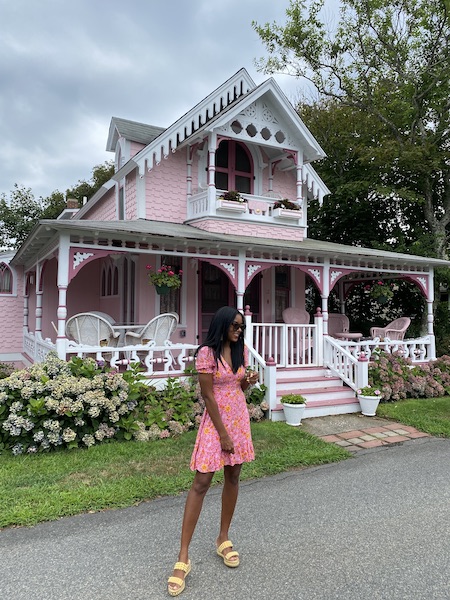 2. Jump off of Jaws Bridge– For decades MV has been known for a seemingly ordinary bridge thanks to the 70s thriller it Jaws. People of all ages have made a point to jump off the bridge into the ocean as a right of passage to the island every summer. There's also another bridge about mile or so down the road next to the Bend in the Road beach that people have started to do the same thing on!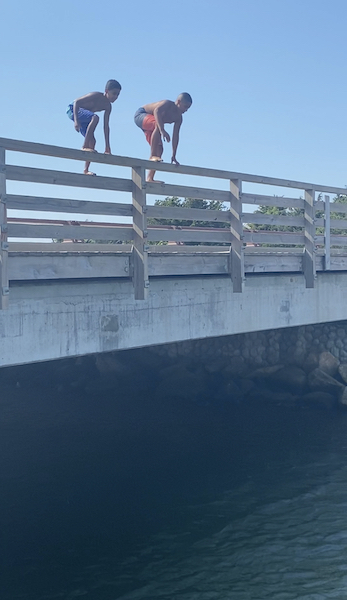 3. Hangout at The Inkwell– This iconic beach has played a role in African American history on this island for over a century. Initially a derogatory term to describe the beach as the only place that would allow people of Color, the Inkwell has since been turned into a historic location that is a must for any person of color visiting the island.
4. Walk around Edgartown– With so many adorable shops, restaurants, and gorgeous homes with impeccable landscape, you could spend hours wandering through the heart of this luxurious town.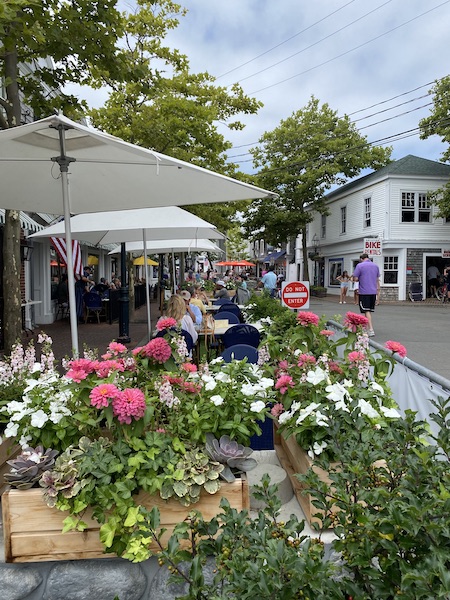 5. Bike around Oak Bluffs– Thanks to 2 lane streets and a lack of parking, biking really is the best way to get around town. We rented the kids' bikes from Anderson's, but decide to get electric bikes for ourselves from MVebike Oak Bluffs, which was the best decision because it allowed us to get through the town's bluffs (hills) seamlessly. .
6. Witness a sunset at Manemsha Beach– This experience was hands down the highlight on my trip. I would 10/10 recommend!! Don't leave this island without witnessing a breathtaking sunset at this beach, but what truly made the experience special was ordering fresh lobstahhh from one of the dock restaurants (see above for more info) and picnicking on the beach for dinner.
7. Visit Art Galleries– There are two well-known Black-owned galleries on the island Knowhere Art Gallery + Cousen Rose Gallery, that you shouldn't miss while visiting. And the President of Society 1858 + owner of Charleston's George Gallery raved about the Granary Gallery.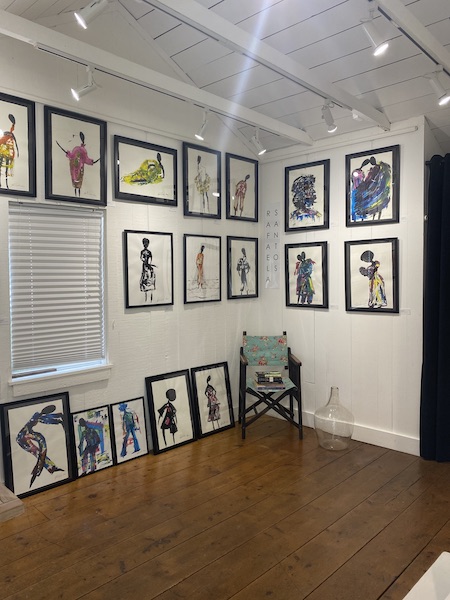 8. Take a Sunset Cruise with Mad Max!– This cruise is BYOB and most people include snacks with their libations. Be sure to dress warmly or bring layers because the wind gets cool as soon as the sun sets!
Where to stay:
Rent a House – What made our vacation so special was that we got to feel like locals for a week. Part of the charm that is this island is renting a house and immersing yourself into this culture for as much time as possible. We chose to rent a home in Oak Bluffs because that's where our friends that had also planned to vacation here would be, and it's where we were more likely to make connections with other visitors with similar backgrounds. Take a look at our home here.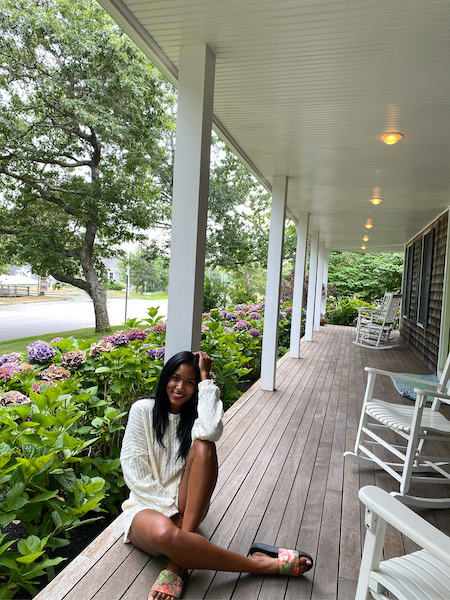 The Kelley House– Last time we stayed on the island we spent two nights at the Kelley House just to experience Edgartown. If you weren't going to stay in Oak Bluffs, then I highly recommend making this chic, waterside town your home base. This hotel went through a full renovation (partly while we were guests) and is located within the heart of Edgartown within walking distance to almost everything.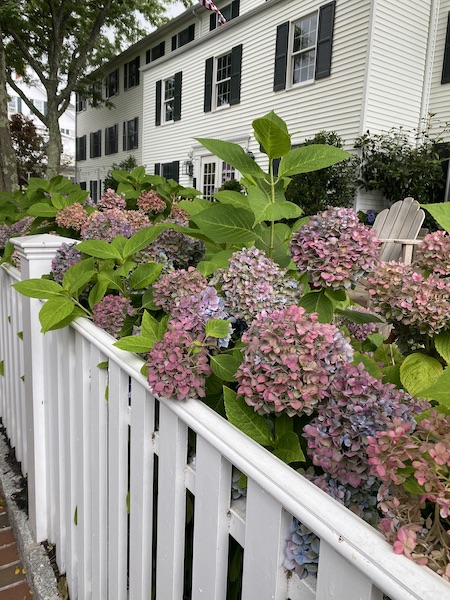 Mansion House Inn– Vineyard Haven is also a sweet part of the island and if you choose to make this area your home base I'd recommend this hotel. We stayed here for one night the last time we visited. It felt authentically New England and gave us a more local feel than the Kelley's luxury vibe.