If you haven't heard, the SoP team has moved to a new Office! Our team has grown tremendously over the past year, so we sadly outgrew our old office. However, I am so excited about this move and cannot wait to show you how we have decorated and truly made this new space our home. Little by little, we plan to show you around the new office. So to start off I thought we would show you our favorite room: the wardrobe room!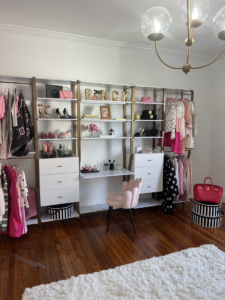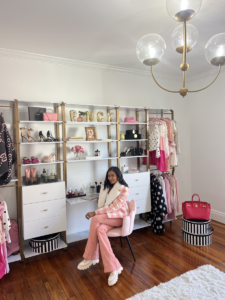 When we started planning the layout of this office, I knew we needed a better way to organize the products and clothes we were receiving every week. Things would often get misplaced or lost between my house and office! That's when I realized we really needed a dedicated place for these packages to be unboxed and organized. With the help of CosmoLiving at Wayfair, we built this beautiful closet to fit our needs.
The system we chose was the Gwyneth 4 Piece Walk In Closet System. What is great about this system is that each unit can be configured in the right combination to fit your needs. We ended up using 2 of the 3-drawer units, 2 of the hanging rod units, and 1 vanity unit in the center. Not only is this closet so functional, but the aesthetic of it is sooo stunning. From the gold rails to the marble shelves, and pink-lined drawers, it all perfectly fits the SoP look!