I had the pleasure once again this season to attend Mercedes Benz Fashion Week in NYC
Last September (S/S 2014) was my first time ever attending a show "in the tents". It was a magical experience, one that I had waited my entire life for, so when the opportunity presented itself once again I did not dare turn it down.
Now, I am not a buyer, I am not an editor, I am not a stylist, I do not work in the industry (yet), and until a couple of weeks ago I was not even a blogger. Therefore, I do not go to the shows the forecast trends, or critique designer's creativity, or whatever else other people do at the shows. I go to simply enjoy the show, the production. I love the excitement of the industry and just being there allows me to be apart of it.
My trip to NYC was a fairly quick one, but I wouldn't dare leave the city without treating my taste-buds!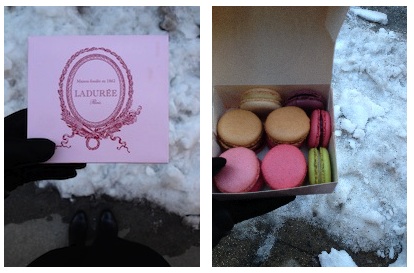 I started with brunch at Laduree'! Known in NYC for their authentic, delicious French macarons, Laduree' recently opened an full restaurant in Soho. If you know me then you know that Paris has topped my list of "places I must visit" since the dawn of time, and french toast is my most favorite food of all time, so this place was calling my name. Walking through the front door I immediately felt like I was in France. The ambiance was like nothing I had ever experienced. Everything looked like a French painting, and even the wait staff had French accents (they flew staff from the Laduree' in France to help with the start up). The food was fantastic. Obviously, I ordered the French toast. It was AMAZING. So sweet, so soft, so everything that I wanted it to be. For dessert (yes, I know it was brunch) I ordered the Coupe Soho; caramel with salted butter ice cream, ginger ice cream, chantilly cream, and macadamia caramel-ginger sauce.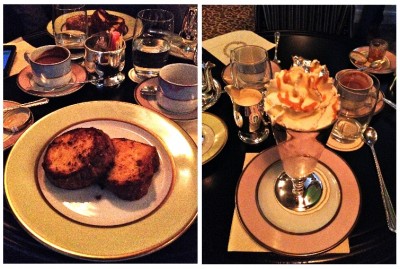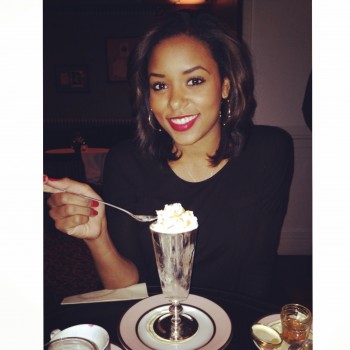 Lunch was quick & easy. One of my favorite cheeseburger joints, ever! Two words: Shake shack. There is ALWAYS a line, and NEVER a place to sit, but my God its SO worth it. Trust me. I ordered a classic cheeseburger and a side of their crinkle fries.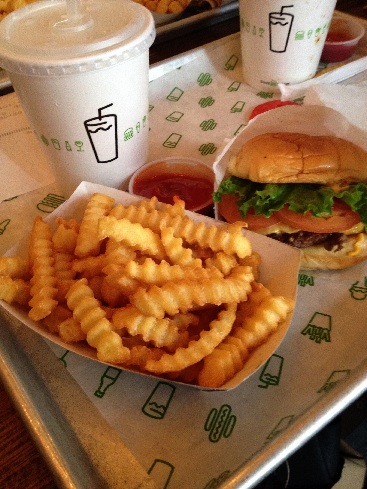 Finally for dinner I ate at Beauty & Essex. This is seriously one of the coolest places I have ever eaten, which is why I try to eat there at least once on every trip to NYC. Columbia seriously needs a place like this. The cocktails are great, the atmosphere is great, the music is great, and the food is GREAT. I have never ever ordered anything there that I didn't enjoy. This time I ordered the kale and apple salad, grilled cheese smoked bacon & tomato soup dumplings, and the pork baby back ribs with jagermeister/black cherry BBQ sauce and onion rings. (Yes, those plates were ordered to be shared) You can't go wrong with anything you order!