Last week Todd + I had the absolute pleasure of finally experiencing the Montage Palmetto Bluff. If, like me, you can't get enough of marsh view or Spanish moss-covered oaks, then this place should be at the top of your travel bucket list. (Be sure to read to the bottom for a special booking code)
Situated on a peninsula of 20k acres, Palmetto Bluff is an exclusive community in Bluffton, SC that feels much more like a complete town. On the property you'll find full + part time residents, several top rated restaurants, recreation opportunities, a post office, the cutest little gas station convenience store, and the 5 star Montage Palmetto Bluff — where we spent two memorable nights (made famous by the wedding ceremony of Justin Bieber + Hailey Baldwin).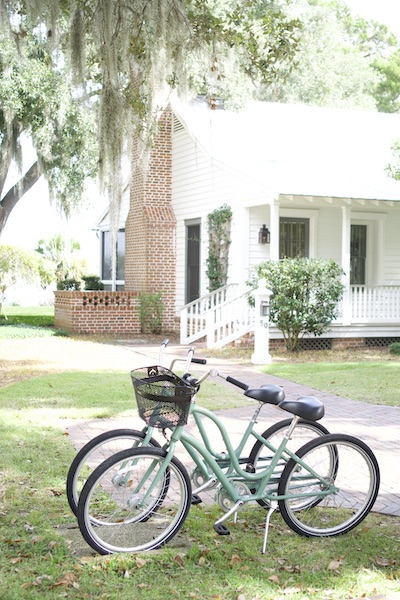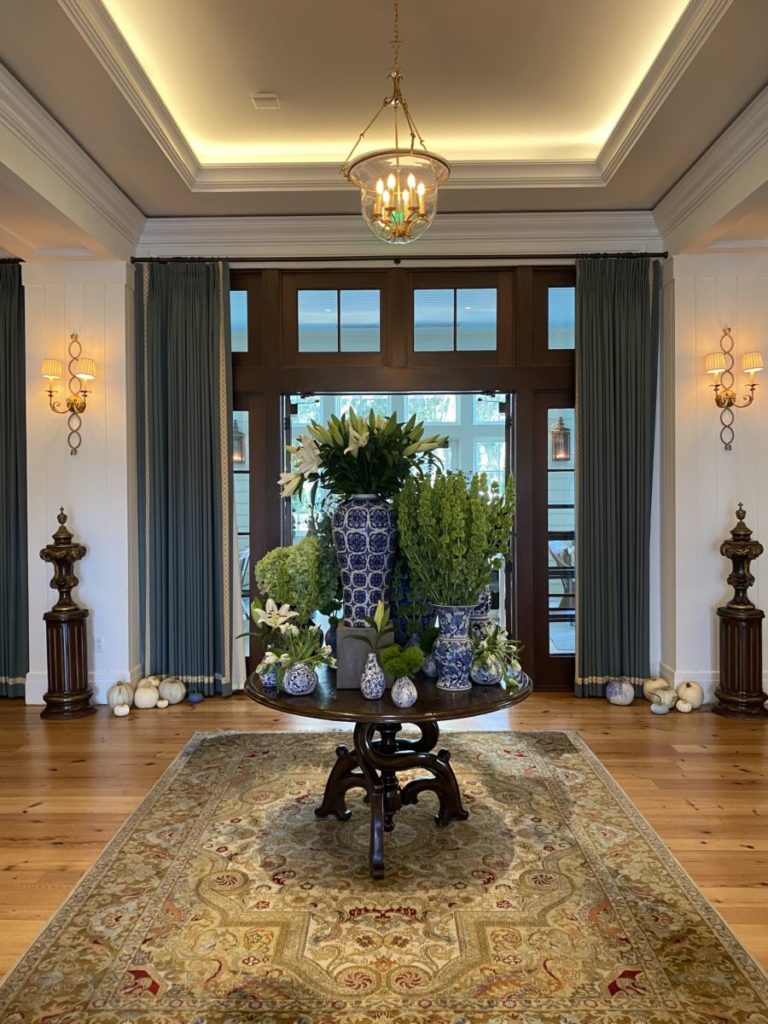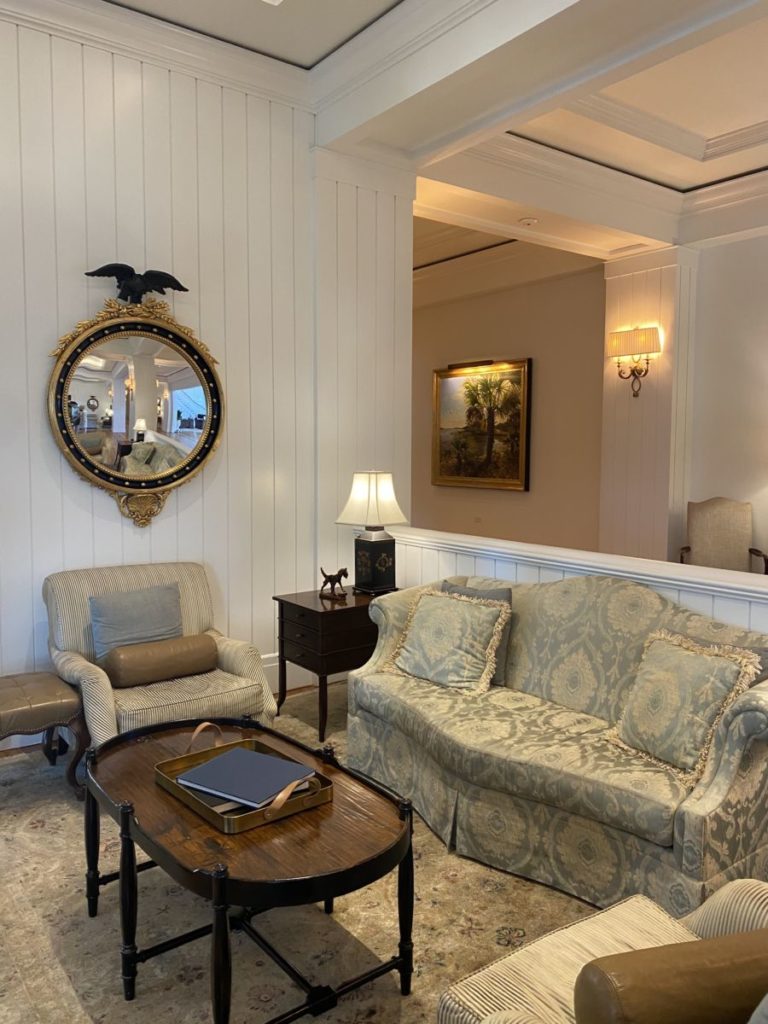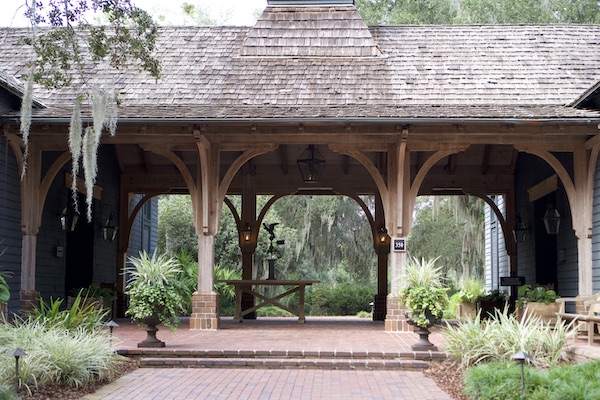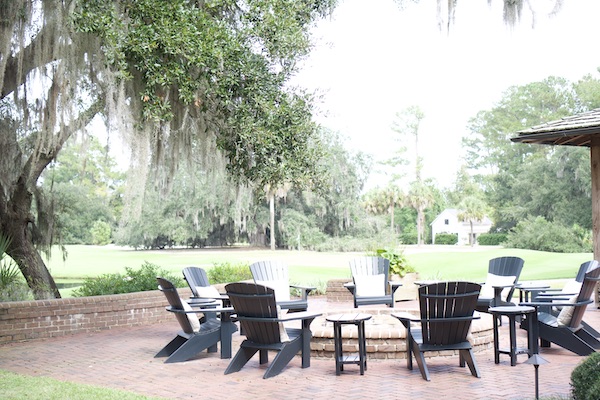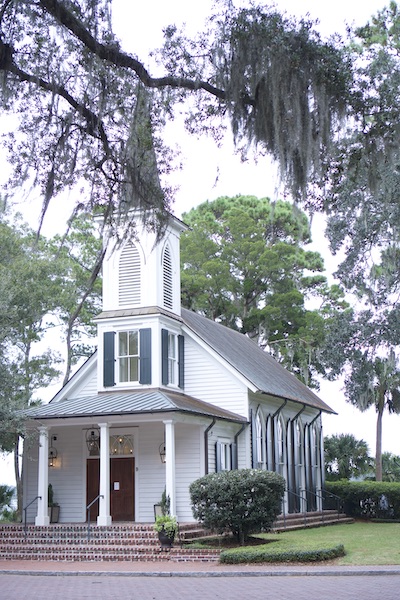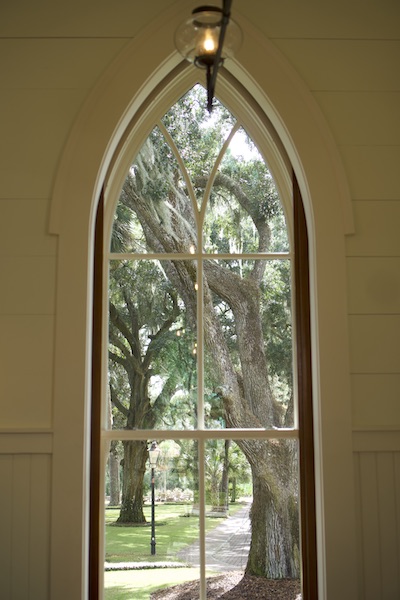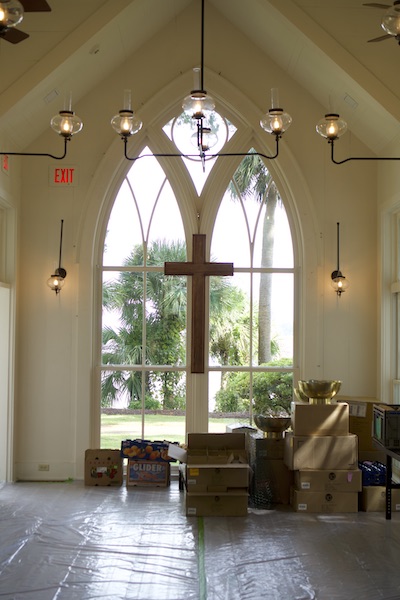 When we first arrived we did what every guest at the Montage Palmetto Bluff should do– we took a tour! This property is so expansive and offers so much that the only way to really be able to take advantage of it is to be guided through with someone who knows! While touring we got a peek at the world-class golf course and saw the trees that inspired the Palmetto Bluff logo. Then we stepped into their little chapel overlooking the May River and my entire heart exploded. Everything about that structure is exactly what I'd dreamed about for my wedding day. They were setting up for one that day, and I couldn't help but dream.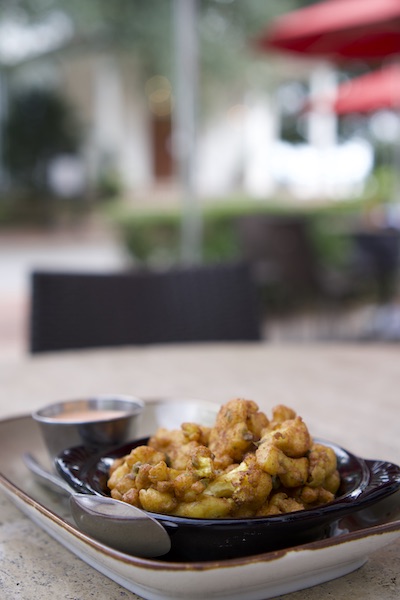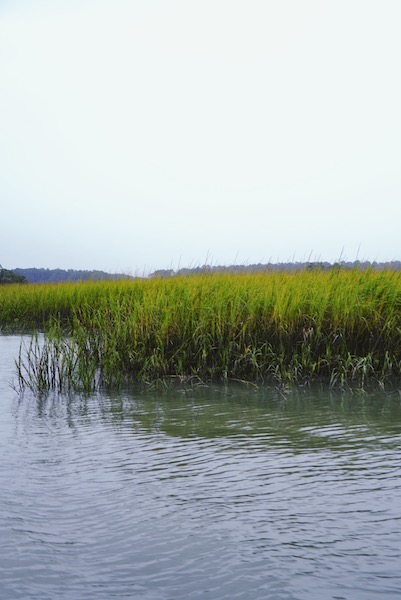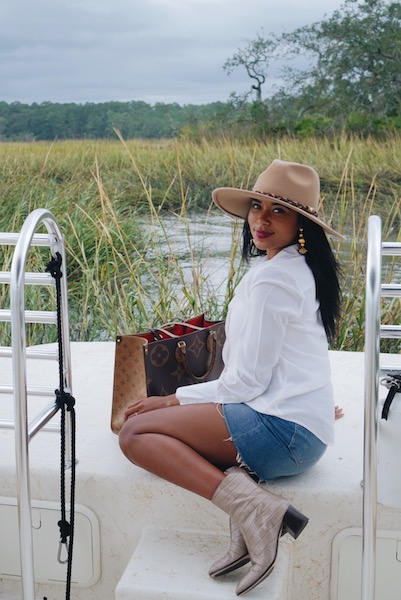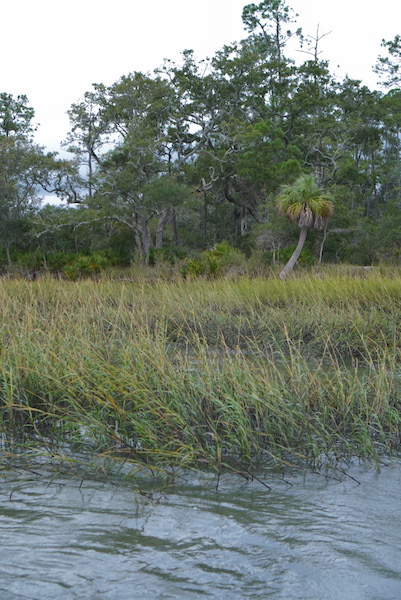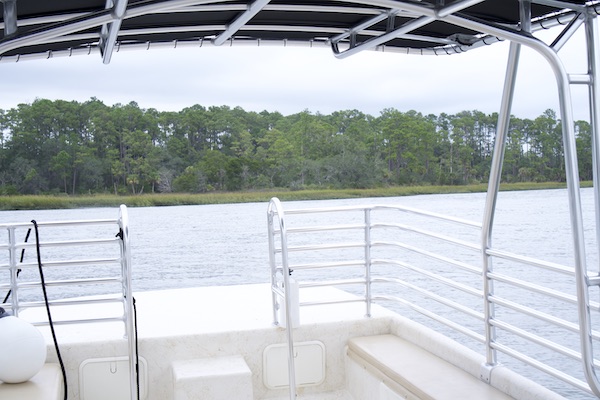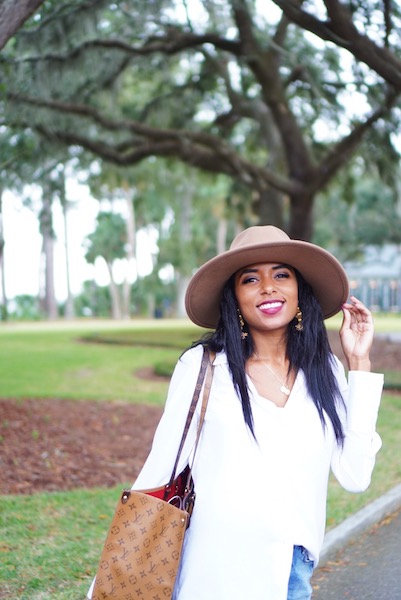 After our tour we had a super quick lunch at Buffalo's (where I experienced the best fried cauliflower I've ever had) then hurried over the marina on site for an excursion with Outside Palmetto Bluff on the May River (which funny enough isn't even really a river). For about an hour we were on a private powerboat-base nature cruise with an experience naturalist. Todd was seriously in heaven listening to all the information about the estuaries and history of the land, while I was in just so thrilled to get soo close to marsh land!
Afterwards, we took a stroll through the little shops at Wilson Landing before heading back to our room to finally settle in. The Montage Palmetto Bluff hosts "porching" (forced relaxation with cookies + lemonade) every afternoon on their back porch. Because we missed this while boating, we tried to recreate it on our personal back porch. The team brought us cookies + lemonade for Todd (wine for me) and we sat there and took in the breathtaking views before getting ready for dinner.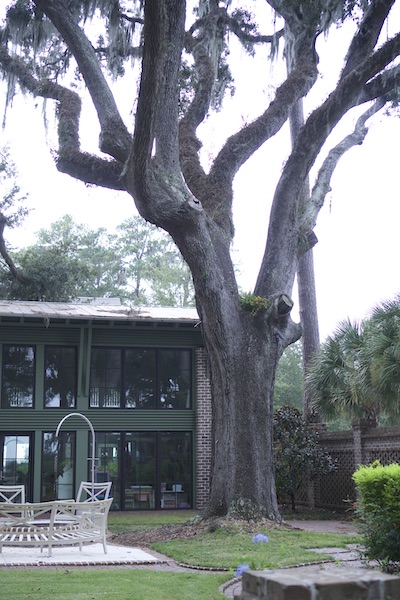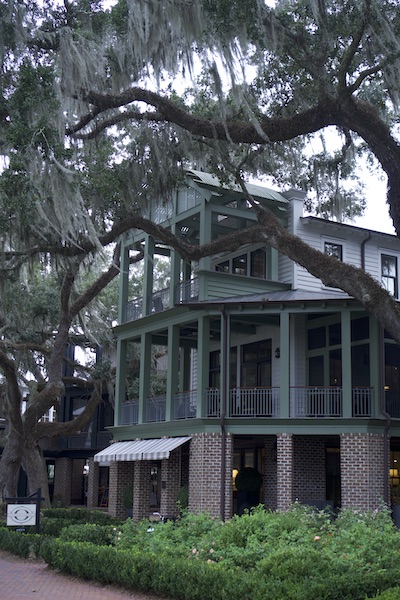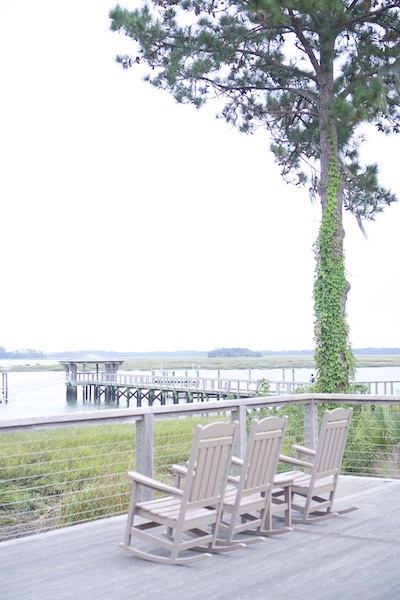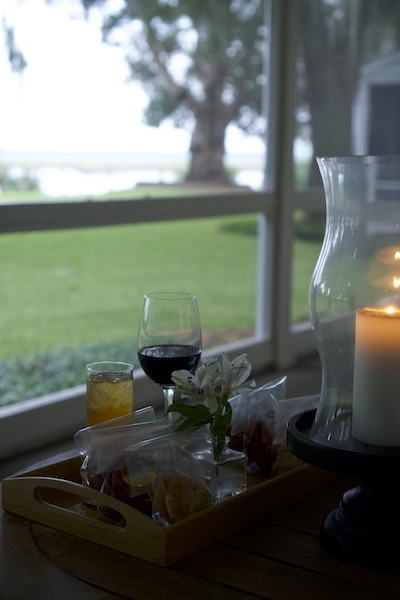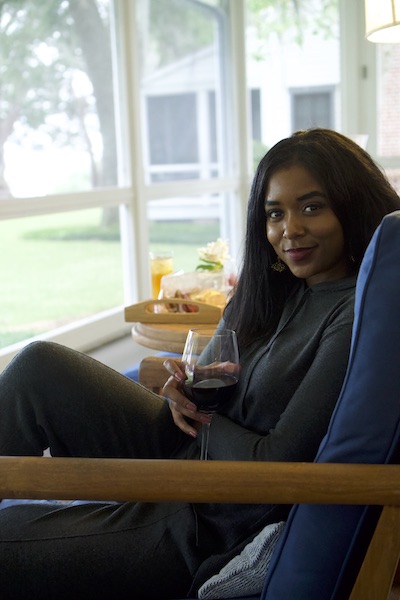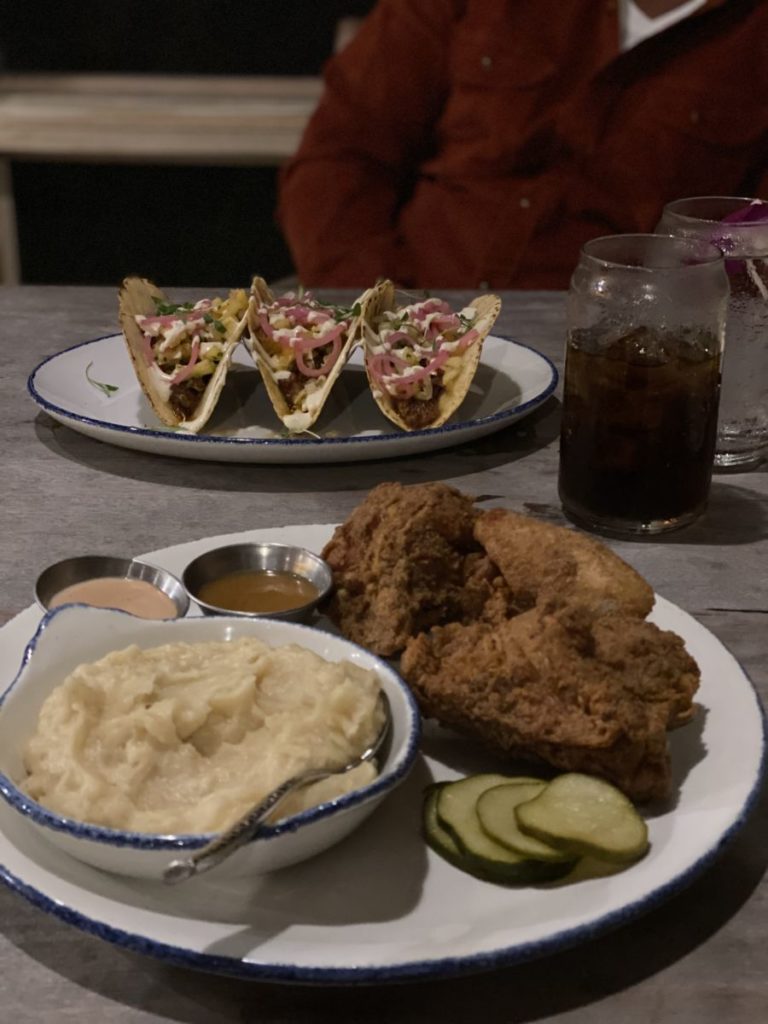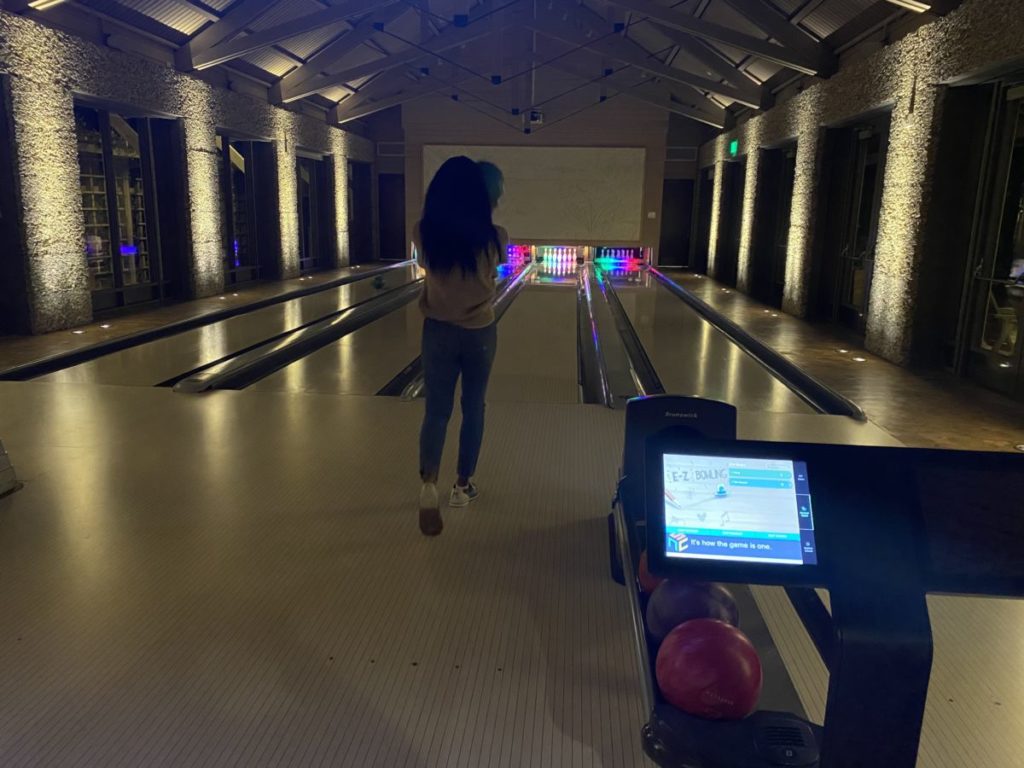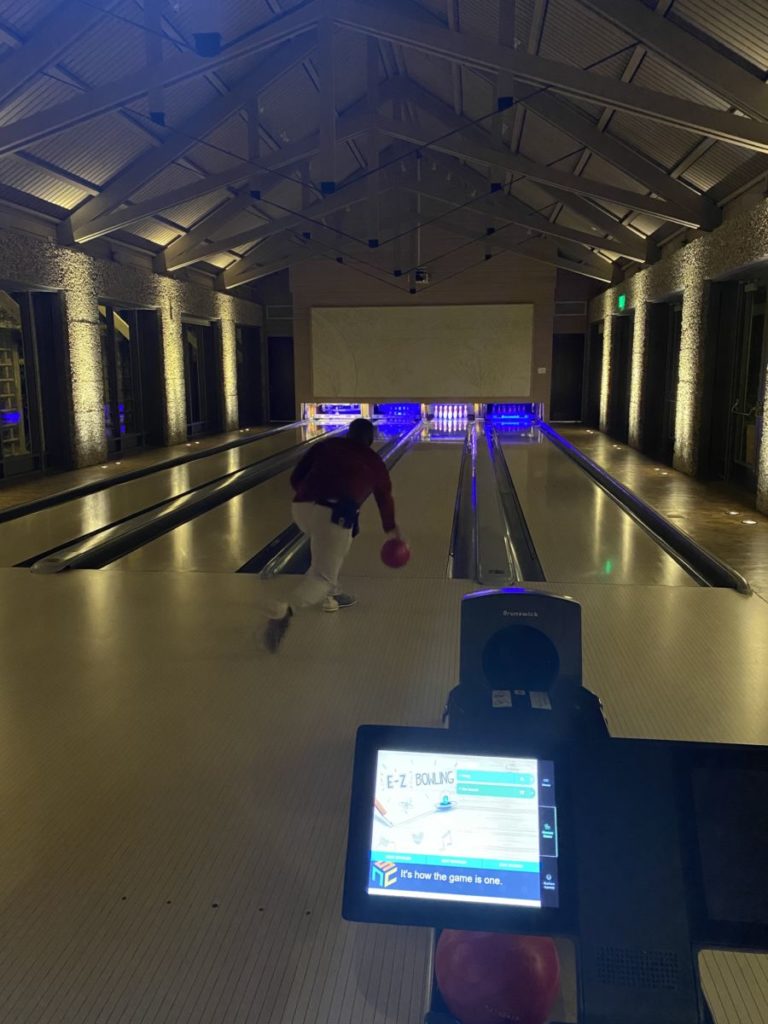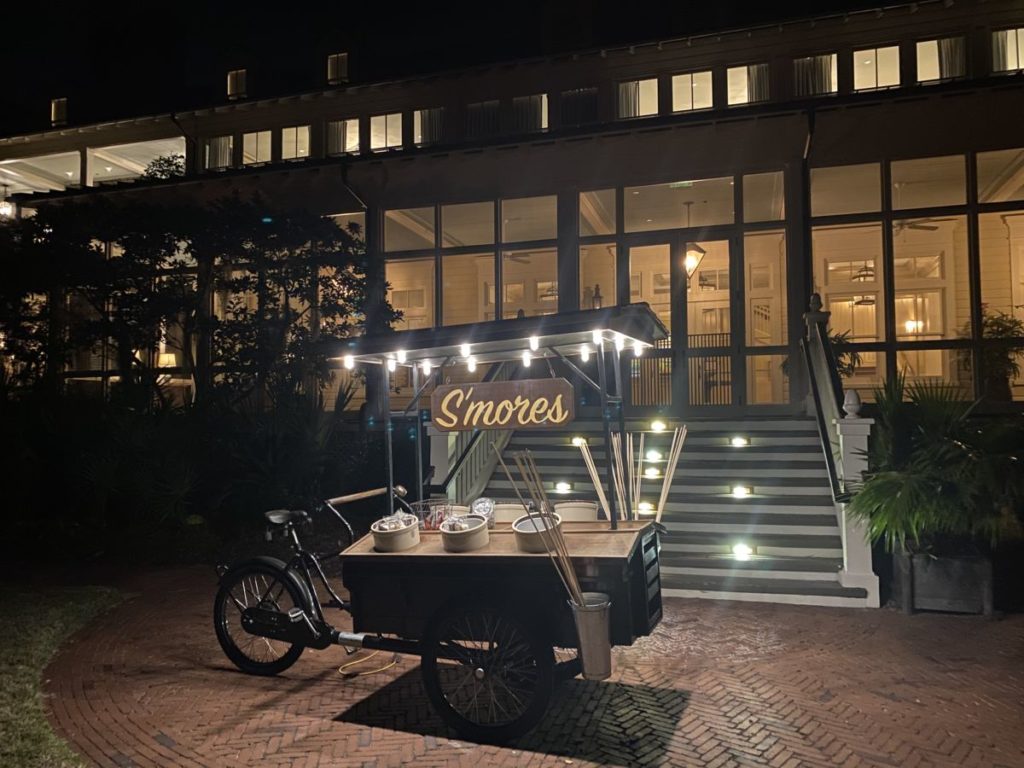 That evening we took a 10 minute drive to the other side of the property for a dinner at Cole's! This was a super casual setting. Todd had brisket tacos, which he loved, and I felt compelled to order the fried chicken because it was not only what they're known for, but it's the reason the residents have voted Cole's the best restaurant on The Bluff. After dinner we hung out in the bowling alley attached to Cole's and spent nearly an hour both embarrassing ourselves on the lane. We were horrible, but the drinks kept coming so we had a lot of fun. We ended the night doing one of out favorite activities…making s'mores over an open fire pit!
The next morning I was soo anxious to open the blinds. I couldn't wait to see our view being hit by the morning light. Let me tell you, it did not disappoint! Todd + I had coffee and just took it all in. Then we started the day with breakfast at Buffalo's which most certainly became our favorite restaurant while on property!! (You can't miss their pancakes omg)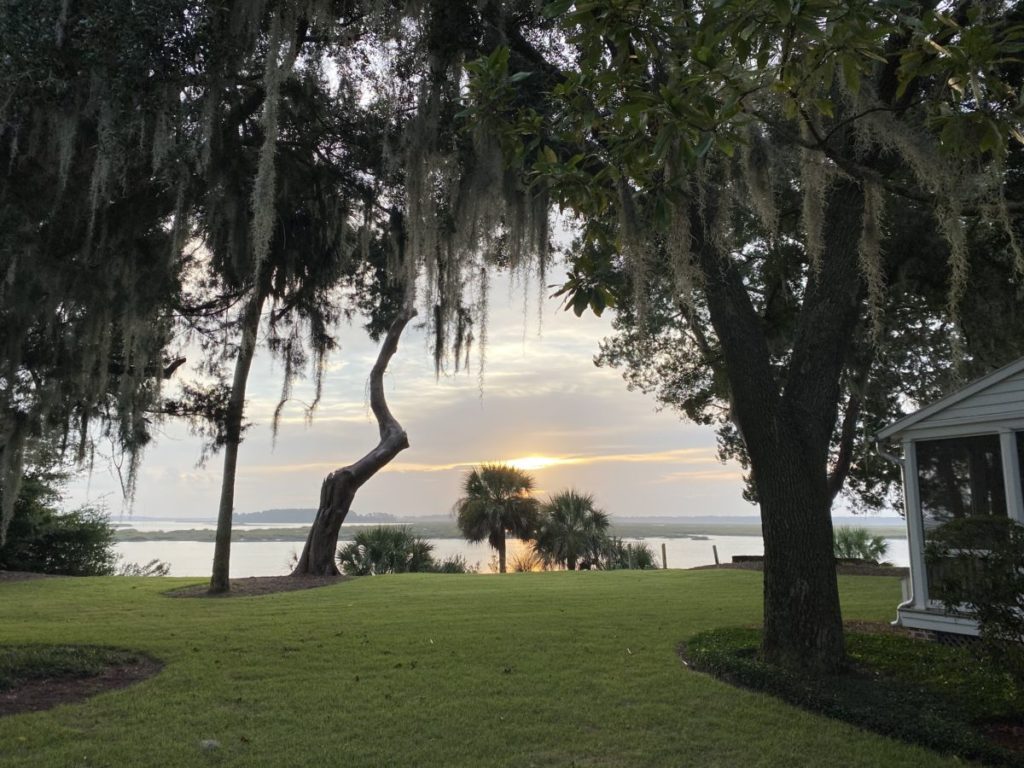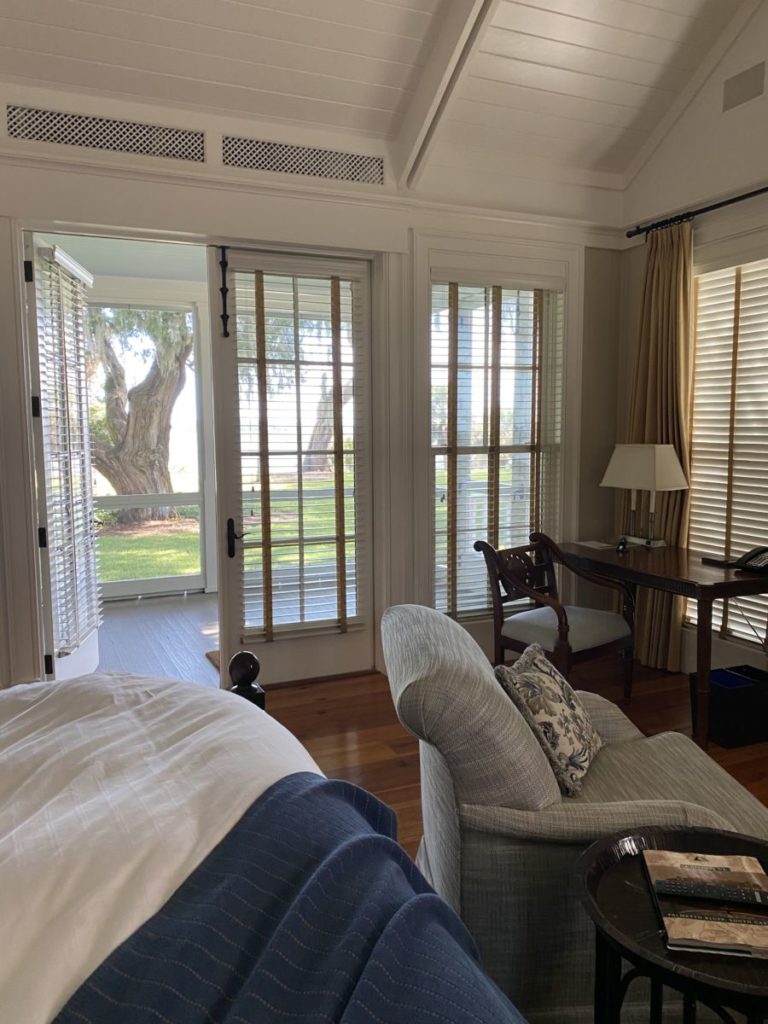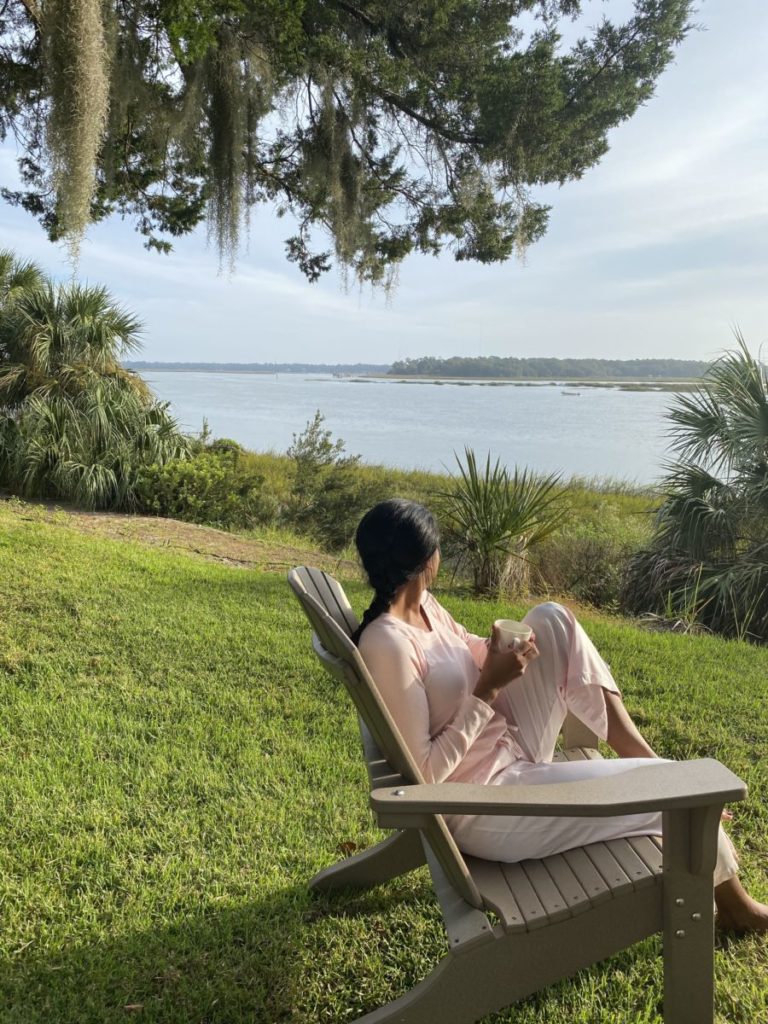 After having a quiet morning around our cottage, we headed off on our next big adventure– a Veuve Clicquot 'Picnic + Pedal' lunch. We got two bikes (Veuve orange, of course), two picnic baskets, two gourmet meals and one bottle of champagne and went off in search of the most romantic spot on the property! As soon as I was sure I'd found it (the big oak next to a pond), we unpacked everything, set up, started enjoying our meal…and then the rain came!! Ughhh, it had the potential to be the best lunch ambiance of all time, then the weather came in and washed it all away– literally lol. So we ended up biking home through the pouring rain!! Once home, I curled in the coziest sweats I'd brought and finished my incredibly delicious meal on our back porch while listening to the rain and catching up on a little work.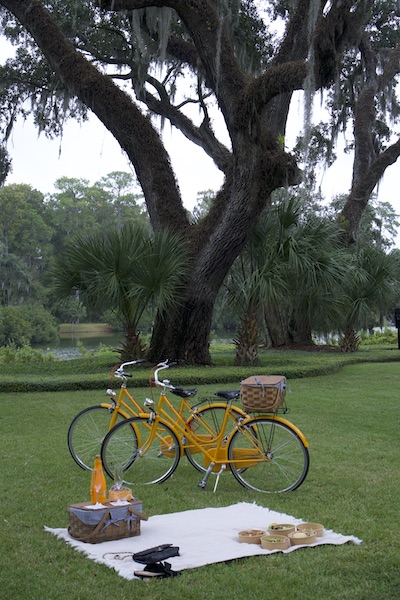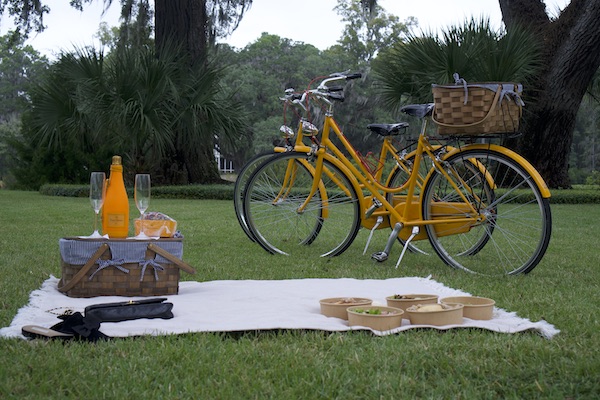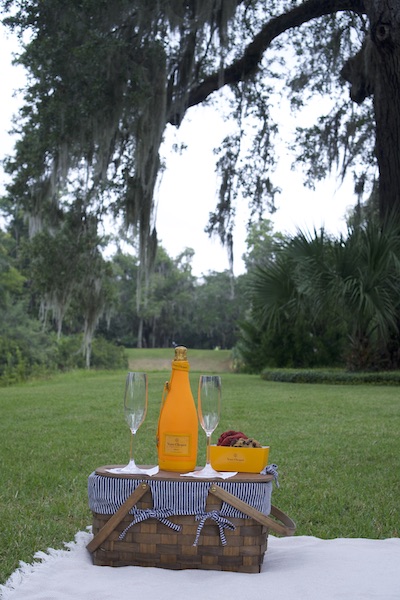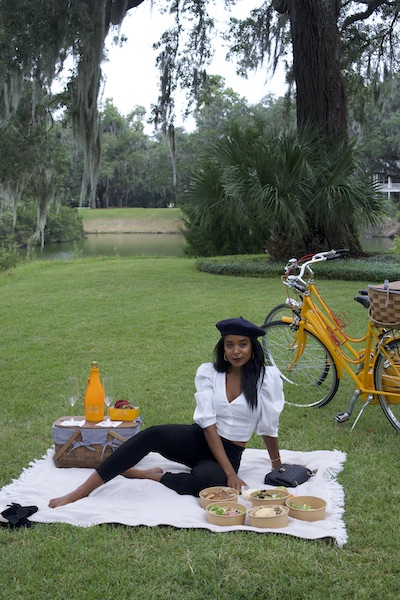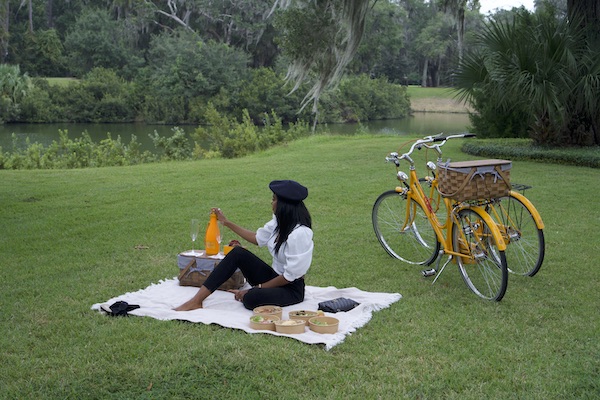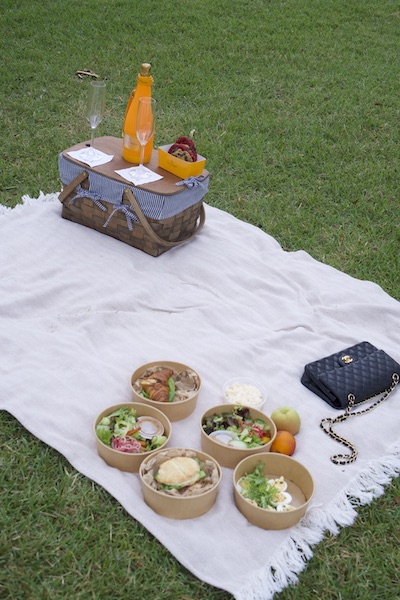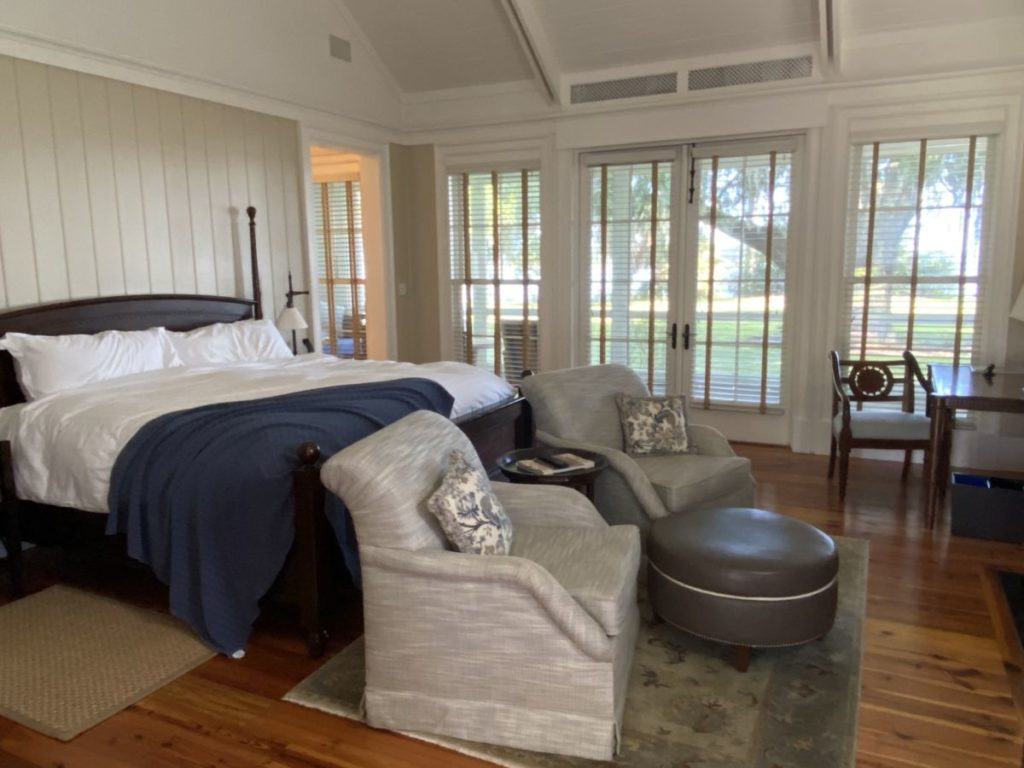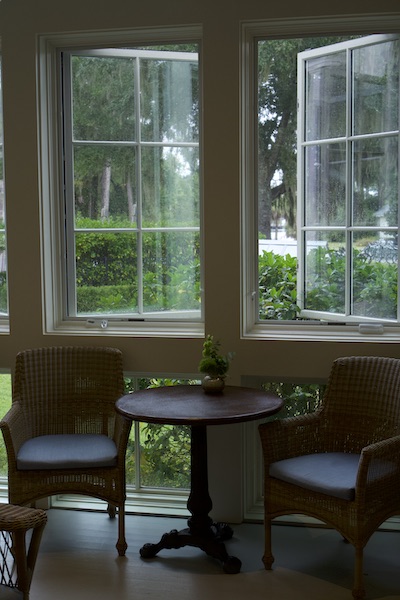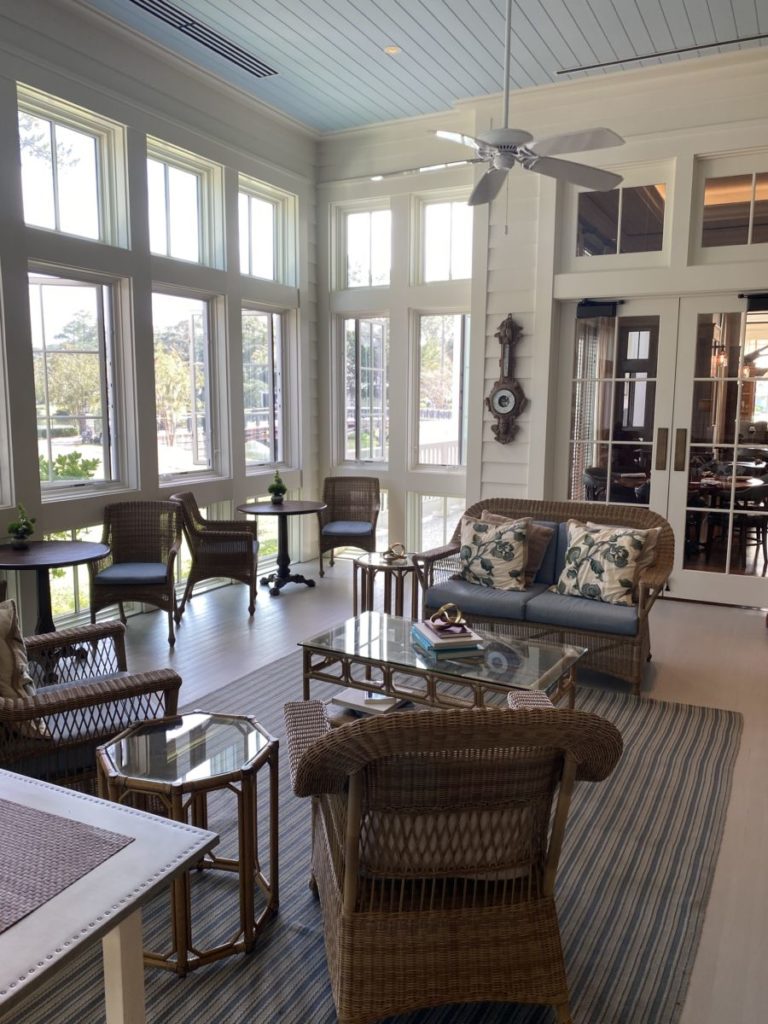 After the rain, we explored the beautiful homes throughout the property before making it back for some proper porching at The Montage Palmetto Bluff. After hanging out for a bit, we got ready for dinner at Octagon, the Inn's answer to fine dining! It was fully committed the night we had reservations so it took us a while to get a table, which as perfectly fine with me because we sat next to the fire in the drawing room and I had a Octa-quila (or two). Dinner was great! The waitress explained that the sushi chef was only in residence part-time, so I ordered a speciality roll and wow I was not disappointed. Todd enjoyed his beef too!! We ended up hanging out next to the fire in the lobby for a little while after dinner before heading back to our cottage.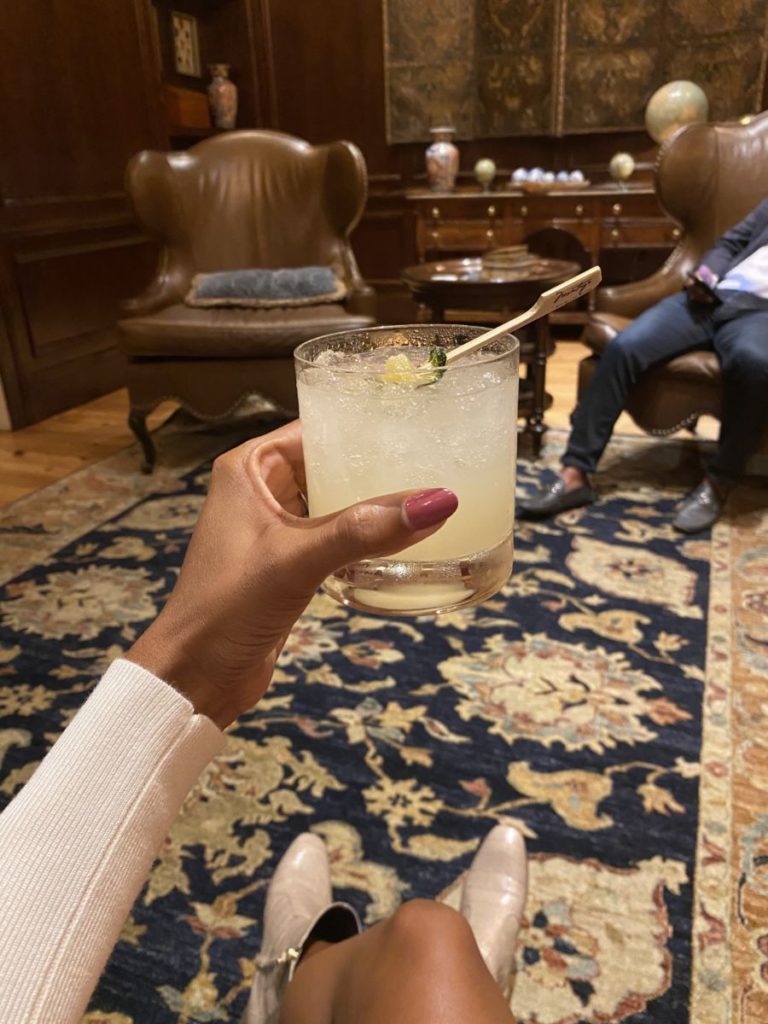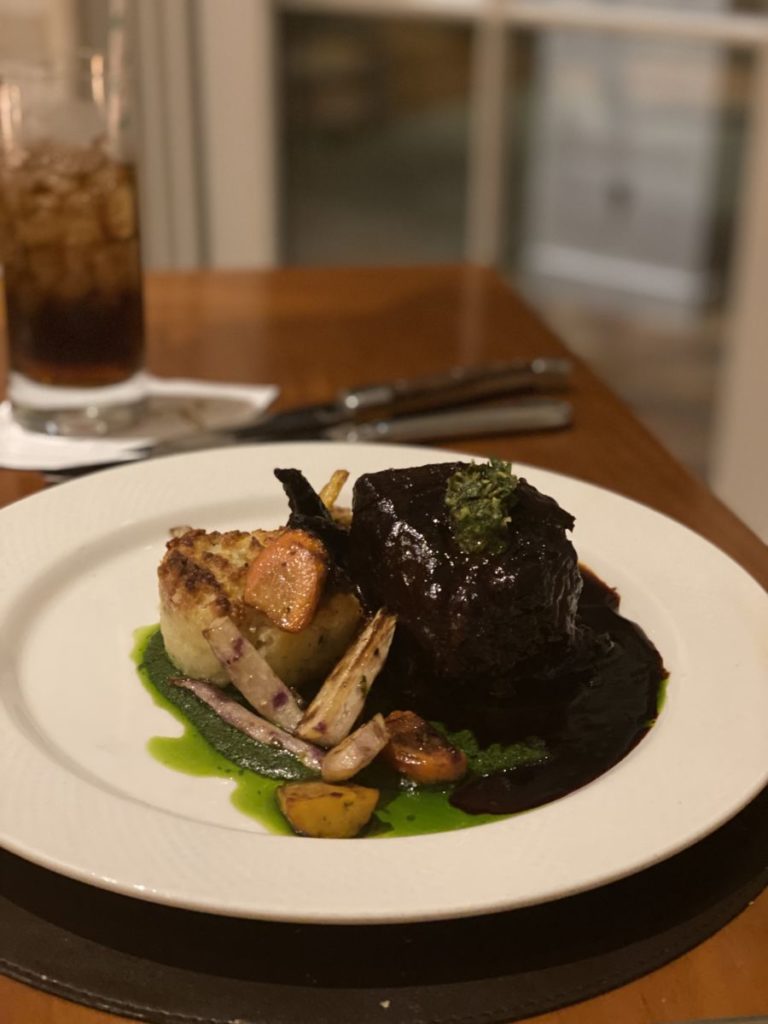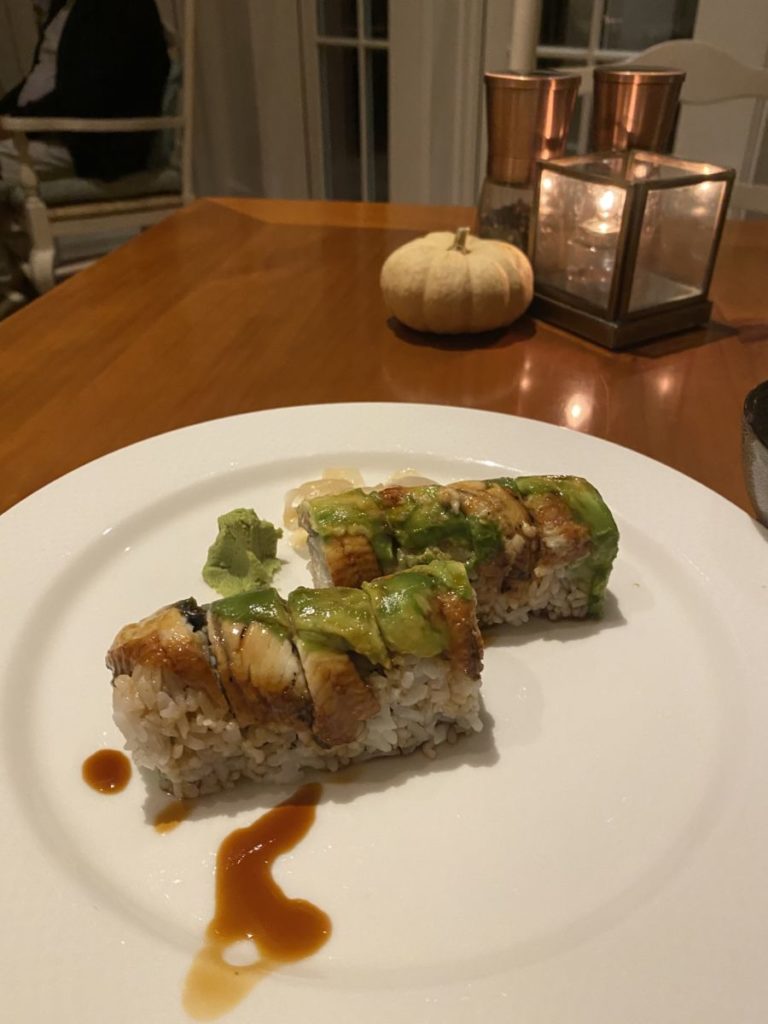 The next morning started just the like previous one– out back taking in the view. I was especially sad to be leaving later that afternoon, so I got up a little earlier than before. Then, we went back to Buffalo's to get another order of pancakes before heading on our last adventure.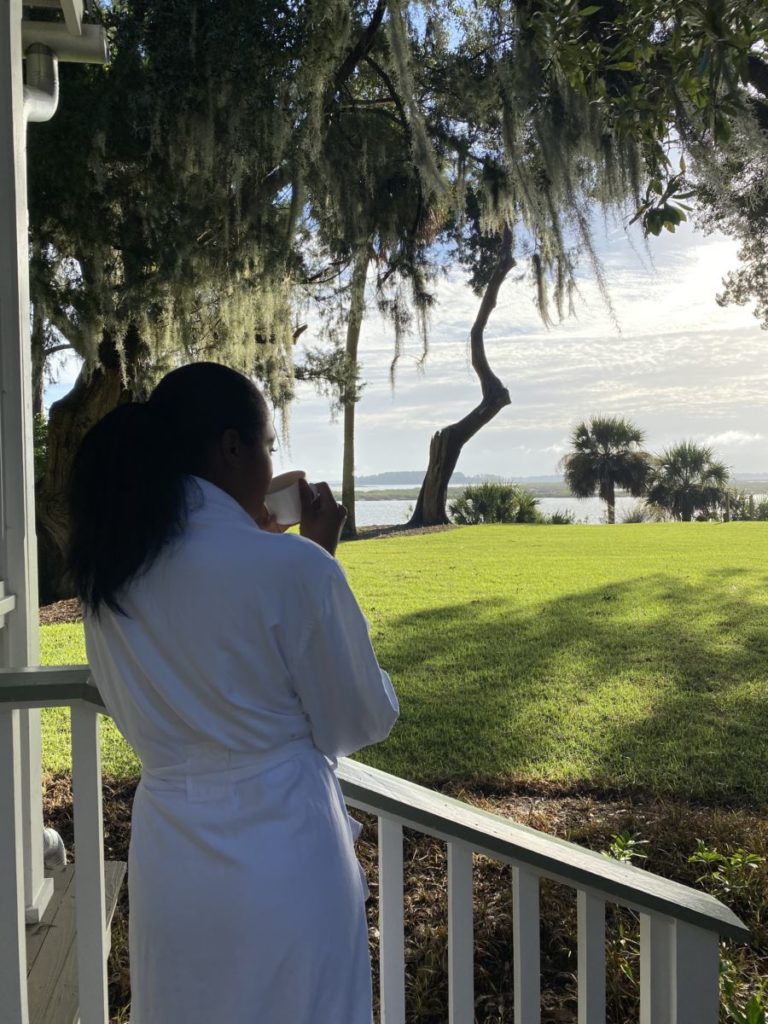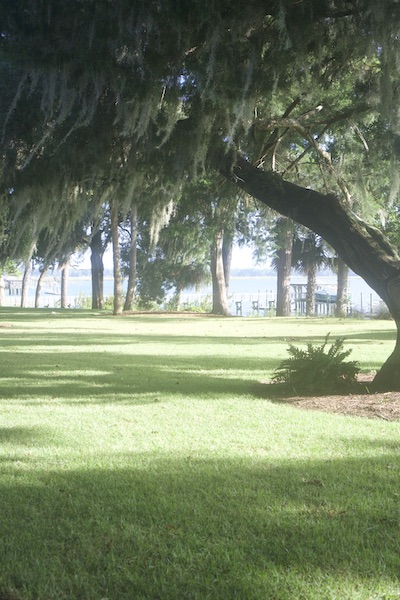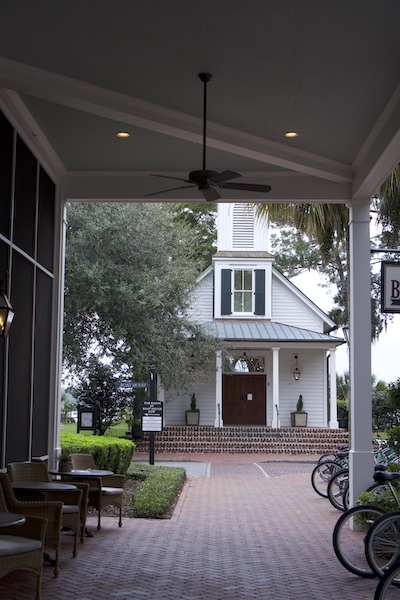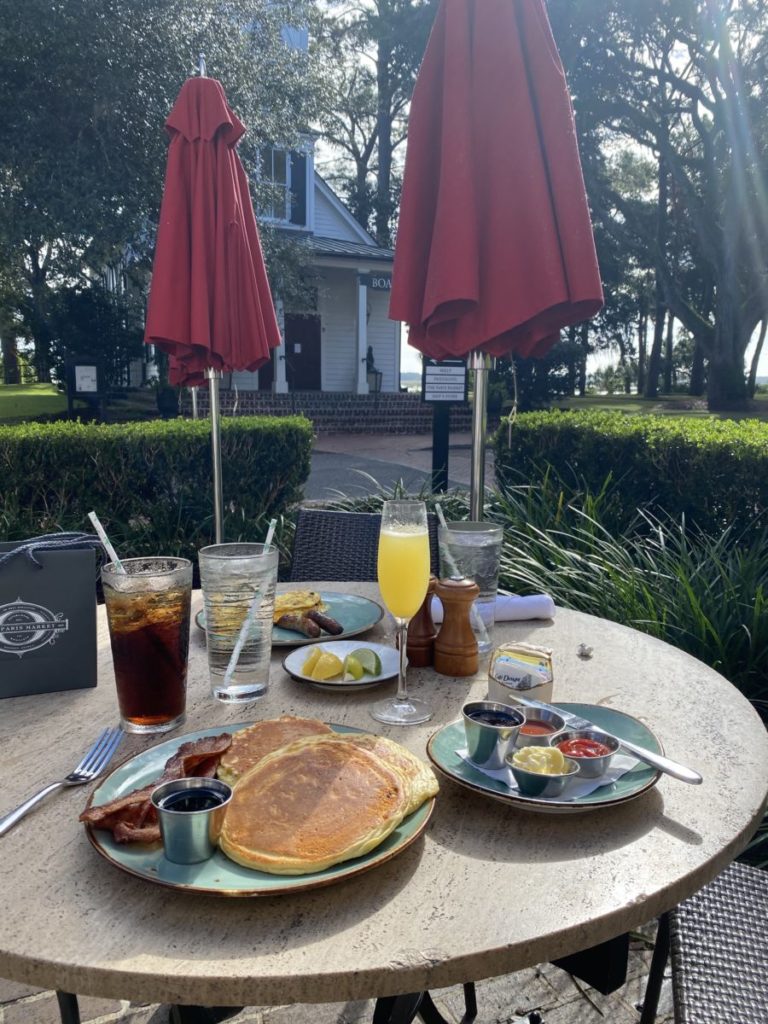 Just when I thought Palmetto Bluff couldn't get any dreamier, I discovered their stable. There they house resident horses as well as horses used for guest rides + lessons. I didn't have enough time to ride before heading back, but I couldn't leave without meeting one! Lucky for me, I got to meet Eve. She had the kindest spirit and the most beautiful coat. I couldn't stop petting her + she was SUCH a little show horse. Next time I return I'll have to make sure to schedule a ride with Eve first thing!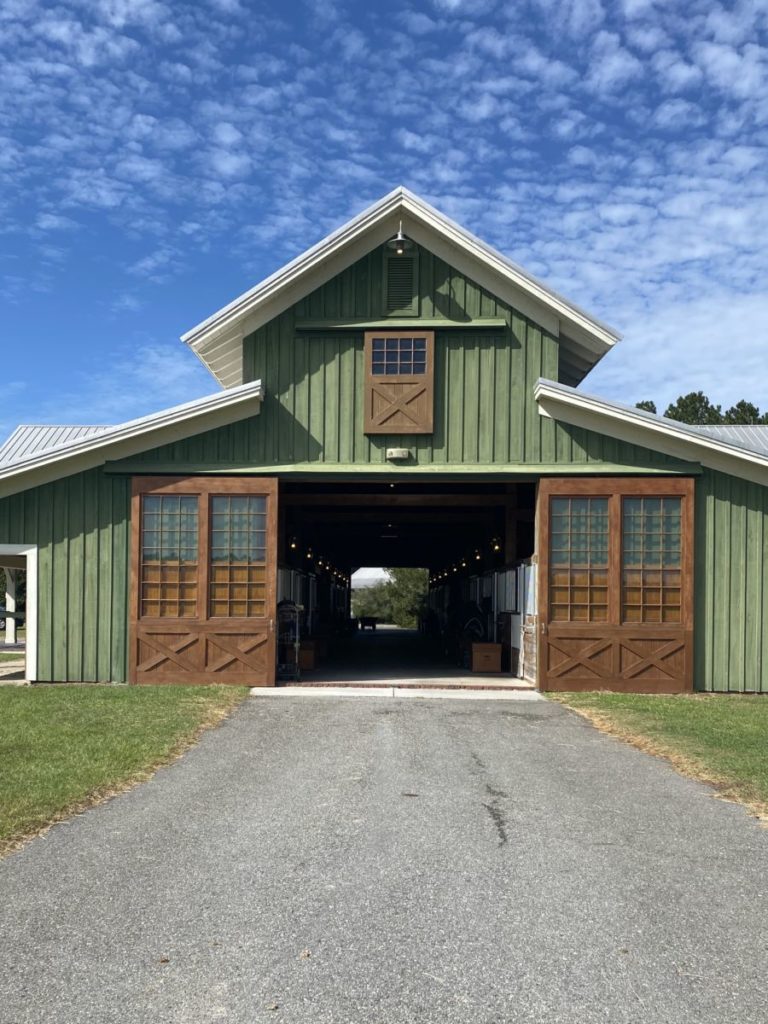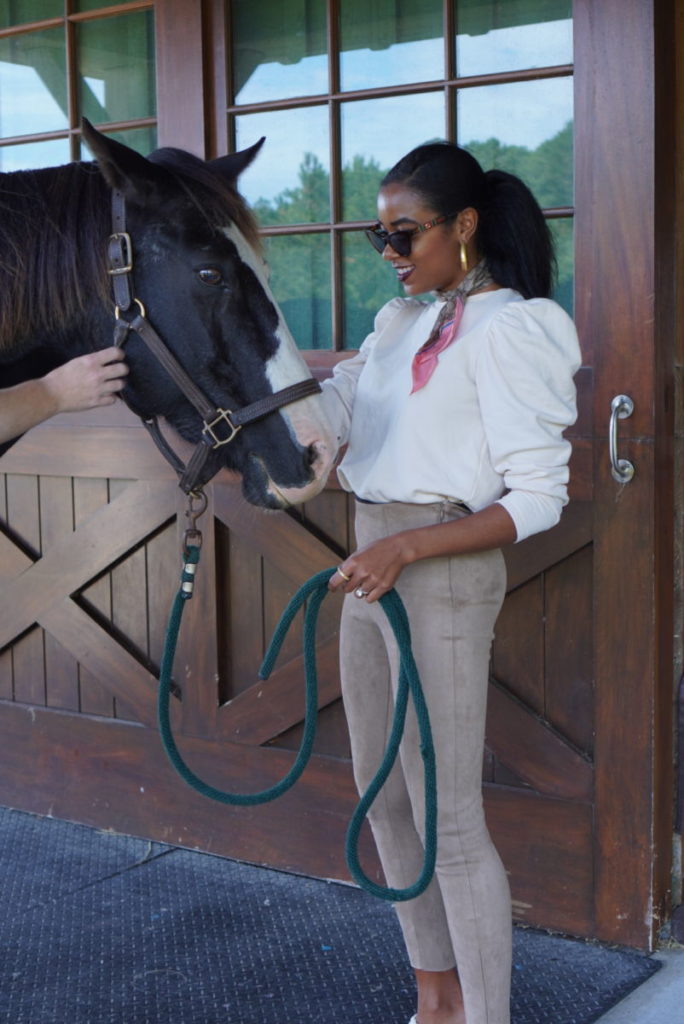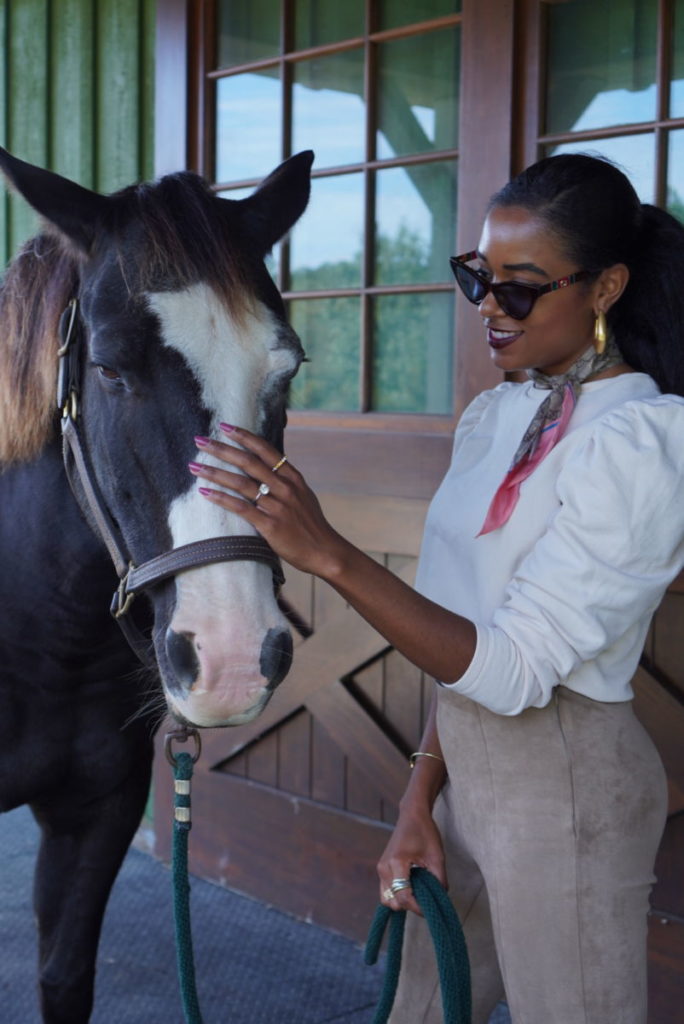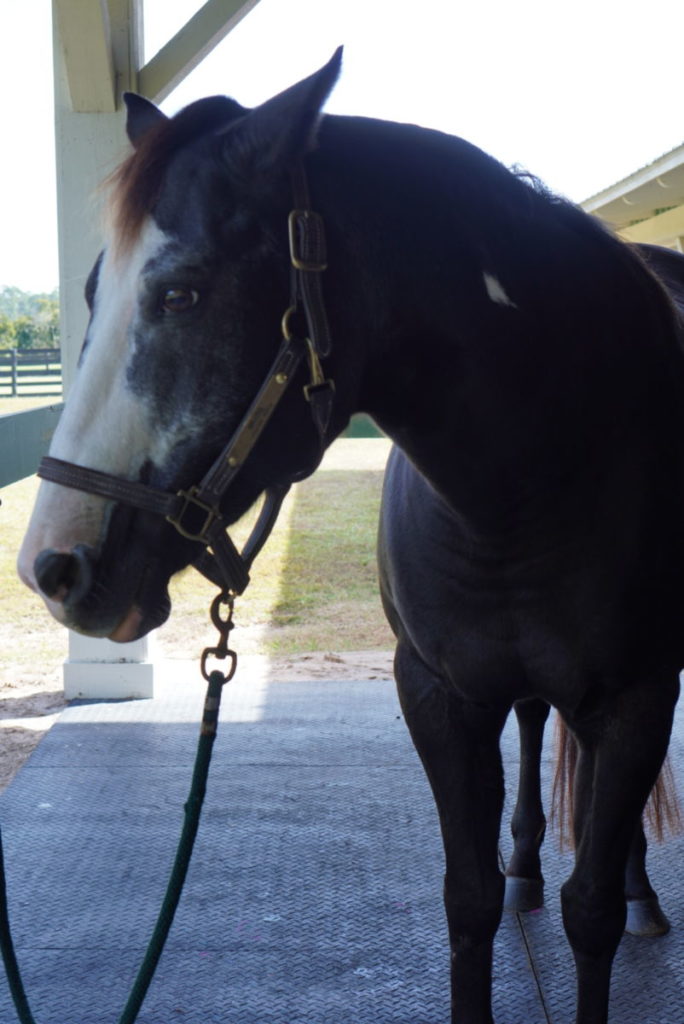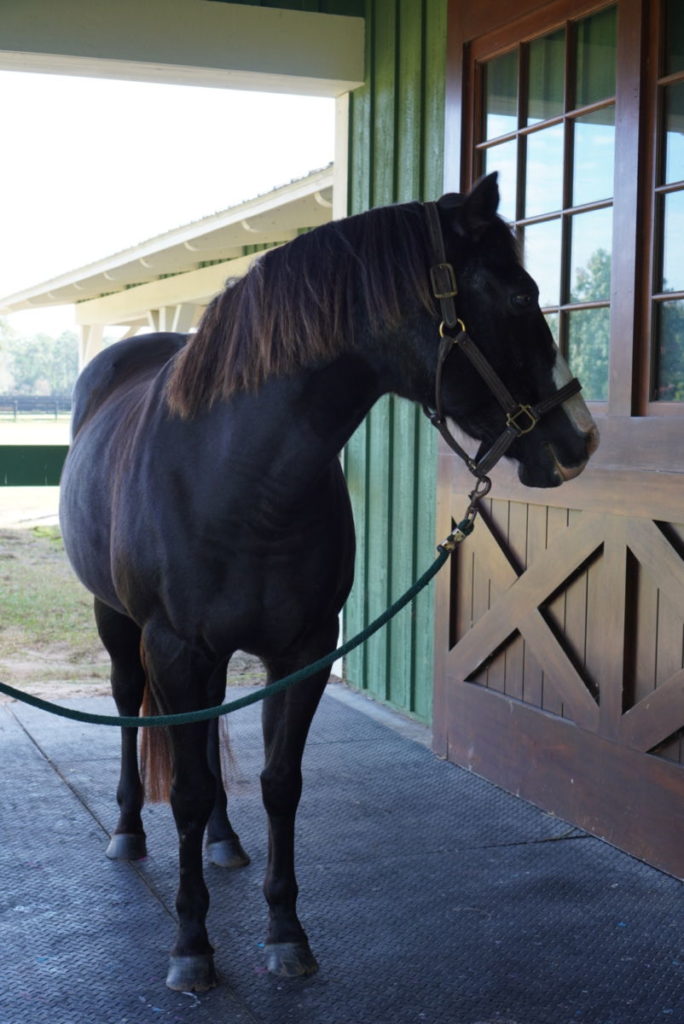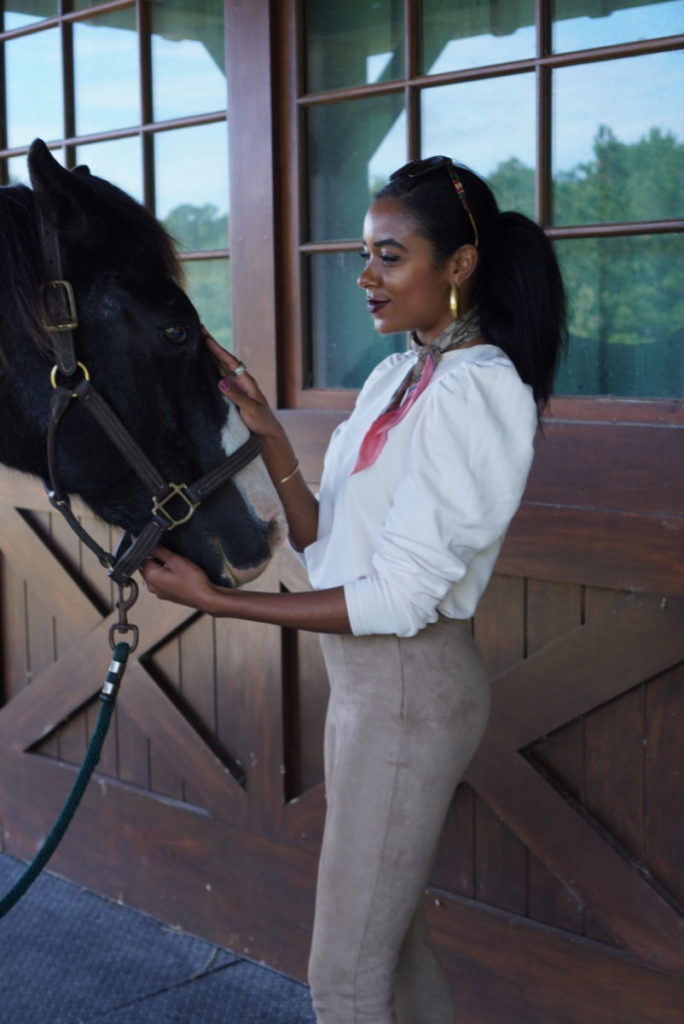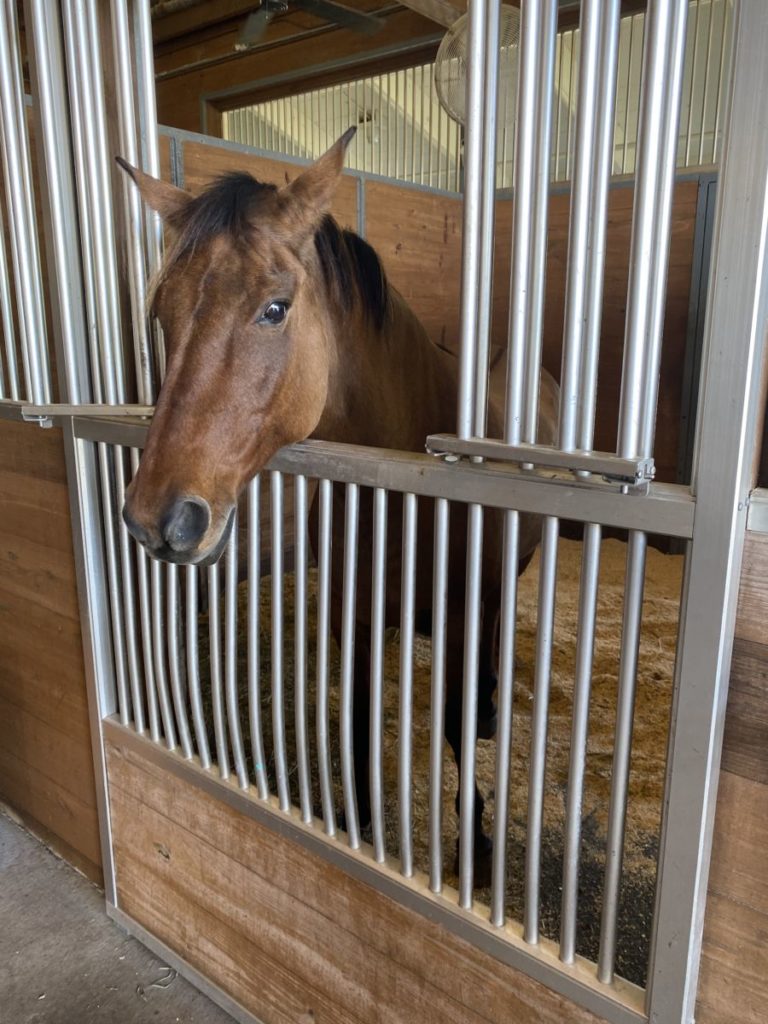 If I learned anything while on The Bluff, it's that you definitely need more than 2 nights to experience. One full week should give you the complete taste of what this property has to offer, so I'm already plotting my return. When that time does come here are a few things that I'd like to scratch off my Palmetto Bluff Bucket List:
Take Lagoon Ride- We loved the river cruise, but would have really enjoyed taking one of the little boats out on the lagoon to get a better look at the private residences. *These only go out twice a day and can hold 4 people so be sure to book this when you book your reservation.*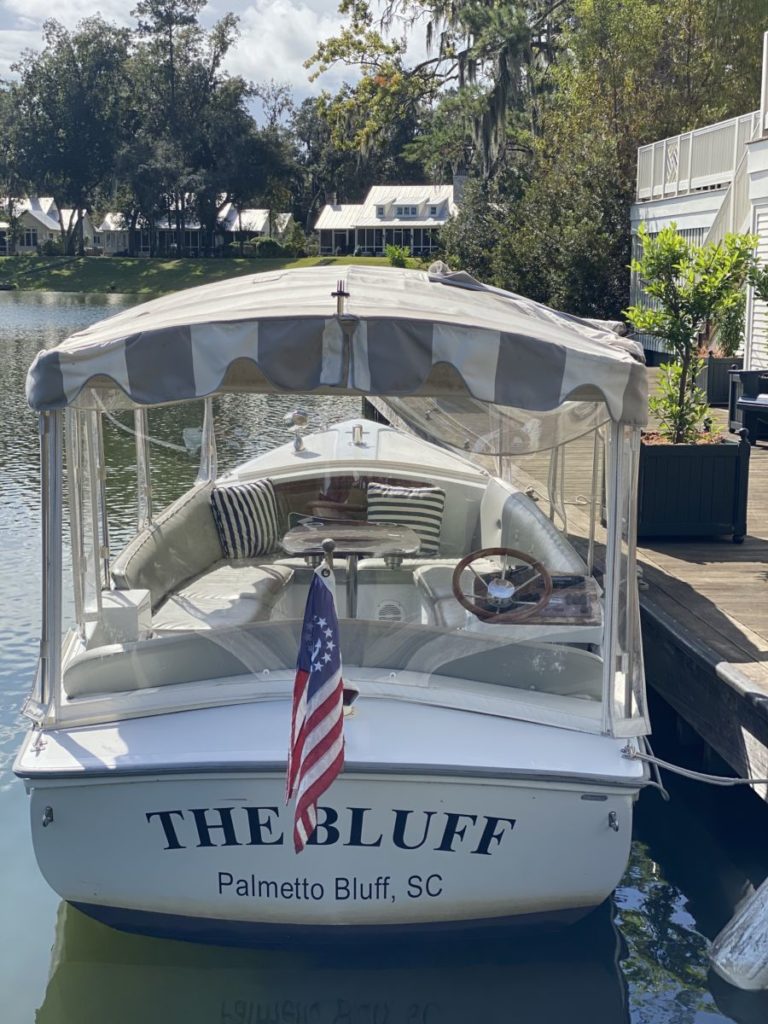 2. Take advantage of the pool area- Not visiting the pool while on vacation is very uncharacteristic of us. But honestly we just didn't have enough hours in the day! Next time we'll definitely want to hang out in the hot tub, at the pool bar…somethinggg!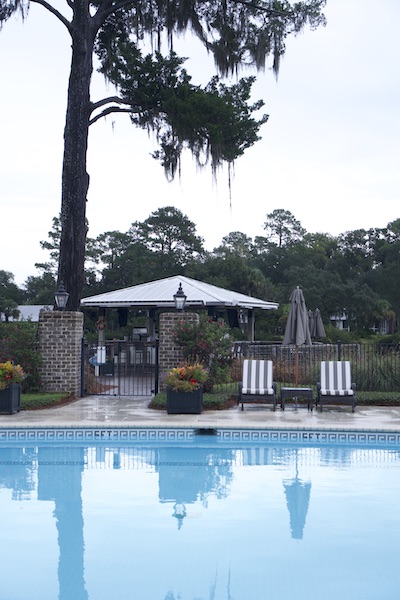 3. Have ice cream at Melt- Everyone bragged about how amazing Melt is (and if you know Todd then you know ice cream is his THING)! But thanks to our full itinerary and their restricted Covid hours, we didn't make it! But we definitely wanna find out what all the hype is about!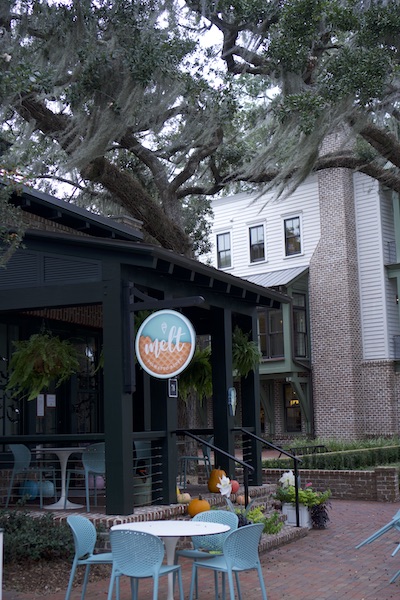 4. Actually ride a horse throughout the property- I mentioned this earlier, really hate that I couldn't do it and will make sure I do next time!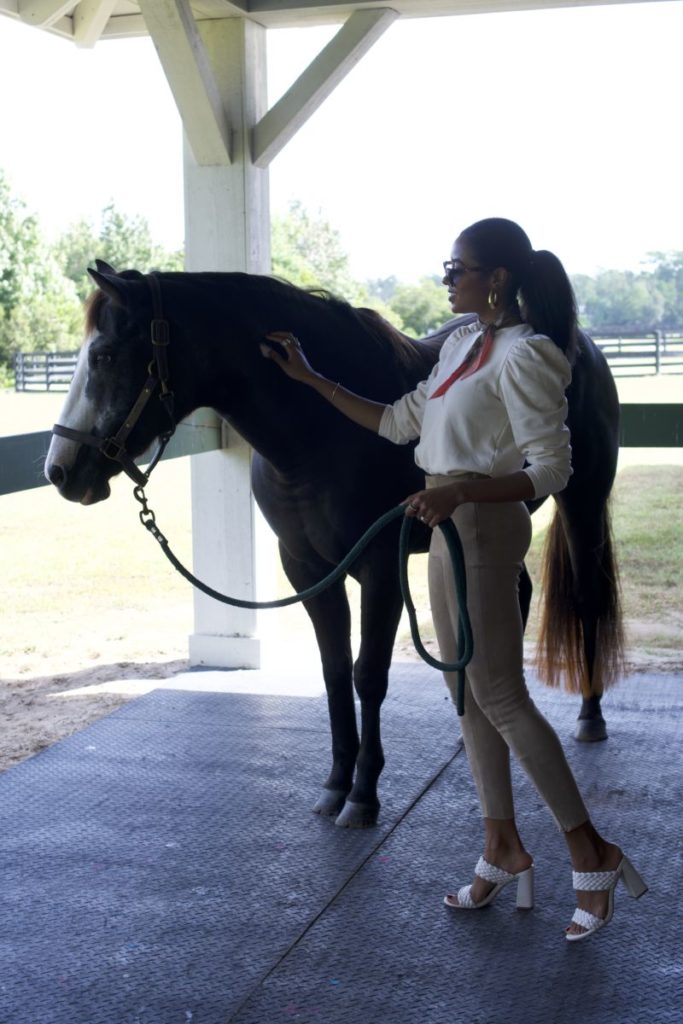 5. Go Skeet-Shooting- The Bluff has a shooting club and if we had just one more day we would have done it! There's something so thrilling about nailing the flying target in the air. I have been skeet shooting in years, but would love to work on my skills next time I'm here!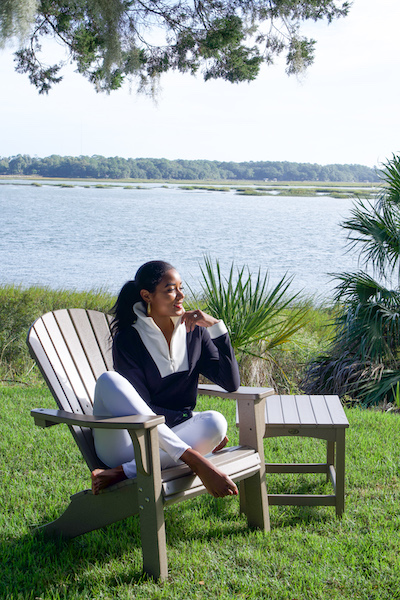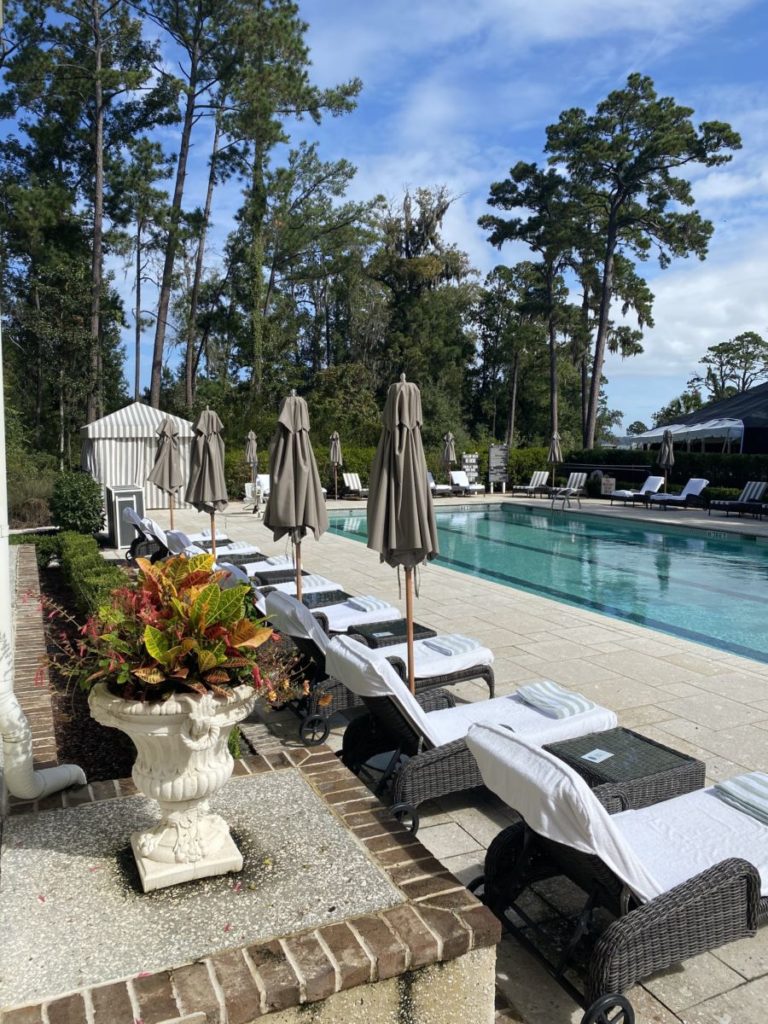 Use code SHADESOFPINCK when booking the Montage Palmetto Bluff for:
$100 daily resort credit per guest room / $200 per suite / $300 per residence
Complimentary upgrade at check in (based on availability)
No deposit at time of booking
No cancellation fee up to 48 hours prior to arrival
Available until March 2021
This post was sponsored by Montage Palmetto Bluff, but all views are my own!