Save: ASOS // Satisfy: Laroque // Splurge: Staud
I seriously can't believe we're at the end of October already!! At first this year was creeping by and then sometime after Memorial Day days began to fly by.
Halloween is always one of my favorite times of the year, but I think almost every fashion girl would say the same. How could you not love an excuse to get all dressed up as whomever or whatever you've always wanted to be?? Over the years I've had some pretty fun costumes and Todd is known to host a Halloween party night of. But this year is obviously going to look pretty different for everyone. I think kids will still go trick-or-treating, but I doubt there will be any parties to show off your costume. So if you're debating to dress up or not, I vote…DO IT!! But instead of going all out like. you usually would, do what I'm doing. Choose your favorite little black dress and build a Halloween outfit around that.
In my opinion a Halloween costume should be a combination of a few things: it should be funny (or sexy), fashionable, it should make you as unrecognizable as possible, and it should be relevant to the times!
For the sake of the holiday, I came up with a few last minute costumes for you to attend a zoom party or hand out candy in!! All are super easy and could be put together between a trip to your closet + your local Halloween store.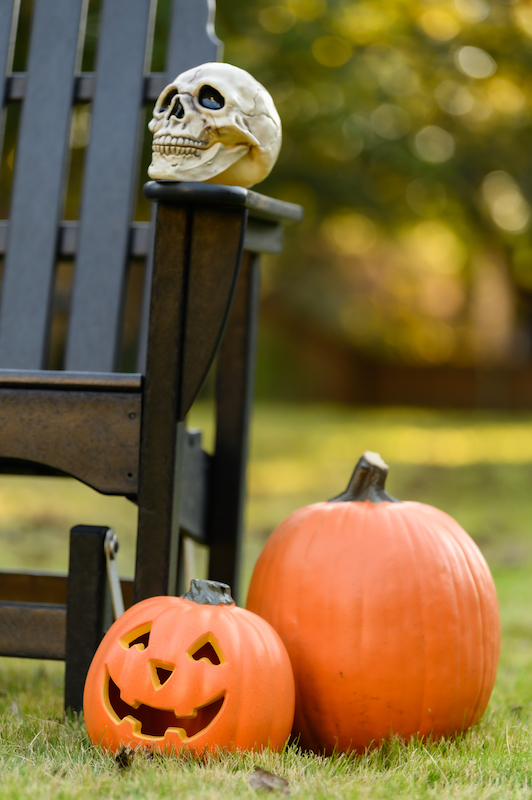 1. Holly Golightly from Breakfast At Tiffany's
Props Needed: Chic Black Sunglasses, Cigarette holder, Long Black gloves, Pearls
Ok ok, Breakfast At Tiffany's debuted over 50 years, so no this one is not relevant to the times at all lol. But Audrey Hepburn as Holly Golightly is the ultimate fashion girl and let's be honest– she never goes out of style!! And what's best is most everything you'd need to make this look happen can be found in your closet! All you'll need is your LBD a pair of super chic oversized sunnies, long black gloves, your favorite pearls (she had several strands), and a cigarette holder so you can recreate the iconic movie poster all night long!!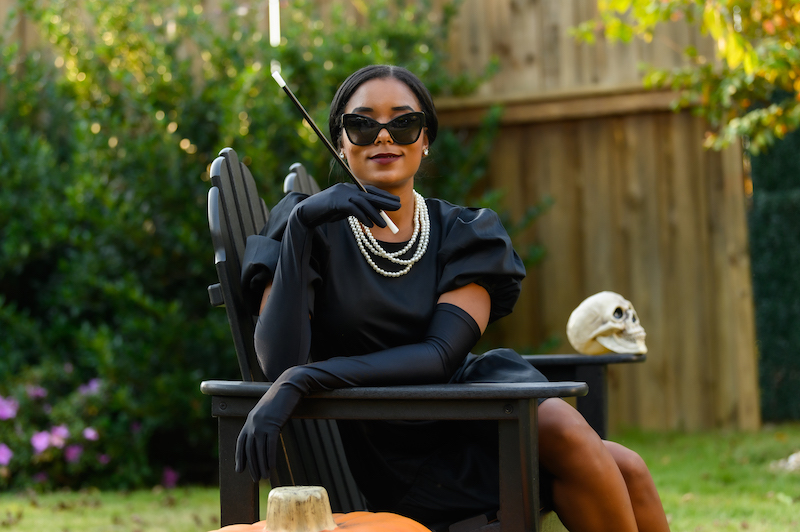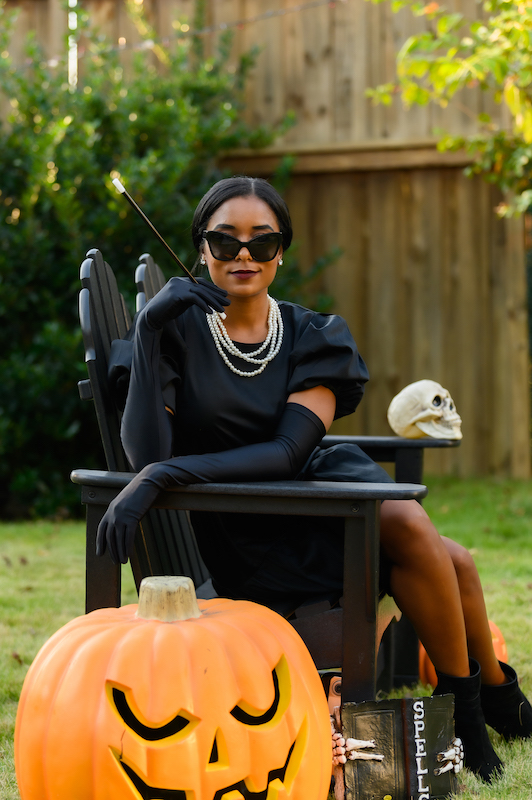 2. Ruth Bader Ginsburg
Props Needed: Statement Necklace Collar, Bold Glasses
In 2020 we lost a giant in the feminist movement. Ruth Barder Ginsburg dedicated her life to the equality of women, and as a Supreme Court Justice she single handedly changed the trajectory for an entire sex in this country. We have soo much to thank her for. What better way to honor her than by dressing up in her classic style. All you'll need is your LDB to represent your judge robe, some bold eye glasses, and a statement necklace to represent her famous collars.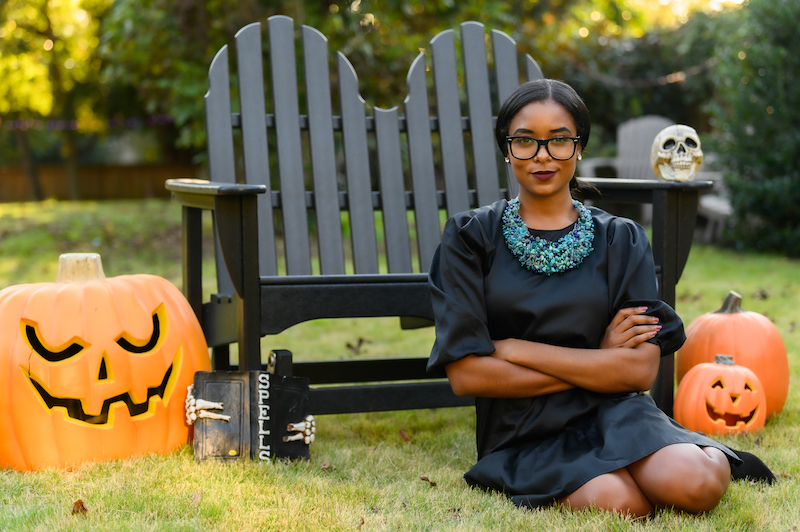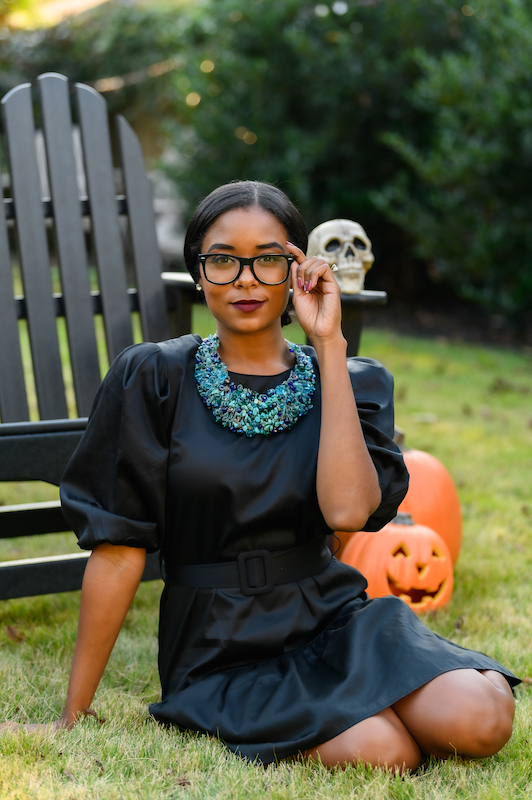 3. Black Panther Activist Angela Davis
Props Needed: Afro Wig, Barét, Weapon
Other than the Coronavirus, the theme of 2020 has been social unjust unrest! This year saw an overwhelming movement to ensure the equality promised has been given to all Americans. Millions turned up all over the world to peacefully march in solidarity for values African Americans have been asking for for generations; like ending police brutality! There were also other marches– ones that fought for the right to not wear a mask? Those protest had guns, lots of them. Could you imagine if the side protesting for equality had guns? That made me think of the most famous all-Black militia– the Black Panthers! I decided to pay homage to Angela Davis, one of the fieriest, most bad ass Black women of all time. All you'd need is your LBD, an afro, a black felt beret, and some sort of weapon or artillery to represent what is known looked at as the Black Panther uniform. (I'm using a BB gun here)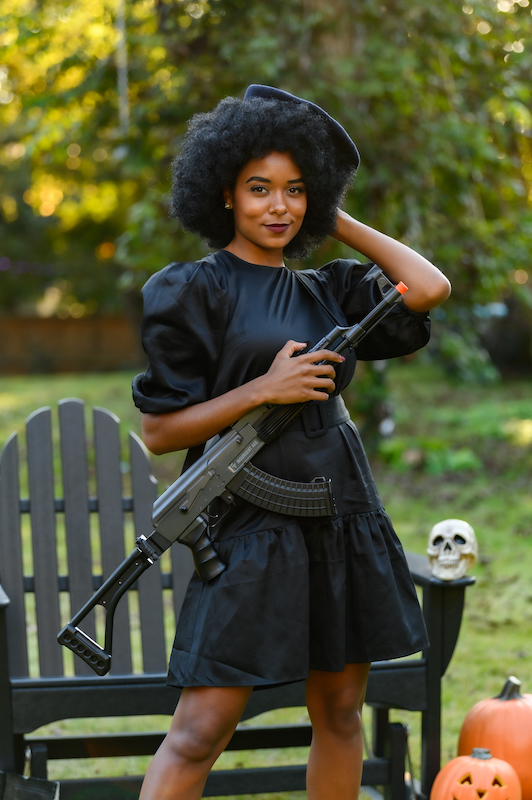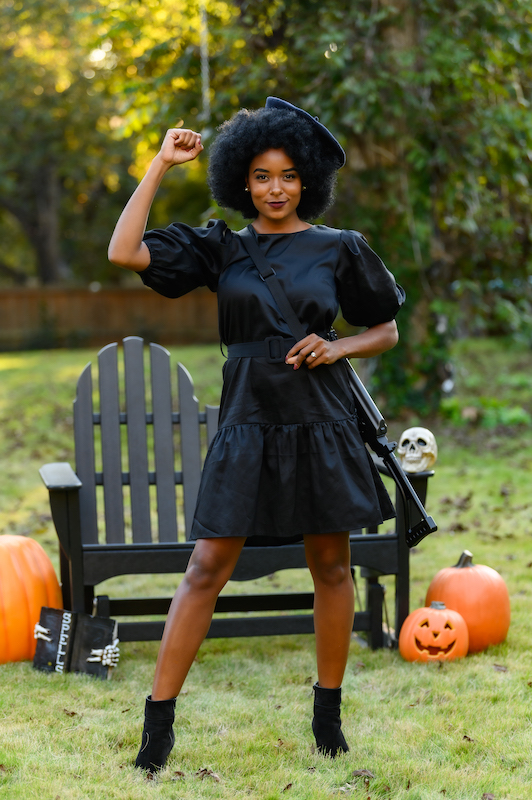 4. THE Wuhan, China Bat
Props Needed: Bat ears, Fashion Accessories, Corona bottle
Wanna really make a statement? Be the most important figure of 2020– THE bat from Wuhan, China that shut down the entire world!!!! Seriously name someone or something that affected the world more? ..I'll wait! The best part is this costume is incredibly easy. Simply, purchase a pair of bat ears from the Halloween store, wear your favorite LBD, and accessorize with your most fashionable pieces. Extra points if you walk around with a bottle of Corona all night long!!