The last week or so has been tough for everyone, the kids included. Making sure they understood the tragedy + the social justice movement that was taking place was incredibly important, but we also felt it was important that they feel the magic of summer…especially after the spring we've all had. So, we hopped in the truck and took a little road trip to Greenwood, SC!
Located in the Lower Piedmont region of South Carolina's Upstate, Greenwood has a lot more to offer than you may initially think. It's filled with rich history, great Southern food, several shops with great finds + a few other activities that would be hard to do just about anywhere else.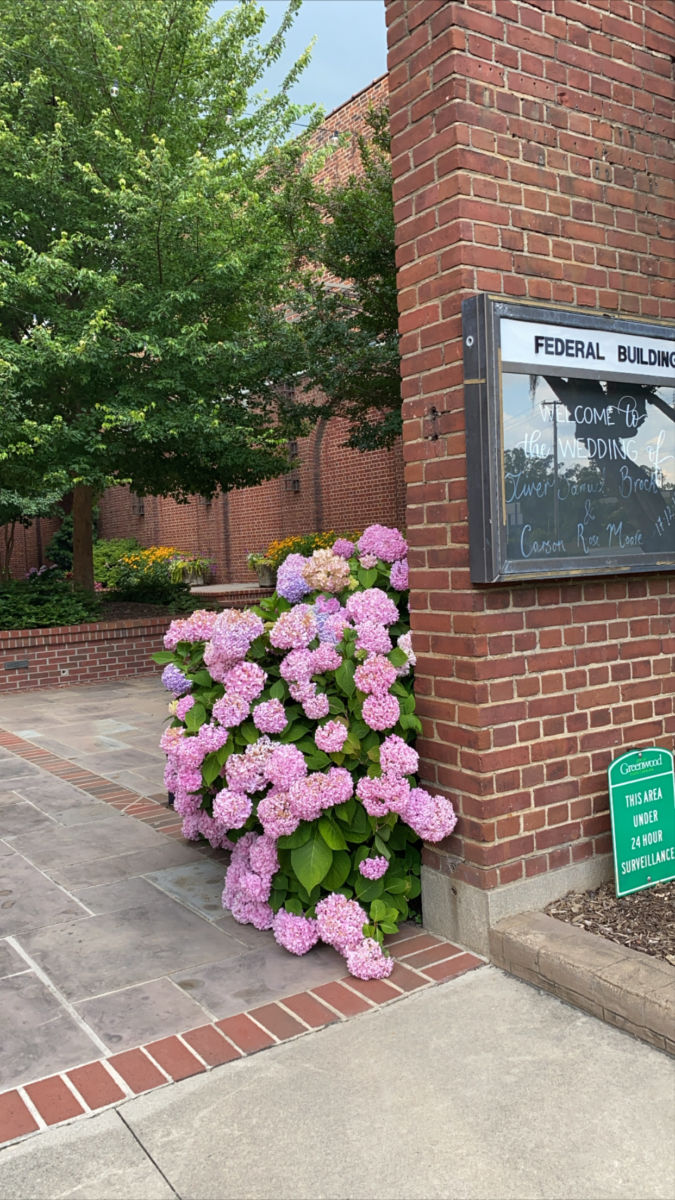 So if you're in need of a slower pace + a different scenery, with no shortage of fun, I suggest you add this destination to your summer travel list!
Where to eat:
Aroma's Village Coffee– We kicked off the day here! Don't let the strip mall placement fool you, this place rivals any other local coffee shop. I ordered an iced dirty chia tea latte, the boys each got fresh fruit smoothies, and we each loved every sip. Honestly, one of the best chia tea lattes I've ever had! We also got a few blueberry muffins, which were great, but just made me regret not trying more pastries.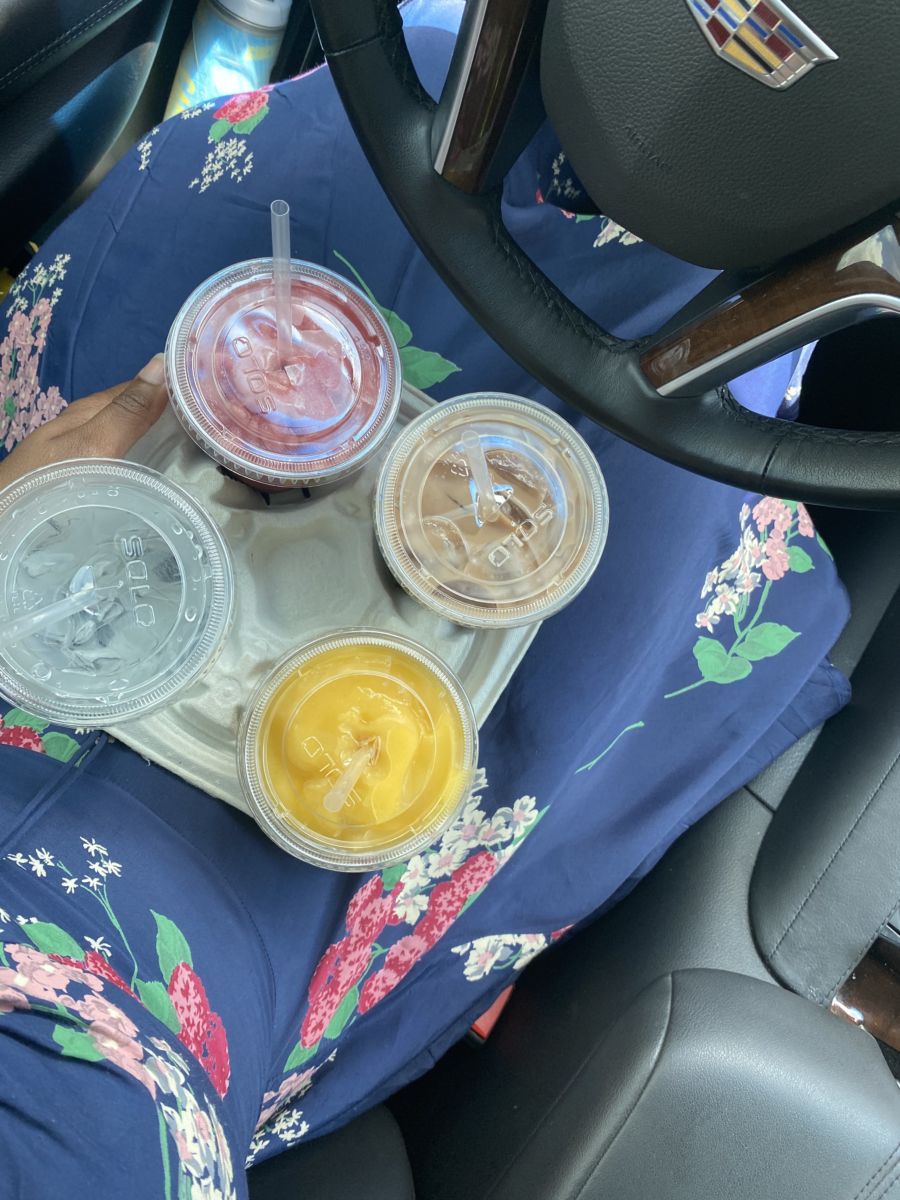 Kicker's Restaurant– We enjoyed a fantastic lunch on the patio at Kicker's. The food was delicious, the service was great and the street had just enough activity to make you feel like you weren't alone, but also weren't overwhelmed. Countless people stopped by for takeout during our meal; you could tell this was a neighborhood favorite. There was so much to choose from on the menu, but I finally decided on the Hawaiian chicken sandwich and it did not disappoint!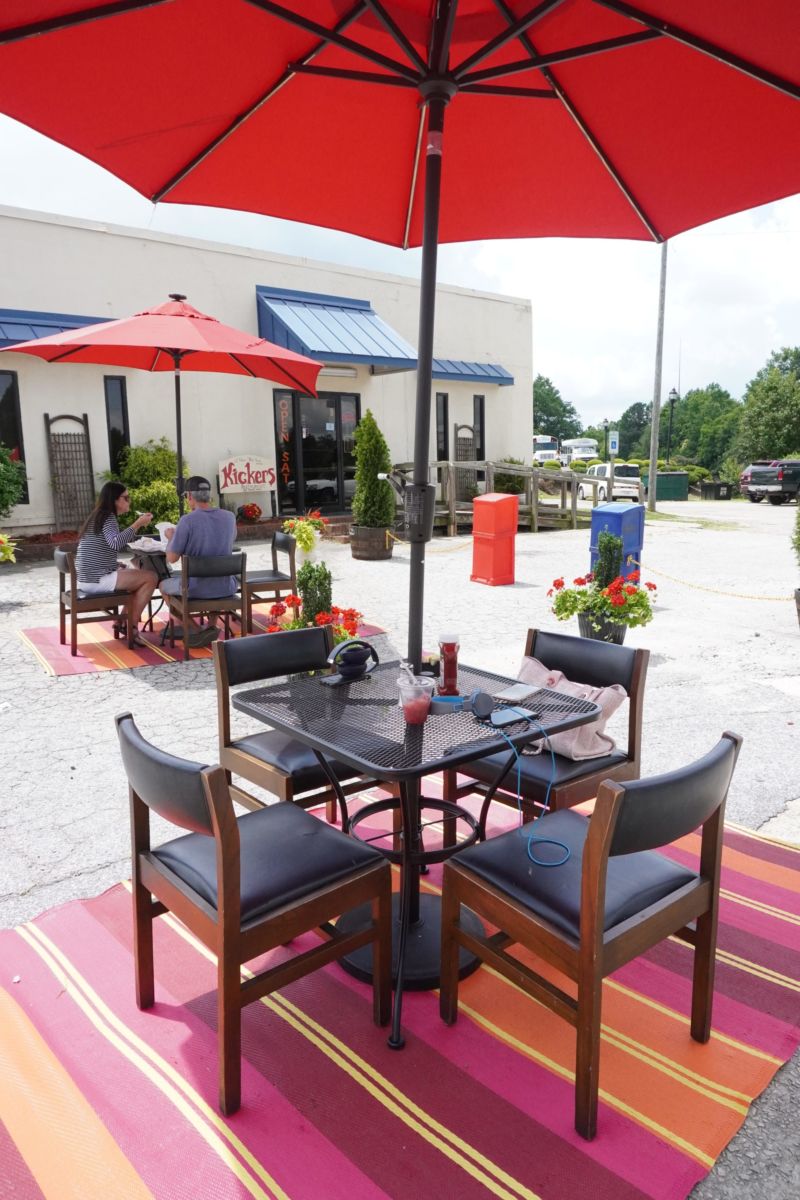 Mill House Pizza– We didn't make it to this pizza joint, but it came highly recommended. (I even got recommendations for it on IG while sharing I was in town.) It was a hard choice between here and Kicker's, and honestly I don't think I could have gone wrong either way. The good thing is you don't have to make up your mind until the very last minute; they're located within walking distance to one another!
Pascal's– An absolute must while in Greenwood is Pascal's. They feature an elevated menu of classics that change weekly, if not daily, but in a very relaxed atmosphere. The evening that we dined we were blessed with good weather, so we took full advantage and sat on their charming patio. There wasn't a kid's menu, so we ordered a few appetizers: warm Brie cheese topped with bacon apple maple jam + baguette toasts, calamari, and hushpuppies with pimento cheese + honey butter. Then we split the shrimp + grits dish (which was sooo good) and Pascal's meatloaf layered with mashed potatoes and topped with pimento cheese (which is a must if it's on the menu when you're there). The kids loved every bite and so did we. I could see how this restaurant could play a role in any special occasion, but we enjoyed it just the same for an average Friday night.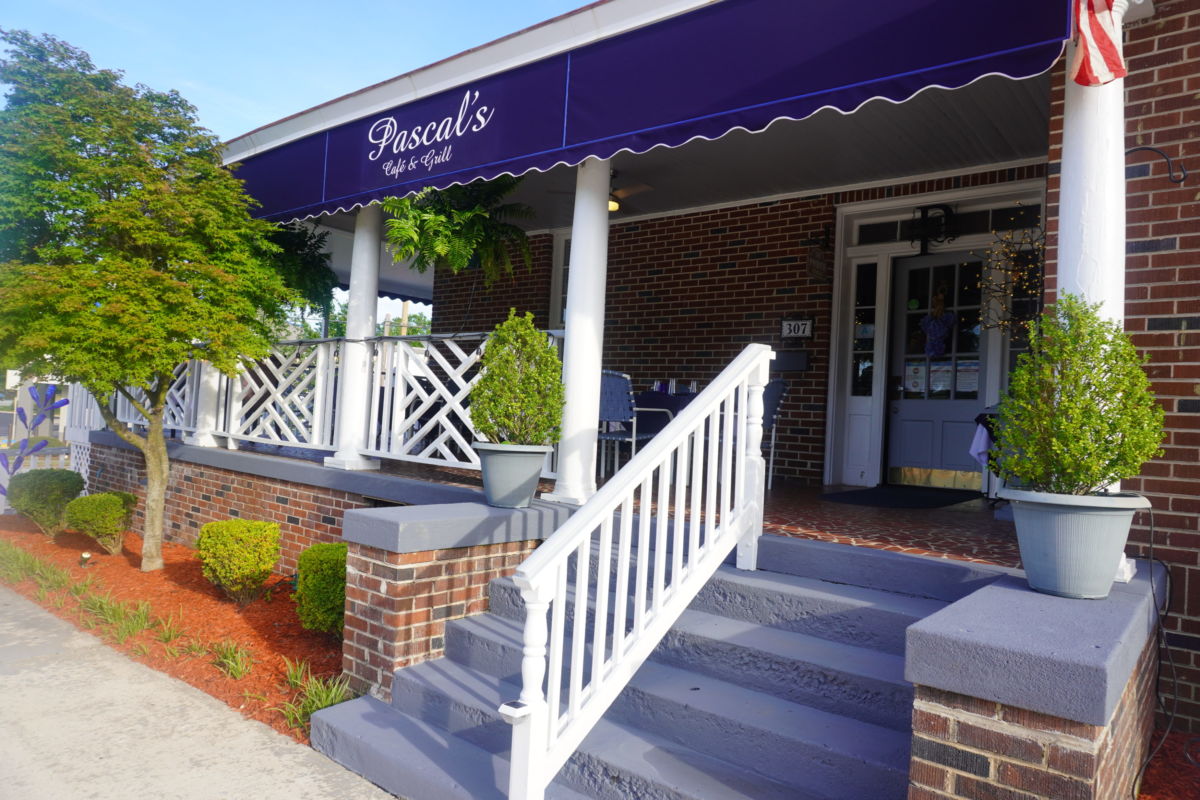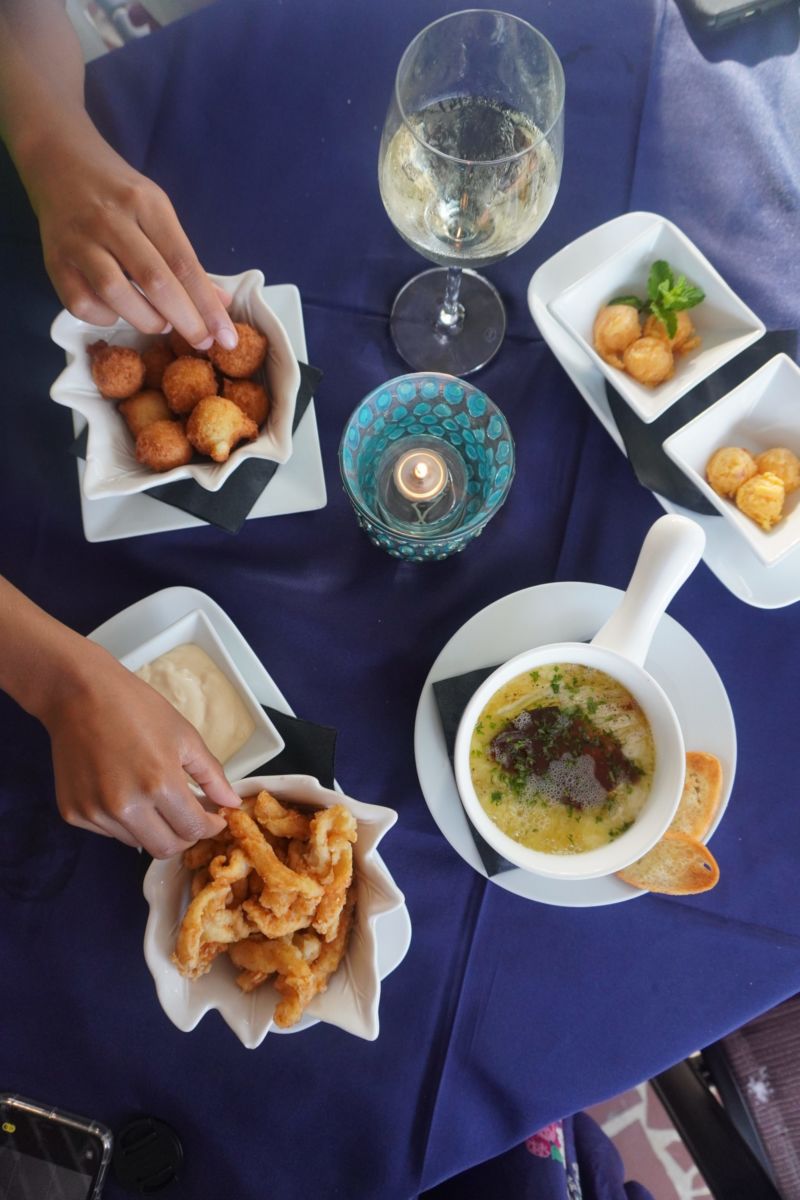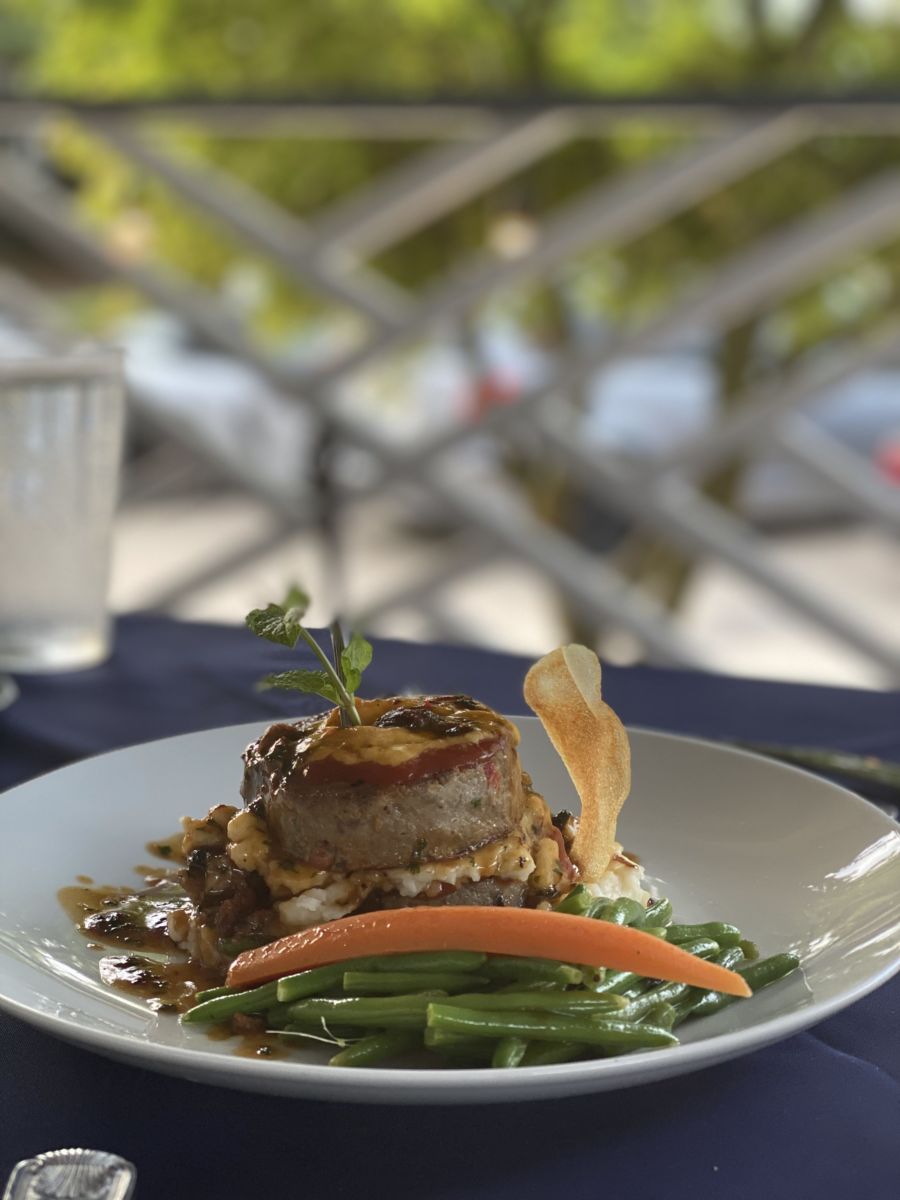 What to do:
SC Festival of Flowers– For 53 years the City of Greenwood has been presenting the SC Festival of Flowers, a collection of topiaries featured throughout their downtown area. While Covid-19 has forced them to cancel the usual festivities that surround the event, the works of art made completely out of plants are still on display! It makes for quite the social distancing activity because you're outdoors, you can visit each at your own pace without making contact with anyone else, and it's so out of the ordinary. I had honestly never seen anything like it before– at least not so many of them at a time. I kept the kids interested by coming up with a little photo scavenger hunt while walked around Main Street looking for all 30 designs. The topiaries will be on display now through July, 12 2020 so make sure you get there before they're gone.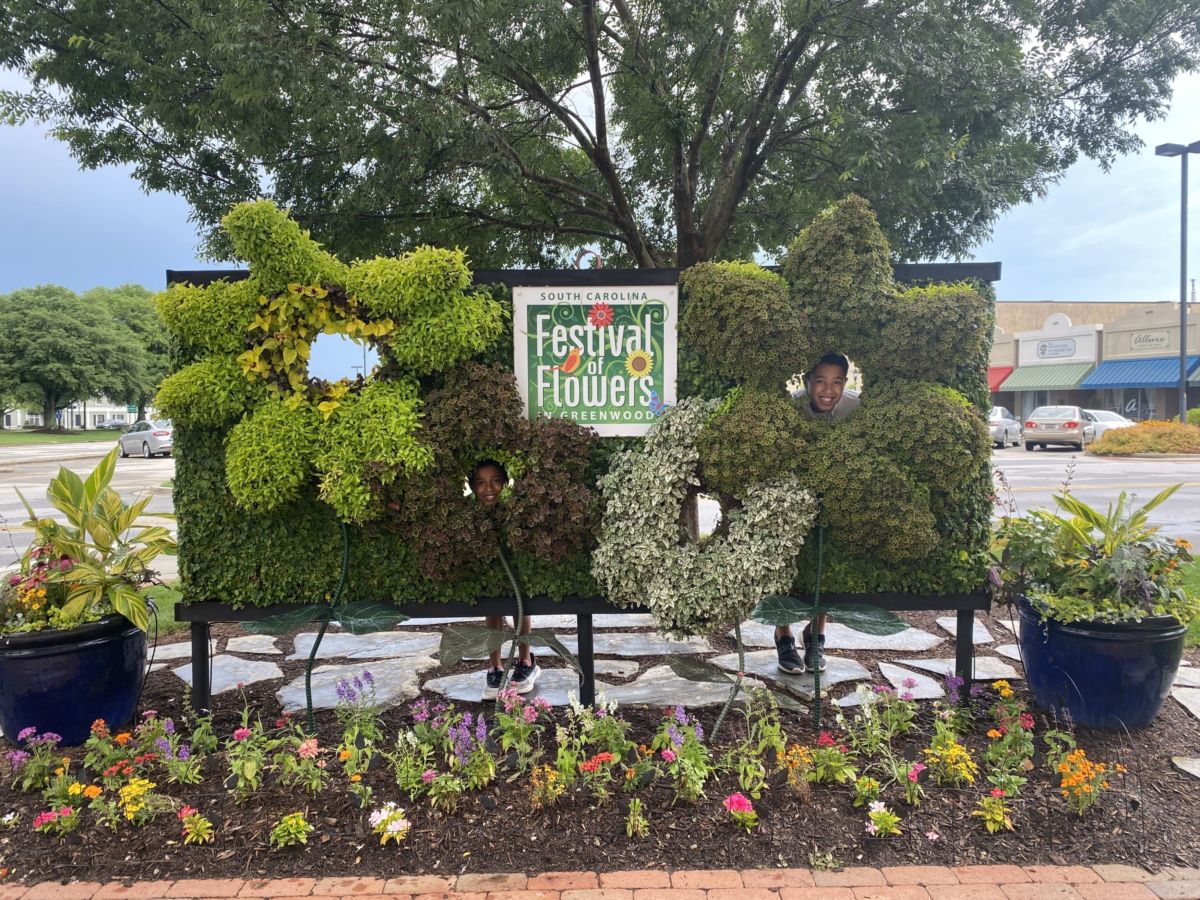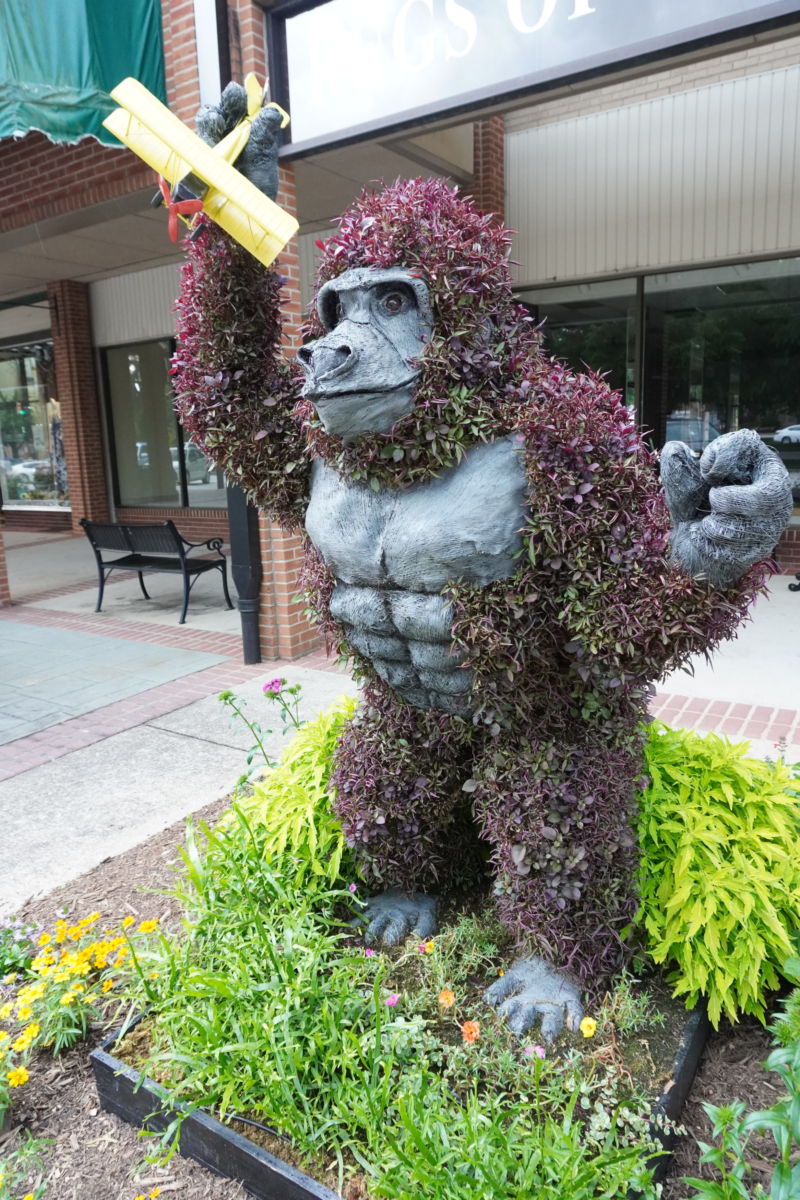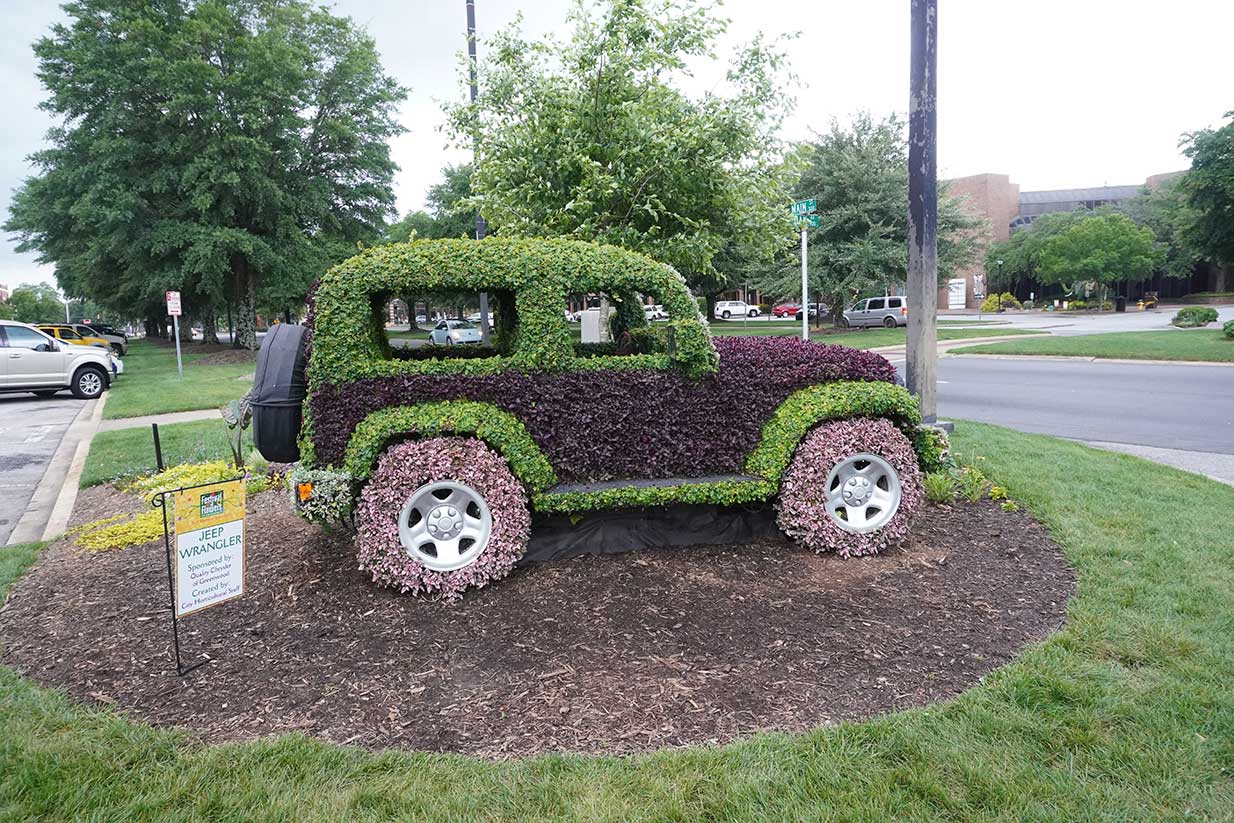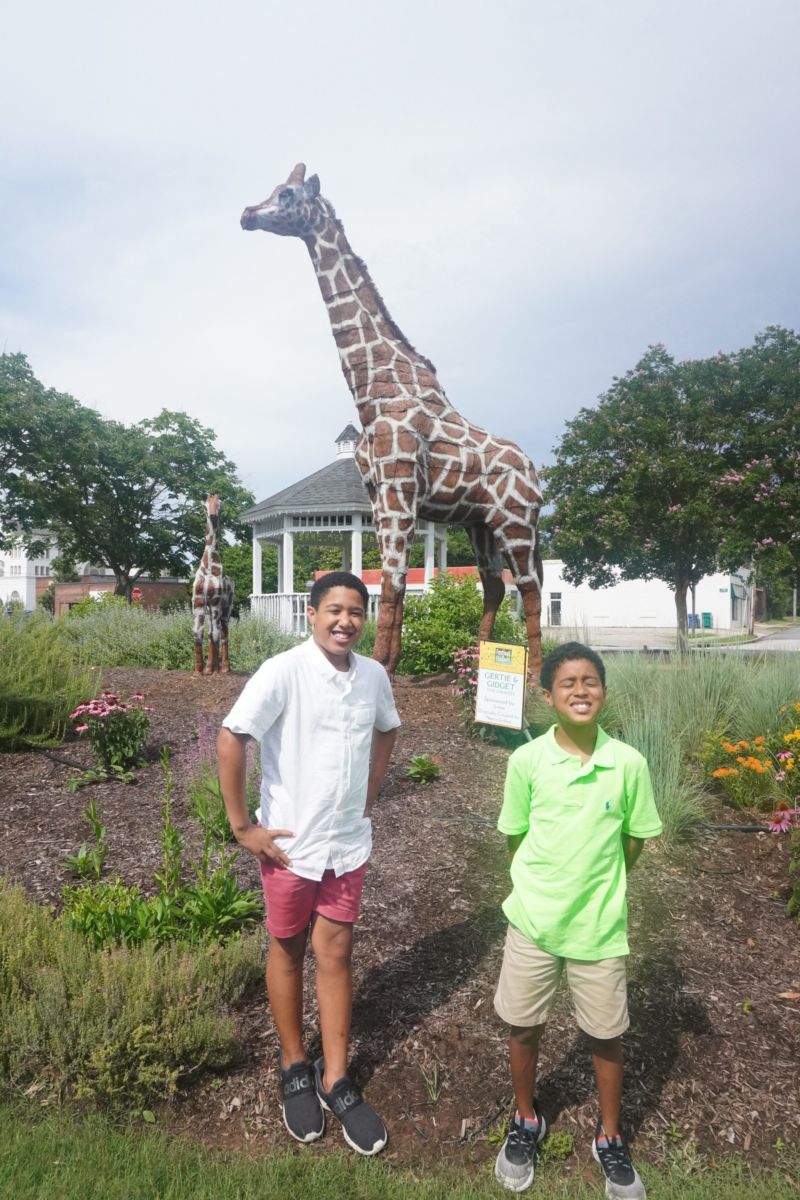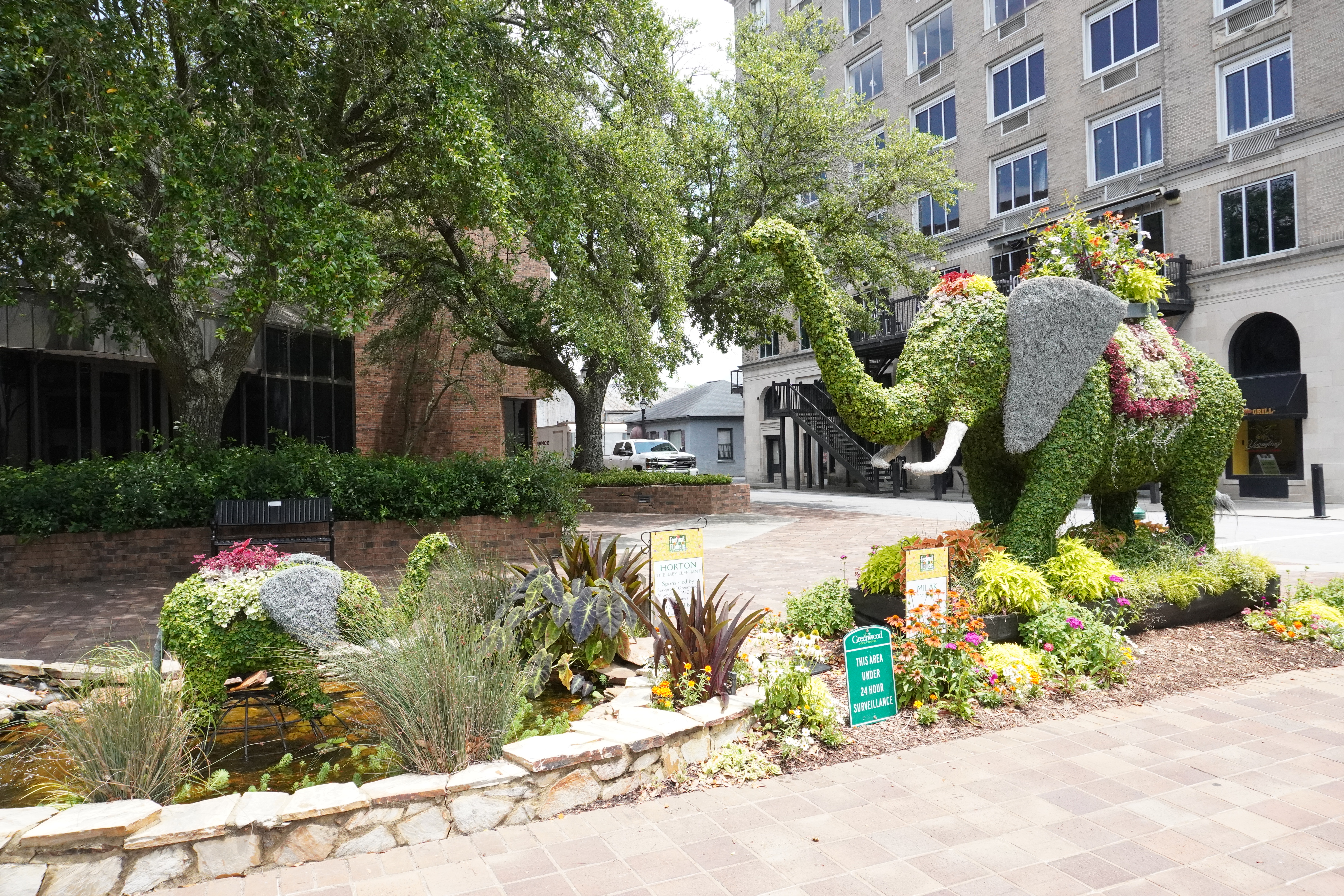 Benjamin E. Mays Historic Site– One of the things I appreciated most during our trip was getting to visit this site while being introduced to Benjamin E. Mays. When we began the tour our guide, Loy Sartin (the site's curator) stated that Mr. Mays was one of the most monumental people of the 1900s. It didn't take long for him to prove it. Mays was "one of the last great schoolteachers". He's known for his time as the president of Morehouse College, but he accomplished so much more. He was a mentor and advisor to Dr. Martin Luther King, Jr., speaking at the March on Washington, and later gave MLK's eulogy. He also served as Presidential advisor to JFK, LBJ and Jimmy Cater. Benjamin Mays grew up in Greenwood County as the son of local farmers. They brought his childhood home from Epworth to this location in 2004, built a museum and added his childhood school building to complete the site. We spent a good hour being educated on this great man's life and his many accomplishments.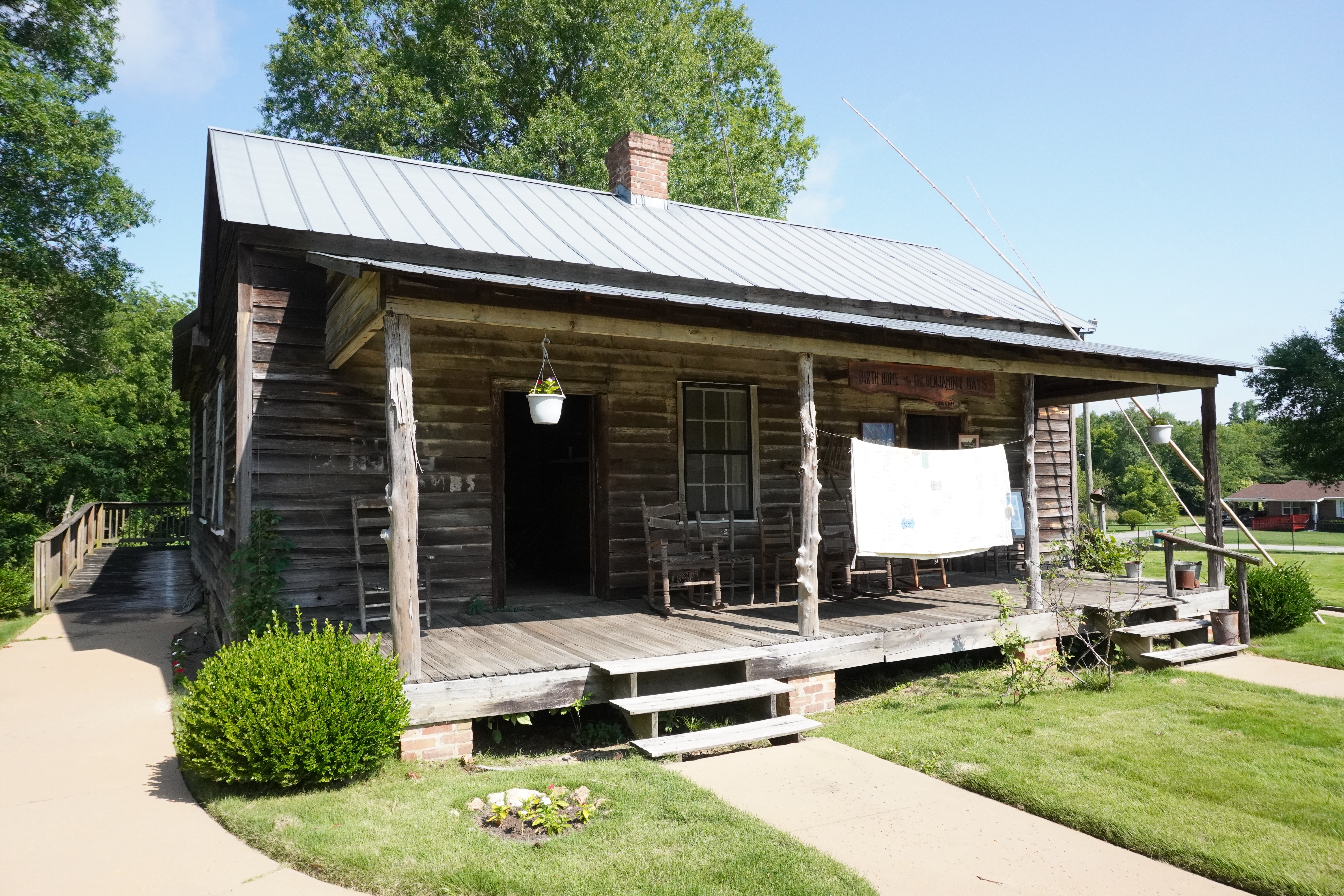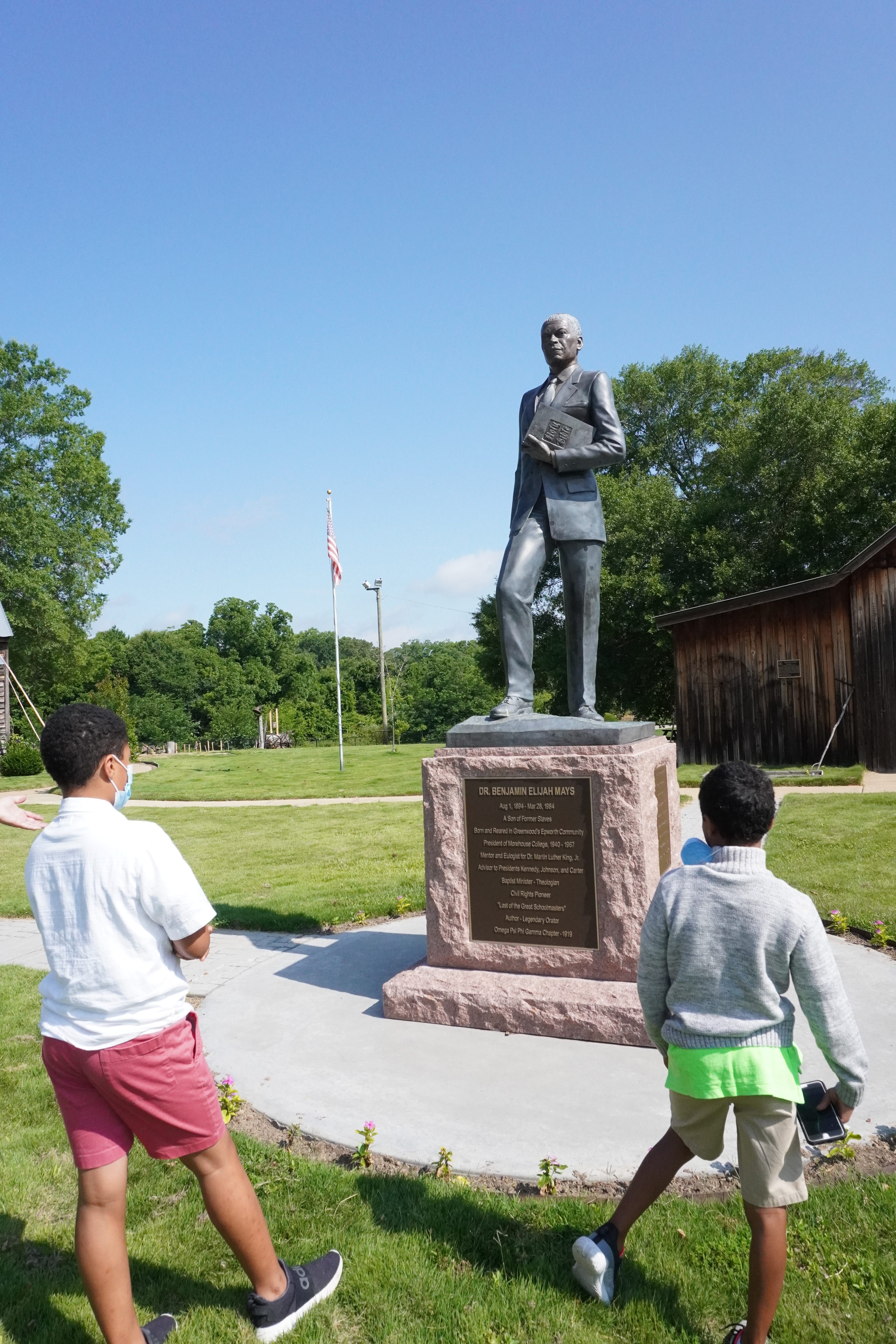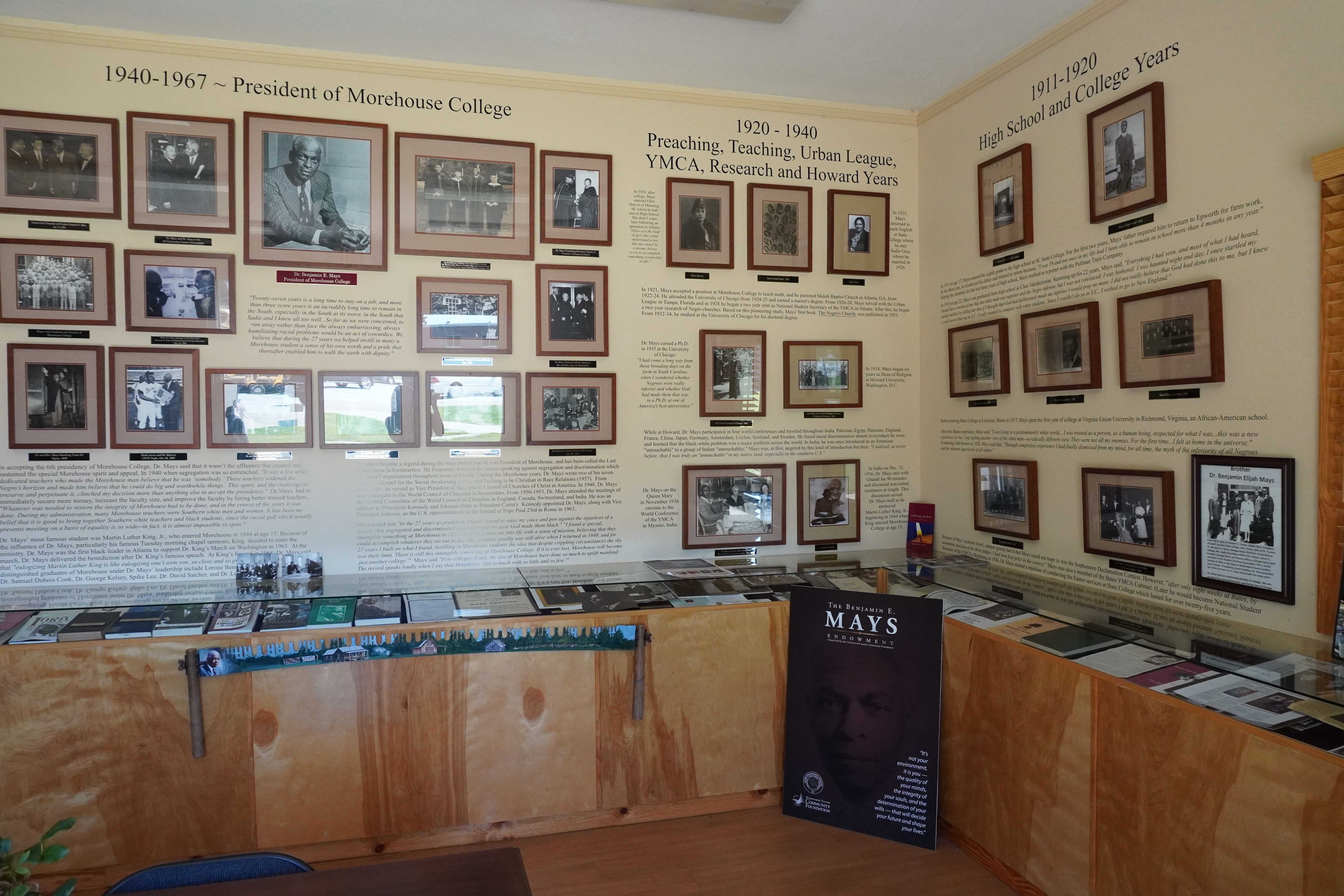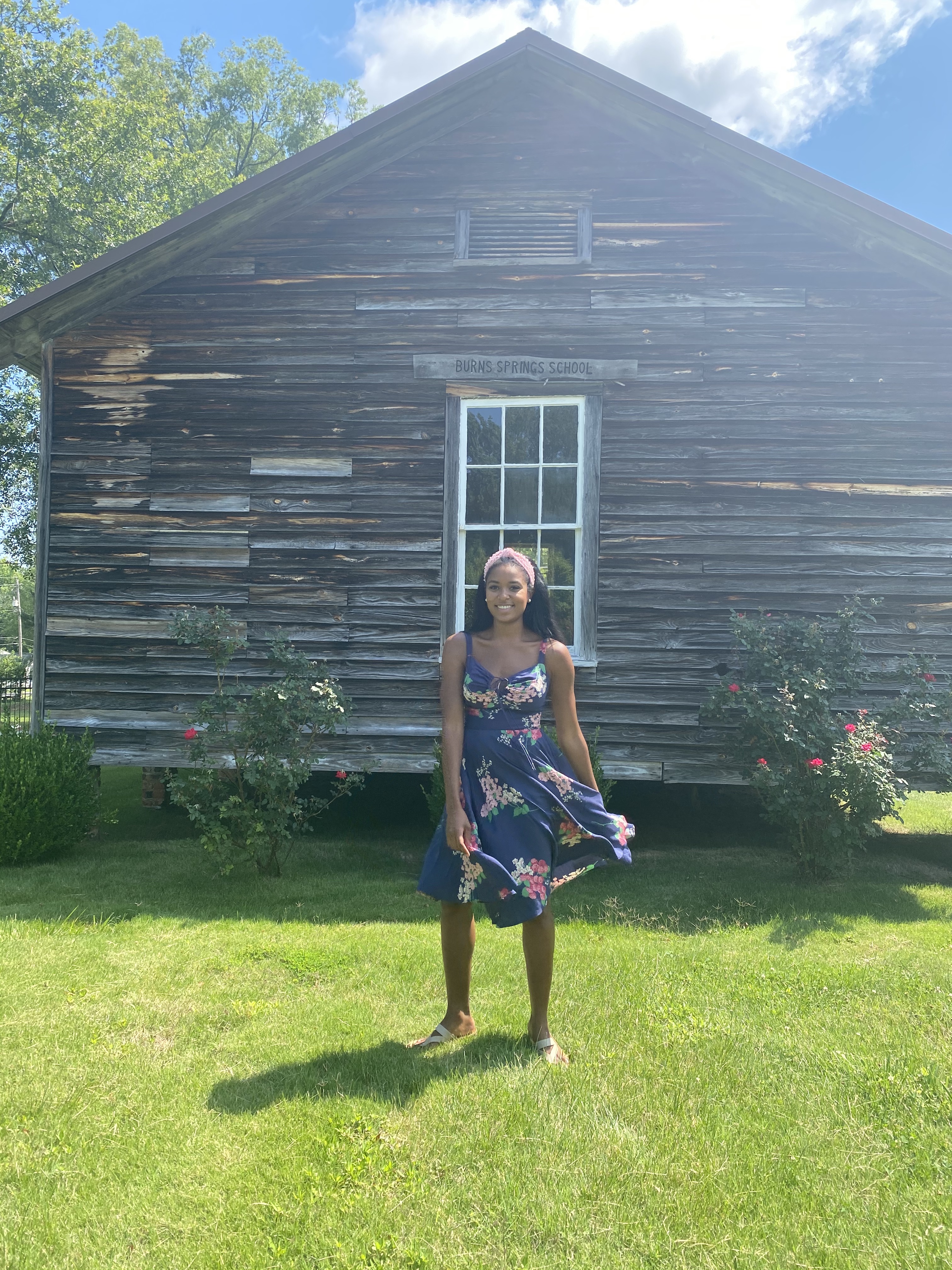 Railroad Museum Tour– This was the boys' favorite activity because they love trains (really any type of transportation), but we rarely ever get to see them up close living in The South. This museum (which is only about a year old) has a collection of vintage passenger trains that are fully outfitted the way the would have been in the 20s, 40s + 60s. We got to see the steam engine up close (and even ring the bell), walk through the passenger carts to admire the dining room and tiny cabins, then strolled through the more luxurious executive cart to see how the rich and famous of the day got around! Our guide, Karen Jennings​ (the museum's Executive Director), gave us a great understanding of these trains' past and Greenwood's role during those times. She also mentioned that the museum does a really fun Polar Express event during Christmas time, so we may have to return for that too!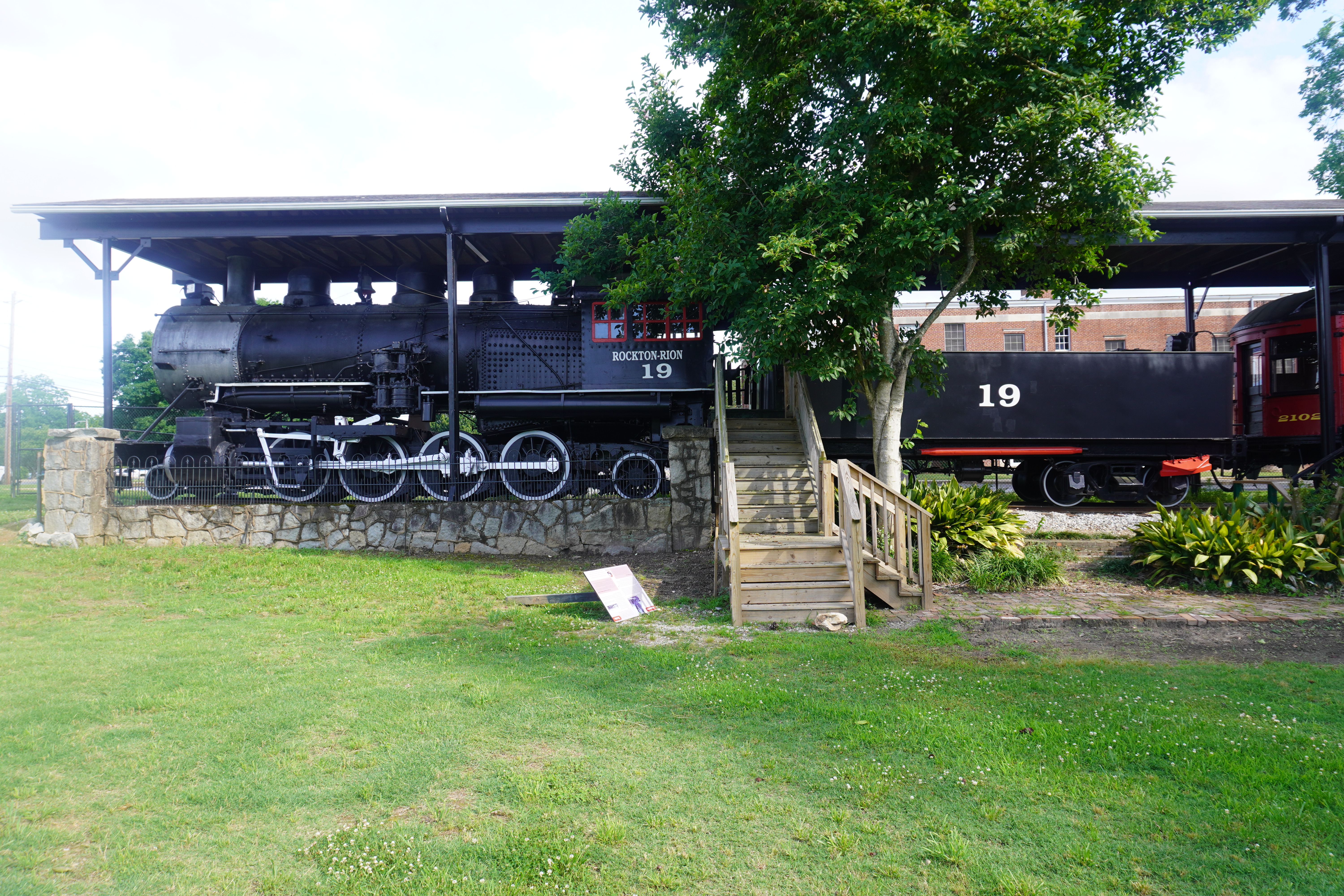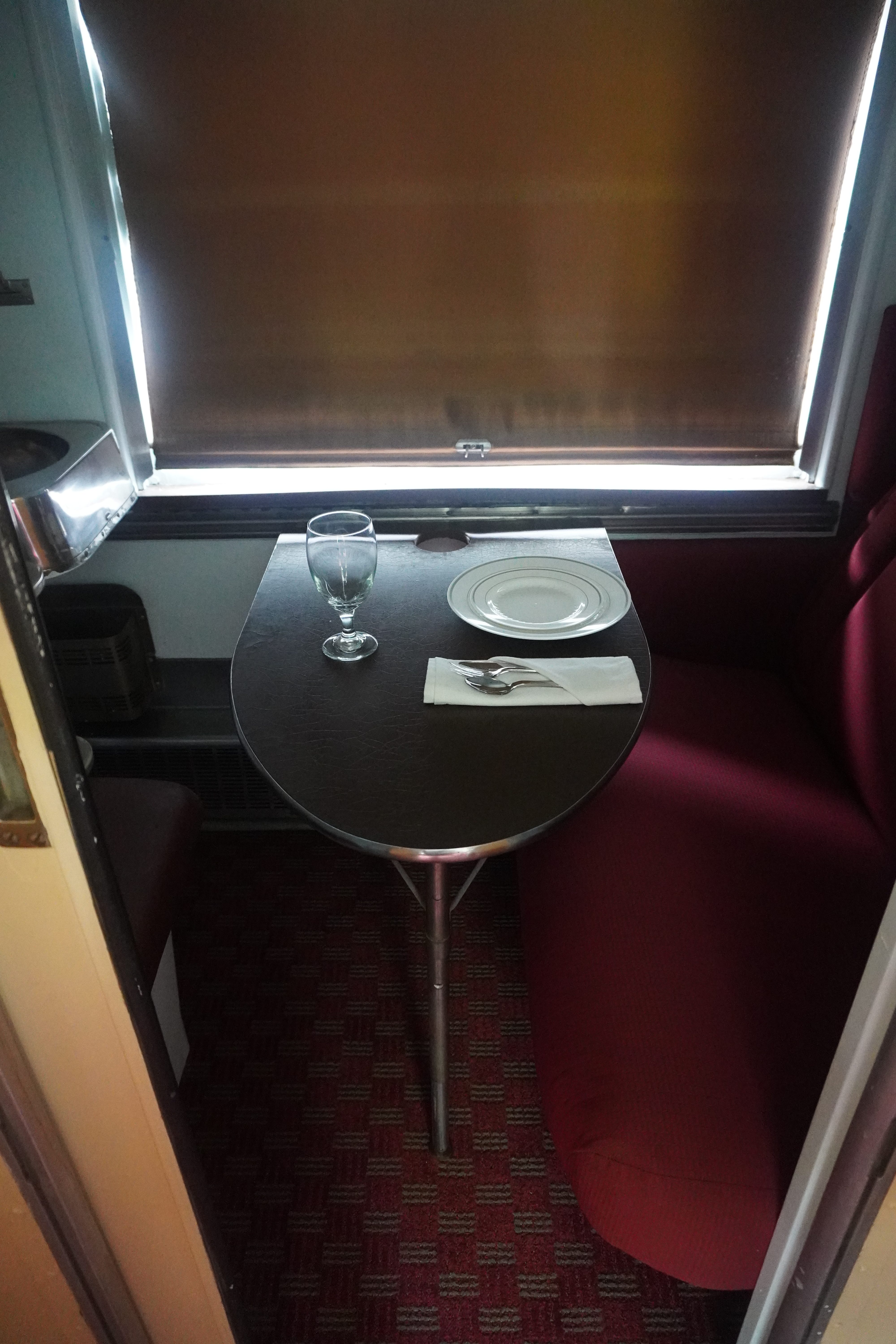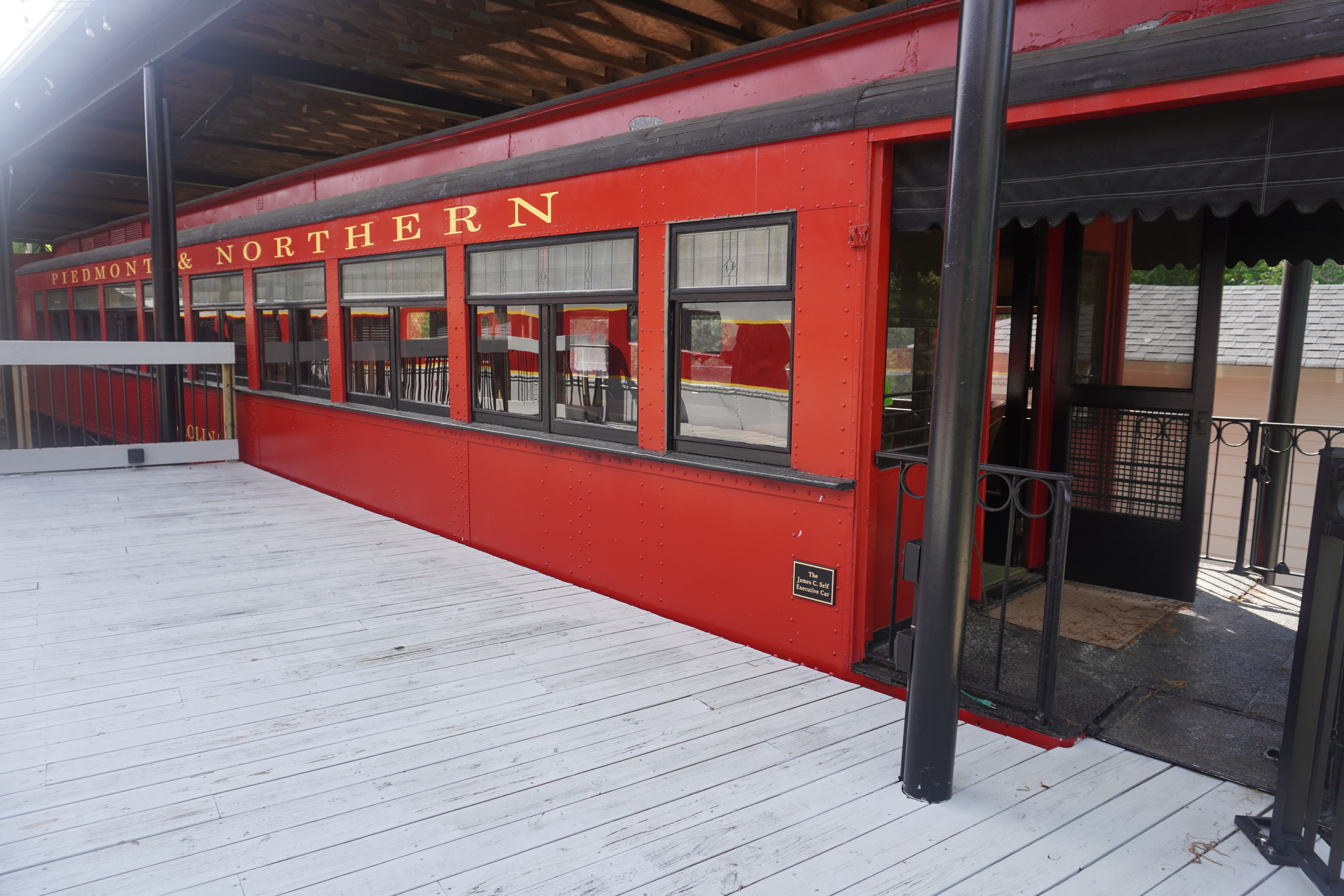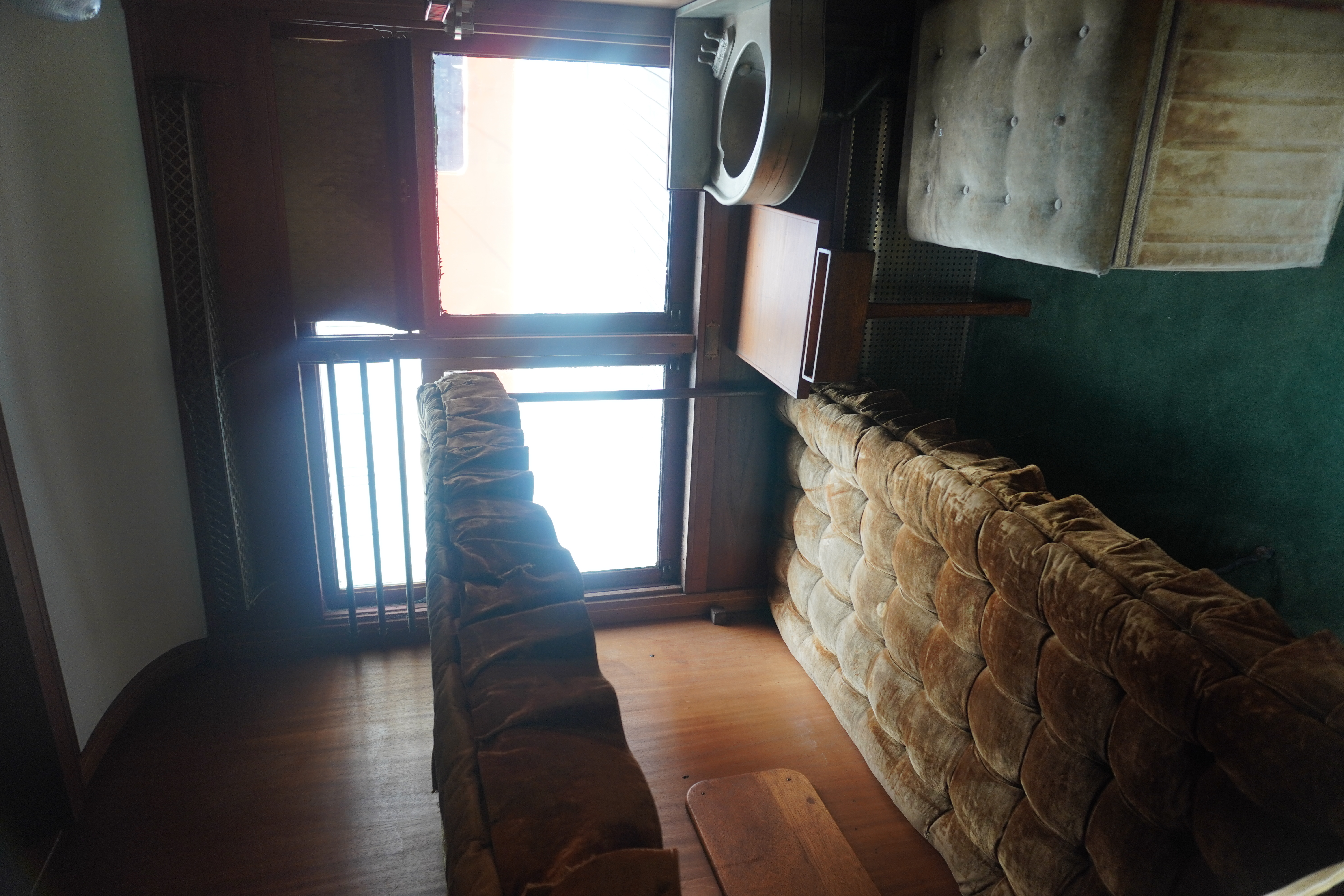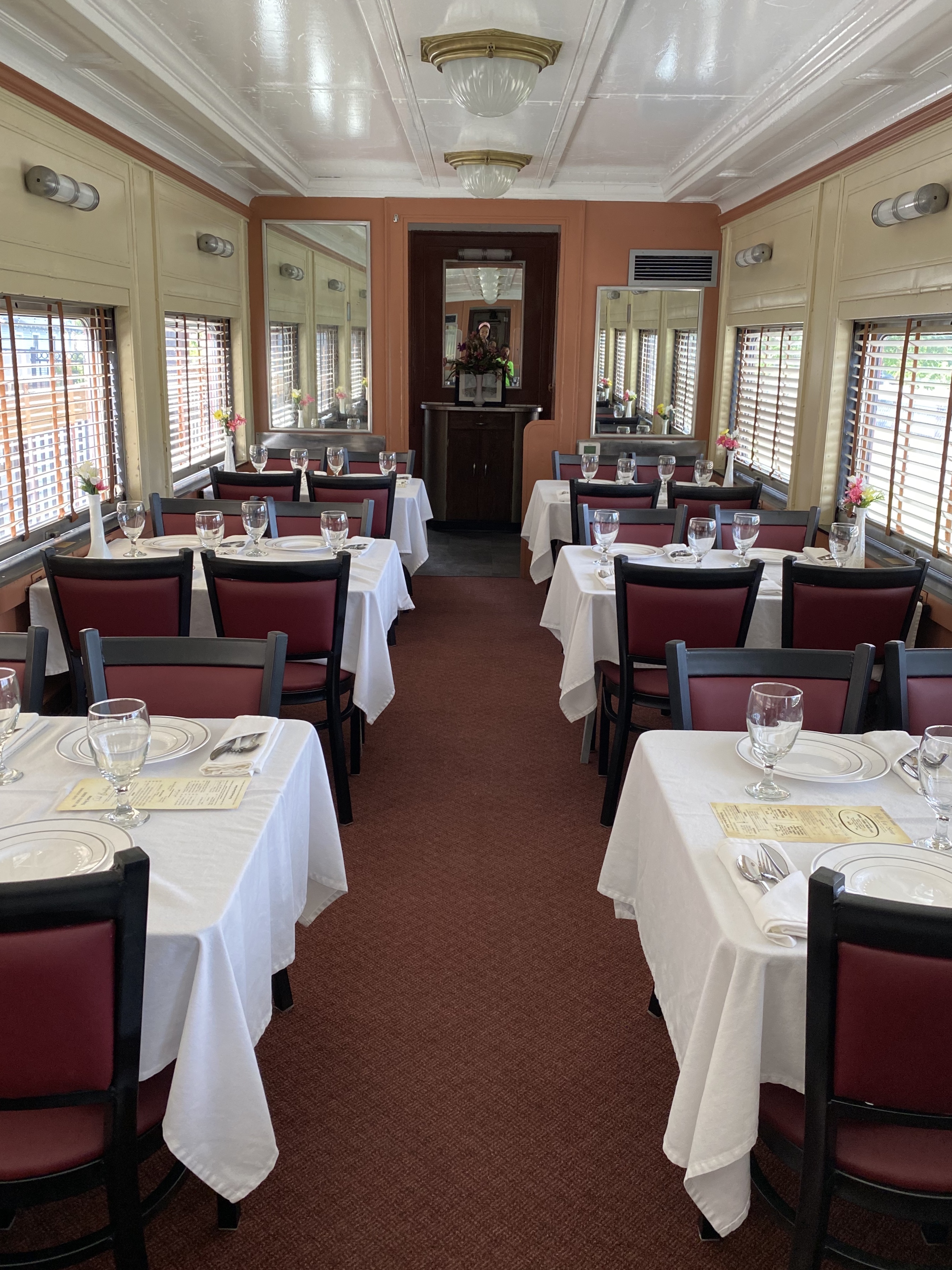 25 Dive In– Any summer day that ends at the drive in is a good summer day, and lucky for us Greenwood had one! The tri-screen outdoor theater shows double features every Thursday-Sunday through the season. They have concessions available, or you can pay $20 to bring in your own food. All you have to do is tune your radio, cut off your lights and lift your tailgate. Pro-tip: bring portable sporting chairs if you don't want to spend the entire movie uncomfortably squirming in the back of the truck.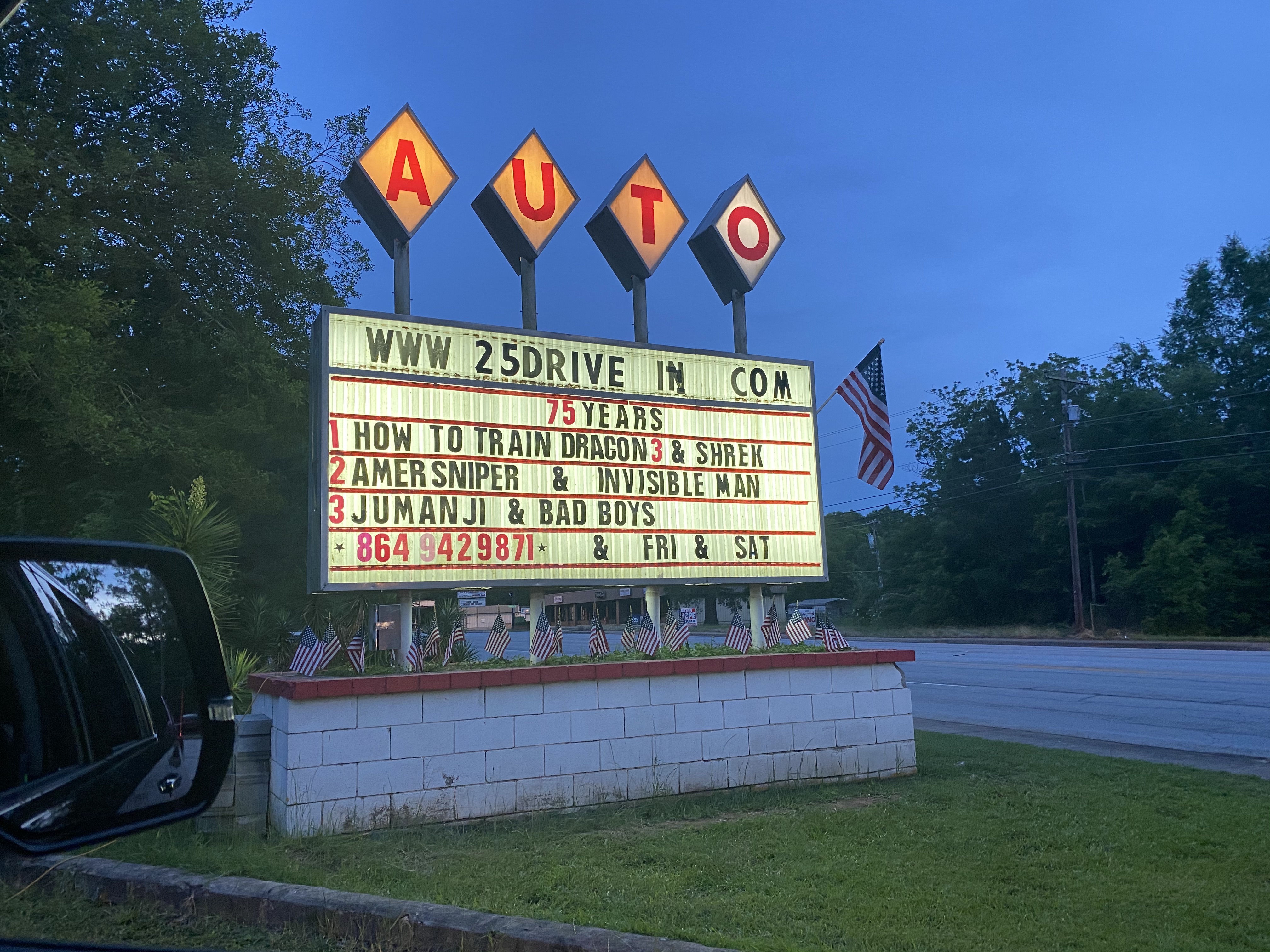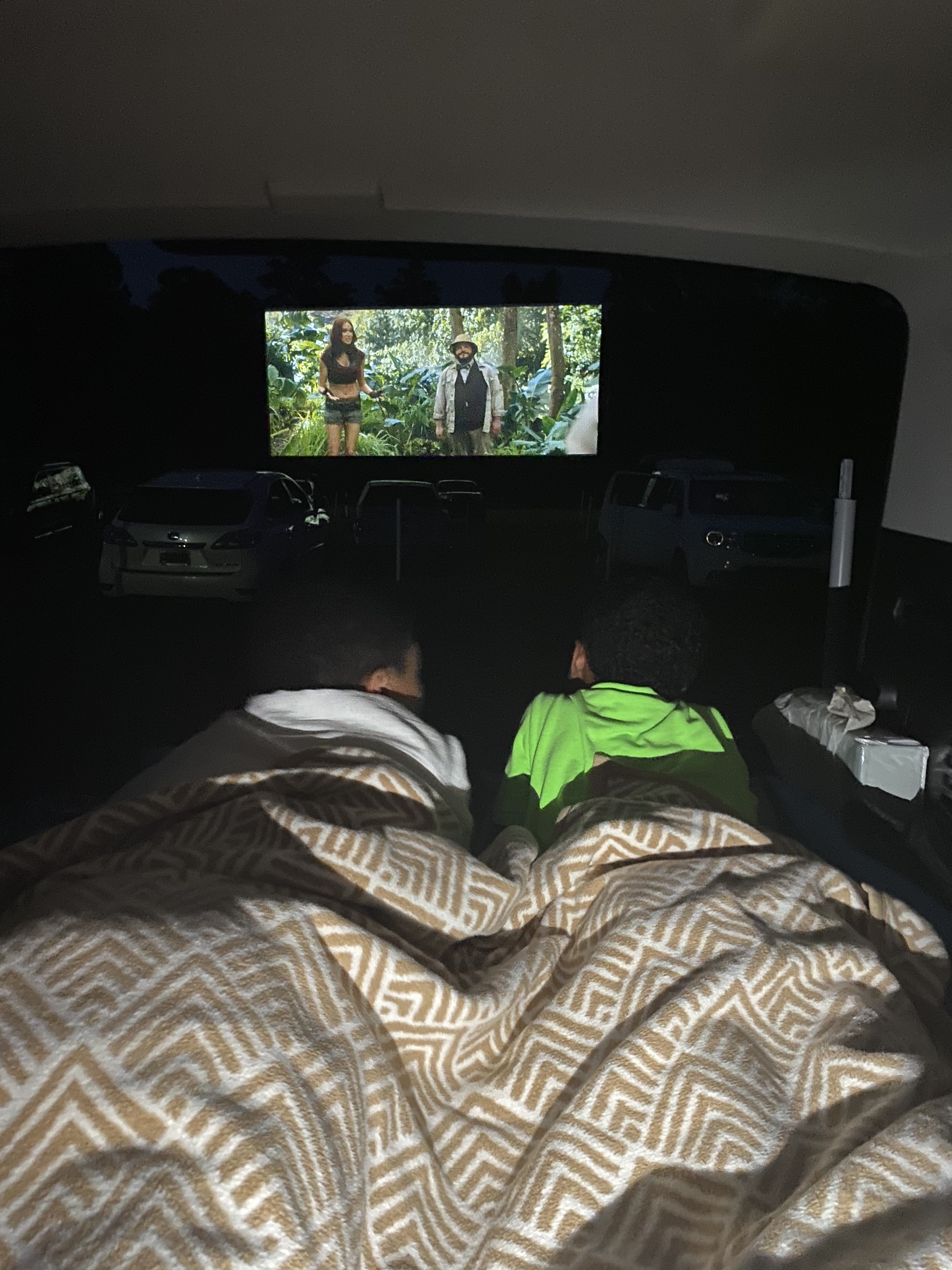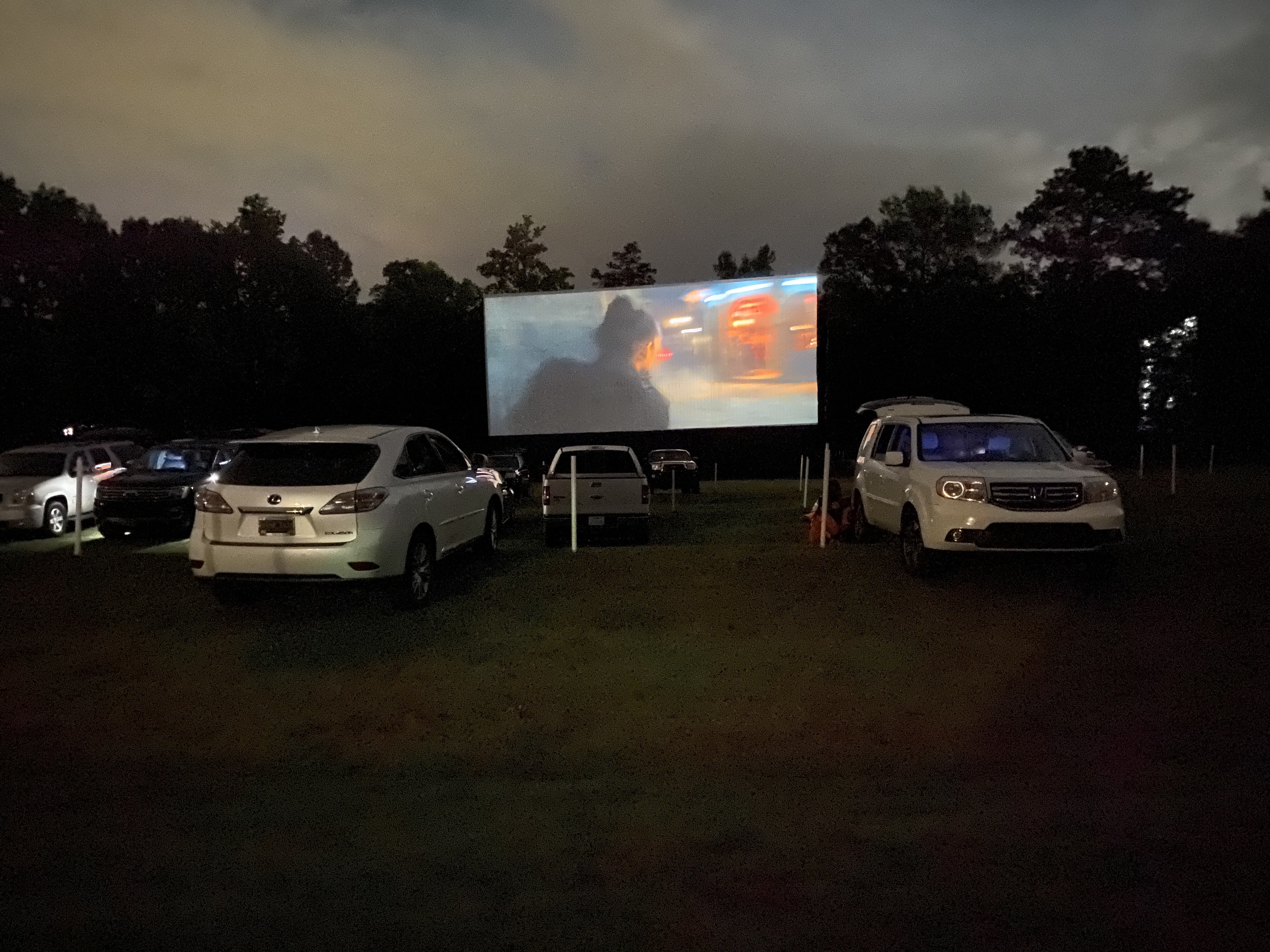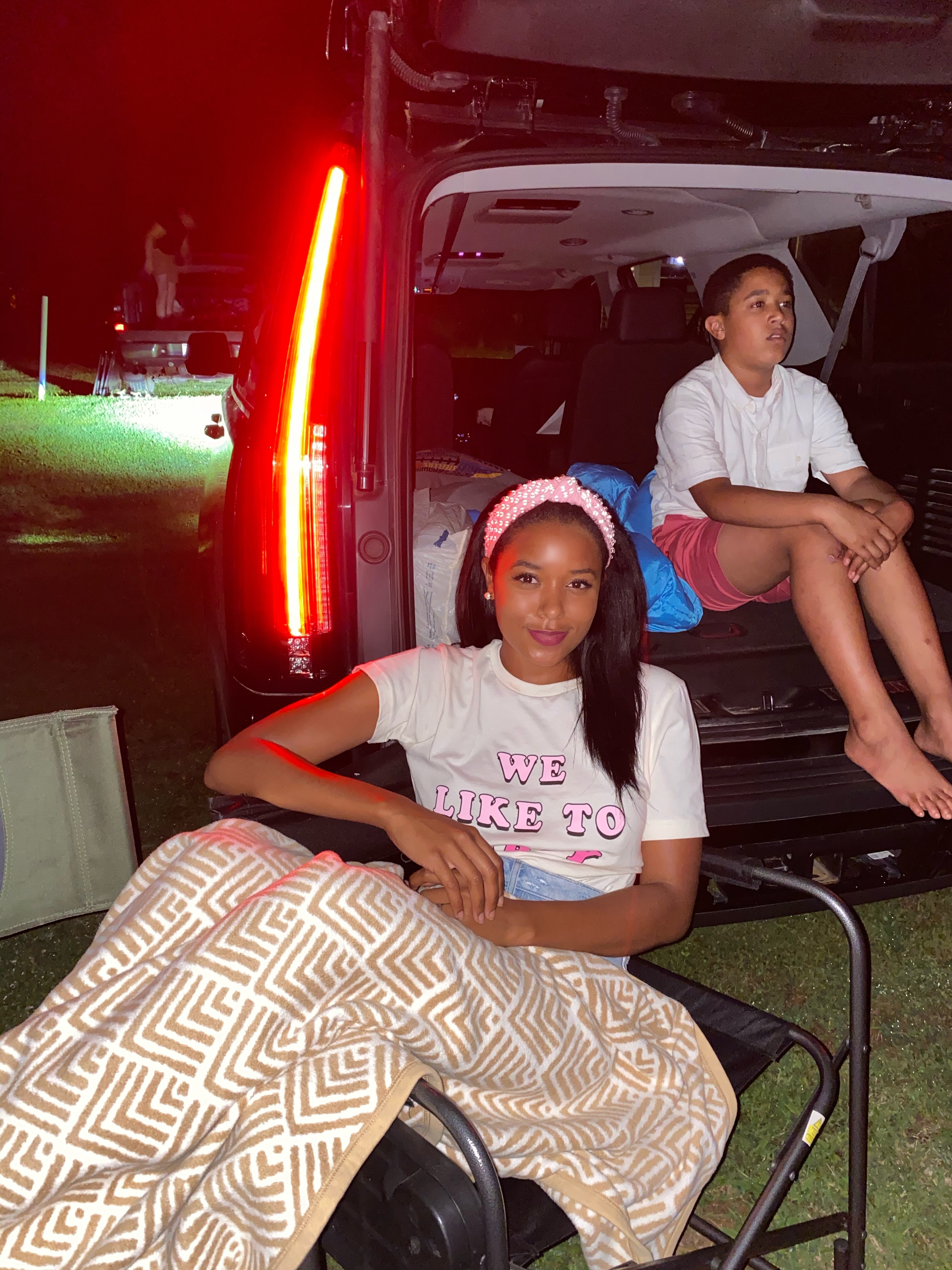 Visit Lake Greenwood– When in Greenwood, do as the locals do…spend the day on the lake! While I wasn't able to make it out to Lake Greenwood, a few people I chatted with mentioned how locals spent a lot of time on the lake during the summer. Visit Greenwood has provided several resources (find them here) to help you get on the water during you stay!
Where to shop:
Sugar– I stepped one foot into Sugar and instantly fell in love. Not only was there a ton of pink, everything was vibrant and fun. The girls at the shop, especially the owner Sandi, were all sweethearts. I spent much longer in the store than I had planned. But I couldn't stop chatting + browsing her inventory. She's done such a great job curating her collection, paying special attention to Southern labels + designers. While Sugar specializes in apparel, they also offer lifestyle products like Blender Bombs, coffee table books, and signature scented candles! This shop is a must if in Greenwood!!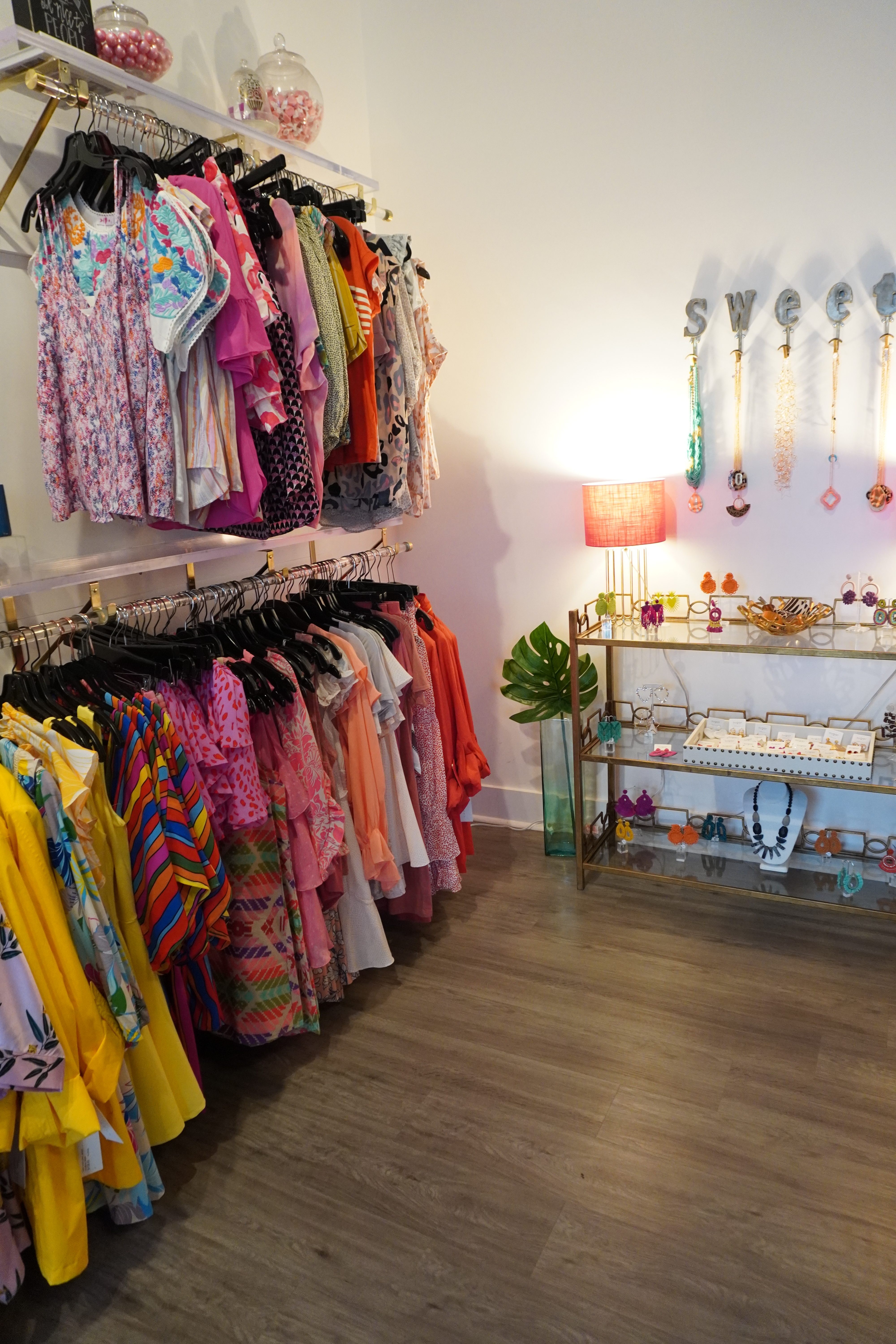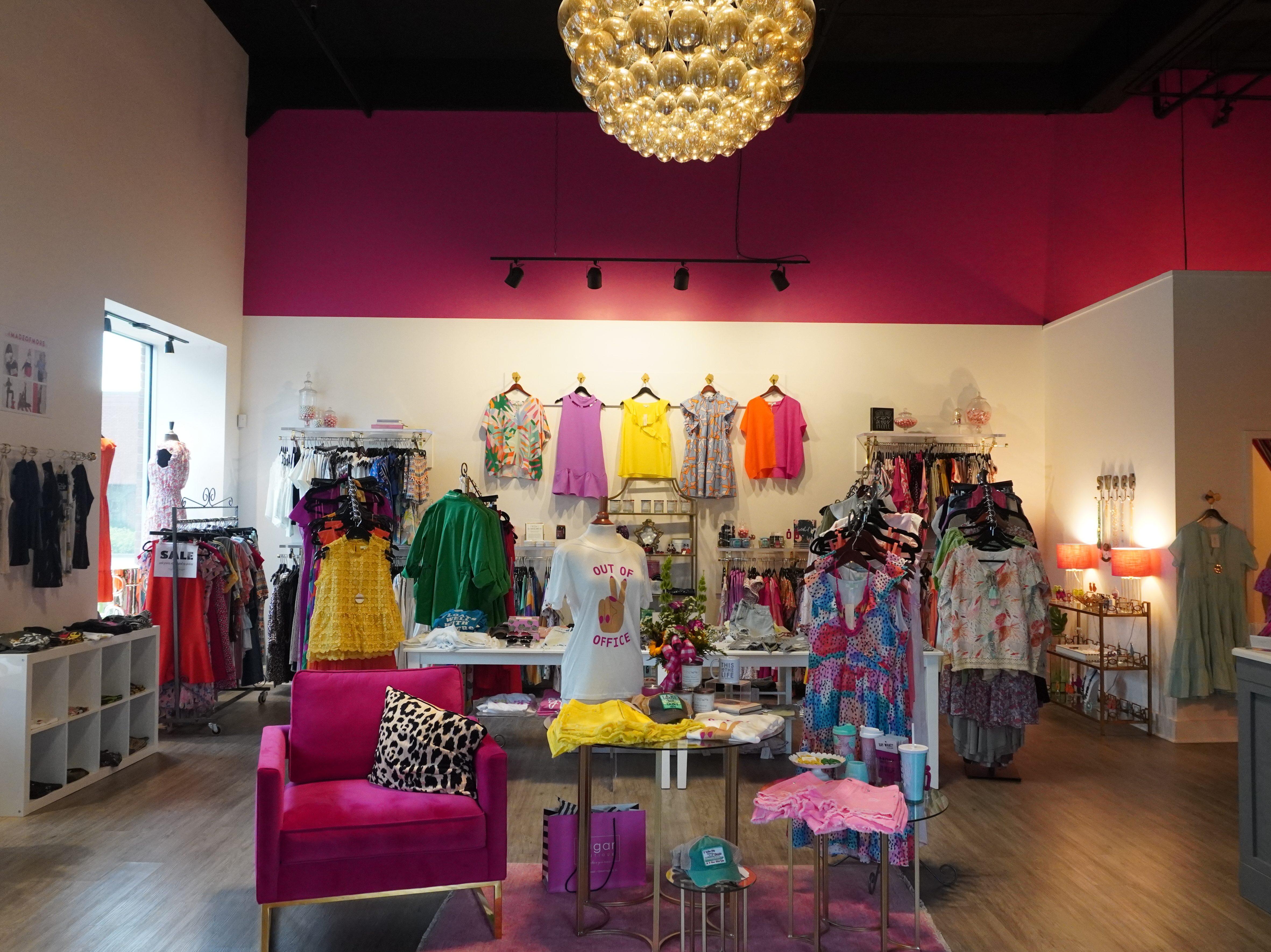 Mary Frances Limited– I stumbled in Mary Frances Limited when I ended up on a side road that turned out to be quite historic. The collection was a Southern girl's take on boho and I loved it. Everything was very affordable and garments were of great quality. I couldn't resist purchasing a white eyelet dress for this summer!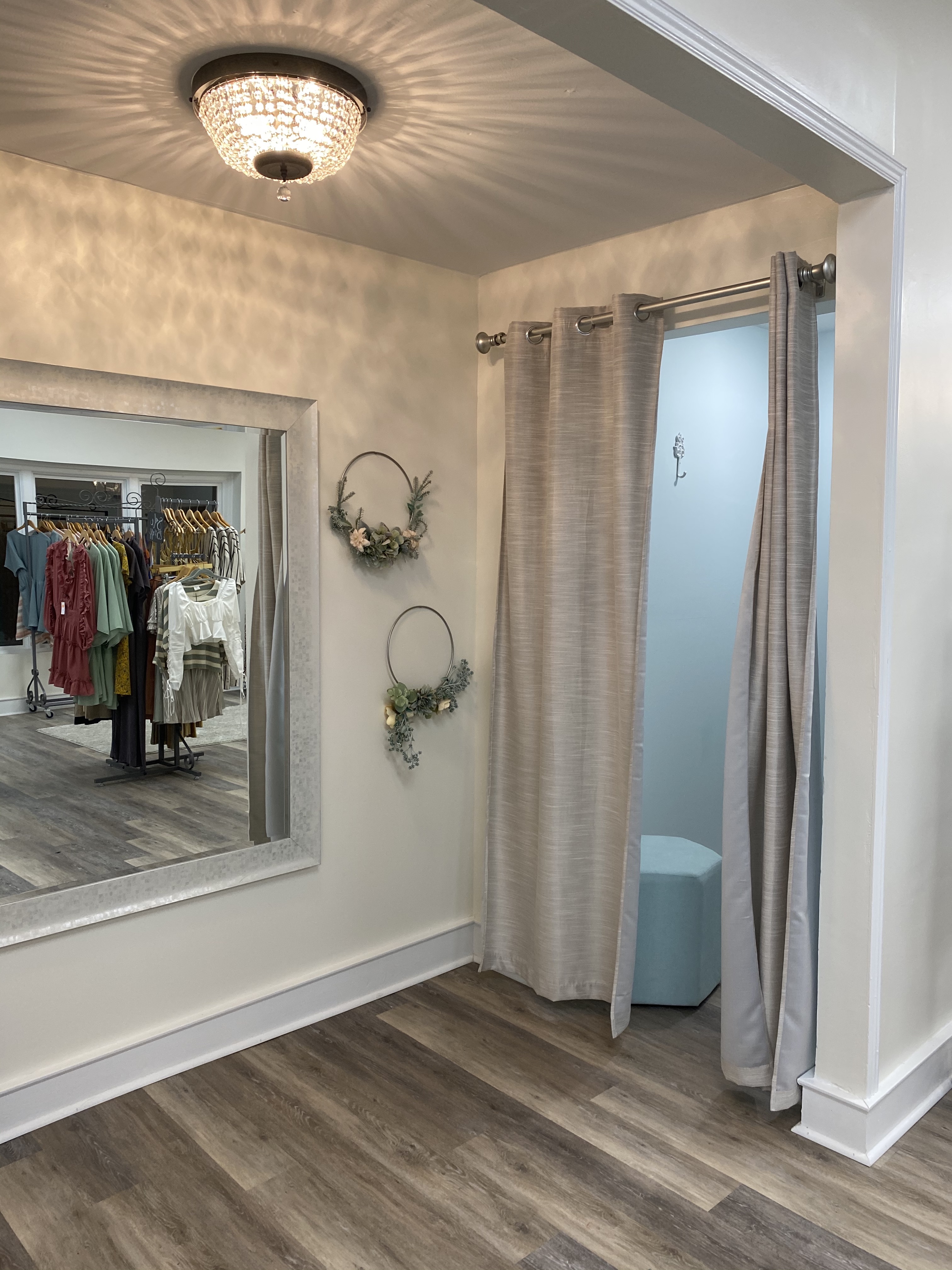 Blossom– Located in the heart of Greenwood, Blossom is your one stop shop for cute, but functional shoes and colorful accessories. While there I learned that the girls that own this location just opened one in Cola too. I'll have to make a point to check that one out soon!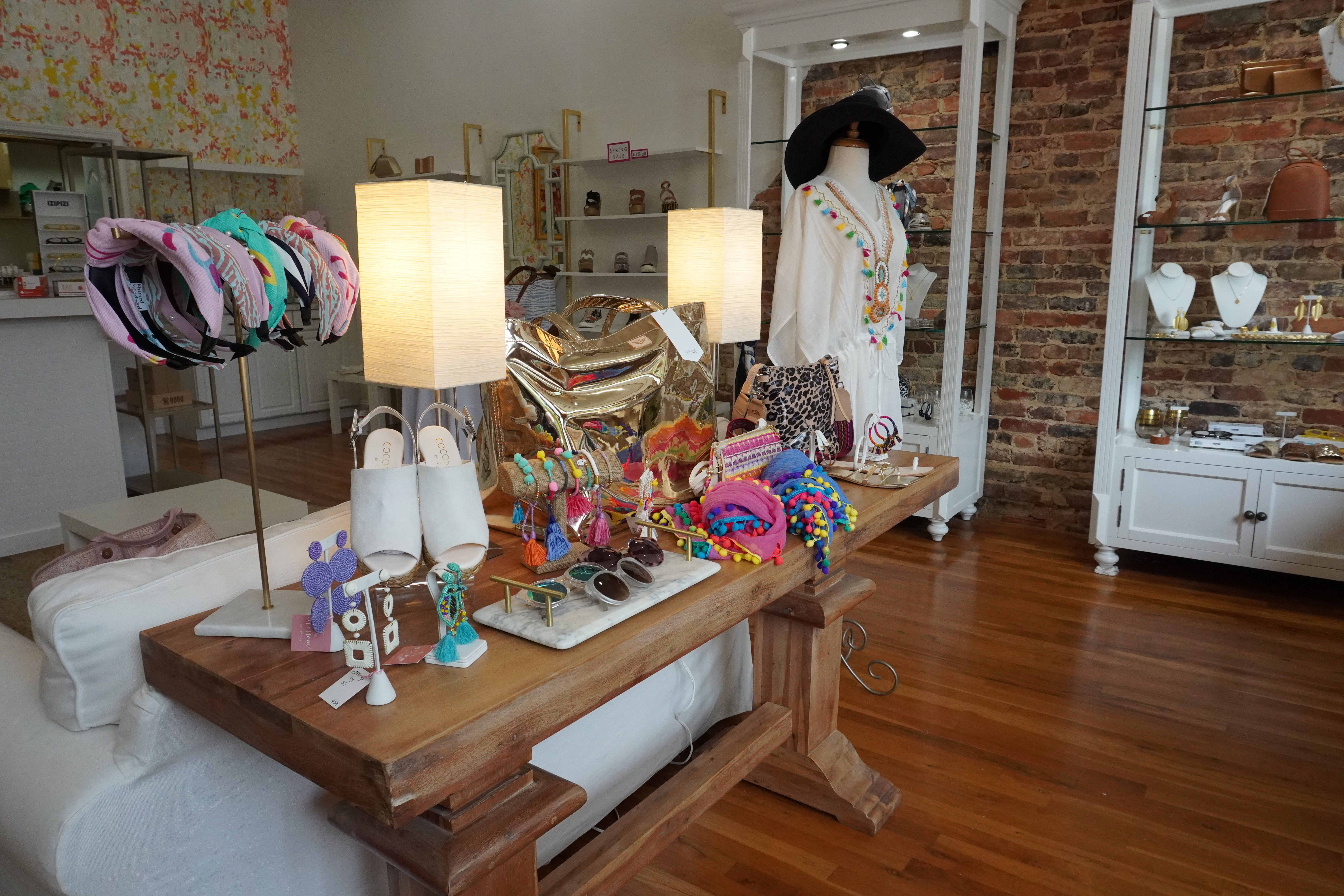 Thayer's Gift Shop– Known as the "China capital of the area", Thayer's has been around about 100 years, but is now owned by the sweetest couple that turned the pharmacy + gift shop into a home goods, furniture + gift shop. This is where most women in the area register for their wedding, and if you step in you'll understand why. It's filled with everything one may need to formally entertain, but if you're in need of a gift for that woman that has everything…this would be a great stop too. So many things caught my eye while I walked around!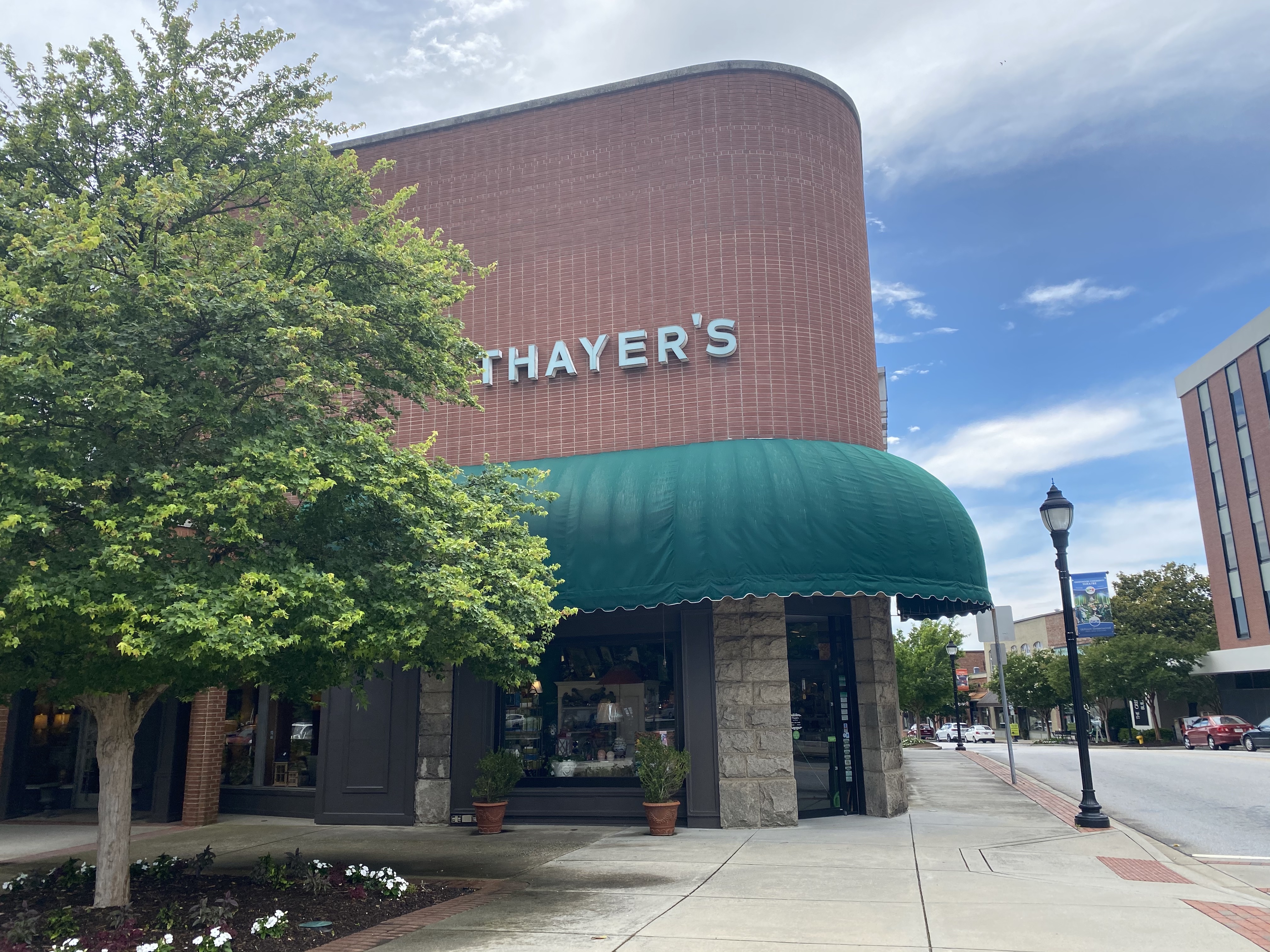 Rainbo Antiques– My biggest regret of the trip is not making it to Rainbo before they closed. I couldn't help but peek through the window and found sooo many thing that I would have loved a closer look at. This shop will be my first stop on my return trip though, that's for sure.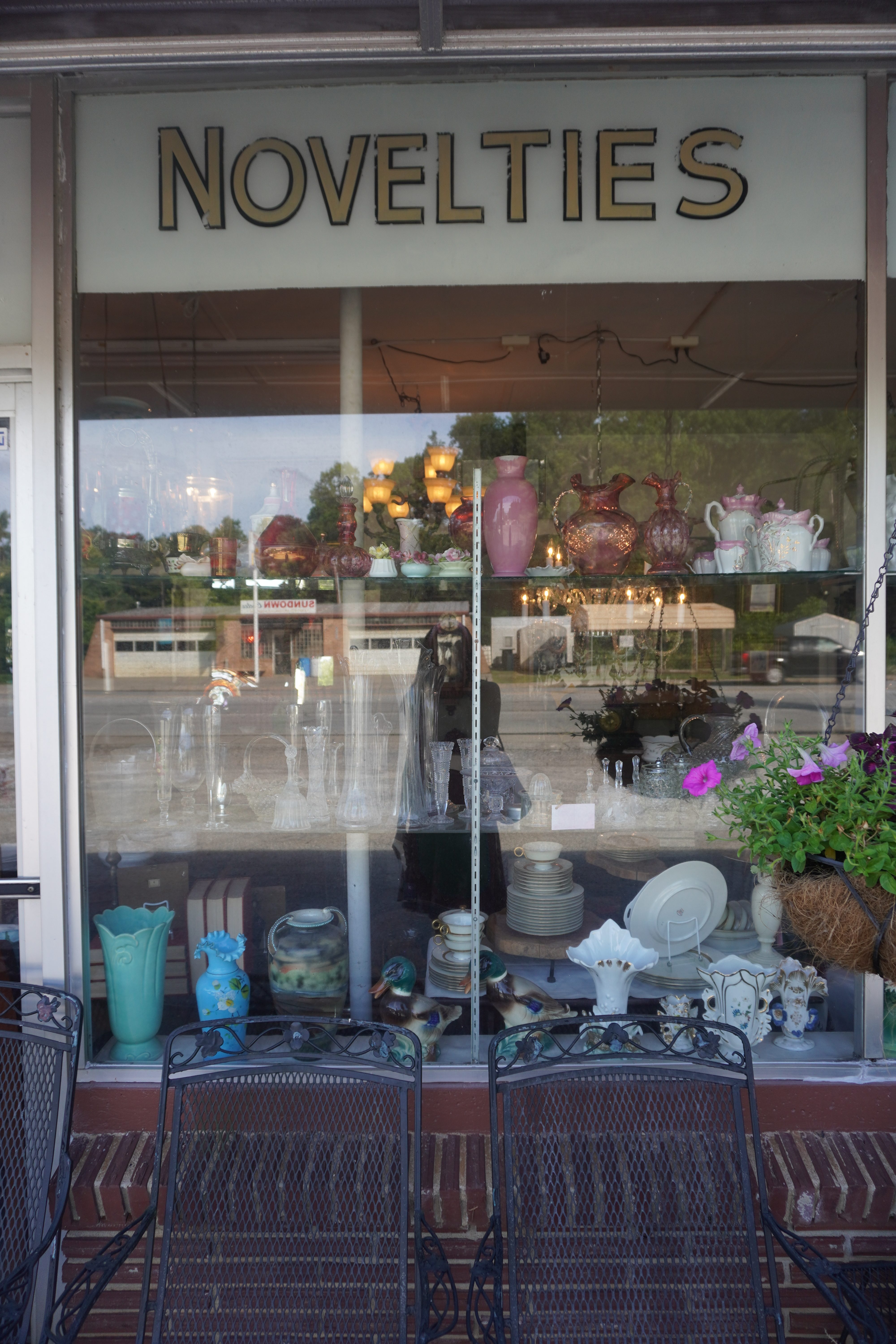 Flynn's on Maxwell– While Flynn's is the hangout spot for locals to enjoy live music, good wine + small bites, it's also a wine shop with a great selection of craft beer and all types of wine. When I walked in that Friday it was filled with happy neighbors and they warned me that they were completely full for the evening if I was looking for a table. Luckily, I just wanted a split of rosè. I chose a brand I was unfamiliar with, but was very happy with my choice!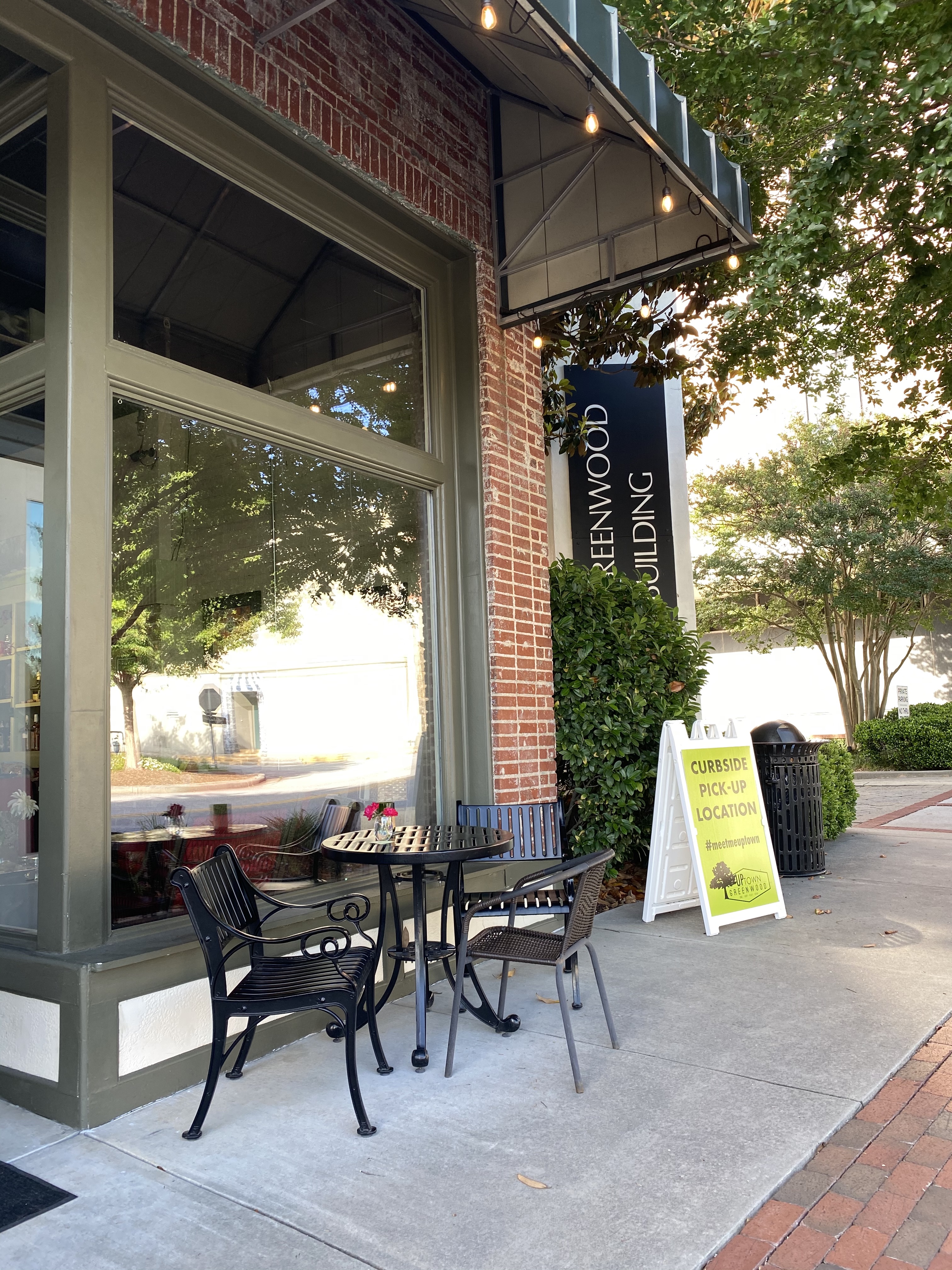 *This post was sponsored by Visit Greenwood, but all thoughts + opinions are my own.*