It's no secret that I've used gardening as an escape over the past few months! Not only was transforming my patio into a garden terrace a much needed time consuming project during Covid, it became an opportunity to check in with myself each morning.
Caring for (much simpler) living things is such a friendly reminder of how magnificent it is to be alive; and how little one truly needs to grow + thrive! This served as a healthy lesson of what was really important when life came to a complete stop.
I'm certain that this little hobby of mine was one of the things that got me through that challenging time, and it's one I hope I'll continue doing from now on. In fact, I really think everyone should garden. It's therapeutic, it creates a new sense of purpose, and best of all…it makes everything more beautiful.
Trust me, I'm no expert, and don't intend on becoming one, but I have learned a few things over the past few months. So, if you've been thinking about developing a little garden, but didn't really know where to begin, here are 10 things to help beginner gardeners.
10 tips for Beginner Gardeners:
1. Know the basic terms
Don't worry, gardening won't feel like learning a new language. But there are a few terms you should know to help get your message across to any professional looking to assist you!
Annual – A plant that has a one-year life cycle (growth, reproduction, death).
Deadheading- Removing the dead blossoms; usually extends through the blooming season.
Deciduous – A plant that loses its leaves each fall or winter.
Dormancy- A period in the life cycle of a plant where it is "asleep" and not actively growing; brought on by cool temperatures and shorter days.
Evergreen – A plant that keeps its leaves throughout the growing season.
Fertilizer – Material that is used to feed plants.
Herbicide- A chemical used to destroy undesirable plants and vegetation.
Mulch- Layer of material placed on the soil + around plants to retain moisture, suppress weeds and improve soil structure.
Perennial – A plant that lives for multiple growing seasons.
Self-cleaning- A plant who's blossoms that fall off on their own.
Weed – A plant growing where it is not wanted and where it adds no value.
2. Start with pots
Planting things directly into the ground brings its own challenges. You have to ensure that the soil has proper nutrients, be prepared for impacted soil that's difficult to shovel, and may encounter little creatures that live in the dirt. (Our backyard has a ton of large worms + other bugs beneath the surface–YUCK!) So, to avoid the unpredictability, I skipped the groundwork and dove straight into to pots. Not only is this method much easier to control (you just use potting mix for a guaranteed foundation), you have the ability to move them around to create the perfect positioning as you continue to add over time.
3. Evaluate your sun
Before you decide to start a garden you really need to monitor your sun, so that you don't invest in plants that can't survive your conditions. Take a little time to record how the sun shines on the area where your garden will be. Where is it at 9am? At noon? At 3pm? And again at 7pm? Because some plants prefer morning sun, or afternoon sun or even all day sun, determining the amount of sunlight on that specific area will give you (and the professional helping you at the nursery) a range of plant species that will survive best in the conditions you can't control.
4. Use gloves
Using gloves is what turned me into a real gardener! Before, I would do a little here and there and then walk away from it. But when I started covering my hands with gardening gloves I realized how much more I was willing to do. I'd dig my hands deeper, grab plants I was cautious about touching, and countless other things that I wouldn't have had the courage to do without them. I'm sure it's just a mental thing, but it makes a huge difference. If you don't have a pair, make sure you pick some up before you begin planting!
5. Monitor the health of your plants
Once you've planted your beauties, you can't just ignore them. It's imperative that you keep an eye on them regularly, especially within the first weeks of planting. Are any plants getting too much sun? Are they being over-watered? Are they not being watered enough? Each plant will have a different response to conditions, so it's important to look at them each individually. But, the best part is if there is something wrong (usually) a small change will fix it. When I notice leaves turning yellow or wilting or whatever, I simply Google the plant + the problem and search for the solution. It hasn't failed me yet!
6. Keep the area balanced
I've mentioned a hundred times that plants add beauty to the area they're in. It's amazing how the feng shui of an entire space changes once there are living, breathing plants added. But it's worth noting that how the pots are arranged play a huge role in that feeling, as well. I love purchasing pots in pairs, that way what I do to one side I can do to another to create some spacial balance (which puts the mind at ease)! Certainly I'll throw in single pots, but typically I try to balance the use of those too. Take a look at my garden for examples!
7. Fertilizer is your friend
Think of fertilizer as plant food. It's something they need to perform their best! Plants that just produce green leaves may only need some at each bookend of the season, but if you're like me and love pretty blooms then you'll need to use fertilizer a little more often. The amount of energy it requires for a plant to bloom is unimaginable, so this acts as a much-needed boost. You can add fertilizer to plants monthly, however, I'll monitor the end of a bloom cycle and add some fertilizer then! Here's what I use!
8. Keep your soil damp, but don't over water
It's important to try to keep your soil damp for the first year after you've planted in a pot. This allows for them to acclimate themselves to their new home seamlessly. But damp does not mean flooded! Overwatering is second most common issue, right after under-watering plants. One thing I use to prevent overwatering is a plant spacer. You insert one into a pot before you add soil. It props everything up, so that there's space below, and the holes allow water to easily drain to prevent root rot! I use Ups-A-Daisy lifts!
9. Mix it up!
Like most everything else, if you keep things the same it's a lot less interesting. So, don't be afraid to mix it up! Yes, place pots around your area, but make sure they're all different sizes, shapes + colors! And don't be afraid of hanging pots or window boxes. You plant + care for them all the same, but the variety will add soo much to your space. Also, mix greenery with flowers to create layers in the area. And, for the look of professional pots, mix different types of plants within the same pots!
10. Enjoy the space!
The most obvious tip, and one lot's of people actually forget, is to enjoy the space every single opportunity you can! You've done a lot of hard work and the life you've maintained deserves to be enjoyed. Make an effort to spend some time in that space every day..beyond just watering. Read a book, drink some coffee..or a little wine, invite a friend over…or host a zoom party! Whatever you do, find an excuse too ENJOY IT! Because summer will over before you know it, and all your hard work will go dormant, or die!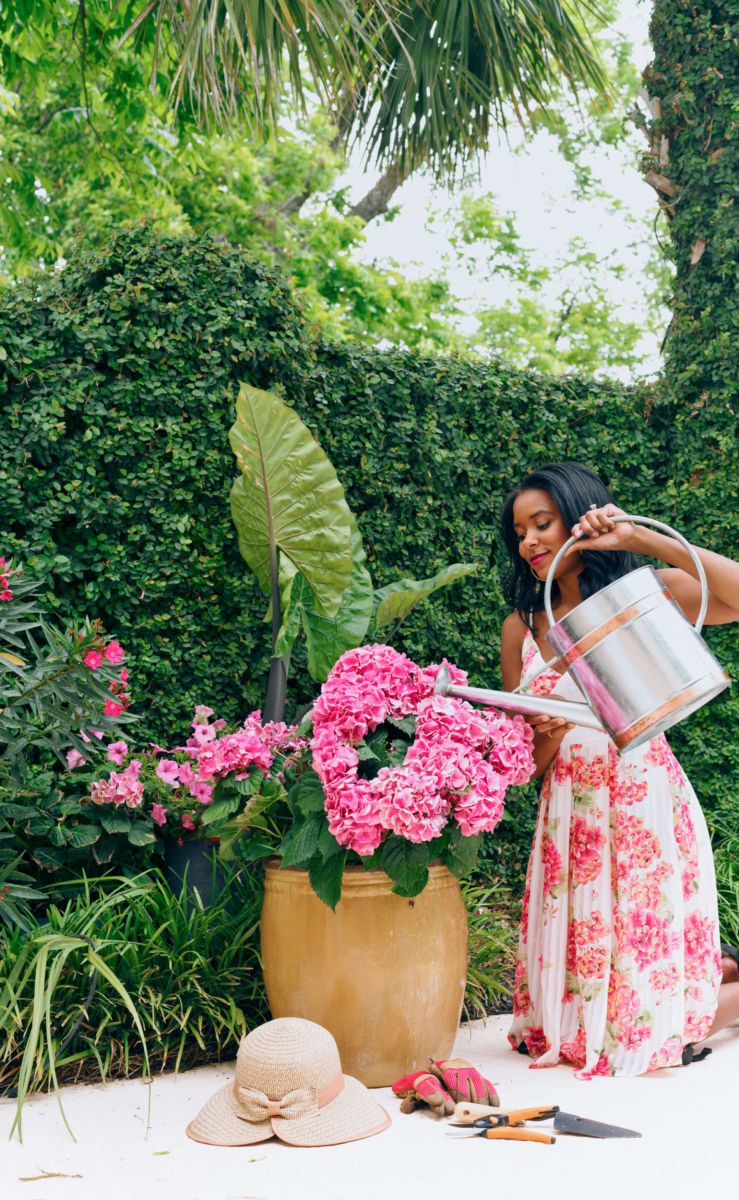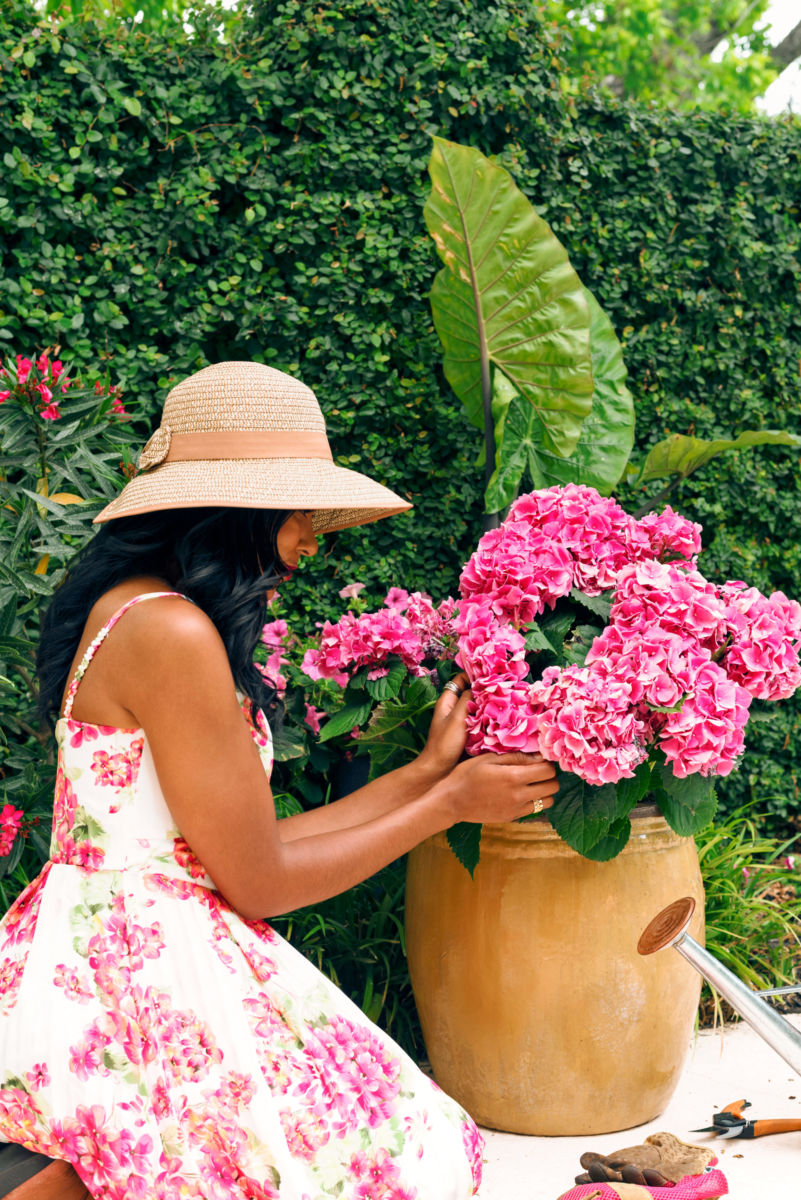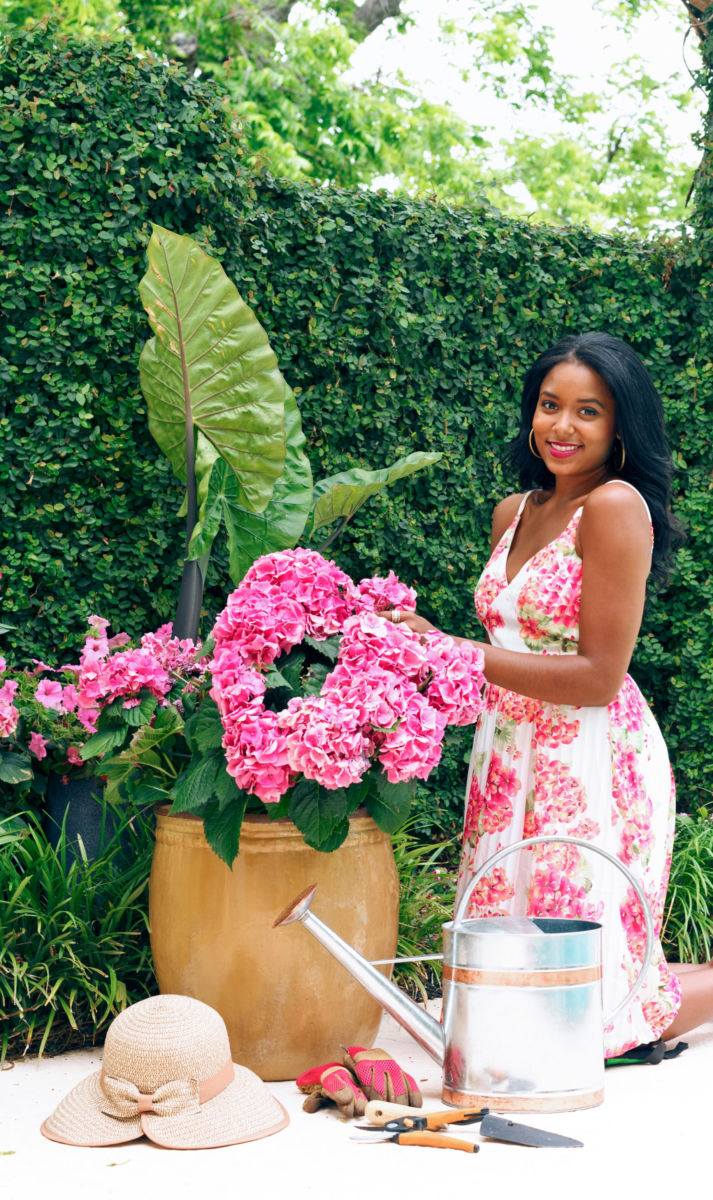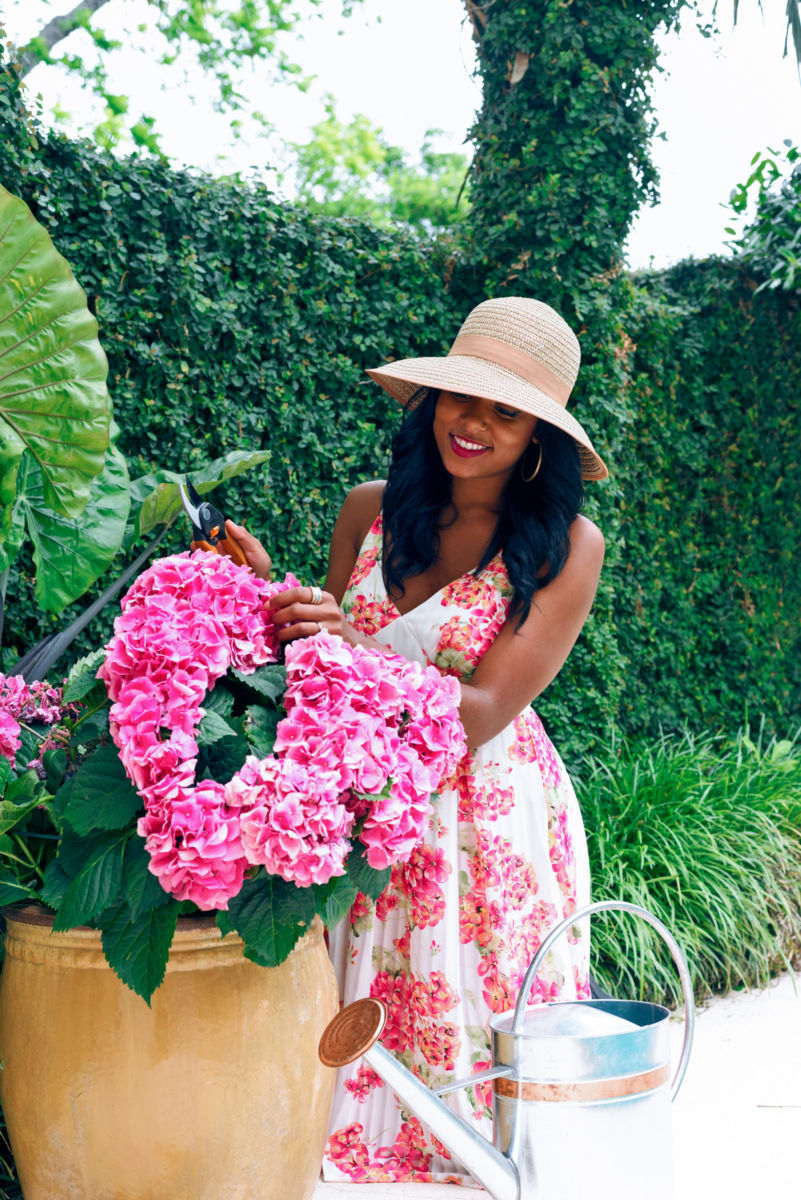 Dress: JC Penney // Sun hat: JC Penney
Photo: Callow Lens
Starting a garden? I'd love to see your final product! Tag me on IG @shadesofpinck, or email me a few images megan@shadesofpinck!