The day Teagan came home, we didn't have much space for him. I know what you're thinking… "you have 9 months to figure this out, what took you so long?!".. but when I tell you my pregnancy flew by I mean it. It felt like just weeks between the day I found out we were expecting and they day I was holding him in my arms.
As you all know by now, our little bundle of joy was a bit of a surprise, so we weren't necessarily "ready". We lived in a three bedroom home: a room for us, a room for my step-sons, and a guest room. The obvious choice would have been to get rid of the guest room and turn that into a nursery, but since I live 1.5 hours from my mom I knew that wouldn't be an option as she'd now want to spend as much time in Columbia as possible with her grandson. So it took us a long time to figure out our options, but I'm glad we waited because what we landed on ended up being perfect for our growing family.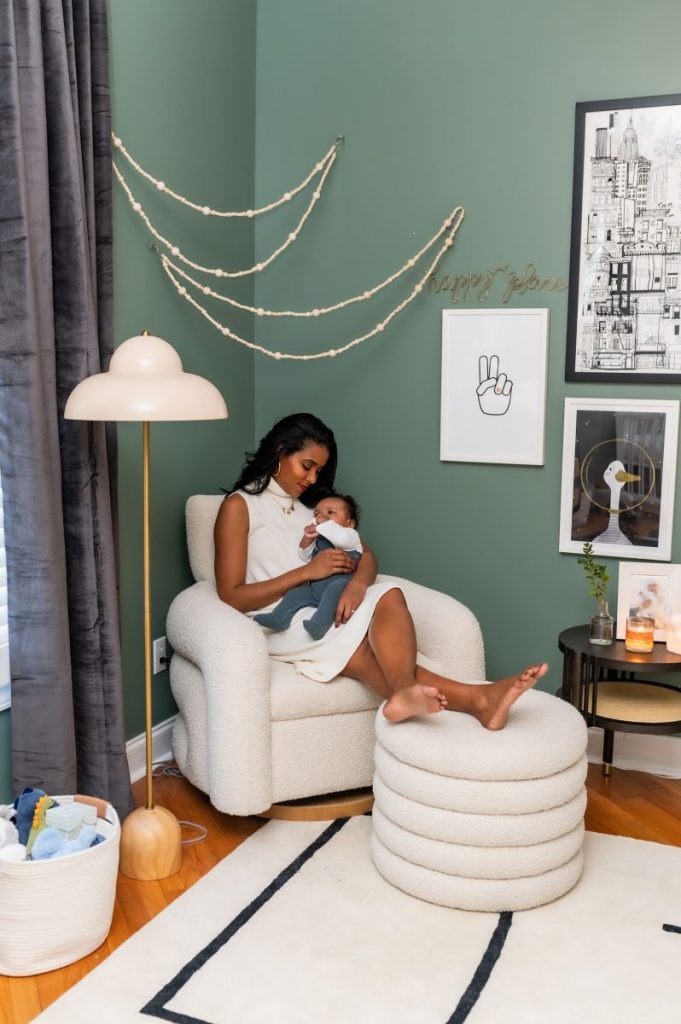 Snoozer Cream Nursery Glider // Snoozer Cream Storage Ottoman 
We decided to use my stepson's old room as the nursery and to turn the finished attic into their room. The only issue was that the attic didn't have any natural light or a bathroom. So, the week after Teagan came home we began a renovation to the third floor that lasted until he was 7 weeks old. Less than 2 weeks into the reno there was a foot through the ceiling, which just so happened to lead to the guest room.. also the place we were using to store ALL of Teagan's belonging. Think: diapers, clothes, bottles, pacifiers, basinet– EVERYTHING!! And that hole caused the biggest mess! There was dry wall material allllll over everything and one day I just had to let it out and cry. Being that unorganized with a newborn was hard enough, but the mess was my breaking point.
The only shining light during that time was the Design Team at Crate & Kids! They reached out wanting to help make Teagan's nursery a space that brought us the serenity he deserved. I met with Stephanie one afternoon via video chat and share it all: the situation we were currently living in, and my dream for what his nursery should be. She listened carefully in then in a matter of 48 hours sent back a complete room rendering of the design she created. It was perfect! It was everything I had dreamed of and I couldn't wait to see it come to life. She helped me place the order for the Crate & Kids products I wanted, and even helped me pick out wallpaper and paint. A few weeks later, the first round of shipments were delivered straight to his nursery (I didn't have to lift a finger). Covid forced delays on a few other products, but right before Christmas the final delivery was made (again, to his nursery not just our front door) and by the New Year, he was fully moved in and settled.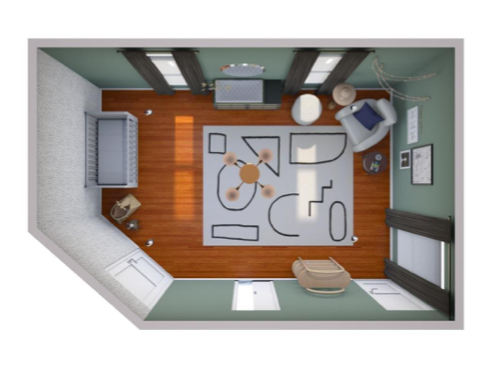 Get a glimpse into his nursery below and see the list (including links) of the products we decided to use! Our paint color is Garden Oasis by Benjamin Moore.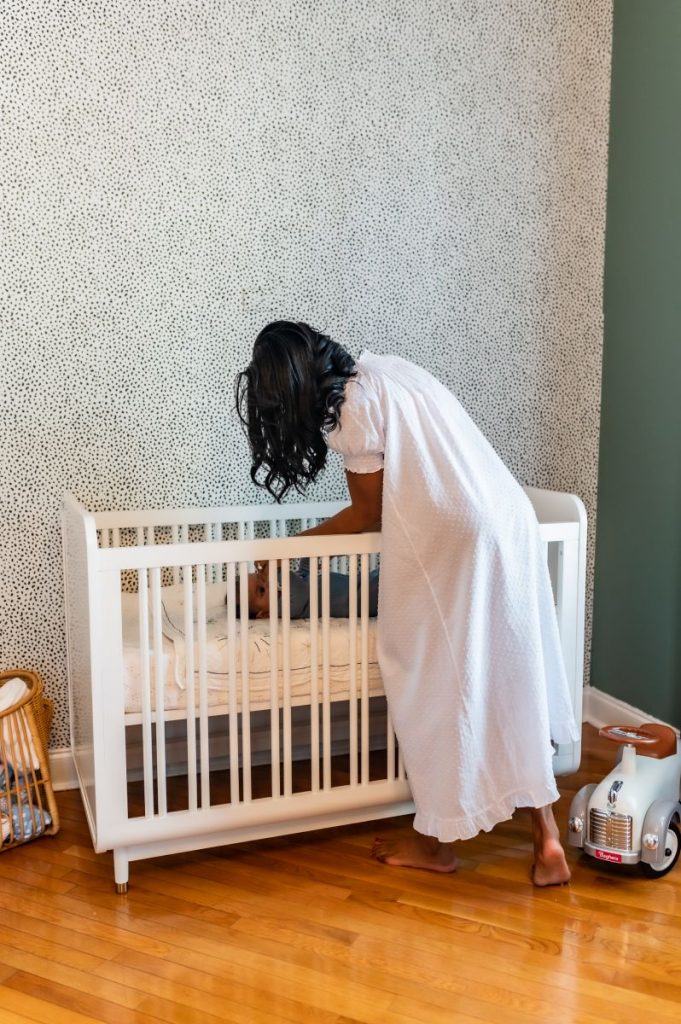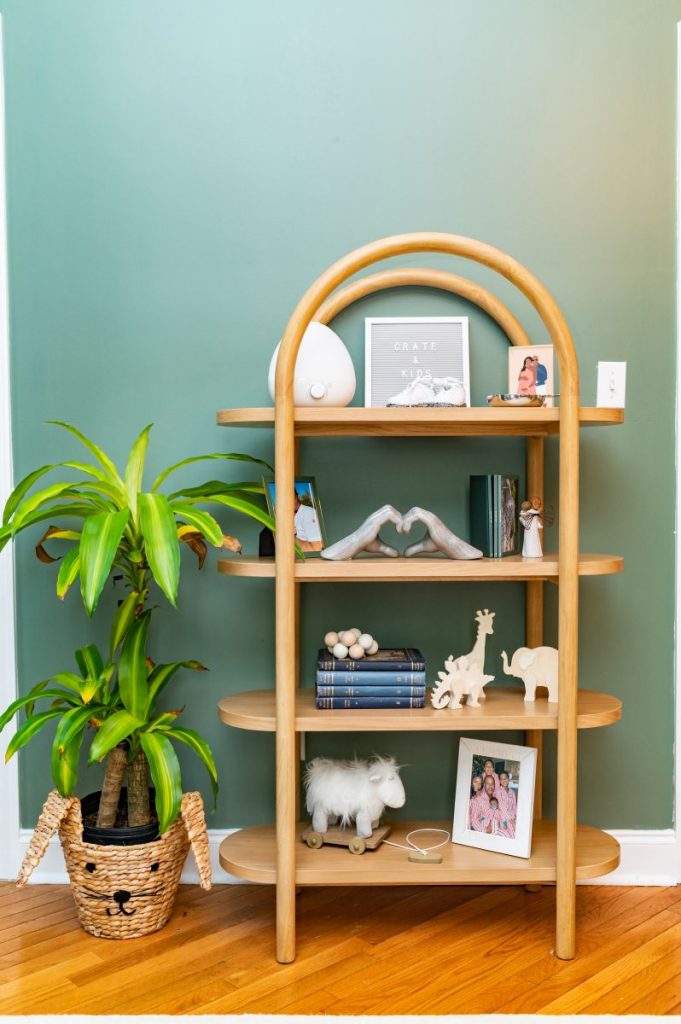 Arlo White + Gold Crib // Dolly Natural Tall Bookcase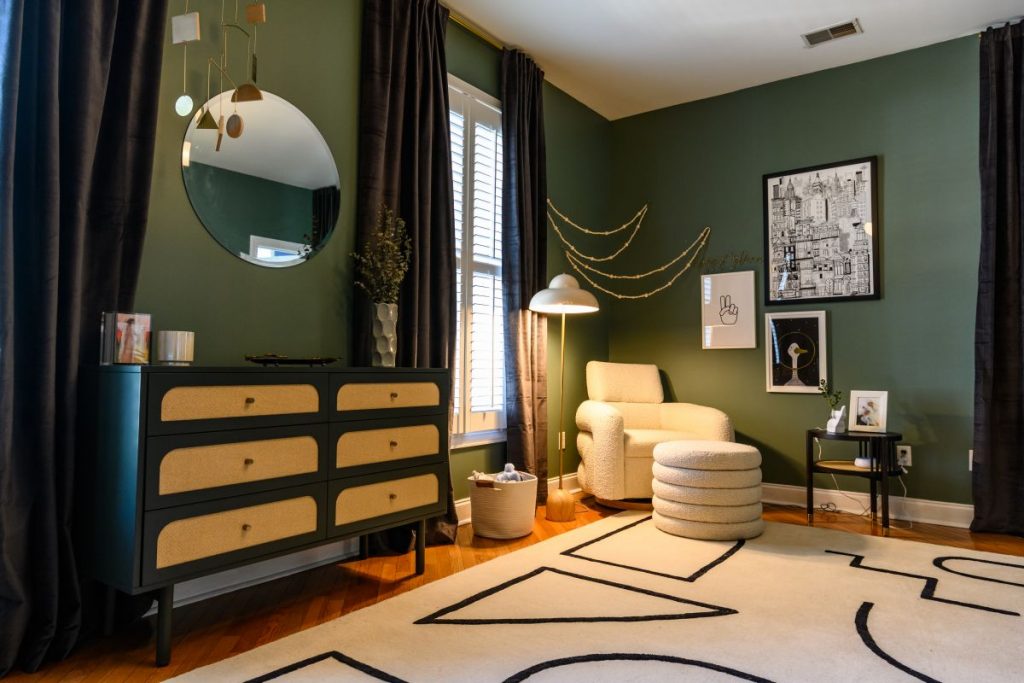 Snoozer Cream Nursery Glider // Maren Olive Cane Dresser // Liner Shapes Geometric Rug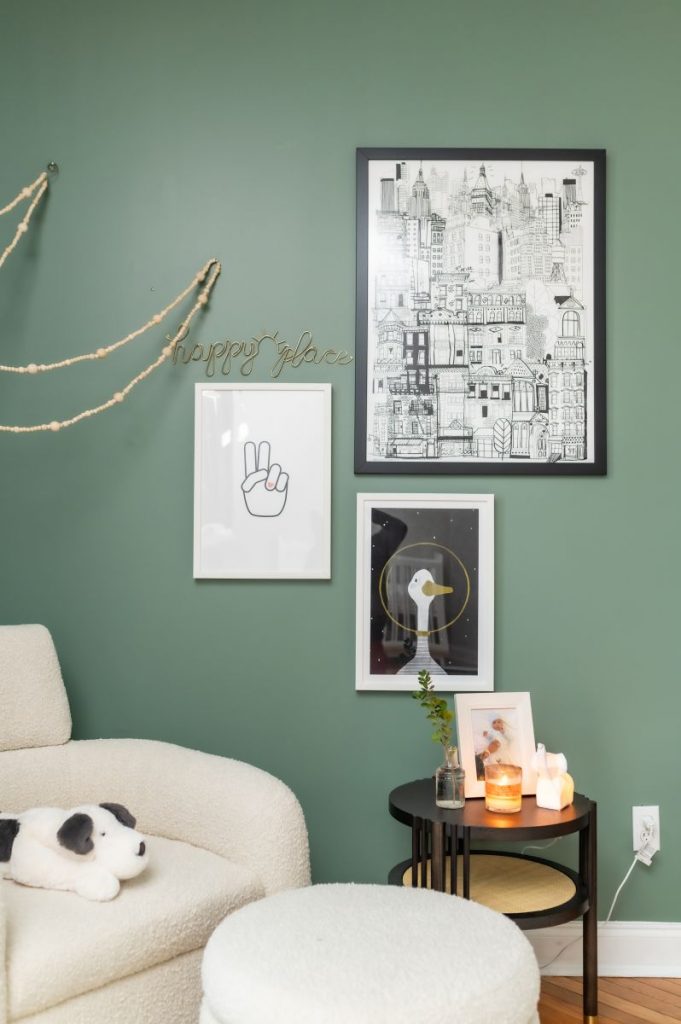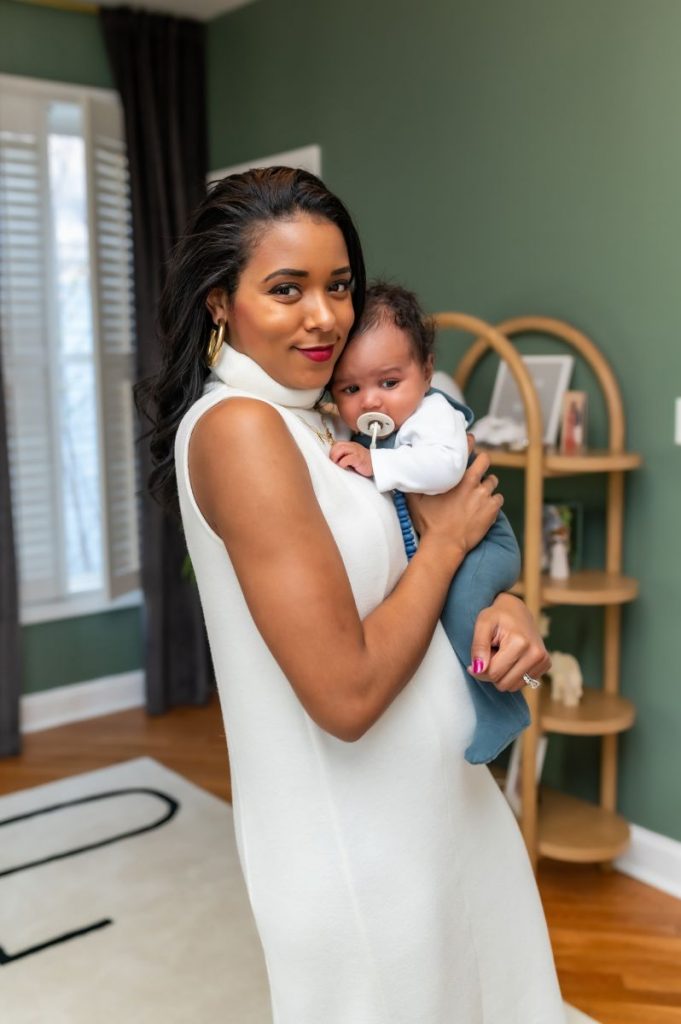 Thornhill Dark Brown Nightstand // City Frame Wall Art  // Peace Out Framed Wall Art // Space Goose Framed Wall Art // Happy Place Wire Wall Decor // Jellycat Dashing Dog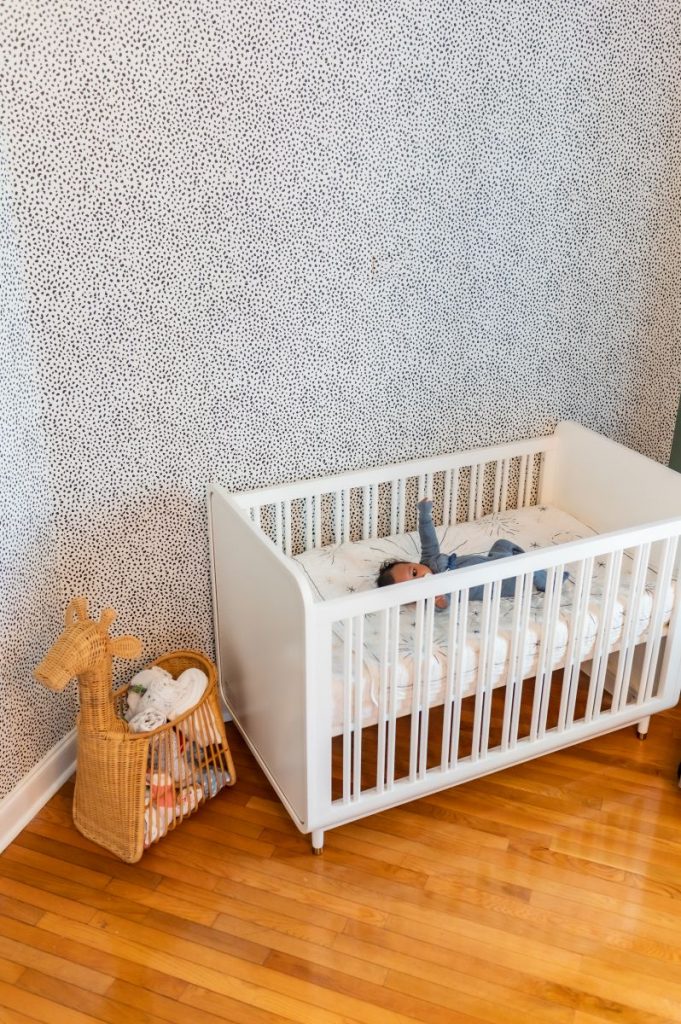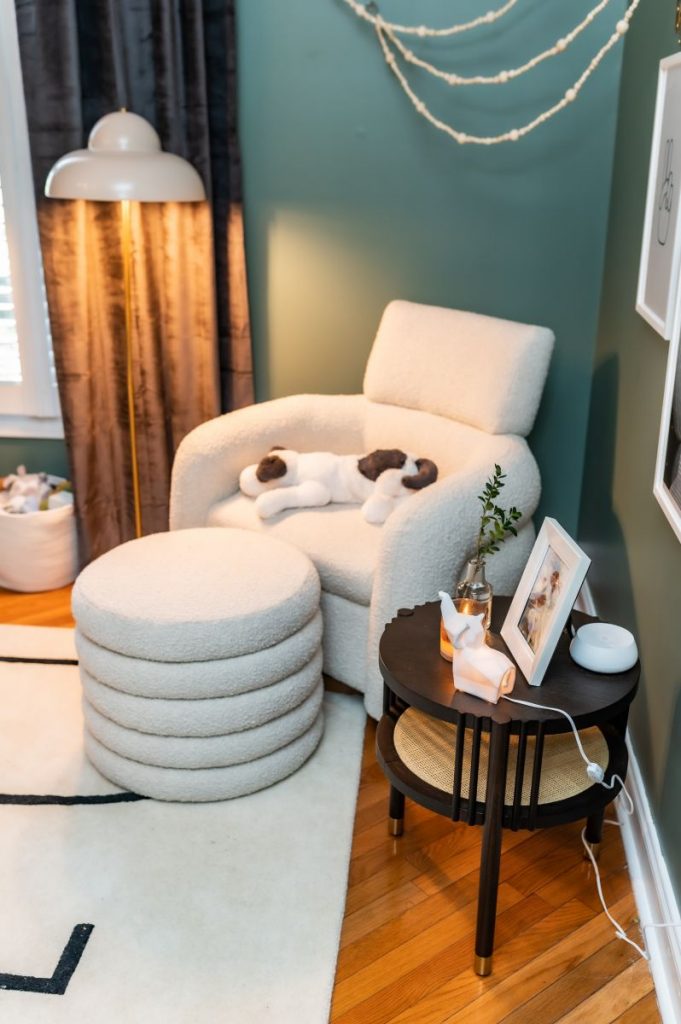 Chasing Paper White and Black Speckle Removable Wallpaper // Giraffe Floor Basket //  Jellycat Dashing Dog // Sun + Moon Organic White Baby Crib Quilt // Fitted Crib Sheet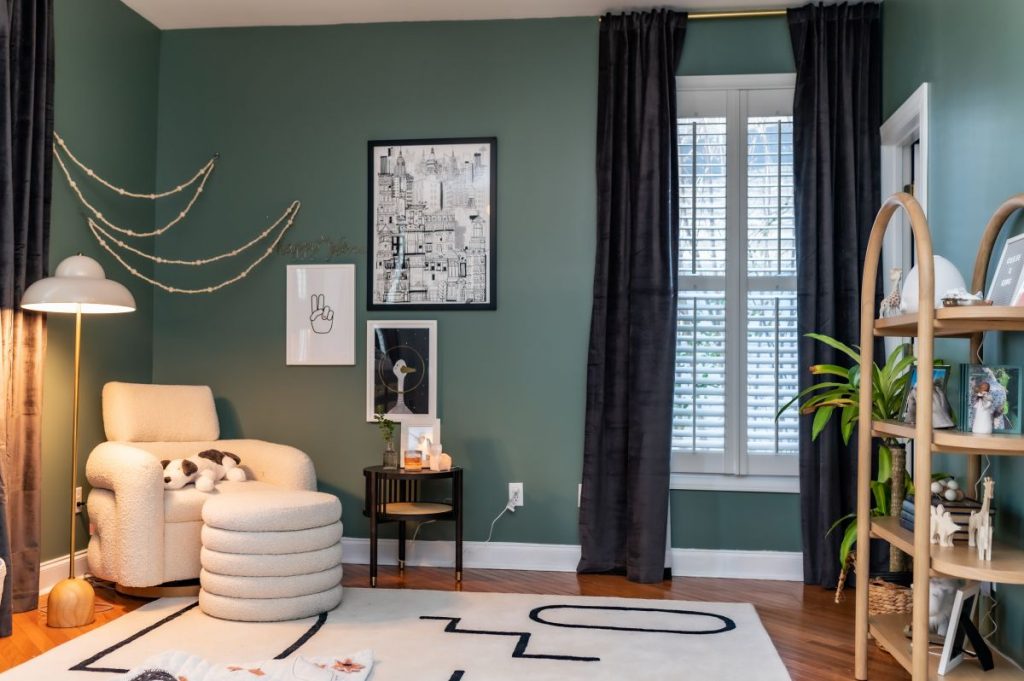 Windsor Dark Grey 48×108 Curtain Panel // Snoozer Cream Nursery Glider + Snoozer Cream Storage Ottoman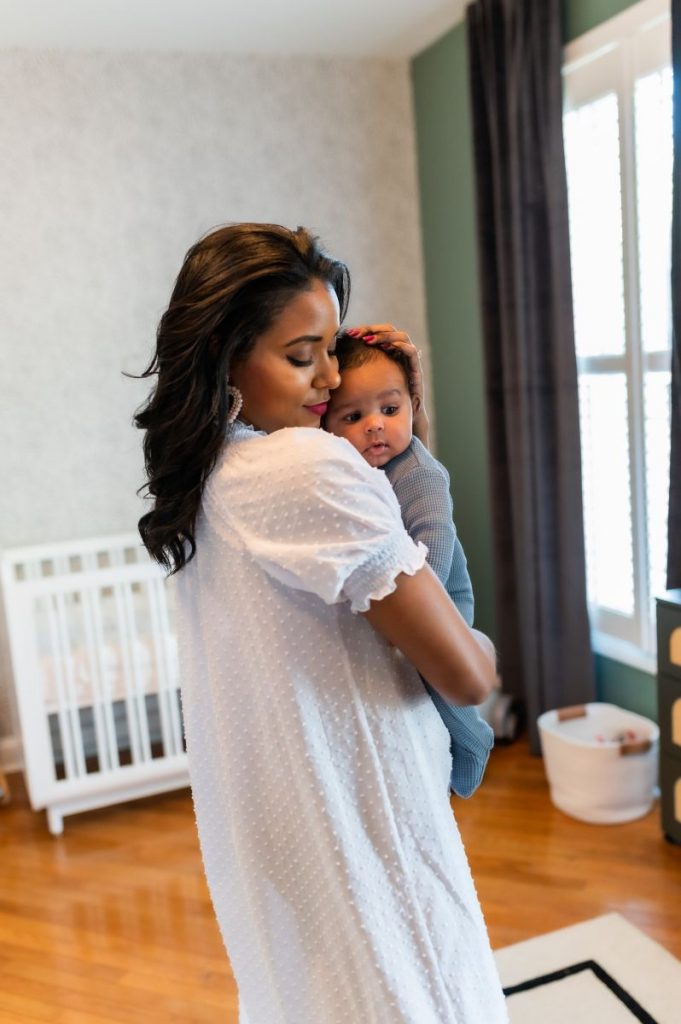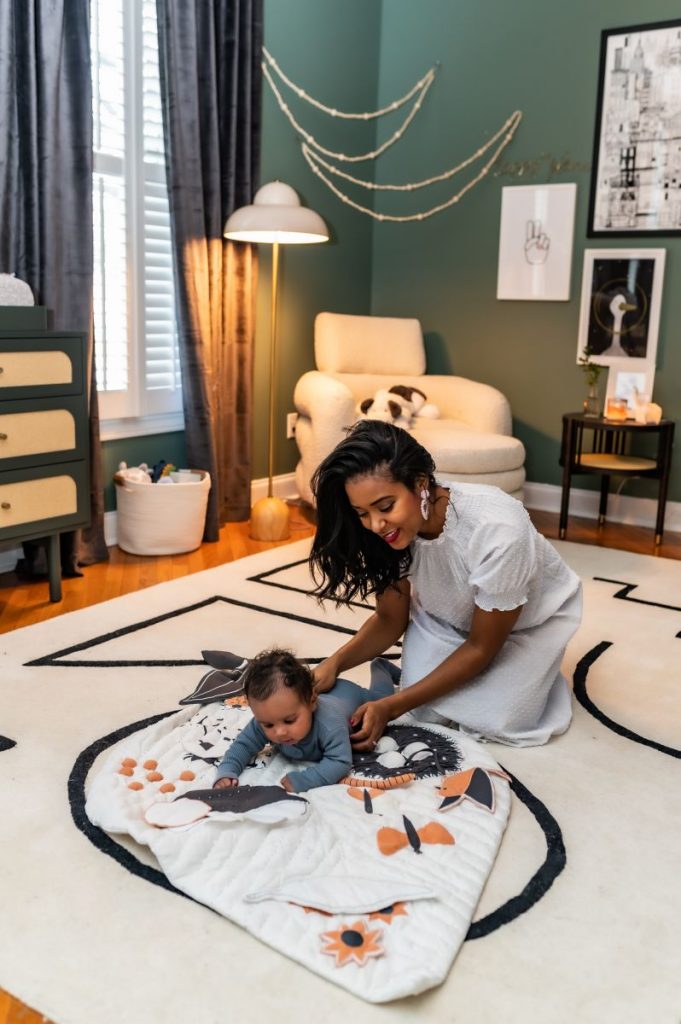 Liner Shapes Geometric Rug // Nature Friends Activity Mat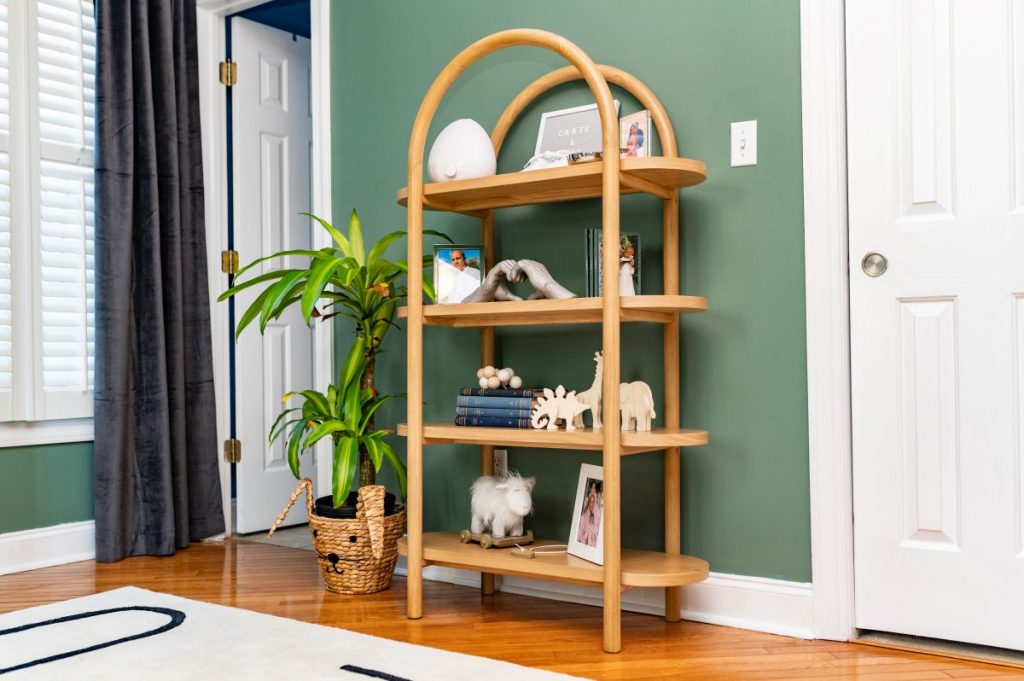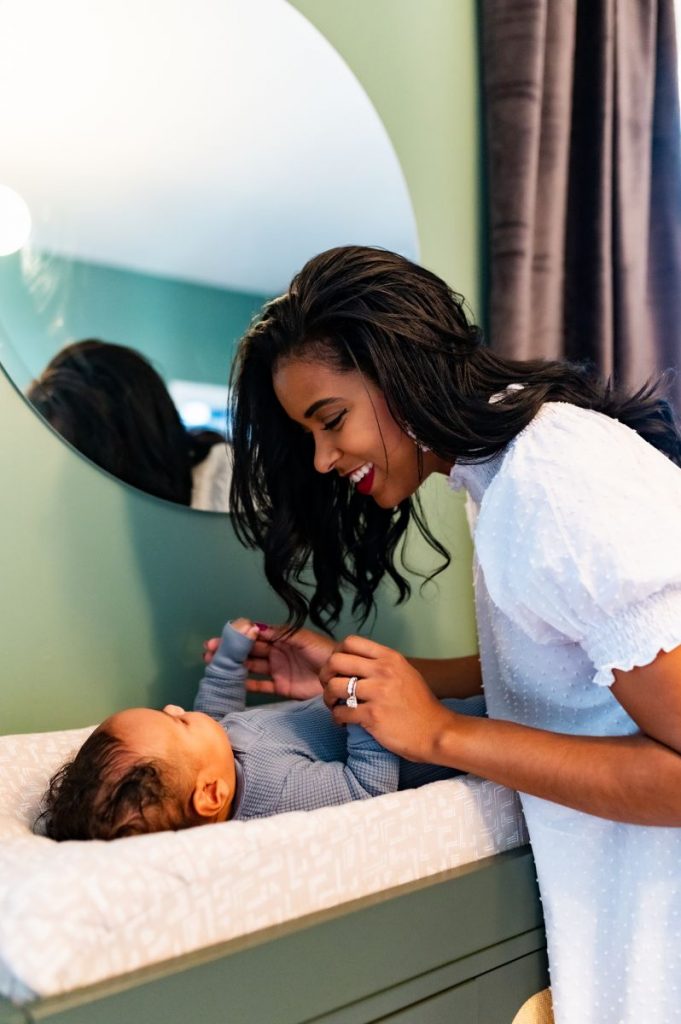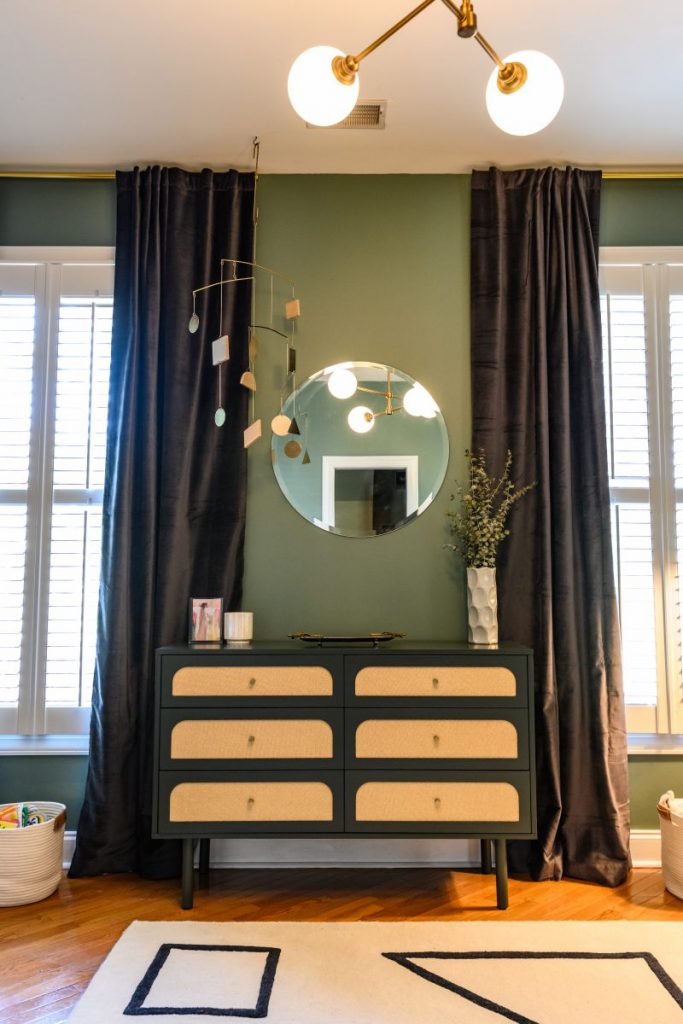 Maren Olive Cane Dresser // Simple Shapes Geometric Baby Mobile // Windsor Dark Grey 48×108 Curtain Panel // CB Brass End Cap + Curtain Rod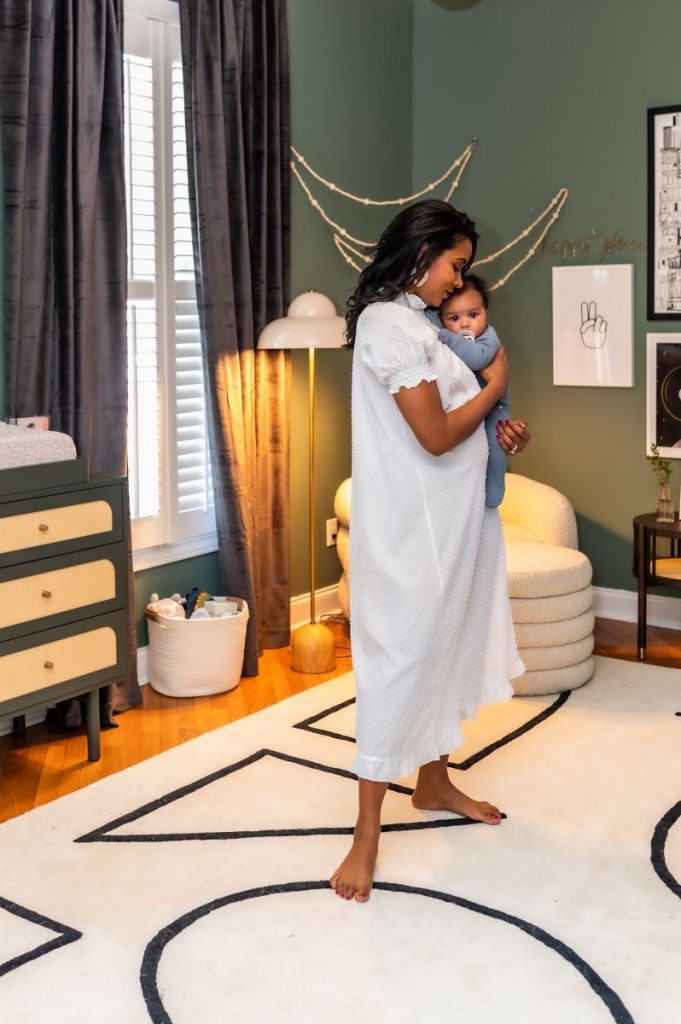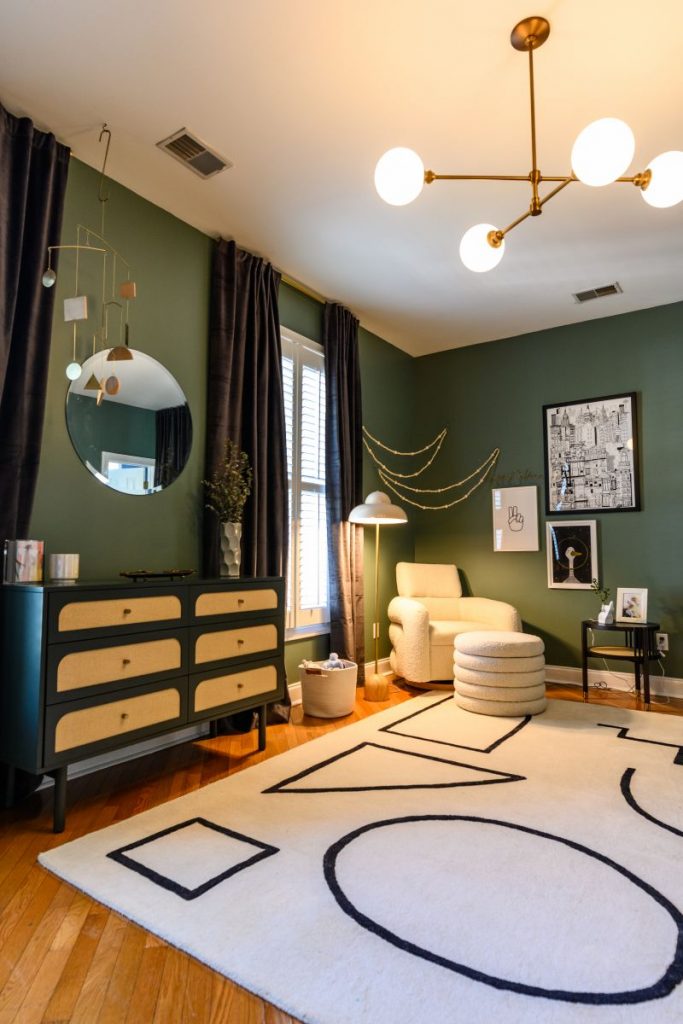 Eloise Wood + Metal Floor Lamp  // Bouldin Salt Blasted Glass Chandelier // Wood Bead Garland + Natural Wooden Baby Beads
*This post was sponsored by the Crate & Kids