Azeeza Khan is creating quite the name for herself in the fashion world. Since leaving corporate America in 2012 (she was the Advertising Creative Director at BP Oil), her brand has already hit several major milestones.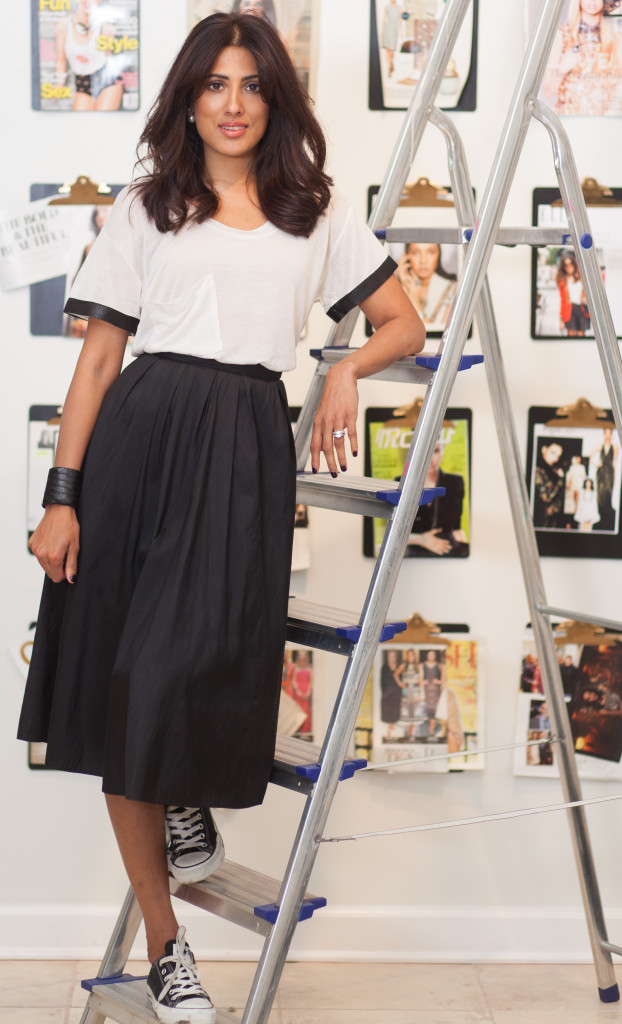 For starters, her designs were picked up to be sold by Barney's New York earlier this year. They even featured her gowns in their Oscar-themed window displays on Madison Avenue in New York City this past February. The label continues to receive accolades from national and global press, including Vogue Mexico, Elle, Glamour, and SELF China, just to name a few.
Azeeza has been on the cusp of several current trends. For instance, she was the first designer I remember seeing embrace the off-the-shoulder look well over 2 years ago. It was also then that she reintroduced me to the choker, hers were just thick and covered in her (now recognizable) embellishment.
That signature embellishment is what sets her pieces apart and it can be found on everything: shirt collars, pants pockets, sleep masks, body harnesses, chokers, and even bras. But its more than just something that makes her designs unique, its her trademark. She even had it copyrighted last year.
The brand's showroom & retail flagship located on Chicago's famed Magnificent Mile has become a multi-purpose space for office and design work. Maybe that's why its been placed on the Forbes List as a "top destination" and was highlighted as the only local designer in the Louis Vuitton Chicago City Guide.
If you're in Chicago, it is definitely worth a visit especially if you've never had the opportunity to explore a designer's workspace. However, if you don't plan on making the trip anytime soon take a virtual tour with me below…