Did you know March is Women's History Month? As a women-owned and run business, you know we had to celebrate and honor influential women who were trailblazers in their own right. One thing all these women had in common was their love for design, fashion, and their dedication to the fashion industry. However, each had a unique upbringing, career, and impact they made as African American women.
Scroll down to read what makes each of these women so special!
Elizabeth Keckley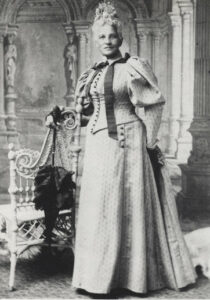 "An act may be wrong, but unless the ruling power recognizes the wrong, it is useless to hope for a correction of it.:
Keckley was born in Dinwiddie, Virginia in 1818 and was a former slave. After buying both her and her son's freedom out of slavery, Keckley went on to become a skillful seamstress for the most influential women in Washington D.C., as well as a civil rights activist and author. In the 1860s, after beating a large pool of women, she was handpicked to become the close confidante and personal dressmaker to Abraham Lincoln's wife,  Mary Todd Lincoln. She is also known for a silk dress that she designed and made for Mary Anna Custis Lee, the wife of Robert E. Lee, to wear to a dinner party for the Prince of Wales. Keckley went on to establish a very successful dressmaking business that grew to include a staff of 20 seamstresses. 
Ruby Bailey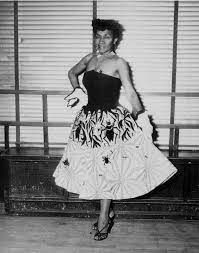 "I love my color! I love my race!"
Bailey was born in Bermuda in 1905 and arrived in the U.S. with her mom and sister in 1912. Growing up during the Harlem Renaissance, she embraced both performing and visual arts by participating in fashion shows and art exhibitions. Bailey went on to become well-known for her portraiture and illustrations. She handcrafted 29 mannequins which are dressed up in beaded gowns, leather suits, fur coats, and African and Native American clothing. Bailey is most famous for her "Bugs" cocktail dress (as seen above), printed with webs, and adorned with silhouetted spiders and jeweled bees. She went on to become a member of the International Ladies Garment Workers Union as a master beader and in 1949, Hollywood costume designer Adrian saw her designs at the St. Regis Hotel and selected some to be adapted for his designs.
Anne Lowe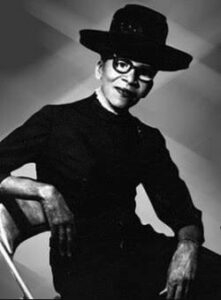 "All the pleasure I have had, I owe to sewing"
Lowe was born in rural Clayton, Alabama in 1898. Her interest in fashion, sewing, and designing came from her mother and grandmother who ran a dressmaking business. In 1912, Lowe married Lee Cohen and the two had one son together, Arthur Lee. In 1946, Lowe had the owner designing the dress that Olivia de Havilland wore to accept the Academy Award for Best Actress and in 1953, she created the wedding gown and bridal party dresses for Jacqueline Kennedy. This was one of her most remembered works as an American fashion designer! Lowe was awarded the Couturier of the Year Plaque by New York Fashion society in 1961 and appeared in the National Social Directory and 1968 Who's Who of American Women. She was the first African American to become a noted fashion designer and by the end of her career, she had designed and created more than 2,000 dresses for New York's society ladies and was well known for using the "trapunto" technique in her dressmaking.
Zelda Wynn Valdes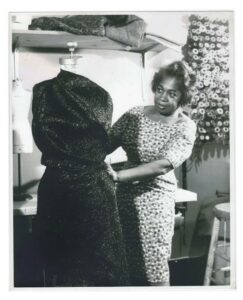 "I just had a God-given talent for making people beautiful"
Valdes was born on June 28th, 1905, in Chambersburg, Pennsylvania. She studied her grandmother's work as a seamstress, worked in her uncle's tailoring shop, and also trained as a classical pianist at the Catholic Conservatory of Music. In 1948 at the age of 47, she opened the first African American-owned boutique in Manhattan with her sister and in 1970, Arthur Mitchell asked her to design costumes for his new company, the Dance Theater of Harlem. The femininity of Zelda's designs was very powerful, helping to make them popular and define the look of a woman's curvy silhouette, while still being elegant. Her designs were responsible for creating a new sexier image for singer Joyce Bryant, a huge start in the African American community in the early 1950s. Finally, in 1958, Playboy magazine founder, Hugh Hefner, hired Valdes to design the first Playboy Bunny costumes!
-♡Margaux