From fashion and entertaining, to food + wine, the French know style! It's no wonder the rest of the world is constantly trying to keep up.
The summer heat in South Carolina has peaked and become down right unbearable, however I escape to the cool hills of Provence, France– if only in my mind–every time I open a bottle of Fleur de Mer rosé!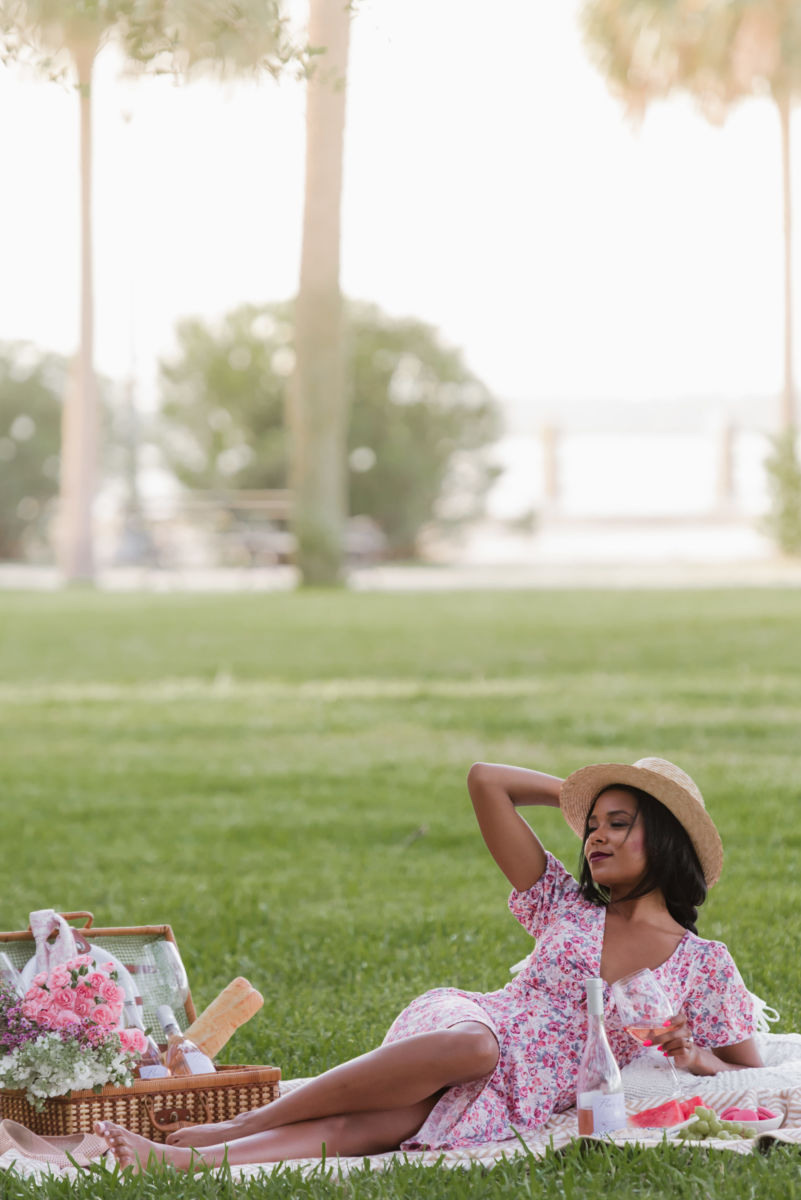 The sensory experience was heightened recently when I planned an intimate picnic on The Battery in Charleston and featured a bottle. Between the majestic oak trees and the cool breeze from the Charleston Harbor, this (early) afternoon affair felt effortless, yet necessary. To keep with the theme of the rosé (that I honestly cannot get enough of this season), I wanted to create a total French vibe.

Are you also looking for an easy way to entertain like they do across the pond? Follow the five simple tips below for the ultimate French-inspired picnic!
5 steps to hosting a picnic that's très chic:
1.Pack everything in a super cute basket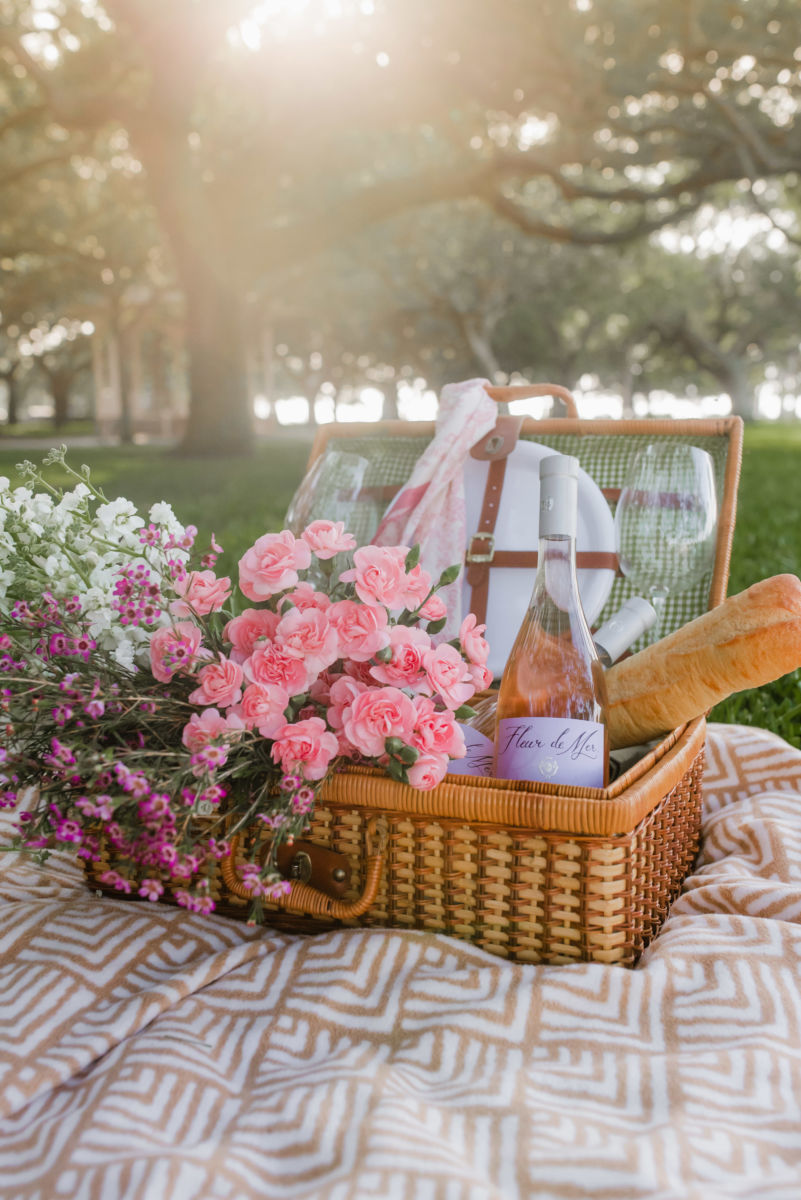 Sounds simple enough, but The French are all about the tiny details. Pack everything in a sweet little basket and it will set the mood for the entire meal! Use the basket as a centerpiece for everyone to crowd around on the blankets that you've also provided, that way it's both a utilitarian +a decorative piece. (My favorite blankets are ChappyWraps. Their machine washable so I can take them from the couch to the park and back again!)
2. Include fresh flowers
Want to really feel French? Add a random bouquet of fresh cut flowers to your picnic. In France there are flower shops/stands everywhere, so picking up a beautiful arrangement (for less that 10 Euros, no less) is as easy as finding a McDonald's or Starbucks in The States. Elevate the entire afternoon with a few of your favorite blooms! (I find my favorites at Trader Joe's!)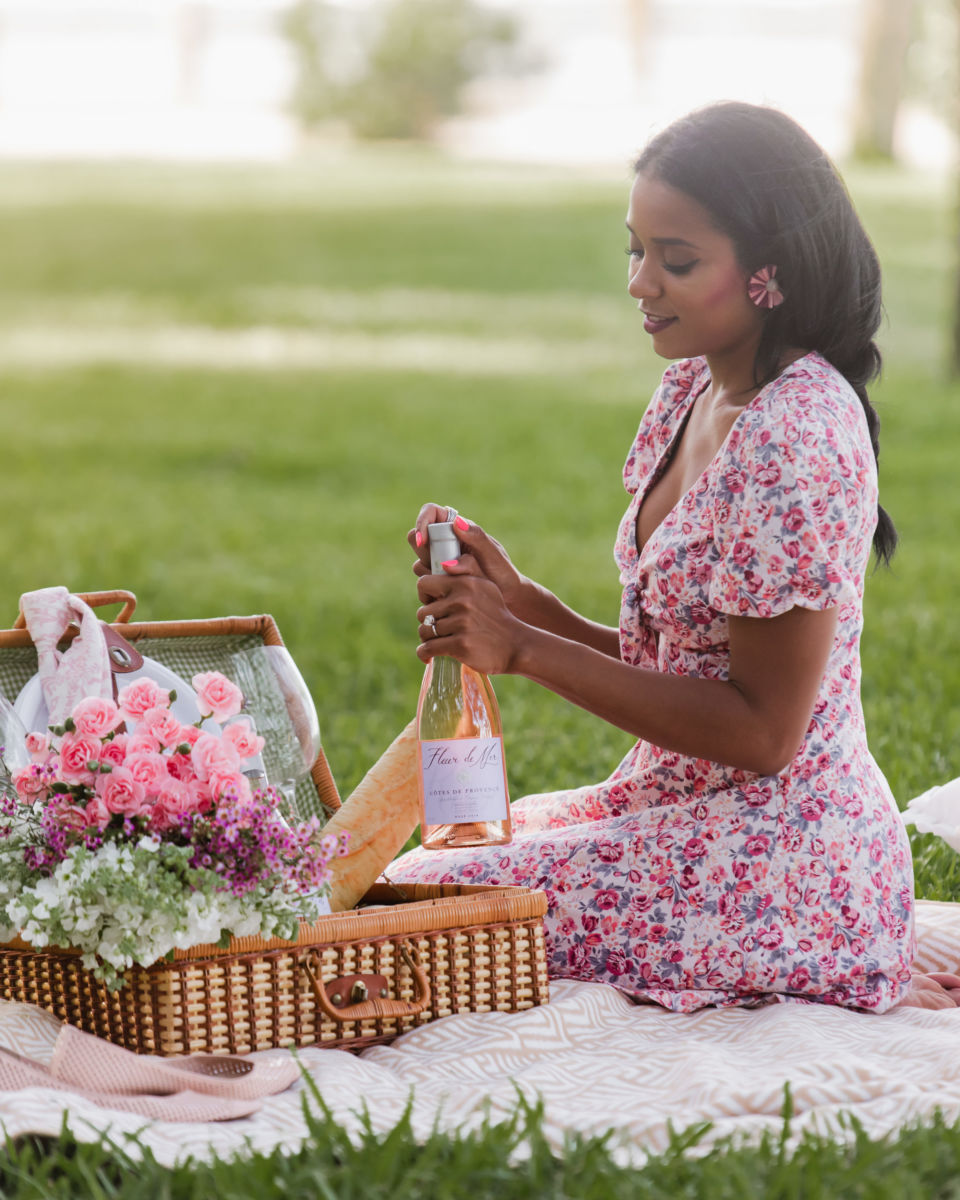 The French make a point not just to drink a lot of wine, but to drink really good wine!! For the ultimate French experience at any affair add authentic French wine to the mix! Due how miserably hot it always is, I tend to stick to rosé in the summer time. My favorite this season has been Fleur de Mer, a light and refreshing rosé with a hint of fruity (cherry, watermelon and citrus) flavors that don't overpower the overall taste. Early afternoon or late evening, it makes for the perfect anytime wine!
4. Bring something homemade!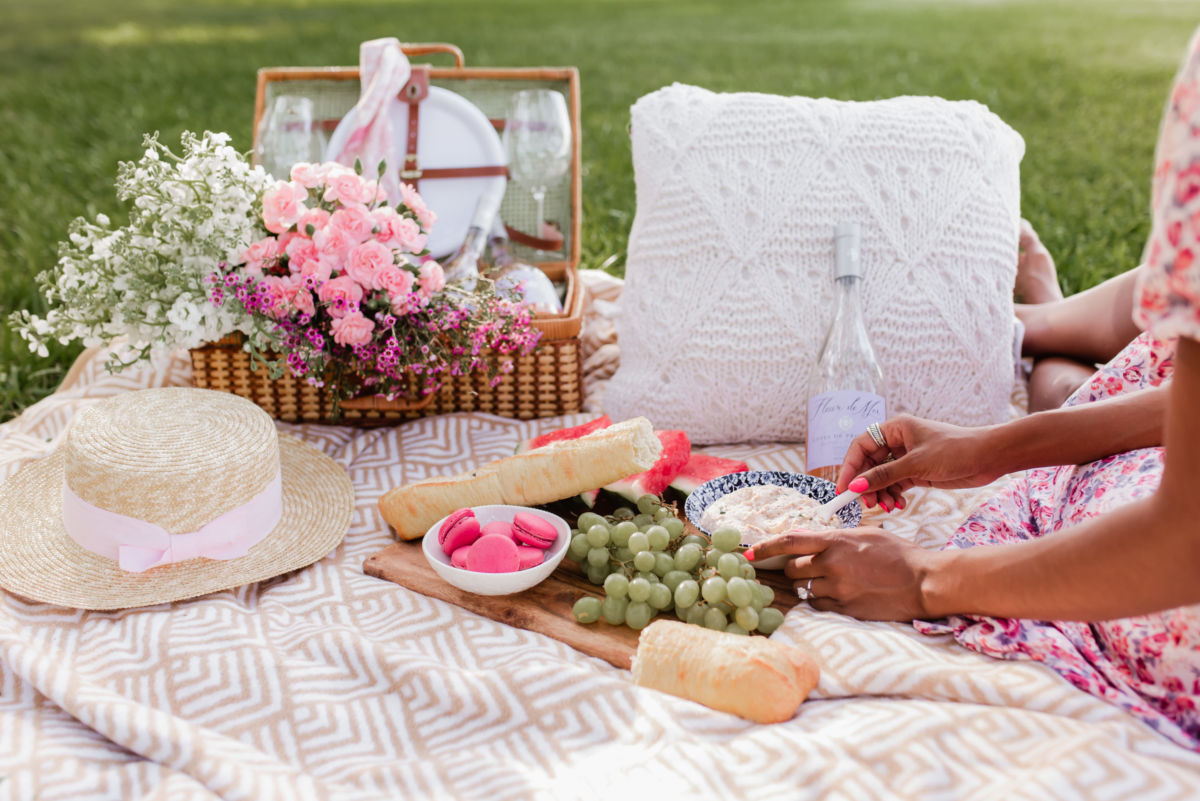 Store-bought is okay. And let's be honest…often times it's the only option BECAUSE WHO HAS TIME?!! But if you really want to add a French vibe to your next picnic add something homemade. You could bake desserts or include some sort of a salad! But if you're short on time and need something that's exceptional, yet easy, make a dip! For this picnic I knew I wanted to include some sort of a seafood dish with the rosé because Fleur de Mer translates to Flower of the Sea and pairs well with seafood. I searched for a super simple crab dip recipe and  stumbled across this one…that would also be perfect for a football tailgate, just saying! 😉
Ingredients:
14 ounces  of your favorite canned crab meat (rinsed + drained to remove moisture)
Old Bay seasoning
8 ounces cream cheese; whipped
1/4 cup Greek yogurt
1/4 tsp cayenne pepper
2 TBSP green onion
1 large lemon
Directions:
Season crab meat with Old Bay seasoning. Let it sit in the fridge to soak in flavor! (The longer the better but 1hr at the least)
In a medium bowl, combine cream cheese and greek yogurt. Mix until smooth (I used an electric mixer).
Add in crab meat, then stir in juice from one large lemon.
Ta-DAH! So simple and so good!
5. Don't forget the French pastry + fresh fruit
I haven't quite figured out HOW they do it without it effecting their waistline, but almost every French meal includes pastries/bread! Like, I'm pretty sure croissants are their own food group over there!! So, for the final touch, include some in your picnic. A fresh baguette from Earth Fare paired perfectly with my crab dip and looked SO cute on my cutting bored. For extra French-ness, choose your favorite fresh fruits to feature in the basket as well.
Between the bread, fruits, wine and homemade dip your guests will feel like they're sitting on the hills of France's wine region.
Pro-tip: If you plan on having a picnic in Charleston in the summer, make sure you've concluded the event by noon–just when the heat index is beginning to peak!
*This post is sponsored by Fleur de Mer!* // Photos by: Southern Stitched 
Dress: ASOS