I love when friends + family come visit us! One of the (only) perks of living in a different city than the people you're closest to is that when they do come they tend to spend the weekend.
For the longest, our guest room was pathetic. Not because there weren't nice, comfortable pieces in it, but because there was no effort to create a mood. In fact, it was just a collection of furniture my fiancé had purchased for other parts of the house and they just kinda ended up in that room. 
Fast forward to earlier this year– we decided enough was enough and we needed to update that room! One of the most memorable trips we've taken together was on safari outside of Cape Town, South Africa. While on that adventure in 2017 we picked up so many trinkets and souvenirs that honestly sat in a box for over a year. Then one day, Todd came home with this GIANT canvas photograph of a beautiful African girl. I asked him where he expected it to go and he said "Oh, I have no idea…I just really liked it!" (side eye) But it was at that moment that I decided I'd use that photo and those trinkets as my design base for what is now affectionately known as "The Safari Suite".
The ultimate test to this room came when Josh (my very best friend who is also the most particular person I know lol) came to spend a weekend with us. Ensuring the room was comfortable enough for him was a challenge I was ready to take on! After a lovely weekend of catching up and playing host here are 5 tipsI learned for making guests feel at home:
1. Have a welcome drink ready when they arrive!
Have you ever arrived to a hotel, after a long day of traveling, just to be welcomed with a cold beverage? It instantly soothes you and sets the bar for an amazing stay. The same should be done when your guest arrives to your house! Take into consideration their preferences and have it ready when they walk through the door. If you're unsure of what your guests like, or may not know exactly when they're arriving, my go-to welcome drink is a glass Fleur de Mer rosè. It's crisp, light and refreshing and is perfect for literally any time of the day.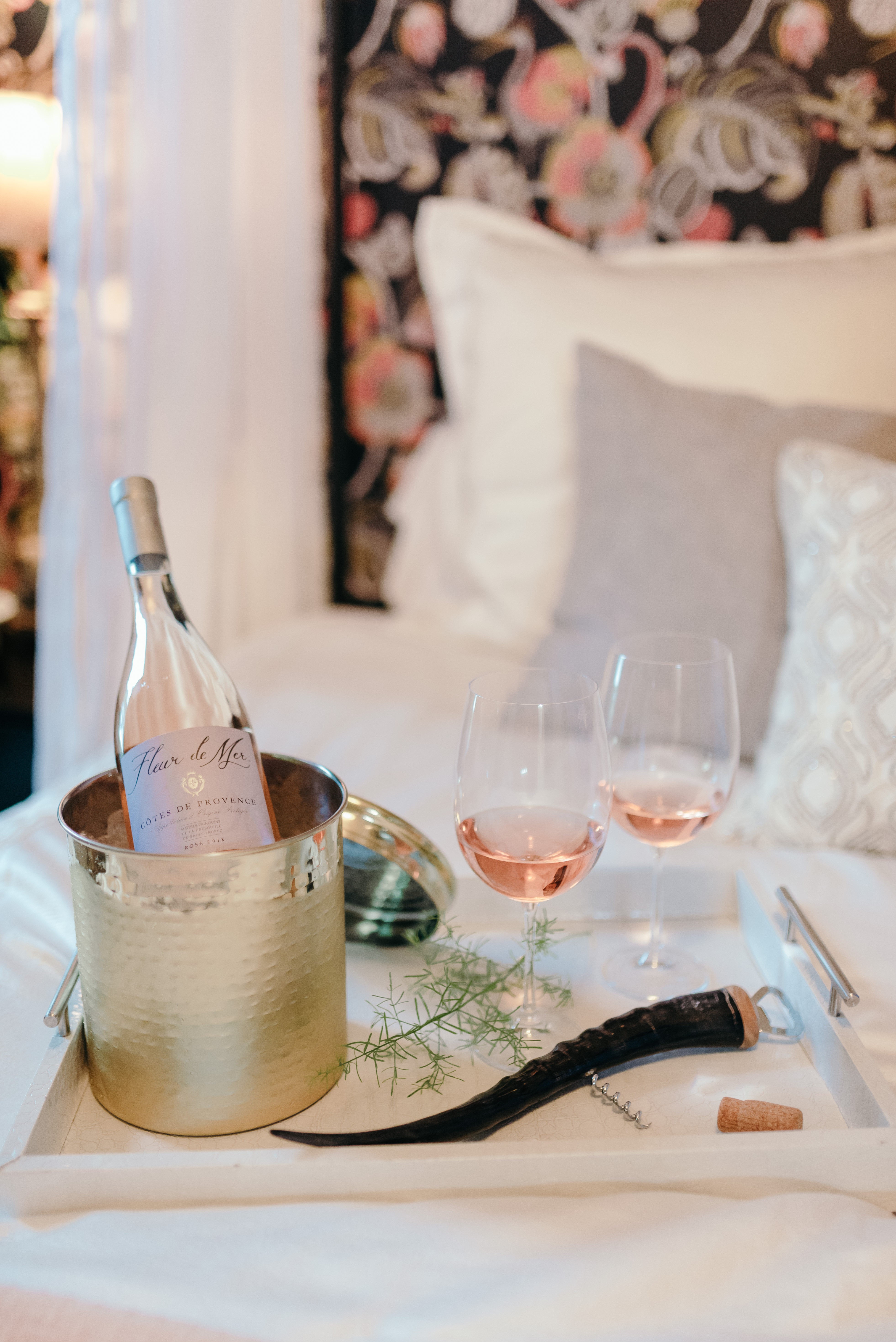 2. There should be access to blankets + a fan.
What I've learned from traveling is that everyone sleeps differently. Someone people want to feel warm and cozy while they sleep, while others prefer to be cool. Don't assume that you know what your guests like…and DO NOT assume that they'd choose what you prefer.  If you don't have a thermostat in your guest room for them to control the temperature  (and let's be honest, how many of us have that?!!) they best way to allow them to choose is to give them access to everything they'd need. Have a selection of blankets in a variety of materials somewhere visible. Our guest room didn't have a ceiling fan, so I bought this tower fan for those, like me, who want to feel cold air at night. The best part about it is that it comes with a little remote, so if my guest decides they want a different setting at night (or to turn it on/off), they don't have to get out of bed to change it!
3. Towels (and any toiletries you want to provide) should be OUT.
There's nothing worse than being ready to shower for bed and having to ask the host to bring you a towel. Especially if you're someone that showers late at night and your host is someone that goes to bed early (cough, me, cough)! Take the pressure of searching every closet for clean towels off of them and have towels OUT! I also like to include basic toiletries: bar of soap + lotion. The best place to put those towels, is right on the bed so they don't miss it. If you want an extra touch of luxury roll them then place them in a little basket! If your guest bathroom is large enough to sit them in there without getting in the way that could also be a good location.
It's also worth noting that I have just a few sets of towels, washcloths and hand towels (I think 3 or 4 each) that I only use for guests!
4. Display your WiFi network + password.
I once had a friend spend the night in The Safari Suite after a long night celebrating another friend's birthday. She woke up at 6:30am…I woke up at 9! Wouldn't have been too bad for her if she had the information to access our WiFi. Instead, she spent nearly 3 hours using her hotspot to get internet to her laptop so she could get a little work done. I felt so guilty for not having provided that information beforehand. Needless to say, our WiFi password is now clearly visible in our guest room so that never happens again. I simply put the information in a cute 4×6 picture frame and placed it on the nightstand!
5. Set the mood of relaxation.
Your guest room should be an oasis that people feel extremely comfortable in. A good mattress,  soft sheets, and fluffy pillows are just the start! When your guest walks in they should feel a sense of calmness! My favorite way to set a mood is through candles. There's just something about a flame and the scent of burning wax that gives me all the feels! But if you don't know exactly when your guest is arriving, a candle may not be the smartest choice. If that's the case, try turning on a lamp! Or even the TV, just make sure you mute it (the Netflix/Hulu home screen is also a great choice)!
DON'T FORGET:
Take note of any design elements in your guest room that you would not have put in your own bedroom and rectify any issues they may bring. For instance, the curtains I chose for our guest room were chosen solely for aesthetics. I would never put those curtains in my personal bedroom because they're not blackout curtains and any bit of sunlight will wake me up. To combat this little problem, I keep a night mask in the room for guests to use (yes, I wash it between visits). I usually leave it next to the towels with a little note welcoming them and stating that the mask can be used during their stay aka don't take my sleep mask home with you! 🙂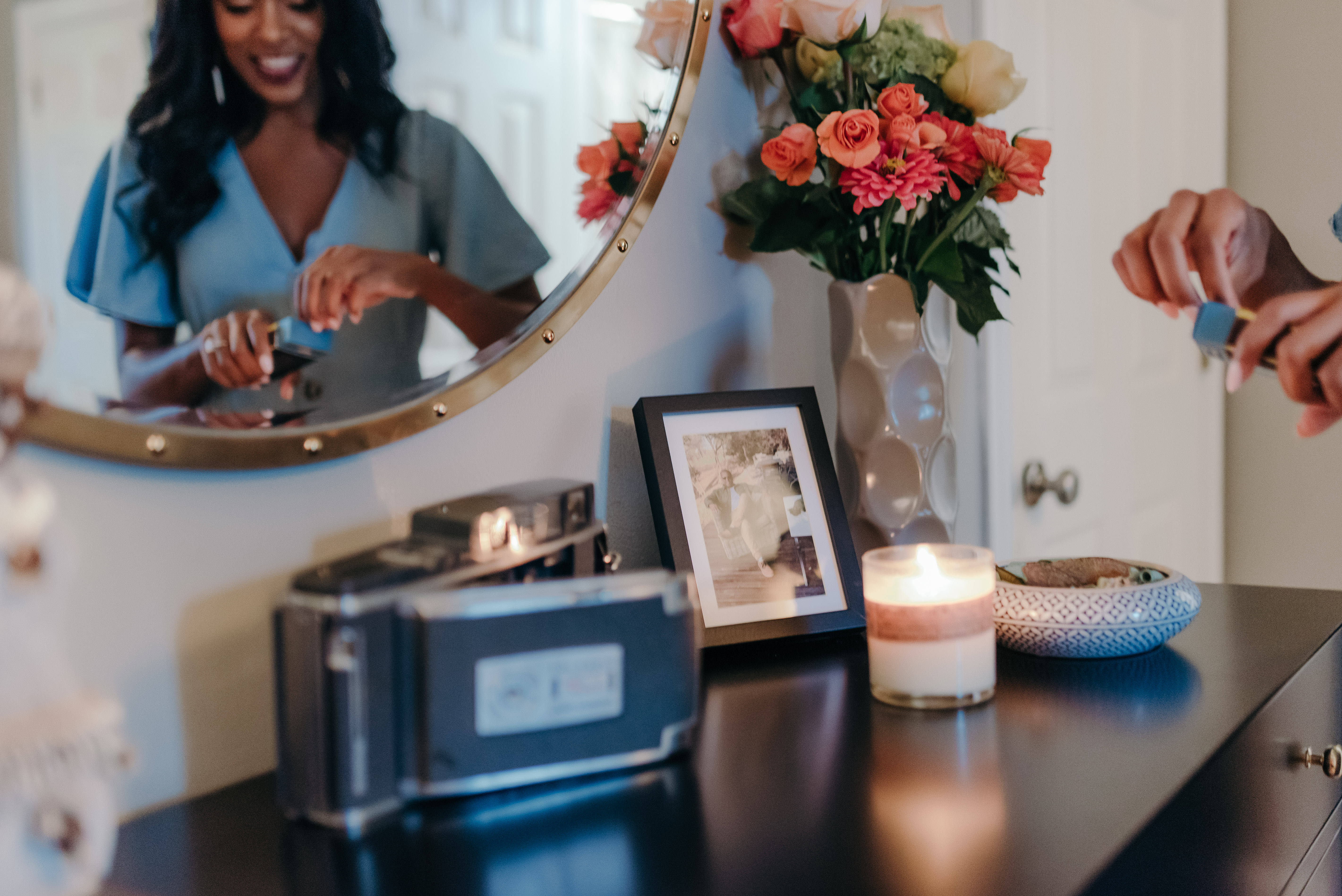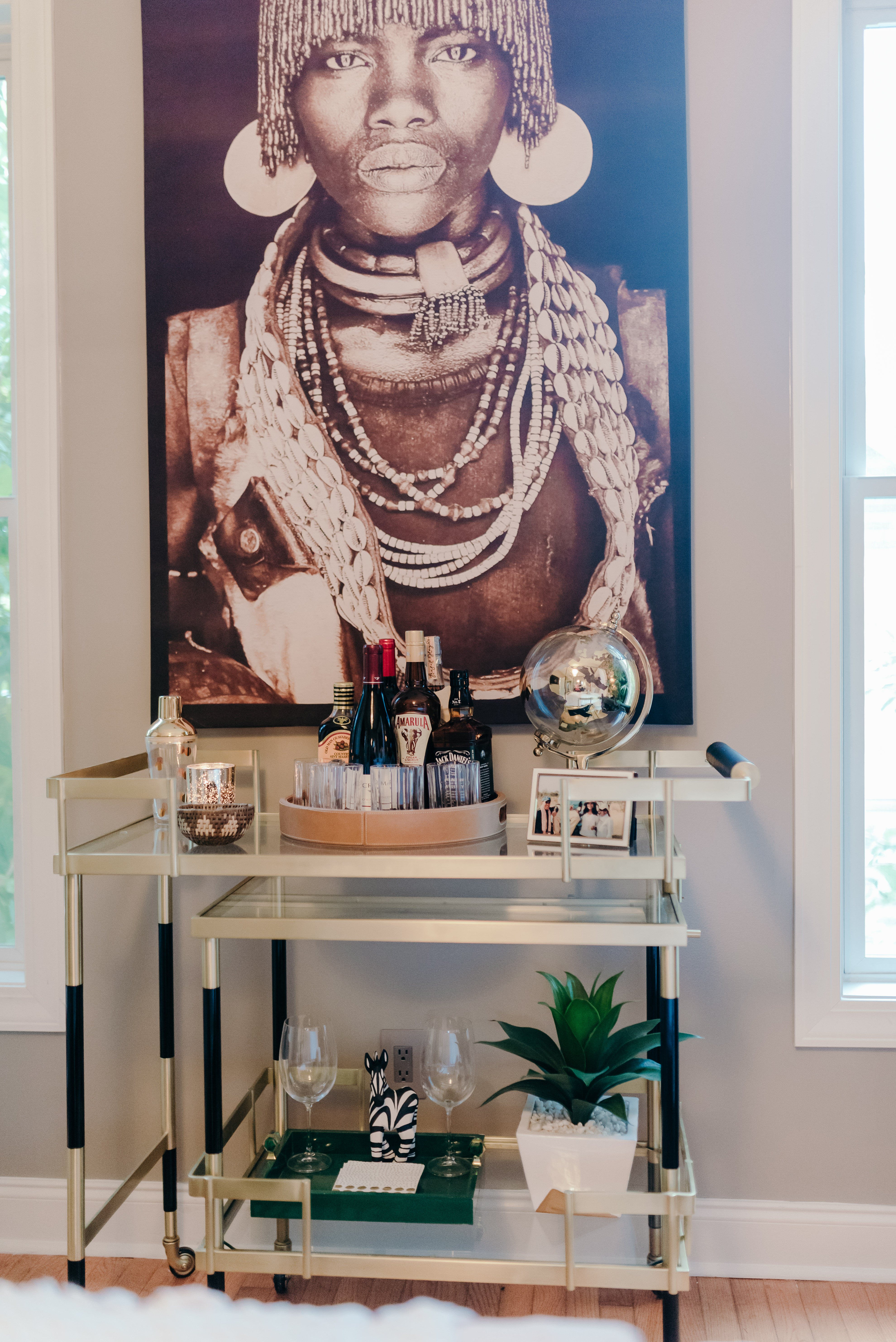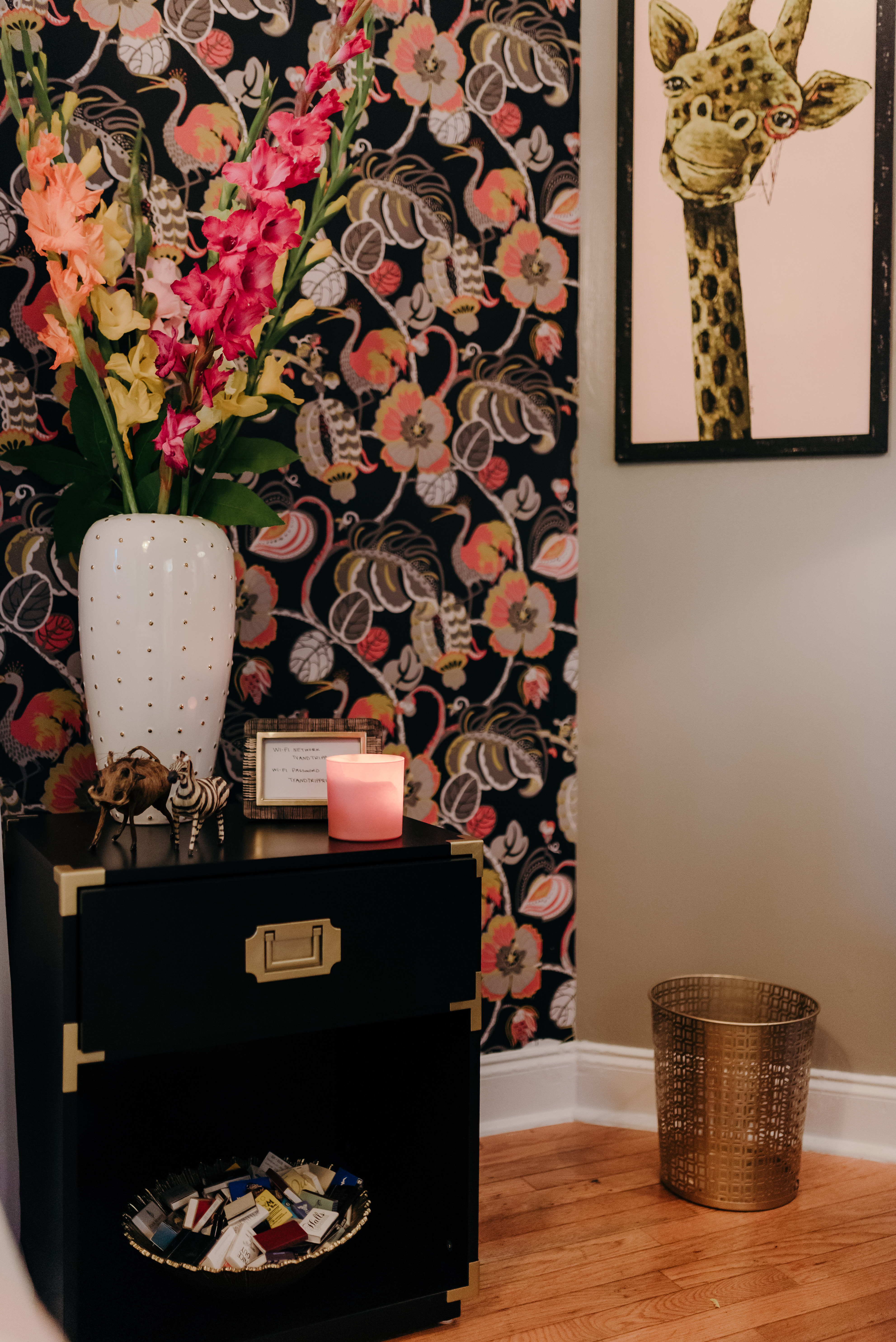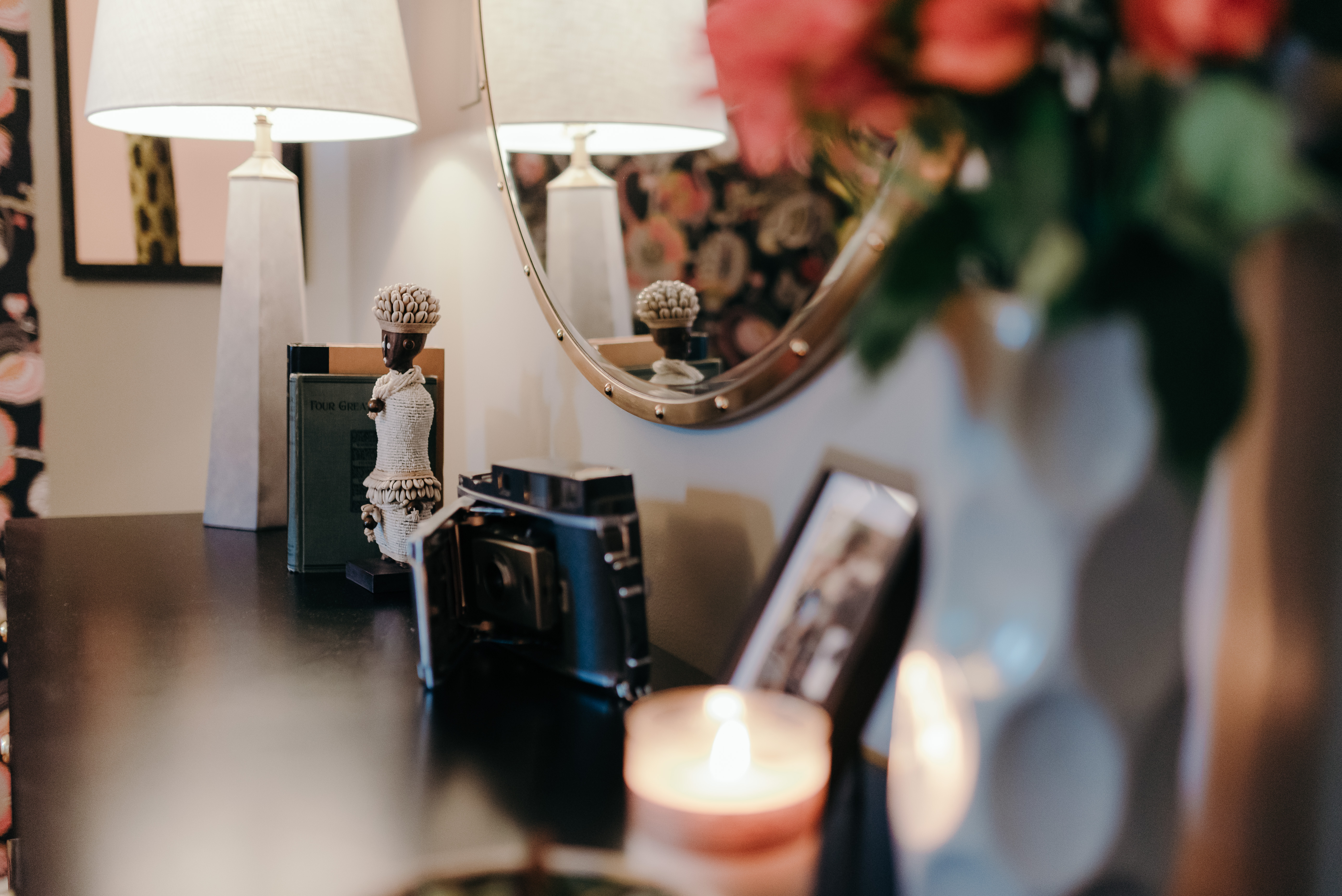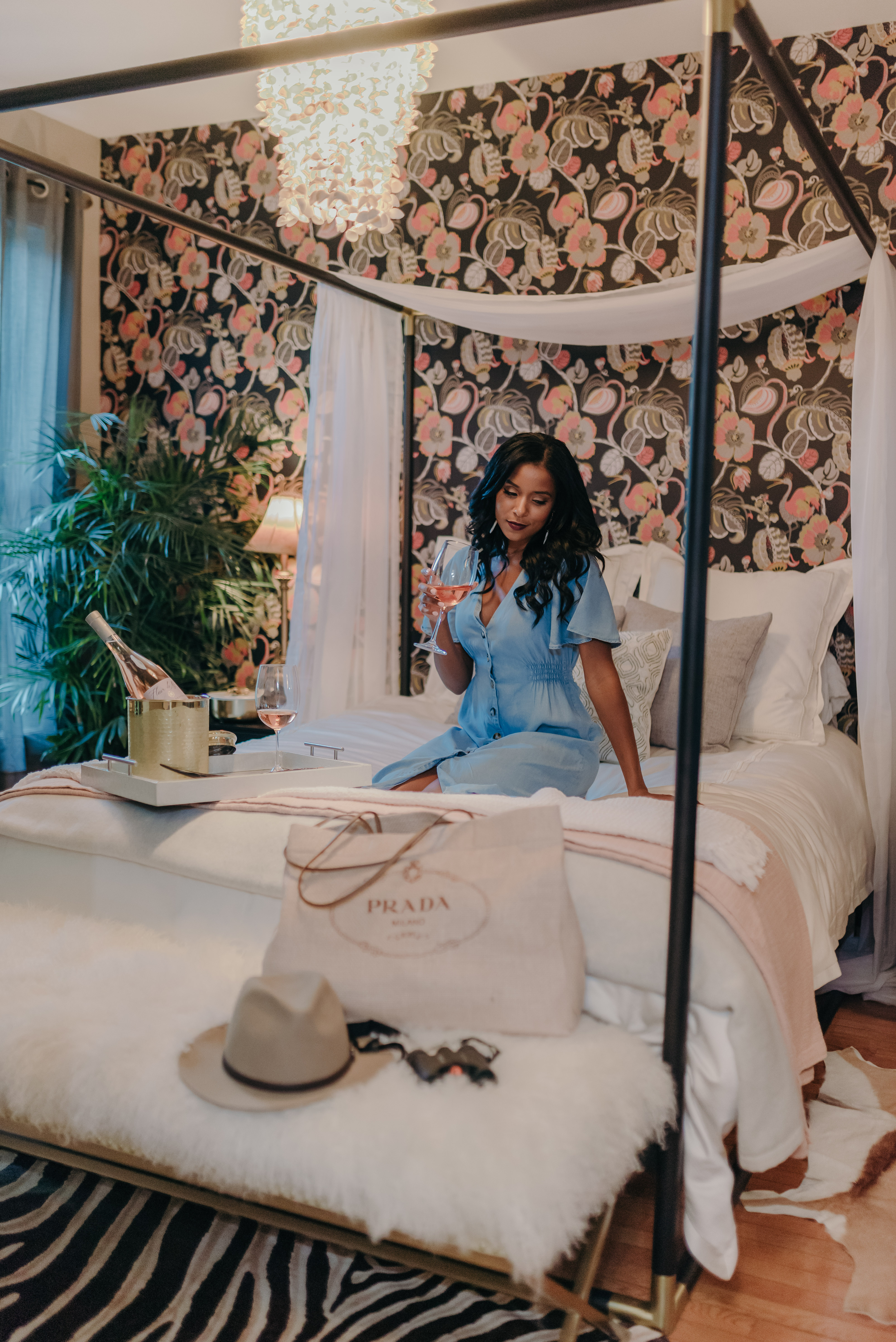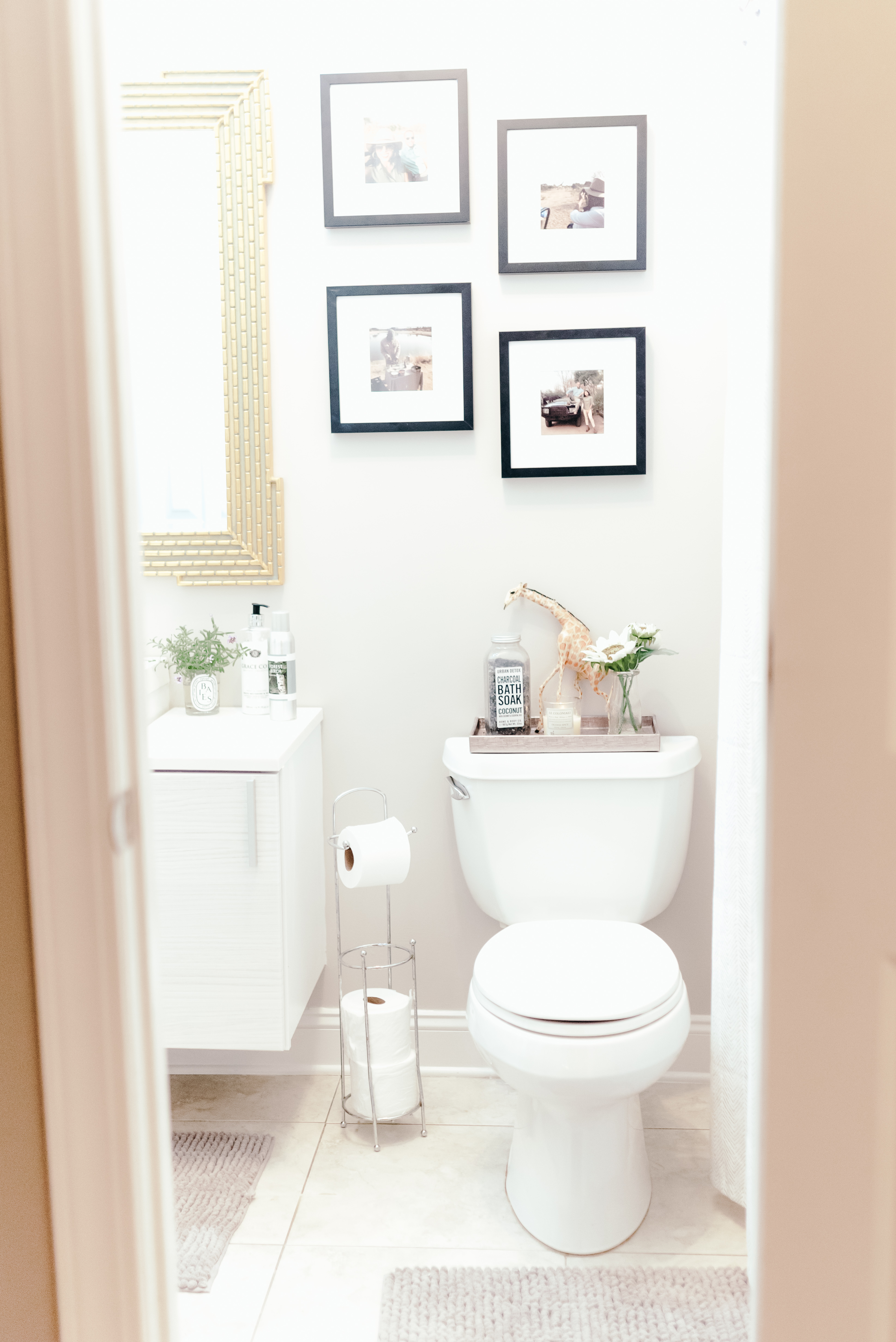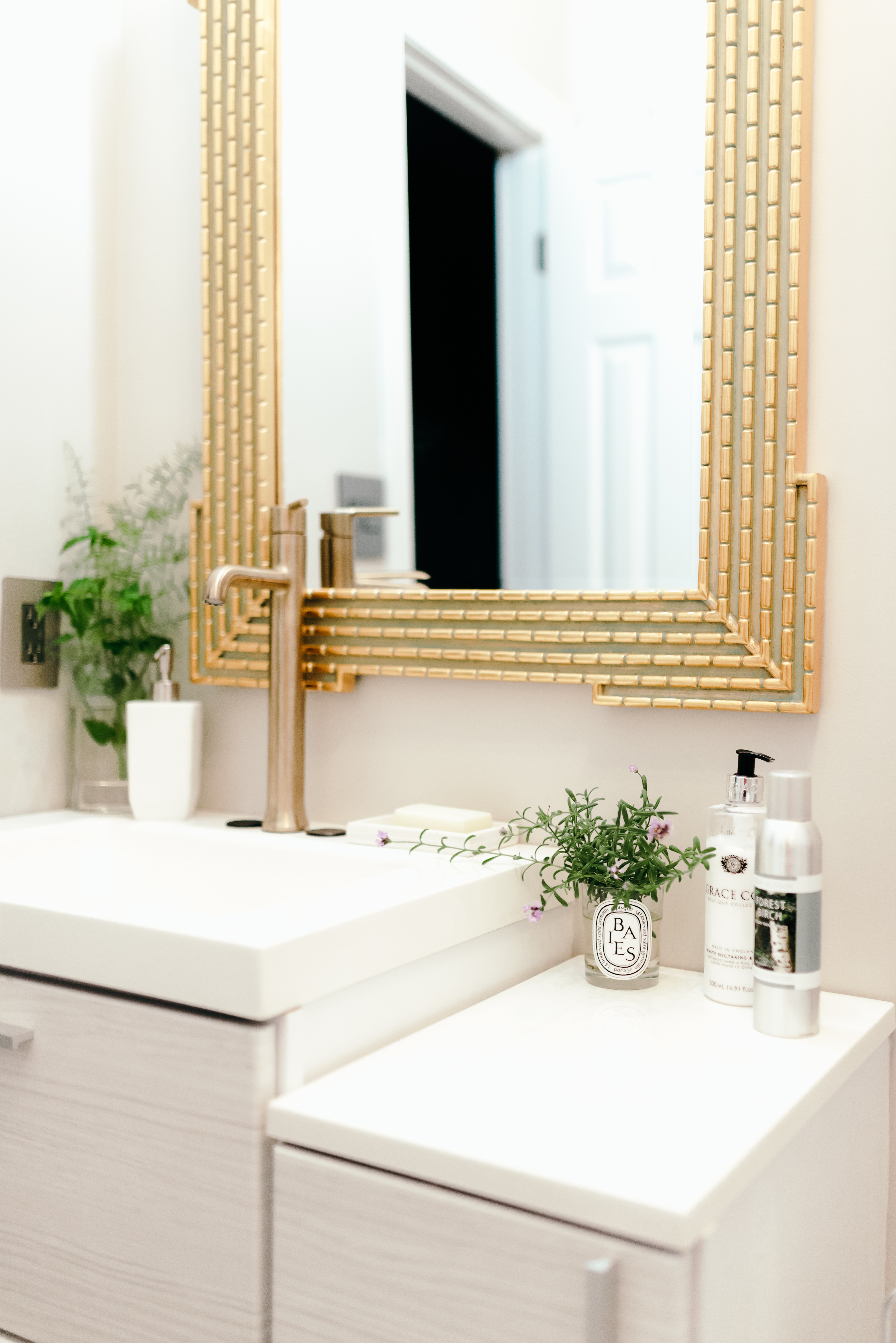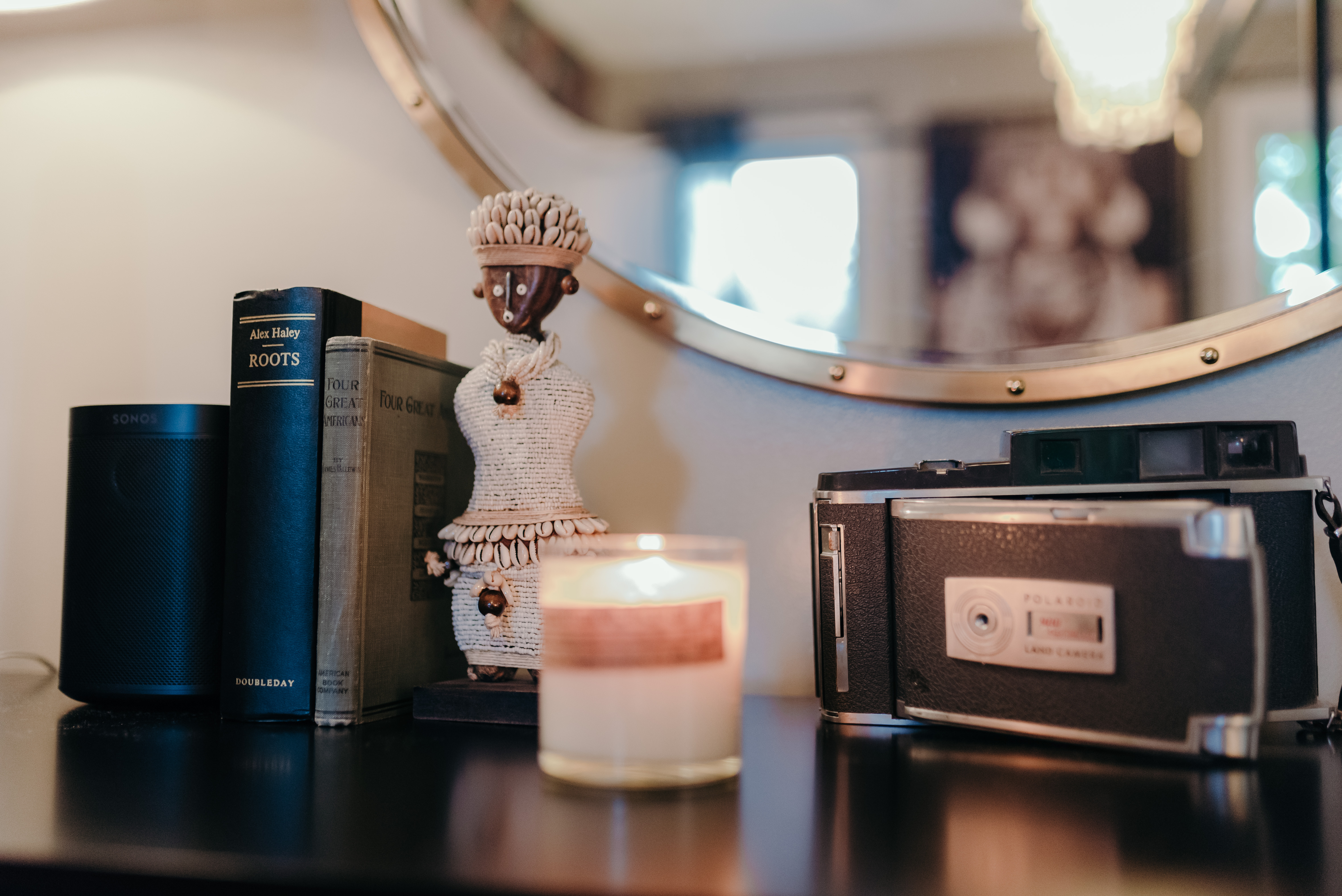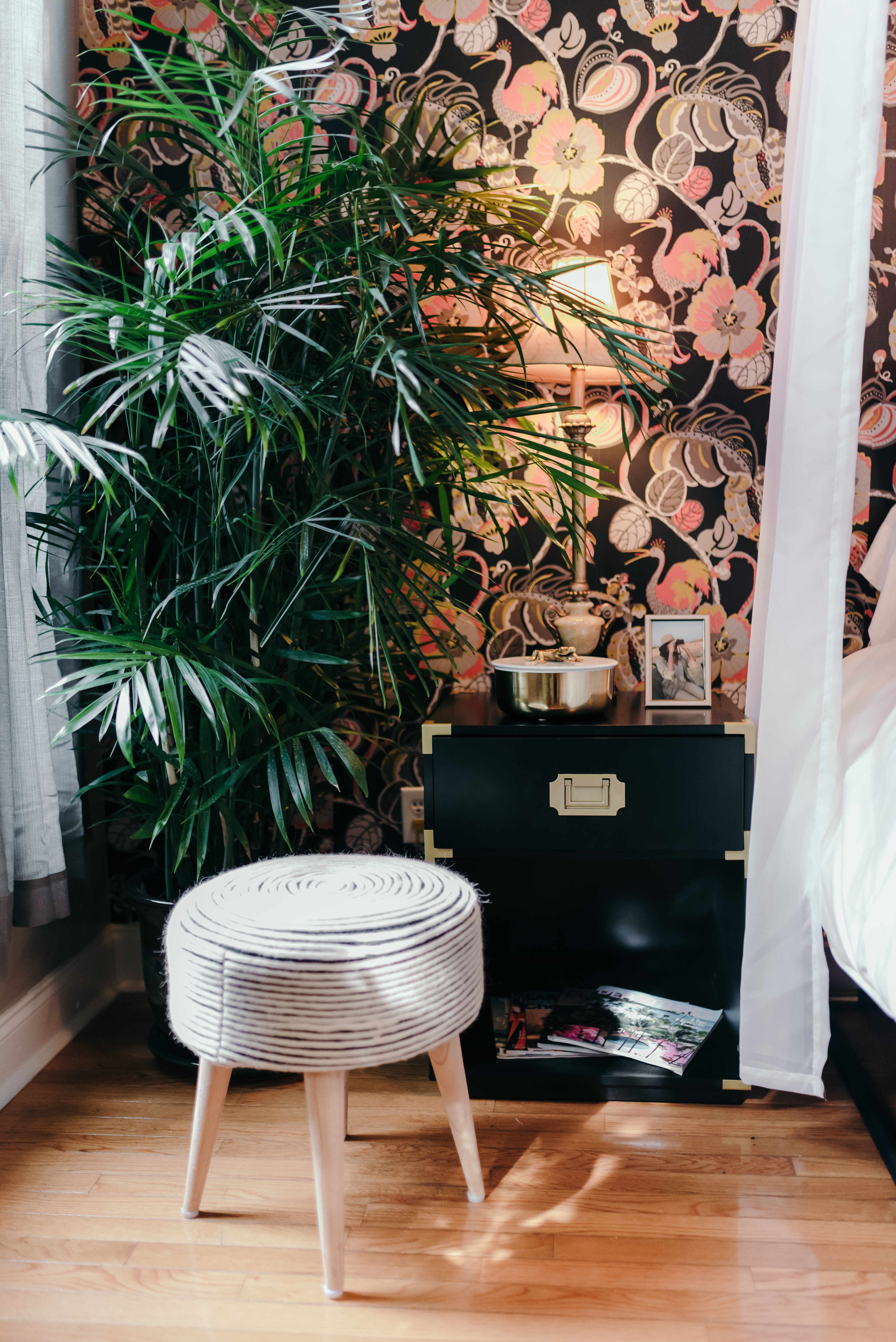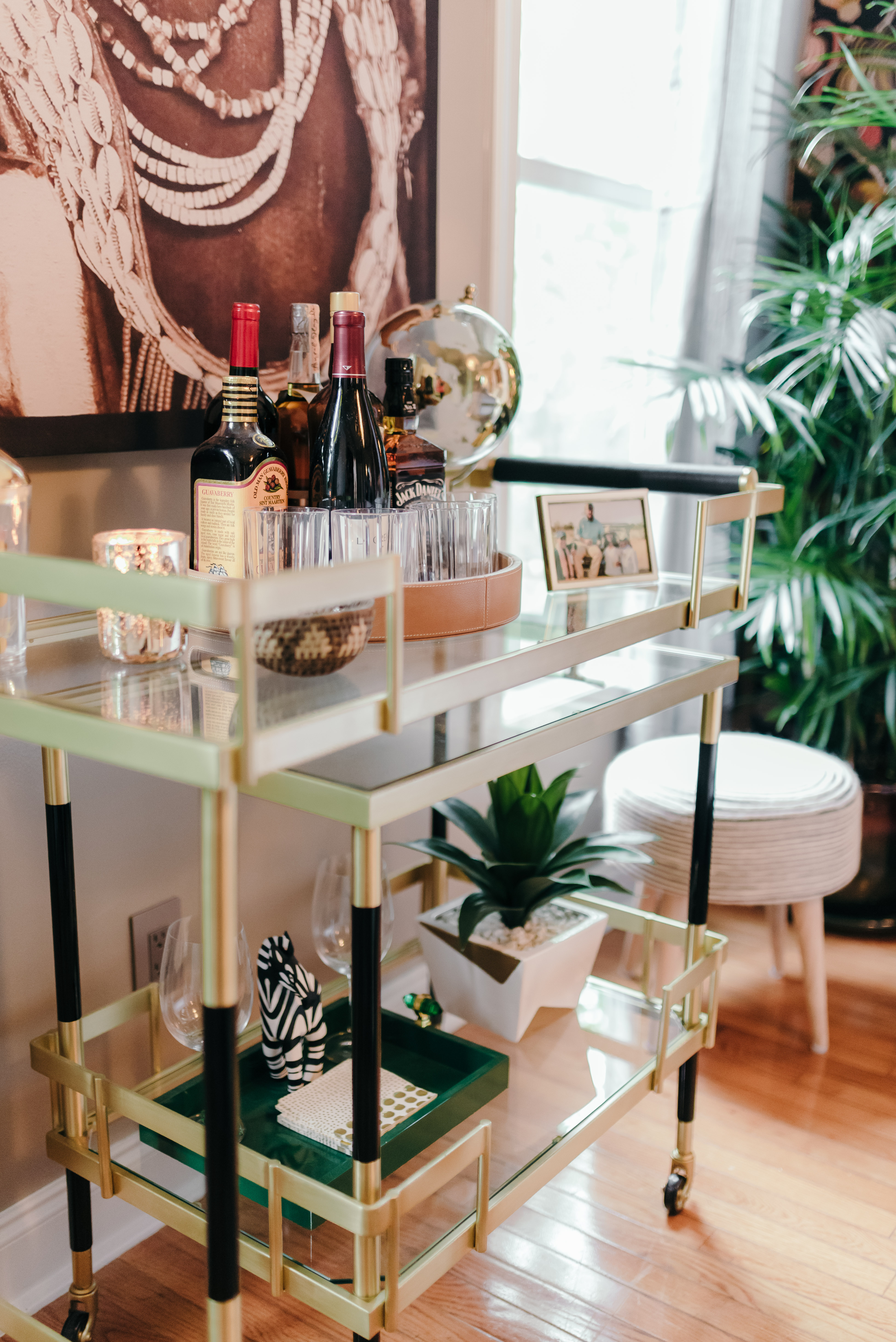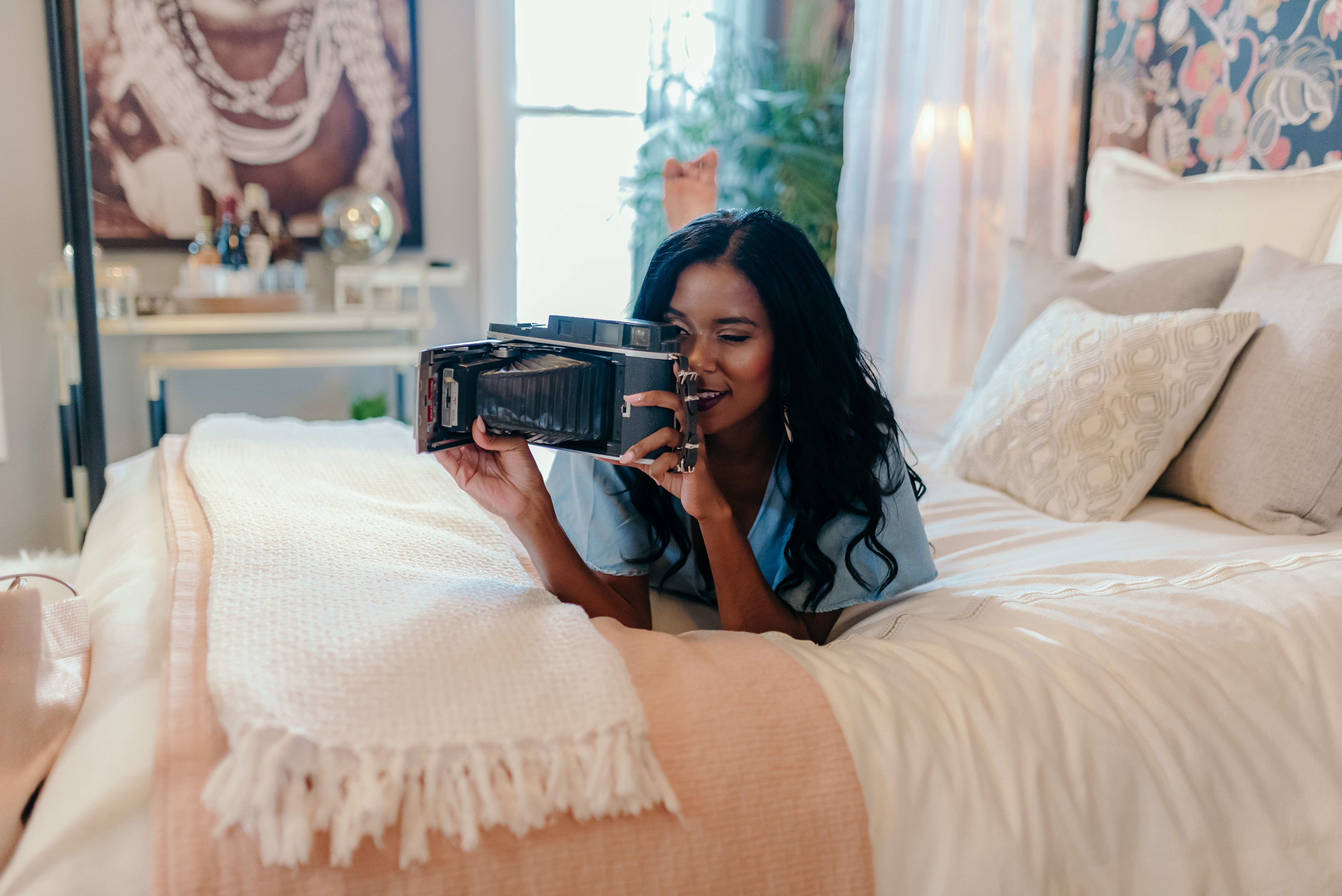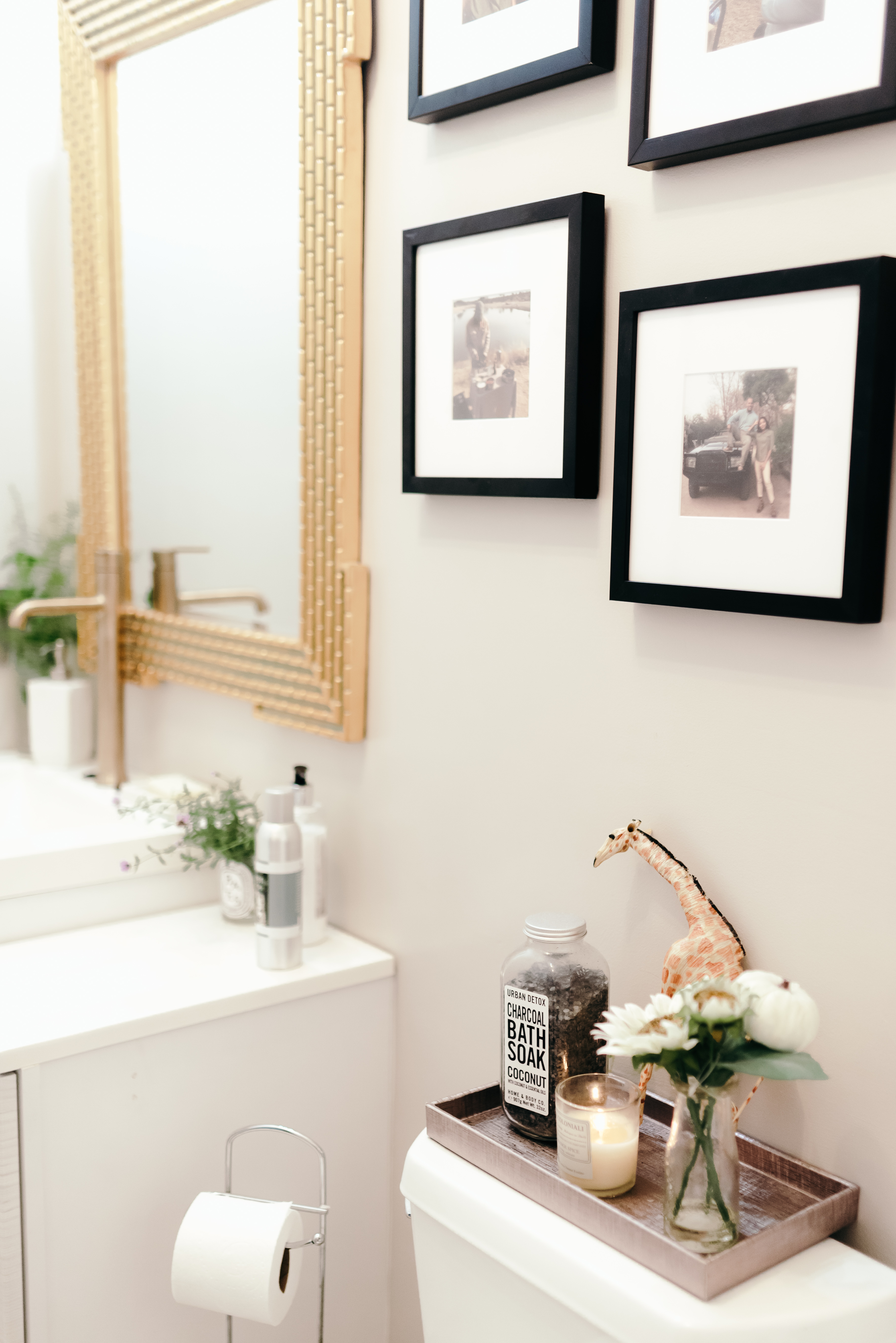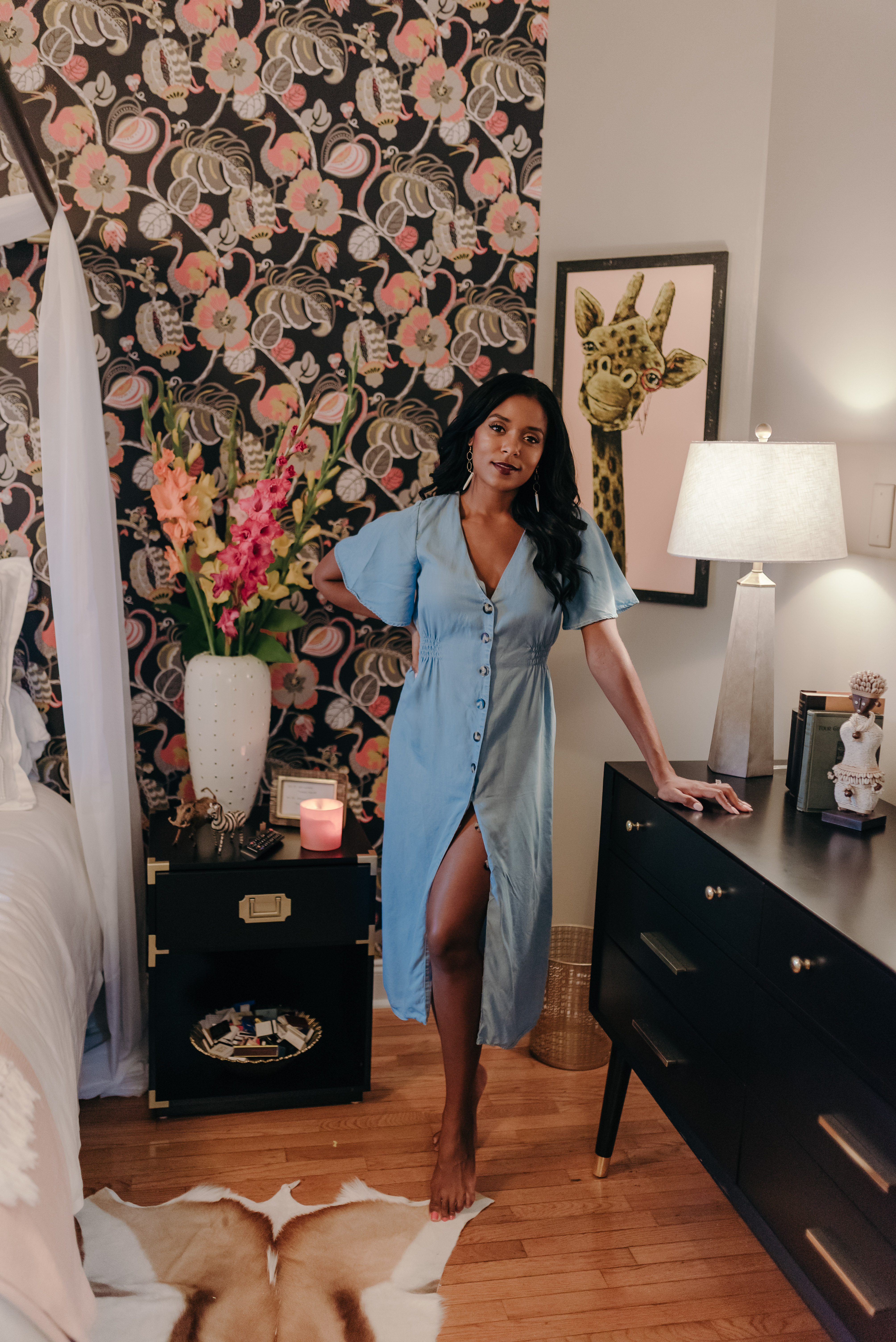 *This post is sponsored by Fleur de Mer!* // Photos by: Southern Stitched