I can't believe we're already at the end of July. Before you know it the thick, sticky air will fade into cooler fall nights and there will be no more lake days, or late sunsets. But before those days arrive, I'm making it a point to take full advantage of the season. And the best way to do that, without a doubt, is to eat al fresco (outdoors).
I recently teamed up with JCPenney to host an intimate "summer-themed" luncheon for 4, complete with banana leaf tablecloth and the ULTIMATE summer dessert– homemade PIE!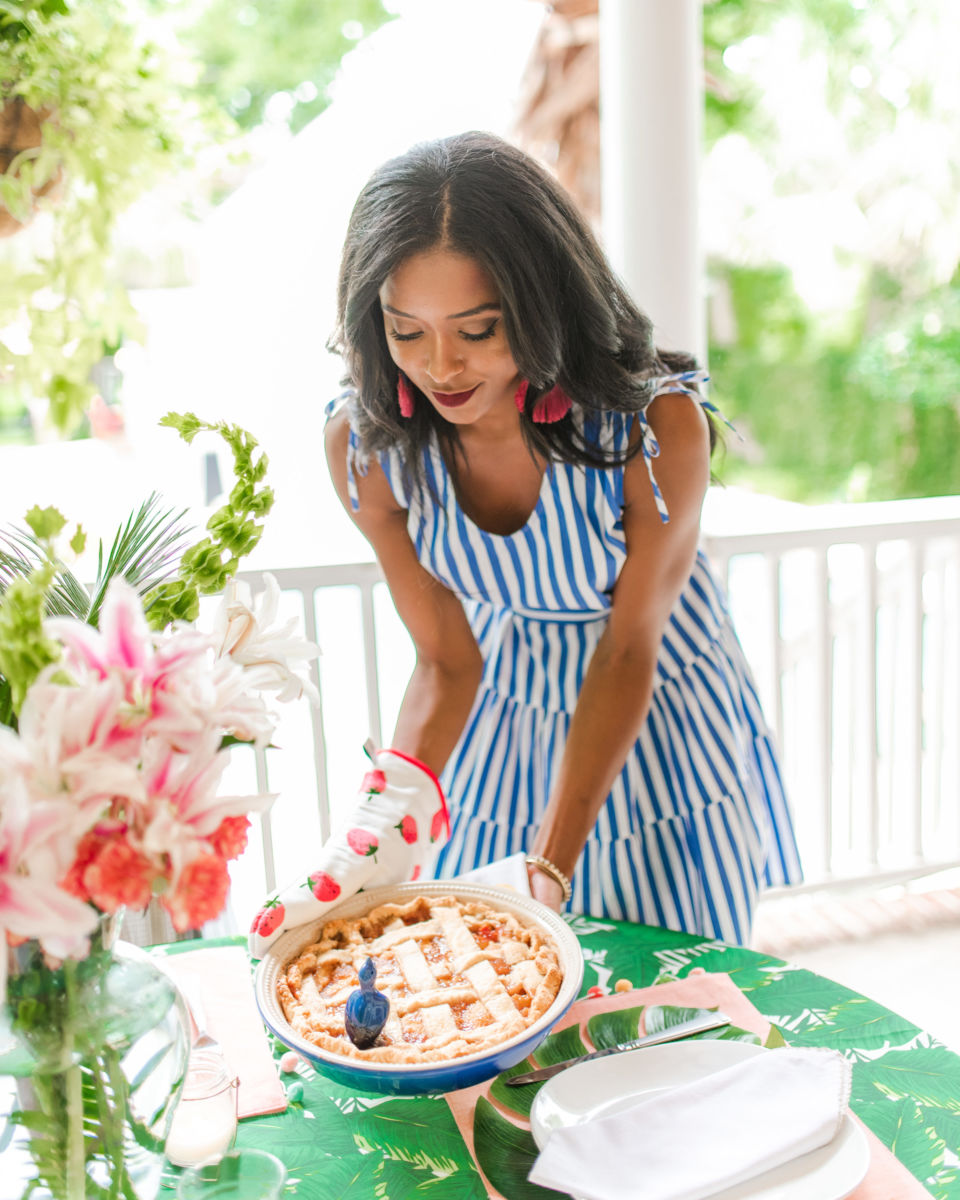 JCPenney: dress, tablecloth, placemats
A few months back, during Charleston Food + Wine, I took a pie baking class with Amanda Willbanks of Southern Baked Pies and I have been obsessed with baking pies ever sense. (I keep looking for excuses to bake them!) I knew I'd want to bake a pie, specifically a peach pie as they're in season this month, but since they take so much effort and time I knew I'd need to make the rest of the menu super simple. I decided on a garden salad, baked chicken, potato salad… and, of course, PIE!!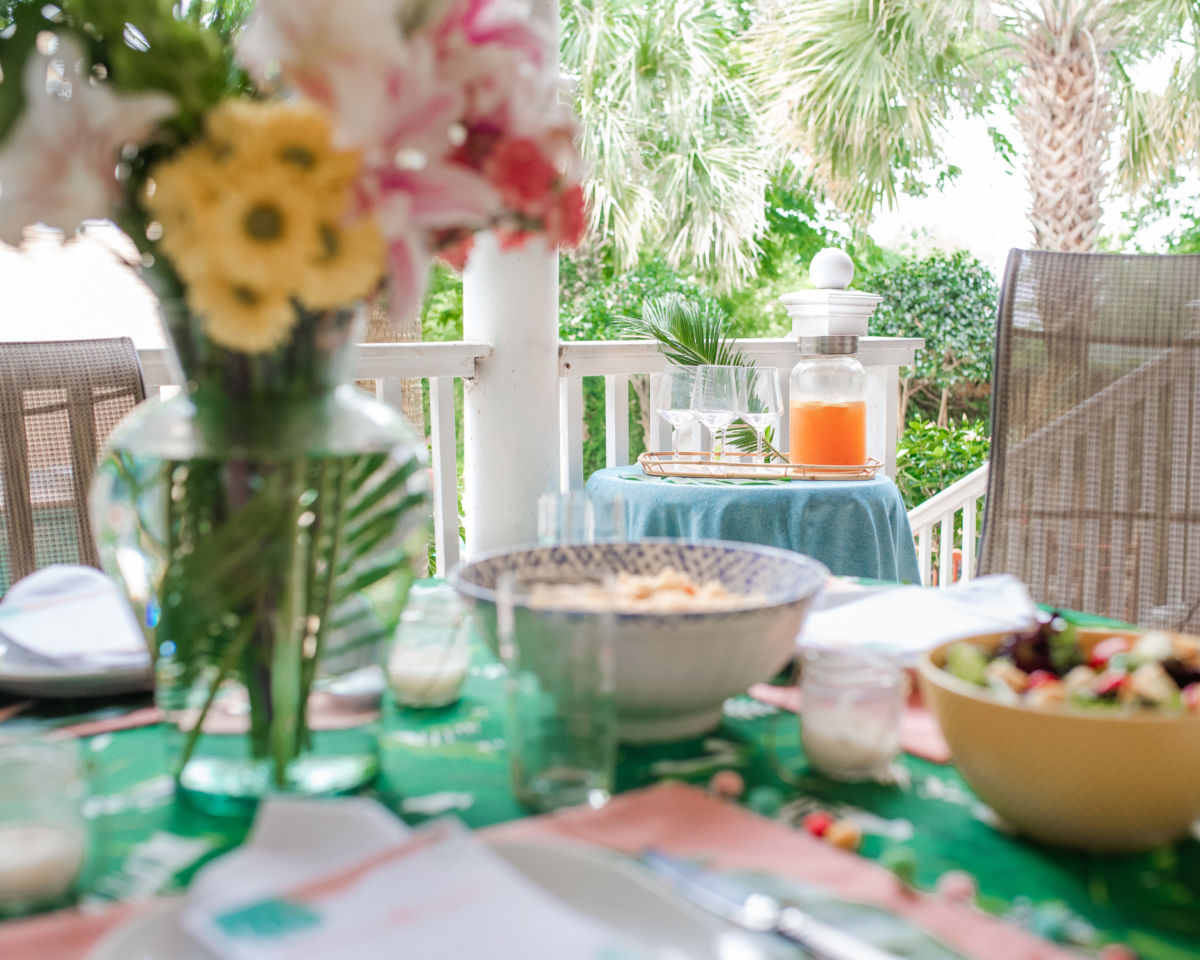 What makes an event special is the attention to details. Although this was just a simple lunch in honor of nothing more than the season, and since the dishes themselves weren't anything spectacular, I felt adding printed menus would elevate the overall experience. So, I used Canva to create personalized menus that would match my tablecloth + placemats, and printed one out for each place setting.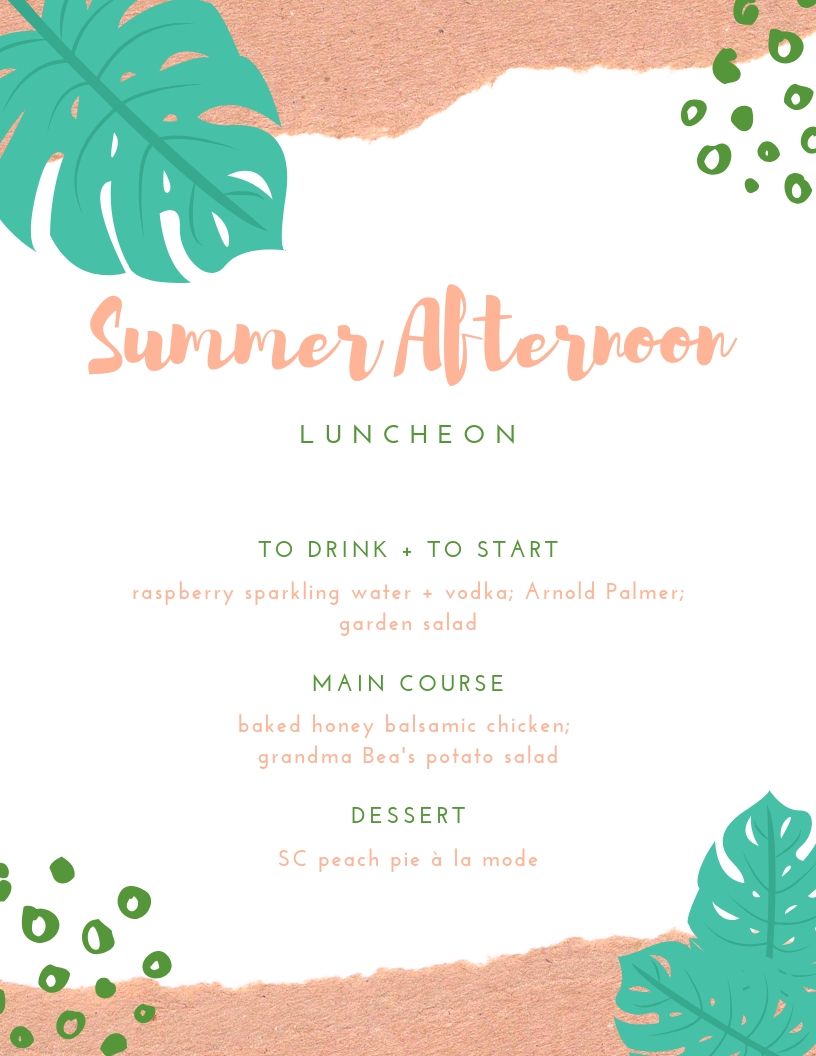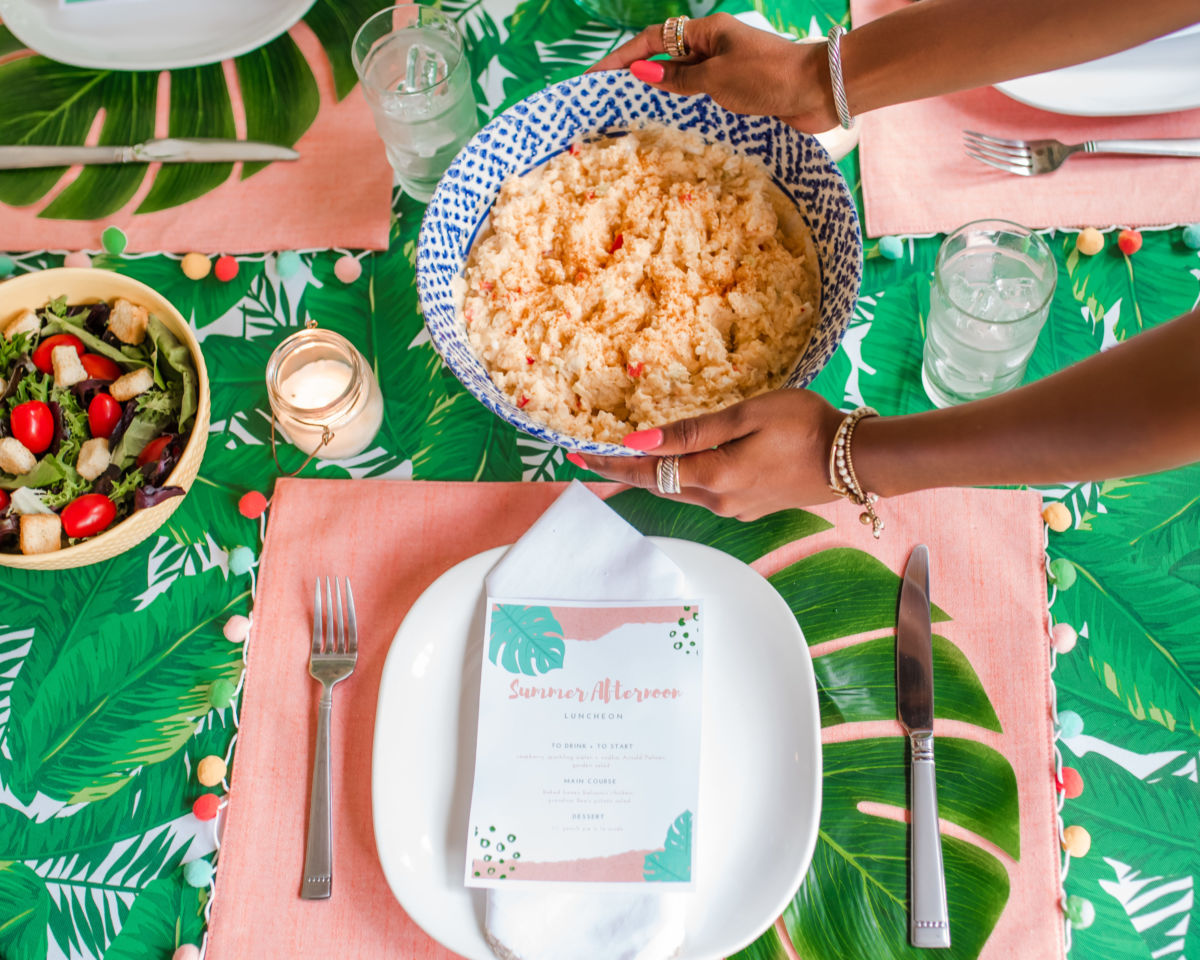 I came across this chicken recipe during one of my late-night Pinerest binges and I desperately wanted to try it. It was the easiest entrée I have EVER made and it was SOOO good that I'm certain I'll make it again for my family. With just a few ingredients and 20 minutes, this was the perfect addition for something quick, delicious and slightly unexpected.
Baked Honey Balsamic Chicken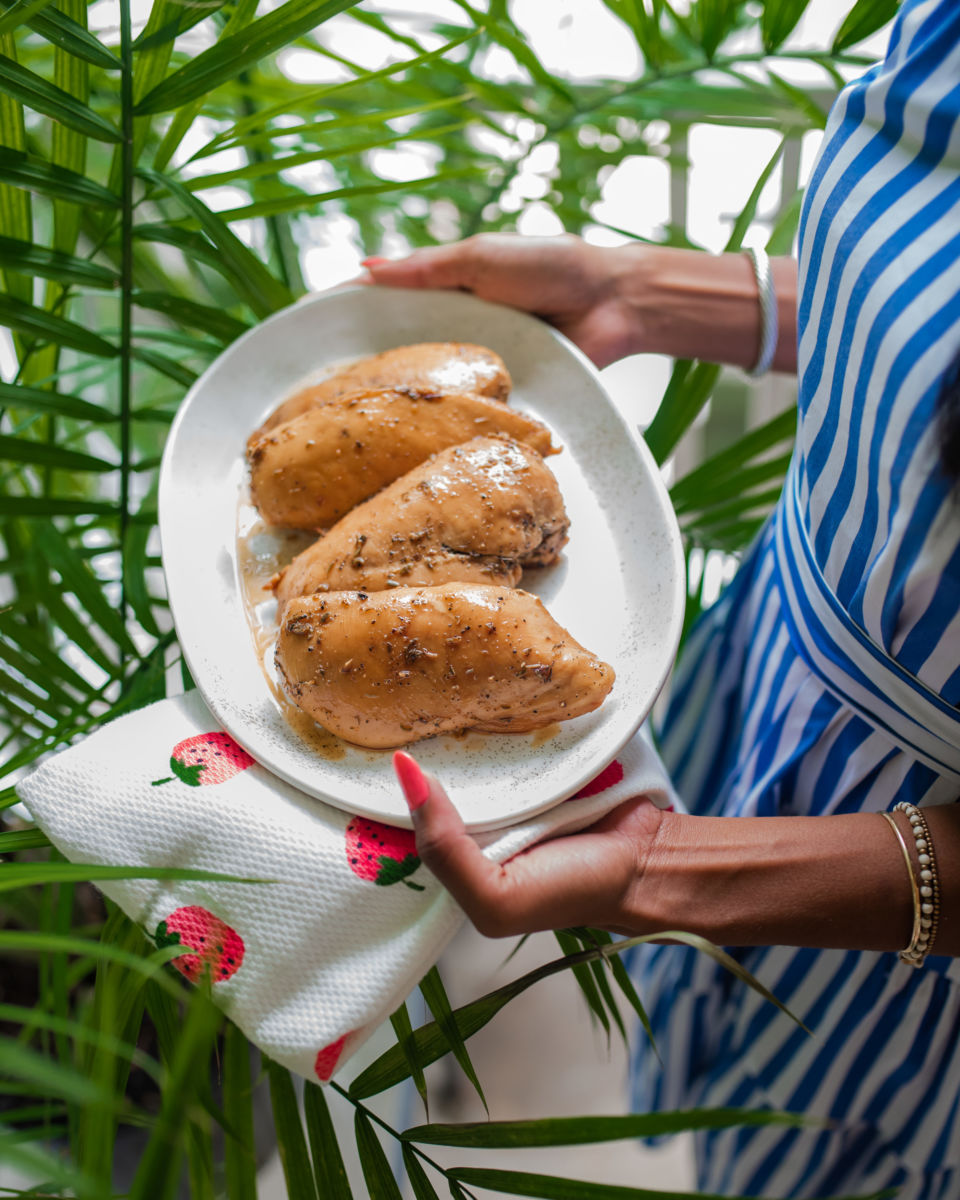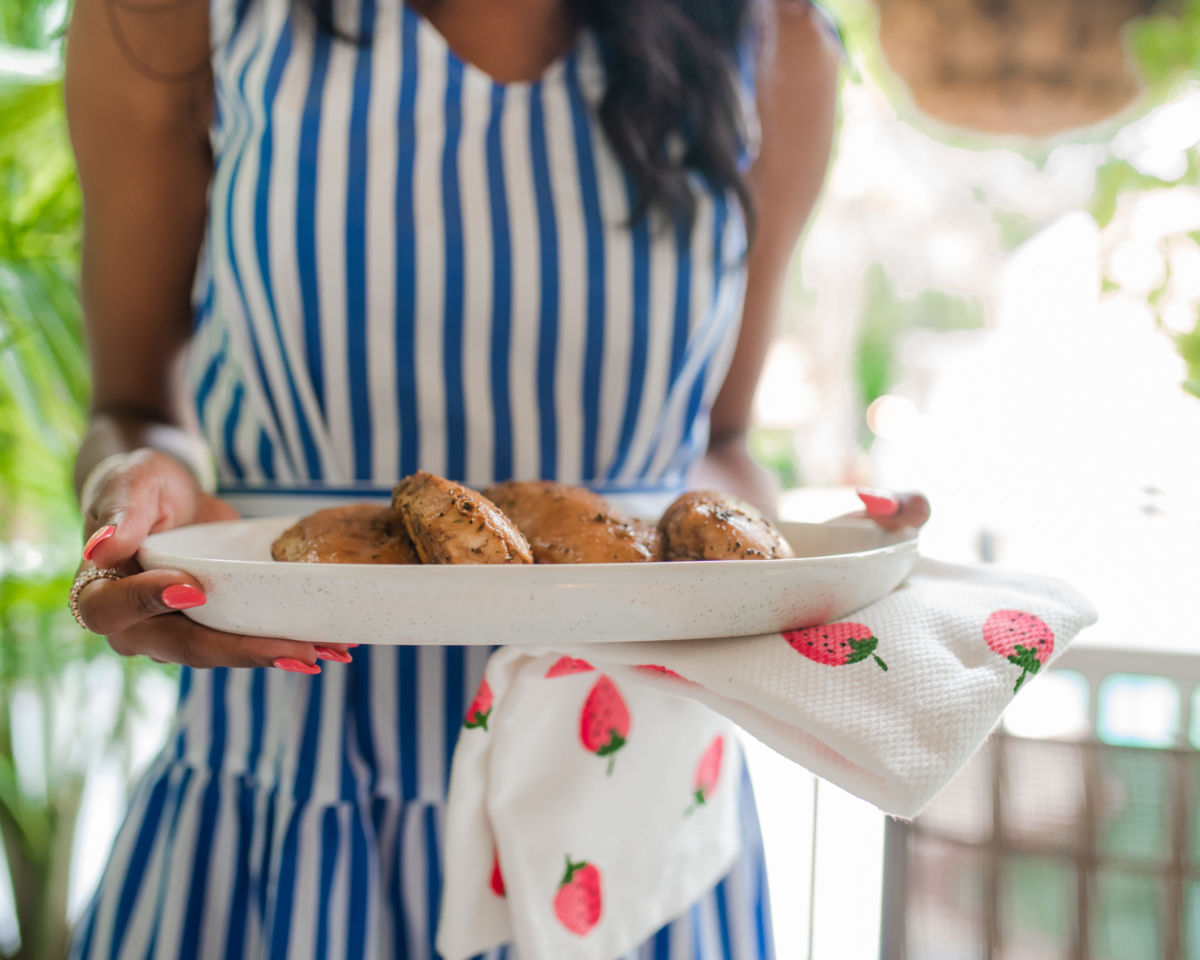 Season chicken breast or drumsticks. Combine 1 1/3 tbsp balsamic vinegar with 1 cup of honey and 2 tsp of dried thyme. Drizzle a small amount of glaze onto chicken (on a parchment lined baking sheet for easy clean up), using a brush to work it in the chicken. Save a decent amount to apply later. Roast chicken for about 20 minutes at 425 degrees. Once it's cooked through and slightly crispy, remove and add more glaze to liking! I plated it on this BEAUTIFUL Haand Serving Tray (designed + handmade in High Point, NC)
SO SIMPLE! Trust me, if I can do it so can you!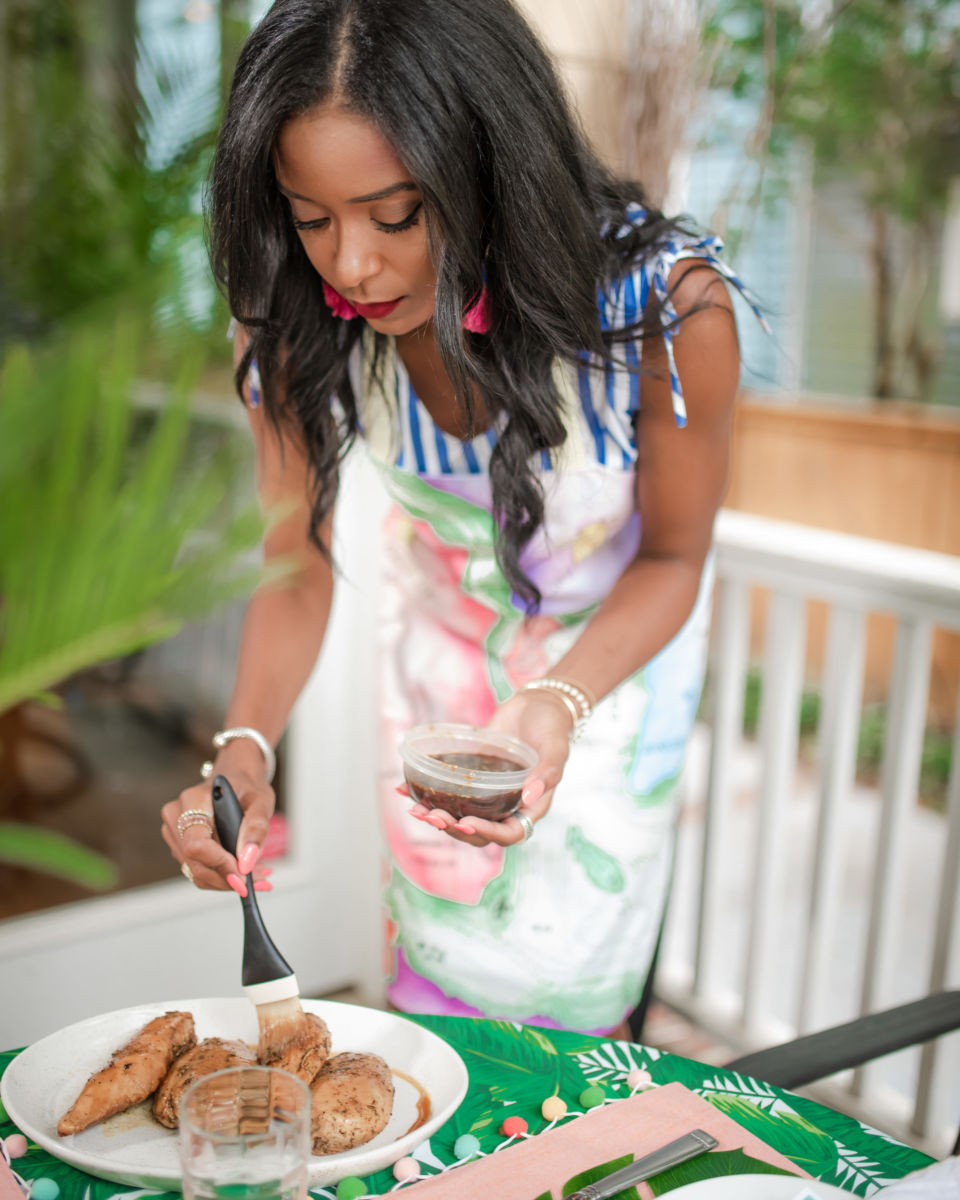 The afternoon was spent sipping vodka spritz and enjoying the weather. What's your favorite way to celebrate summer? Leave me a comment or send me an email: megan@shadesofpinck.com
*this post was sponsored by JCPenney*