Above: The movie theater at Gucci's Flagship store in Soho, NYC
Let's admit it– most of us are watching wayyyy more TV than we normally do. But how could we not?! With every scheduled event canceled and a near national "Stay At Home" order, we have a lot of extra time on our hands that need to be filled.
Thank Goodness for streaming services, amiright?! Could you imagine being stuck in the house all day long with nothing but basic cable?? We'd be forced to watch daytime soaps, children's shows, or reruns of poor-quality sitcoms from the 90s.
Luckily, we live in the future– a time when digital reigns supreme and options are limitless. By now I'm sure you've subscribed (or borrowed someone's password) for Netflix or Hulu. Both offer countless hours of footage that can surely get you through the end of quarantine!
When binging tv shows or movies my picks tend to fall within 4 categories:
1. Girly Comedies
2. Super Sappy Love Stories
3. True Crime Investigations
4. Deep Dive Documentaries about what Motivated Someone to do Something Extraordinary (good or bad)
If you're looking for a series or movie to dive into over the next few weeks here's my list, a mix of things I've already seen + things that are still on my watch list*!
If you're looking to binge an entire series:
Jane the Virgin (Netflix)- The plot seems a little cheesy, the trials of a goodie-two-shoes virgin that is accidentally artificially inseminated and becomes a mom, but once you get over the fact that telenovelas are known to be over-the-top, you'll fall in love with Jane– a hopeless romantic! This series is an easy watch if you're looking for something not so serious + dramatic, and just wrapped up with a collection of 100 episodes that are sure to keep you entertained for the foreseeable future.
Self Made: Inspired by the Life of Madam CJ Walker (Netflix)– A recently released mini-series on Netflix this chronicles the story of America's first self-made Black millionaire, Madam CJ Walker. With only 4 episodes total this is a great series to start + finish one evening!
Scandal (Netflix)– I'm assuming that everyone has seen this, but if you haven't quarantine is the perfect time to fall down the Scandal rabbit hole and find out what all the fuss was about! Olivia Pope handles it…whatever it may be! Yes, she's having an affair with the President of the United States, but the true scandal is that a Black women is the HBIC behind the most powerful person in the world. And as expected– she kills it every. single. time!
How to Get Away with Murder (Netflix + Hulu)– Ok so I don't think you can actually watch this complete series yet, bc I think the final season is still airing…and if I'm being honest I stopped watching after like season 3, but those first 3 seasons were FIRE! It starts with a murder (shocking!) and then you spend the season learning what happened leading up to that moment: a modern day murder mastery if you will. With soo many twists + turns you'll be on the edge of your seat waiting to see what happens next. Lucky for you, you won't have a wait an entire week to find out…unless you get to the final season of course.
Breaking Bad (Netflix)– This was one of those shows that I never would have thought I'd like, but Todd made me watch it with him a few years back and after the first episode I was hooked! It's the story of how a sequence of events and the need for survival can turn an innately "good person" into a villain. This series was good all the way to the final episode. It may be dark, but there's a reason why it's the highest rated fictional TV show on IMDb.
House of Cards (Netflix)– Another series that fizzled out by it's finale, but oh are the first two seasons gold! If you missed the House of Cards train I couldn't think of a better time to jump on than now. It's got it all: murder, sex, lies + the backdrop of The White House, and you'll find yourself (maybe for the first time ever) siding with the bad guy!
FYI: The main character, Frank Underwood, is a Congressman from South Carolina so our little state makes a few cameos. 🙂
If you're in the mood for a movie:
To All the Boys I Loved Before (Netflix)- While it would definitely fall into that "sappy love story" category, this movie was seriously one of the cutest ones I'd seen in a while. Based on a best selling novel, this is the story of Lara Jean, your typical teenage high-school girl that's forced to confront all the boys she's ever had a crush on, after her love letters get mailed to each of them. Yikes! With lots of laughs + a few tears on the way, the ending pulled on my heart strings!
FYI: Pretty sure there's a part 2 now, so you could even turn this into a mini marathon!
Nappily Ever After (Netflix)*- I don't know many Black women would say that hadn't ever felt defined by their hair. Violet is no different. Her hair defines her self-worth, and her perfect locks are a representation of her perfect life. But when things begin to fall apart she finds herself in a moment of weakness making the decision to shave her head, which she'll soon regret. Regrowing her hair is a small challenge compared to what it will take for her to regrow her love of self.
Love Wedding Repeat (Netflix)*- What could really go wrong at a wedding? Apparently everything. This hilarious comedy details all the possibilities through alternate endings based on a variety of mishaps Jack (the brother of the bride) finds himself in. Coming in on the list of top 10 things watched on Netflix in the US, the laughs are almost guaranteed.
Luce (Hulu)- Classified as a "thriller drama", Luce takes the audience on a somewhat suspenseful journey as they try to discover the true temperament of a seemingly perfect Black high-school boy that was adopted by two white parents very early on in life. While the ending didn't completely satisfy me, I will say I was on the edge of my seat wanting more the entire way through.
If Beale Street Could Talk (Hulu)- Go ahead and grab the tissues for this one! The all-too-familiar story that so many African American families face: being pulled apart due to a wrongful conviction. The story follows Tish + Fonny, two young lovers with enough passion + respect for a lifetime of matrimonial bliss. But when Fonny is sentenced to jail for a crime he didn't commit the two must find new ways to keep their love strong. After countless setbacks the movie ends with a harsh reality that proves our criminal justice system is broken.
Ingrid Goes West (Hulu)- After a few self-inflicted setbacks, a mentally unstable Ingrid decides to trade her boring life in and move to LA to stalk…I mean, "befriend" her fave IG influencer, Taylor. Thanks to strategic, yet borderline deranged plots the two meet and begin to bond. But once Taylor gets a glimpse of Ingrid's true colors she begins to pull away and Ingrid is left to do something that will get her attention.
Obey Giant: The Art and Dissent of Shepard Fairey (Hulu)- From Academy Award-winning director James Moll comes a documentary about Charleston's very own Shepard Fairey. Known worldwide for his street art, this doc details how a local graffiti artist went from dodging cops for vandalism to developing the visual campaign for America's first African American President, and all the career ups + downs in between.
Uncorked*- The timeless story of being forced to choose following your own dreams or the dreams your parents have determined for you! Elijah's father has always wanted him to join the family barbecue business, but he has bigger dreams of becoming a master sommelier…even though the industry isn't filled with people that look like him or have his background. It will take a lot of tug and war with who he's always been and who he wants to be to determine which path is right for him!
If you're looking for Netflix originals:
The Crown- In my head, the entire world has seen The Crown, but if for some reason you have not please take the time to watch the first 3 seasons during quarantine. I say "take the time" because you truly have to pay attention and you can't be distracted. Things happen fast, at times it's hard to make out exactly what they're saying, and everything builds off the previous episode. So do yourself a favor and leave your phone across the room. The series chronicles the reign of Queen Elizabeth II from her coronation in the 1940s to modern times and is honestly sooo soo good!
All American- I just started this one and I'm already hooked! It's the tired story of a boy from the wrong side of the tracks being thrown into the life of the super rich, except it has been reinvented to feel new and interesting! A rising high-school football star accepts a Beverly Hills coach's offer to play at his school with the goal of becoming pro. There's fish out of water drama, spoiled rich kids drama and a plot twist very early on to keep you interested. Also, the cast is made up of a ton of super hot people of color which honestly just makes it that much better!
The Politician- Determined to be President of the United States since the age of 7, Payton Hobart has a mental checklist of things he has to do to accomplish that goal. At the top: become student body president of his upperclass private prep school + get accepted to Harvard. With the backdrop of California and the lifestyle of the top 1%, this drama focuses on what you'd be willing to do to reach your goals…and what happens if you come up short. Each episode you're led down a path you didn't expect to be on. Season 1 left off on a cliffhanger so I'm sooo ready for season 2 to premiere this summer!
Making a Murderer- If you want a crash course is why our criminal justice system is broken start here! Steven Avery lives in a small town in Wisconson and comes from a family that most of the town would classify as "troubled". Steven spends nearly two decades in prison for a crime he did not commit. But after being exonerated and winning a law suit, he finds himself behind bars again for another murder that he swears he did not commit. This docu-series takes us through the facts of the new case and leaves us asking ourselves was he really "guilty beyond reasonable doubt"? My thought: no way!
Dead to Me*- This dark comedy looks like it would be the perfect show to jump into late one night with a bottle of wine. Jen is a young widow on a mission to solve her dead husband's hit-and-run case. Judy is a free spirit that's recently suffered a tragic loss of her own. After the two meet at a support group and become unlikely friends, Jen invites Judy to move in with her family. But Judy is hiding a shocking secret that could destroy her new friendship + life as she knows it.
Dirty Money*- Ugh, I love a good money scandal. This docu-series explores a variety of true stories of corporate corruption, securities fraud and creative accounting. If you're over rom-coms, murder mysteries and cooking shows, switch things up a bit with this one!
Evil Genius: The True Story of America's Most Diabolical Bank Heist*- I'm itching to start this one! In 2003 in Erie, Pennsylvania, a pizza delivery driver named Brian Wells walked into a PNC bank with a collar bomb around his neck, carrying a gun shaped like a cane and a robbery note demanding a quarter of a million dollars. He grabbed a lollipop from the counter, the teller gave him $9,000, then he left. A few minutes later the bomb exploded and Wells died. Then things got really weird. Dun dun DUNNNN!
Outer Banks- Ok so we're only one episode into this series but it's been added to our watchlist. Set in North Carolina's Outer Banks, although Todd said it was filmed in Charleston, the story follows a high school boy (that's really been left to raise himself) and his friends as they try to solve the mystery of his dad's disappearance. The story was intriguing enough to keep Todd's attention so I think the speaks volume!
#BlackAF- From the creator of faves like Black-ish + Girls Trip is a brand new comedic "mock"-umentary about being growing up Black, parenting Black, and just being Black! Basically, Black-ish but without the major network primetime filter! HILARIOUS.
On-demand on Hulu
Mrs. America- Just started this one and OH MY GAWD I'm hooked. I'm kinda pissed because they rolled this out with 3 episodes initially and will premiere a new episode every week (ugh, I hate waiting lol). It's the story of the movement to ratify the Equal Rights Amendment during the 1970s and the surprise backlash by housewives all over the nation. The mini-series does a great job highlighting the concerns of both groups of women without vilifying either. We get a more in-depth look at familiar historic figures: like Gloria Steinem + Shirley Chisholm, and an introduction to figures that have gotten a little lost in time: like Phyllis Schlafly, Bella Abzug + Brenda Feigen. "The series explores how one of the toughest battlegrounds in the culture wars of the '70s helped give rise to the Moral Majority and forever shifted the political landscape."
Little Fires Everywhere*- I read this book last year and am excited to jump into this adaptation. The series follows Pearl and her eccentric, sometimes flighty, single mother as they move to a new town that's strives for perfection and fines residents when it's not upheld. They find themselves intertwined with a local family that's the epitome of picture-perfect…from the outside looking in. One event leads to another before the whole things goes up in flames. Literally!
The Bold Type- I'll admit that I haven't kept up with this series (I'm only on season 2 or 3) but what I have seen, I love. It follows three early-twenty-somethings in NYC as they start their careers, fall in love and are forced to make tough choices for themselves. It's not super deep, there's lots of laugh, and LOTS of fashion–so it's an easy watch. In my head, it's what my life would have been like if I had moved to NYC right after college.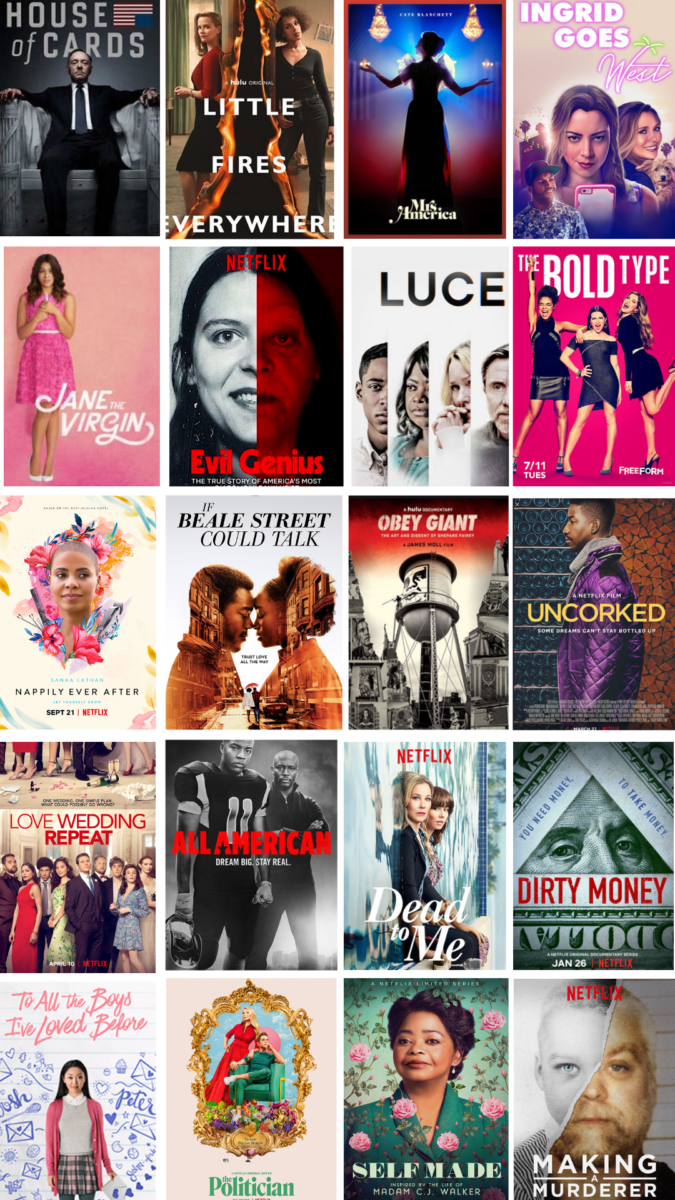 Have any other binge recommendations for Netflix or Hulu?
DM me your faves on IG @shadesofpinck