**Updated July 2021**
I kicked off 2020 visiting somewhere that had been on my travel bucket list for quite some time– West Palm Beach, FL.
When Todd + I discuss where we're going to travel he and I always have different ideas of "the perfect" location.  He wants a place that offers lots of outdoor activities with great food that is semi-easy to get to. I, on the other hand, just want some place that is aesthetically pleasing– shocking! I have asked for years to add West Palm Beach to the list, but he always complained that "there wouldn't be much to do", so it never made the cut.
Fast forward to one afternoon, while sipping champagne at Hotel Bennett, Venita shared with me that she would be returning to West Palm (her home away from home), so I did what any self-respecting travelista would do…I invited myself! LOL. And honestly, I'm so happy I did. After two nights of basking in the glamour that is Palm Beach with V, I realized that it really is the perfect place for a girls' trip.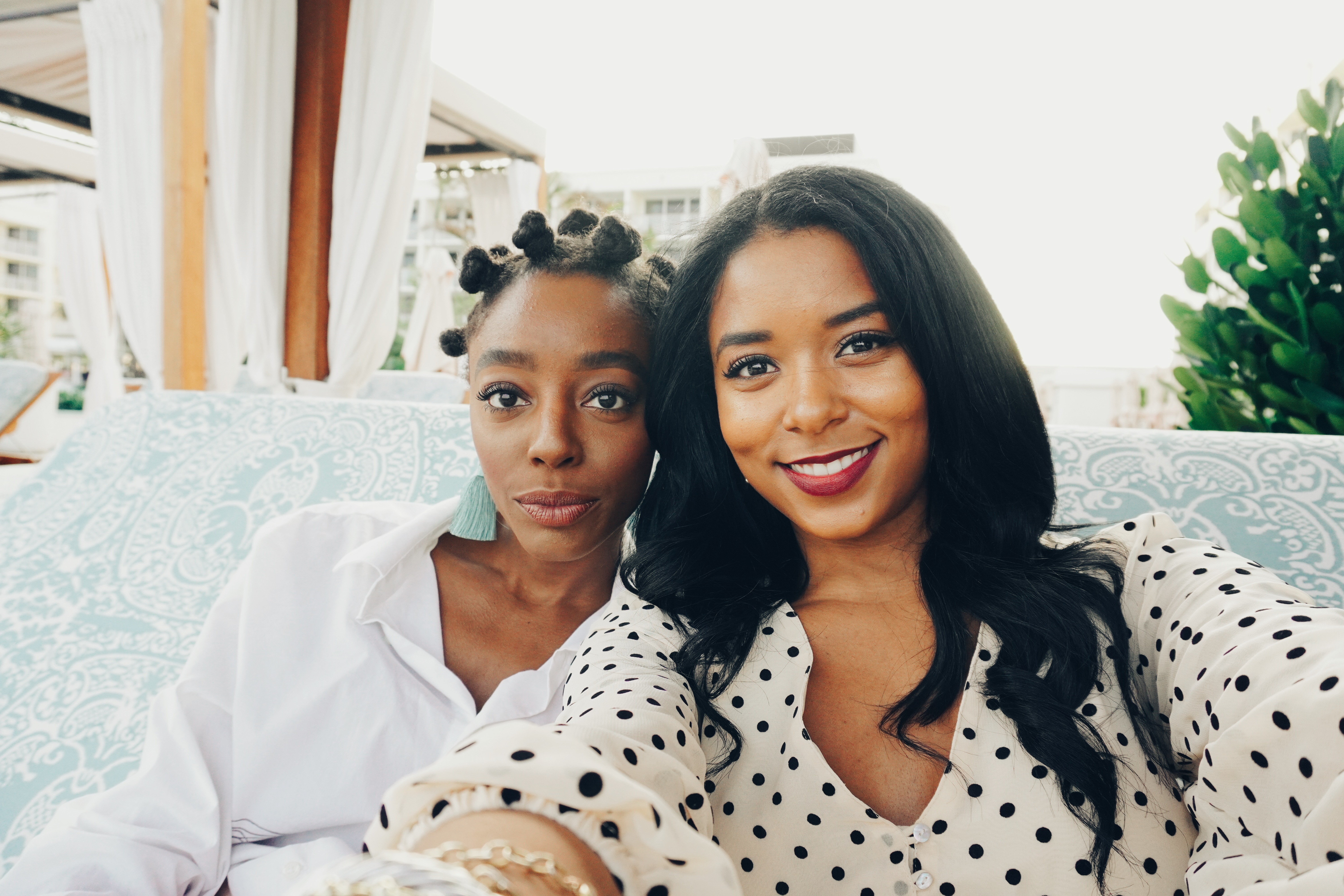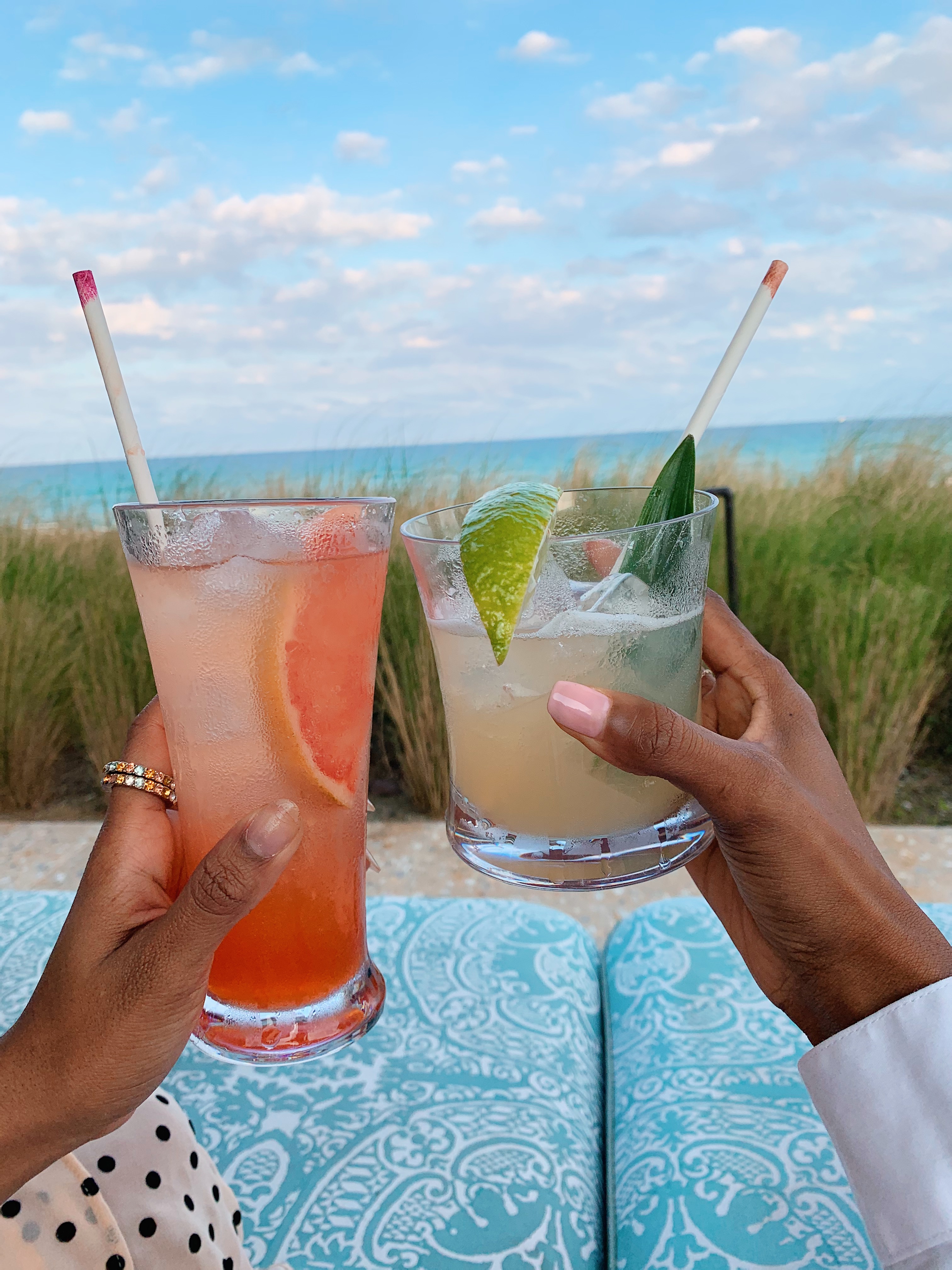 So if you + your girls are in need of a little getaway with a lot of glamour, here's a guide to what you should see, do + eat!
Where to stay:
If you ask anyone, especially Pinterest, where to stay in WPB they'll argue between two places: The Colony + The Breakers— and for great reason. Both hotels are iconic and have been a staple on "the scene" for decades. The two are synonymous with the town and one quick Google search will reveal why: they're gorgeous! If you're looking to stay in the heart of the city within walking distance to everything, then these would be great options.
But if you're looking for a place that has all the vintage Palm Beach charm without the dozens of tourists with camera phones (me included) taking up space in the lobby and wandering around the halls, choose the newly renovated Four Seasons Palm Beach!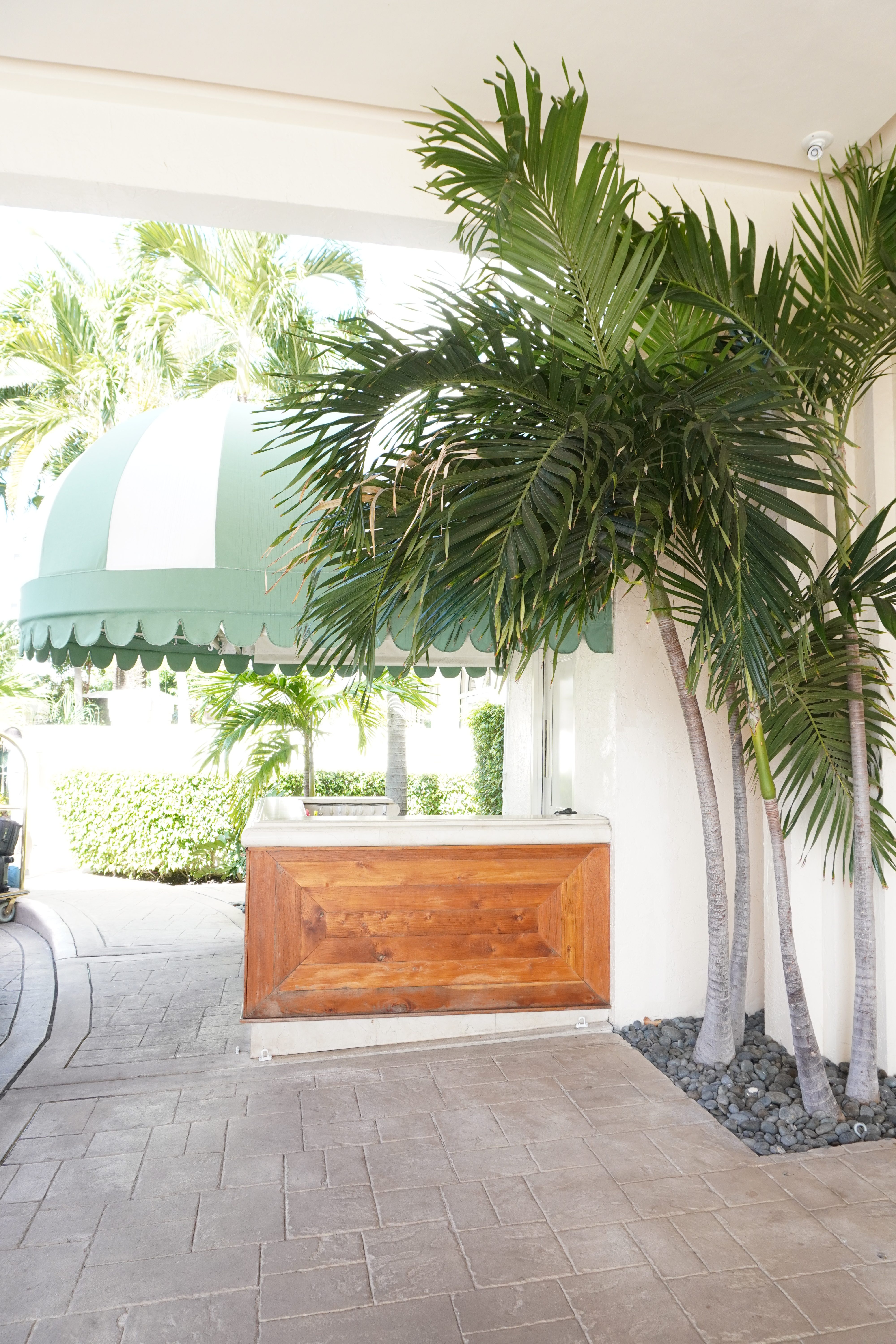 Located just a short, scenic drive away from the heart of Palm Beach, within what is known as Billionaire's Row,  the Four Seasons has everything you could ever need from your stay. The chicest interior inspired by vintage PB style? CHECK! Access to a private beach that extends far past the horizon? CHECK! A super friendly staff that's both helpful and knowledgeable? CHECK! An adult-only pool? CHECK! Options for a delicious meal rather you wanna stay in your room or venture downstairs? CHECK, CHECK! Honestly, it is the perfect home base to relax (and yes, take a ton of IG pics, because… priorities!)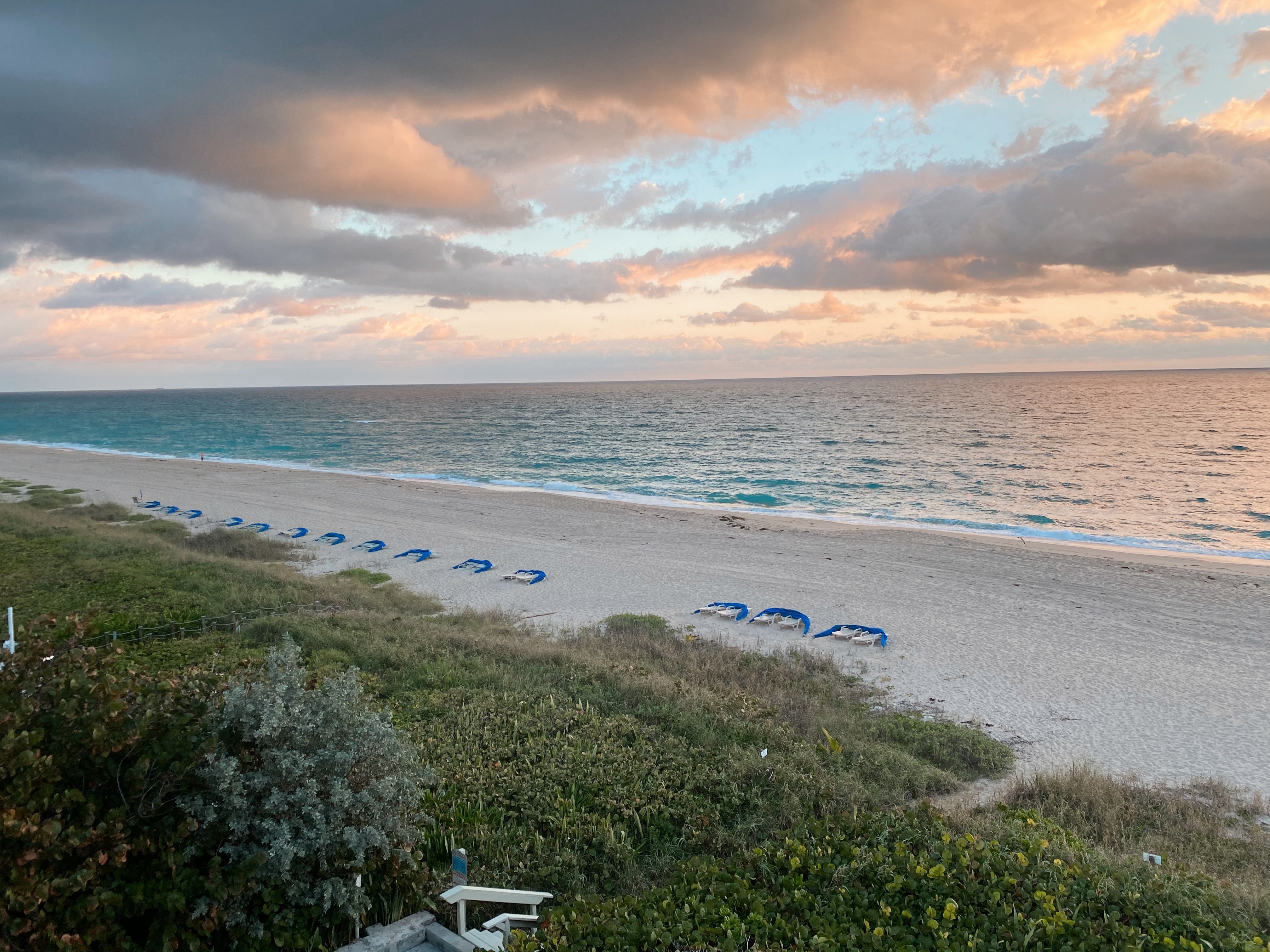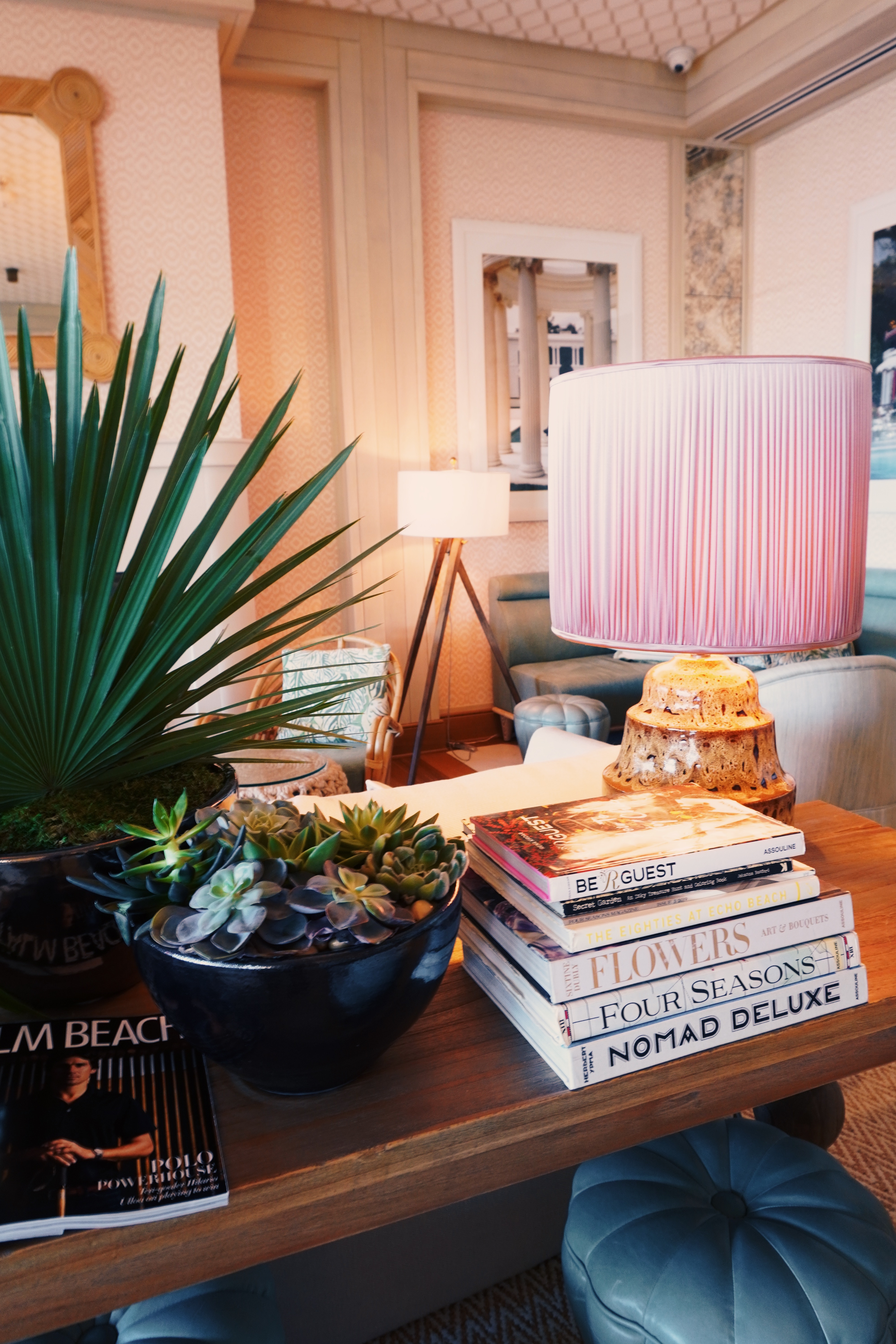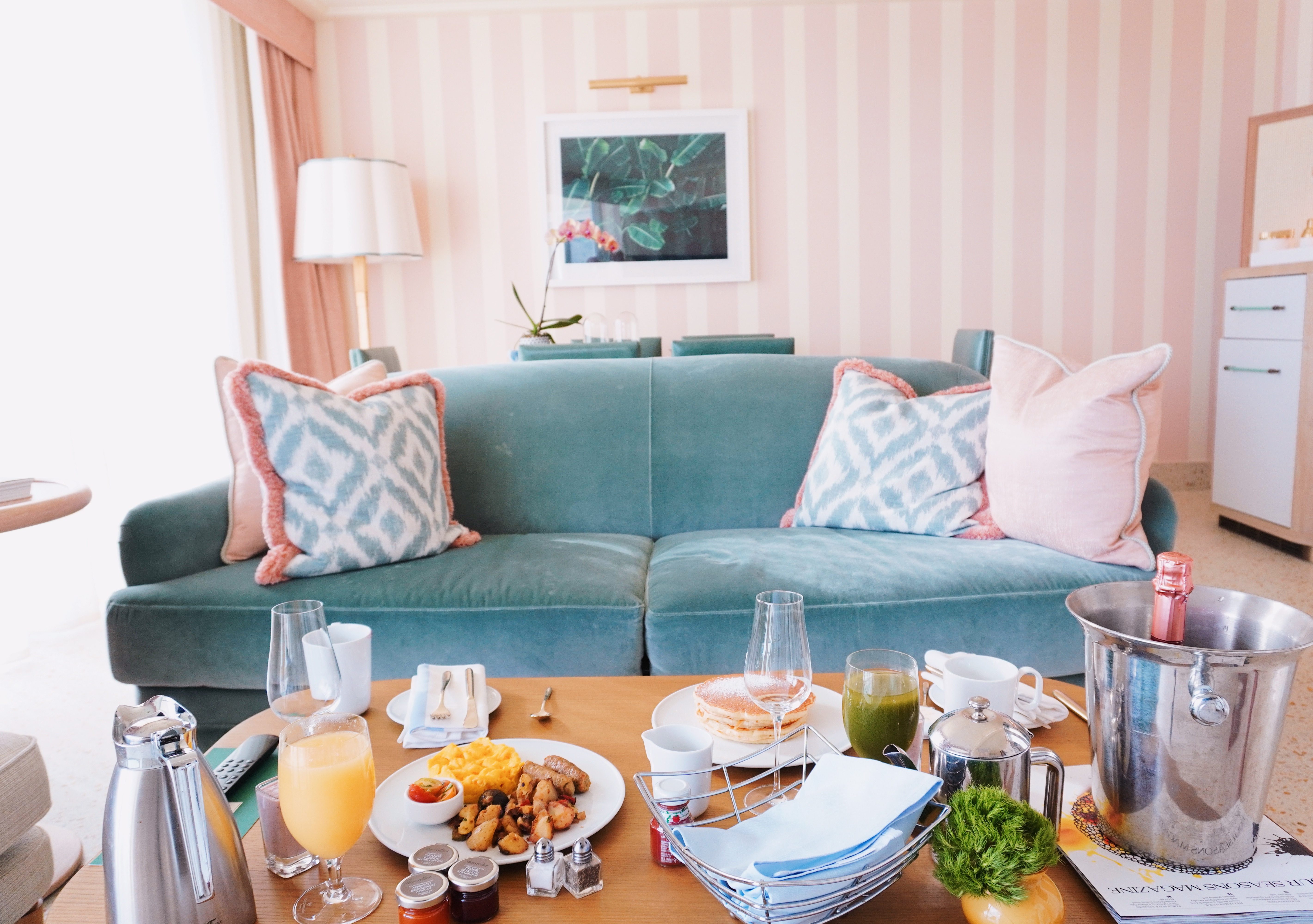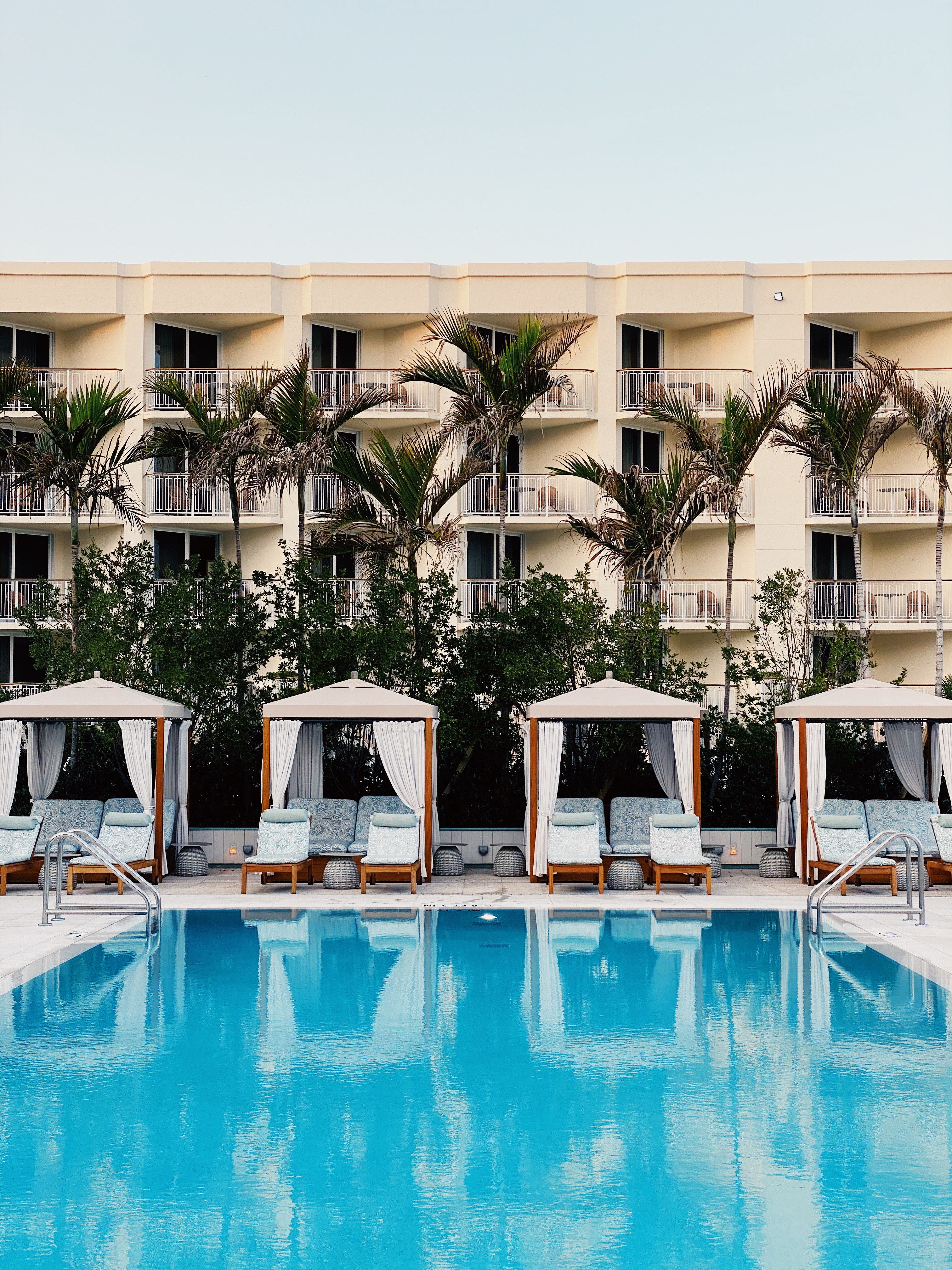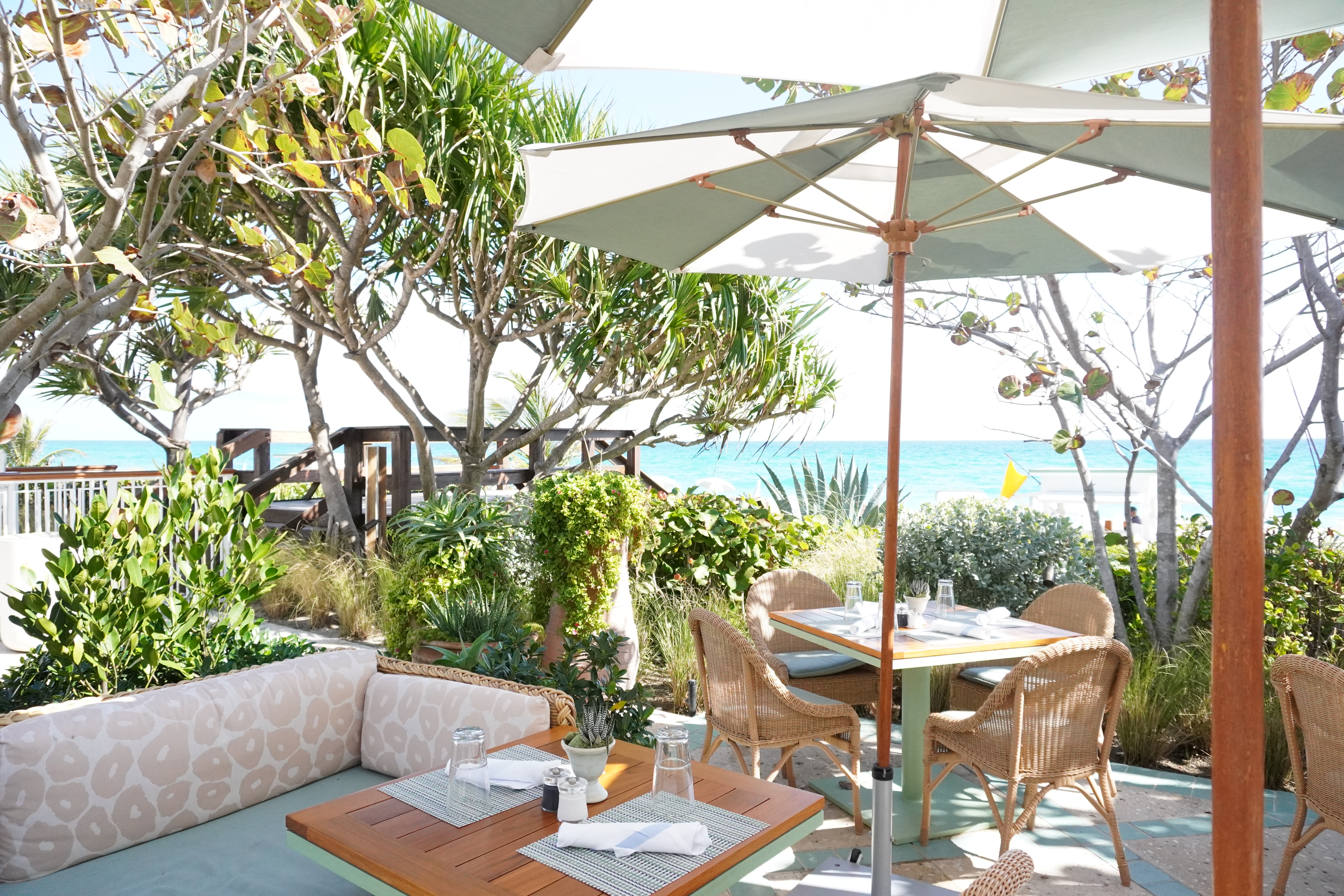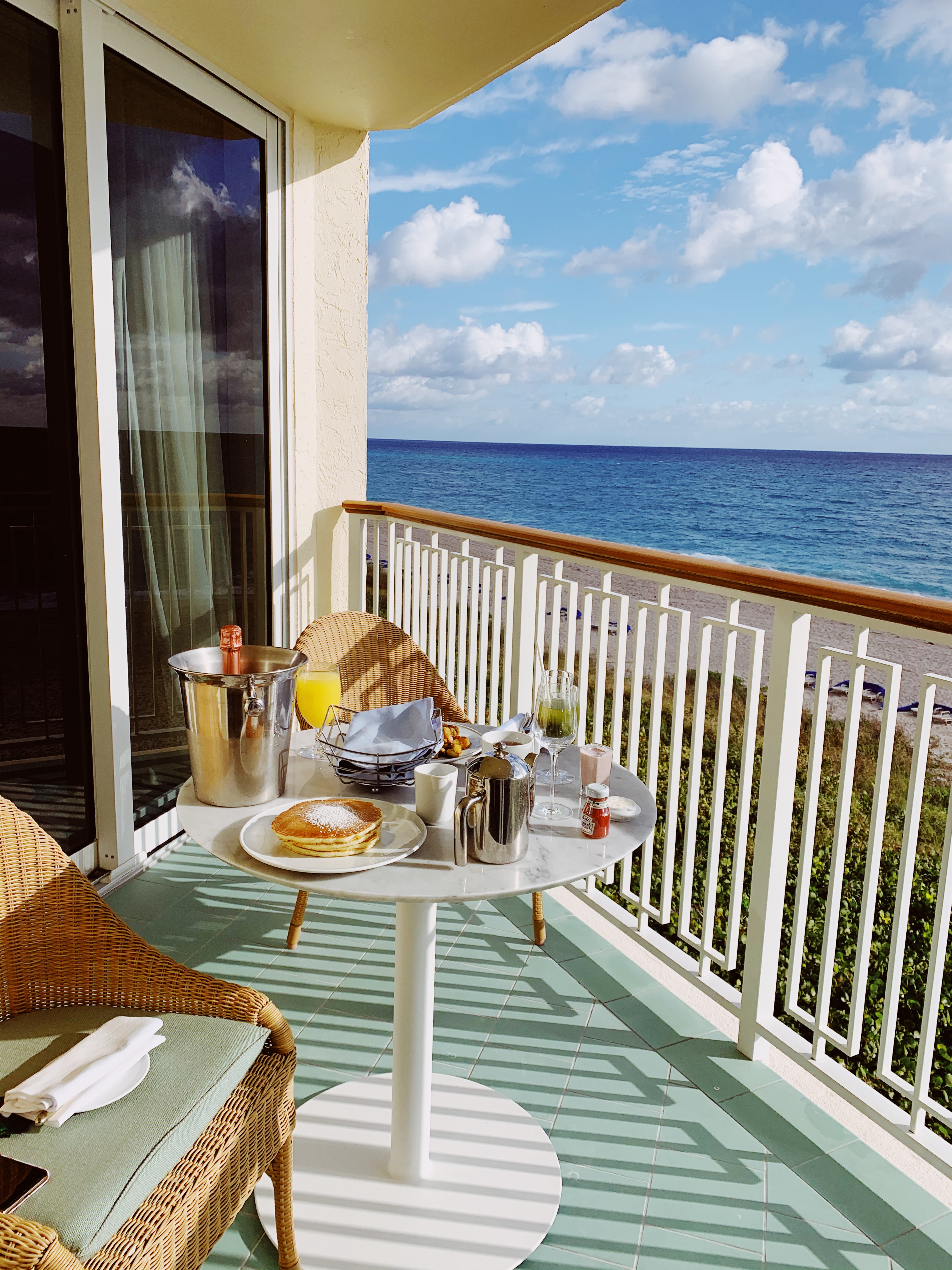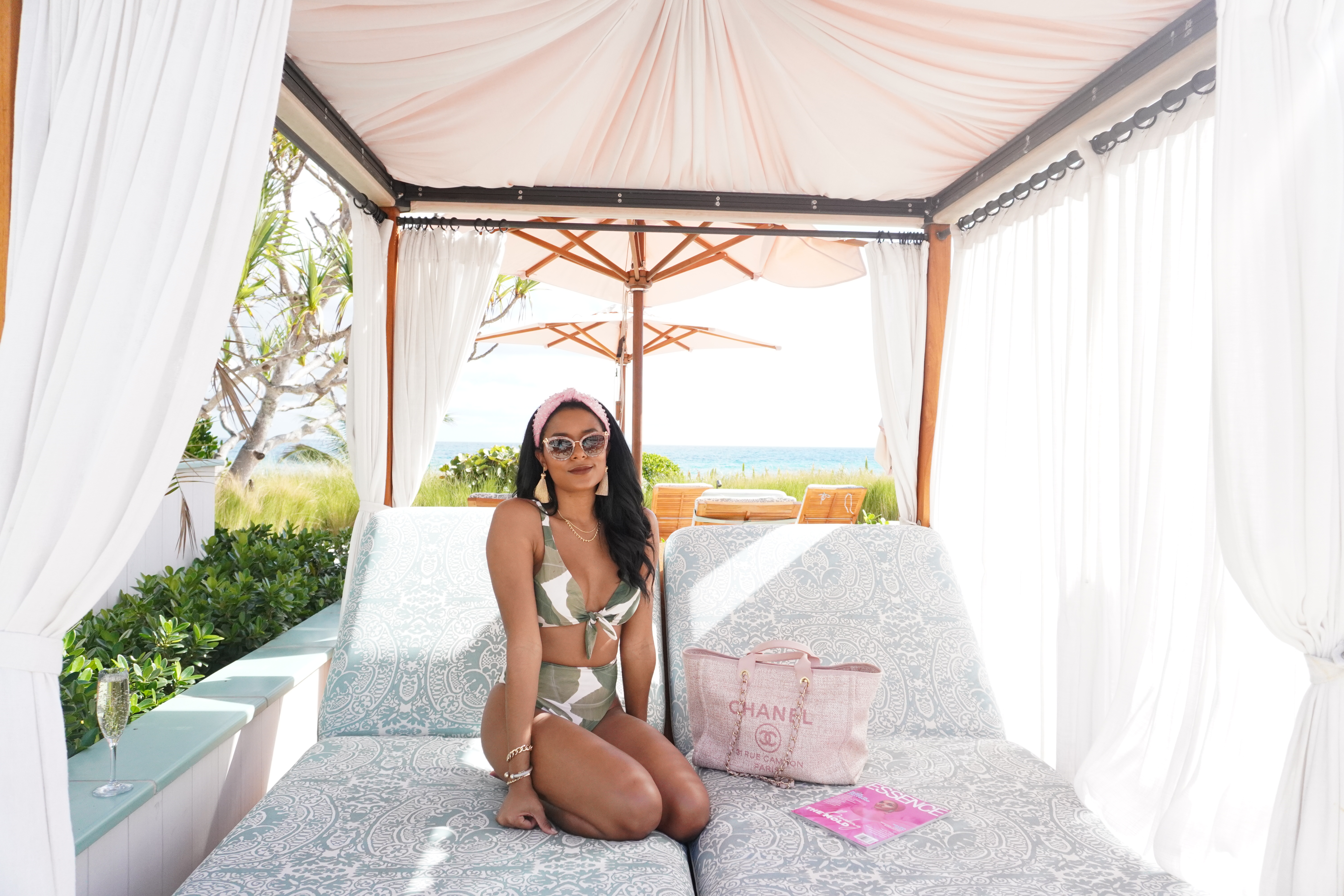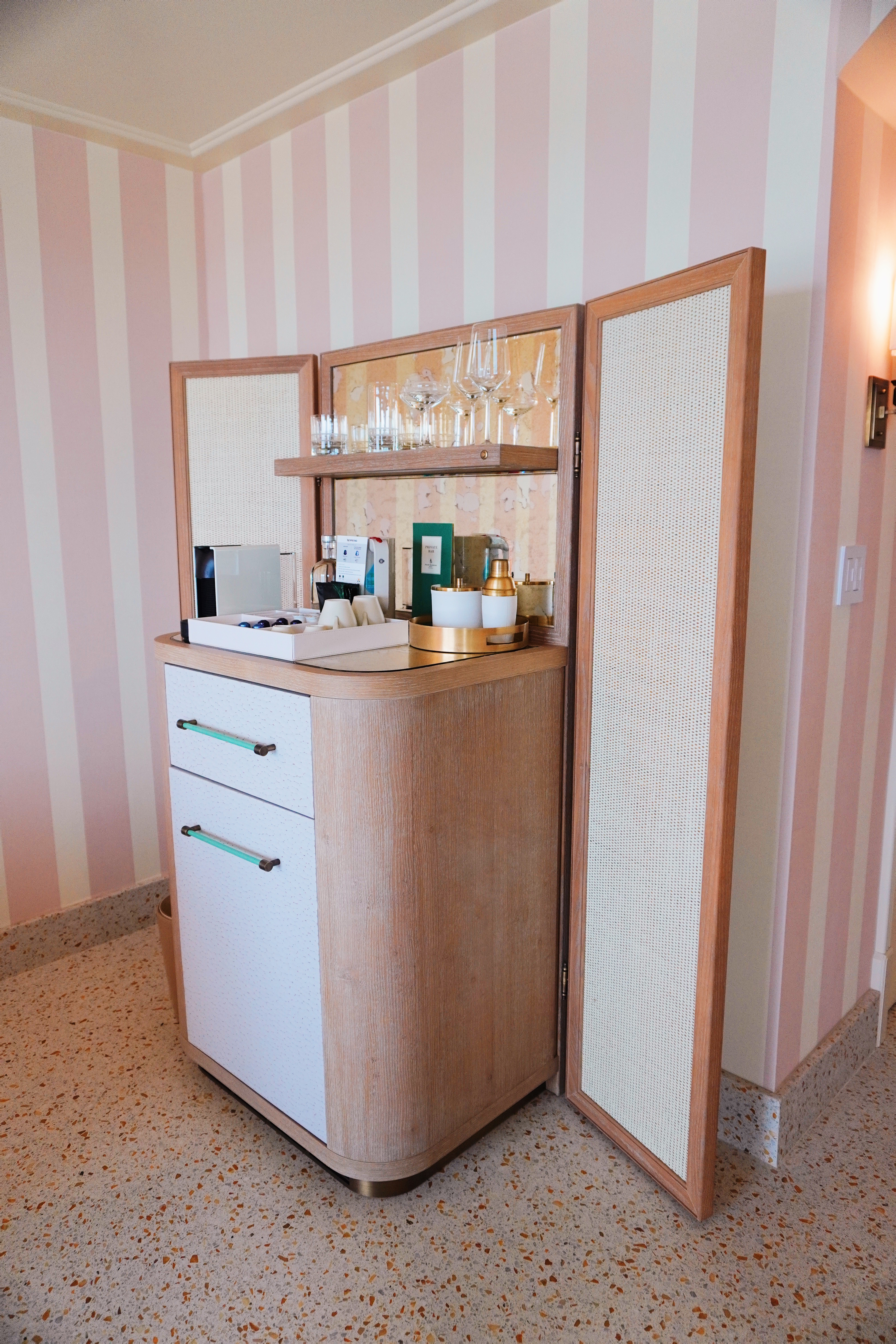 Where to eat:
Breakfast-
The Island Bee- Vegan Café + Juicery; perfect for a quick bite
Field of Greens- Breakfast staples in a relaxed atmosphere
Ta-boo- An ICONIC West Palm Beach Staple that offers Sunday Brunch
Green's Pharmacy- All-day breakfast (well until they close at 3pm) located in a cute, old-fashioned "luncheonette".
Lunch-
Ta-boo- Located in the heart of Worth Avenue, this quaint restaurant is known for seeing + being seen!
Pizza al Fresco- A staple on Worth, this outdoor pizza joint has a relaxed atmosphere and is always crowded. Perfect for a quick bite, or an excuse to sit down for a while after a long day of shopping.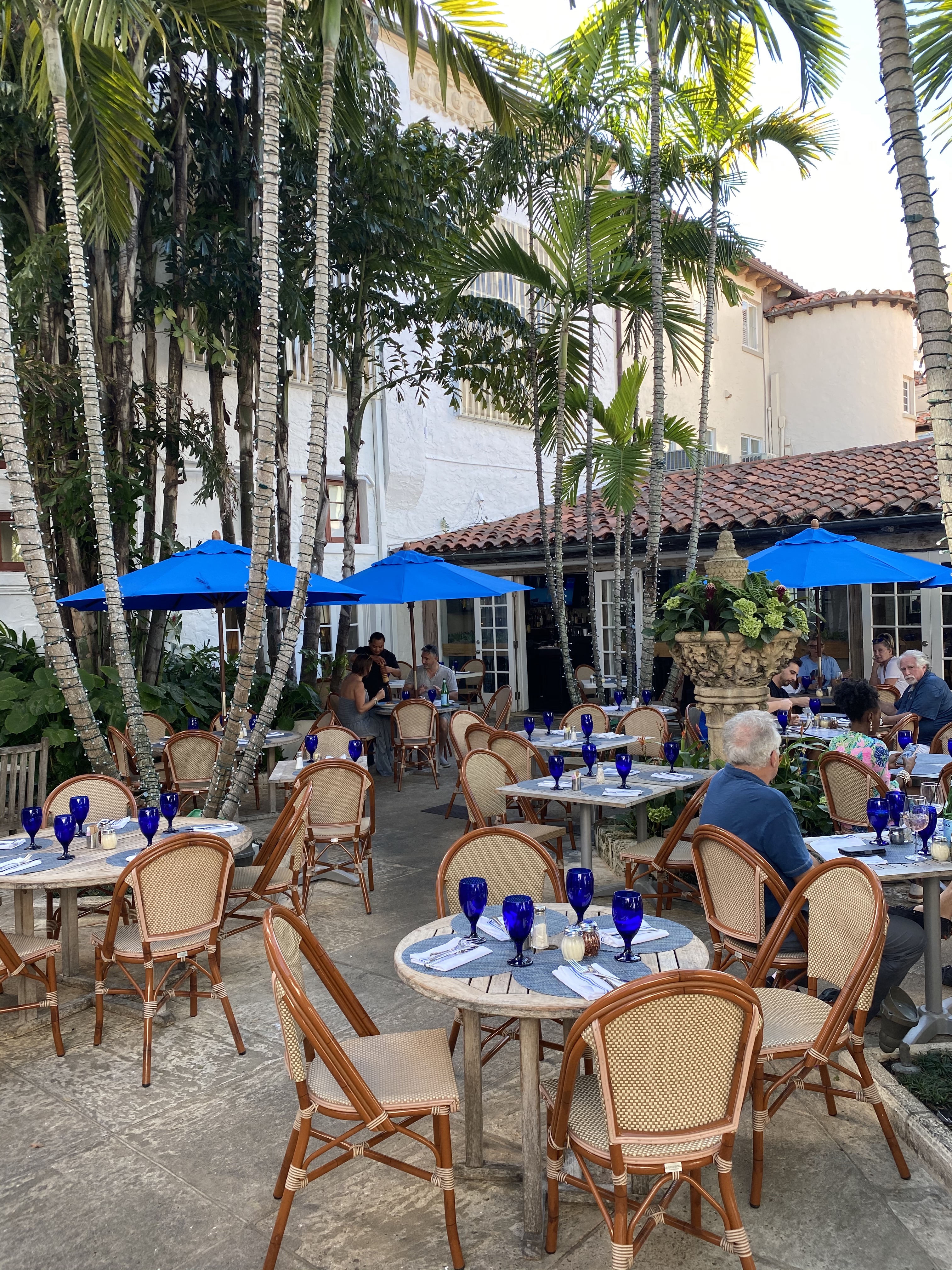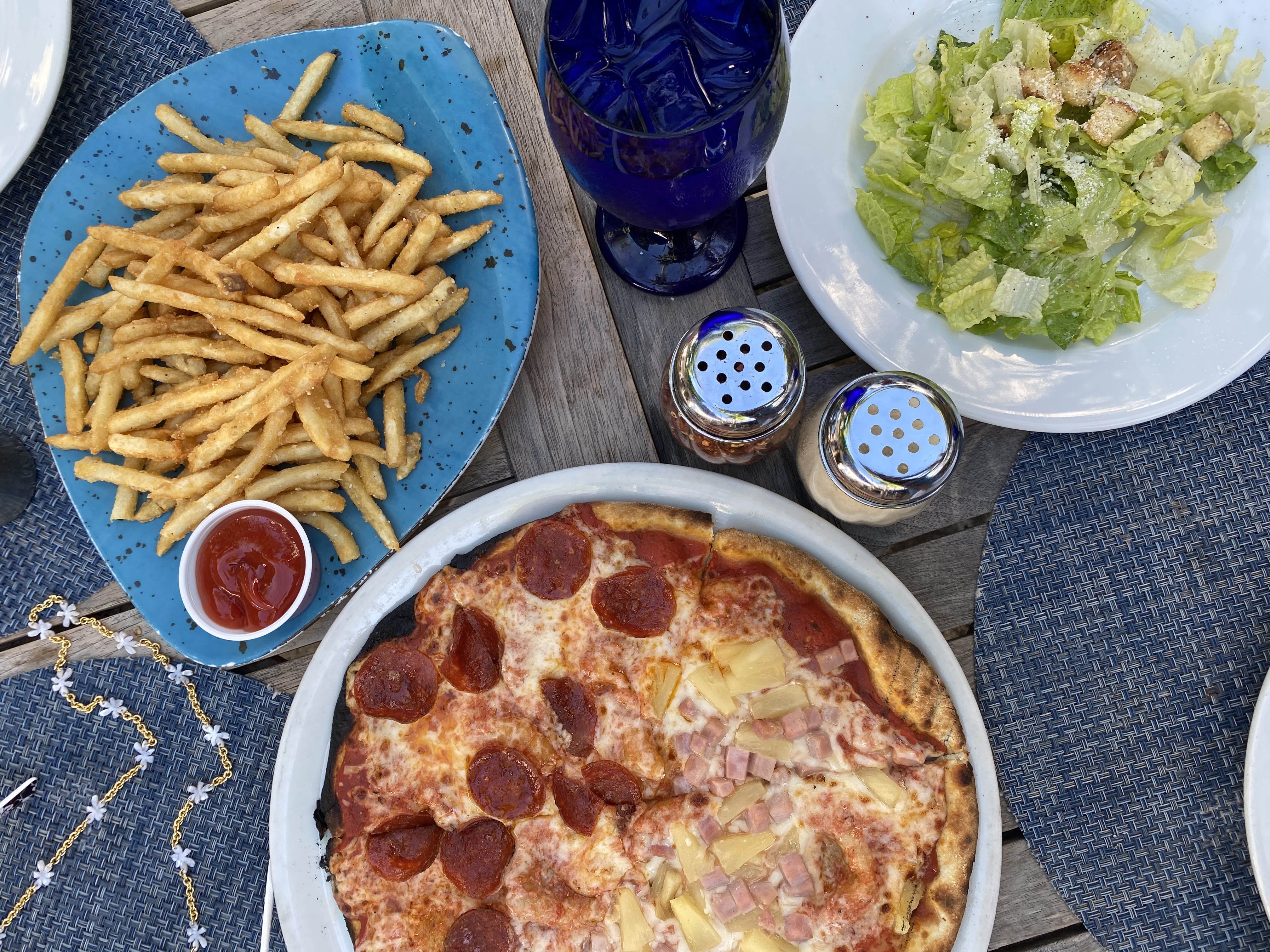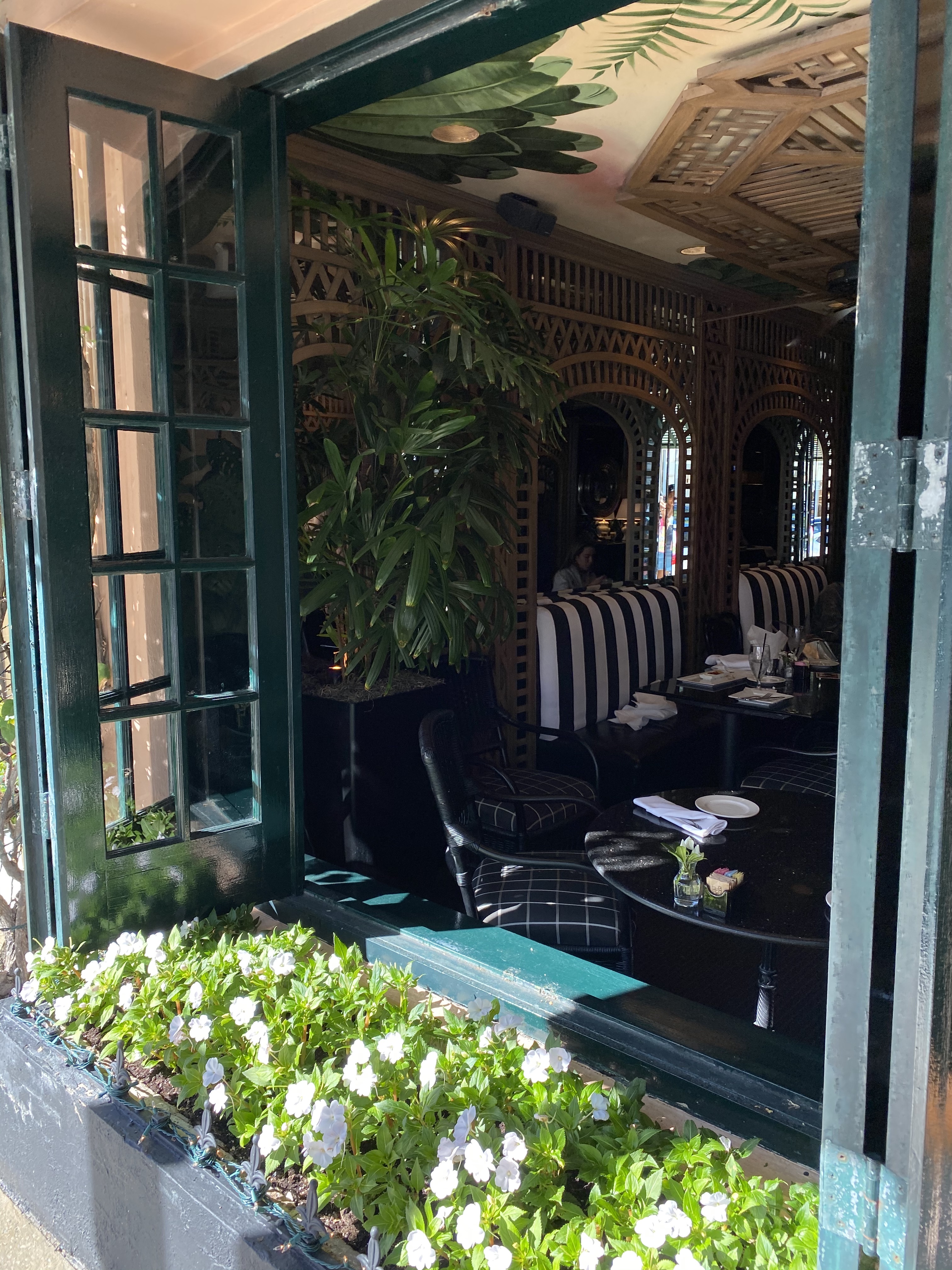 Drinks-
The Colony,  The Breakers or The Brazilian Hotel- if you aren't staying at any of these iconic hotels, planning to grab a drink (at any time of the day) is the perfect excuse to enter and experience what all the fuss is about!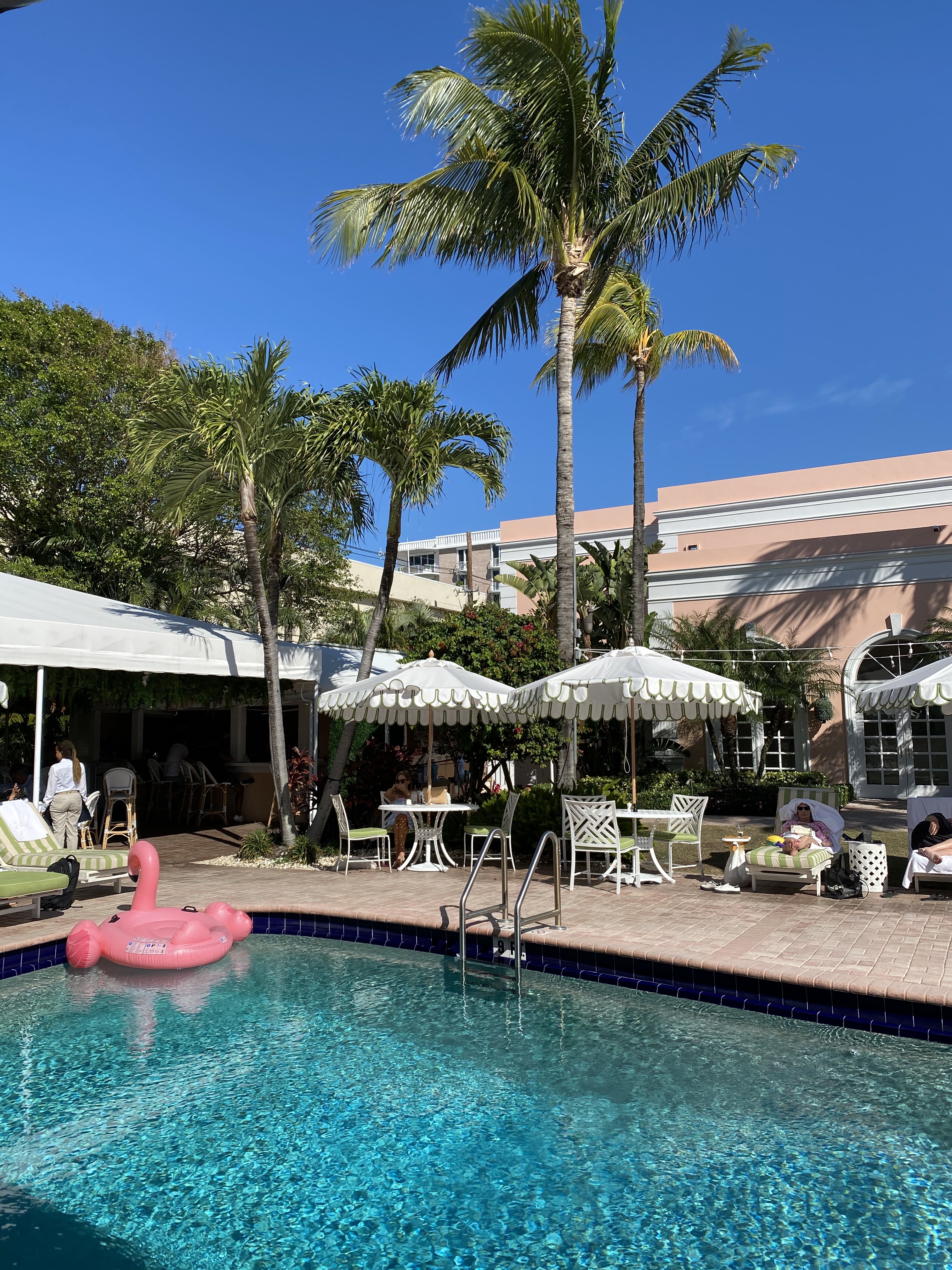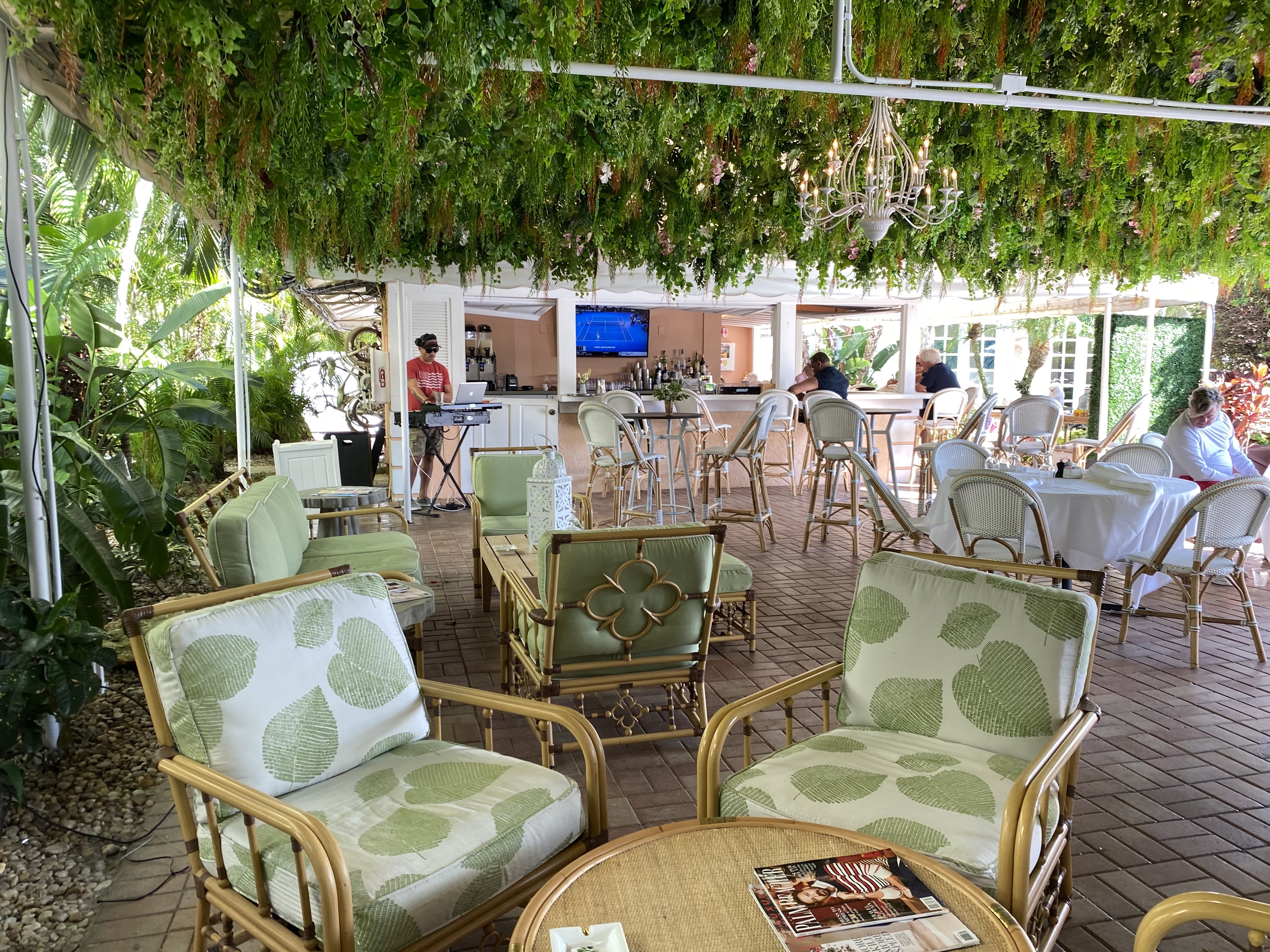 Dinner-
Flories– I typically stay far away from hotel restaurants, but there's an exception to every rule and Flories is that exception. Located inside the Four Seasons, the cuisine here is full of complex, unforgettable dishes. Chef Maurao Colagreo, an Argentine Italian chef from France, does a great job of combining flavors for a sophisticated dining experience. Even if you don't have an "advanced palette" I'm positive you'll love every bite. Totally worth experiencing even if you aren't staying at the hotel.
Buccan- We didn't make it here but every recommendation list I received included it.
Palm Beach Grille- For those nights when you want good food with a New American fare in a super casual setting.
Cafe Boulud- Tucked away in a classic hotel right off of Worth Ave, we chose to take advantage of the courtyard at this French restaurant. They have an extensive wine list, impeccable service and some of the best gnocchi I've ever tasted.
Seafood Bar @ the Breakers- If you aren't staying at the Breakers, it's totally worth grabbing a table here. The seafood is fresh, the view is breathtaking and it's one of the hottest tables in town. They don't do reservations so arrive early, and opt to pop into HMF afterward.
Sant Ambroeus- We didn't make it here either, but as soon as I shared on IG that I was in town the recommendations for this place came rolling in. When I return, this spot will be at the top of my list! **Update: made it here for dinner and it was everything everyone said it would be! Quality, traditional Italian food with exceptional service and chic decor. Would definitely check out their other restaurants in NYC, the Hamptons + Milan.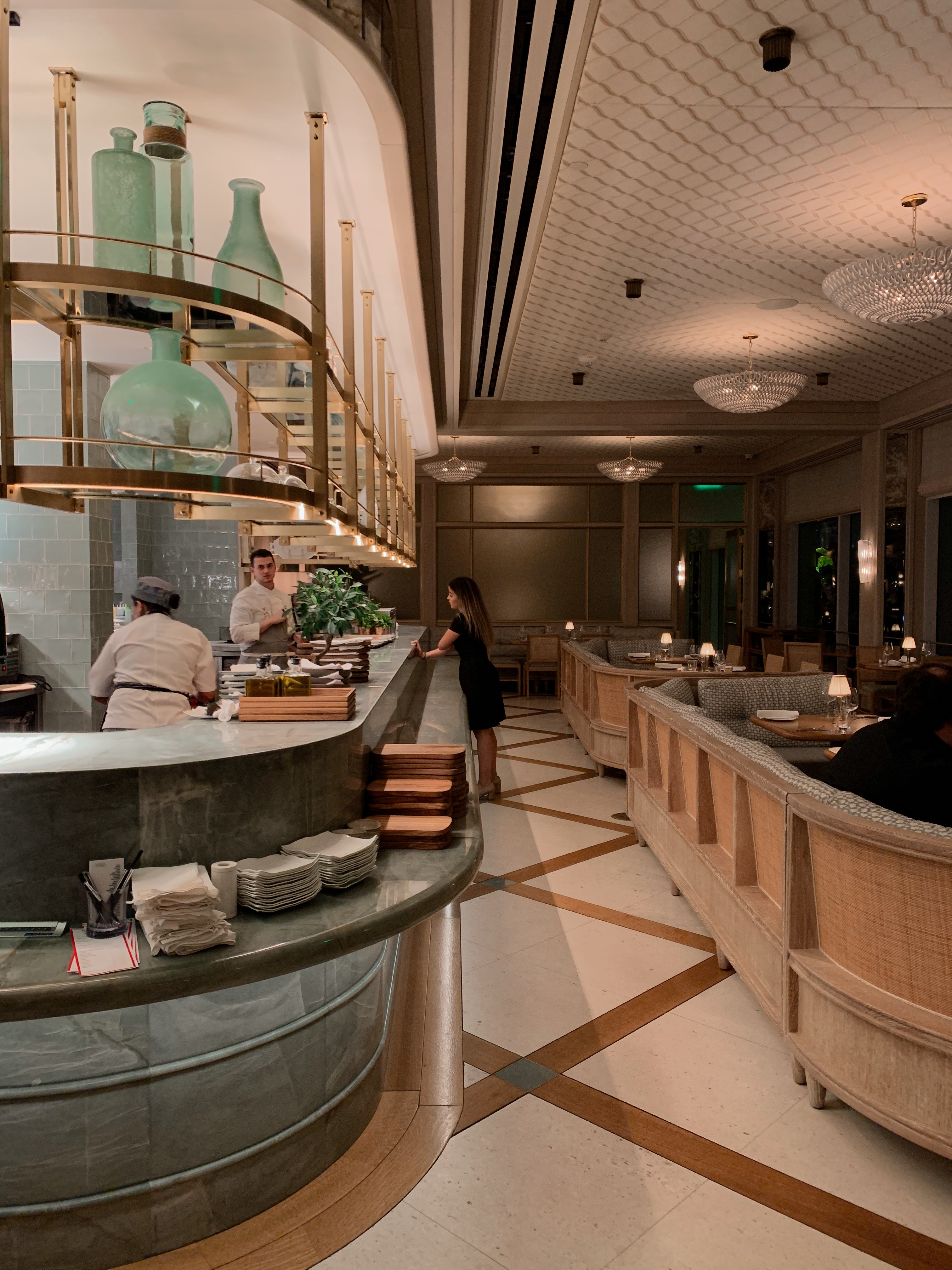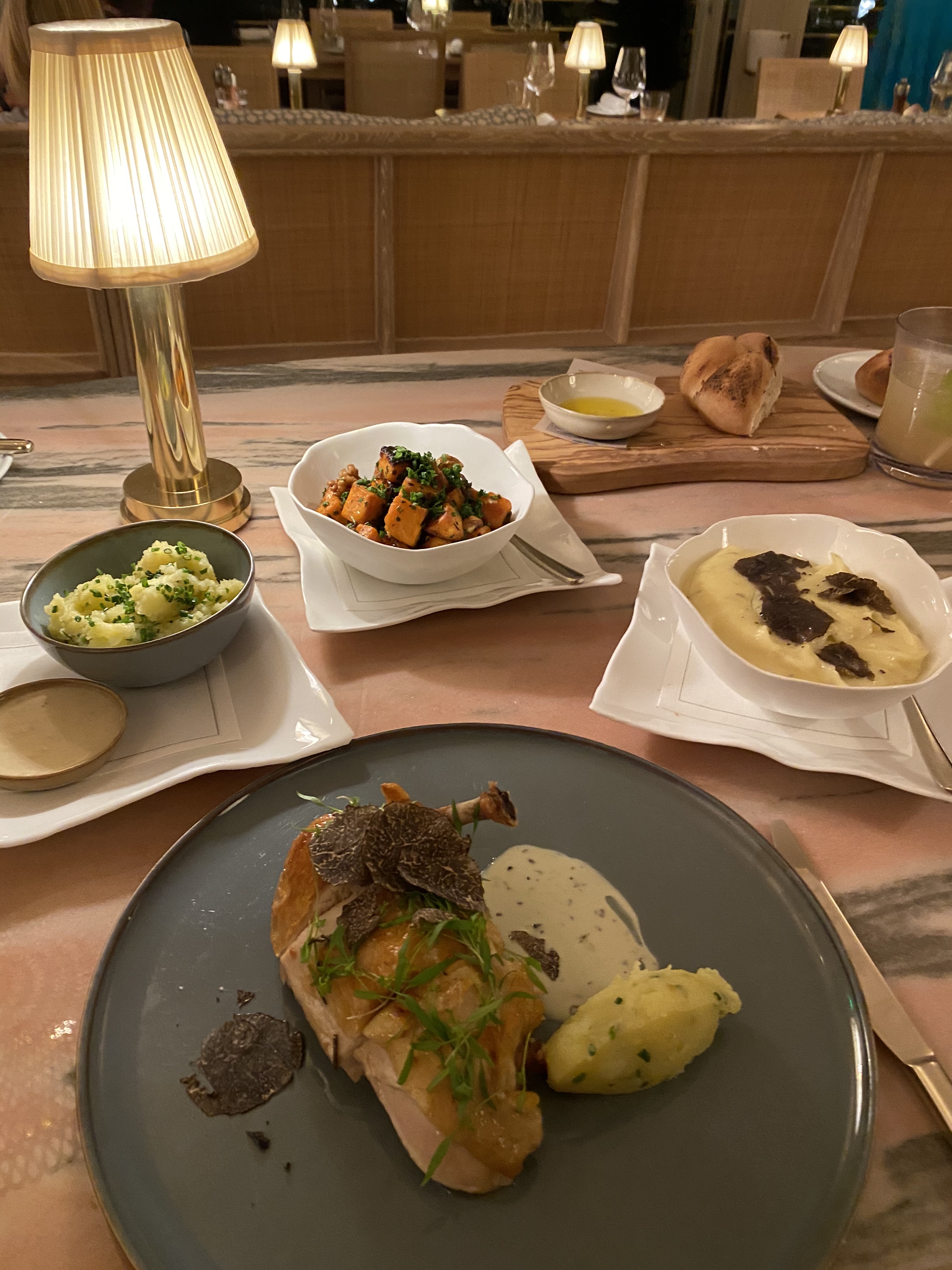 Where to shop:
Worth Avenue- This iconic strip is the heartbeat of WPB! You seriously can't visit this town and not spend hours strolling up and down Worth. There are tons of designer shops + restaurants which makes it the perfect place to people watch. The Colony anchors this street so I suggest parking on the opposite end and walking towards the hotel, stopping at every shop that catches your eye.
Shops you shouldn't miss:
The Lilly Pulitzer flagship! Even if you aren't a huge LP fan, this store is still worth popping into. WPB is where Lilly began that famous juice stand, and eventually, her iconic prints. The shop is a nod to her joyful style that has become the uniform of the town!
Il Papiro! Known as one of the last paper companies that use the ancient technique of marbling, I discovered this shop while in Florence, Italy. But I had NO IDEA they had a U.S. presence until I stumbled upon it on Worth (I quickly learned that this is their ONLY store in the Western Hemisphere). If you're a sucker for quality stationary like me, but don't have plans to visit Italy anytime soon I highly suggest making sure you hit this spot up.
CJ Laing! Tucked away on Via Mizner this shop is filled with colorful, contemporary apparel and accessories that exude luxury and PB style. Originally known for curating embroidered apparel, the brand has reimagined their inventory to include an array of linen, cashmere and patterns. It's where all the cool girls shop in WPB!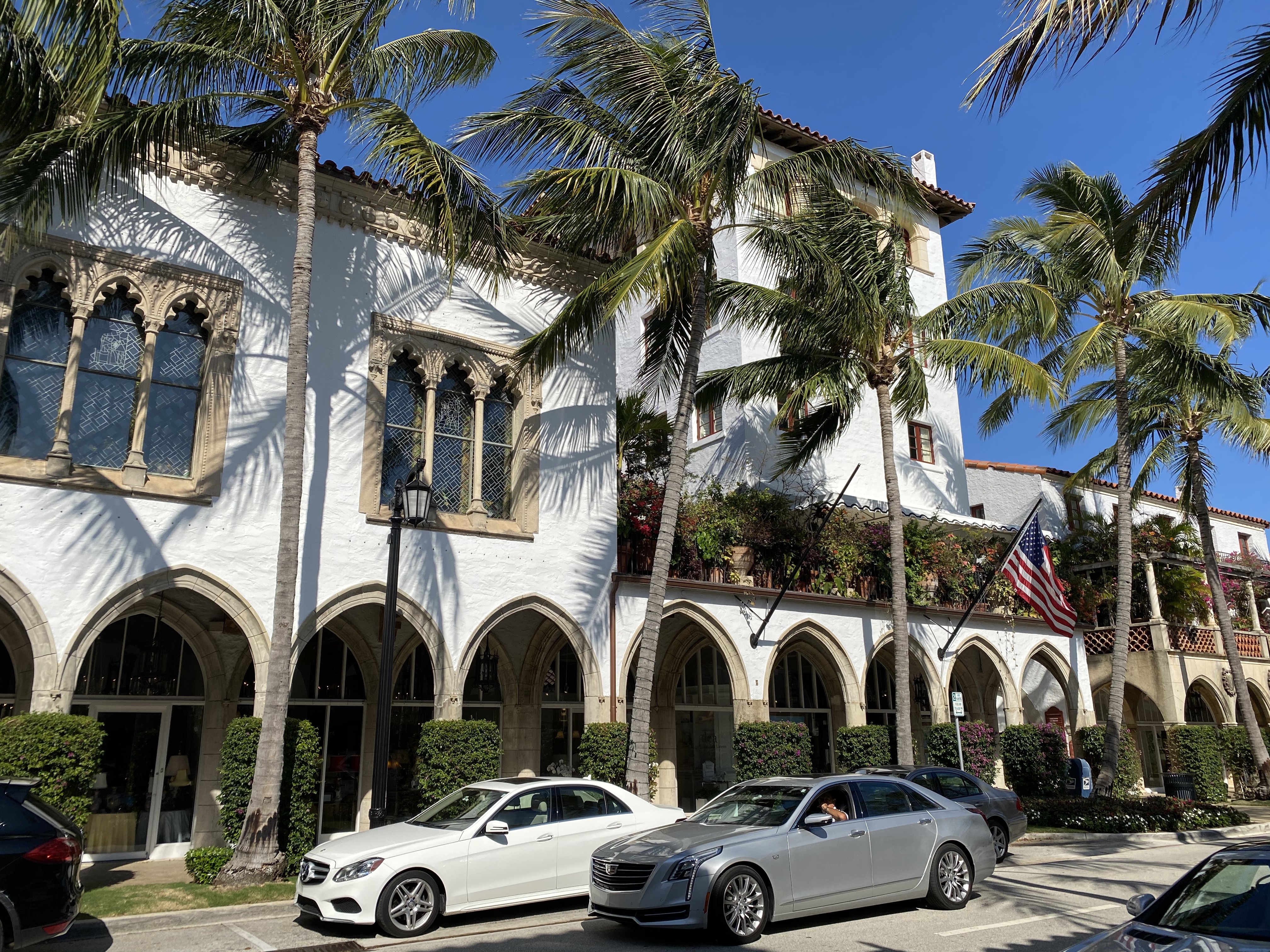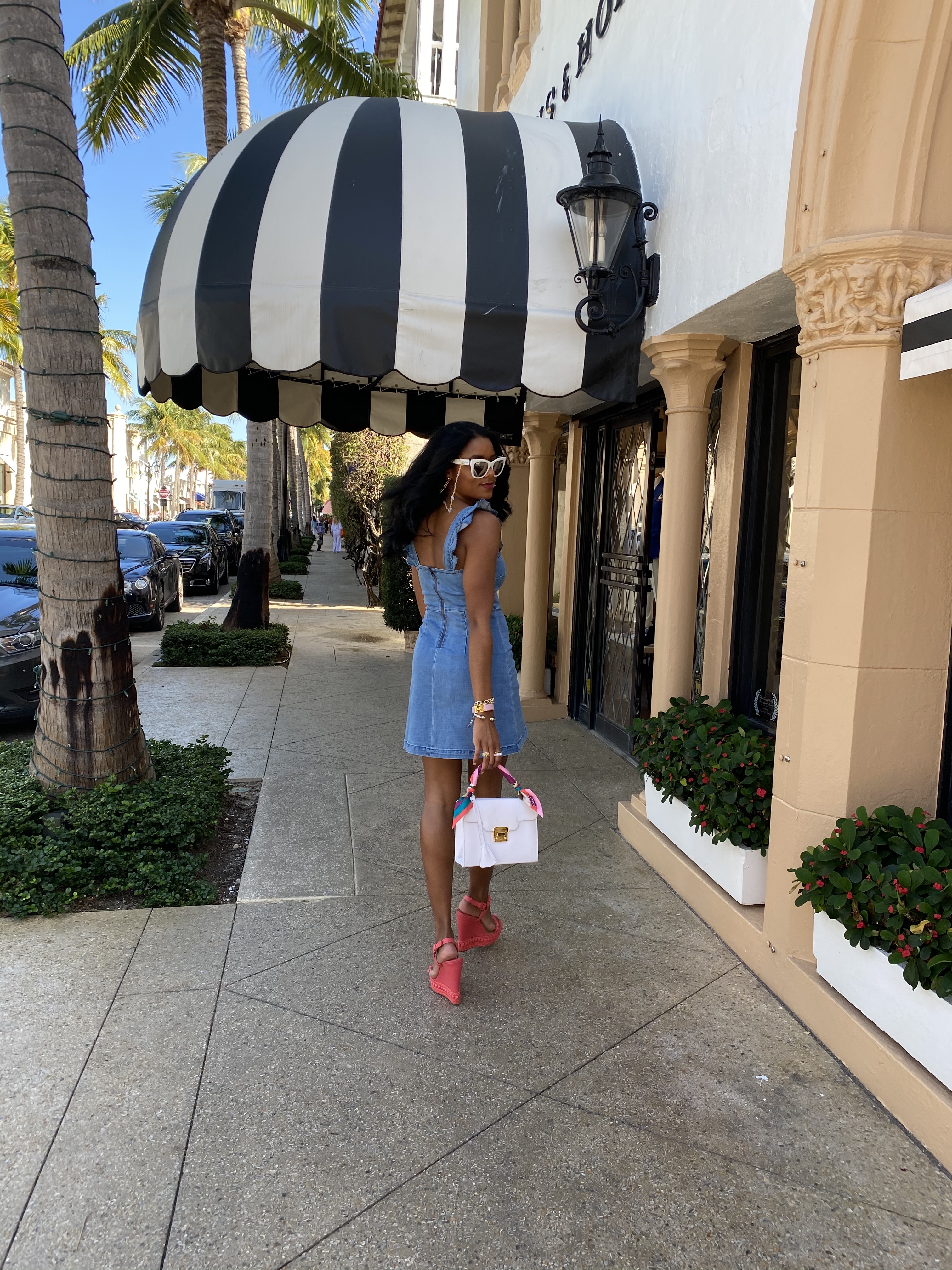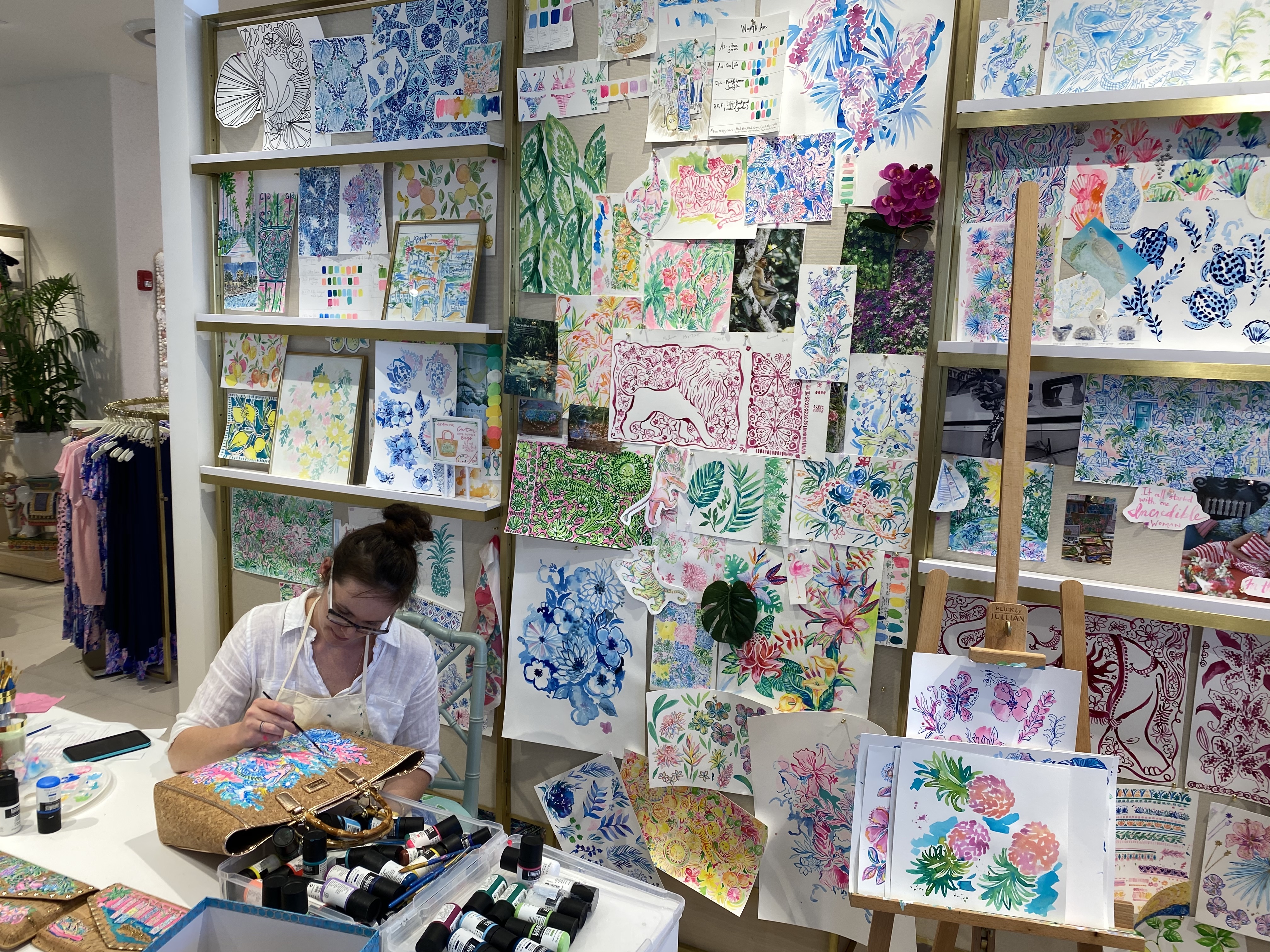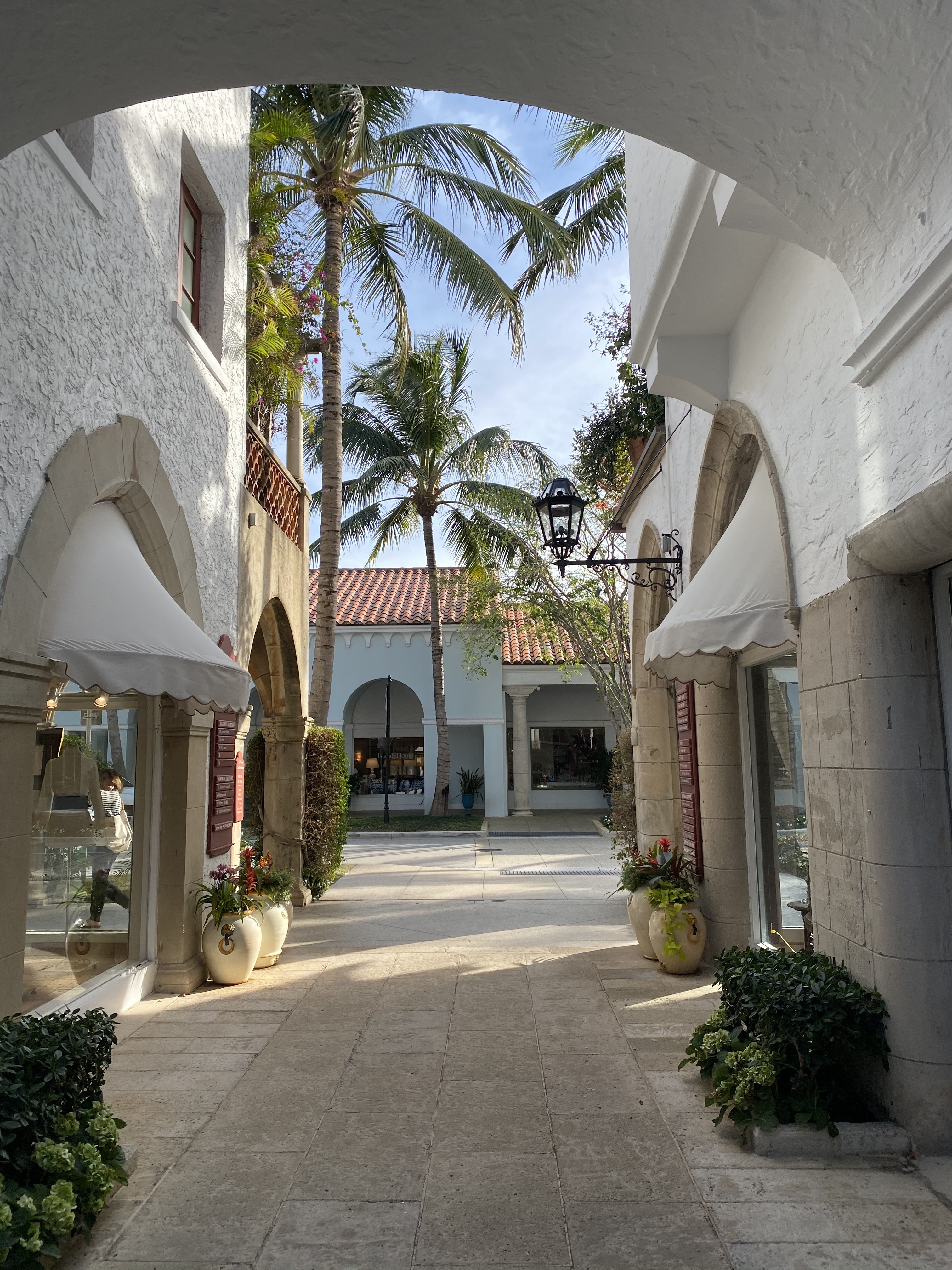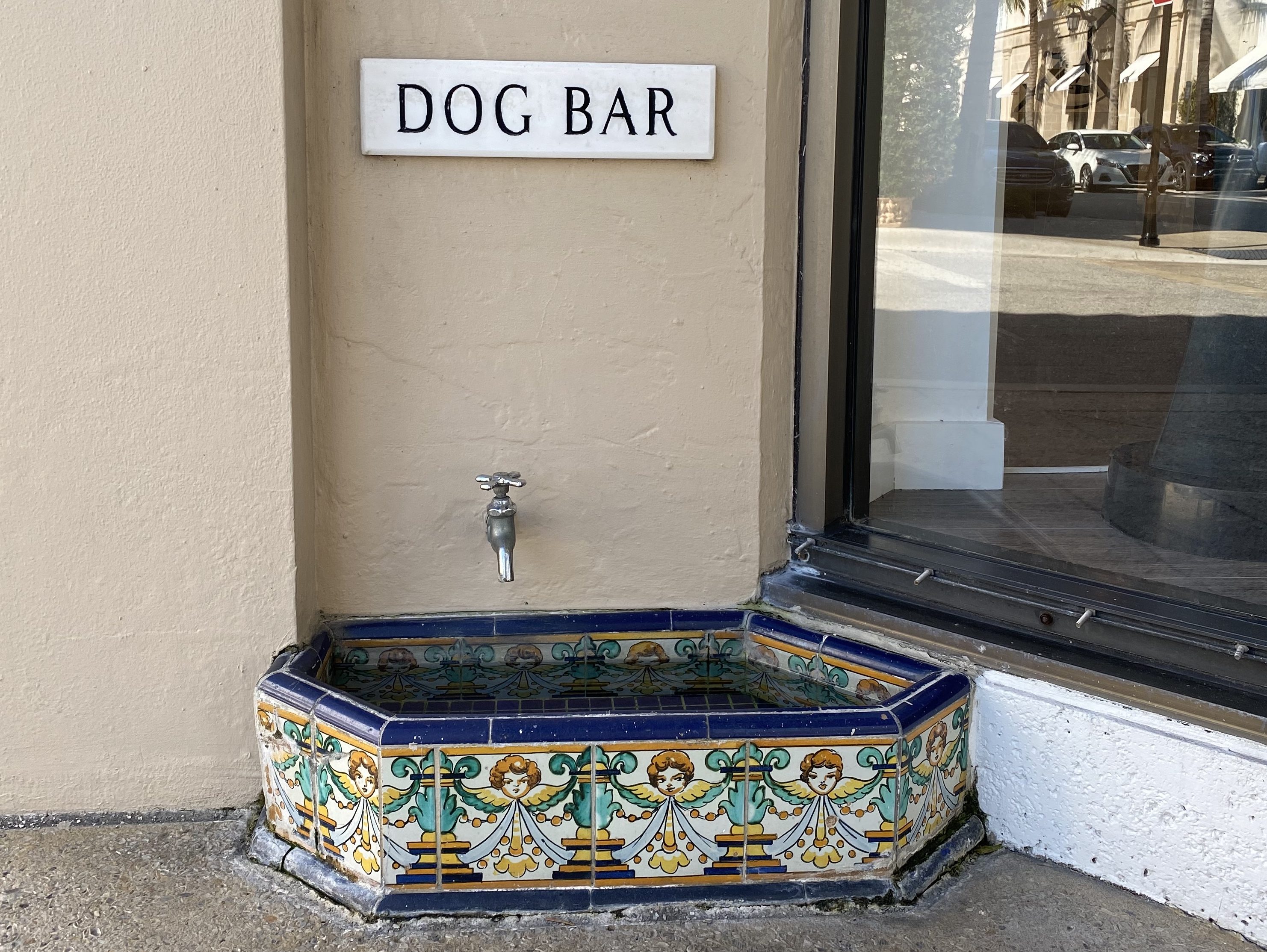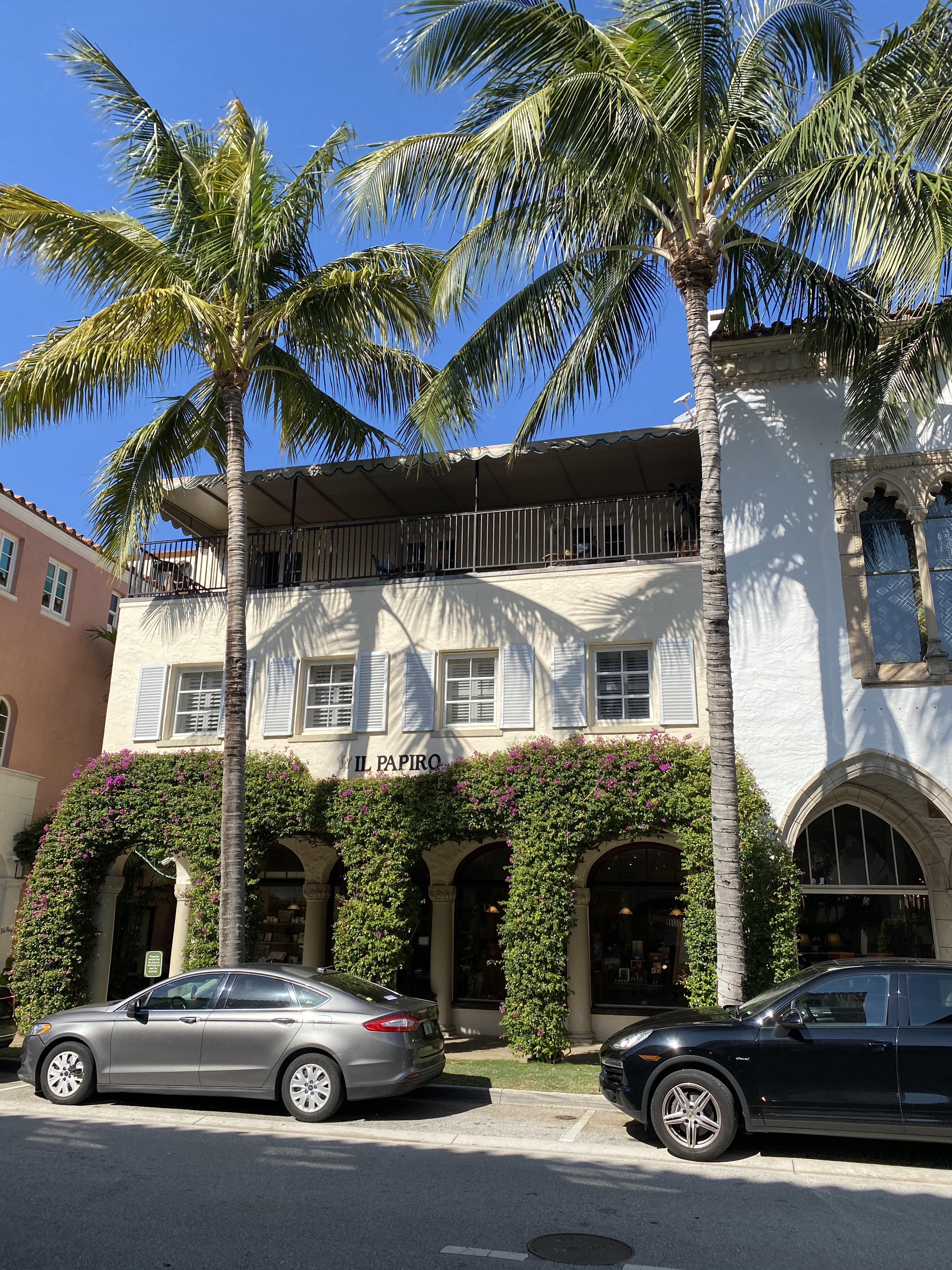 The Royal Poinciana Plaza- Recently renovated, this luxurious outdoor mall is home to dozens of designer shops and restaurants surrounded by lush greenery and gorgeous black + white tiled floors.
Shops you shouldn't miss:
Renny & Reed! Known all over Palm Beach (and NYC) for over-the-top event design, this shop is their Palm Beach home! If you're looking to send a gorgeous flower arrangement to anyone in the area, or just in the mood to see some gorgeous blooms..pop in! You're sure to get all the feels here!
Stoney Clover Lane!  Apparently I'm the last person in the world to discover Stoney Clover, but I finally did and of all places in Palm Beach. Here you can totally personalize travel accessories + other essentials (like totes, duffles and backpacks) with a variety of patches. I left with 2 birthday gifts that my friends LOVED, but now I think I need something for myself. Lol
Assouline Palm Beach! I LOVE coffee table books, but living in SC means I typically find mine at Barnes & Noble. Assouline is a world-renown publisher of some of the most opulent books and this shop is one of only 7 in the U.S. Here you can lay your eyes on some of the most expensive books in their collection (think $600+ for a book) with the help of a white-gloved employee.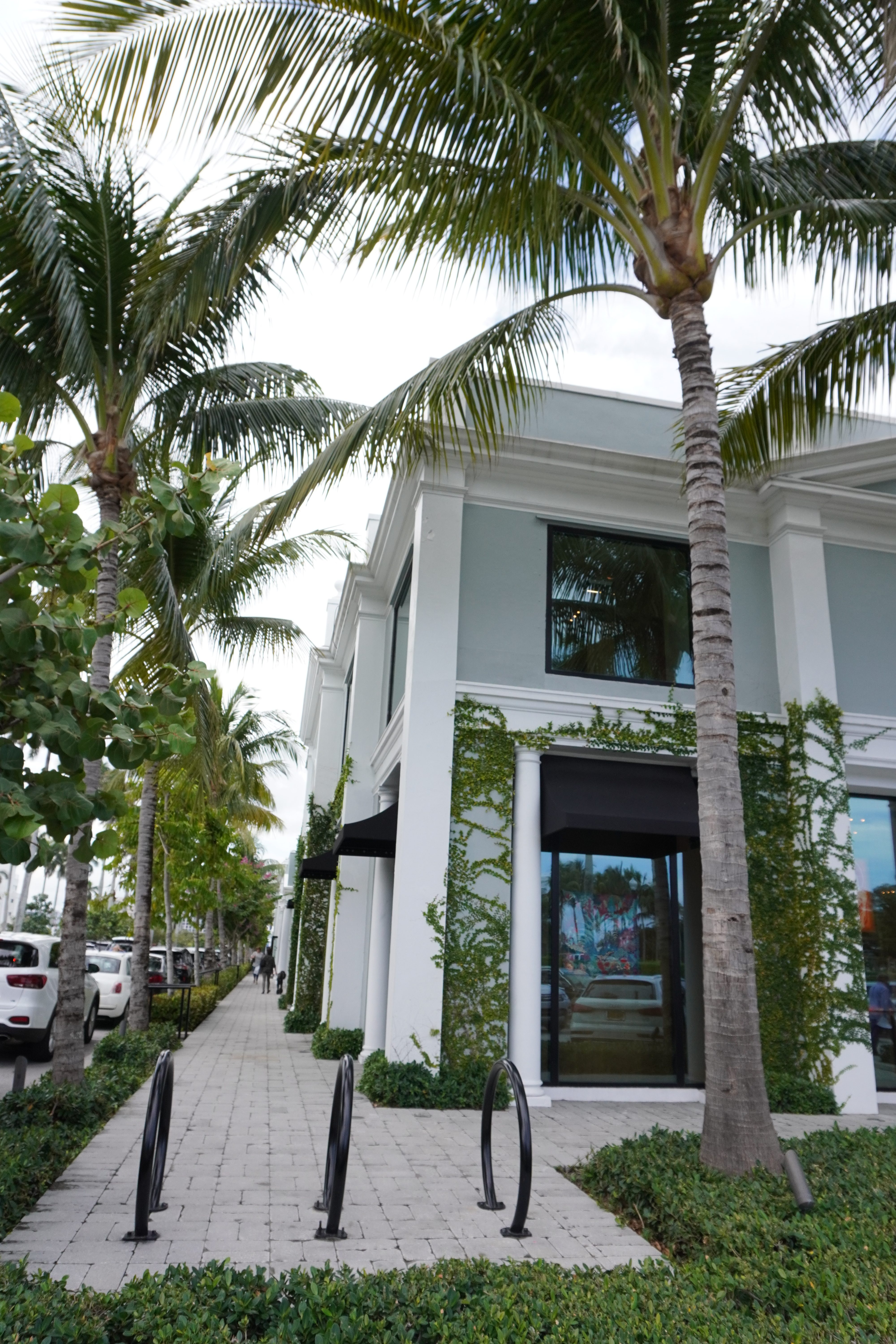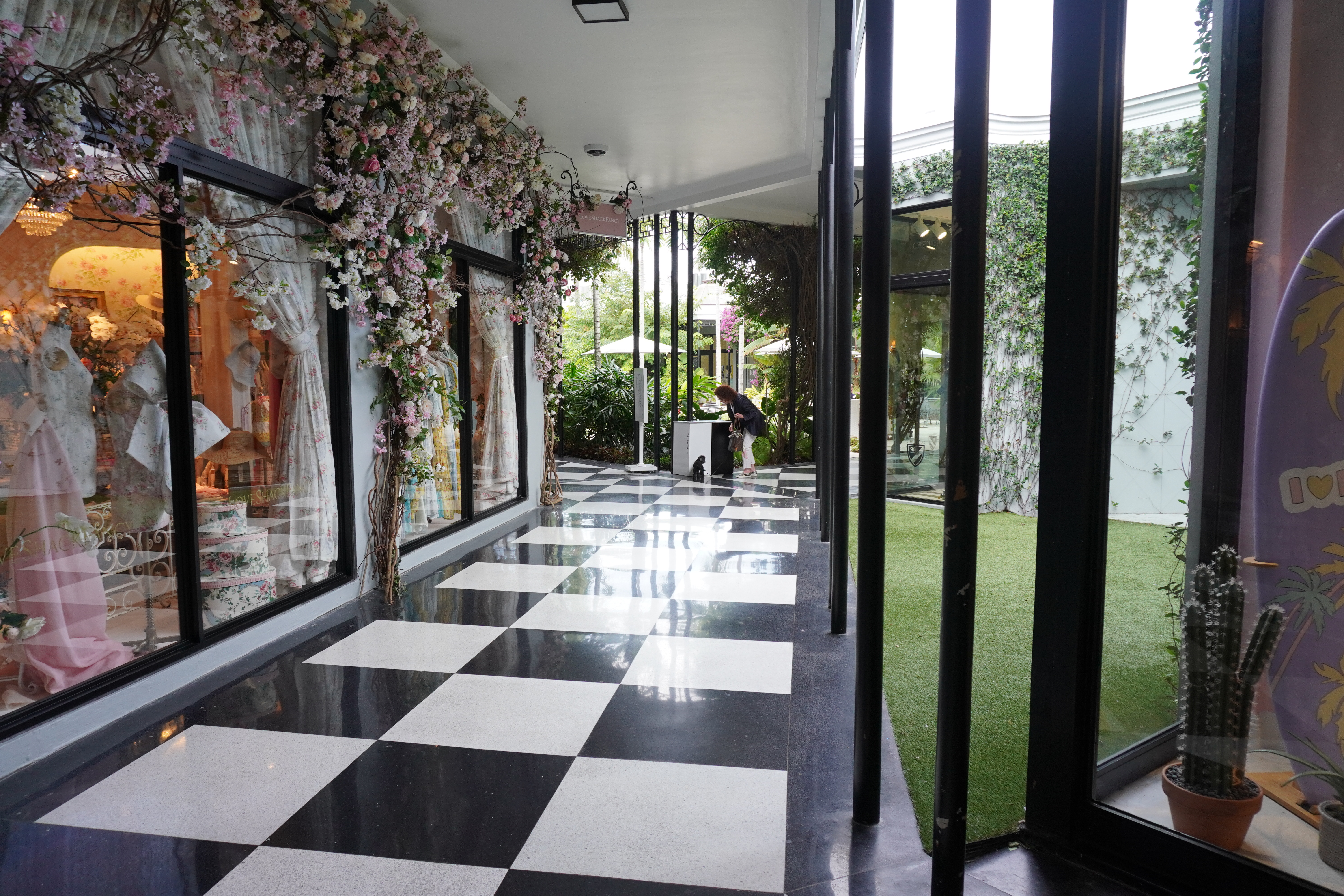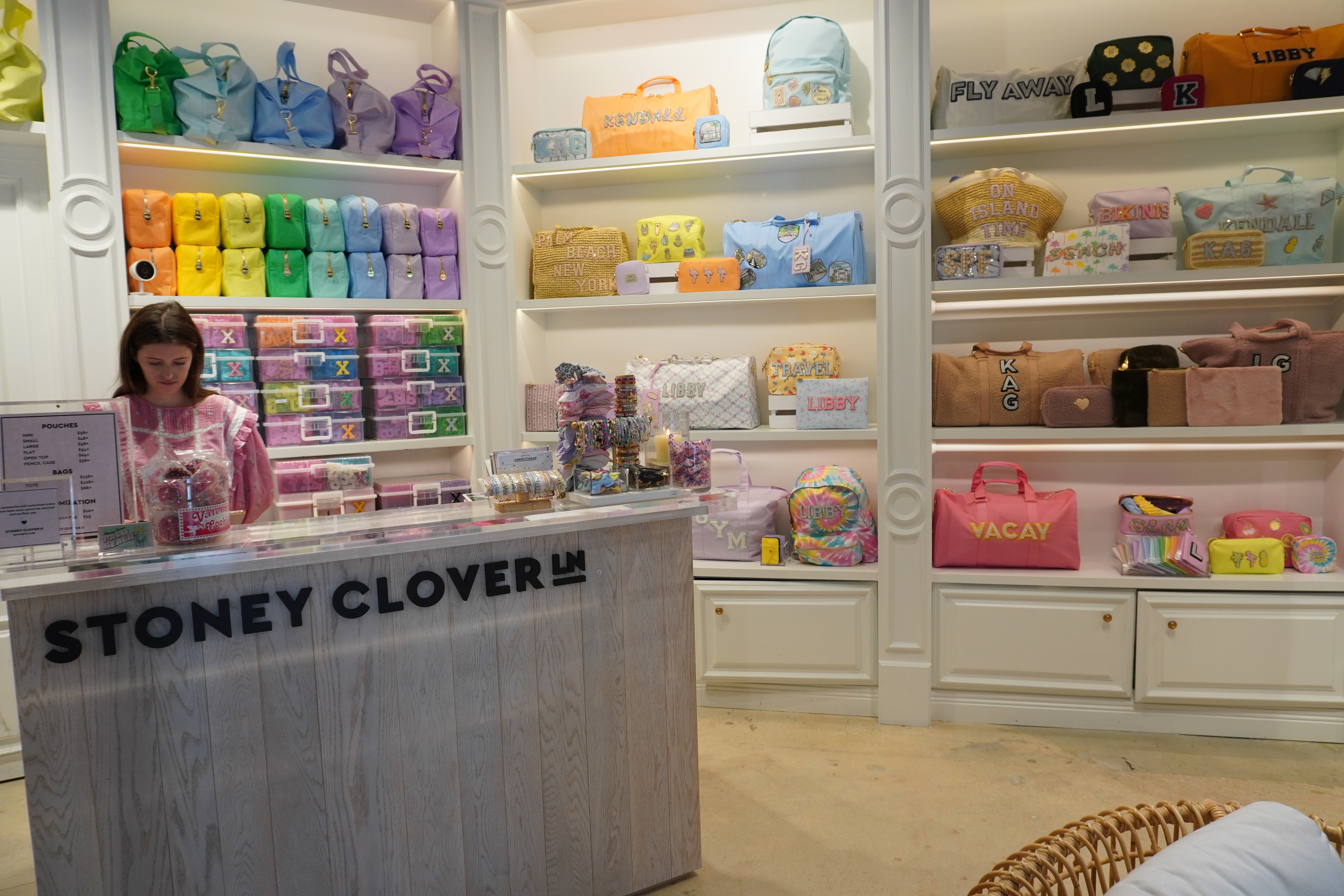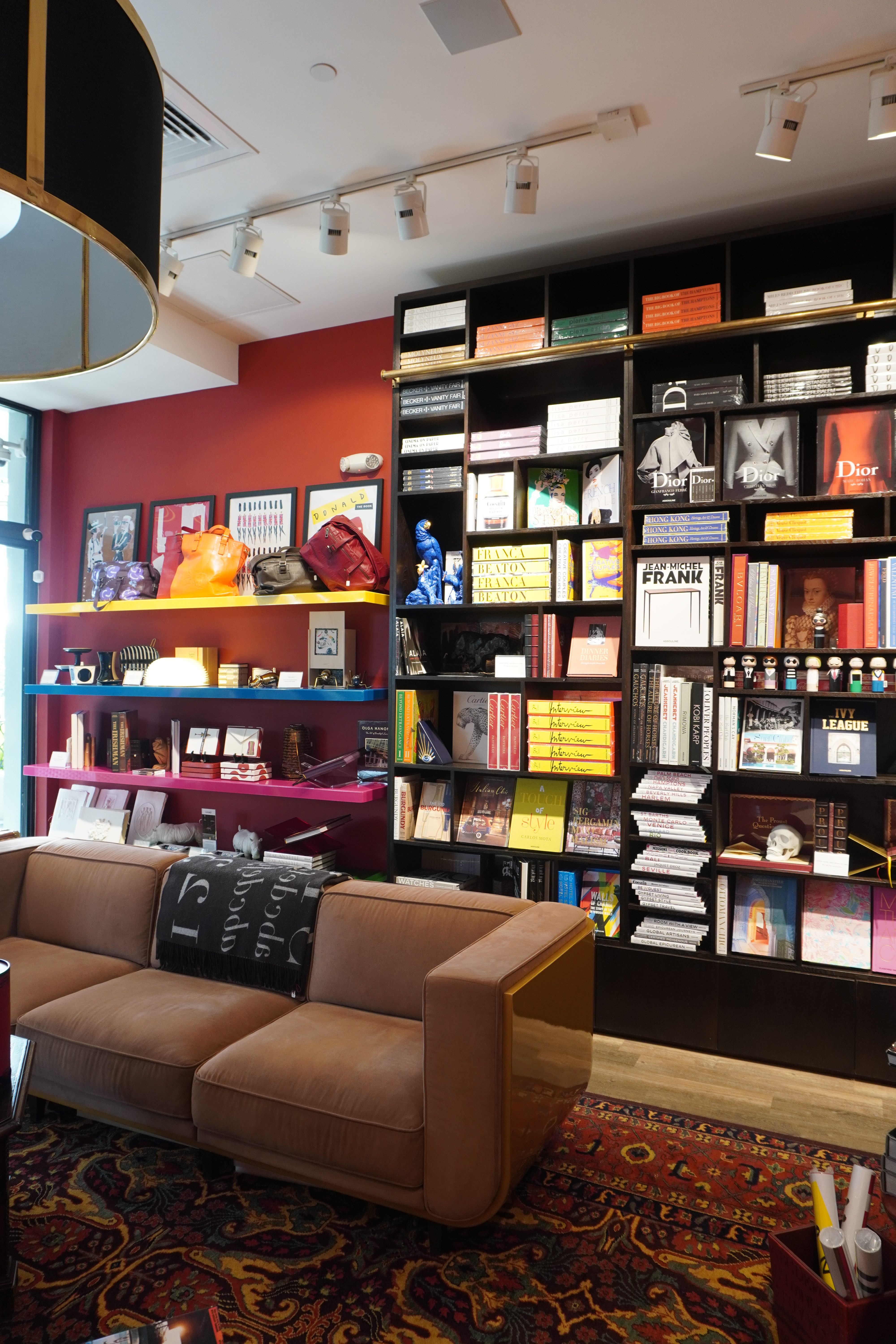 North County Road- At first glance you wouldn't expect this unassuming road to be home to a variety of shops. But after spending some time here we quickly realize we did NOT schedule enough time to explore. Make sure you add this to your list and give yourself more time that we did.
Shops you shouldn't miss:
Classic Collections of Palm Beach! Y'all know how much I LOVE vintage shopping so I was so happy to have stumbled across this place. While I didn't walk away with any treasures, their collection of vintage was impressive. But then again, how could it not be when they're located in a town filled with (super wealthy) fabulous women. Come for Chanel, but stay for the accessories.
Serena & Lily's Design Shop! When we arrived the shop was closed and it broke our hearts. But that didn't stop up from peering into the window for like 10 minutes. There was so much to be seen and all we wanted was to enter. And since our trip, the ladies over at "Palm Beach Lately" have  partnered with the design shop to reimagine a suite at the Colony Hotel with items you can find at here.
The Skinny Dip Palm Beach! We have a SkinnyDip in Charleston so I wasn't pressed to visit this one (why see something here that I can get at home), but we bit the bullet and visited and I was so happy we did. Sure, they're very similar but the Skinny Dip does a great job of conforming to their surroundings. Here I found my one and only souvenir from the trip: my Palm Beach sweater, and discovered a line for hats that one day I hope to add to my collection.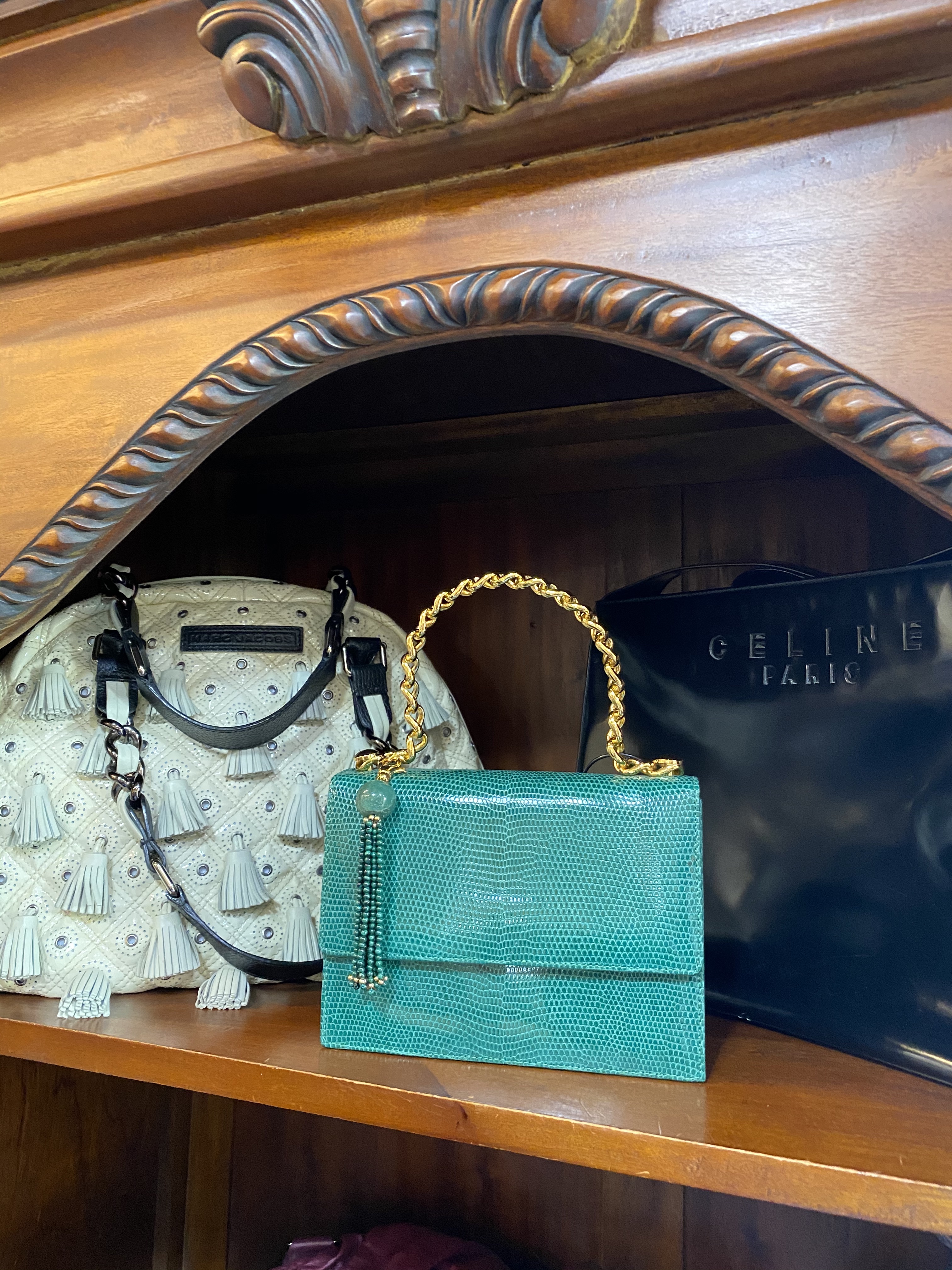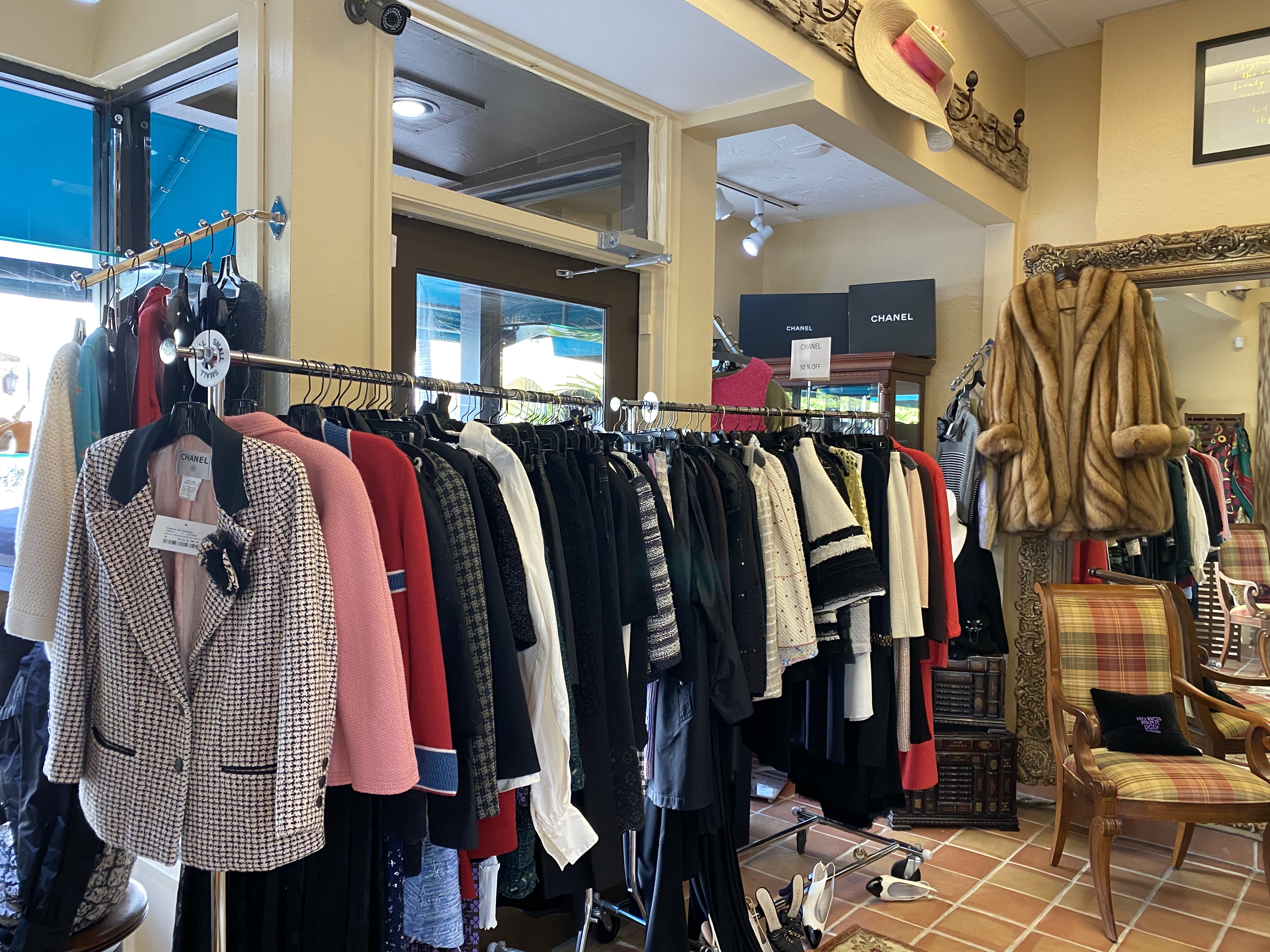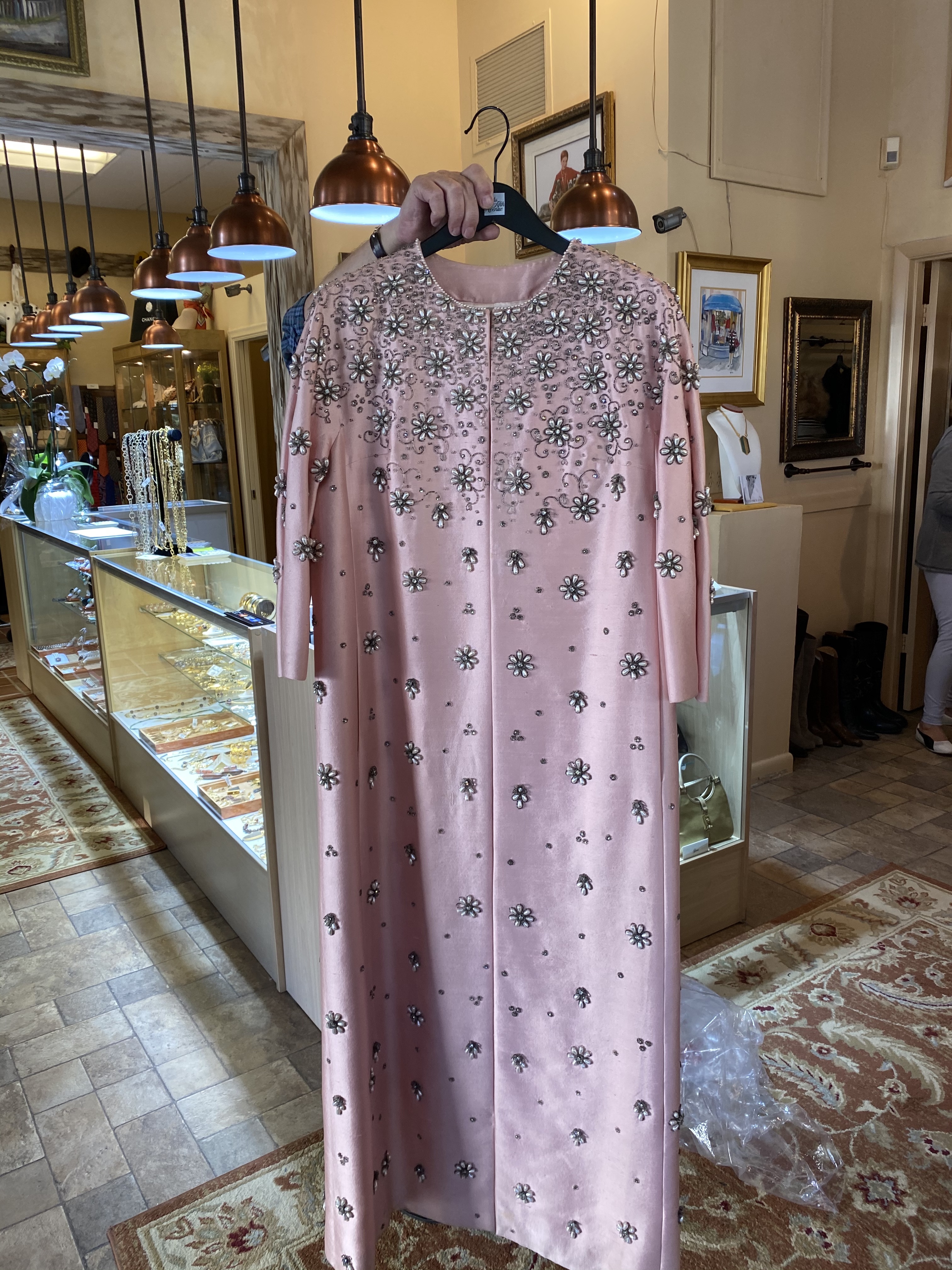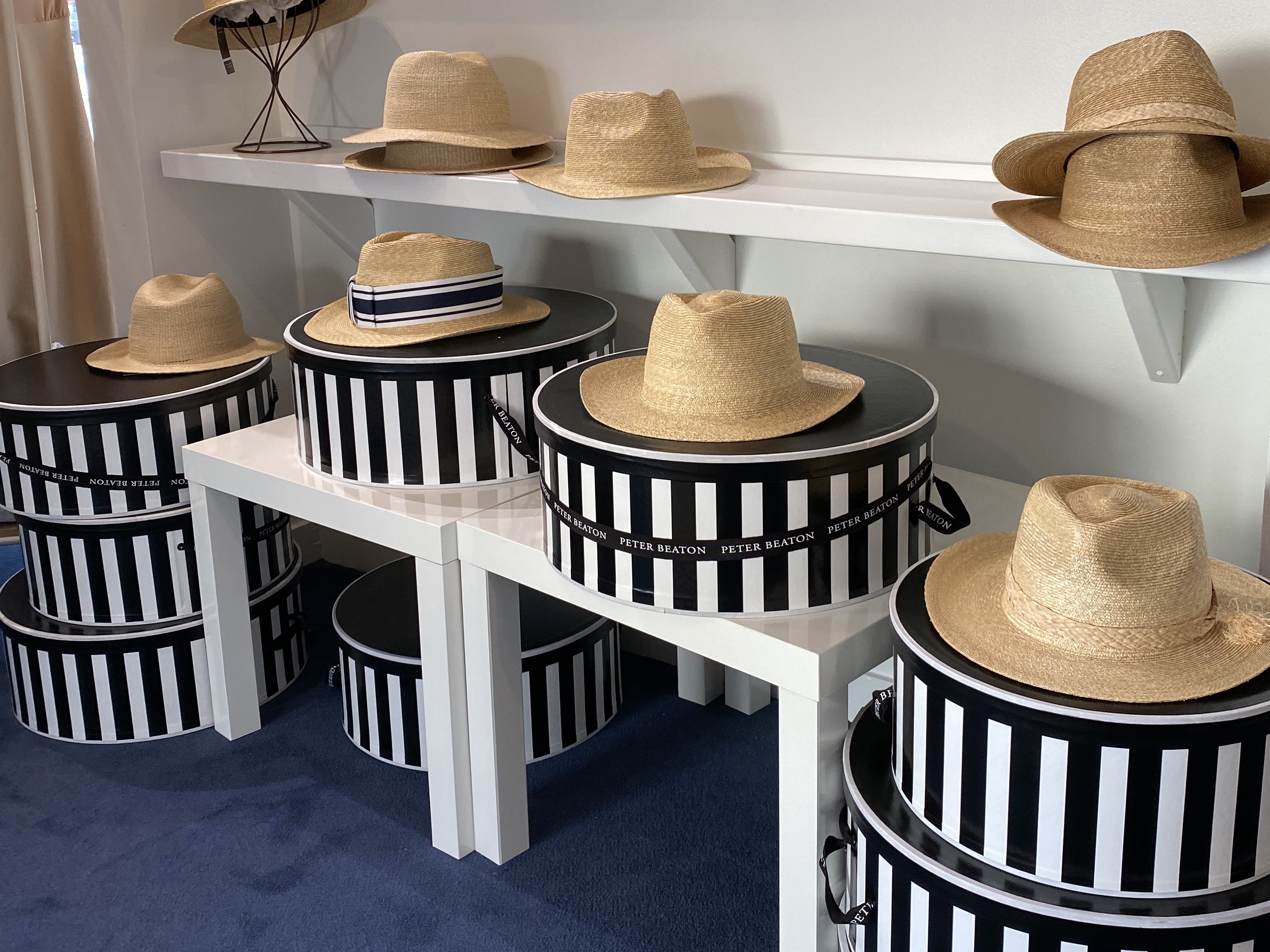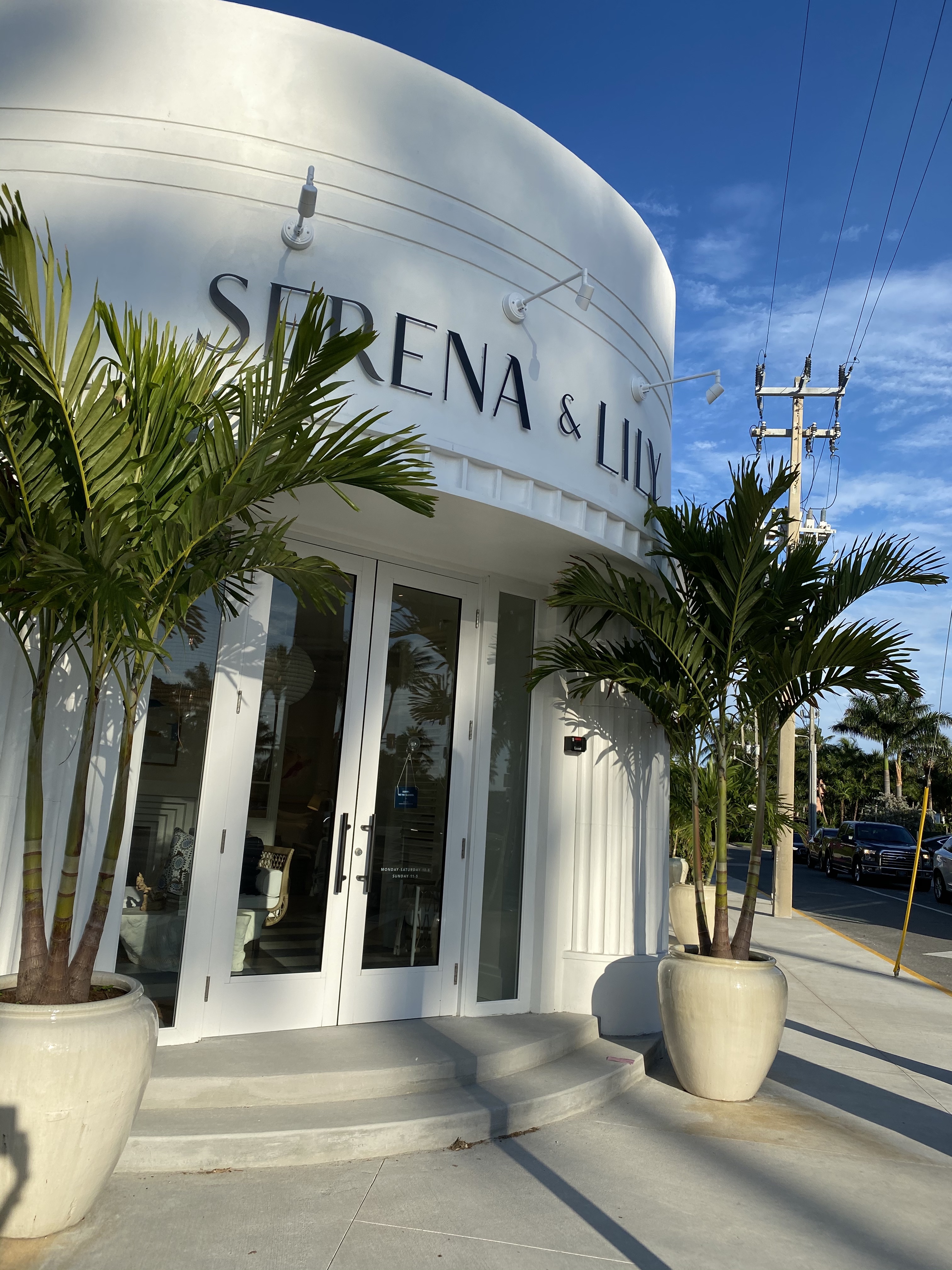 Antique Row- Located across the bridge in the city of Palm Beach, Antique Row is a famous strips of vintage apparel + home decor shops. You can spend hours roaming the street, going in and out of shops discovering treasures from yesteryear. If you're even somewhat interested in vintage anything, you won't want to miss it.
Shops you shouldn't miss:
Palm Beach Vintage! A must if you're in the area! This shop is female-owned by a woman that is passionate and knowledgeable about all things vintage clothing/accessories. Her collection is extensive, spans across several decades…and most importantly is reasonable in price. I snagged an Oscar de la Renta skirt for just over $100 and a super cute top-handle purse from the 60s for like $40.
D. Brett Benson! Never in my life have I come across such fabulous jewelry. The more I roamed around the shop, the more pieces I found that I couldn't live without. Unfortunately for me, the price point was a bit high and I just couldn't justify it, but there are a pair of acrylic earrings that I came across that I legit haven't stopped thinking of.
    Dina C's Fab and Funky Consignment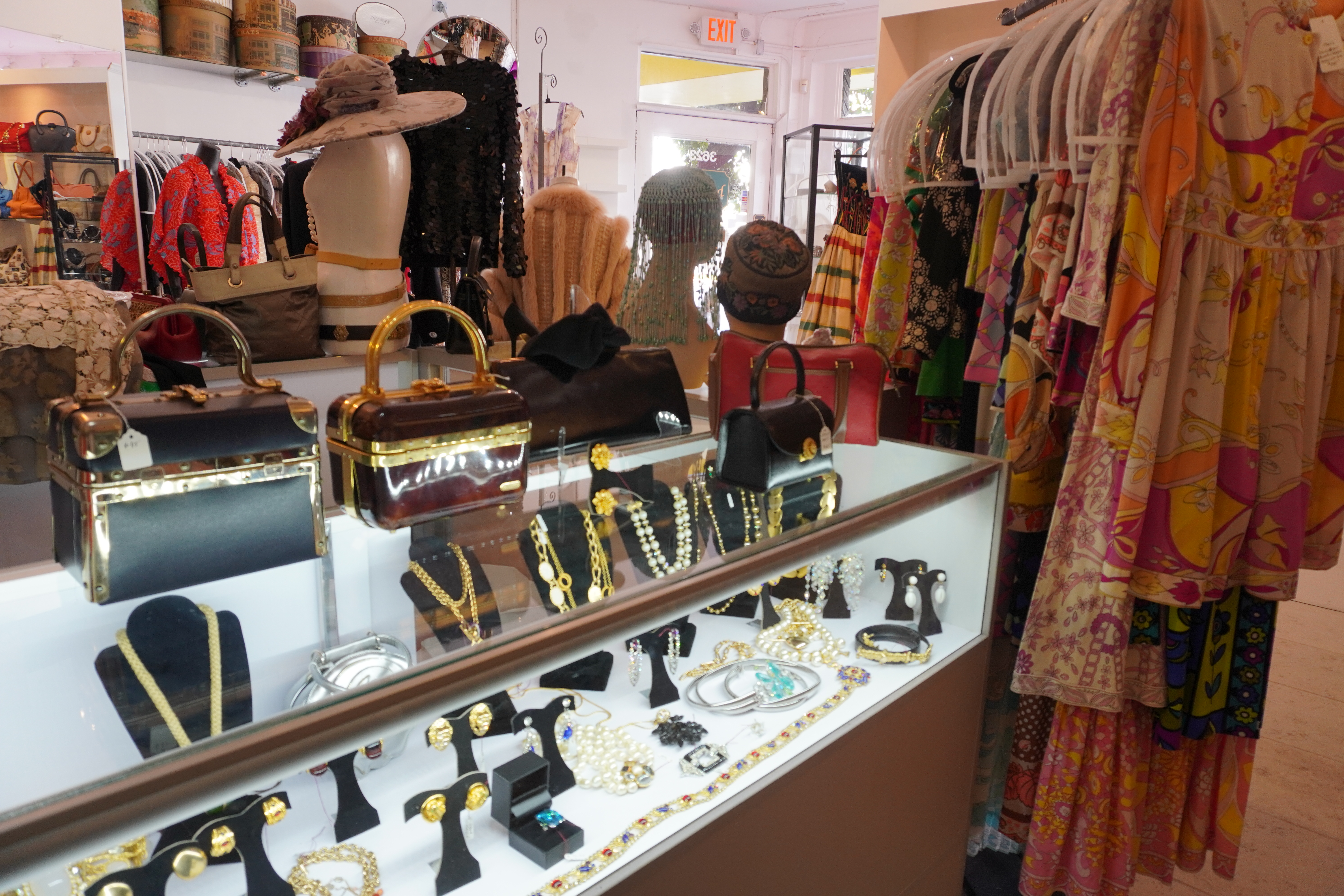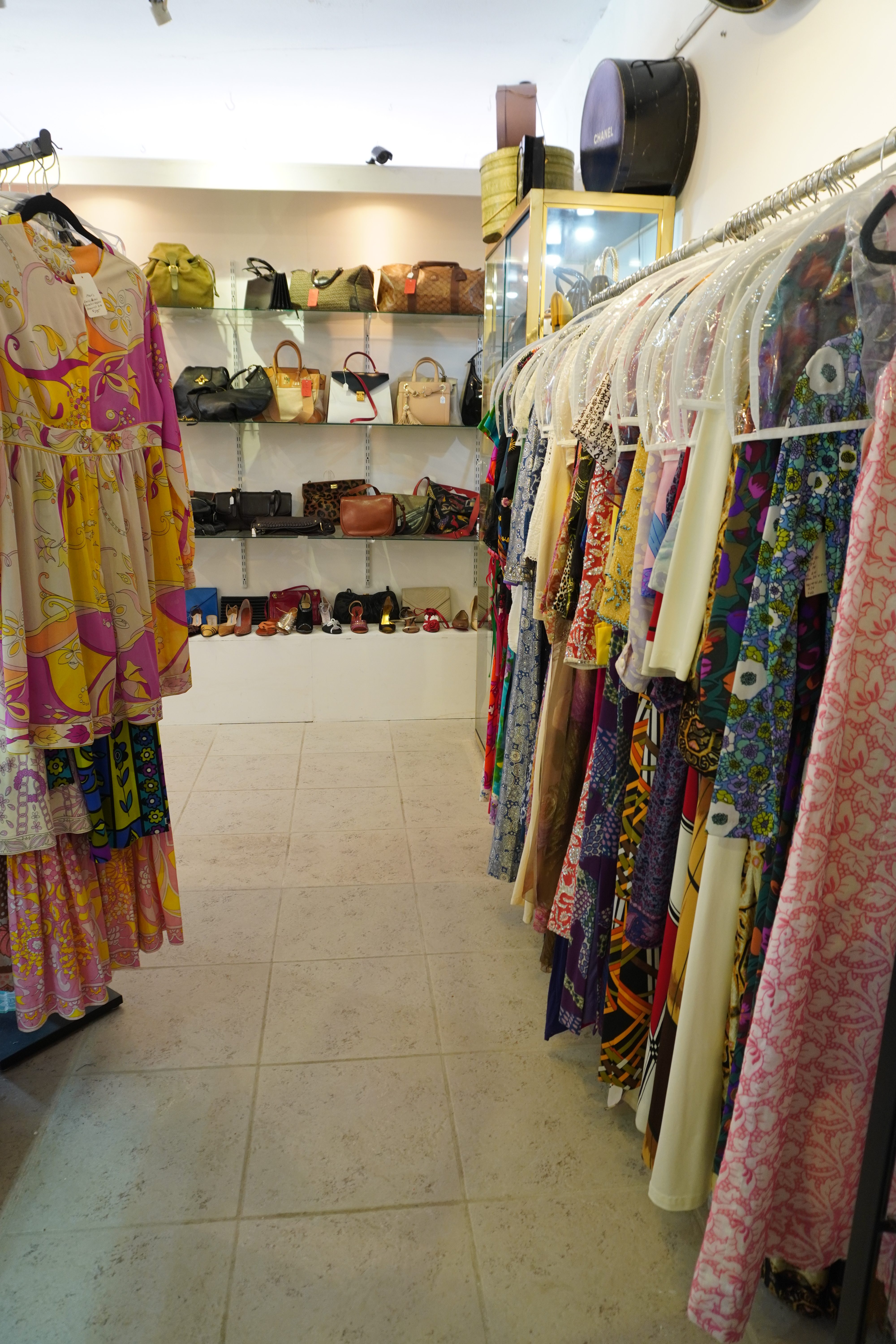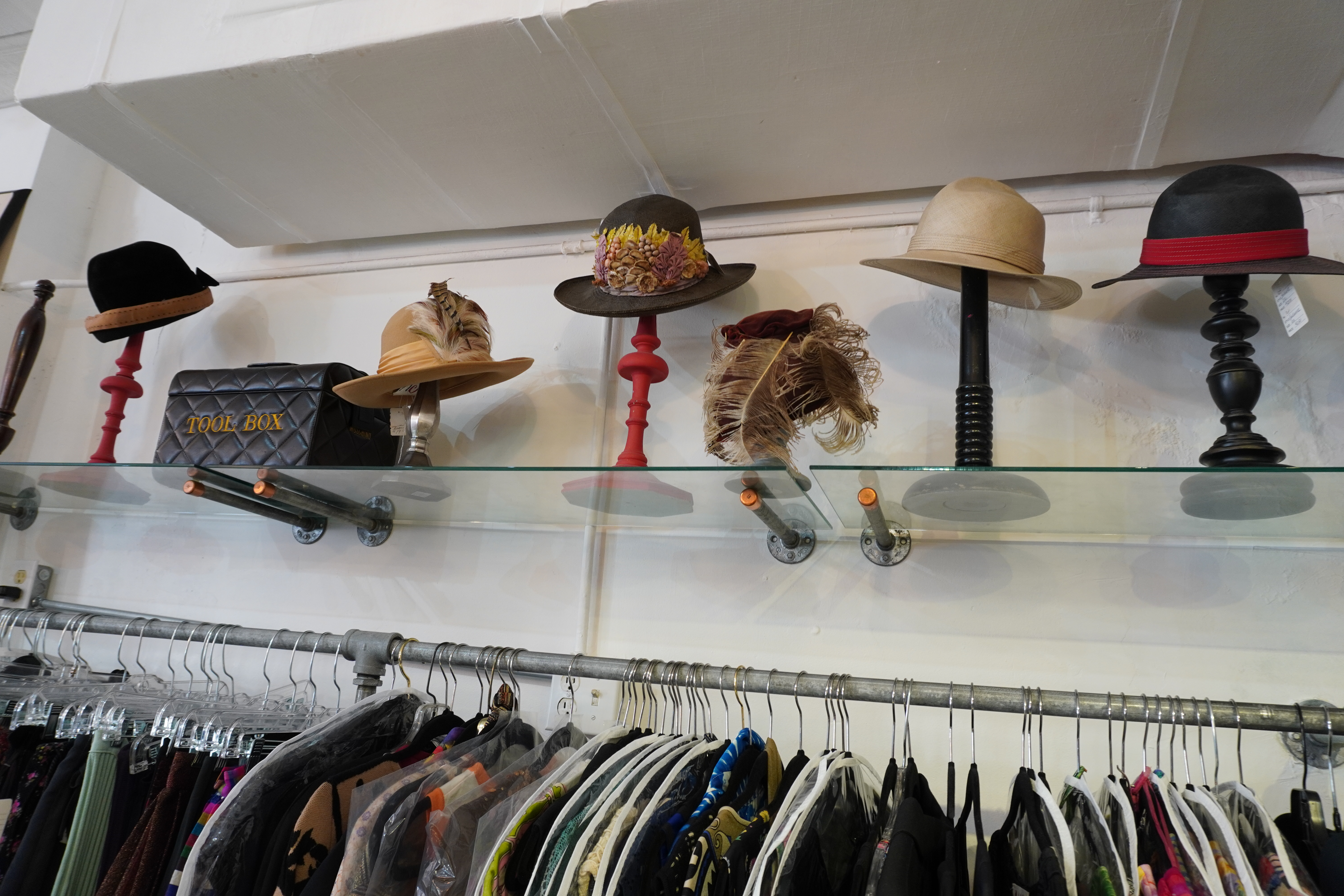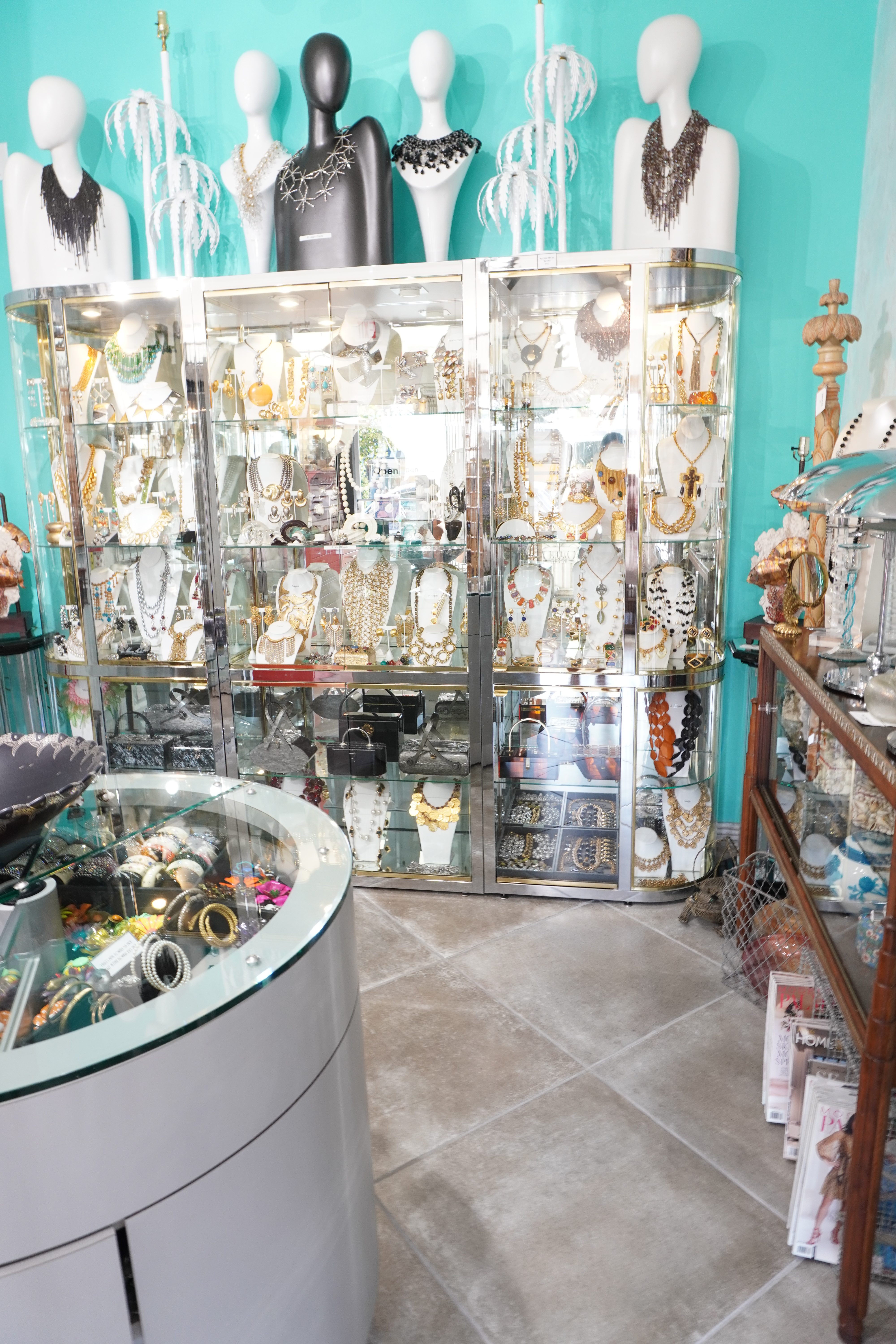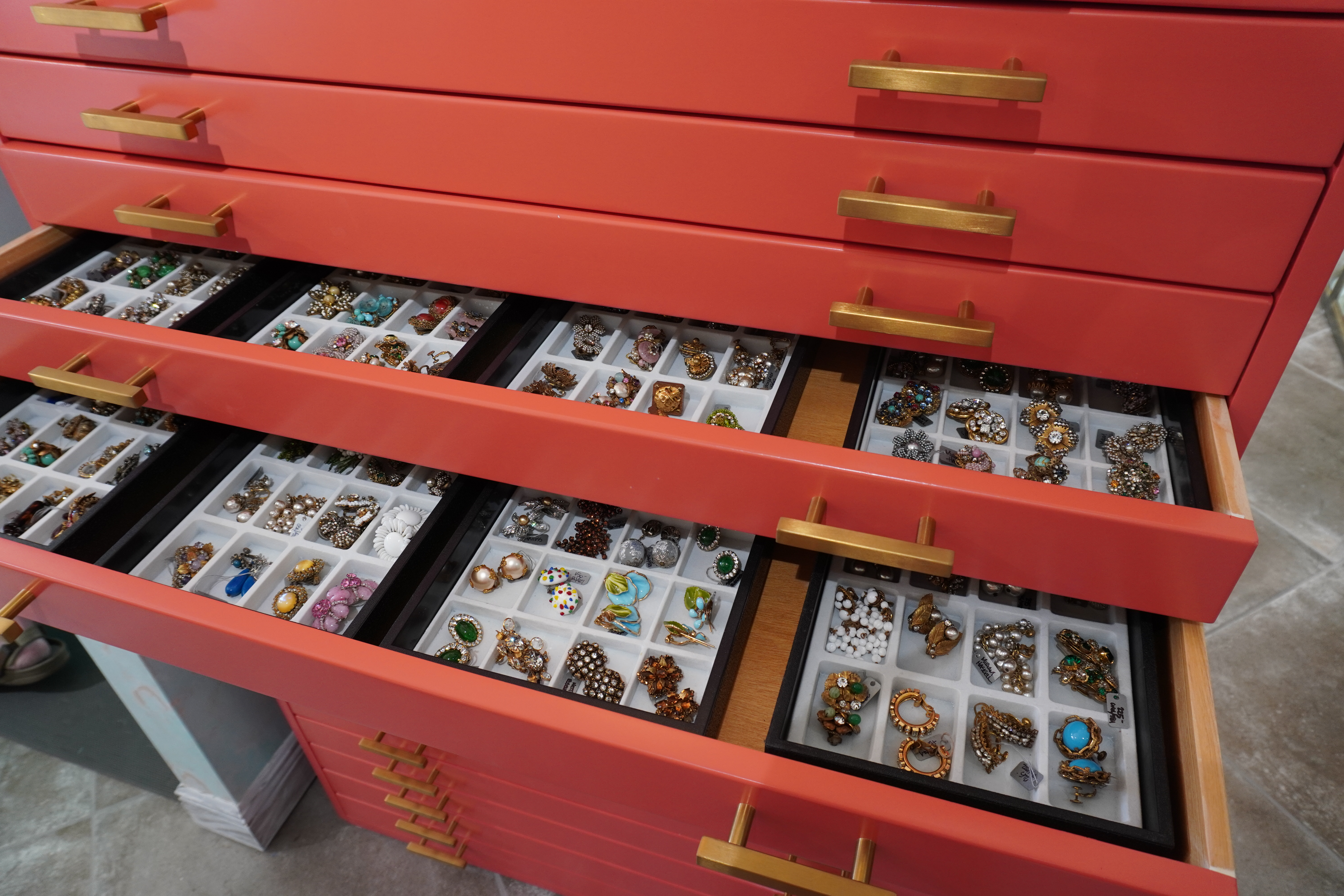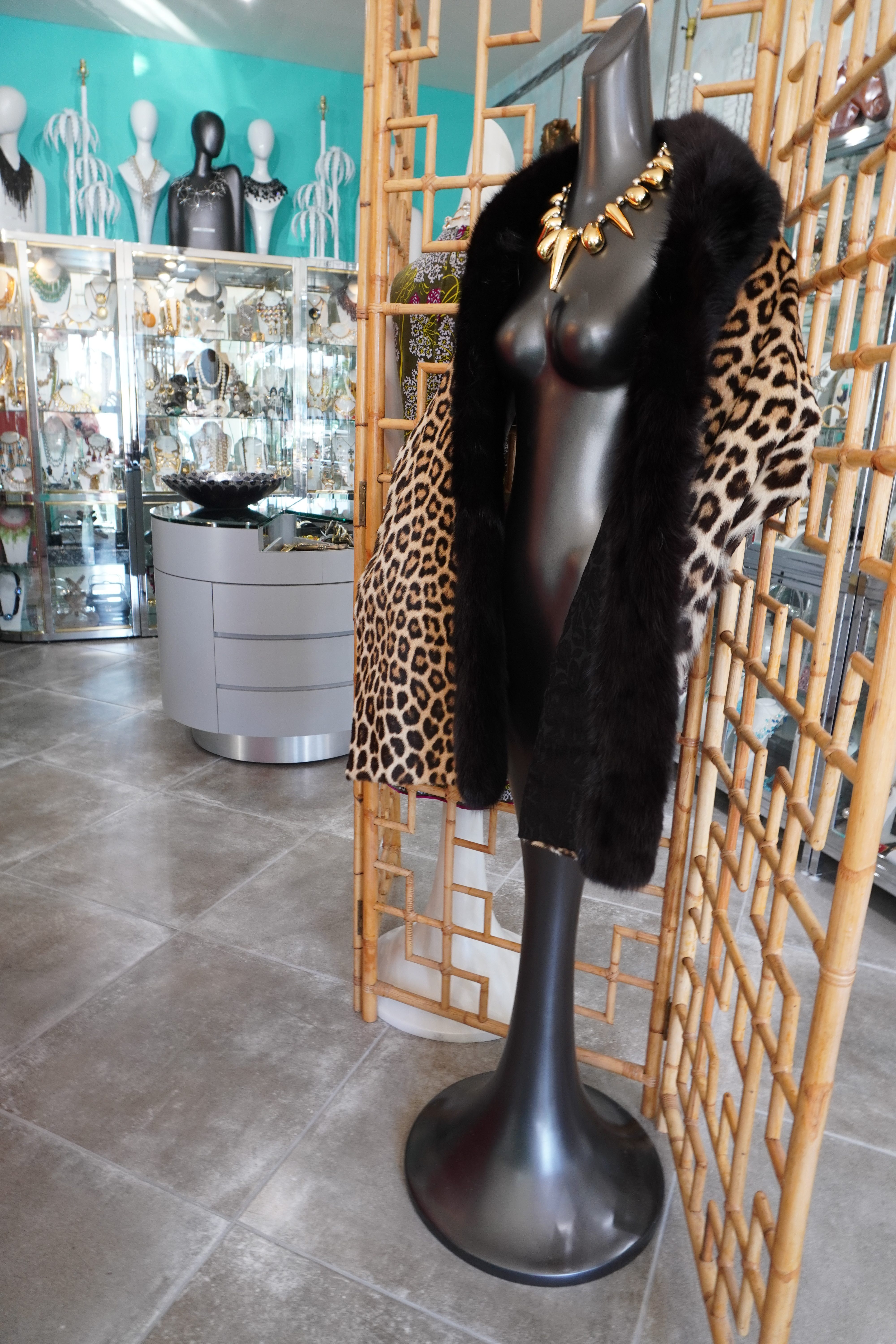 What to do:
When I travel all I really want to do is shop + eat! Lol. But if you're looking for some activities to keep you busy during your trip try: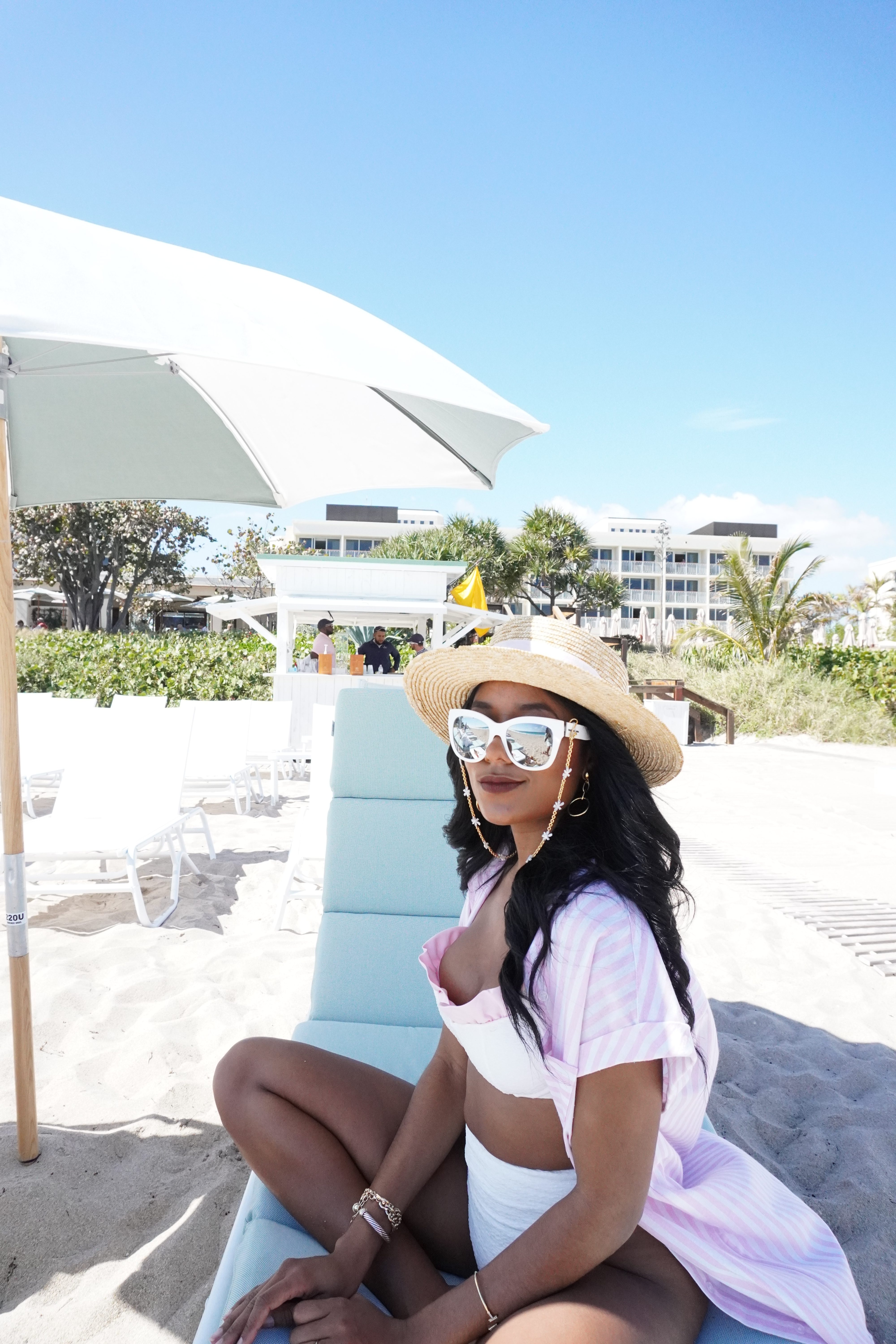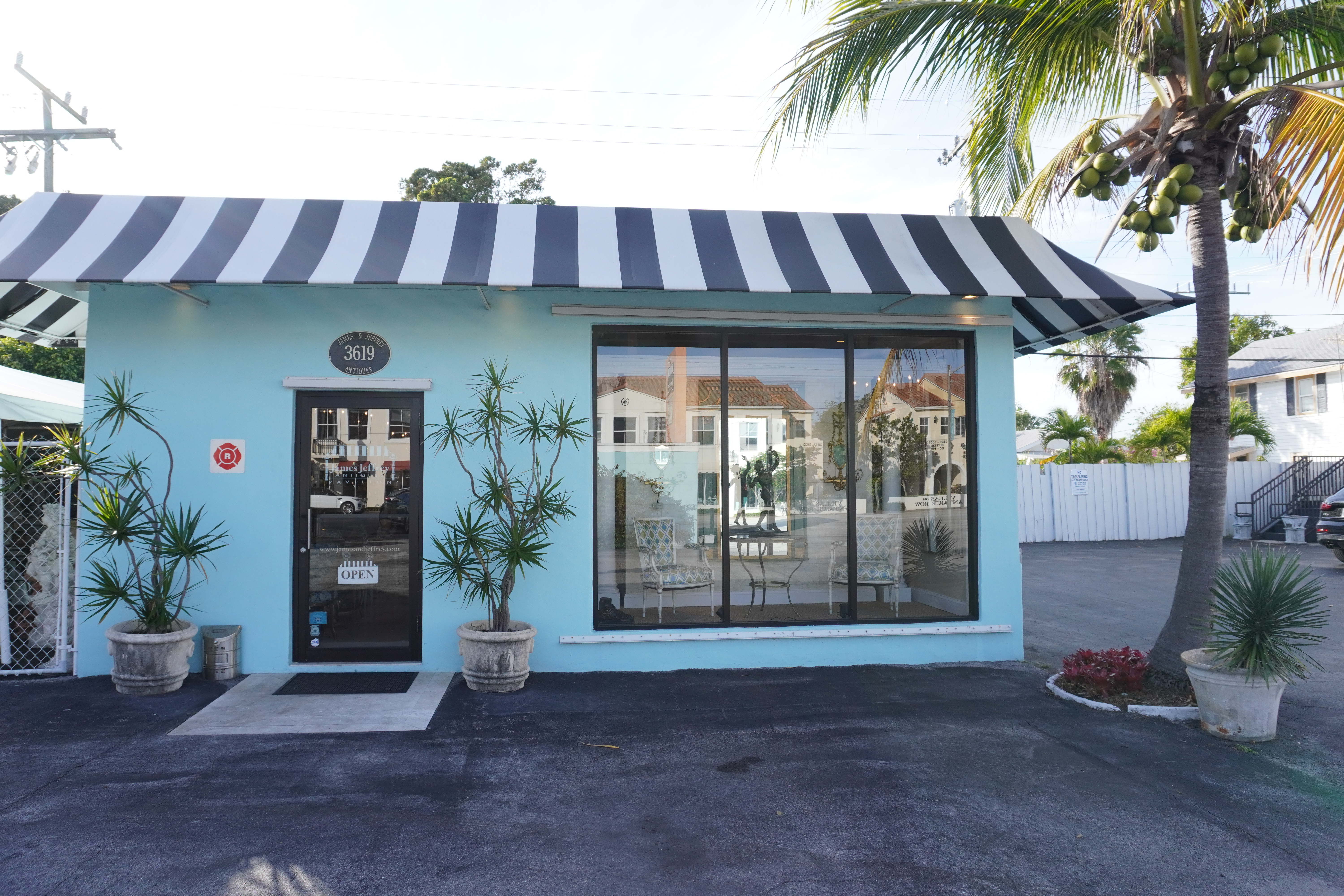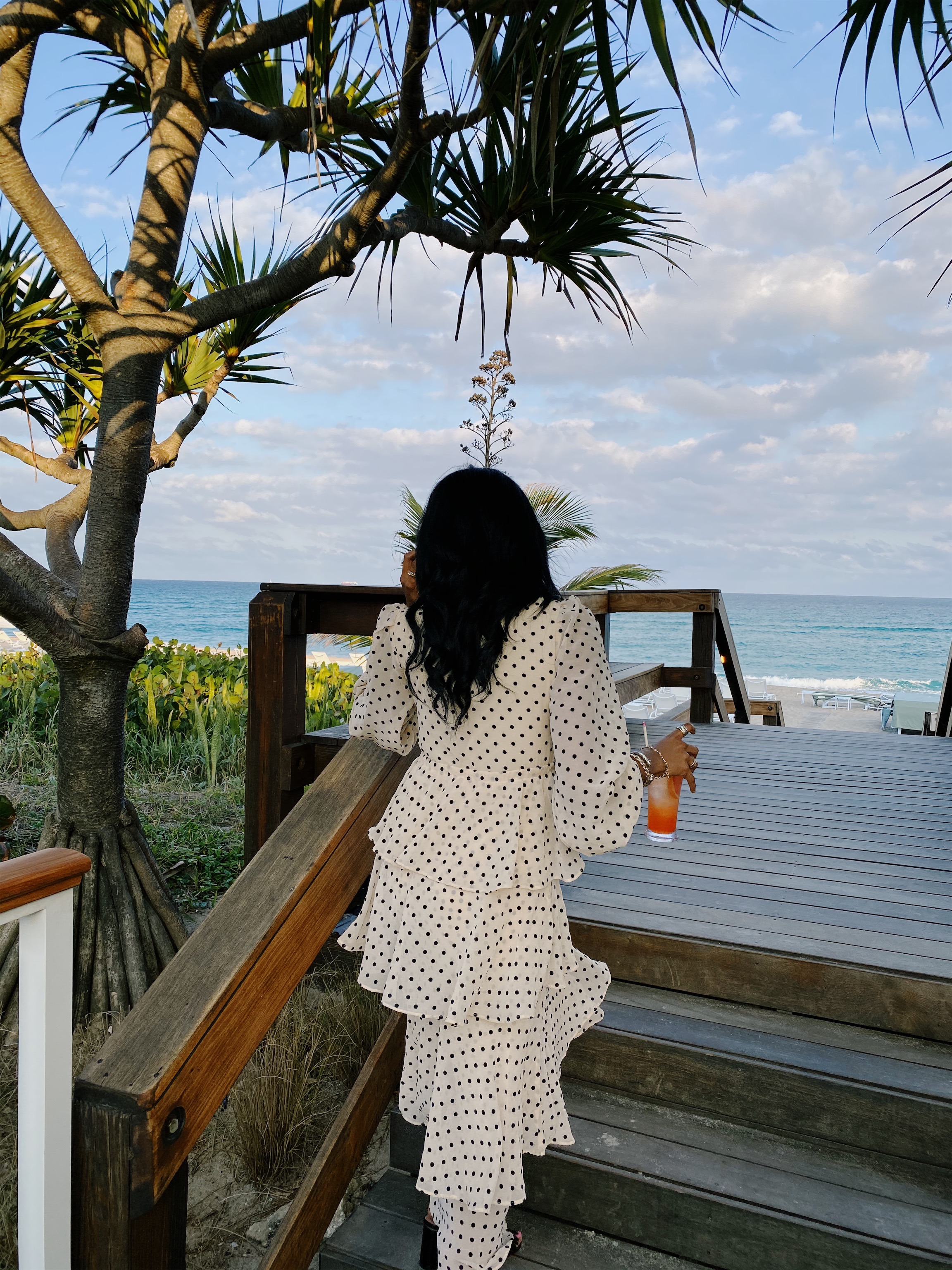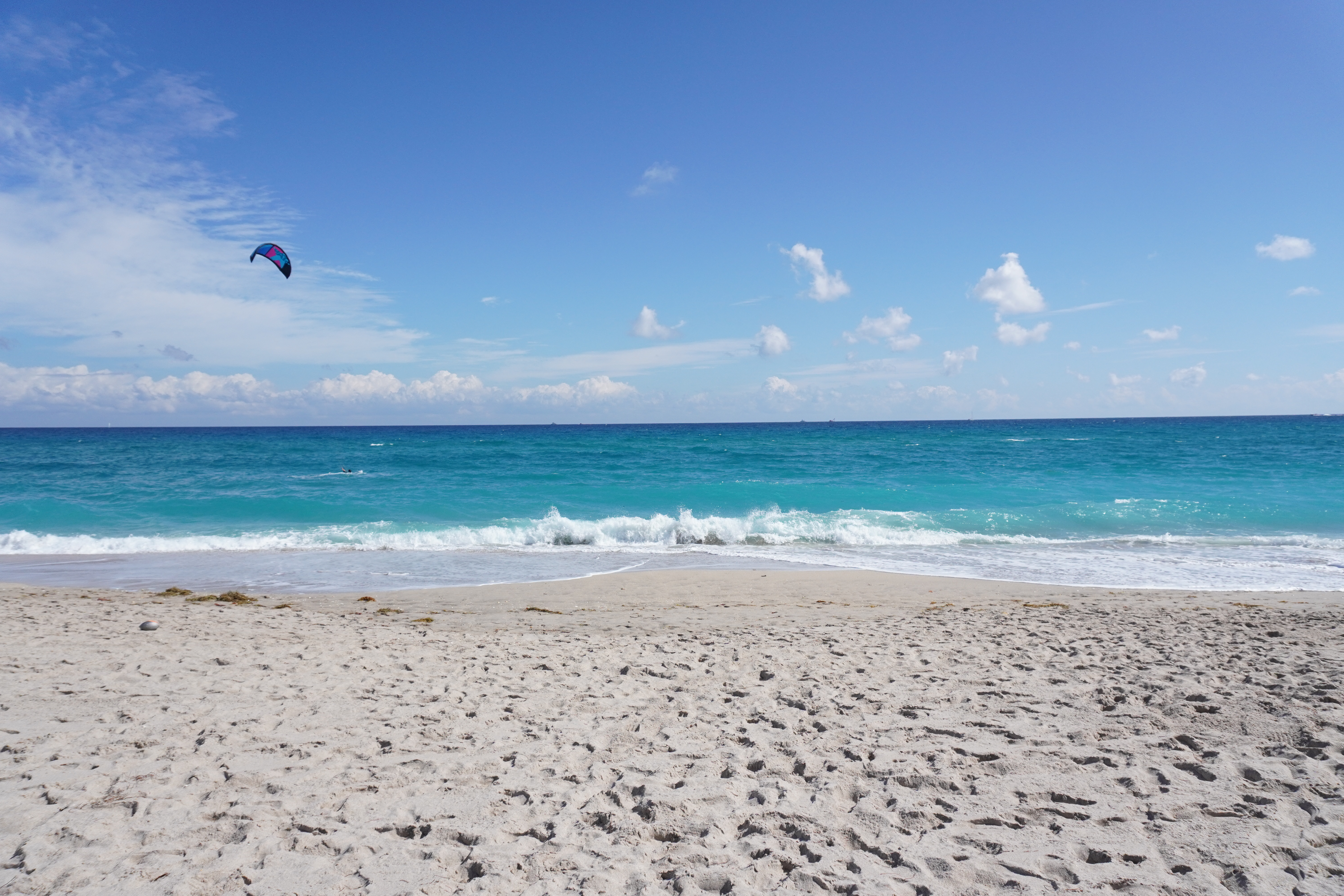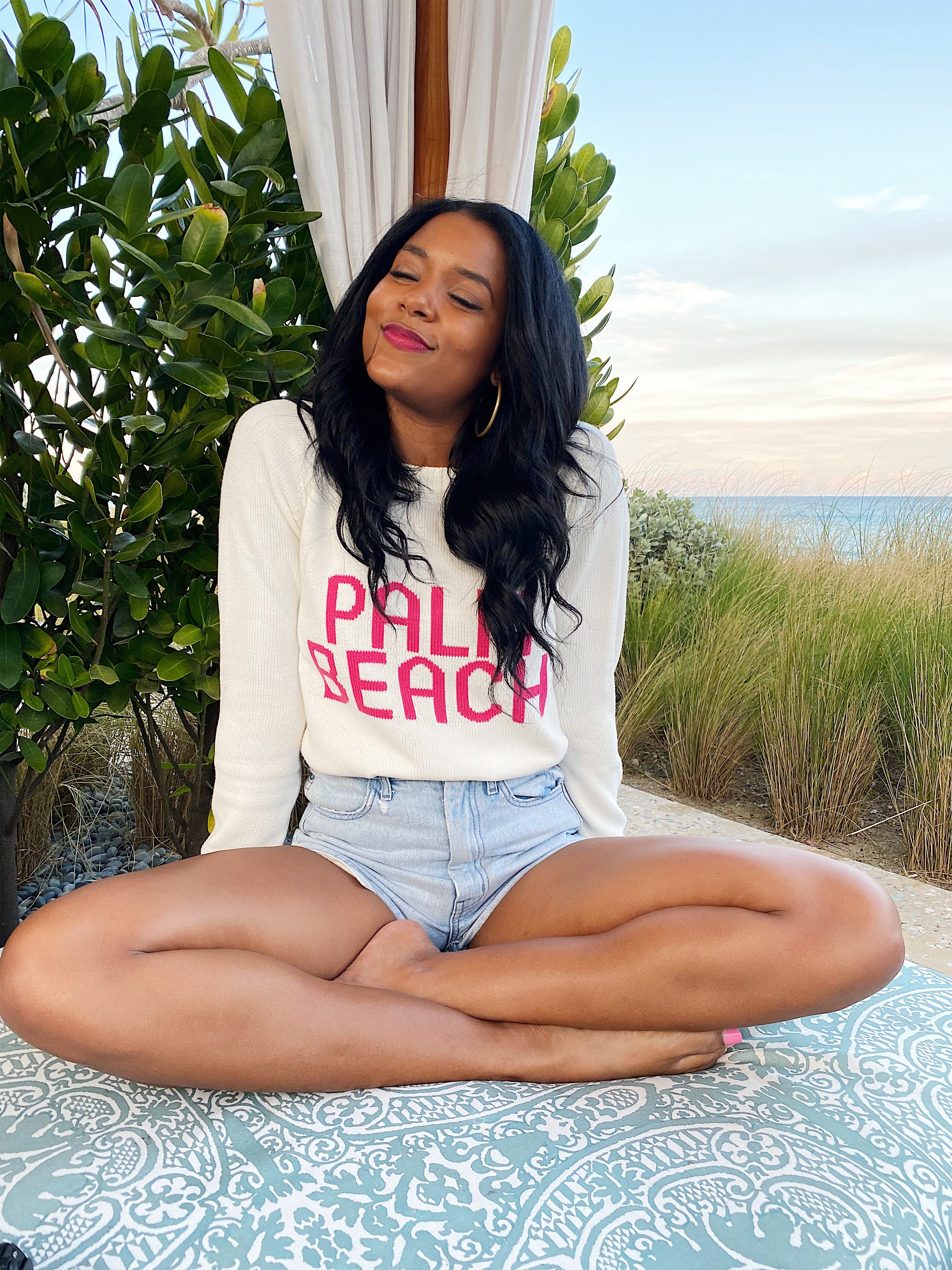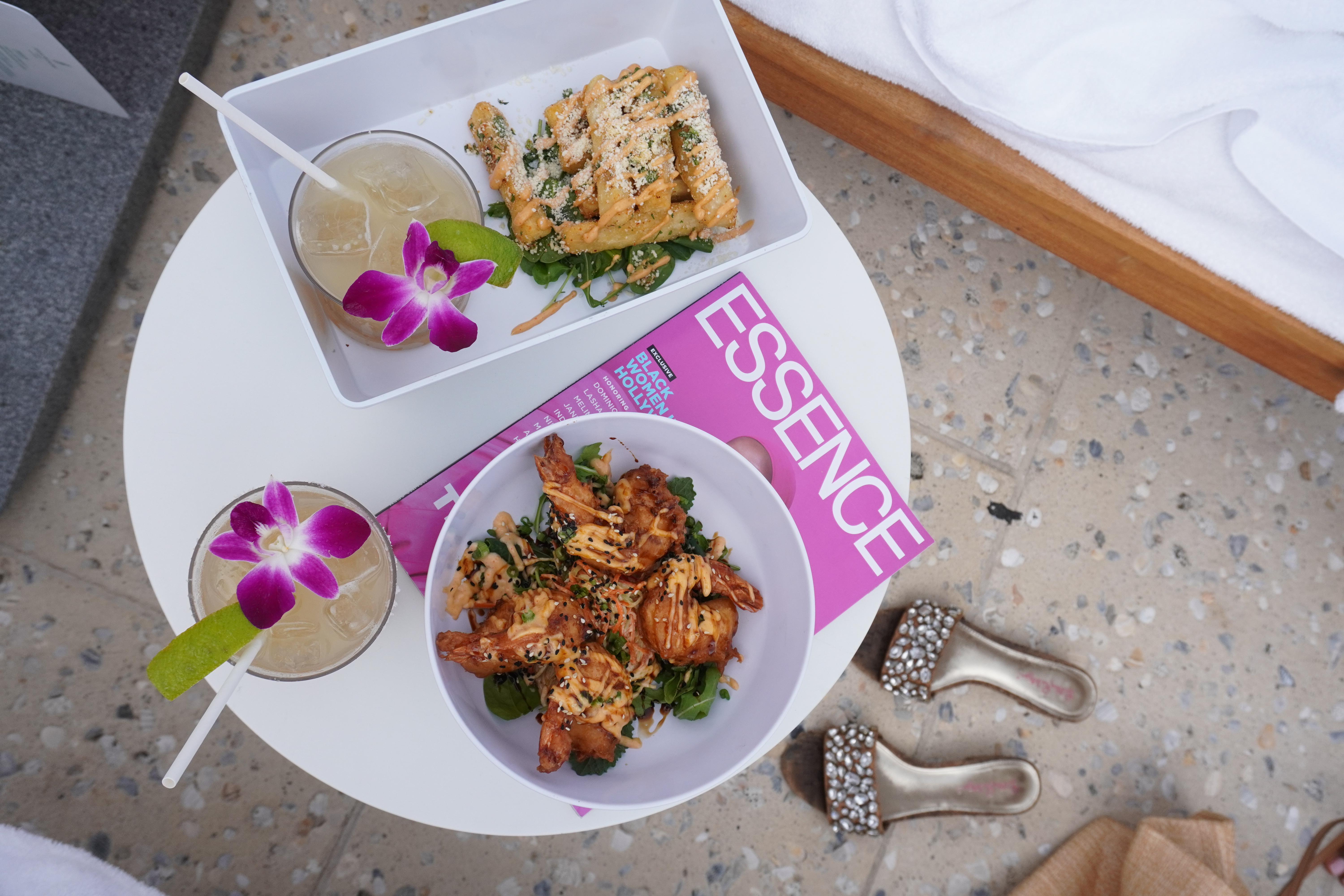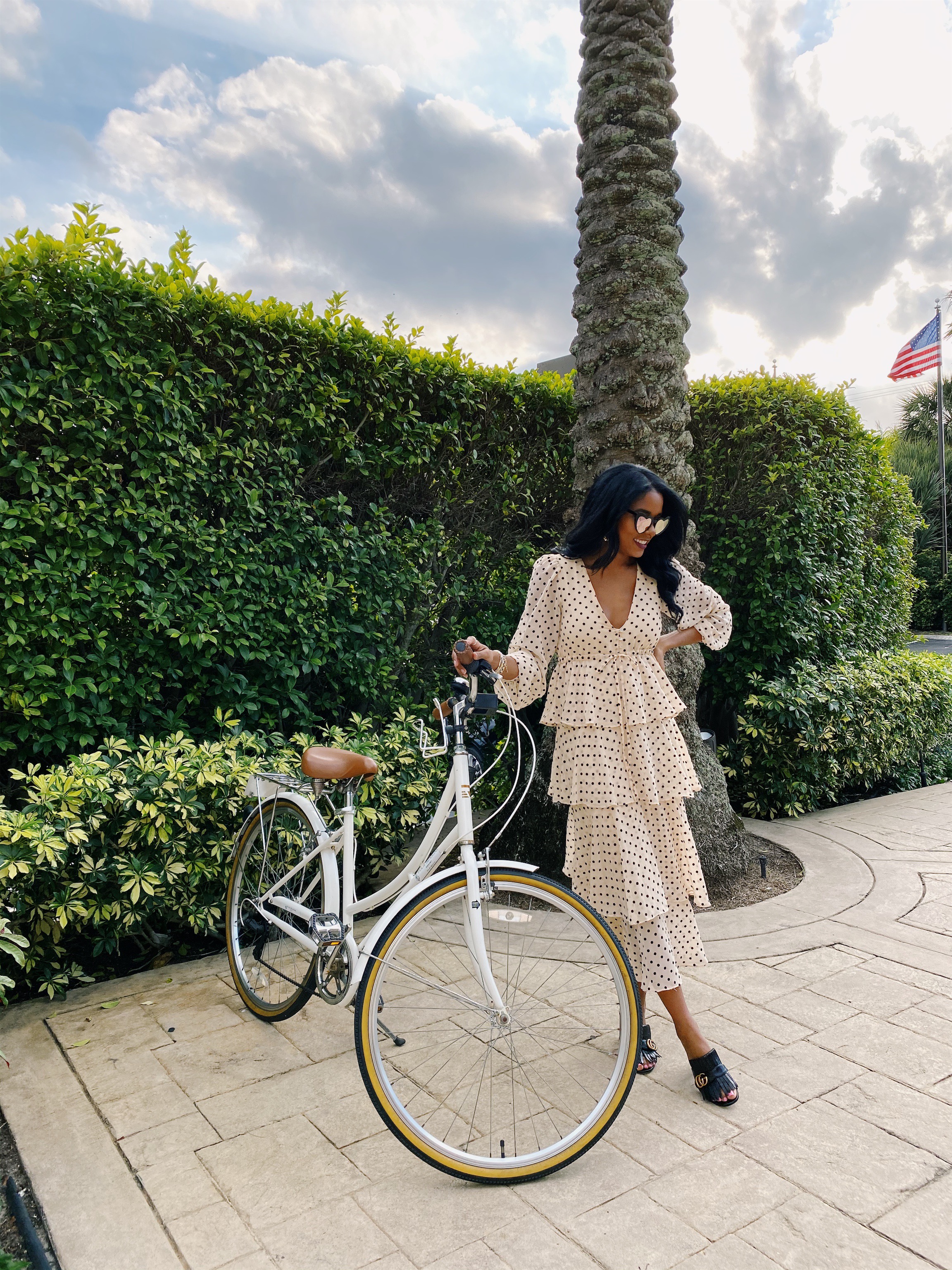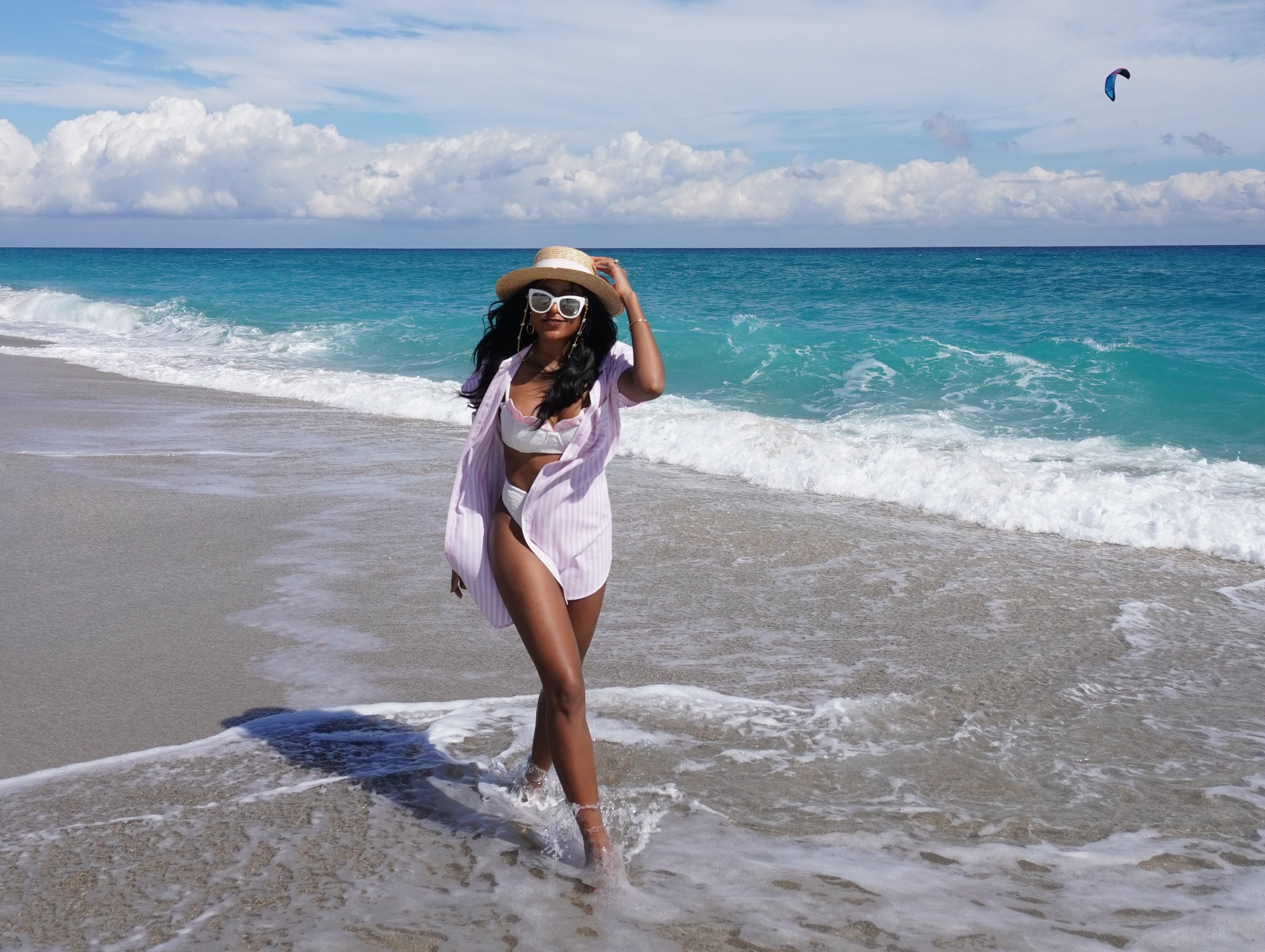 *This post was sponsored by Four Seasons Palm Beach, but all views are my own!"