Lately, I've been making an effort to transition to using more "clean" beauty products– I have to use the quotations because I can only trust that these products are actually natural as I haven't personally tested their ingredients. I've gotten rid of products that I've been using (some for almost a decade) and replaced them with the things I've linked below.
One of the products I was most excited to replace was my deodorant. I'd read how the sweat pores in our pits are a direct vessel to our insides and that most deodorants contain aluminum and I wanted to avoid putting my body in direct contact of that chemical DAILY. I'd try looking for a natural deodorant for quite some time now, but every one I tried either didn't stop my perspiration or didn't block order (it gets HOT in SC, y'all). But, as of late I've been rotating between Tom's (1) + Native (2) and have been quite pleased with the result. I'm less sweaty, not smelly and aluminum-free!!
My skin routine has gotten a natural update as well! I discovered First Aid Beauty's cleanser (3) this summer and love it because there's no scent, no unneeded ingredients, and no gimmicks. It removes everything and leaves my skin feeling completely bare. I keep it in my shower and use it at night after removing my make-up with a wipe. For the days when a pimple pops up, I go straight to Mario Badescu's drying lotion (8). I simply use a q-tip to spot treat at night, and when I wake up it's nearly gone– like magic! My lips are a part of my skin routine, too. It's amazing how much dry skin builds up after using lipstick daily. To keep them moisturized and the dry skin away I use Fresh's sugar lip scrub (6) every week or so.
Our hair deserves natural products too. I've fallen in love with Rucker Roots' entire collection (7). Not only is there no artificial colors, no petroleum and no sulfate, the products are derived from vegetable roots and that keeps my natural hair manageable while strengthening it and promoting growth. I use the shampoo + conditioner and leave-in heat protector about every two weeks, but the serum every single day!! LIFE CHANGING!!
Last, but certainly not least, I've updated my menstrual cycle to include clean products. The big box tampons use bleached cotton that ARE NOT good for our lady parts. I've started using The Honey Pot's all natural tampons (4) and have honestly seen a difference during (and more importantly AFTER) my cycle. Because I loved their tampons so much, I decided to try their cleanser (5). Instead of using scented, or even non-scented soap, I use this cleanser every night when I shower for a thorough clean without irritation or pH balance changes.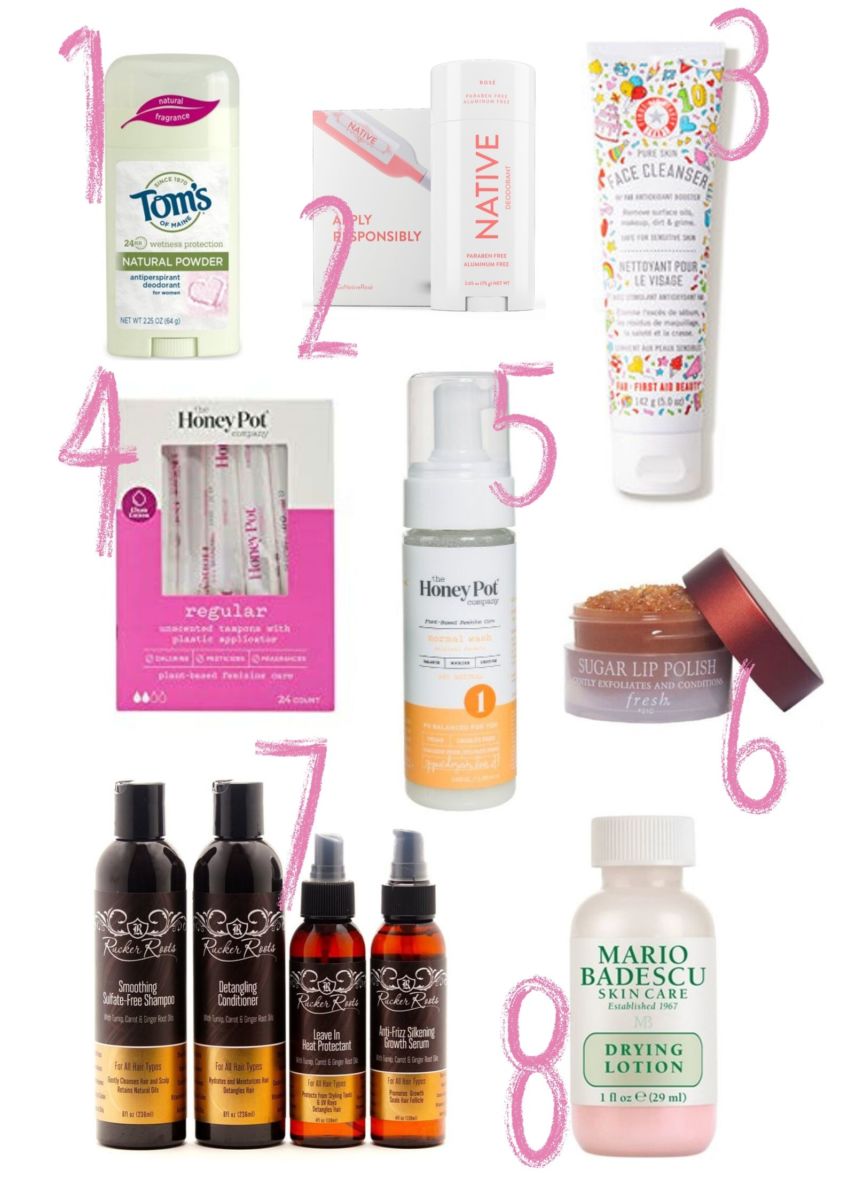 1 // 2 // 3 // 4 // 5 // 6 // 7 // 8
Life is all about small changes that make a big difference. I'll continue to replace other toxic products with more natural ones as I find things that work. But in the meantime, I'll take comfort in the changes that I have already made!