It's been extremely important for my mental health during quarantine to carve out moments for me to be alone and recharge my mind + spirit. I live in a house with 3 boys and I'd be lying if I said this time hasn't been challenging for all of us.
One of the things that I always want to do (but swear I'm too busy for) is read more novels. I routinely bring new ones home, but won't make time to start them unless I'm on a beach or something. But now that life is moving at a much slower pace, I'm making a point to carve out time to read. Each day looks different– sometimes I'm reading first thing in the morning on the front porch with a cup of coffee, other days I'm reading in the late afternoon next to the pool with a glass of wine. No matter when it is, I cozy up and let the book take my mind elsewhere for a little while. It may sound crazy…but it works! After I read I feel more at ease, as if I just meditated.
Below you'll find a list of books I've collected over the last year or so, but haven't picked up until now!
My Reading List (in no particular order):
Black Leopard, Red Wolf by Marlon James- The first of a planned trilogy, this dark fantasy draws on African history + mythology to tell the story of our narrator searching for a missing boy. The more he learns more about the boy, the more he realizes it just leads to stranger questions. What's always intimated me most about this book was how long it was. But if not now, then when?! Besides, it was named one of the Top 10 Books of 2019 by the Washington Post, so its gotta be good!
Evie Drake Starts Over by Linda Holmes- What happens when a superstar MLB player (that is forced to quit mid-career) moves into the guest house of a recent, young widow? You guessed it! Definitely not a thought-provoking novel that's going to make you question your existence, but it was a super easy read that I found enjoyable enough to retreat to when I needed to clear my mind. I finished it in a matter of a few days and was pretty satisfied with how it ended.
Well-Read Black Girl: Finding Our Stories, Discovering Ourselves by Glory Edim- What started as an online community + virtual book club has become a collection of essays dedicated to paying tribute to literature by, for, and about Black women. It's not a novel, but thanks to the natural breaks you can pick it up + put it down as you need passages to inspire you or make you feel visible. Never underestimate the impact words can have on your soul and mental state!
Buy Yourself The F*cking Lilies by Tara Schuster- Hilarious lessons + experiences about love, career and caring for yourself from one of Comedy Central's youngest Vice Presidents who Jordan Peele called "ahead of her time". The closest thing to self-help that I currently have in my collection.
How High the Moon by Karyn Parsons- Set in South Carolina in the 1940s (and written by the woman that played Hilary Banks on Fresh Prince of Bel Air) is the story of Ella, a fair-skinned girl growing up without her parents in the segregated South. On a journey to reconnect with her estranged mother, she learns the truth about her father's tumultuous life, before returning home to a murder of two white girls in the Jim Crow South. They're calling this book powerful, captivating, but bittersweet.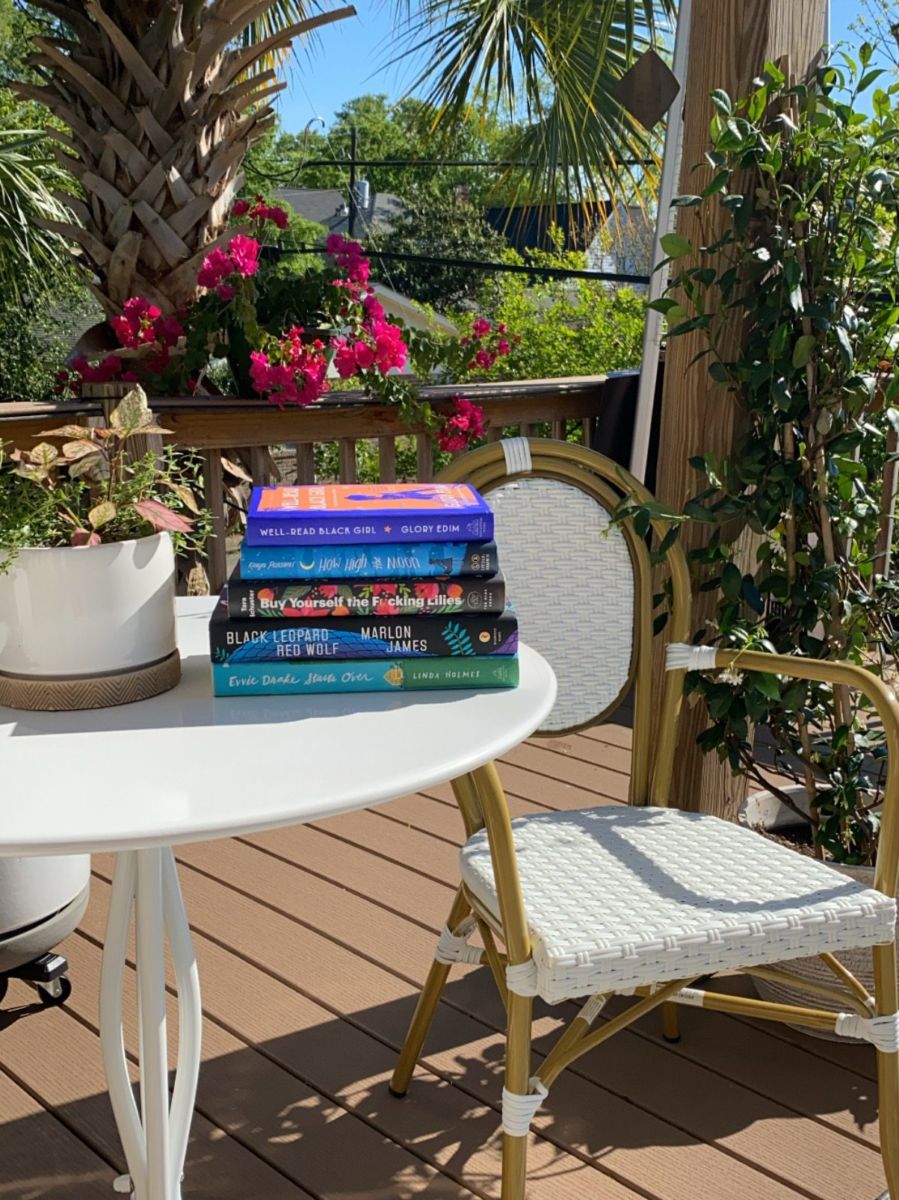 What's on your reading list right now? I'd love for you to share any recommendations you may have. Leave a comment or send me a DM on IG @shadesofpinck!