I hate to admit it, but as you get older the feeling of the holidays really just isn't the same. Sure, Christmas is much more than Santa Claus and gifts, but you have to admit that the anticipation to Christmas morning that you'd feel as a kid is nearly non-existent as adult. Honestly, I'm just excited about the day off and the meal my grandma will serve our family!
At this age, if you're looking for a little holiday magic in your life you have to create it yourself. You have to make time to do a few things throughout the season that will remind you how special of a time this is; why this really is the most wonderful time of the year.
This holiday season has been extremely busy for me. Between work, trips, my philanthropy efforts and maintaining personal relationships, I've hardly had time to catch my breath. Let's just say, getting into the holiday spirit has been at the bottom of my to-do list. Usually it comes naturally because we'd kick-off the season Christmas-shopping in Atlanta, then take we'd a trip to NYC to see the holiday lights on Fifth Ave, but my schedule was made up of mostly WORK and I just wasn't able to schedule it in.
So this year I had to rely on other things to get me into Christmas Spirit. Here are the 3 activities I found to remind me 'tis the season to be jolly!
As some of you may know, I was raised on James Island and the majority of my family still lives there today. I say that because growing up I visited the Holiday Festival of Lights every single year! It was hard not to living less than 2 miles away from the attraction. But in recent years, I haven't been, so this year, my ENTIRE family planned a trip to go together! We all rode into the park in one of those passenger camper vans, which was great because we didn't have to split up into different vehicles. The lights were enchanting, per usual. I got to rediscover my childhood favorites (like the couple on the seesaw and the alligator that eats the boys shorts) and stumbled upon a few new faves!
You can opt to stay in your vehicle the entire time and gaze from the other side of your window, or you can hop out and onto a train that takes you around to see the installations. There's also a village filled with food trucks, fire pits to roast s'mores, and even Santa! If you've never experience the Holiday Festival of Lights before, I highly recommend it. However, it's worth noting the park is off of a two-lane backroad, so there's bound to be traffic. Expect to add 30-45mins to your commute once you get ~3 miles away from the park in almost any direction.
$20 per vehicle | Open until January November 9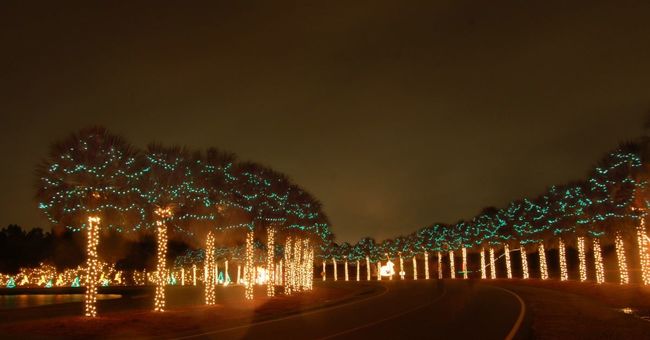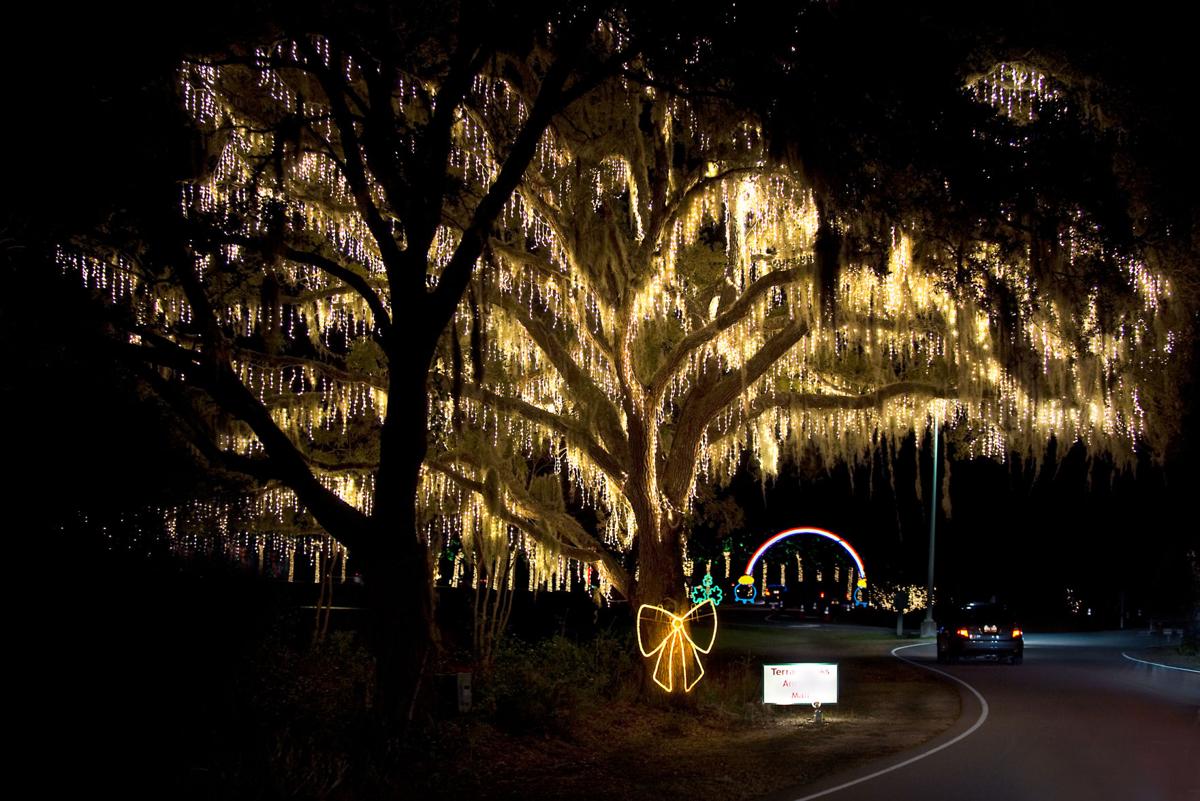 2. Watching Columbia City Ballet Perform The Nutcracker
Nothing says December like The Nutcracker! Ask any ballerina!! LOL but really, the motifs AND the melodies from The Nutcracker are engrained into the holidays. So much so, if you aren't paying attention you may just overlook it. I've made it a point to see The Columbia City Ballet perform The Nutcracker for several years now. The show is always amazing, and this year's was no different. Artistic Director, William Starrett finds a way to make each year feel like a completely new show, even though it's one of the most told holiday stories of all time! It was a pleasant, even welcomed, surprise to see Grant Show on stage performing as one of the lead actors (not dancers). I recently became a HUGE fan of the Dynasty reboot (if you haven't seen it yet, binge the entire 1st season on Netflix and thank me later), so seeing one of the main characters on stage was such treat. (I met him later that evening and really enjoyed chatting with him, which of course just made me love Dynasty THAT much more!).
There were moments while I was sitting in the audience that my heart filled with such joy. Hearing those melodies and watching those characters, genuinely, gives me the feeling of holiday magic! I am so honored to be a part of such a hard-working and professional company.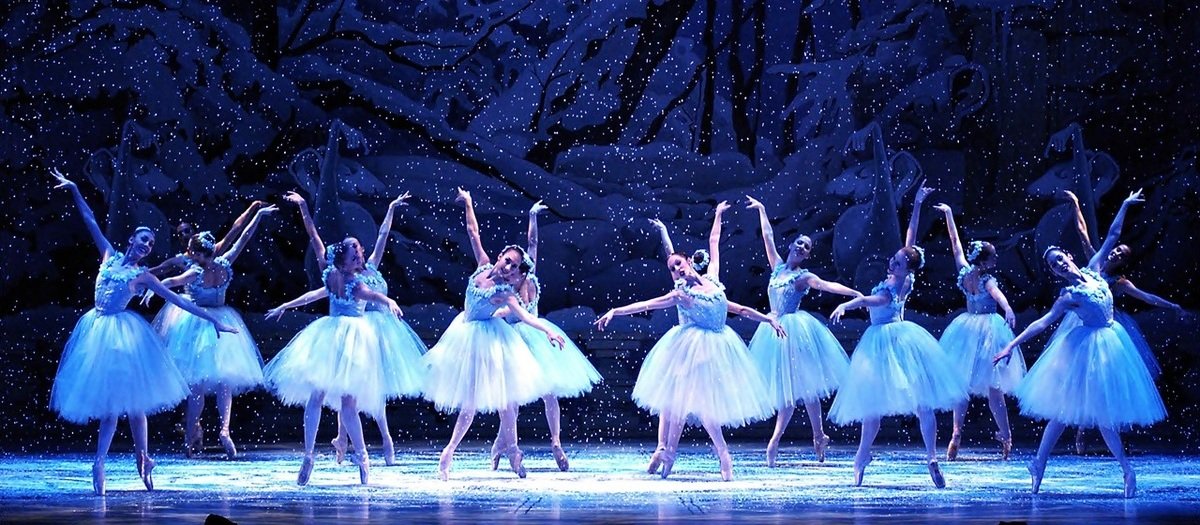 3. A Decked-Out (pun intended) Holiday Mani from MylkBar
While I'm known to keep a fresh mani, I'm usually not the kind of girl that gets nail art. I tend to keep my nails pretty simple: various shades of pink (shocker!) and nudes. I once got my nails painted red for like 4 straights months and had no shame! But, as I stated before, I needed a little extra holiday magic in my life this year and figured I'd trust MylkBar with my nail art virginity!
I'm happy to report that holding out for as long as I did was totally worth it because the designs they gave me are TRULY Pin worthy. (No, forreal y'all..Pin it!!)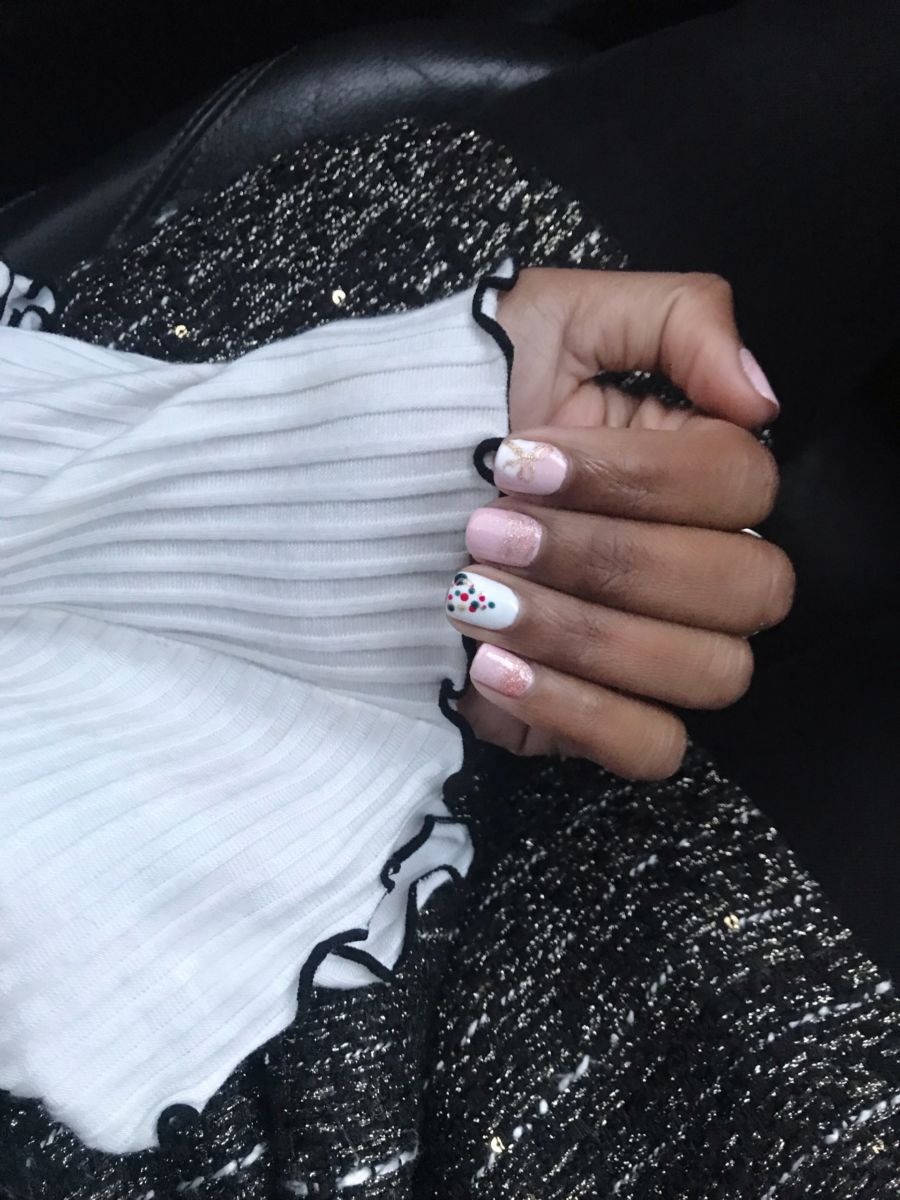 If you're already following @mylk.bar on IG then you know just how girly and fabulous their salon is (if you aren't, you should go do so now). The walls are covered in pink and green banana leaves and their furnishings are all white, yet they feel plush–not cold or stark. Added bonus, their walls are covered by contemporary pieces designed my local painters (and it's all for sale). But this very best part is MylkBar prides itself on being Charleston's first nontoxic nail concept. They use products that are made organically, and are completely fume-free. Founder + owner, Katie, is committed to natural beauty and nontoxic self-care.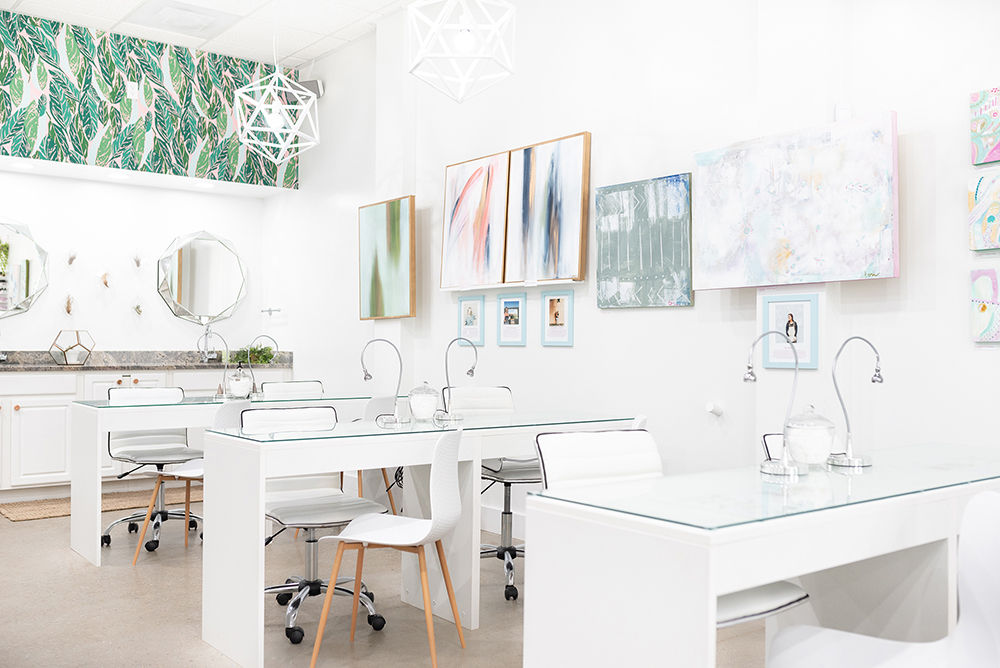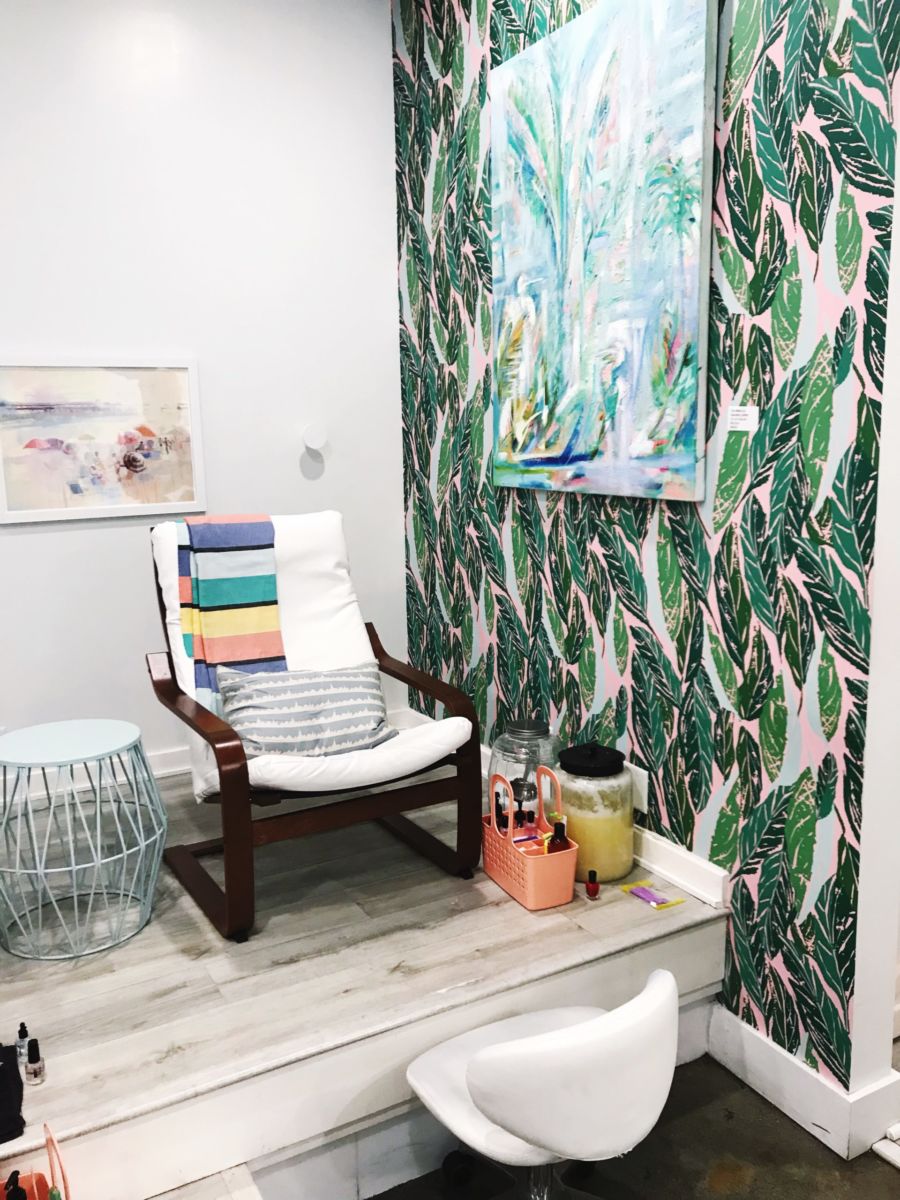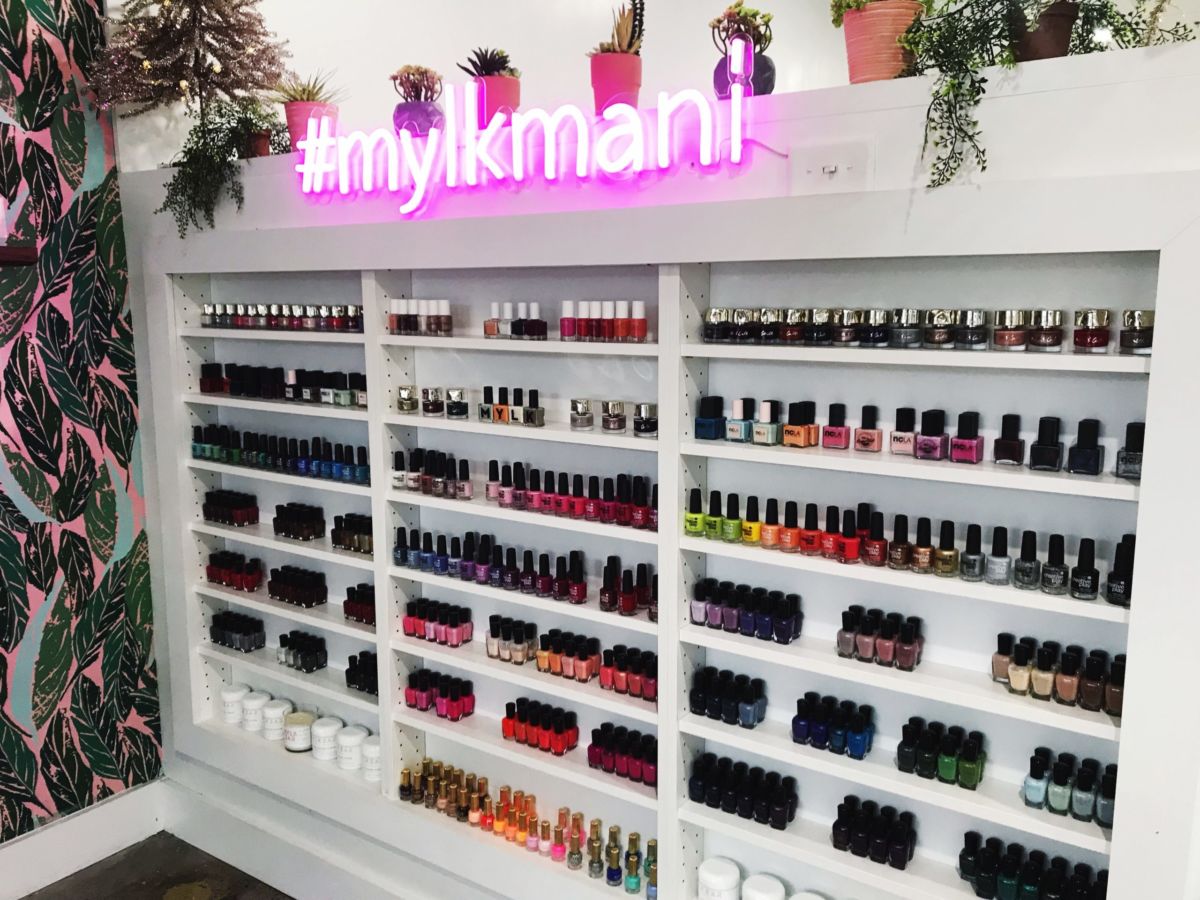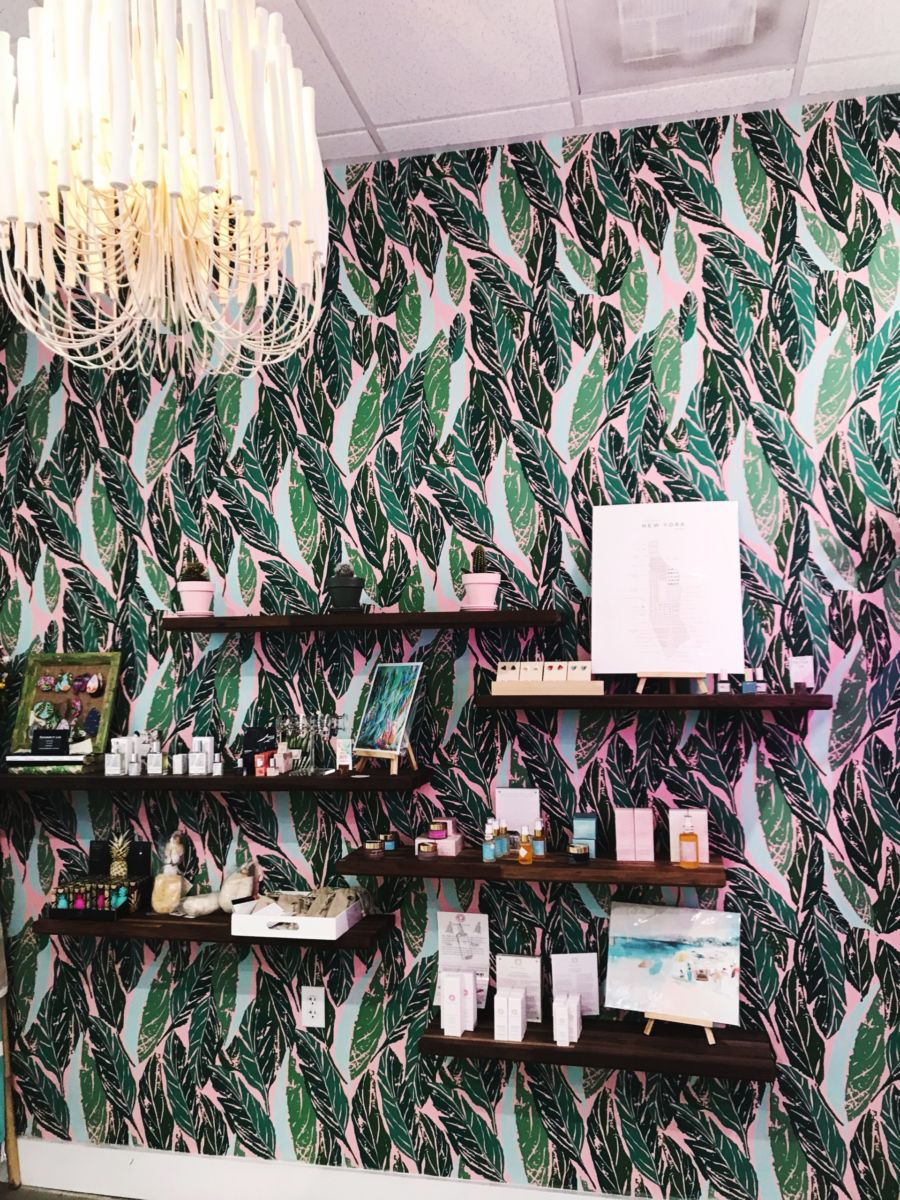 I had the pleasure of being serviced by Devin (whom I highly recommend, if you're scheduling a MylkBar appointment). We giggled and chatted the entire time! He was so patient with me as I uploaded stories to IG for a client (SORRY, boo!) and drank rosé. He made me feel like we were old friends catching up, which is honestly something I can say I don't feel often in nail salons. And while he was a great friend, he was an even better nail tech! I hardly knew what I wanted when I arrived. I told him I wanted my nails to be pink, but would also like some kind of holiday detail with traditional Christmas colors. I was seriously no help! And yet, somehow, he created something that I truly LOVE. Every time I look down at my fingers and get a glimpse of the gift box with a gold, glitter bow, or the Christmas tree made up of three different colored dots, my mind stops racing, for just a second, and I'm reminded what's truly important this time of year. Isn't it crazy how a simple manicure can change your emotions, even if just for a second?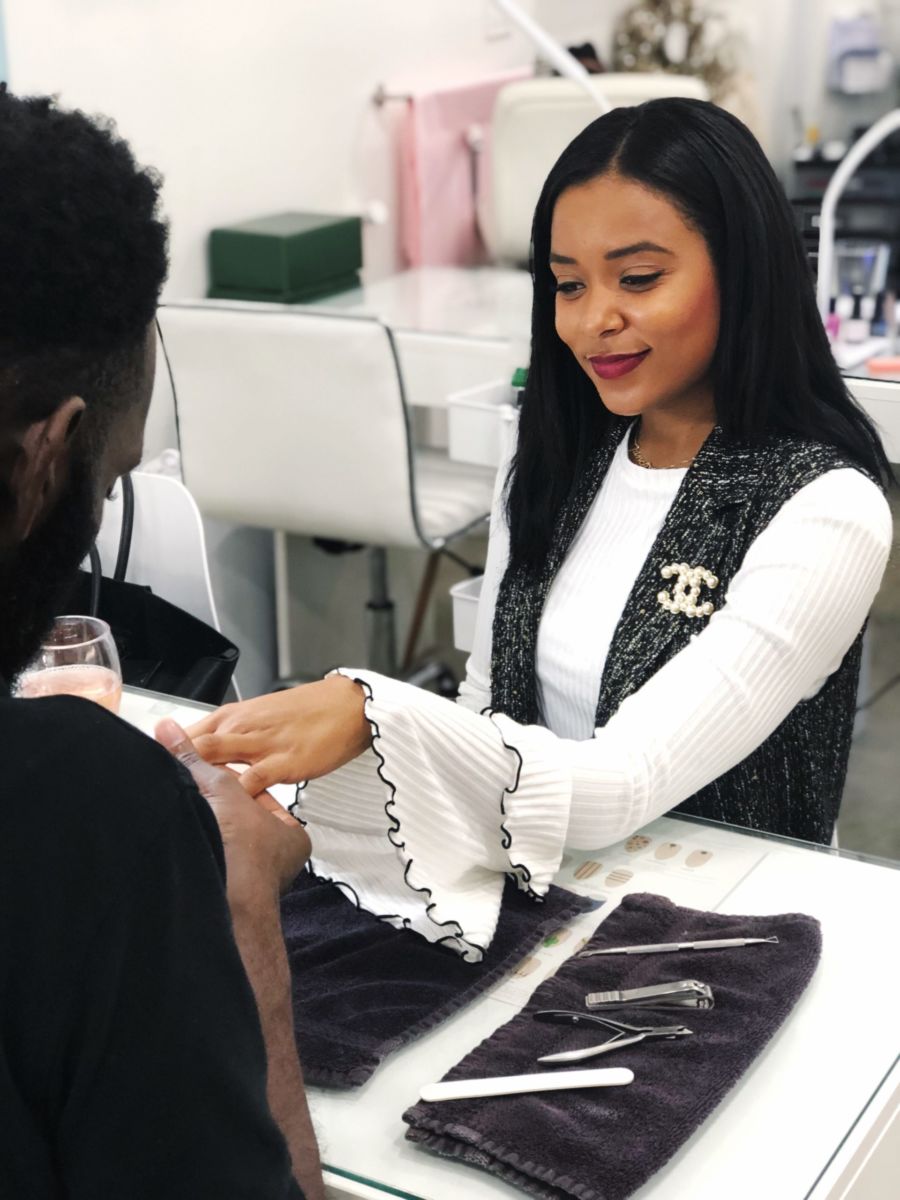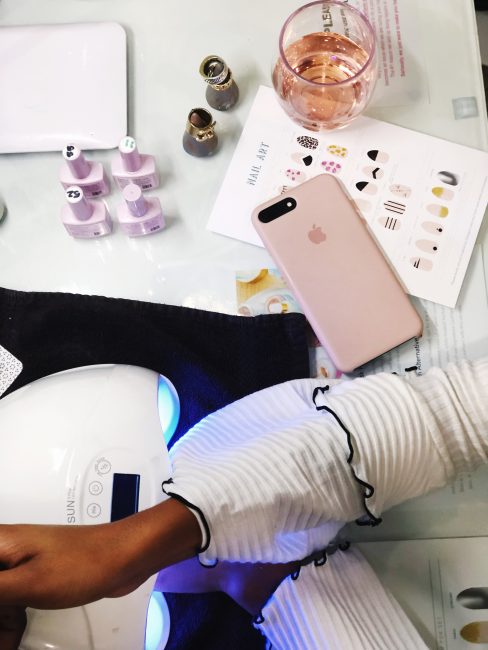 Once I was done with my nail service, I sat under the Celluma light for just a few minutes. It's said to reduce fine lines and wrinkles, as well as inflammation, using the same technology that was originally developed by NASA to help astronauts recover after long-term space flights. MylkBar has recently begun offering this service, but clients have already reported noticeable differences. 
I've teamed up with MylkBar to giveaway a #mylkmani to ONE lucky follower. Head over to IG @shadesofpinck to enter!
You can also catch an exclusive interview with me over on their blog. And 15% off your next Leahlani Mermaid Mask when you use to code "MEGAN".
*Post sponsored by MylkBar*