Robe: PrintFresh (Use code PINCK for 15% off)
It's taken well over a year, but I'm finally ready to share the Shades of Pinck HQ with y'all! If you follow my IG stories then you've seen little snippets here and there of where I spend the majority of my work day (well any day tbh).
It's a finished room over a detached garage that last year didn't even have central heating and air. Last summer I couldn't' sit in here for longer than 20 minutes, and this past winter I had to wear layers of clothes and blankets next to heaters just to feel comfort. To say it's come a long way would be an understatement, but to say I had any idea I knew what I was doing at the beginning would be a lie. The space was awkwardly shaped: it had geometric ceilings, cubby cutouts (it was intended to be a kids playroom), and felt extremely long. I didn't know where to begin until one day, while sitting on fold out chairs, my friends suggested I break it up into separate areas. That idea put a little spark in me and I began envisioning what would take place in the space:
business deals
creative manifestations
team meetings or project development
happy hours, movie nights, etc.
showcasing my growing art collection
I quickly realized this would be much more than just an office. It would be the one space at home that'd be 100% me. In a home that is filled with boys, this would finally be a place where I could be surrounded by things that inspire me while I spend time with my friends, people I collaborated with and everyone in between. The excitement of all that could happen above that garage was the birth of what is now The SoP HQ, which has been split into three distinct areas:
1. The Workspace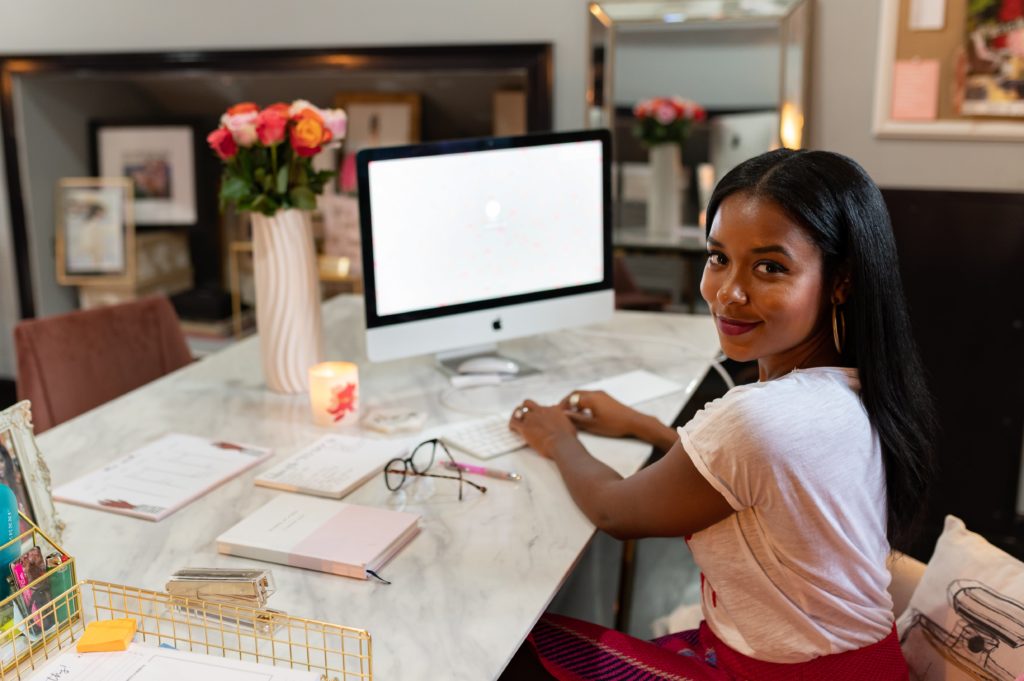 This was the very first area I completed and it's the space I share most often on IG because it's where I spend 75% of my time in the HQ! Before I developed any other part of this room, I knew I needed to focus on where I could get real work done. Until I started using this space, I was answering emails and creating content on a little laptop either at the kitchen table or on the couch– and it was exhausting. All I wanted was to be able to keep all the paperwork I use daily spread out…even if I had to get up from my seat for a few hours. I searched high and low for a desk large enough for my dozens of to-do lists, but everything felt soo confined. So, instead of settling..I chose to use a dining room table for my desk. BEST DECISION I EVER MADE! Sure, I hate that there isn't a little hole available for me to push my computer cord through, but I never run out of places to put documents, schedules, lists or anything else I may need while handling business! This area also has my craft storage, my artwork display and a bookcase with my work binders, notebooks and some of my favorite coffee table books.
2. The Craft Table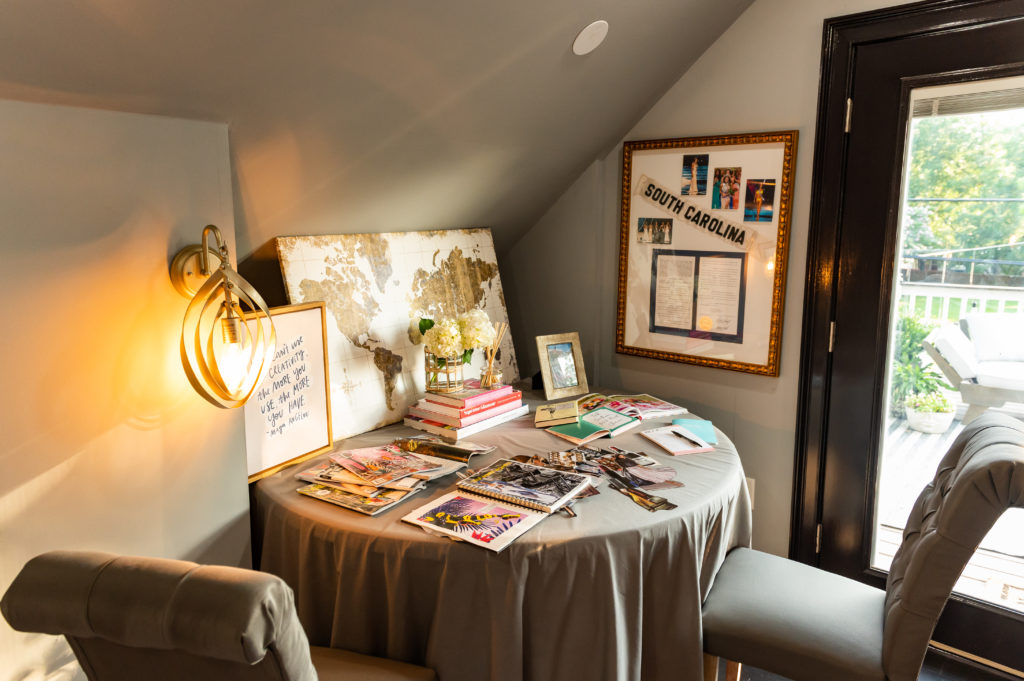 This was the second area that I invested effort in. When I decided to make this room my very own there was a round 60 inch plastic table that was being stored in here. Instead of having it removed, I used it to my advantage! Eventually, out of habit, it became my workspace for much larger projects or group work (ya know…pre-COVID). I made a tablecloth for it (don't look too closely at the stitching) and now it serves as a great little nook to craft in or organize products I may be preparing content for. The best part about this space is I can sit here and enjoy the view of my terrace at the same time. I store coffee table books that I frequently rely on for inspiration here, and it ended up being the perfect place to showcase the sash that I competed on the Miss USA stage with! I used a super large canvas to hide the awkward ceiling slant which made it even cozier.
3. The Lounge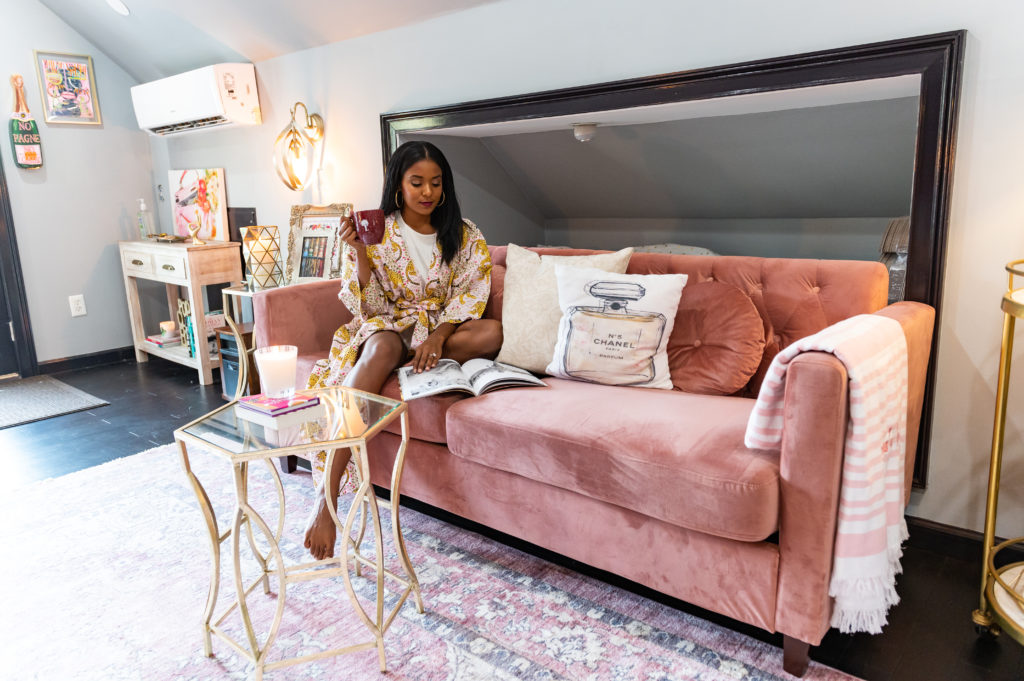 The lounge was honestly the area that took me the longest to develop. The space between the desk and the workspace served as "no man's land" forever. It held boxes I was too lazy to unpack, shipments that were sent to me daily, and storage for just about anything else I was holding on to. I knew early on I wanted to include a couch in this space to watch tv, sip wine with friends, relax and sift through a magazine, or even check emails from if I needed a different scenery, but it took me forever to settle on a color that was bold enough to make a statement, but natural enough that I wouldn't get tired of it quickly. Finally, after putting it off for months I came across a couch I couldn't say no to. Since adding it, I've spent even more time in the HQ and it officially feels complete!
Take a look around…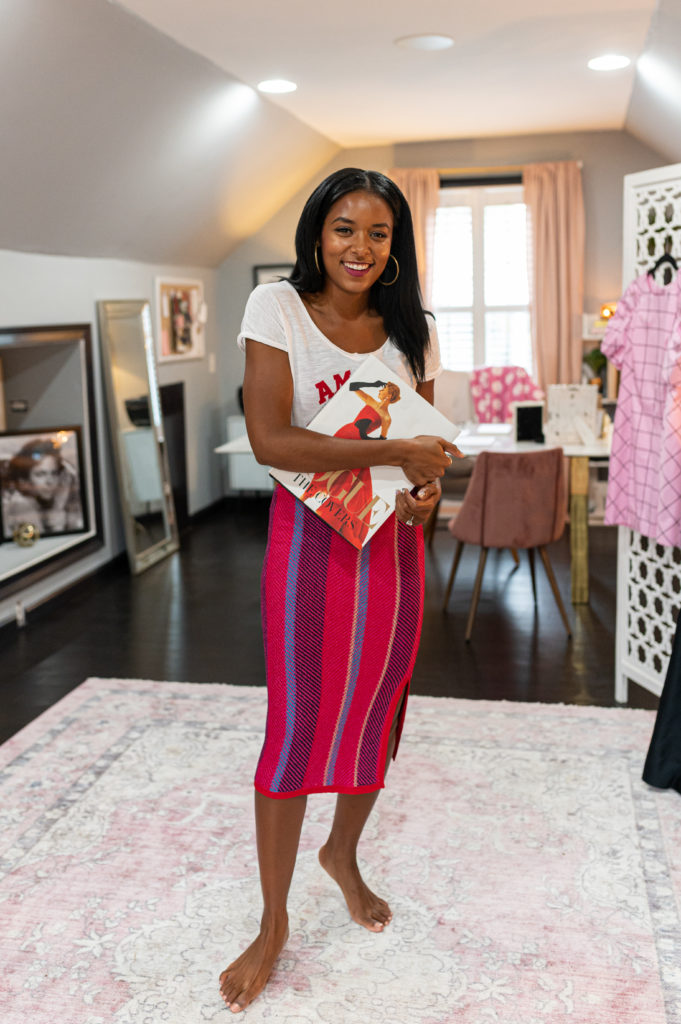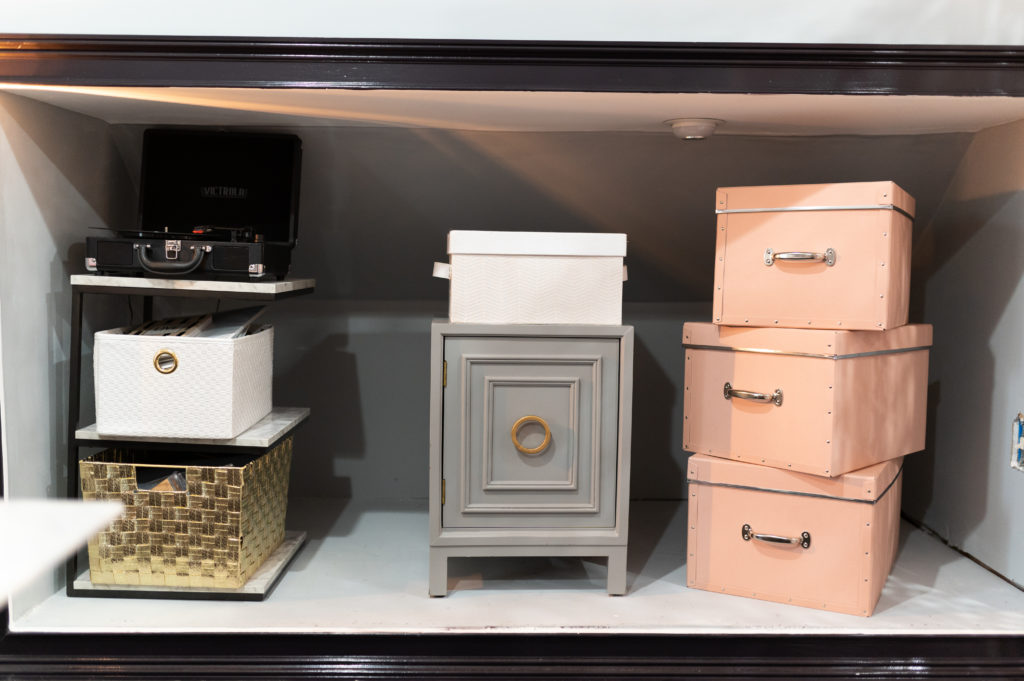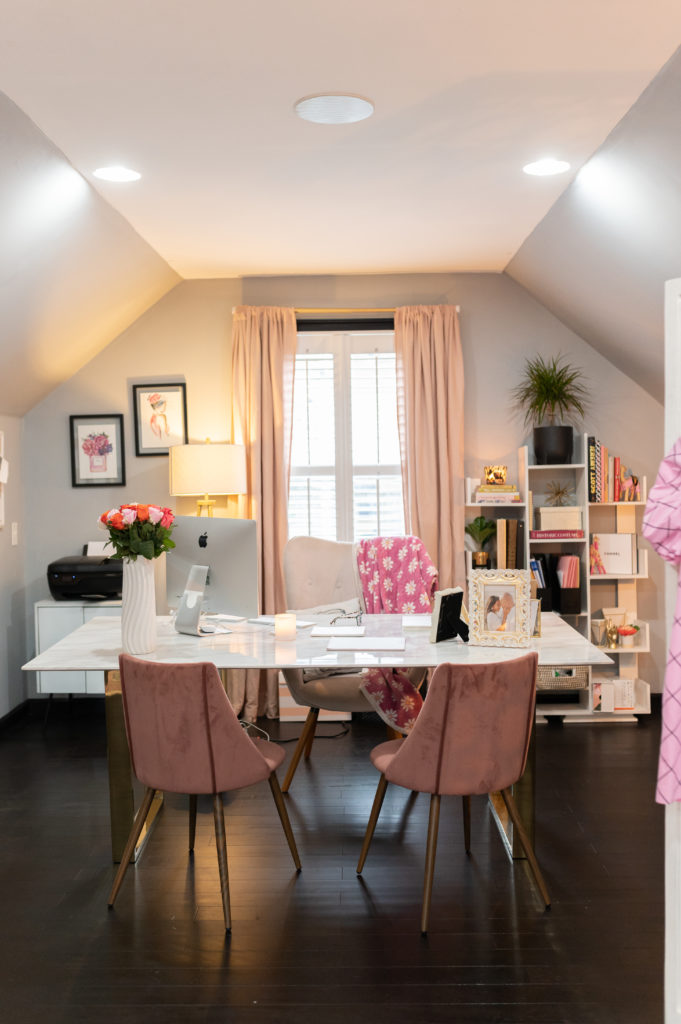 Desk: Wayfair // Chairs: Wayfair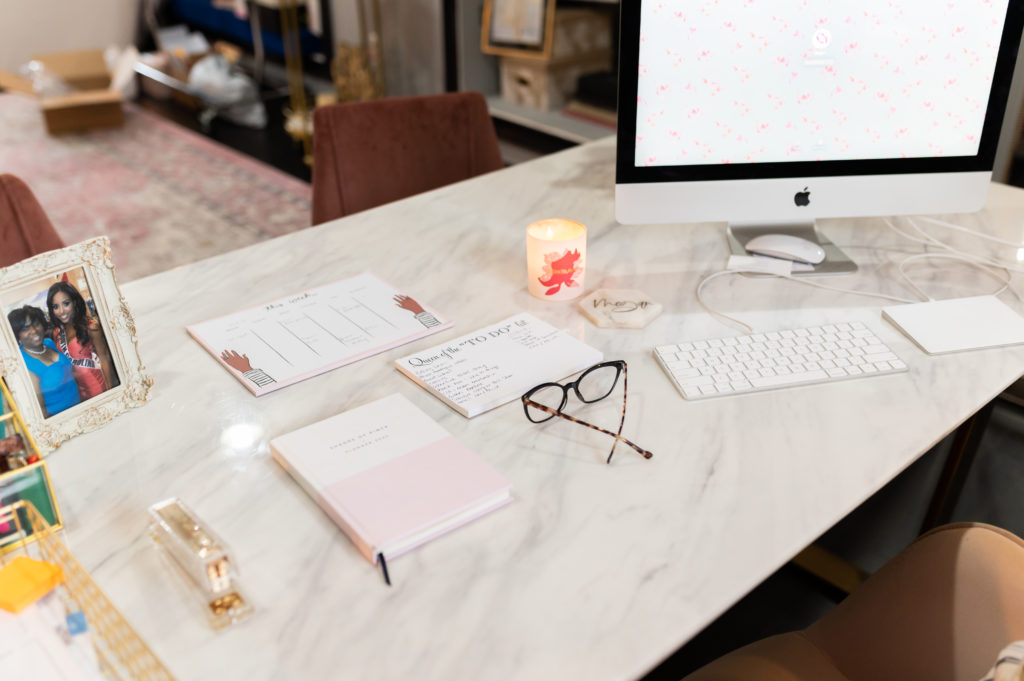 Weekly Desk Calendar: Etsy // Custom Planner: Papier // Candle: Otherland // Stapler: Kate Spade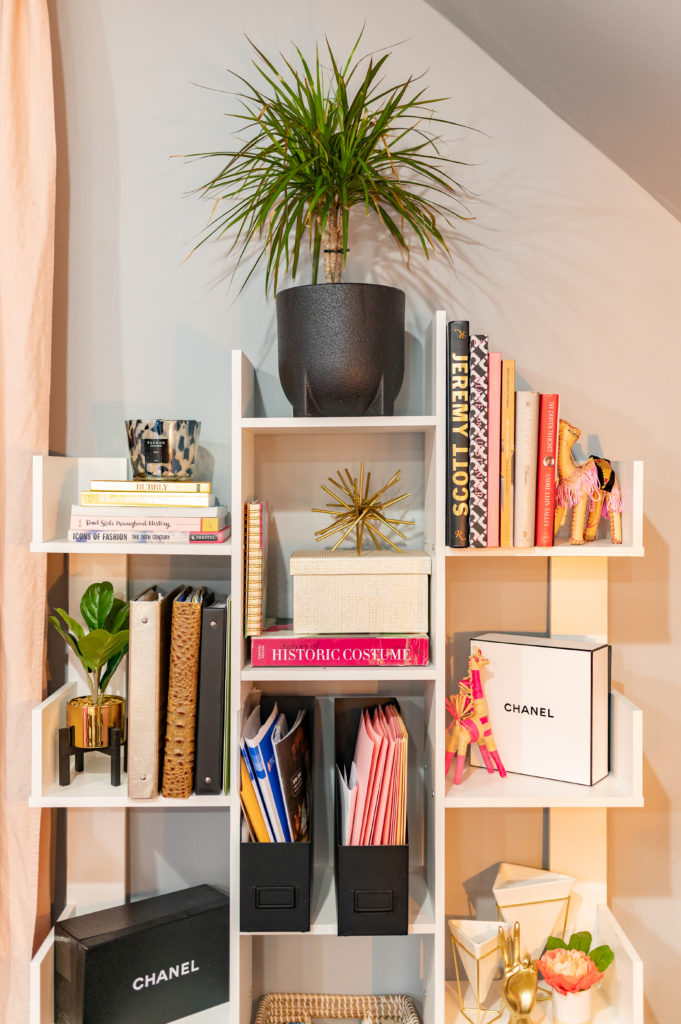 Bookcase: similar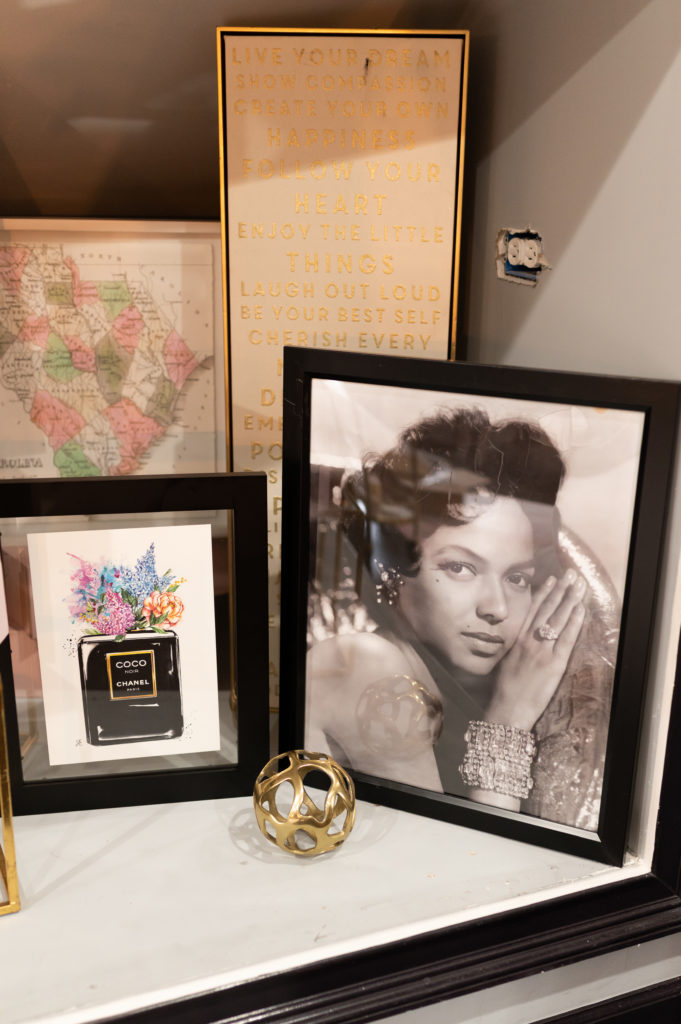 Dear Dorothy Dandrigde will forever be one of my style inspirations!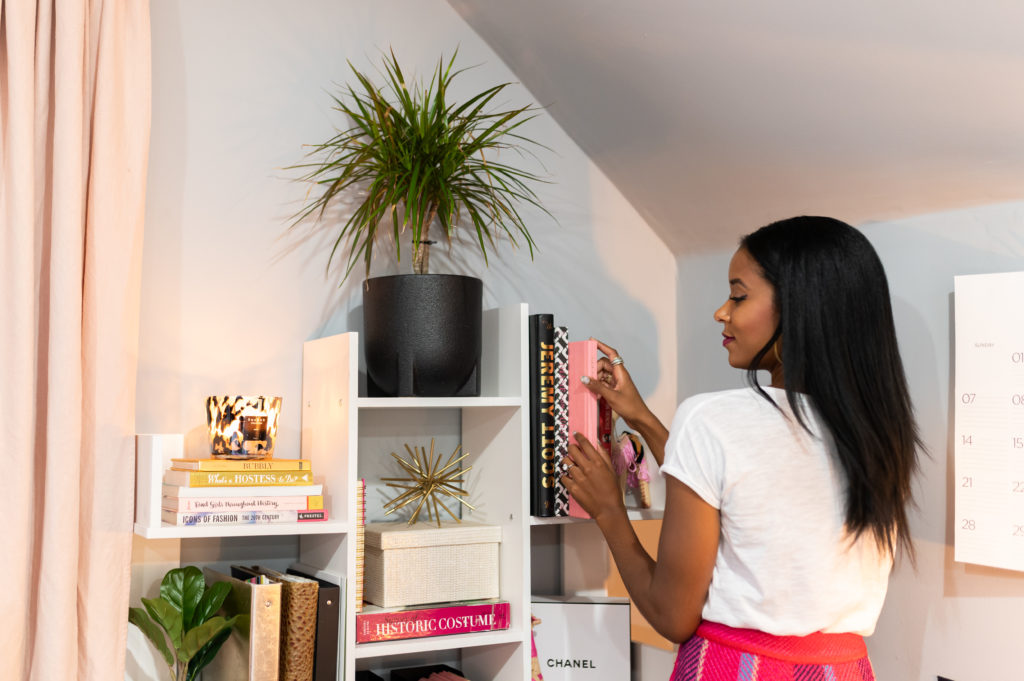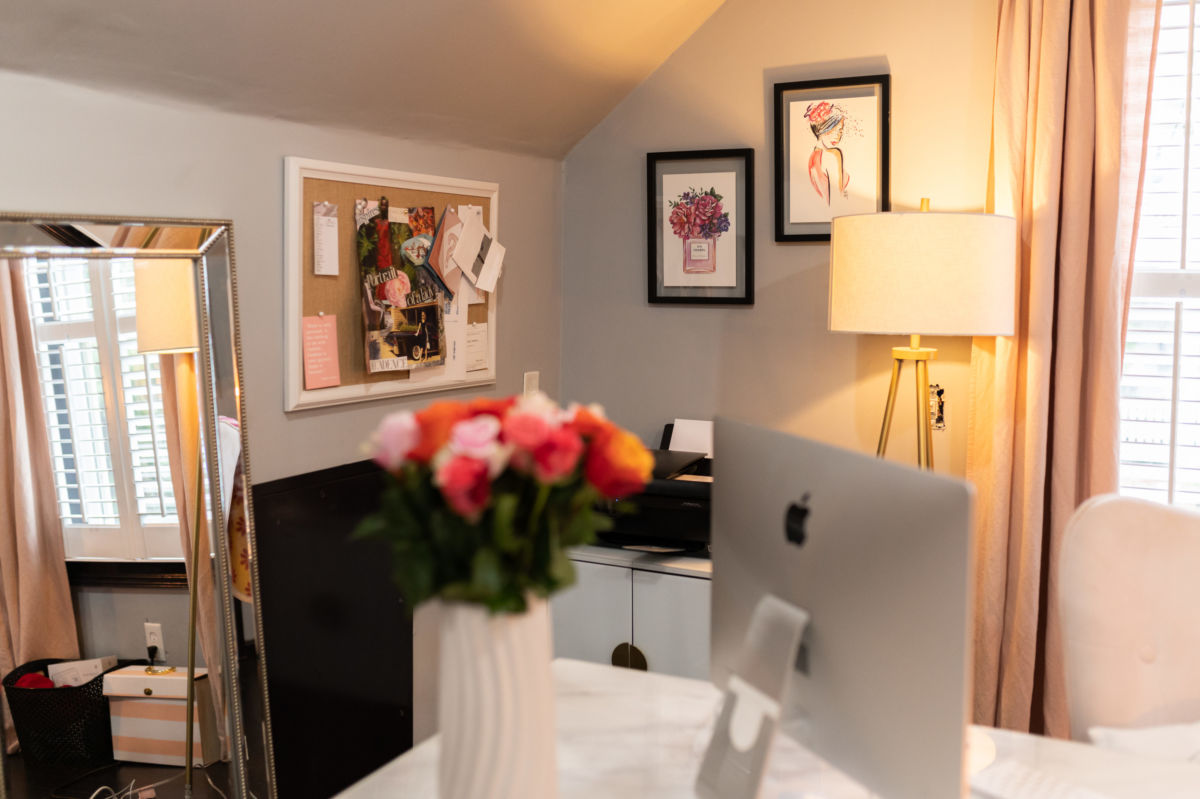 Printer Table: Wayfair // Custom Artwork (that's featured on my website): Daniel Velasco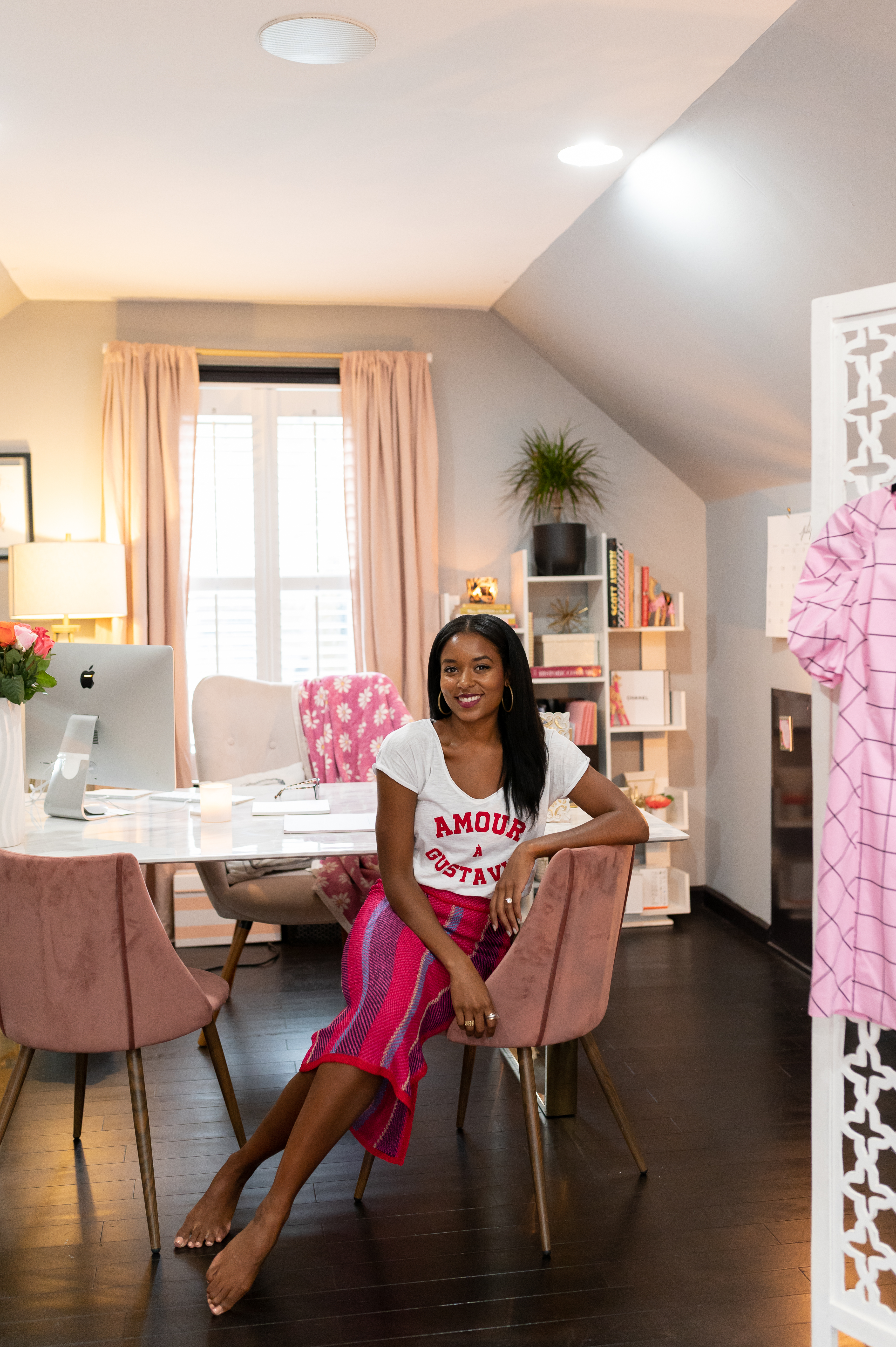 The best part about these chairs is I can use them for meetings at my desk, or as extra seating in the lounge!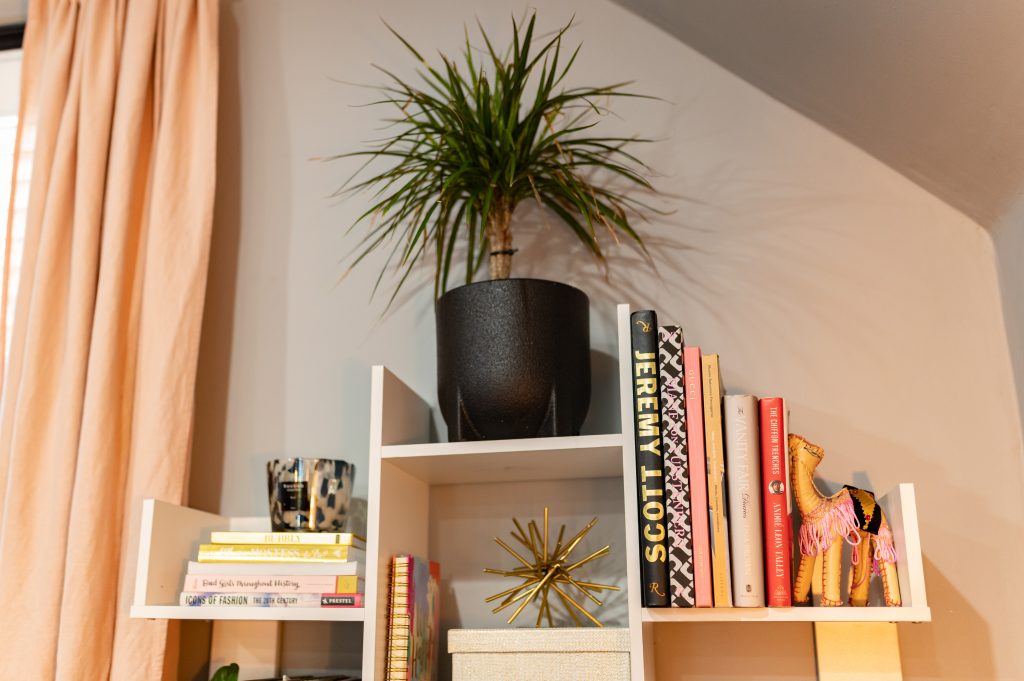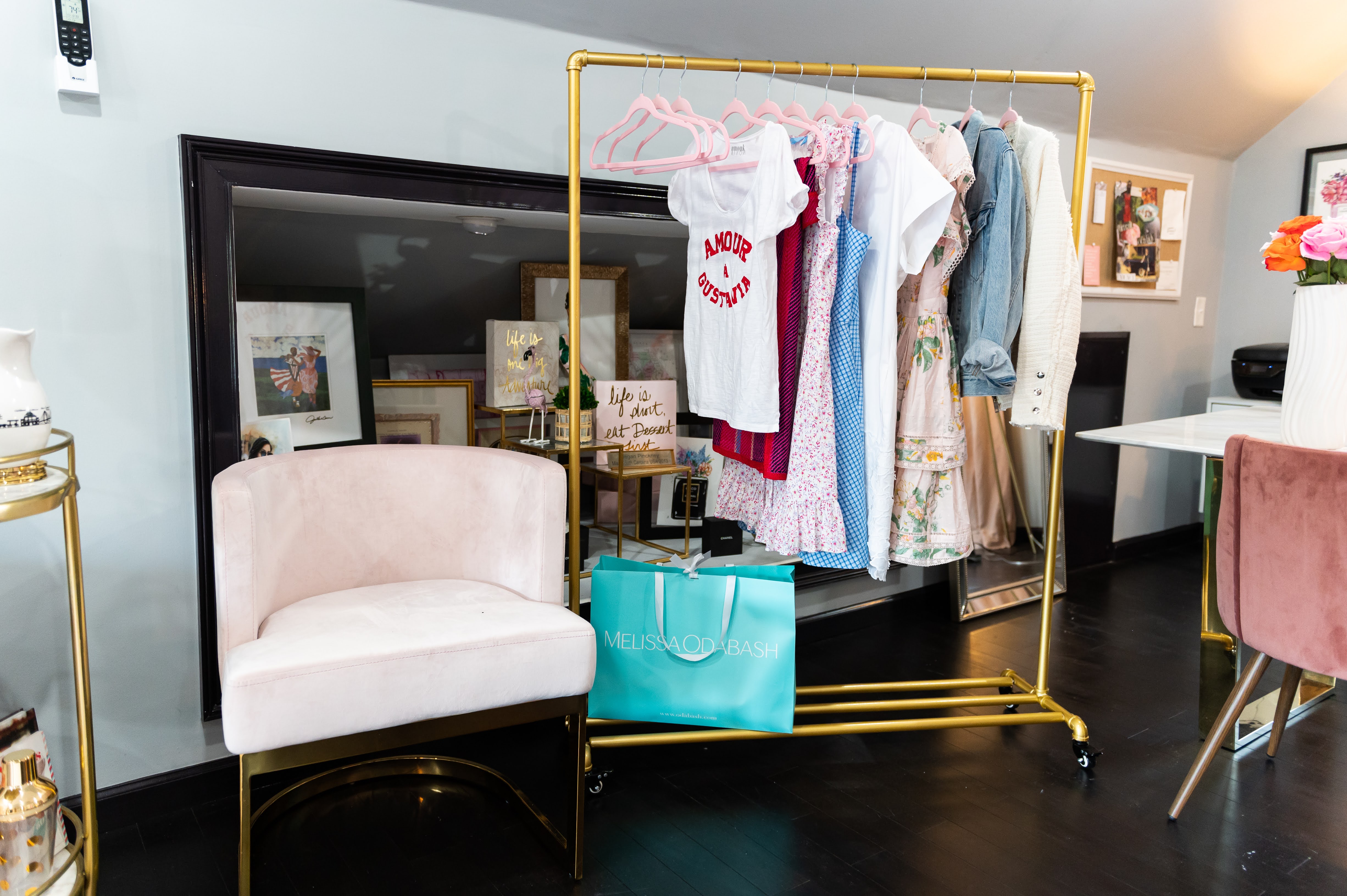 This clothing rack is more than decoration; it helps me keep content products organized for shoots.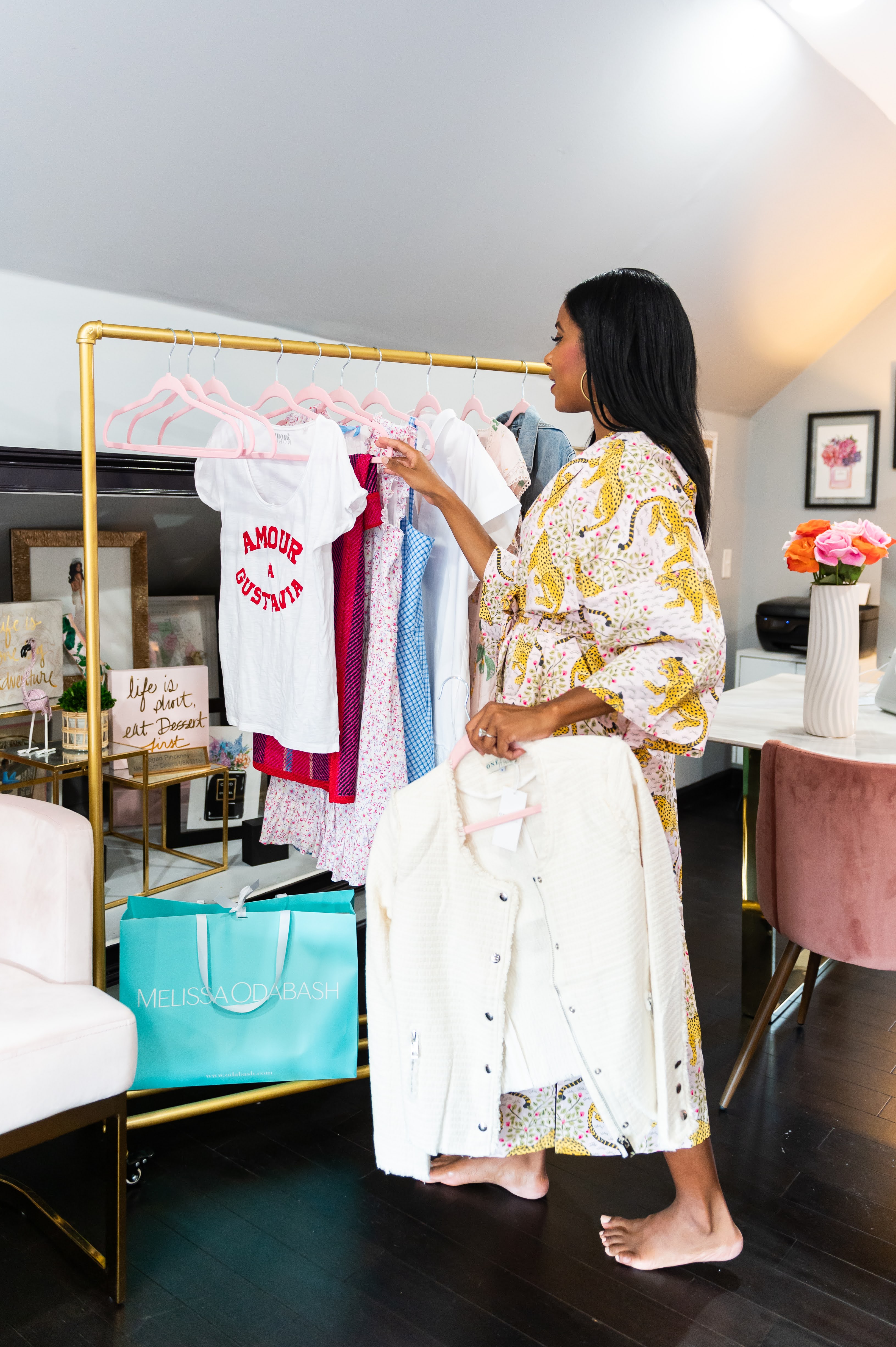 Clothing Rack: Amazon // Jacket: One/Third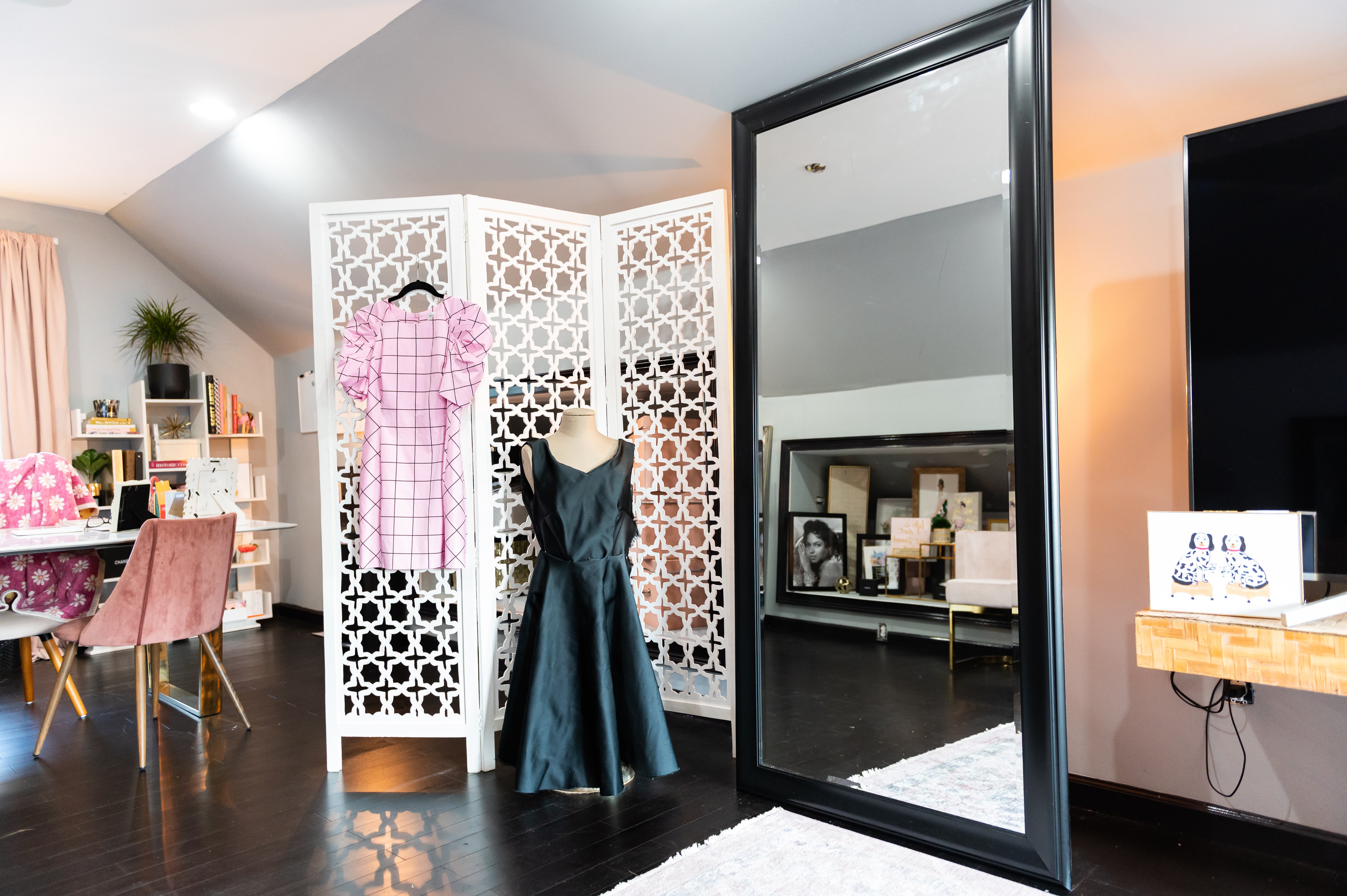 Room divider: Similar // Similar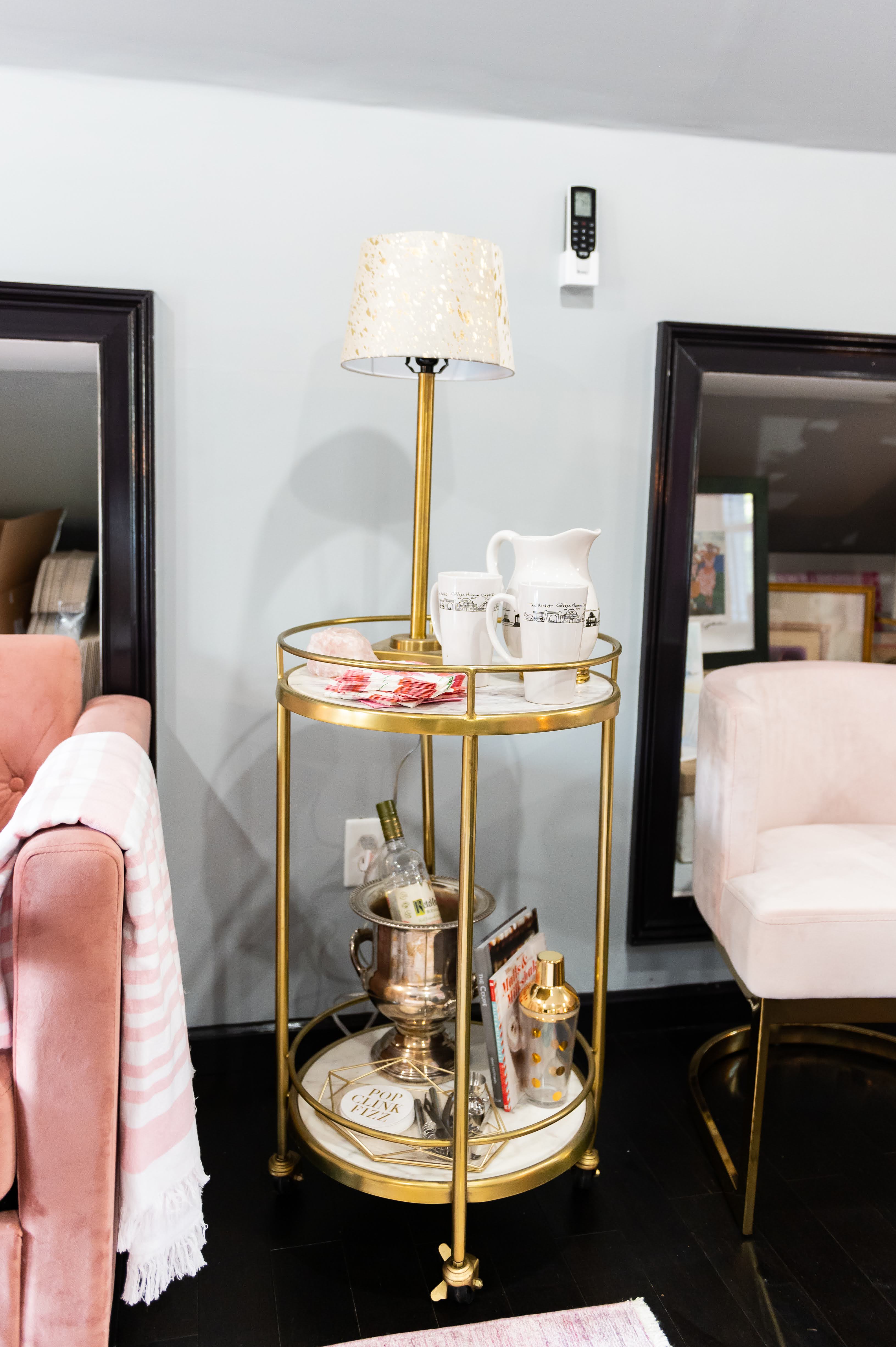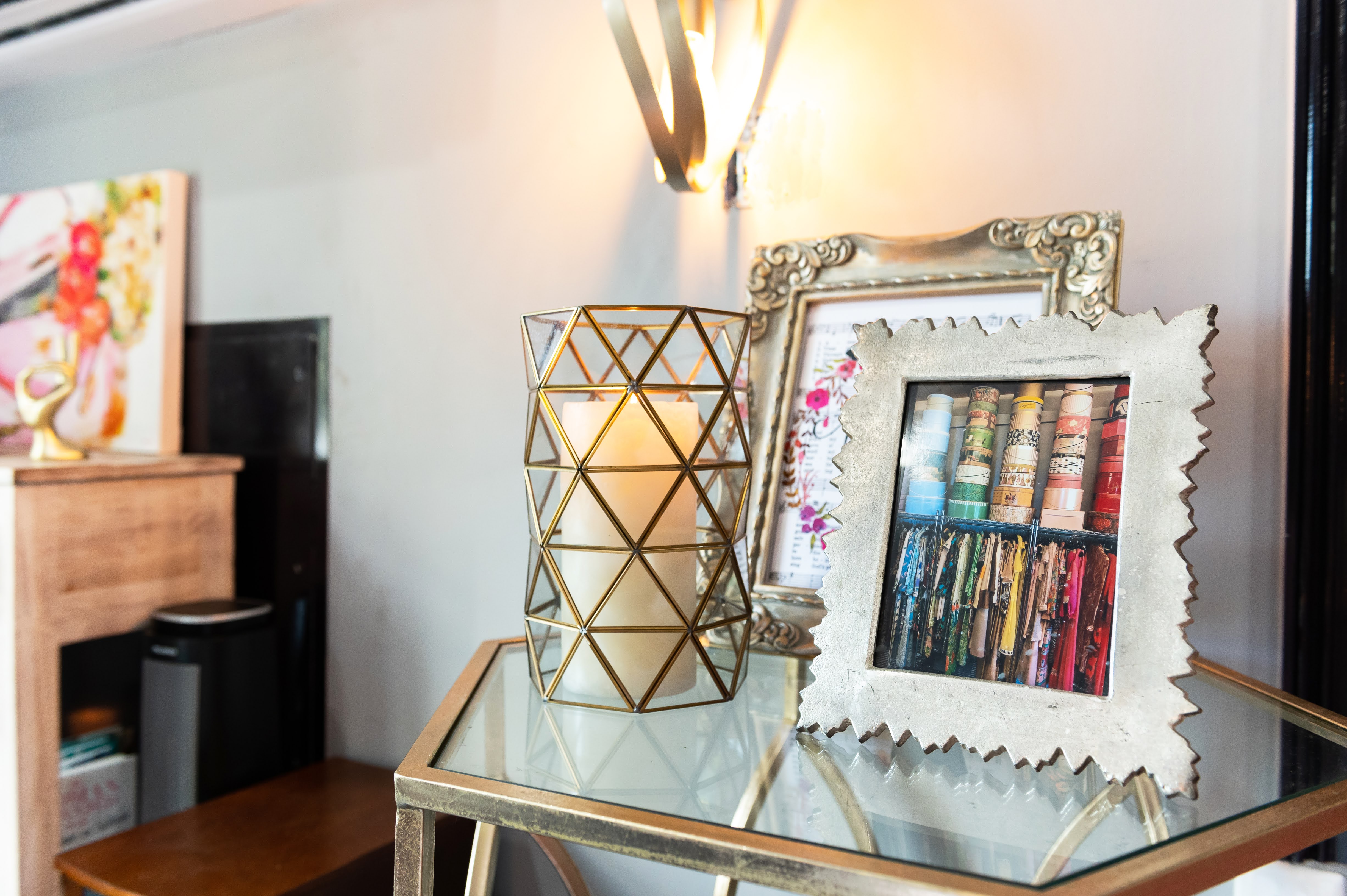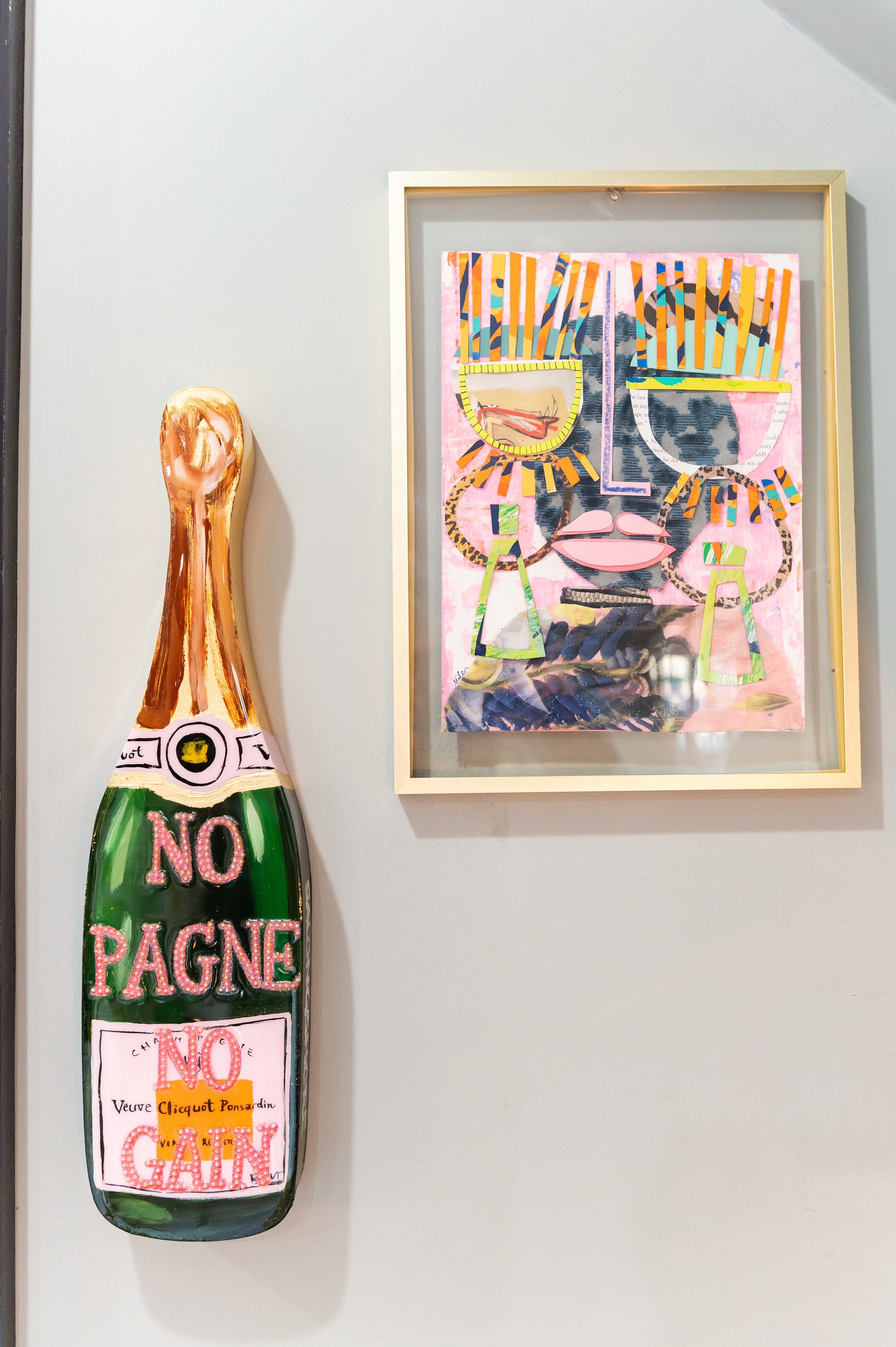 Champagne Silhouette by Ashley Longshore // Tina by Miles Purvis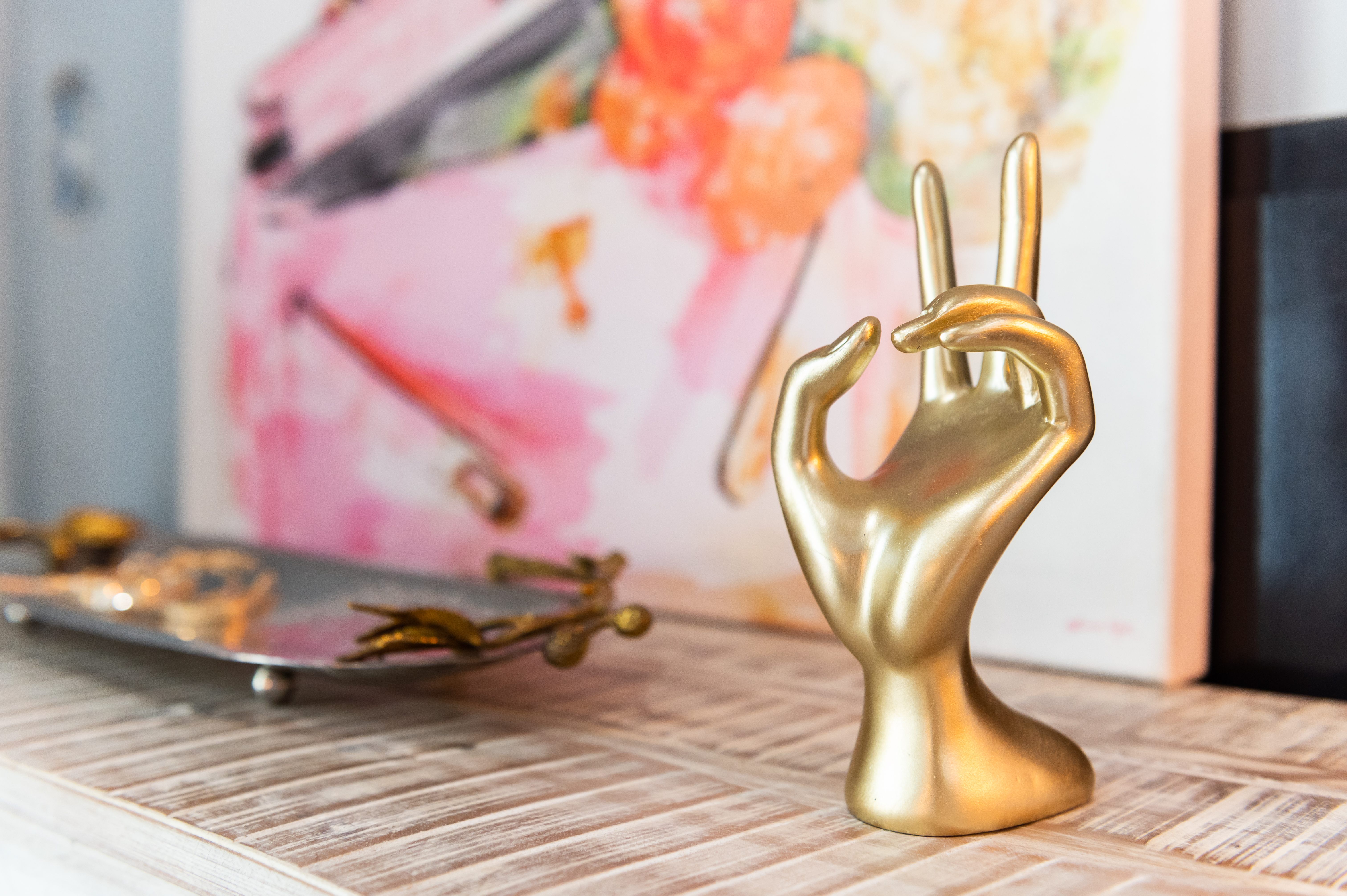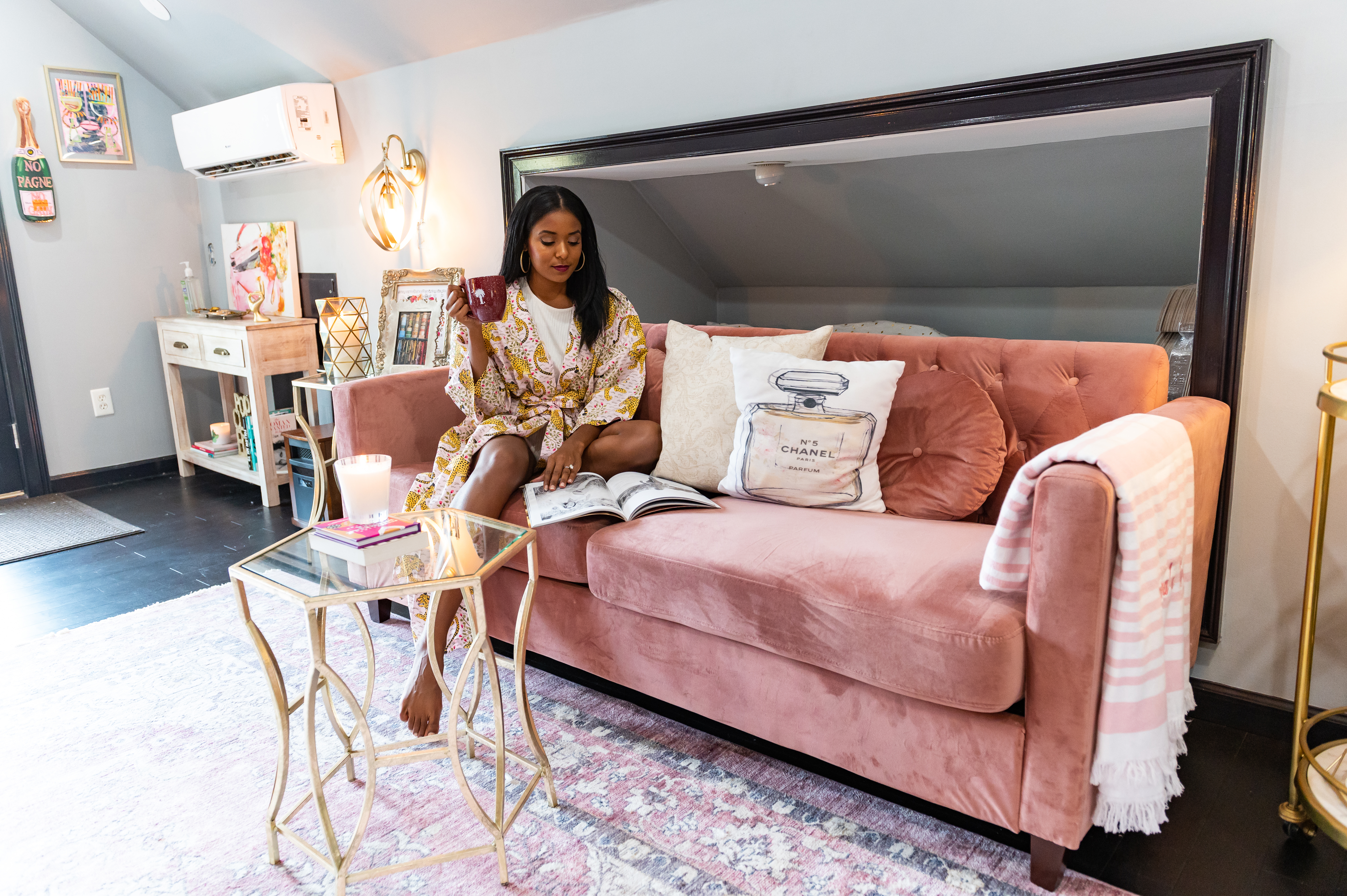 Sofa: Overstock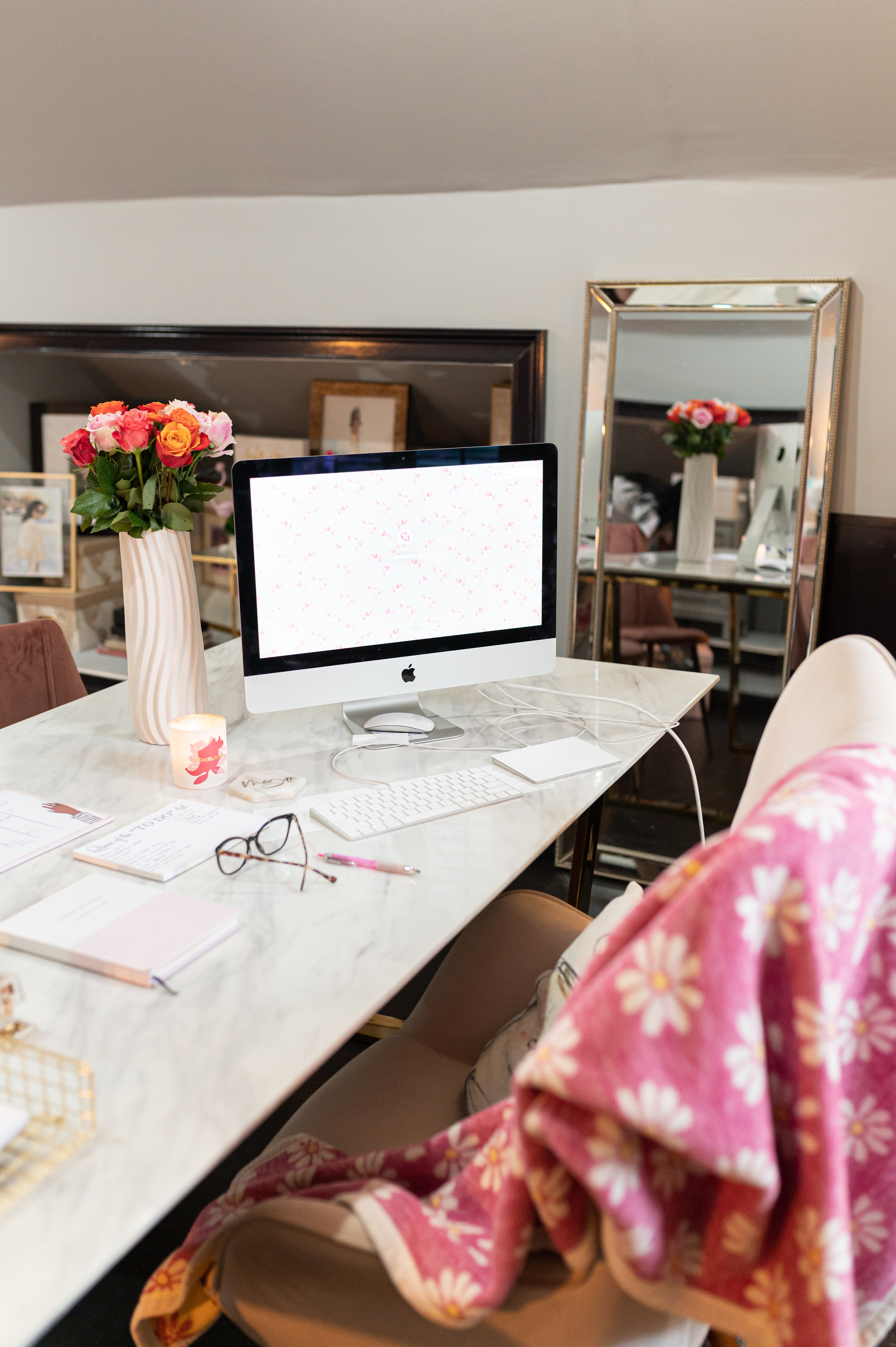 Blanket: ChappyWrap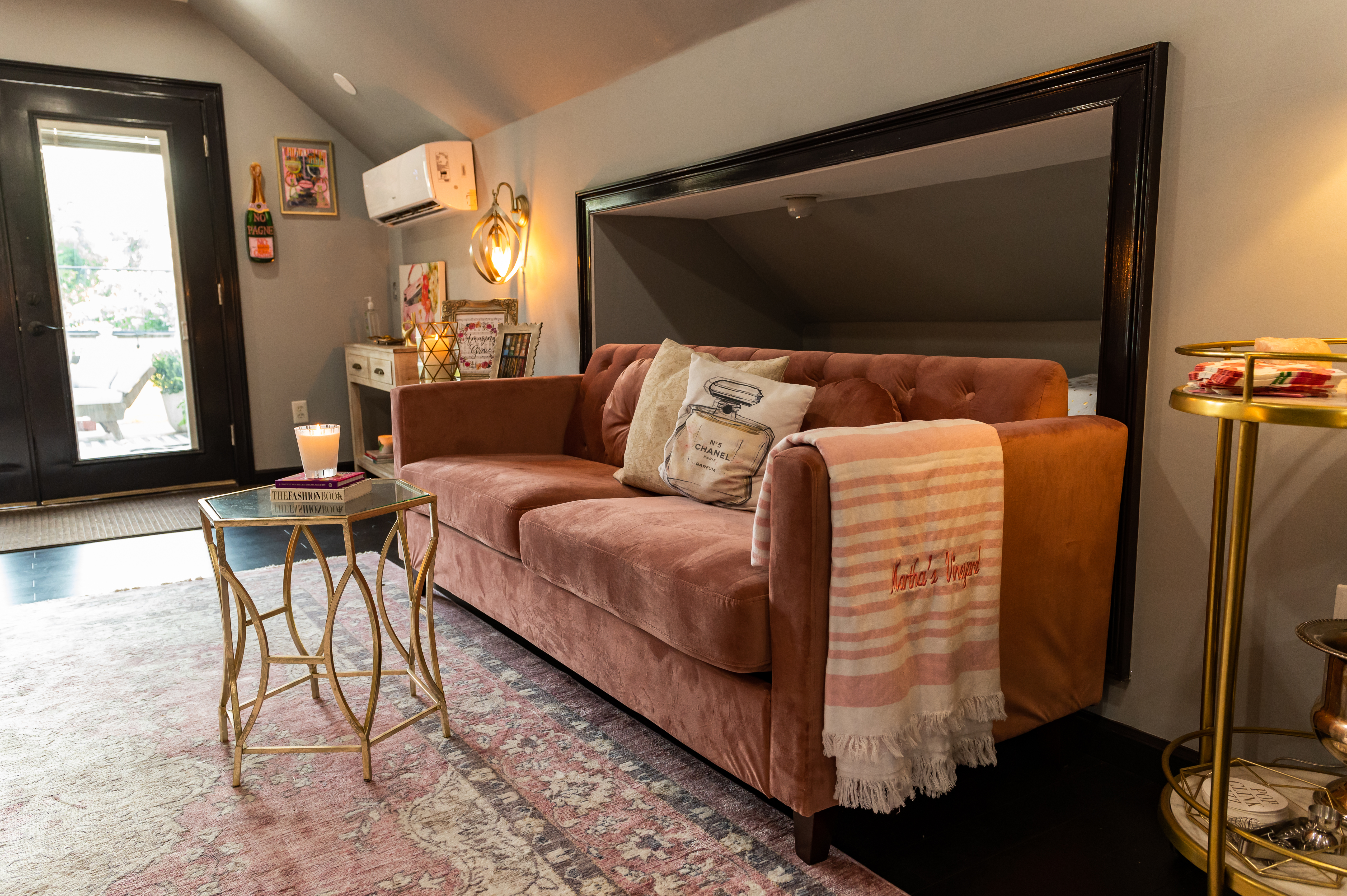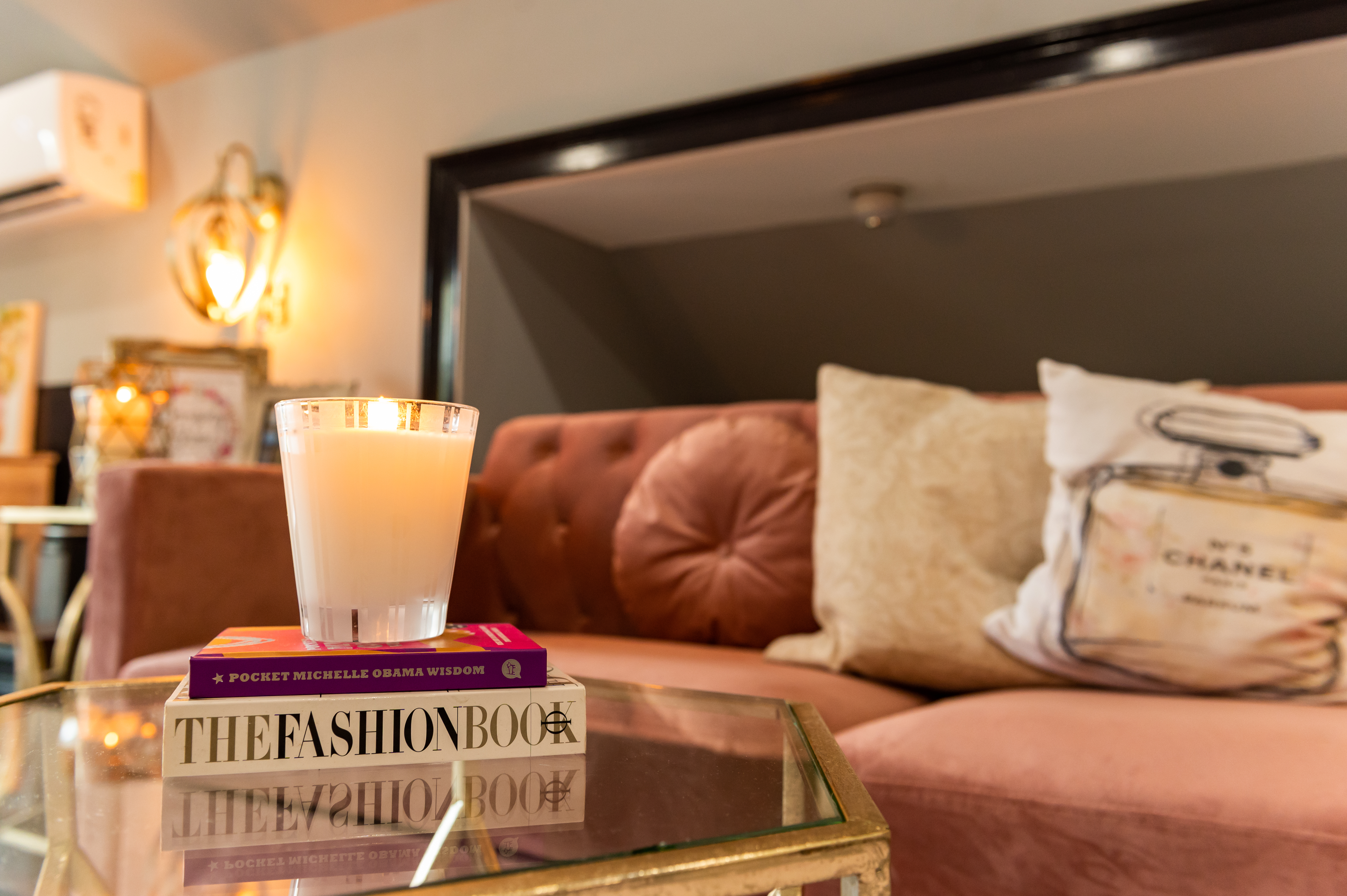 Candle: Gwynn's of Mt. P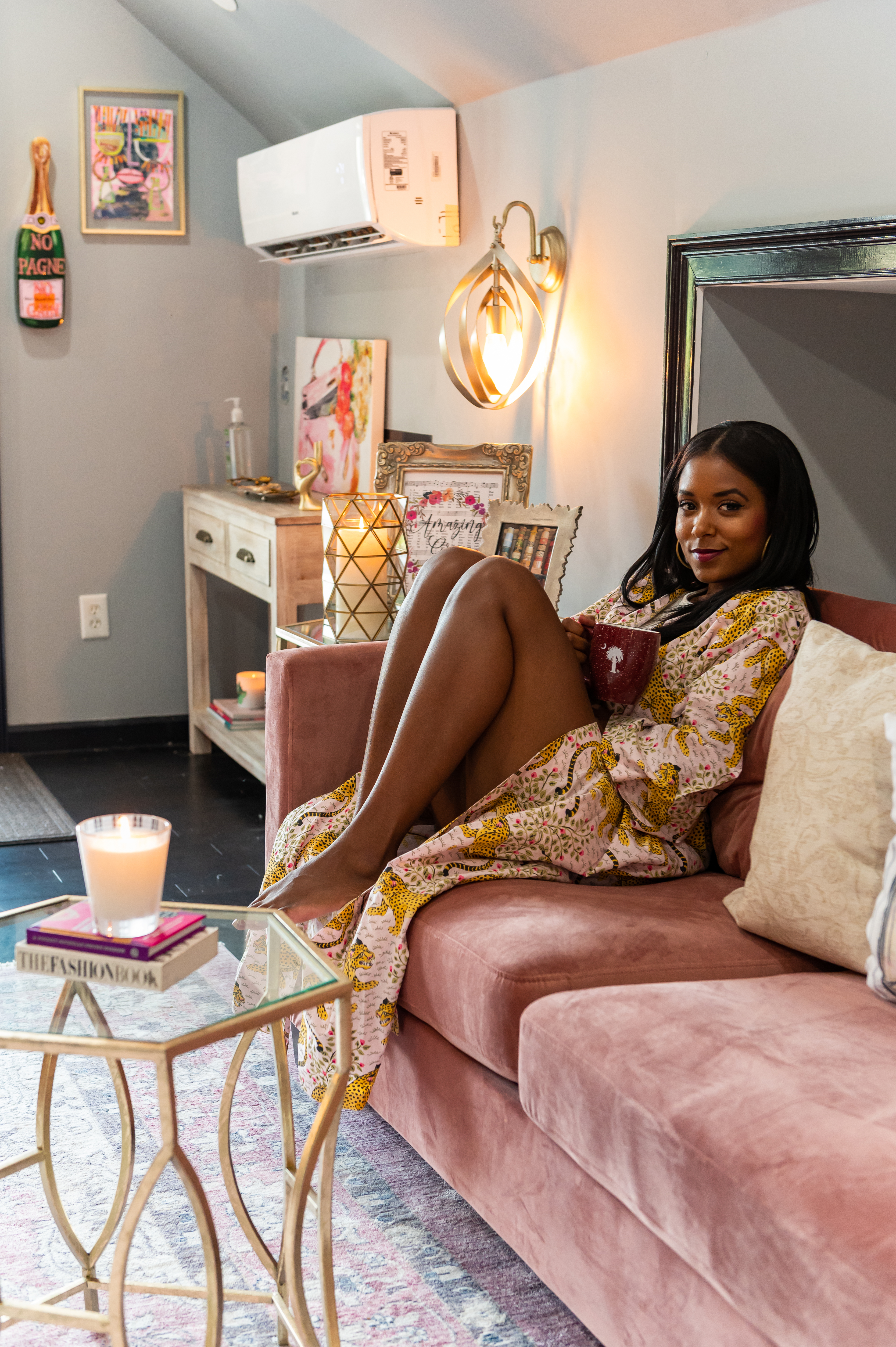 Robe: PrintFresh (Use code PINCK for 15% off)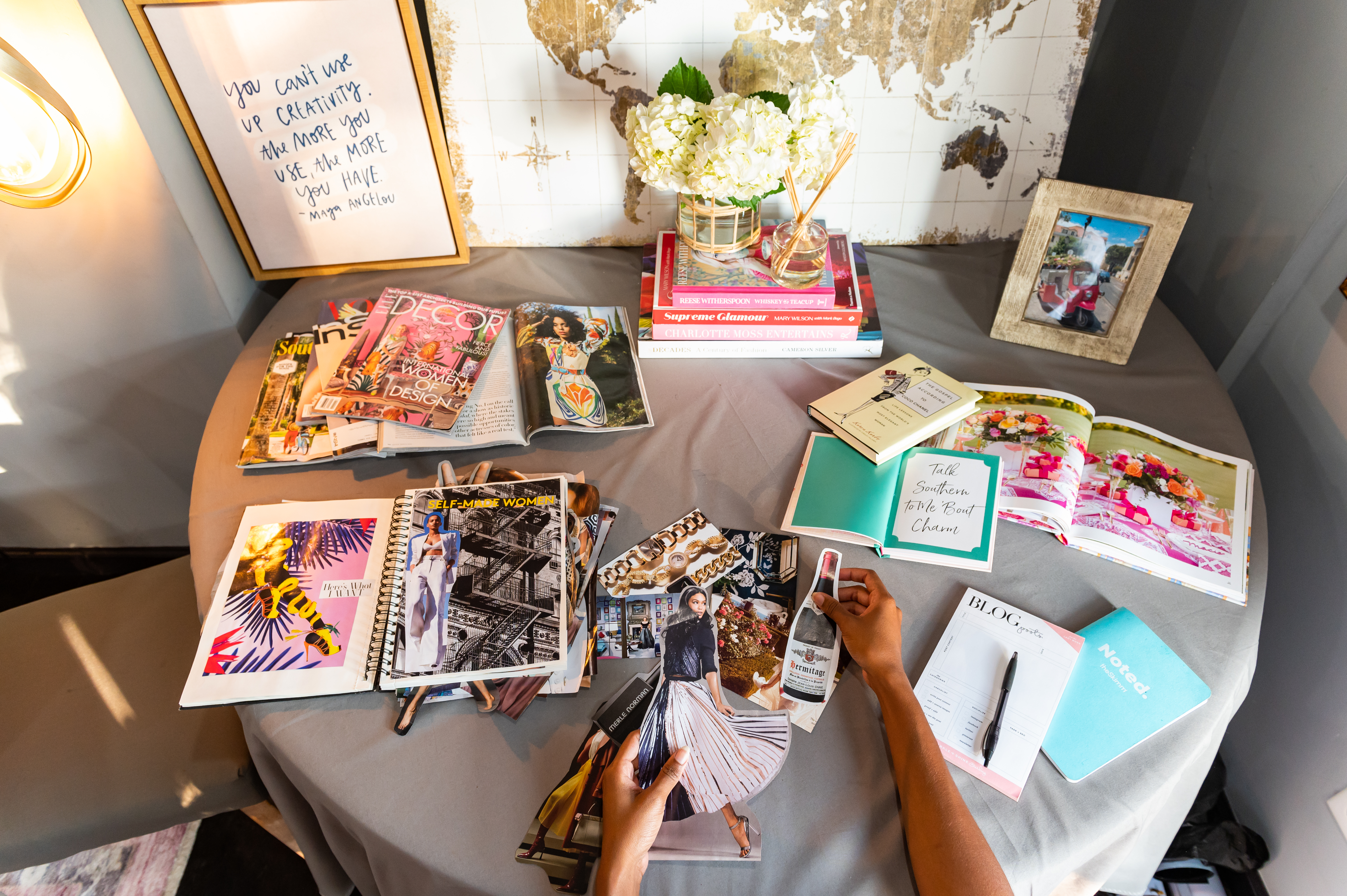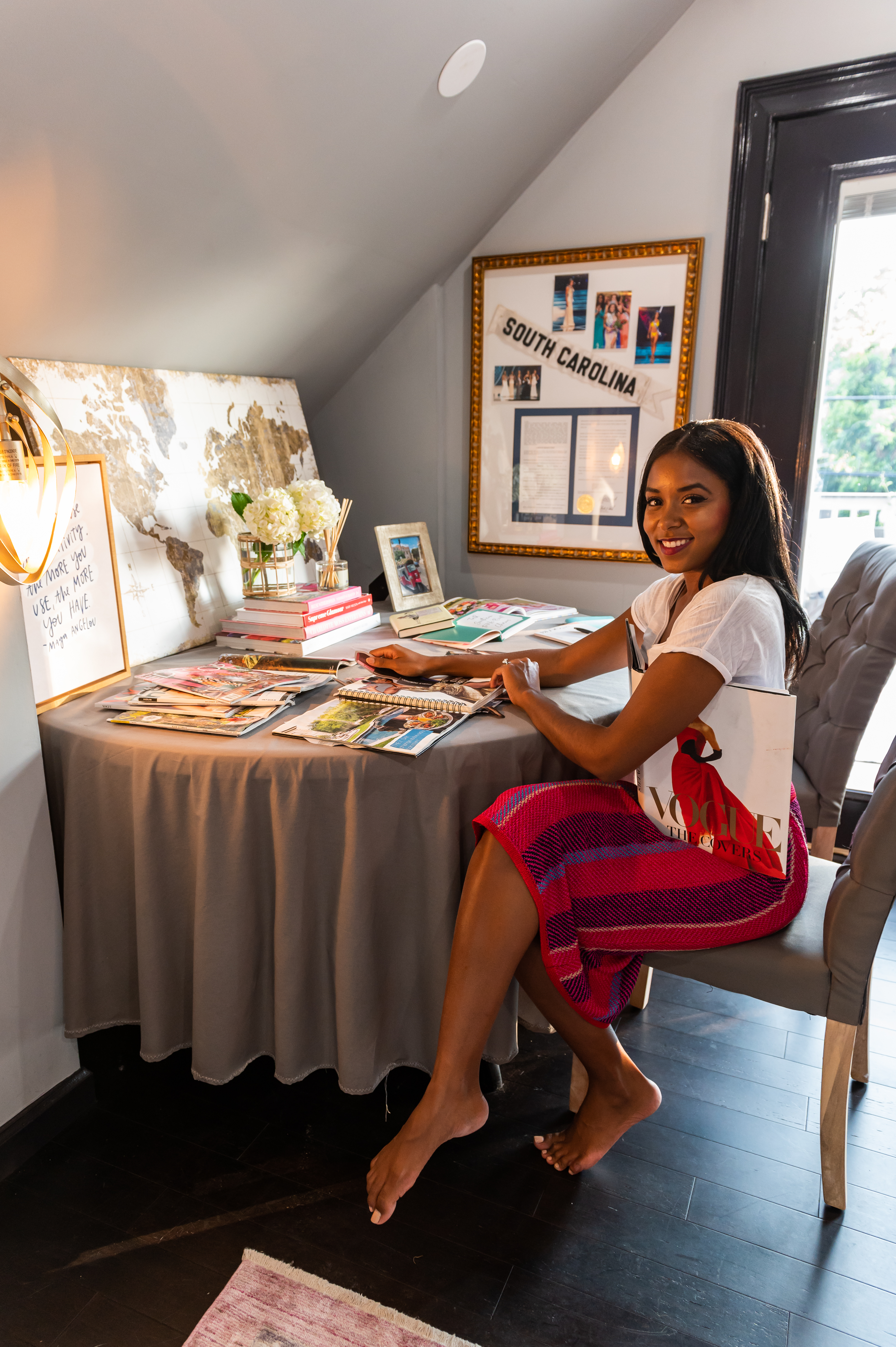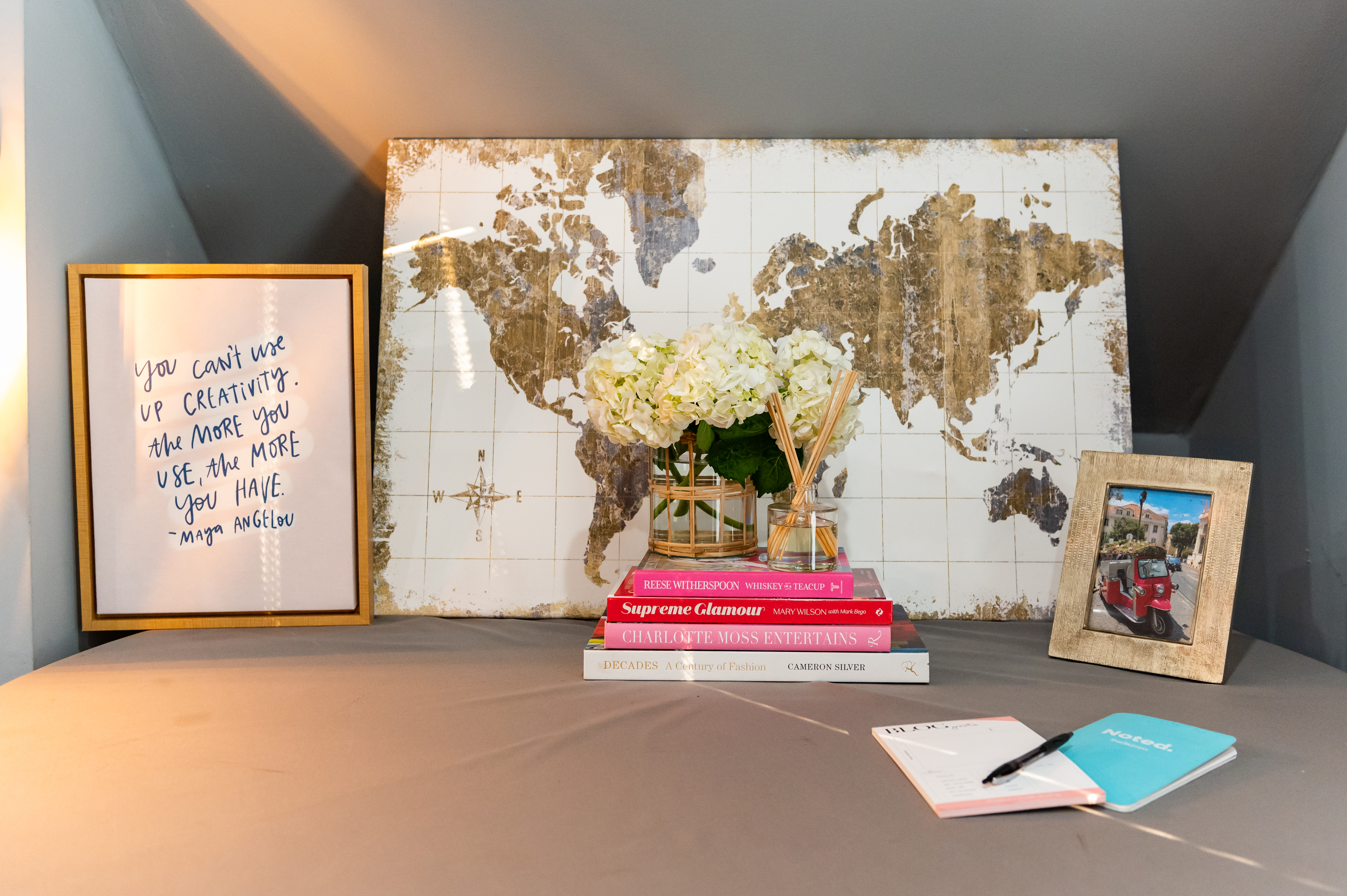 Flower Vase: Amanda Lindroth // Reed Diffuser: Thymes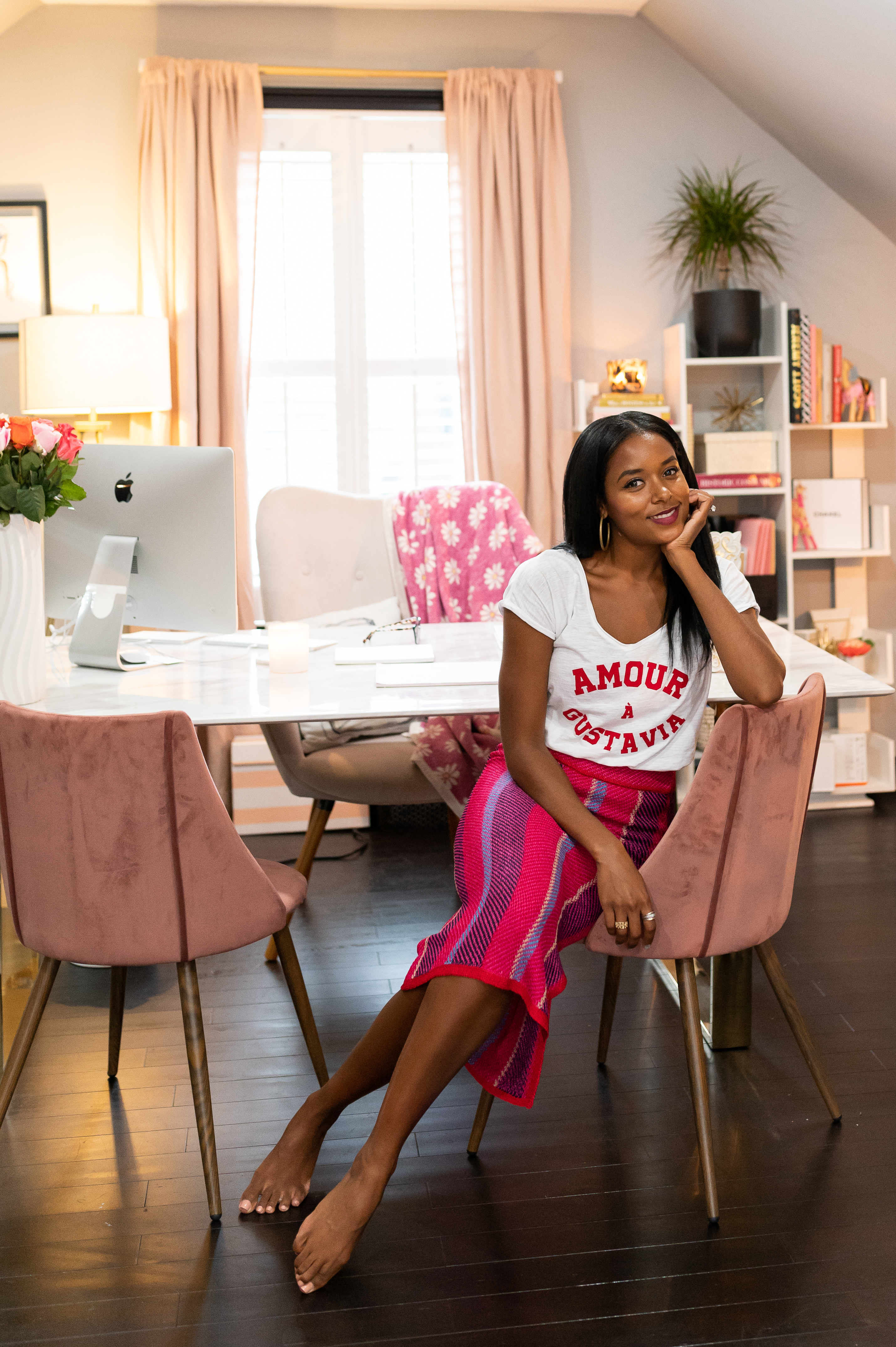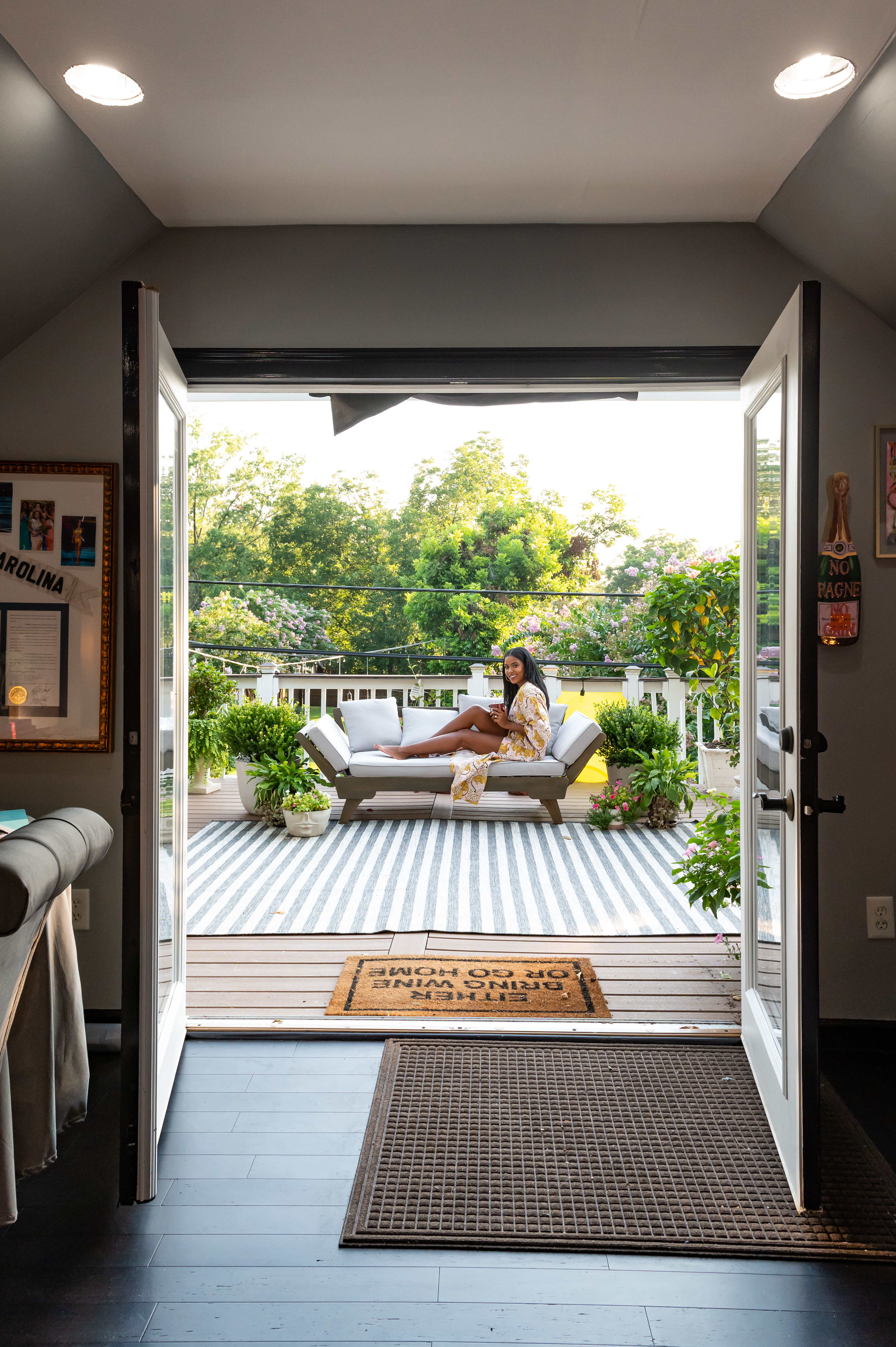 Take a tour of the terrace right outside my office here!