Every Spring Break we take an annual trip out West to ski Beaver Creek Mountain, just outside of Vail, Colorado. It's become a tradition that we all look forward to. And after having to skip last year because of the mandatory shut downs, we were all extra eager this year. But we never stay in Beaver Creek for the entire week. Not only are we kinda over the snow after a handful of days, it's also gawd awful expensive. The year before last, we left the mountains for the beaches of Mexico, but with so many restrictions in place these days, we didn't feel like international travel was the smartest move. So being that we were already more than half way across the country, and truly desiring a beach that felt foreign, we decided to make the trip across the Pacific and scratch Hawaii off of our bucket list.
Hawaii, unlike South Carolina, was still very much "opening back up". Just a couple weeks before we arrived the mandated curfew was lifted. And for us to even enter the island took an at-home Covid test that was approved by their government and was taken + returned within 72 hours of landing! We were there for 5 nights and explored The Big Island and O'ahu. The weather was a little windy while we were there, and the Pacific Ocean is never the warmest, so aside from seeing how beautiful the scenery was, we spent most of our time eating our way through this island. Here's where we went + what we ate!
The Big Island:
Our very first stop after landing in Hawaii was to Lava Lava Beach Club and wow it did not disappoint! The view was spectacular, the food was delicious + familiar, and it was the exact vibe we wanted when being introduced to the US's 50th state.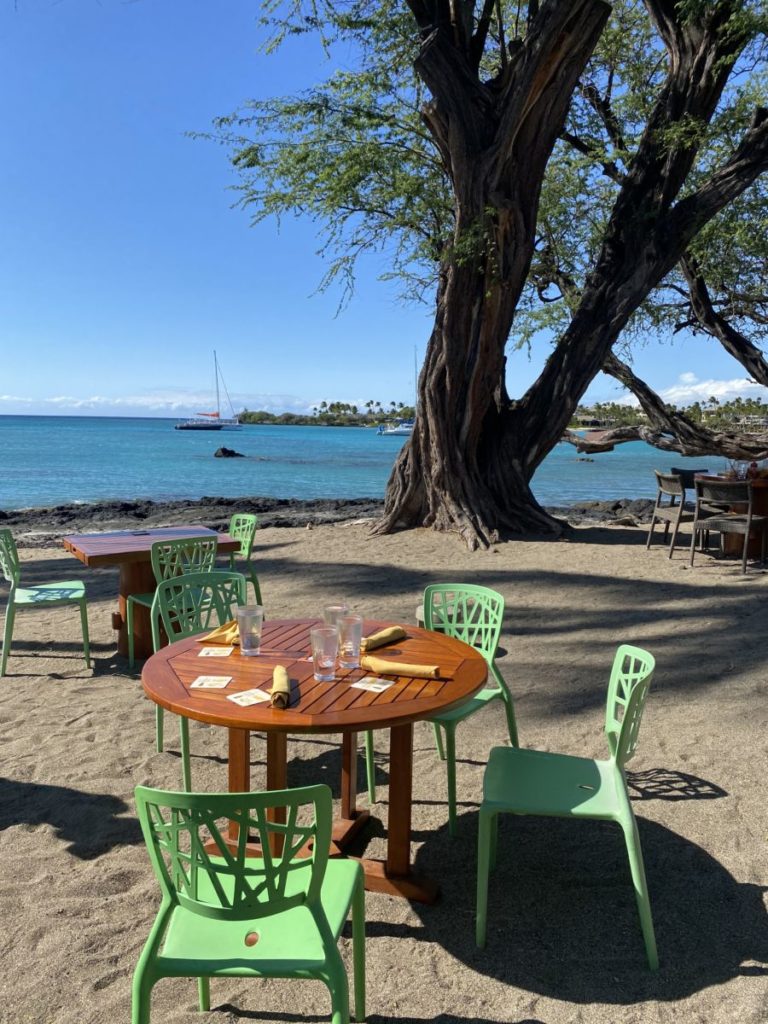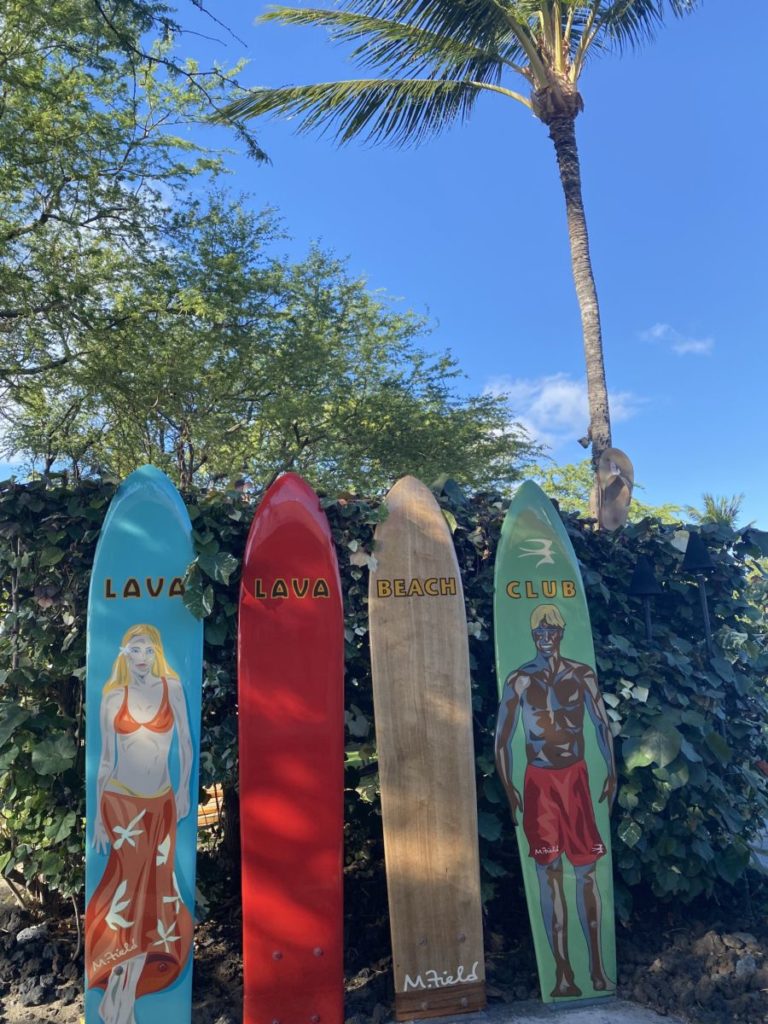 Other Honorable Mentions on The Big Island:
There's a super cool highway on The Big Island called Kaukini Hwy that kinda reminded us of Ocean Drive on Miami Beach. There are a ton of shops and restaurants and it all looked out to the ocean with amazing views. We ate breakfast there twice, despite the fact that it was 30 minutes from our hotel. We dined at Island Lava Java and Humpy's Big Island Ale House (pictured below), both of which were wayyy better than processing through a buffet line on our resort.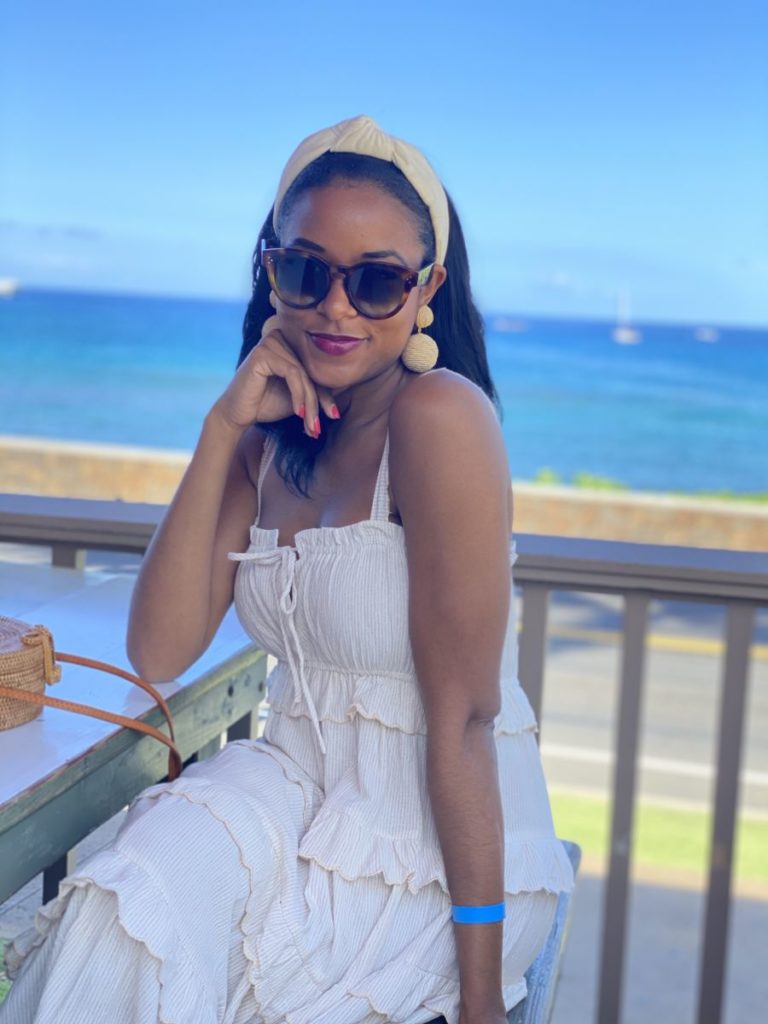 O'ahu Favorites:
We only spent two nights on The Big Island before making our way to O'ahu. The first night we stayed at The Royal Hawaiian, which is an iconic pink hotel that is classic Waikiki. If you don't have the opportunity to stay there, then I highly recommend you eating at their Mai Tai bar to experience it all. Located right off of the beach, this casual dining option has an upscale feel and live music every night. Be sure to explore the grounds while you wait for your table!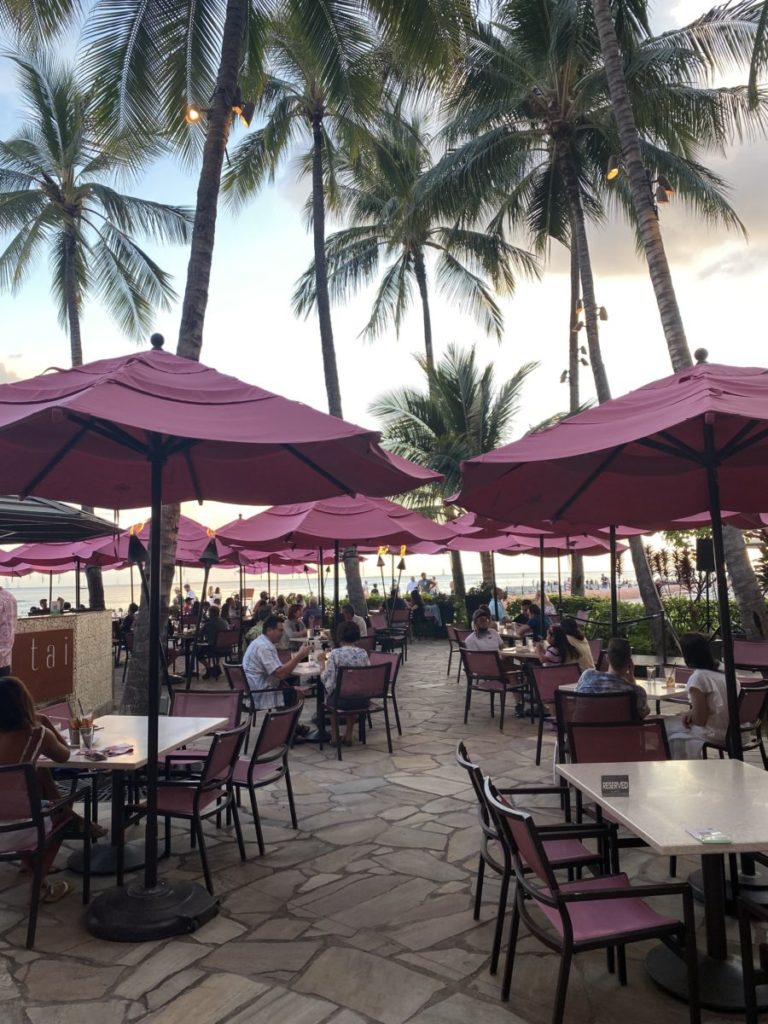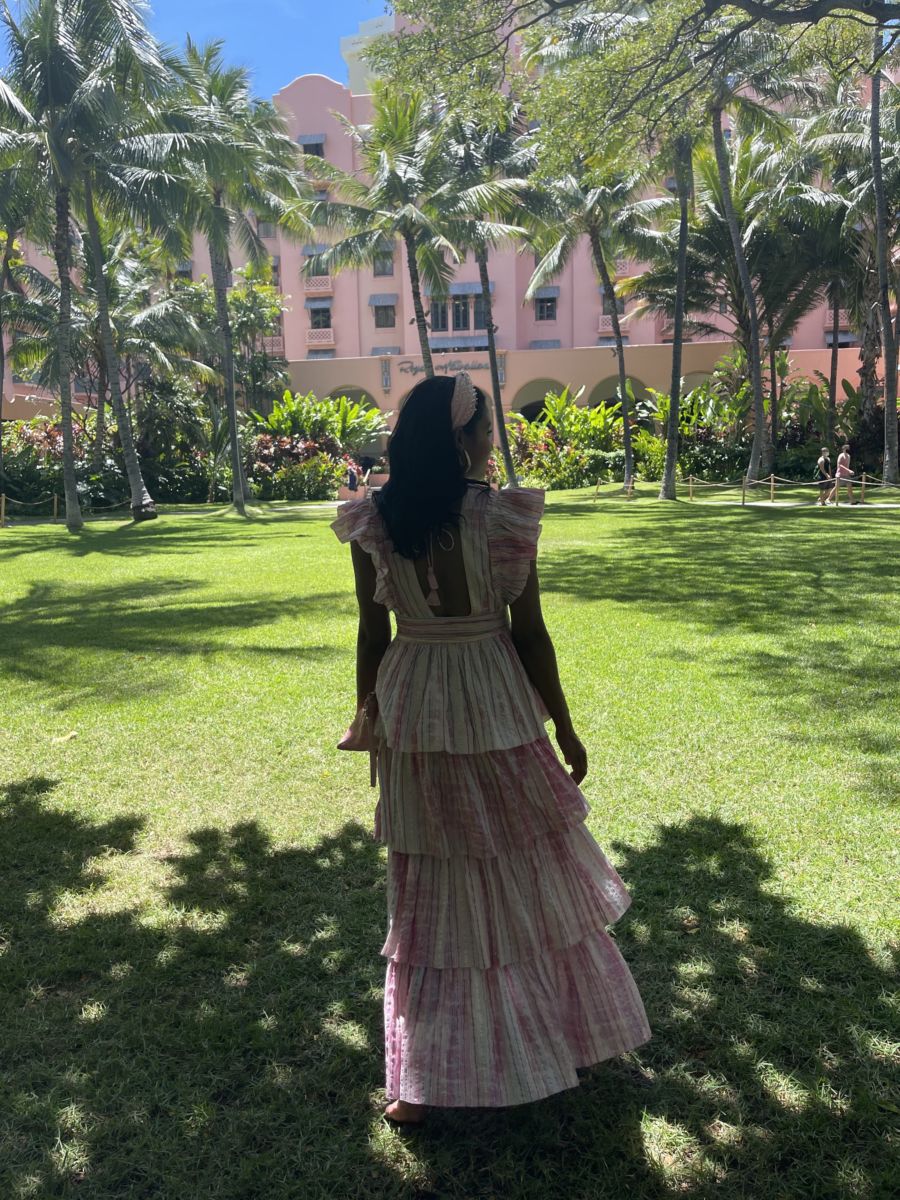 Dress: Saylor // Other Similar Options: Saylor
One of the best meals we had while on the O'ahu was breakfast at Cinnamons. They have two locations, and trust me– it's worth the drive. Their space is not particularly luxurious, but the amount of takeout orders let us know it was a local fave and after having just one bite of our pancakes, we knew why! I ordered the red velvet and Todd ordered the Guava and omg I've never enjoyed a pancake so much in my life.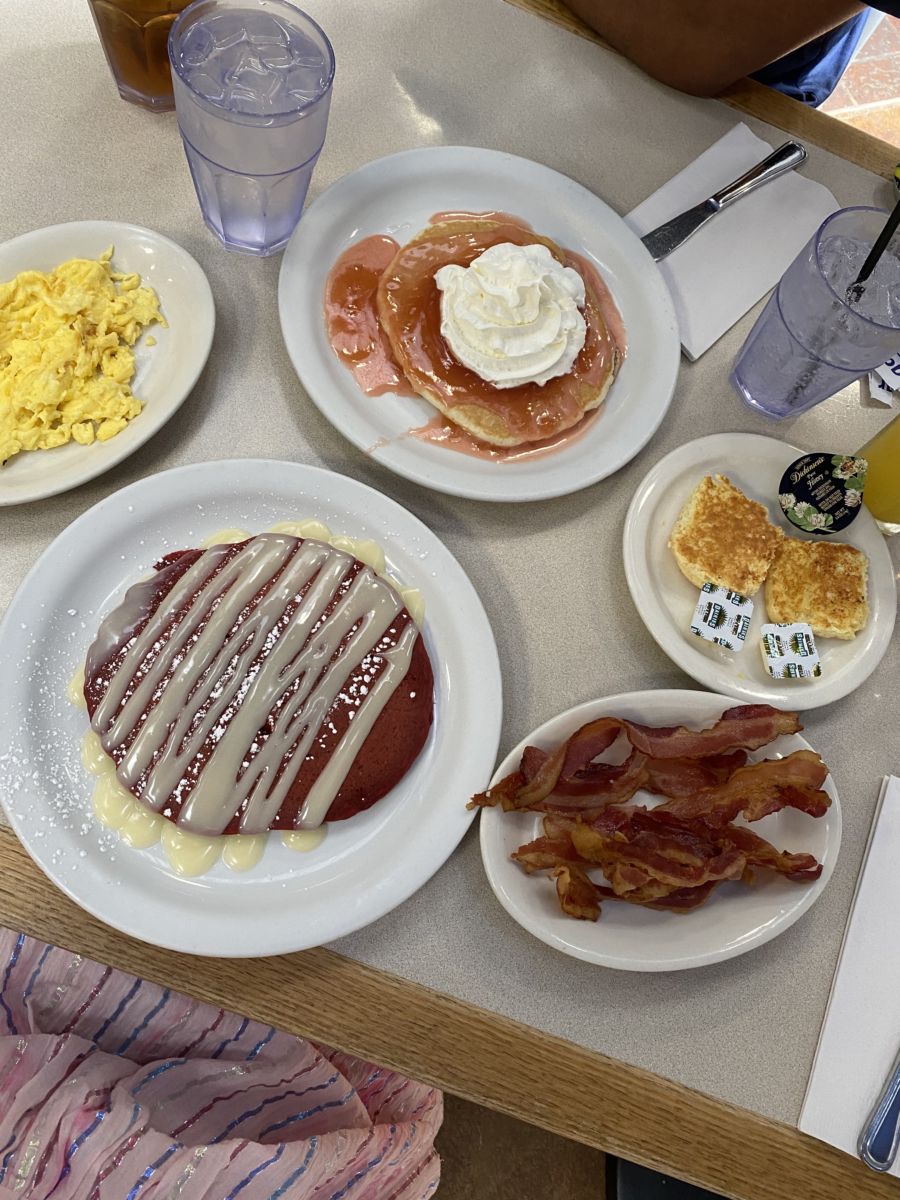 Another breakfast spot that we couldn't get enough of was the Hawaiian Aroma Caffe at the Beachcomber. We loved it soo much we stopped in twice while visiting. While they're known for their coffee + smoothies (which we both enjoyed), their actual meals are great too. And with tropical vibe inside + a view of the Beachcomber's pool overlooking Kalakaua Ave, you could easily spend time there chatting or getting some work done.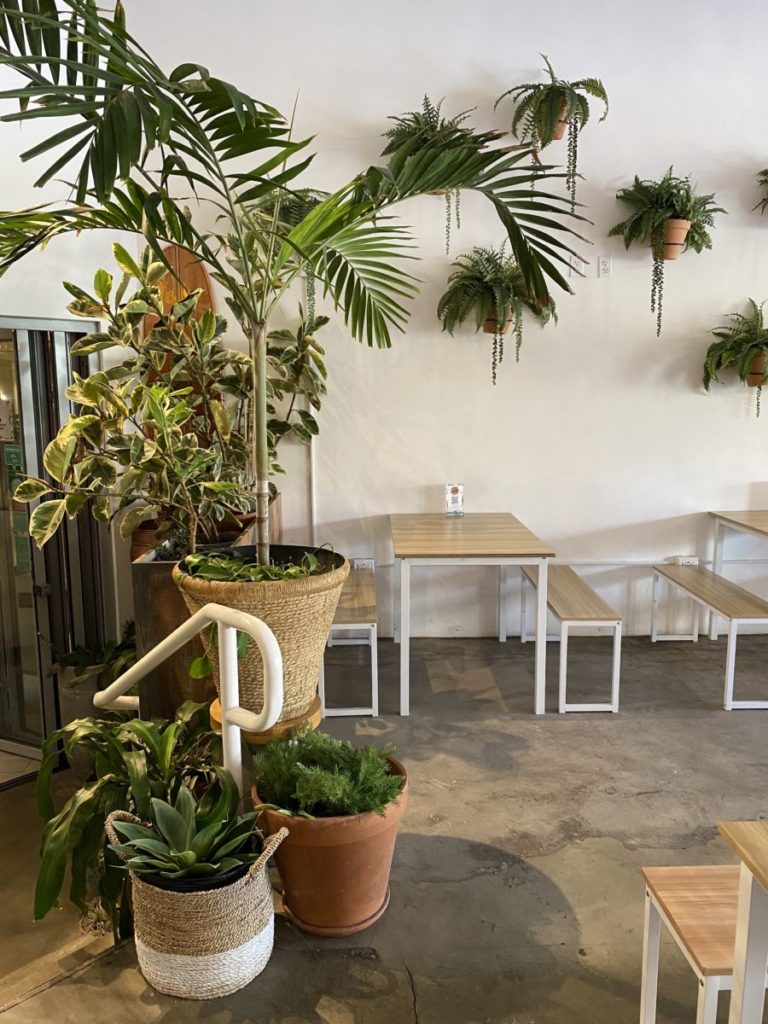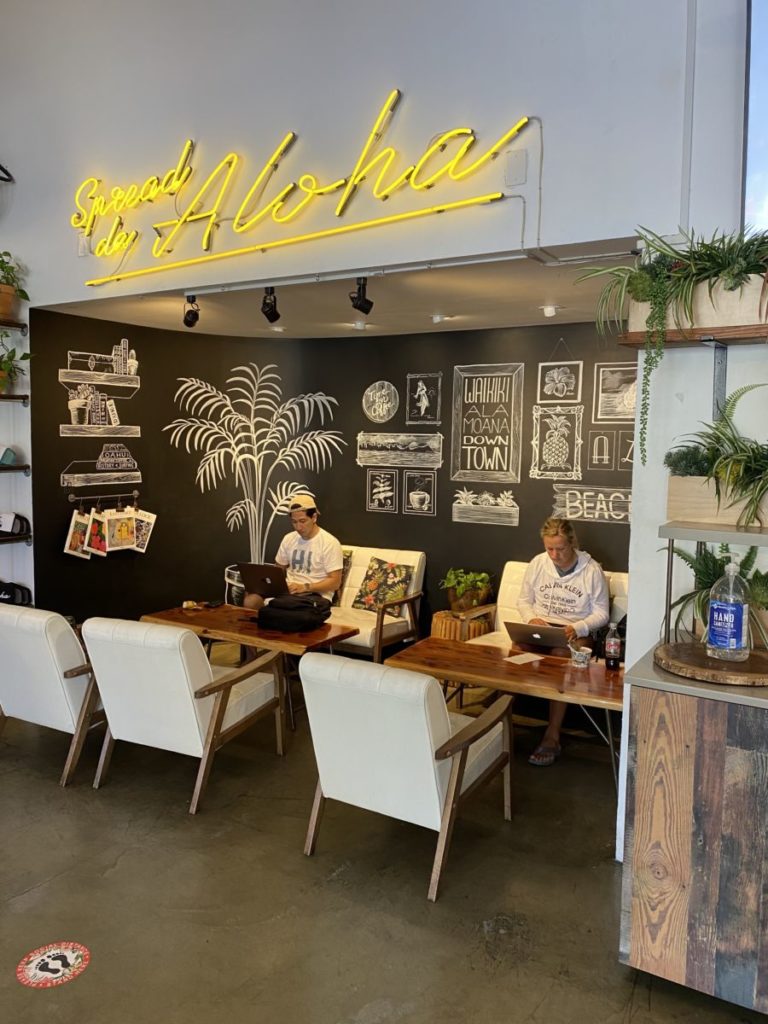 Honestly you can't go all the way to Hawaii and not get an açaí bowl. They're basically a food group there! I got one at my hotel and had it for breakfast one morning by the pool, but you can literally find them anywhere. And the best part is, all of the ingredients are sooo fresh!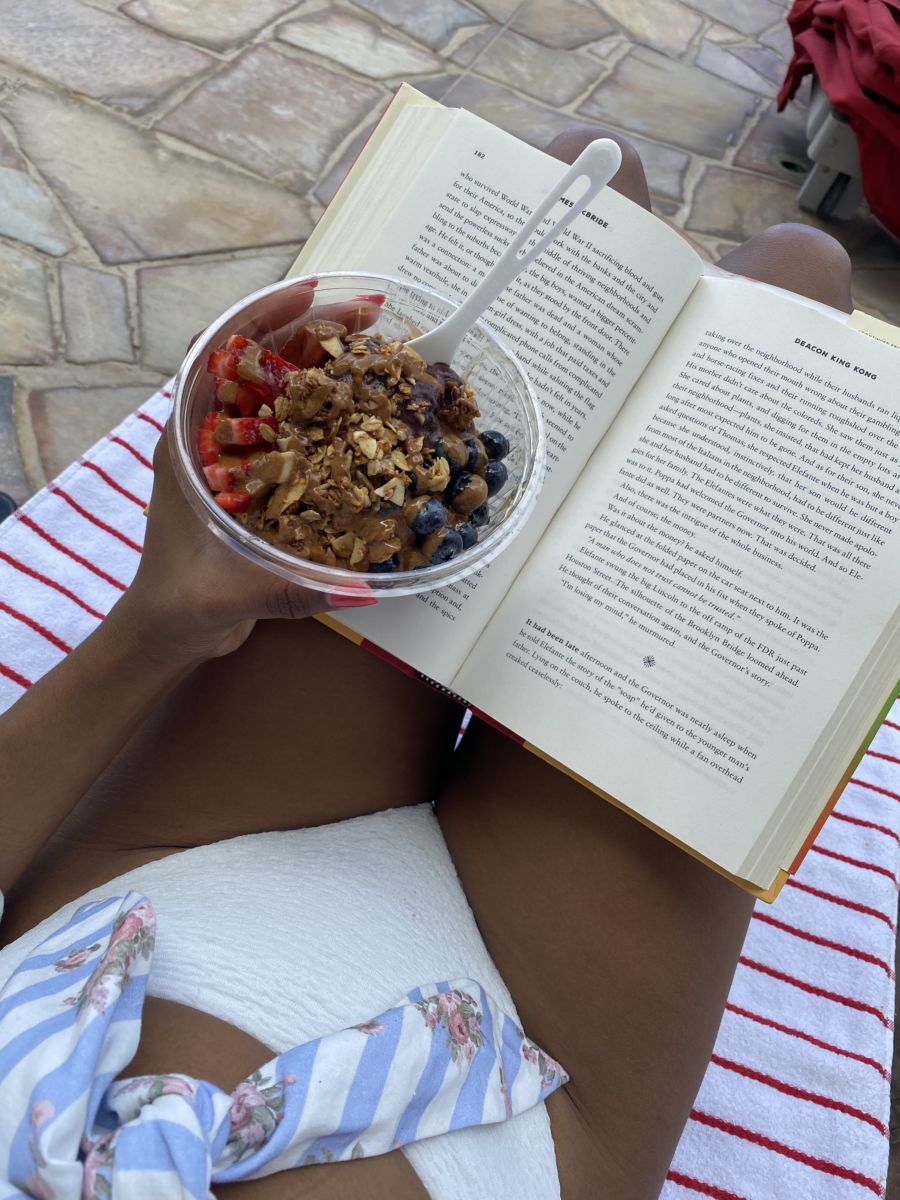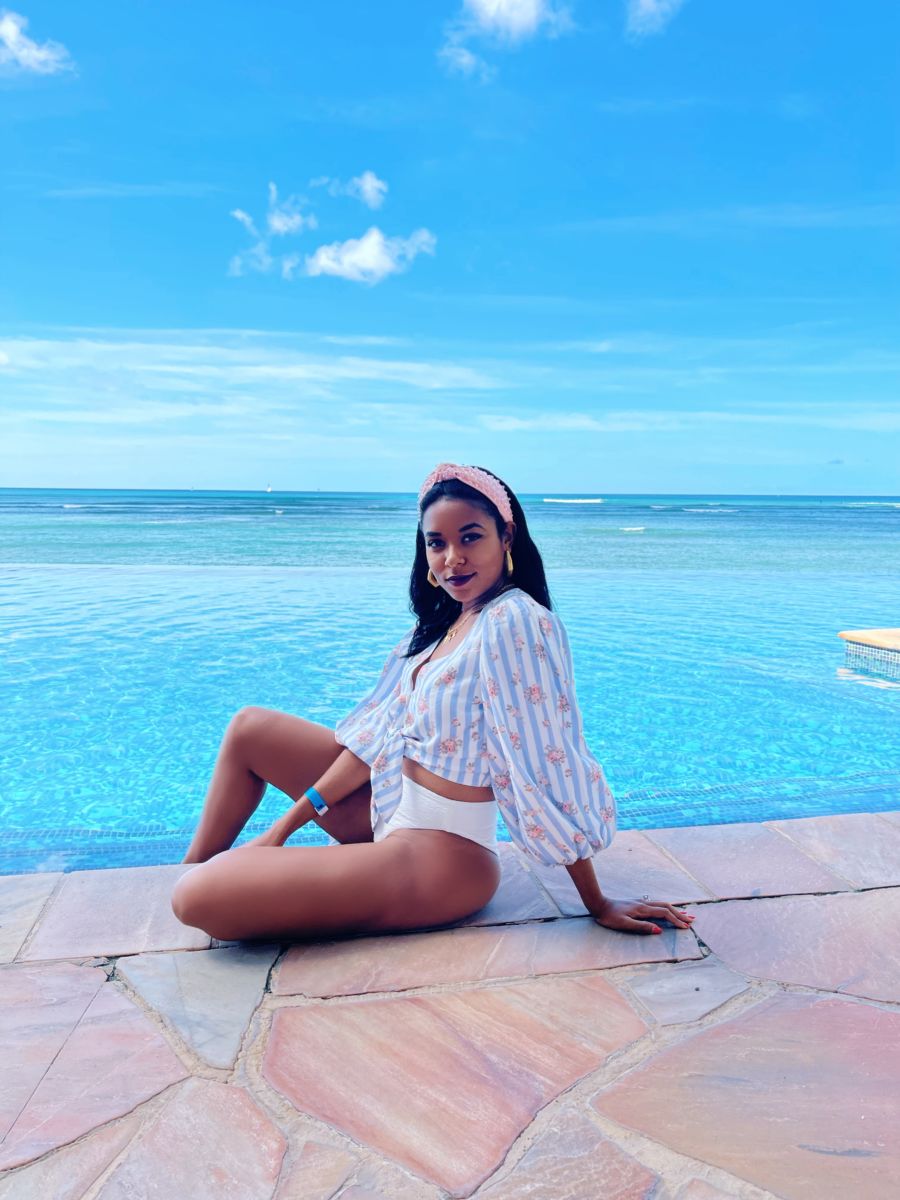 Top: Show Me Your Mumu x Shades of Pinck Collection 
We left Honolulu to take a day trip to the other side of the island to explore the North Shore and made a few stops on the way.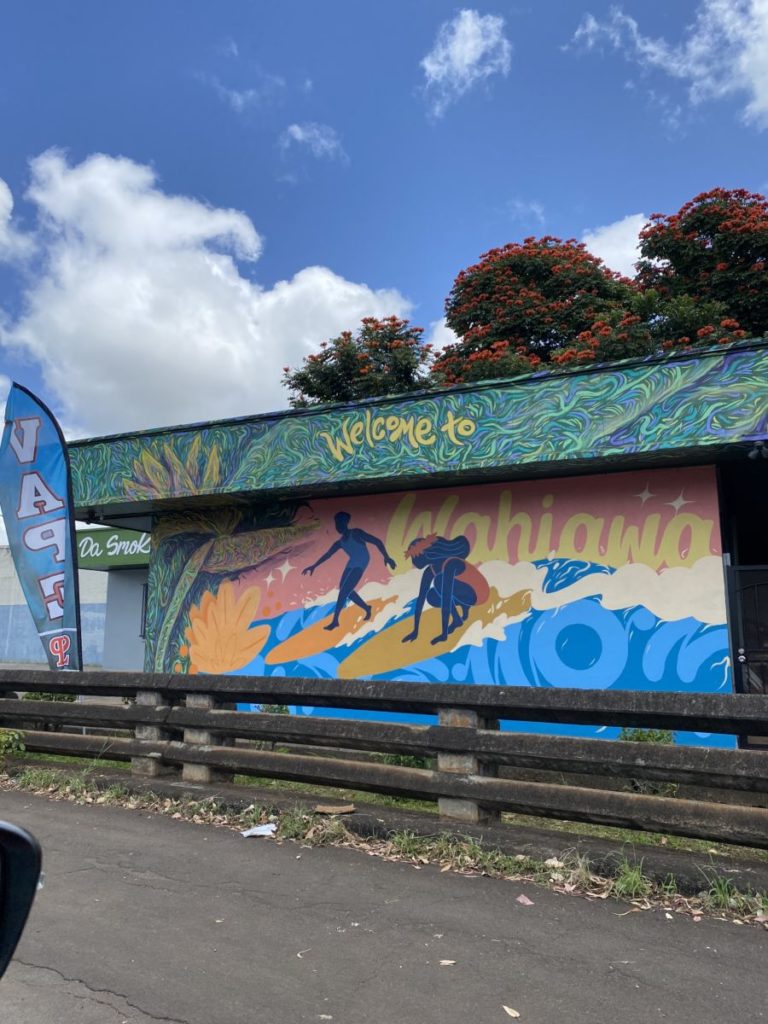 The first place we went was the Dole Plantation where the famous Dole pineapples are grown and packaged. Tbh, the entire experience was incredibly frustrating. Not sure if it was because of the Covid restrictions that were put in place, or if that is a typical experience, but every "attraction" required standing in line for at least 45 mins (the worst being 2 hours) and I can say that not of it was truly worth it. The highlight of that stop, however, was the Dole Whip, a soft-serve, dairy-free frozen dessert. If you know my husband than you know his favorite food is ice cream. I, however, am not as crazy about the treat.. but this was no ordinary ice cream. The pineapple flavor was so rich, but wasn't too overwhelming. And it was soo good that we went back for another serving. It's the only positive thing I have to say about this attraction. And unfortunately, this is the only place in the world where you can get it.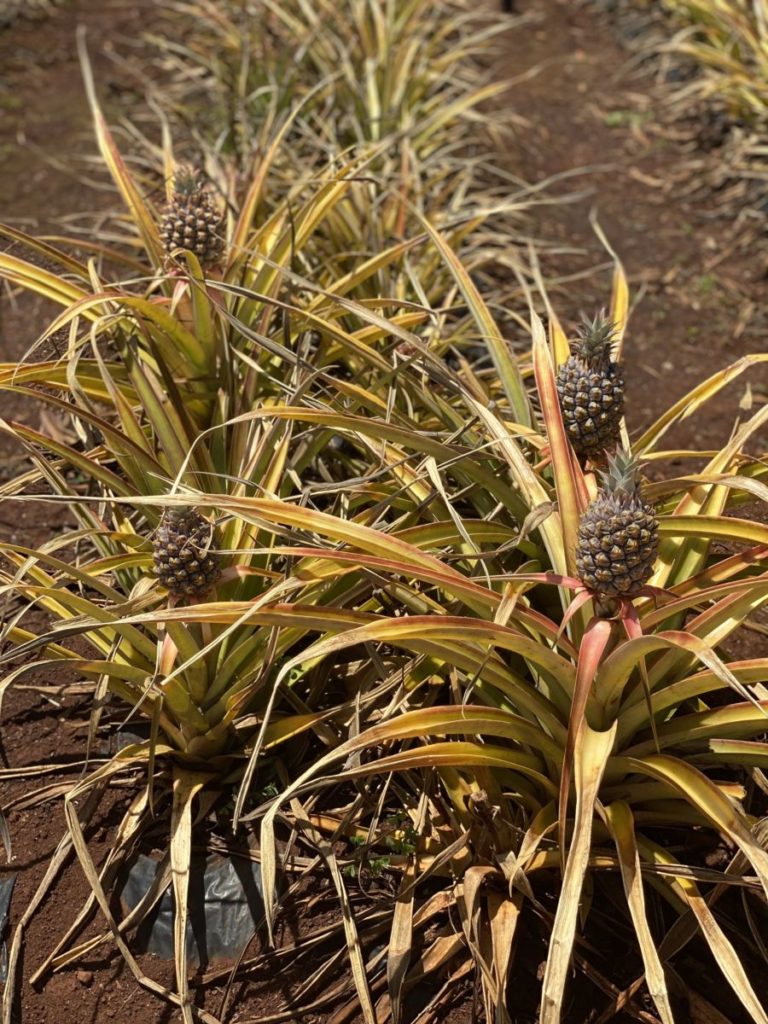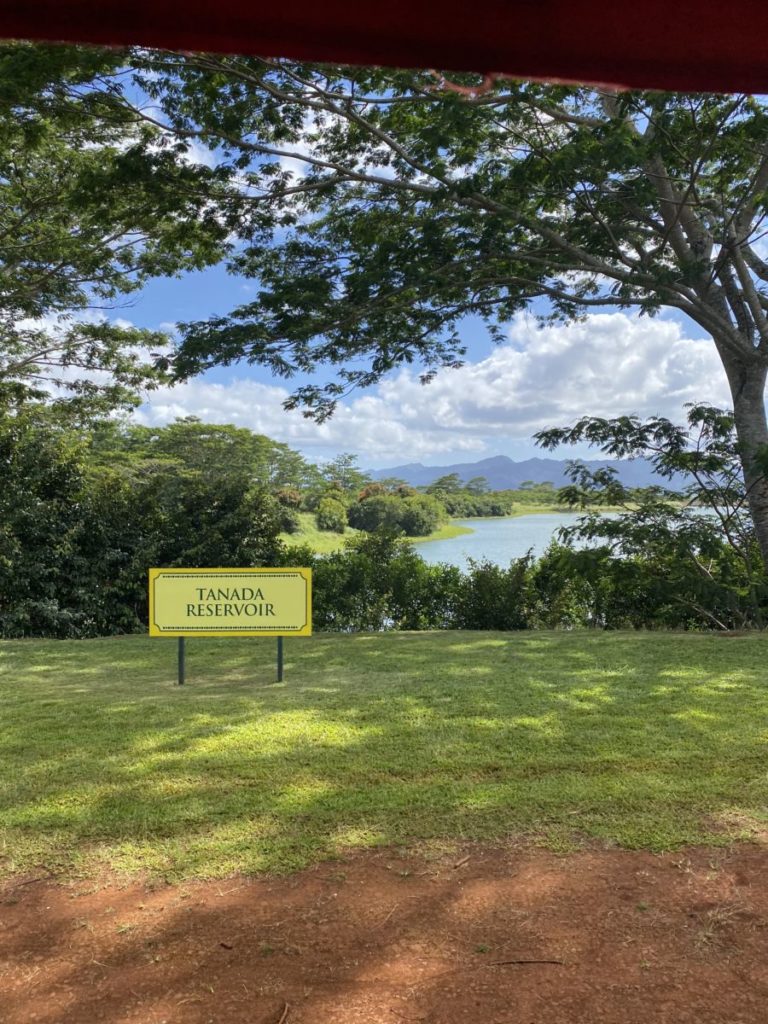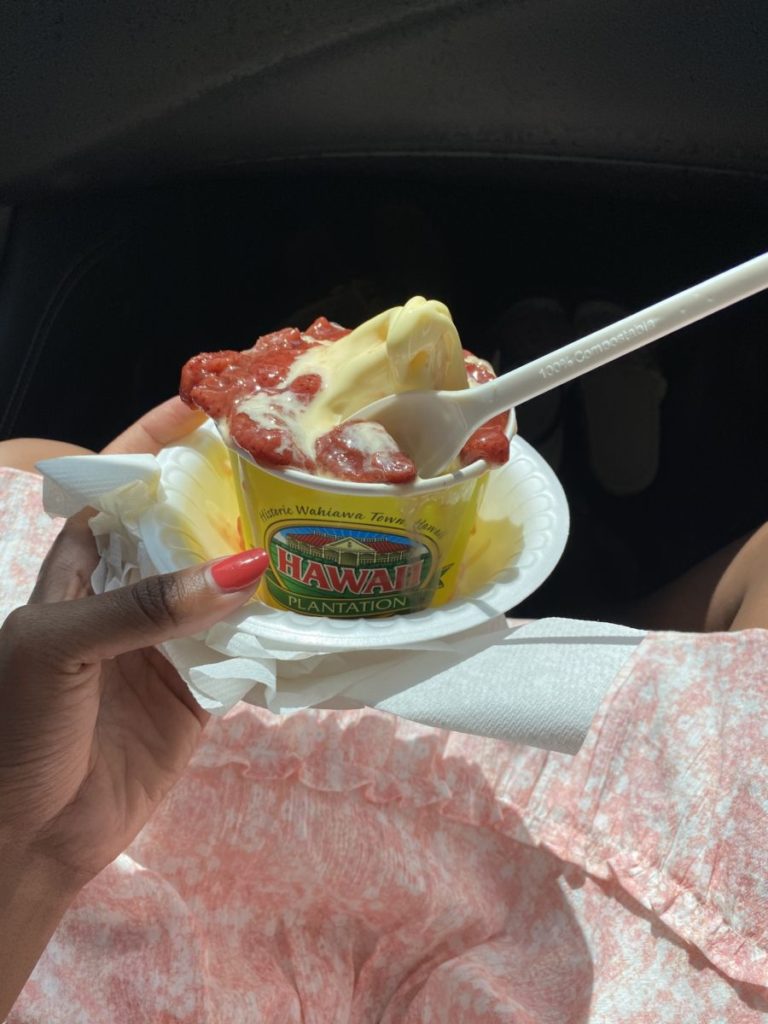 On our way to The North Shore we stumbled into Haleiwa, a cute little surf town that's laid back but filled with a ton of shops + restaurants. We found a burger joint with the best onion rings, and couldn't leave Hawaii without getting a Hawaiian pizza!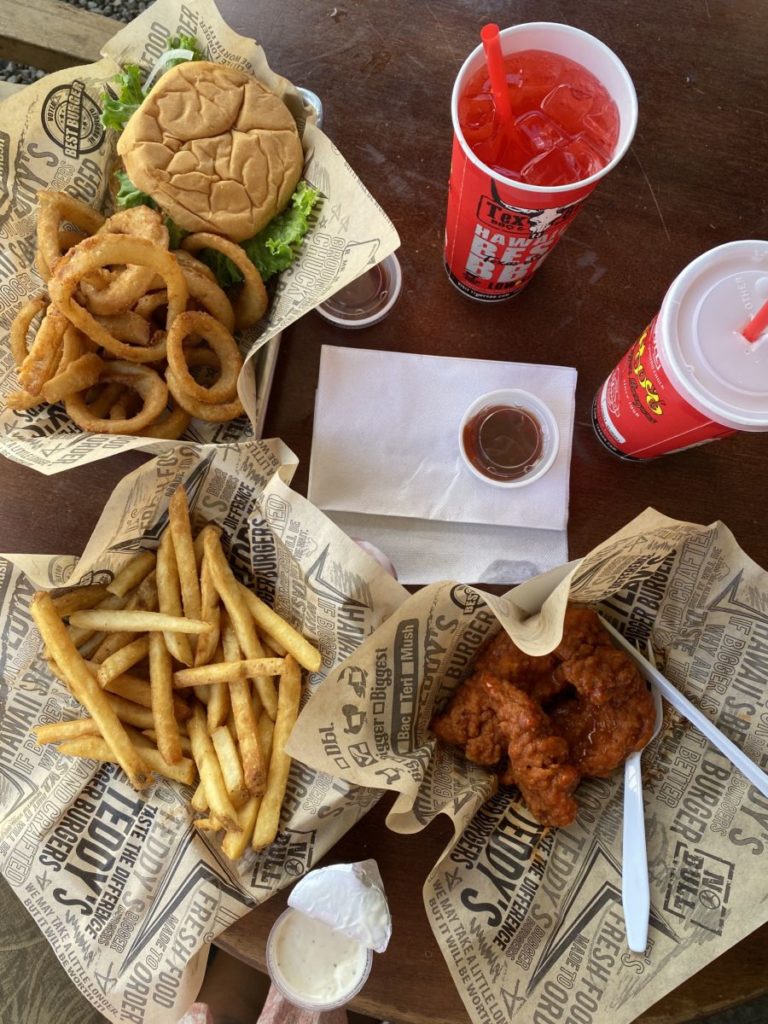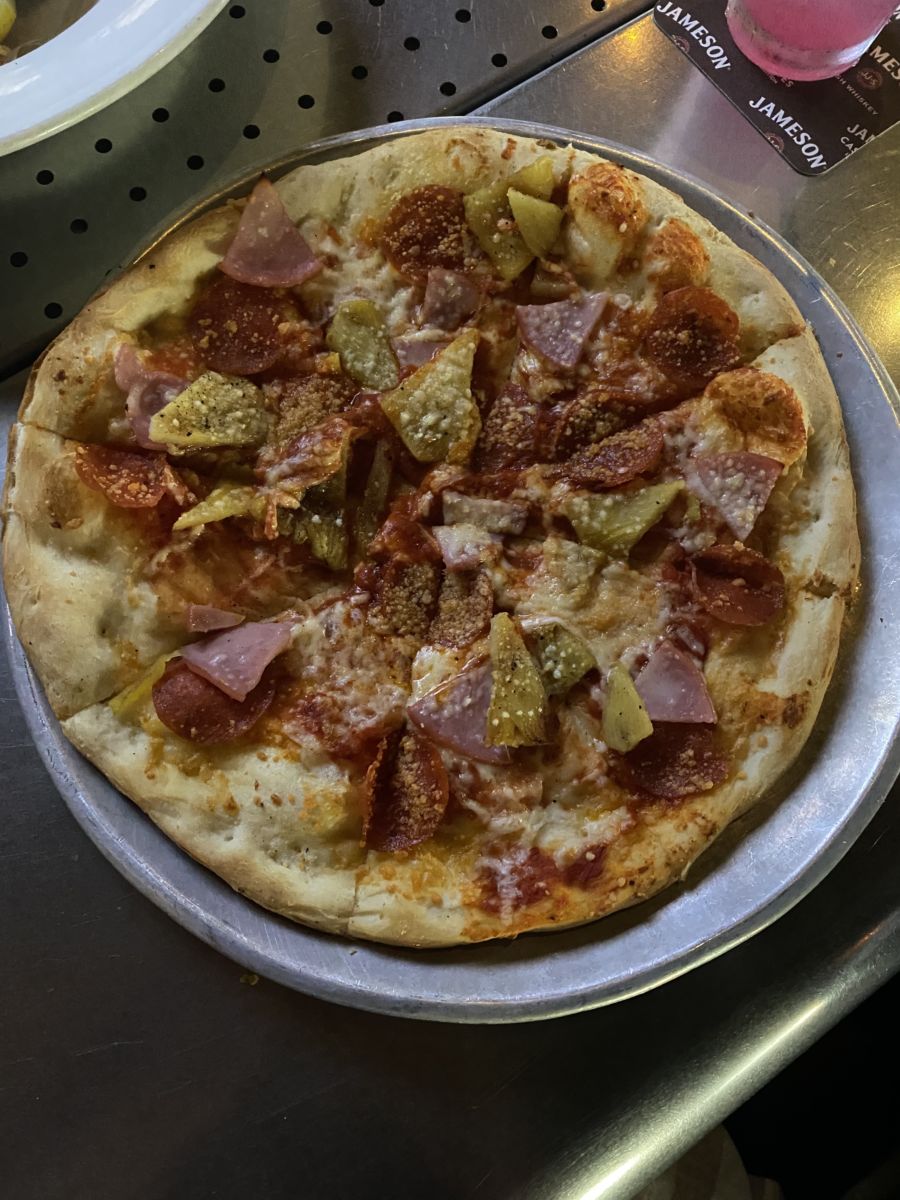 While in Haleiwa, we saw a super long line outside of M. Matsumoto Shave Ice, so of course it made Todd want to stop. I'm not a huge fan of shaved ice, so I don't want to give my opinion on this treat, but all I can say is the line stretched for more than a block and never shortened. Apparently people drive in just to try it, so my guess is it's reallyyyy good for shaved ice!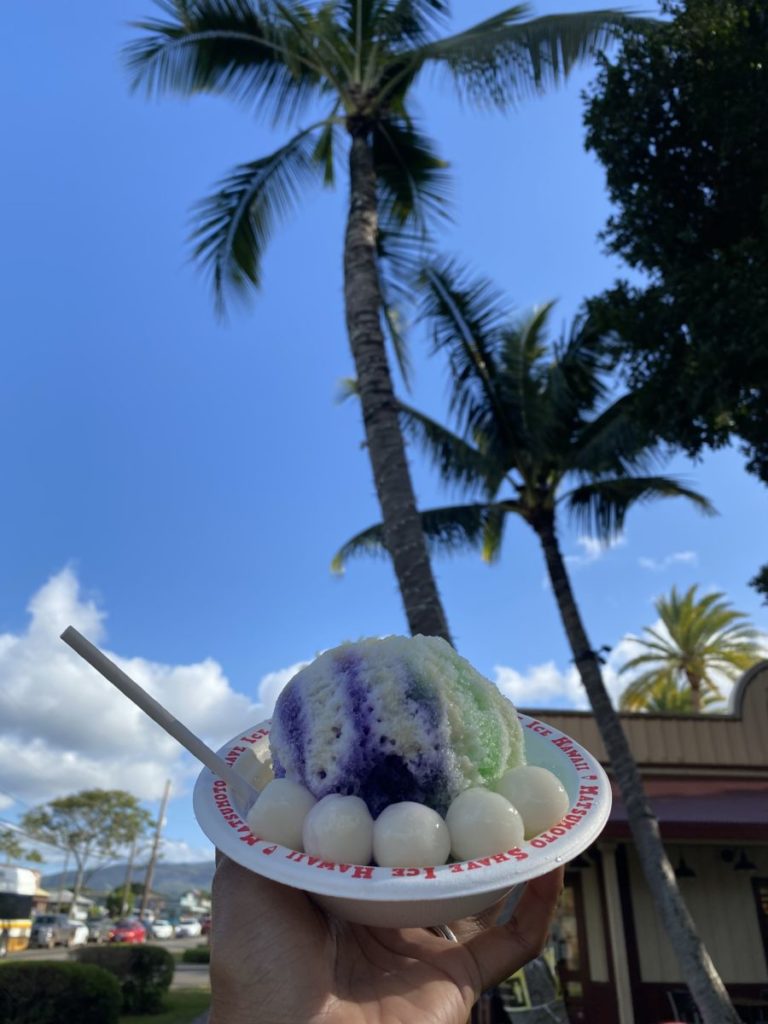 The best dinner we had while in Honolulu was at Chef Chai's, an upscale, restaurant that fuses fresh Hawaiian ingredients with exotic Asian flavors. We sat outside in one of their Covid friendly pods and felt like we had the place to ourselves. We started with the appetizer sampler which gave us the opportunity to really get to experience the chef's complex and unique flavorful dishes. But the absolute best thing we tried was their salmon dish! It was covered with this sweet teriyaki glaze that lingered on my tongue for the rest of the night. If we ever end up back on the island on O'ahu I'll be sure to book another reservation here. But beware, it fills up quickly!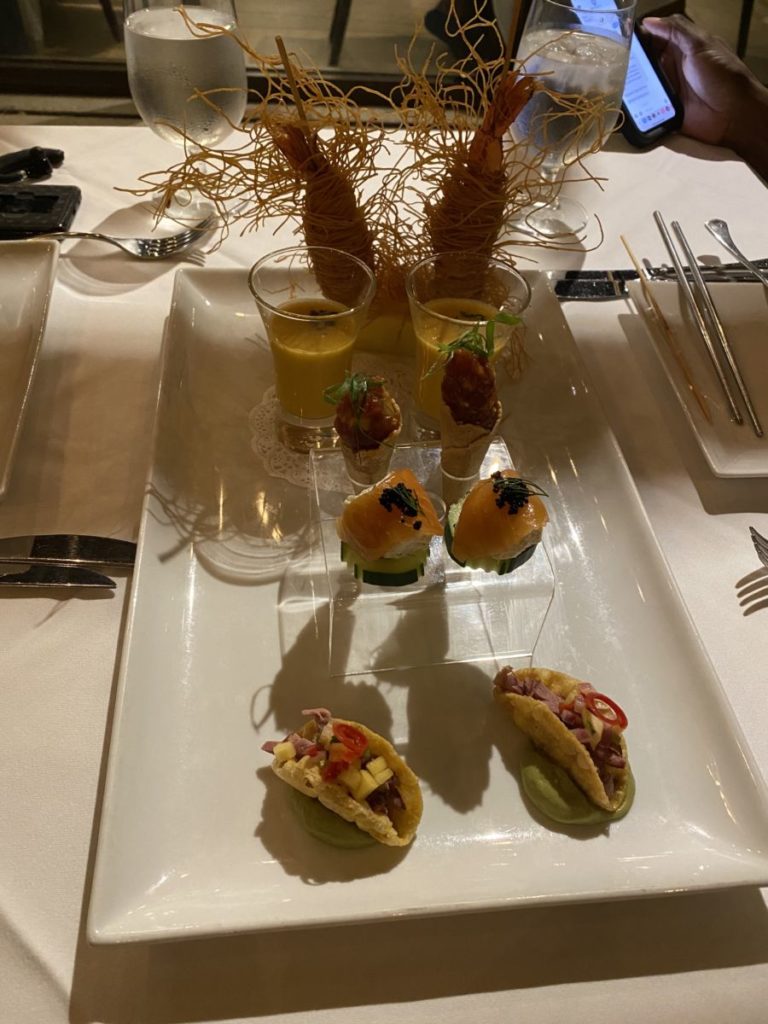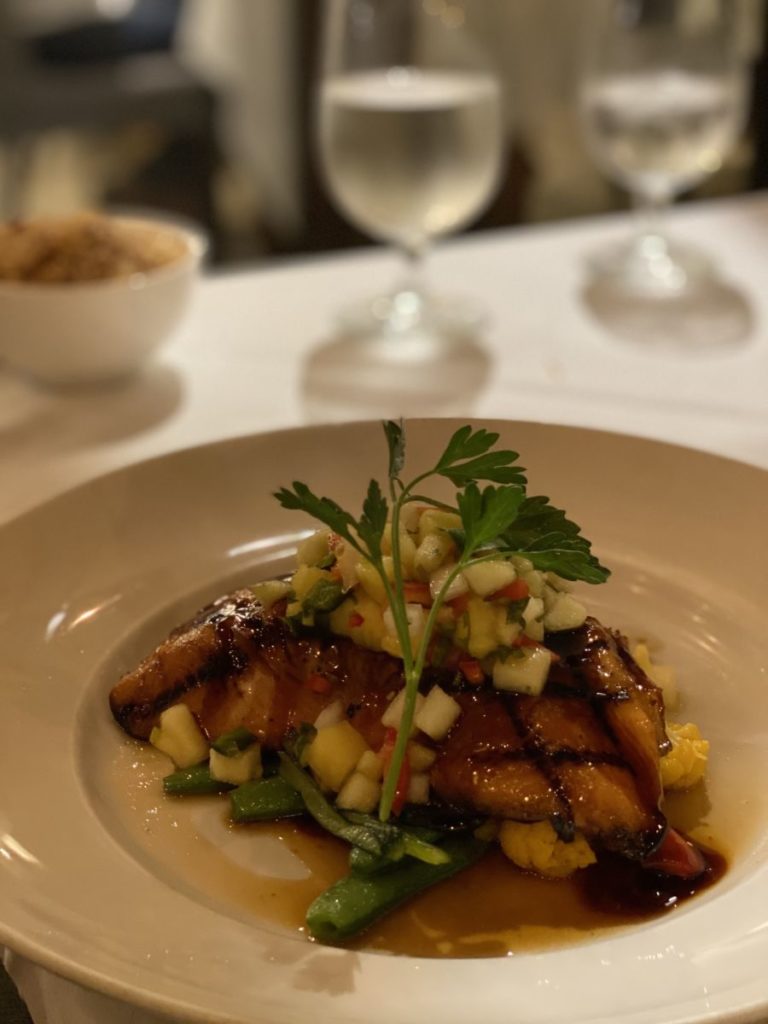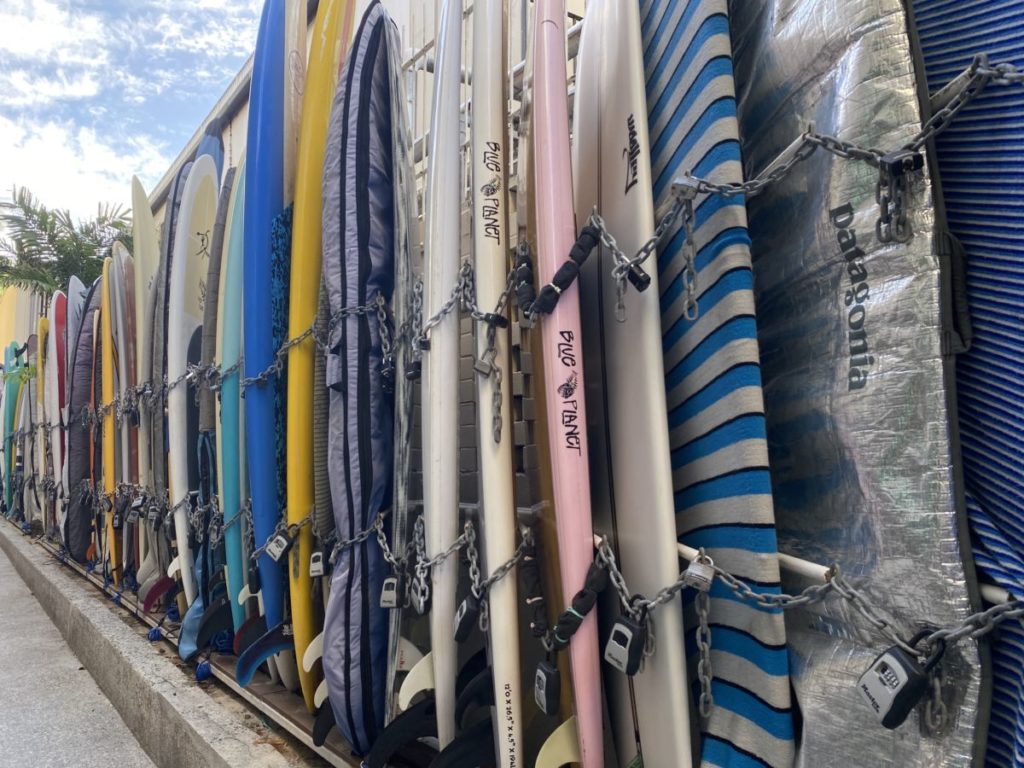 Hours before we left to catch our red eye back home we spent the day on laying out on Waikiki. We'd see people walking past us sipping out of a pineapple which made me want one too. We strolled down the beach and eventually stumbled on Waikiki Beachside Bistro where they were serving classic beach bites + smoothies from the inside of a pineapple. YUMMY!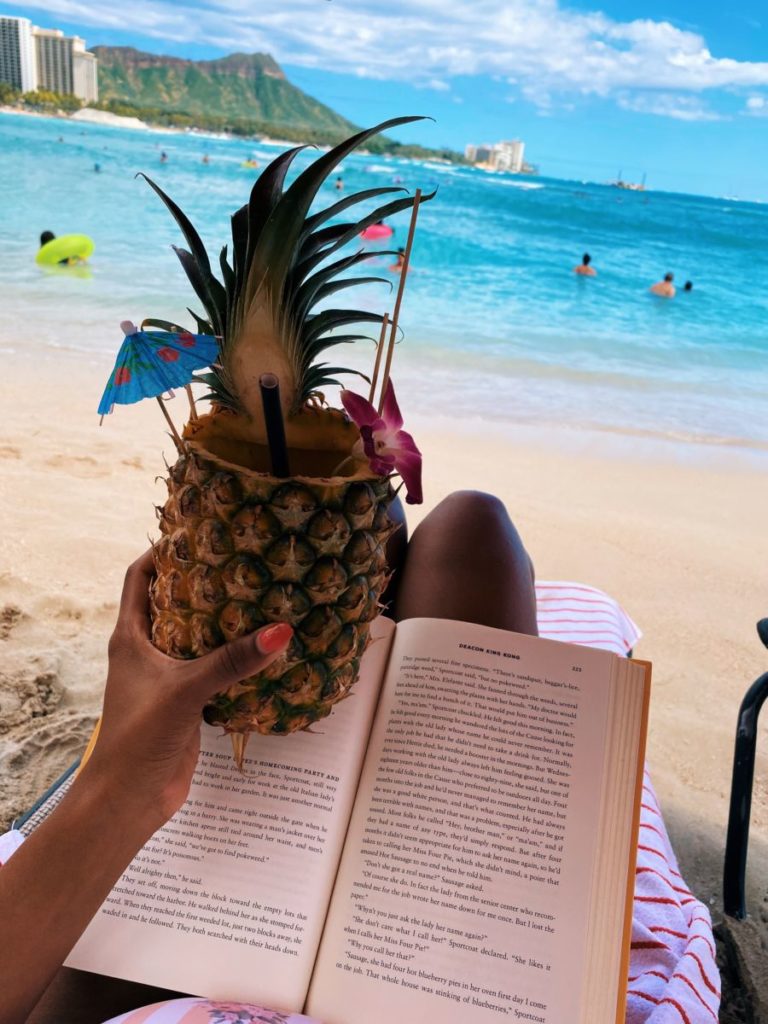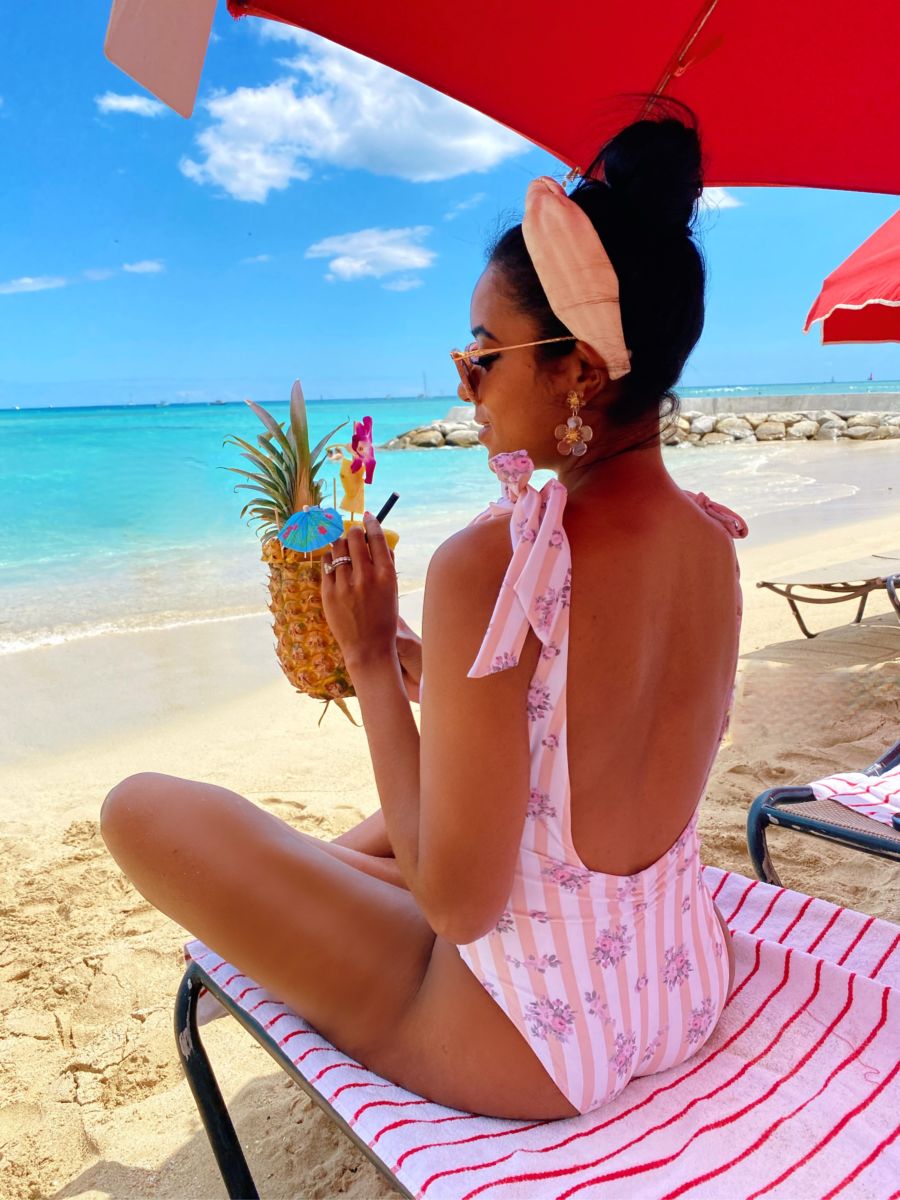 Our very last meal in Honolulu was at the Tommy Bahama Restaurant. Initially we only stopped there because we didn't have much time before out flight and they had a super cool rooftop that we figured would be a great place to spend our last moments, but after ordering our food we realized we got wayyy more than we had bargained for. Their menu was full of great options and everything we had was delicious. I started with the fried coconut shrimp, which I loved. And then we split the Guava Glazed Baby Back Ribs, which were sooo good we didn't even get a shot of them haha.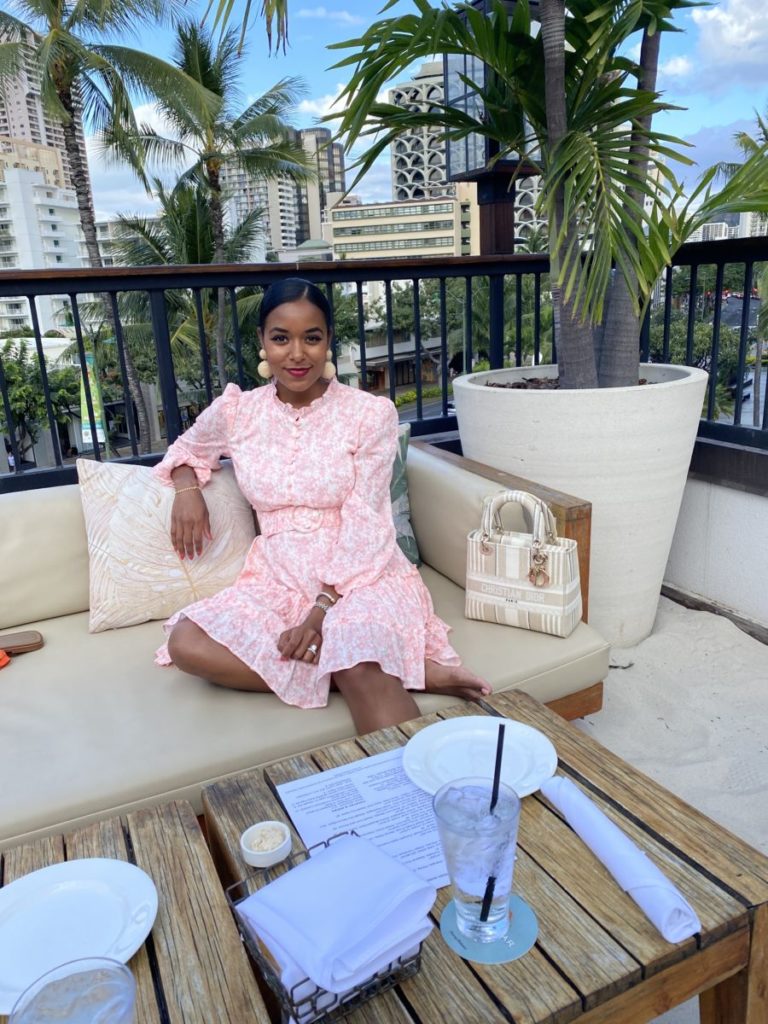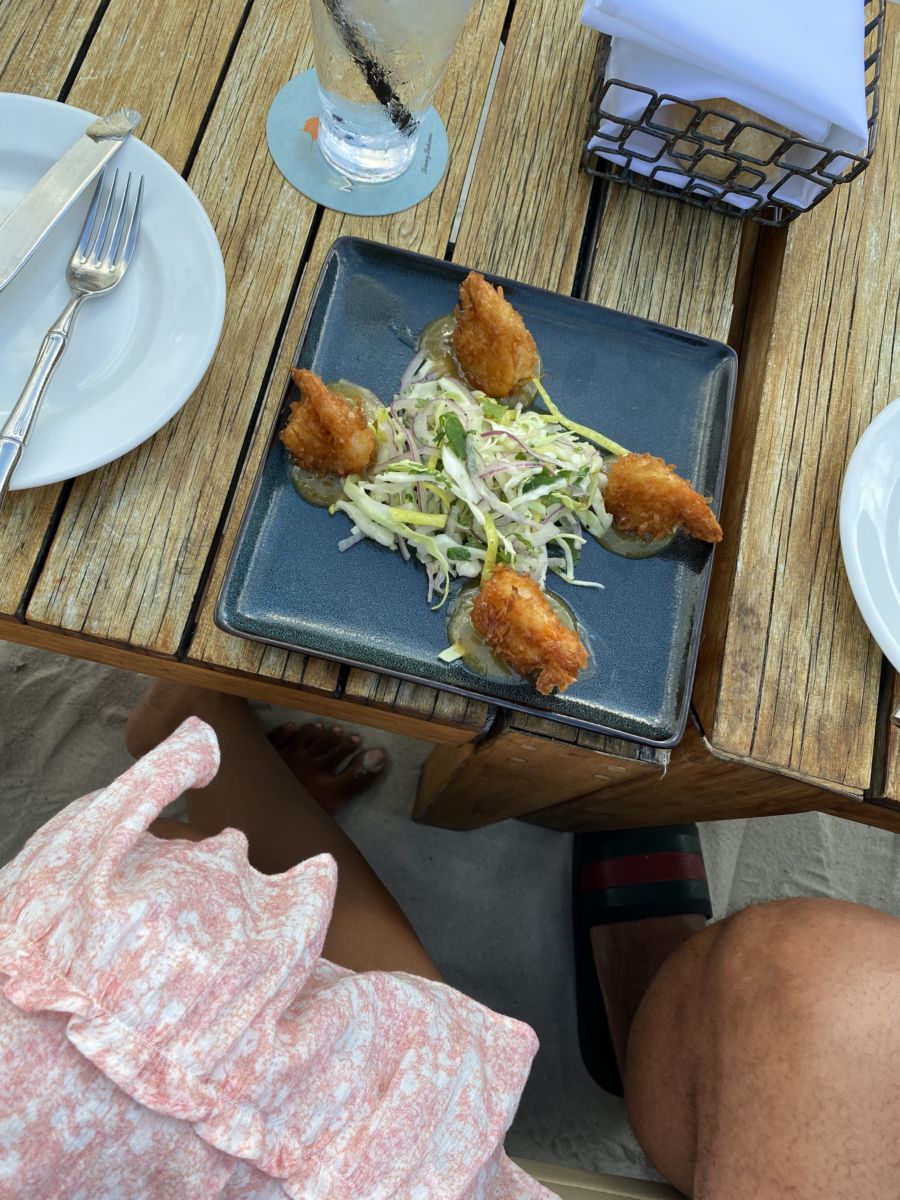 My final meal of the trip took place 30,000+ feet in the air with American Airlines. I had stuffed pasta + zucchini and enjoyed every bite, so much so… it put me right to sleep for the duration of the flight!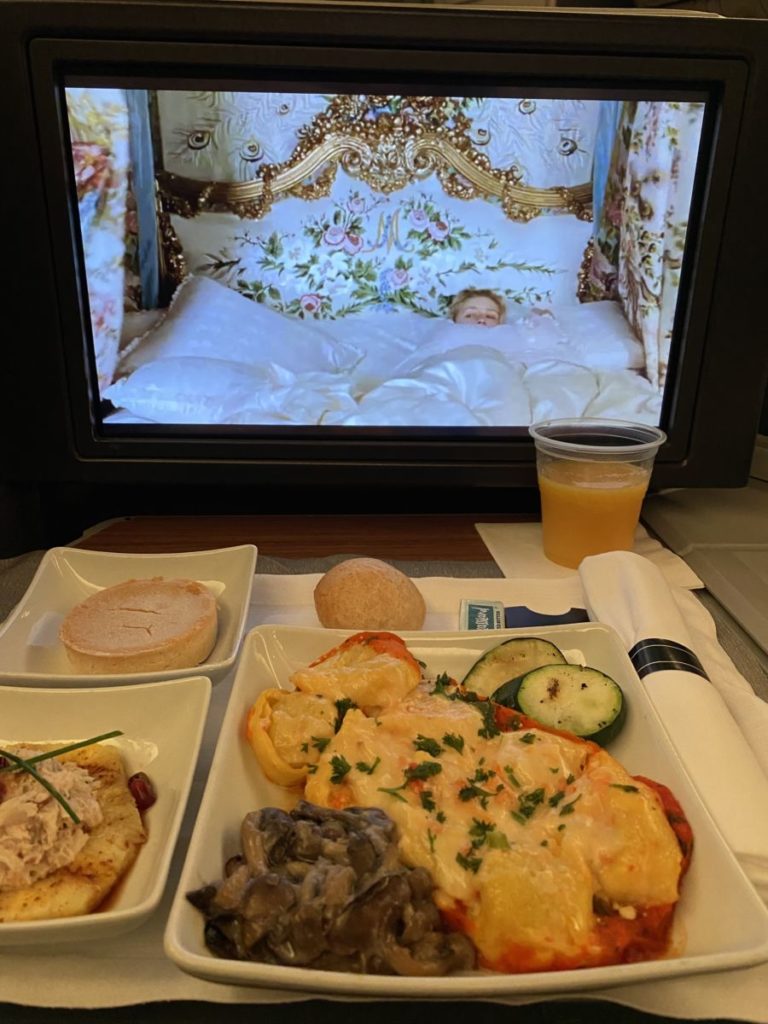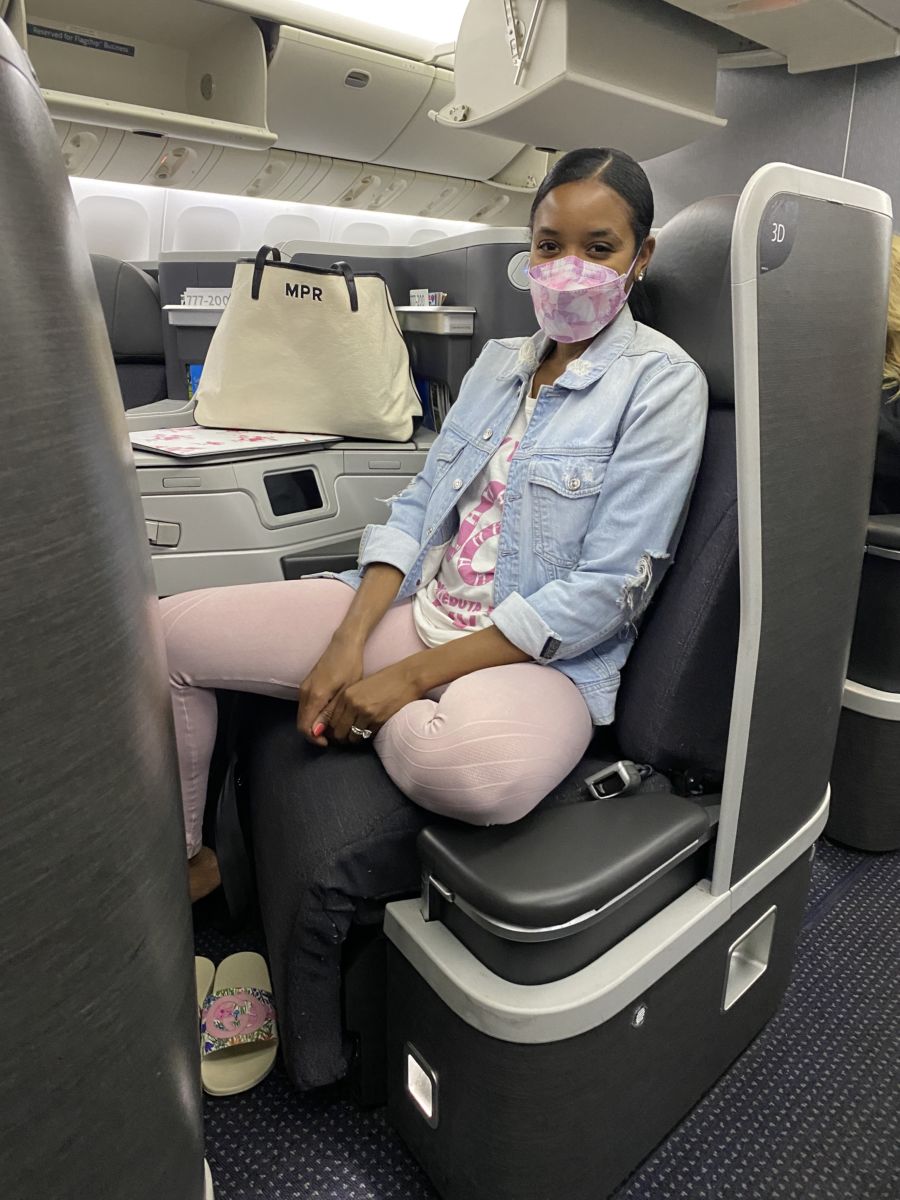 Have you visited Hawaii? Share some of your favorite bites below.
Xx Meg