This past week, Megan was invited back to her alma mater to speak on her former professor's digital retailing class about her career. If you didn't already know, Megan is a graduate of USC's College of HRSM (Hospitality, Retail, and Sports Management) which is currently ranked as the 4th most prominent retailing institution worldwide by the International Journal of Retail and Distribution Management.
While she didn't end up doing a traditional retail career, she has gone on to establish a brand and small-business as Digital Content Producer, Blogger and Influencer– which in a funny way is still apart of the fashion industry. So, just as we did with this class, we thought we would also fill you all in on how Megan turned her Retailing Degree into an unexpected business: Shades of Pinck.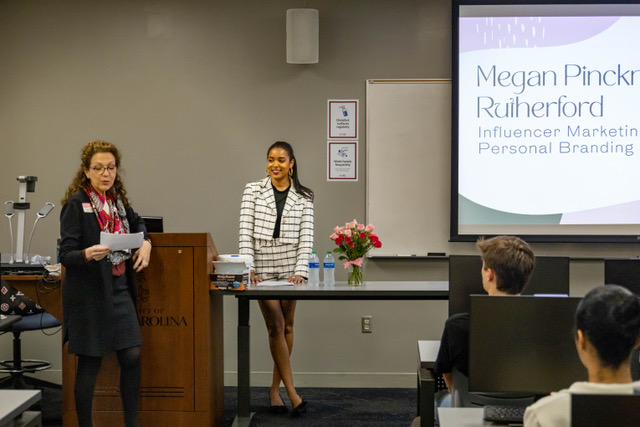 What may come as a surprise is that Megan was not always a Retail major. In fact, she actually started in the Journalism program. But after a freshman year that occupied her focus in many other areas, she was forced to switched over to HRSM as a sophomore. But these days, she thinks that was the best "mistake" she ever made. A lifelong lover of fashion, it didn't take long for her to realize she was exactly where she needed to be. Her courses intrigued her, made her think of things in a new way, and even took her on her first trip aboard when she studied the Food + Fashion of Italy (funny enough, with Dr. Edwards has her trip leader).
Half was through her senior year, Megan won the title of Miss South Carolina USA 2013 and competed in that year's Miss USA placing in the top 5. Although social media and Instagram were just starting to become popular, people began searched for Megan on IG during the pageant and she saw her first influx of followers. Shortly after she gave up her title and returned to school, she realized her audience was beginning to fade due to the lack of interest and content.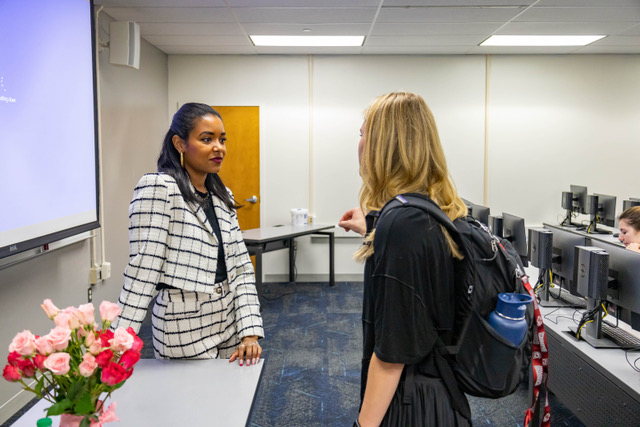 It was then, on a cold snowy day in Columbia, Megan found herself bored and decided to write her first blog post. It's something that many people has suggested to her before, but it took the fact that her audience was losing interest in her to realize she needed to share more. From there, things began rolling. She applied what she'd been taught in all of those Retailing classes (think: visual merchandising, runway production, accounting, fashion history and even international retailing) to her website. And from her pageant experience, she took all of those lessons on promoting herself, organizations, beauty products, concepts and ideas and applied it to Instagram. Before she knew it, she has established a recognizable brand on the internet.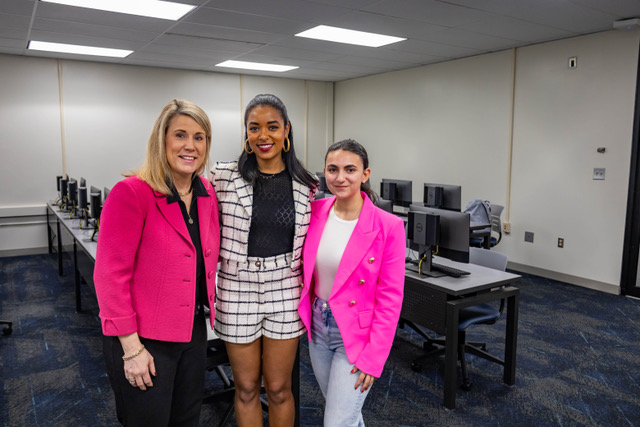 Fast forward to now! She shared with the class how exactly influencer marketing works (the ins and outs) and the importance it has in an ever-changing digital retail landscape. She outlined how influencers help businesses grow + make money, and she also shared exactly how she makes a revenue helping those businesses.
So what once started as just a hobby has now grown into a successful business with team of creatives working with local and national brands to create imagery they can use in marketing materials across different digital platforms. And this is all because she had the vision to use her knowledge towards a developing industry. Megan never could have expect that her boredom on a snowy day would turn into the company she leads today, creating imagery that is  used by brands such as Banana Republic, ChappyWrap, Essense of Australia, and so many more!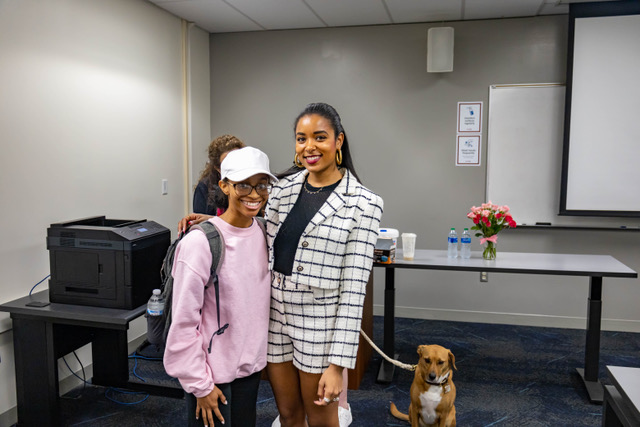 Did your college degree to lead you to an unexpected career? Please let us know in the comments below!
-♡Margaux