This past Sunday was my 26th birthday, and (just as I do every other year) I did my best to turn that day into a full on event!
Over the years my friends have come to look forward to my birthday party theme–which is nice because I really do put a lot of thought and effort into them. I knew it would be hard to top my music festival party on the lake last year, so the pressure was on for this year's.
Eventually, I decided my party would be pink (shocking!) and there would be a ton of flamingos (since they're having such a moment right now)…which ultimately turned into "Let's Flamingle" pool party! Because I knew what I had in mind, I asked my guests to come in pink attire.
Invites
I never send out paper invites for my birthday  parties, I just don't think its necessary because nothing about the event is formal. Instead I just text out a super cute invites that I make for free at Canva. They have a ton of "posters" already designed, so I simply find the one I like best and make it my own. I started with this design, and ended up with the invitation you see below!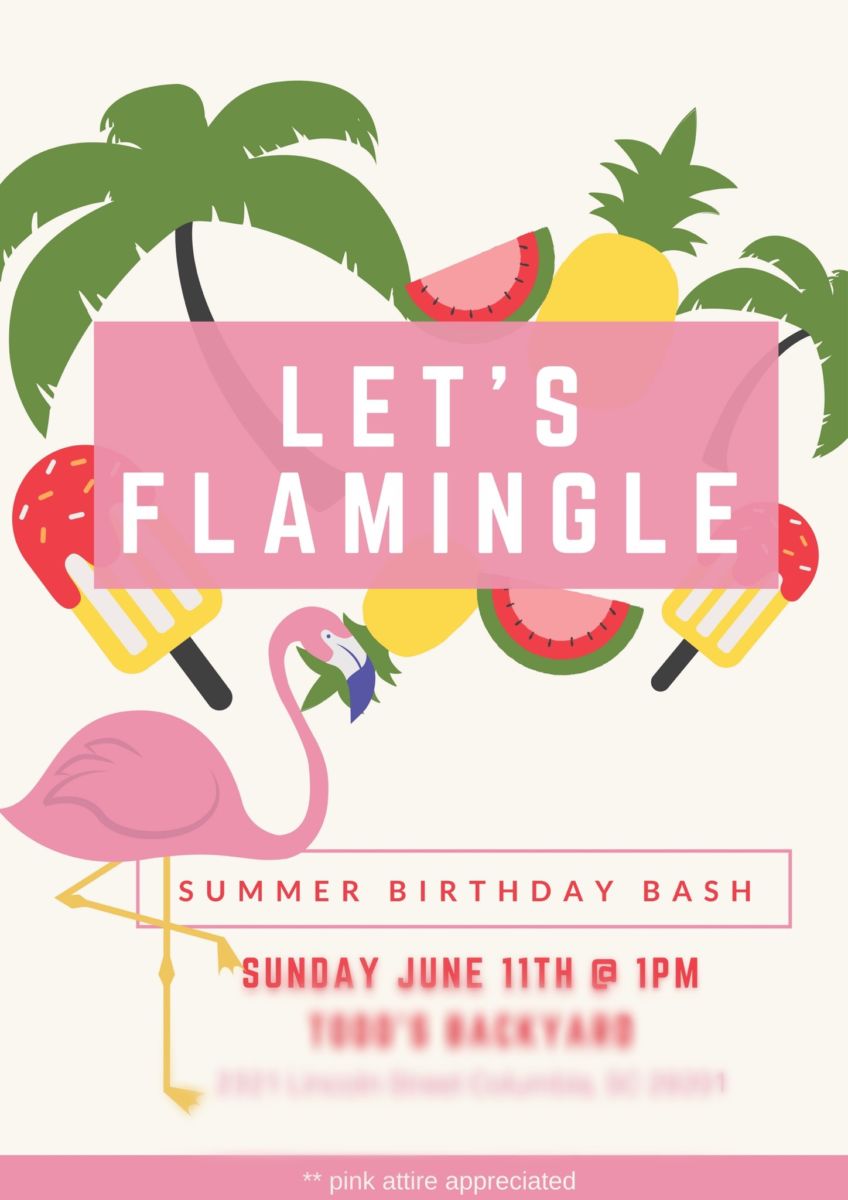 Decor
The decor of a party is sooo important. It sets the mood and helps create the vibes you want guests to have.
As soon as I knew my party was going to have a flamingo theme, I knew I wanted to recreate the pool set up Patricia Altschul had at her flamingo party on Southern Charm. I already had a giant flamingo float, so I ordered two dozen baby flamingos to achieve the same look. Although they were super cute, the baby flamingos flocked together next to the edge most of the as opposed to drifting freely around the pool as I had hoped lol (but the fact that they were drink coasters really did come in handy once people got in the pool). Above the inflatable flamingos I hung a pink "Let's Flamingle" banner that I found on Amazon.
This area of the party wasn't just my favorite, it seemed to be everyone's favorite! People spent the most time around the pool and most of the photos I saw on social media afterwards were from around here…which just solidifies that it was super cute!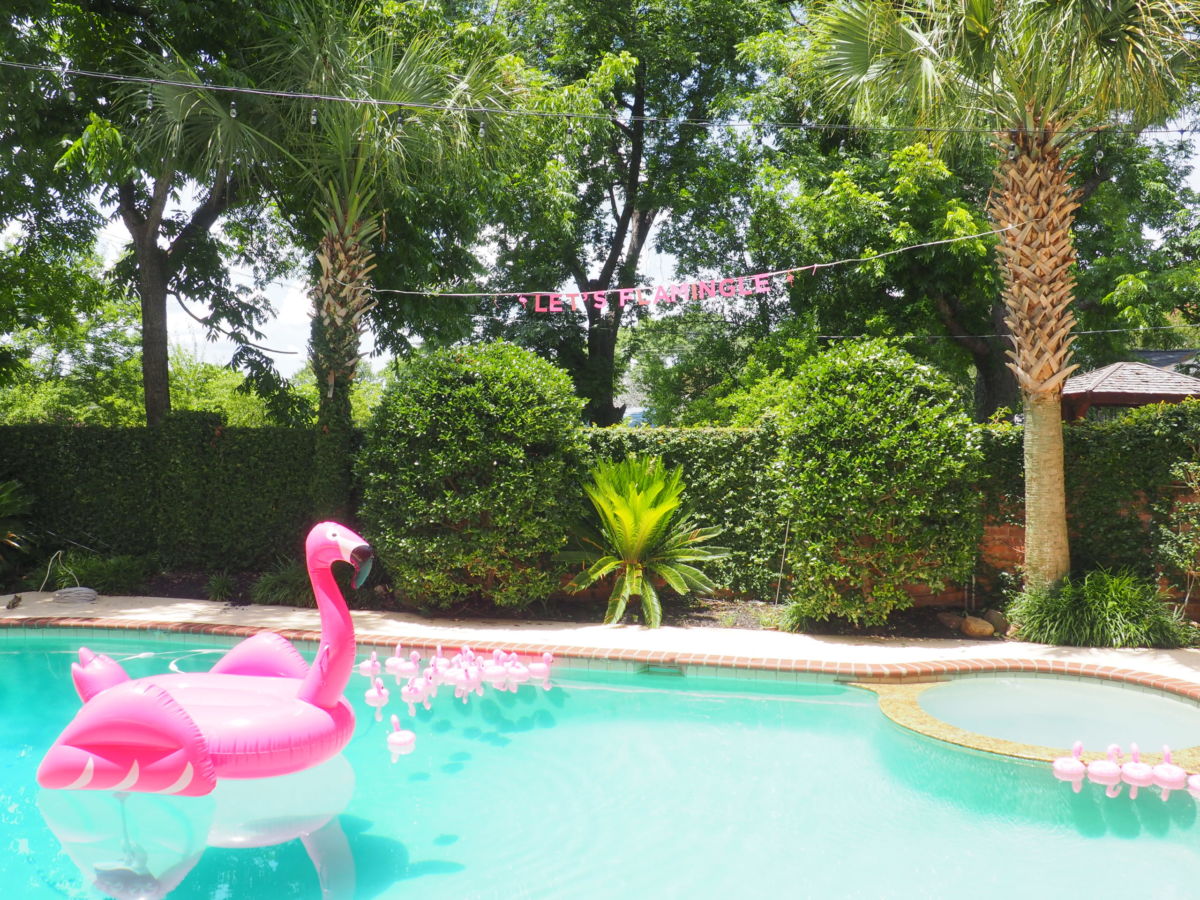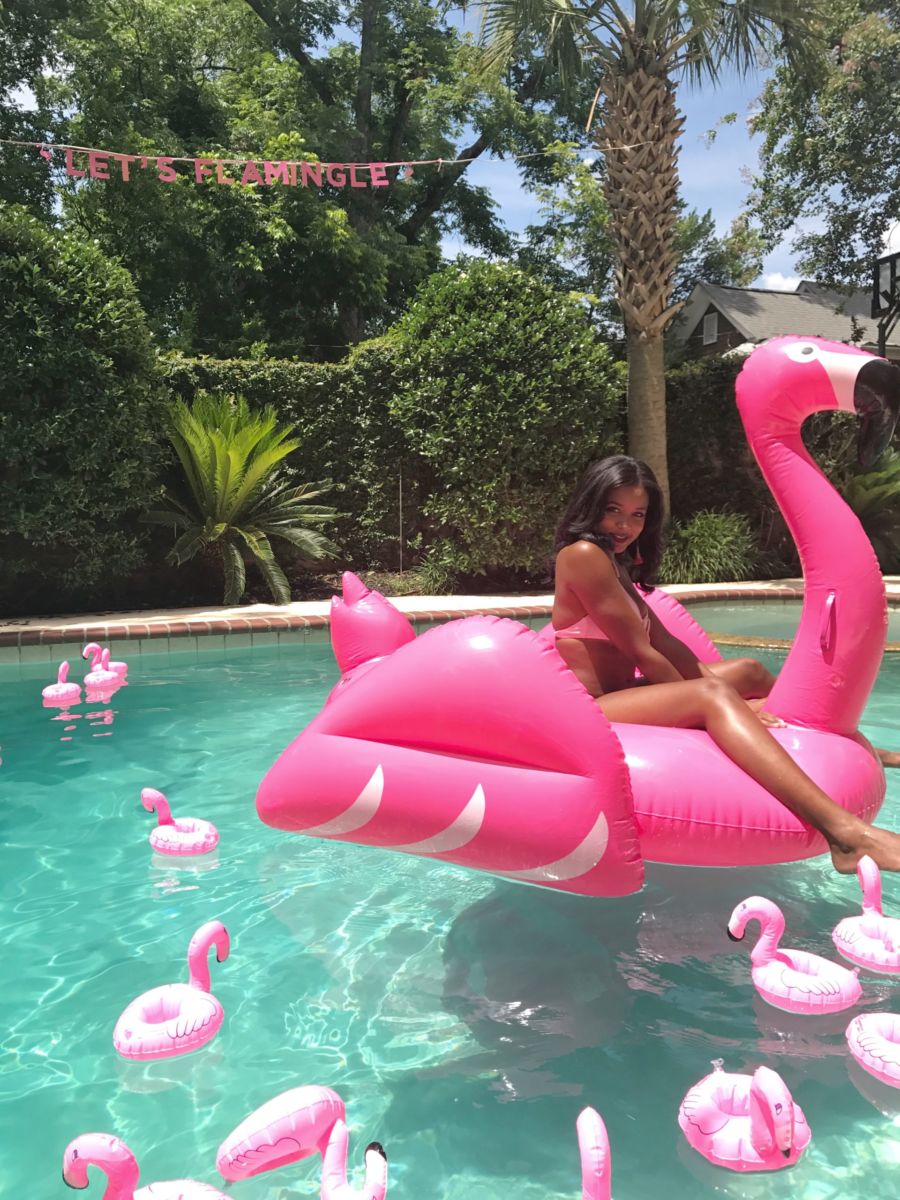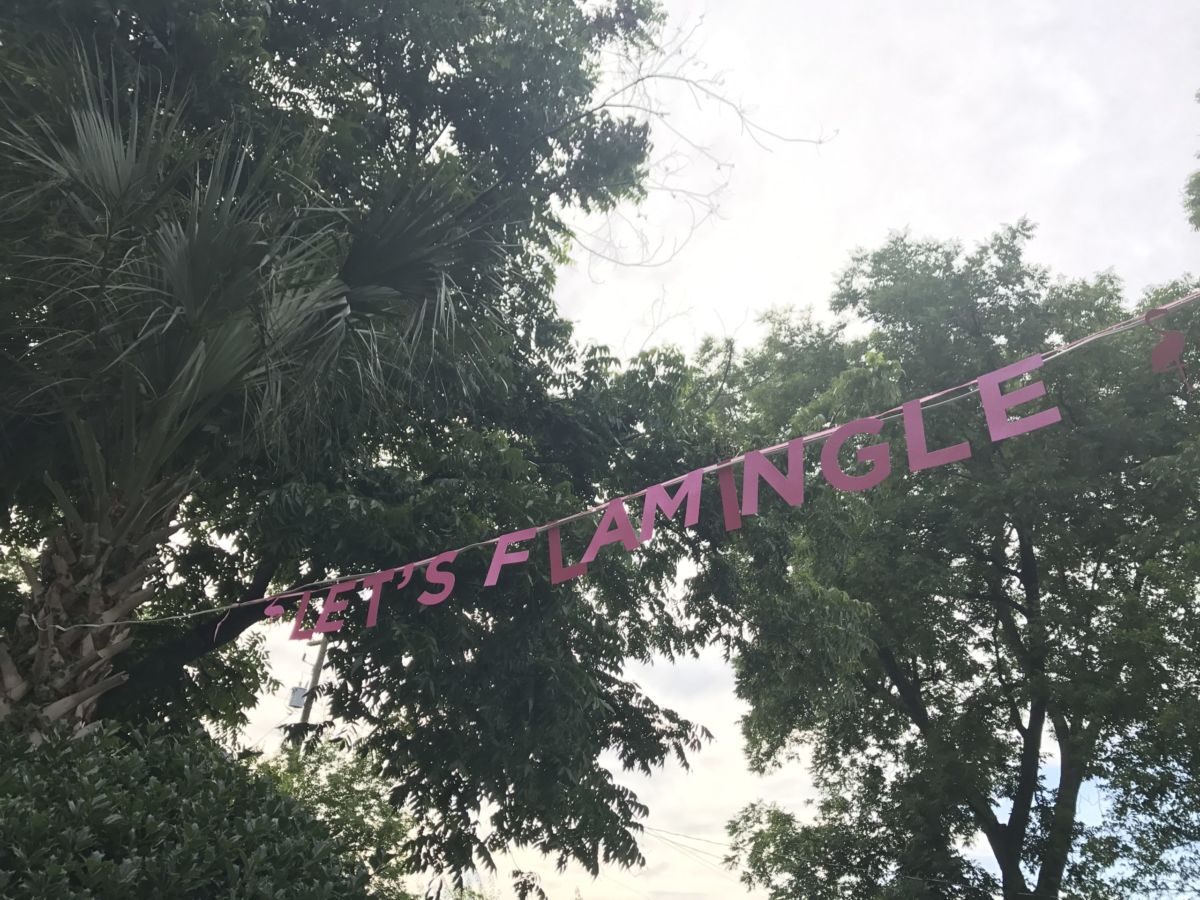 I did, however, want guests to flamingle other places besides the pool so I had the idea to create a "land of flamingos" in the yard using lawn ornaments. I had never bought lawn flamingos before, so I had no idea how expensive they could be. Most stores were selling two flamingos for like $20…and since two flamingos would not create "a land of flamingos" (and I wasn't going to spend $100 on plastic flamingos) I honestly thought that it wasn't going to happen. That was until I came across a pack of 10 on eBay!!
SOOO happy I found those because as the day turned into evening, "the land of flamingos" area ended up being where everyone chilled out and sat…which I loved because it gave me total music festival vibes!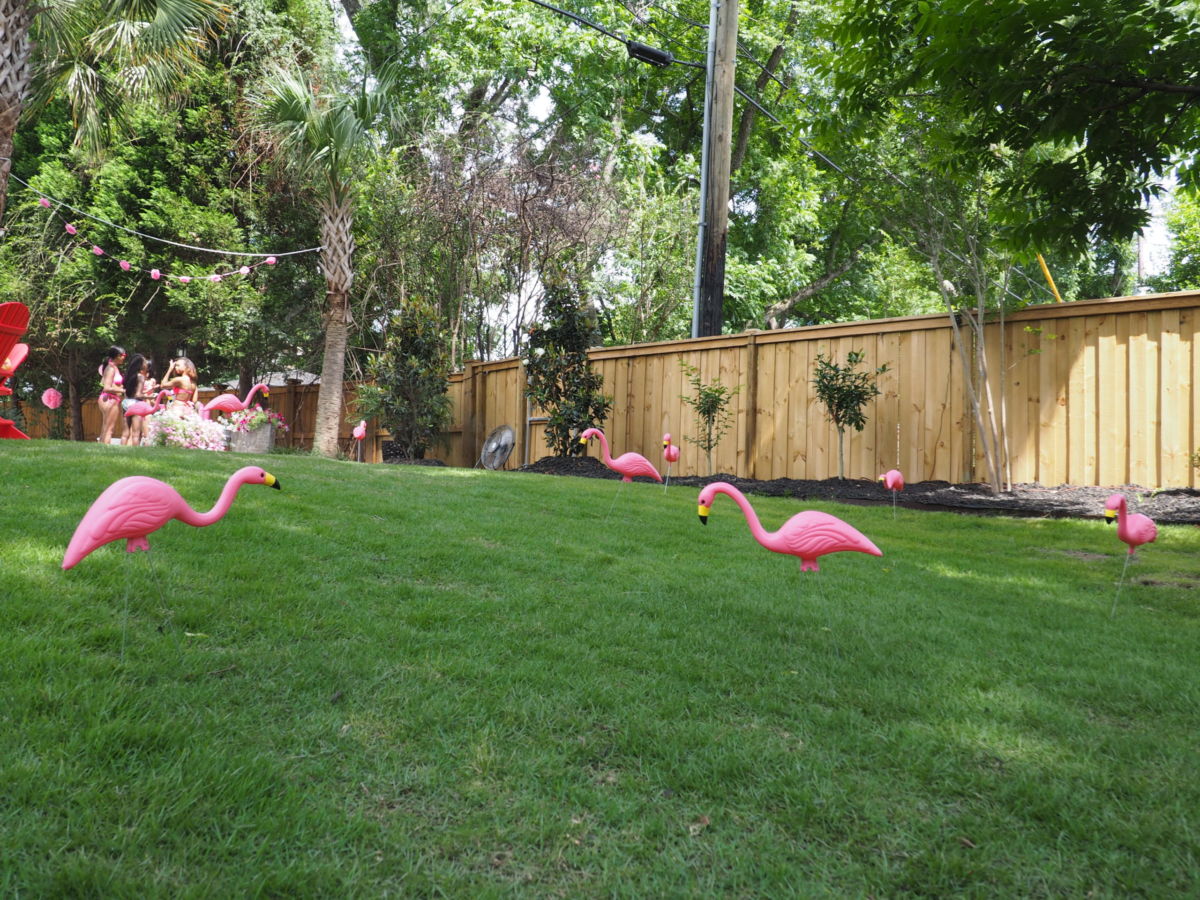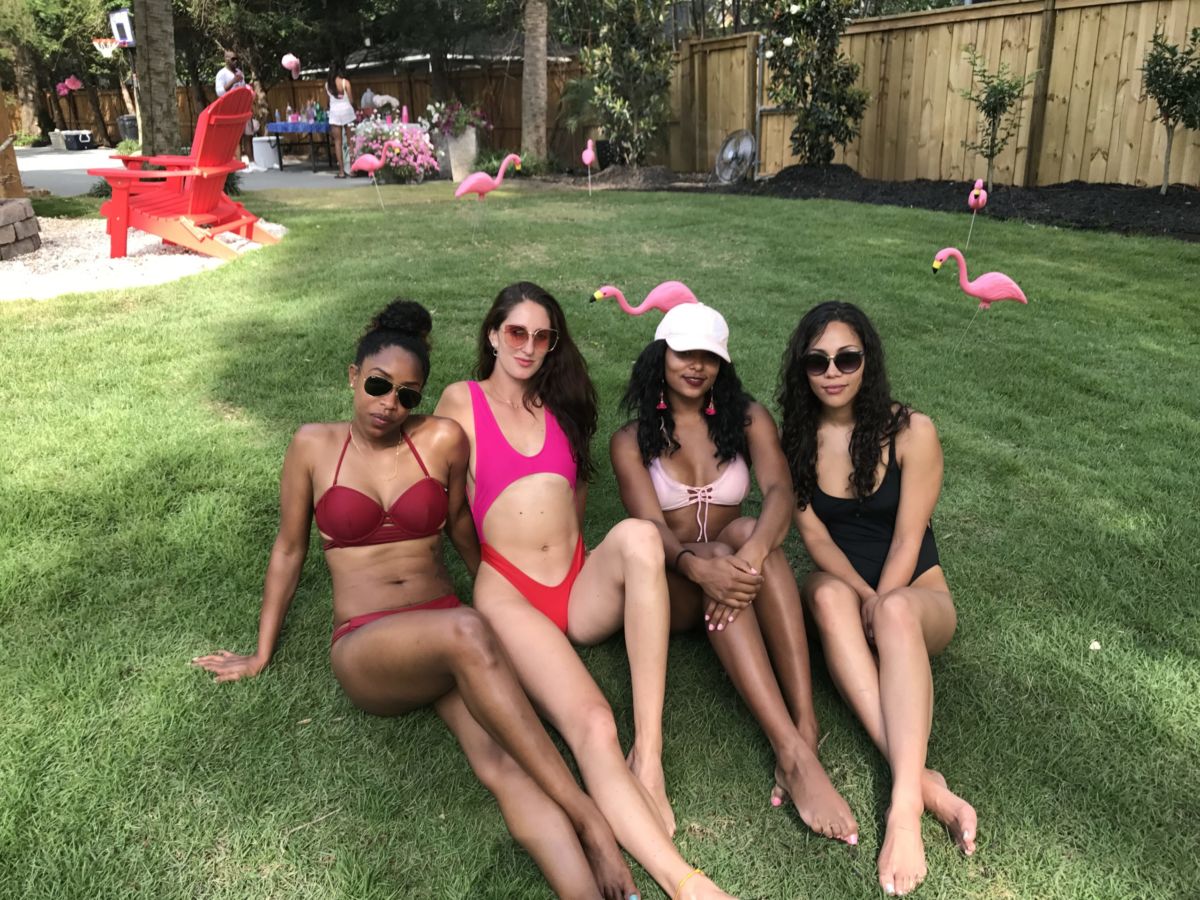 As silly as it may sound, your dinnerware (or in my case "lunchware") is just as much apart of your decor as anything else. I kept the cups and cutlery simple by picking up pink ones from Party City, but did spice things up a little by offering guests the cutest flamingo straws. My plates and napkins, however, were V special. I ordered these dinner plates, these dessert plates, and these napkins (all of which I was OBSESSED with) from Paper Eskimo. I also picked up some pink flamingo napkins from HomeGoods that I used for cocktails and dessert. (I did have plain pink and green napkins from Party City available for guests to use too)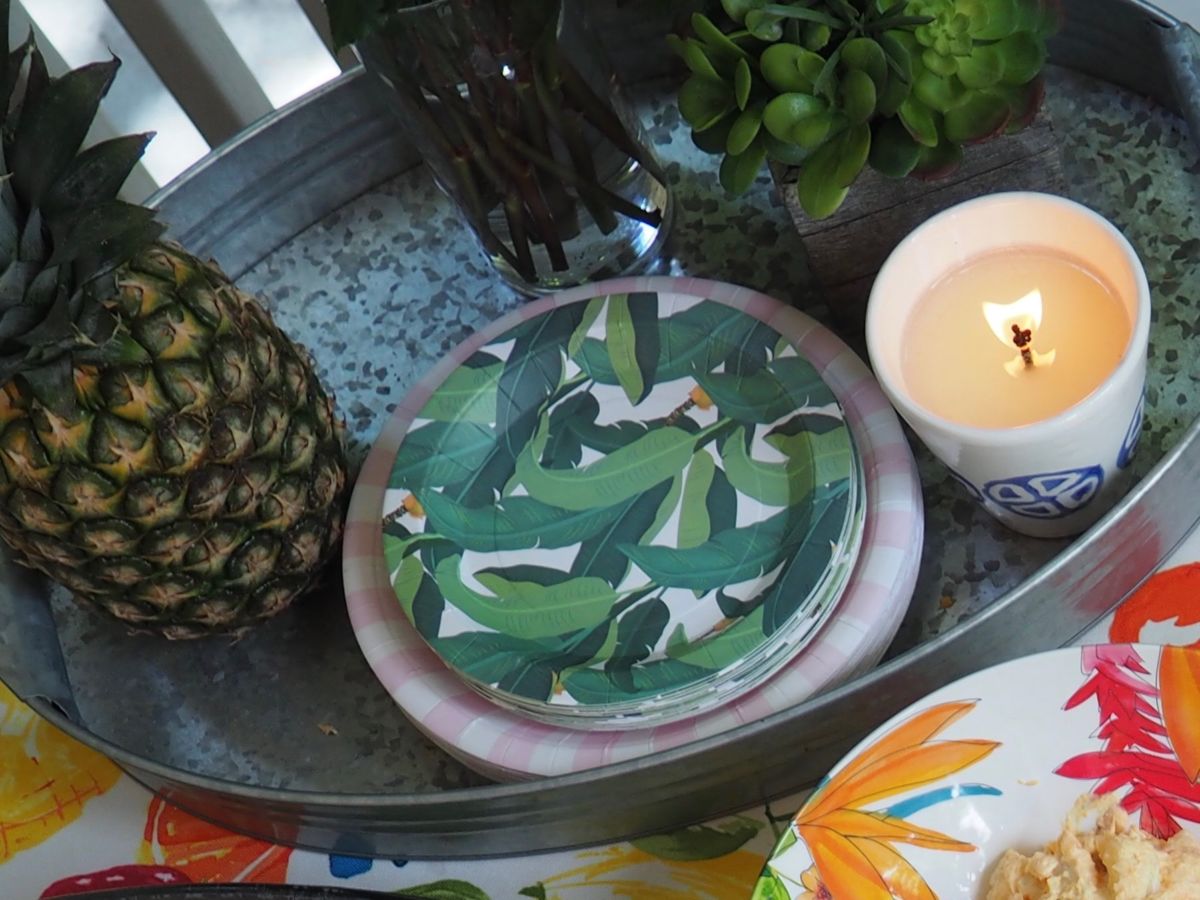 Just as an added bonus, I spray painted a pineapple gold and used that a centerpiece for a table near the pool. And while it did not decorate the backyard, the custom "pinck" crazy straw I ordered did end up decorating a ton of the photos I was in! hahah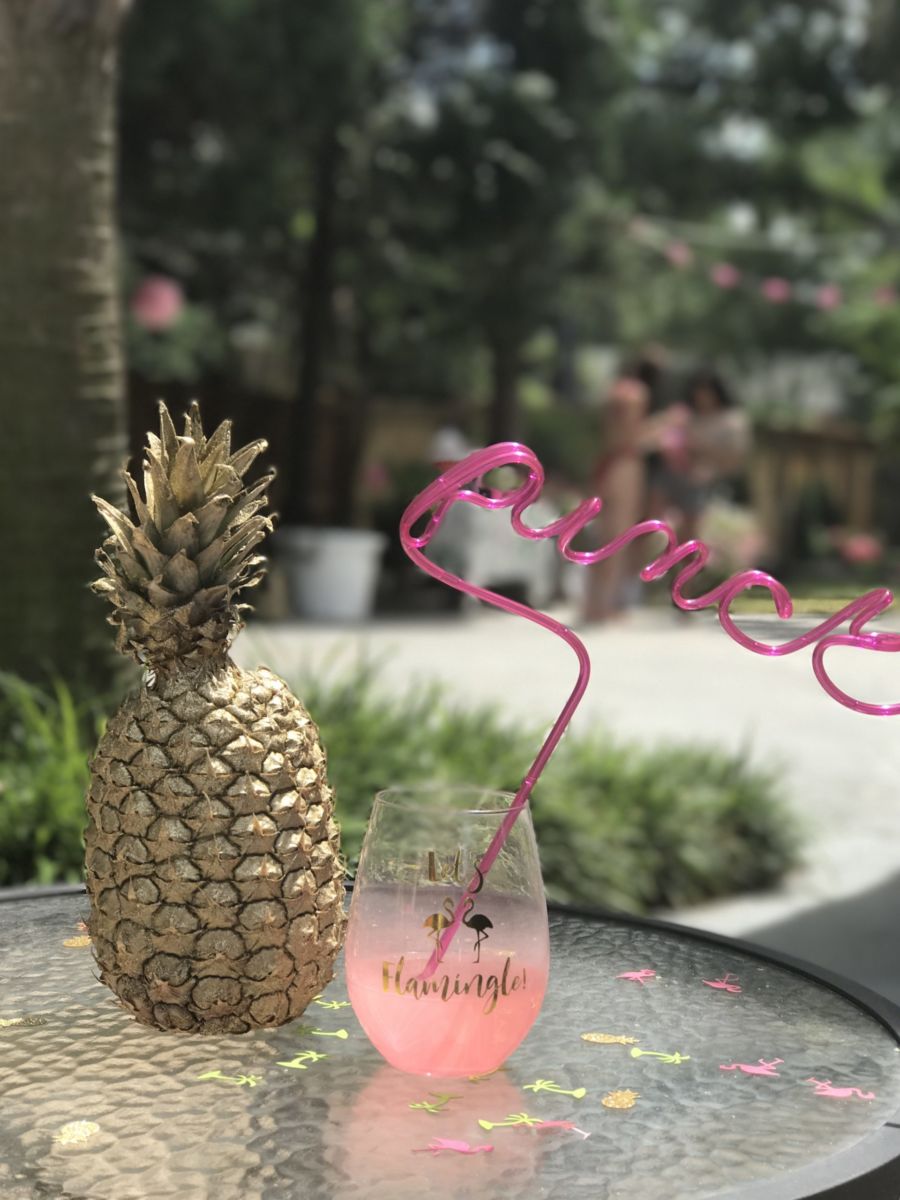 Food/ Drink
Someone once told me, "if you're hosting a party for more than 8 people…don't cook, allow someone else to". Not that I cook much anyways, but preparing to food for a ton of people on top of preparing EVERYTHING else just adds unnecessary stress. So I took that advice and ordered tenders and wings from Zaxby's (it was Sunday, or else I would have chosen Chick-fil-a platters) and pimento cheese dip/pita chips (my favorite) and potato salad from DiPrato's. I also had a platter of watermelon slices and a fruit bowl made up of strawberries, blueberries, and pineapple. And honestly, no party of mine would be complete without chips!
(Life hack: always light a citronella candle next to your food if you're setting it outdoors…it makes a HUGE difference)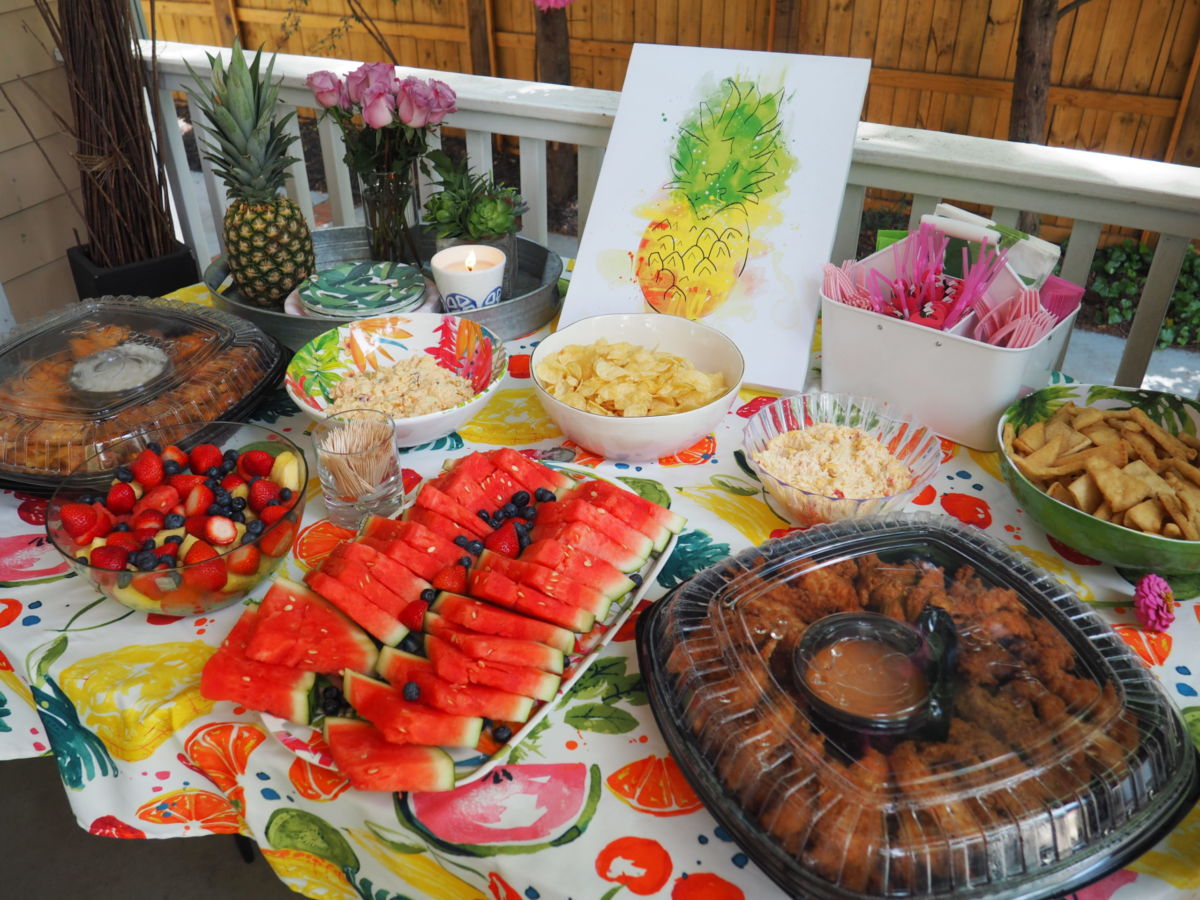 I believe that every event should have a specialty cocktail…as well as other alcoholic options. My flamingle cocktail consisted of pink lemonade (with a little ginger ale and strawberries already mixed in), Tito's vodka, and Bellafina Rosé (which I discovered and fell in love with at the City Roots' rosé festival a few weeks back). Guests also had the option of drinking sangria made with moonshine, champagne, rosé by itself, or other liquors that were already in the bar.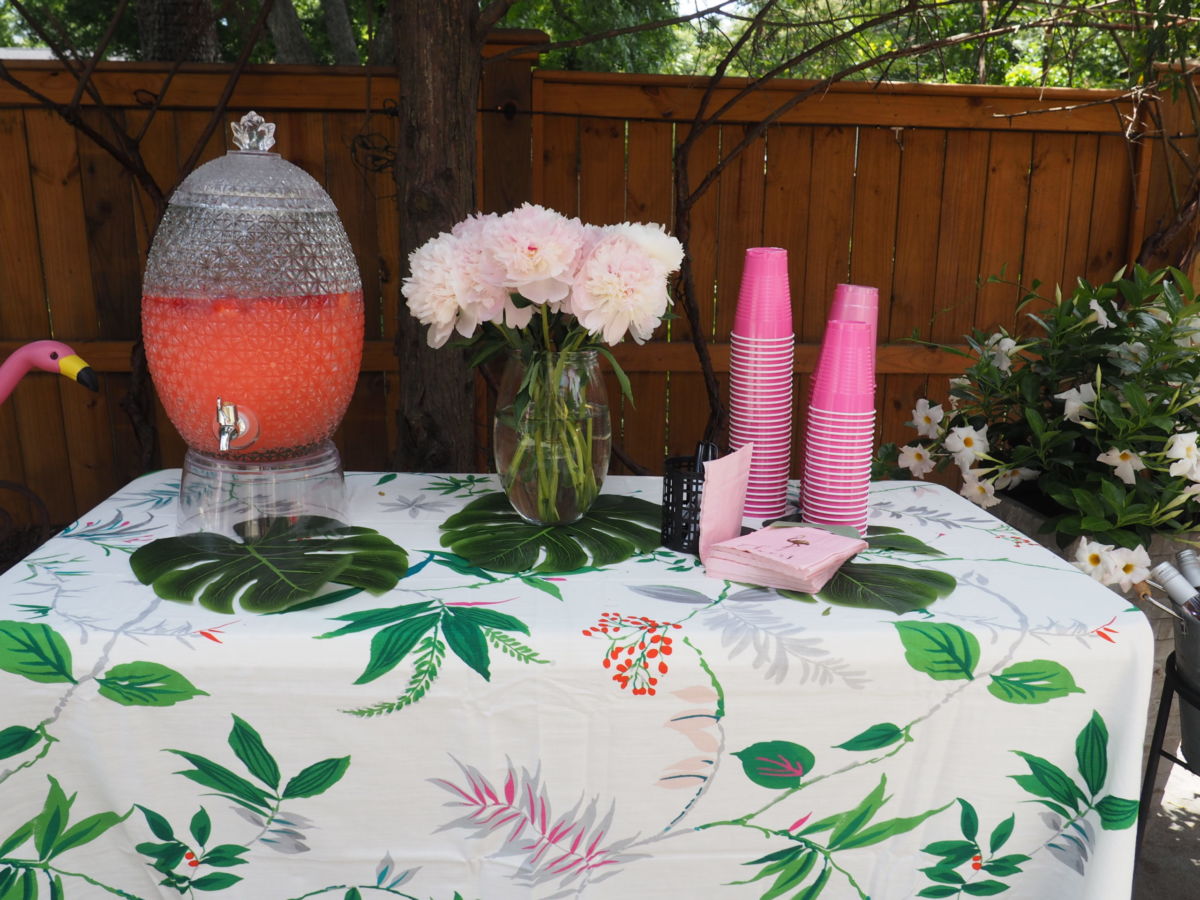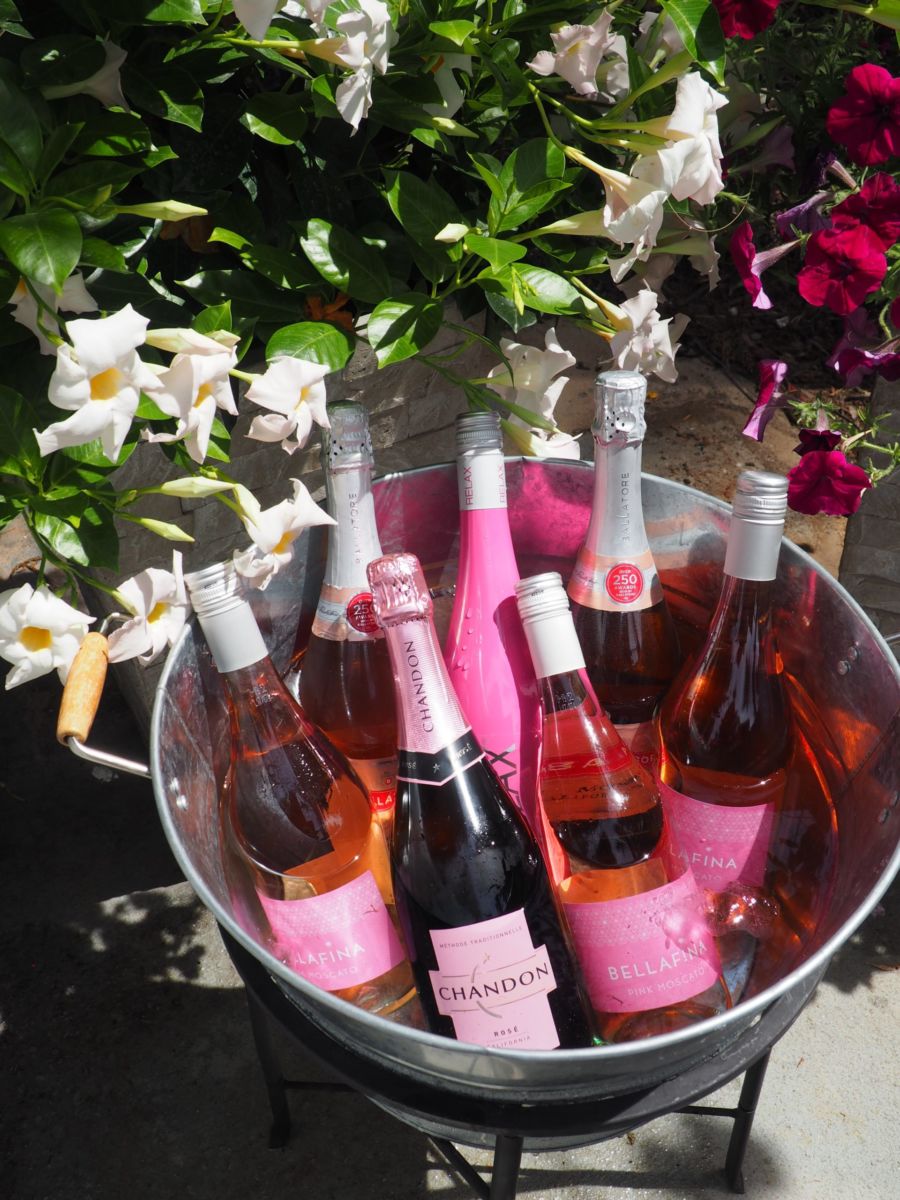 I love sweets and desserts, but I'm honestly not a huge cake person. So instead of sticking with tradition and having a birthday cake, I did something a little different this year. I ordered two dozen macrons from Chantal Guillon in San Francisco instead! They were soooo good and passing out macarons was SO much easier than trying to slice birthday cake in Columbia's heat. The flavors I chose were: almond amaretto, raspberry lychee, red velvet, Persian rose, tiramisu, apricot pistachio, and (my personal fave) salted caramel.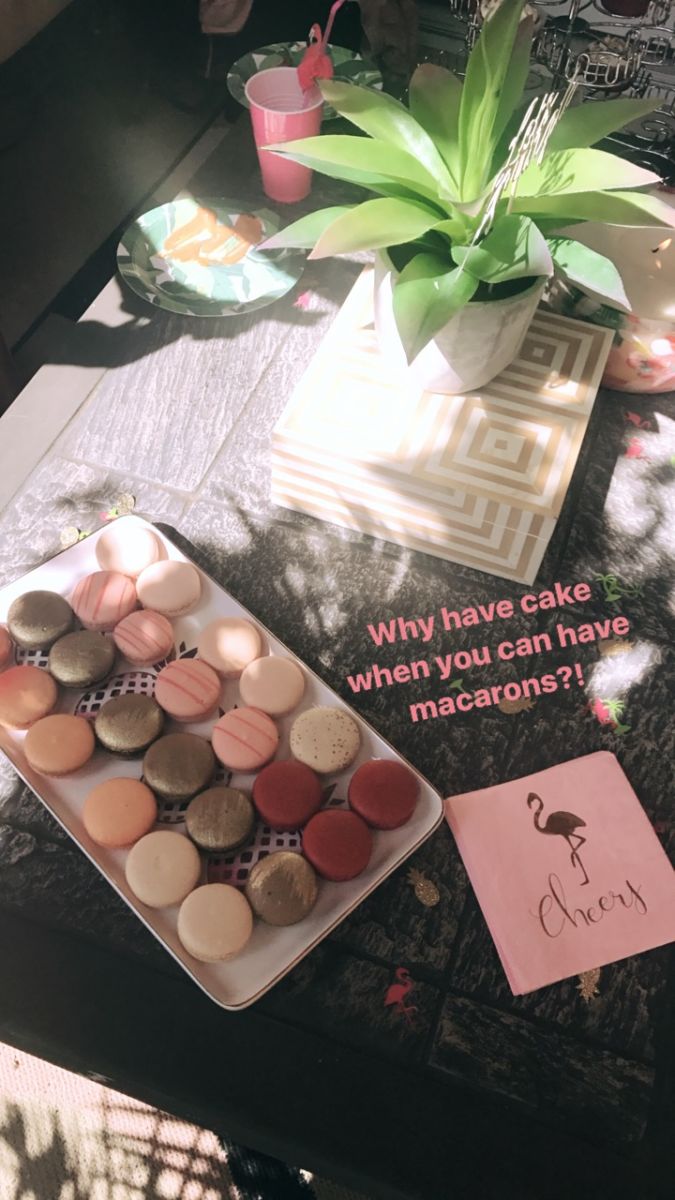 All in all, it was the perfect Sunday Funday…that lasted well into the night. I truly ended up enjoying my "flamingle" and am so happy it came together just as I had hoped it would.
Here are a few more candids from the party!