This past week I attended my very first Free Times party…and it did not disappoint!
Once a year the weekly publication compiles a "Best of Columbia" list awarding everything from the best liquor store to the best late night food spot. Winners are chosen based on the votes of average SodaCitizens and each year I'm introduced to somewhere new. To celebrate the winners and runner-ups they throw a party the week the list is revealed. This year's party had an 80s theme.
It's weird to admit, but up until Wednesday I had never been to an 80s party, especially one where guests are asked to dress up! I would have assumed that I had, since it seems like ultimate "over-done theme", but once I started trying to put a look together I realized I hadn't been to one. Coming up with inspiration turned out to be much harder than I had expected. Lucky for me my friend, who just so happens to be a super fabulous NYC stylist, was staying with me this week. He helped me create the perfect outfit that I'm SURE would have been in my closet if it were 1980-something. #styledbyMB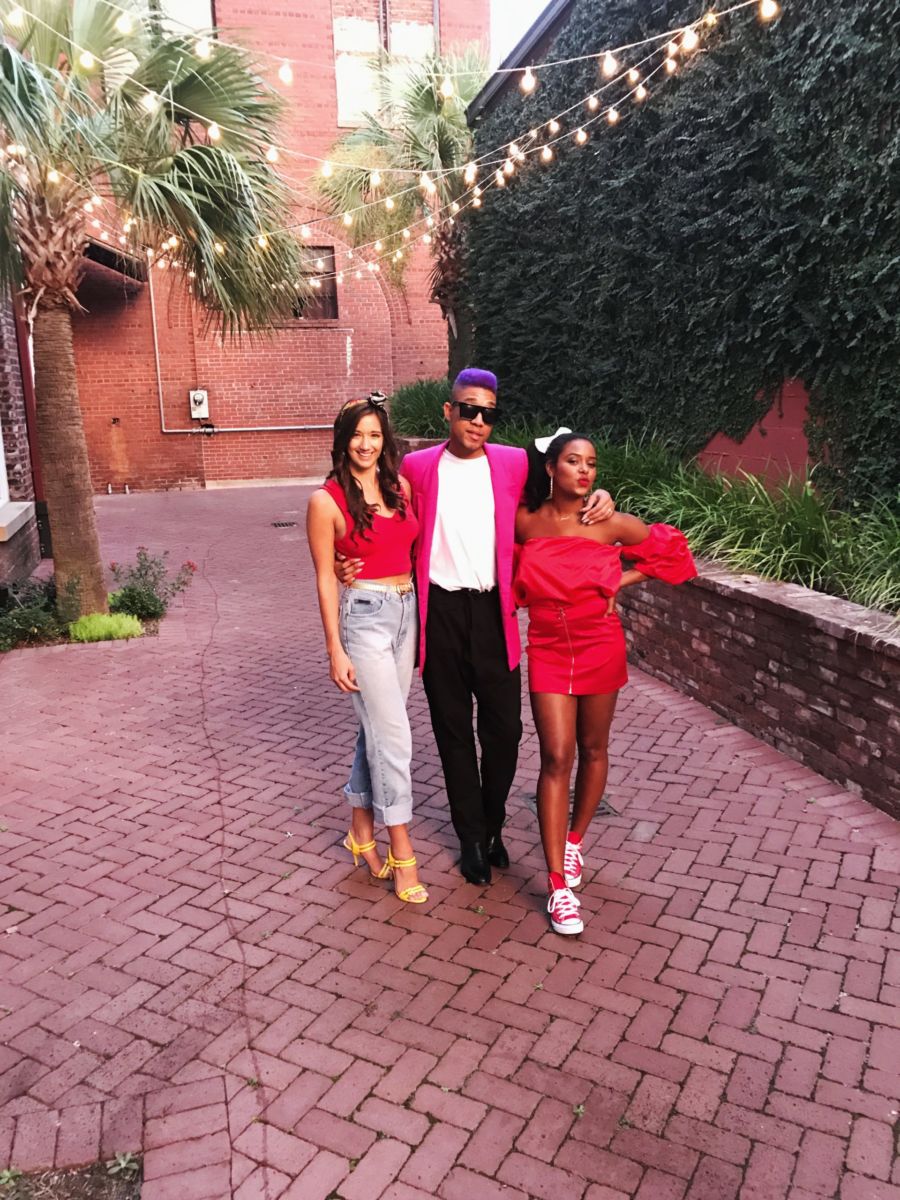 Top– Skirt– Bow: Forever21 // Sneakers: Chucks
Everyone knows that what makes a party great is the host's attention to detail.
The Free Times did such a great job thinking of every little thing for this party. When you first walked up to the venue, The State Museum, there was a red car from the 80s (sorry, which I had more info on the car haha) parked out front for guests to take pictures in front of. Inside, the mood was set by the glistening of a disco ball, lights from giant Tetris-shaped figures hanging from the ceiling, and an 80s cover band belting out hits. After giving your credentials you were encouraged to grab a pair of plastic, neon-colored sunglasses from the wall and begin your night.
There were tons of food stations–offering things like buffalo chicken sliders and s'mores paninis, and two full bars pouring really heavy drinks 😉 The venue had two dance floors, one with a live band and one with a DJ. There were countless 80s sayings (like: "I want my MTV") plastered all over the walls, and dispersed all over were neon-lit cocktail stands with vintage board games. But the absolute hit of the night was the skating rink in the middle of the lobby that the Free Times had built for the event. We spent sooo much time "skating" (..more like wobbling) around the rink, laughing and singing Michael Jackson songs.
That night was some of the most fun I've had in a while. Crazy to think a quirky outfit, some good tunes, a skating rink…and a few really, strong drinks can make you feel like you've traveled back in time for a night!