For months all anyone in Colatown could talk about was The 2017 Eclipse. Actually it felt like as soon as 2017 began talks of how Columbia was one of the few "major cities" to be in the direct path of totality (and slated to have the longest period of darkness on the East coast) began to crop up. It wasn't long before the entire event was hyped up to the max; I guessed to attract professional + amateur star gazers from near and fall. Once most schools and jobs offered to close so everyone could witness this once-in-a-lifetime event, everyone began taking the it a little more seriously. And for the last week all anyone wanted to know was where to find certified ISO 12312-2 glasses.
Now, as I'm sure you ALL know by now, I love any excuse to throw a good party for friends…but to be able to throw a party on a weekday with a theme that everyone would buy into…that is what I live for!!! So, of course, I had been looking forward to yesterday for a while too. I wanted to go all out on a Monday afternoon!
Everything was "space" themed. We snacked on Starcrunches, Milkyways, Starburts, and Solar Eclipse shaped cookies. (The cookies shaped like sunglasses and different moon phases were from Blue Flour Bakery + the "this totality rocks" and state-shaped cookies were from Cookies by Cat)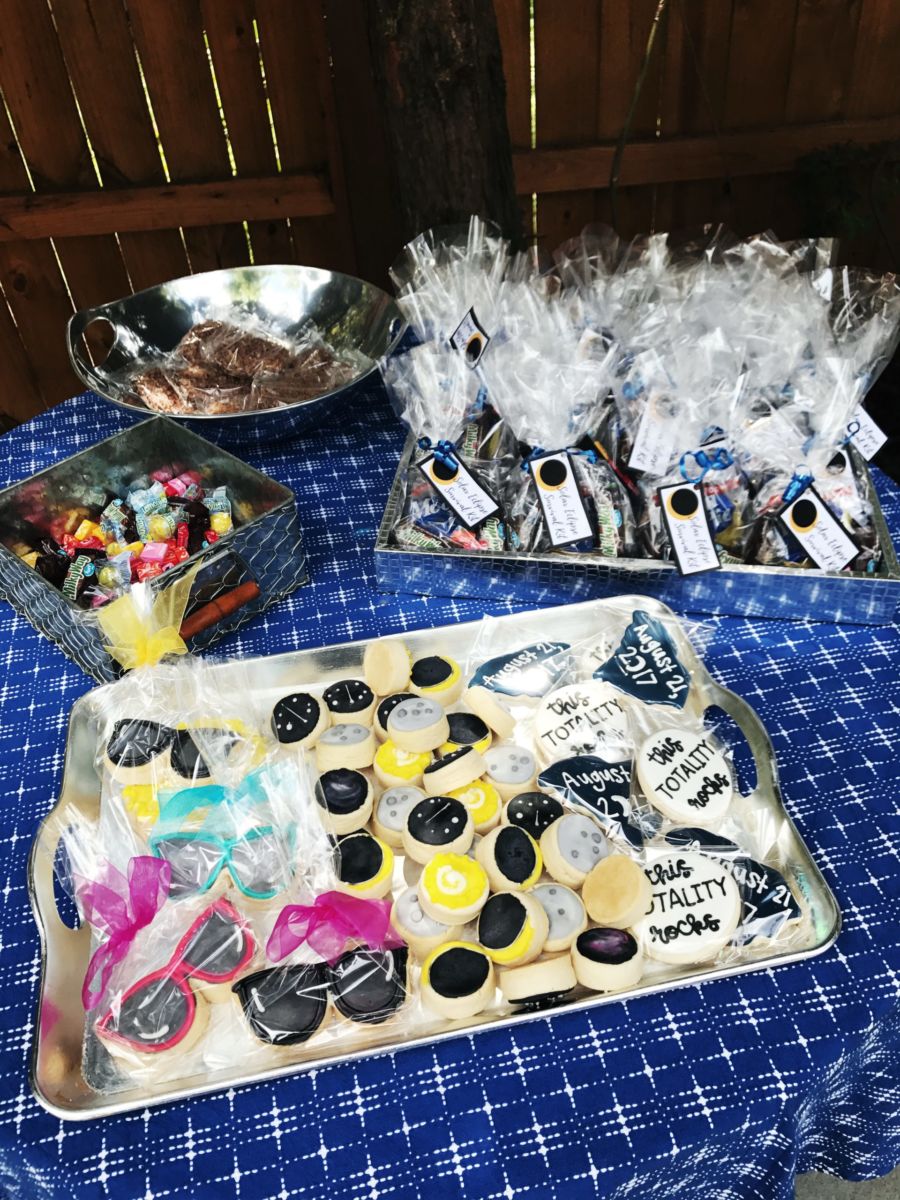 Even the drinks were out of this world! (I'm literally laughing as I type that). LOL but really, the bartender mixed up some fun solar libations. We started off with 3 cocktails:
Total Eclipse of the Sun- dark rum, your choice of orange or blood orange Sanpellegrino, garnished with an orange slice
Totality Dark- Vodka or Tequila, Blue Curacao, Lemonade, and a splash of grenadine
Outerspace- Lemonade, Sprite, grenadine, topped with cotton candy (non-alcoholic)
But by the end of the afternoon, a few others were added on.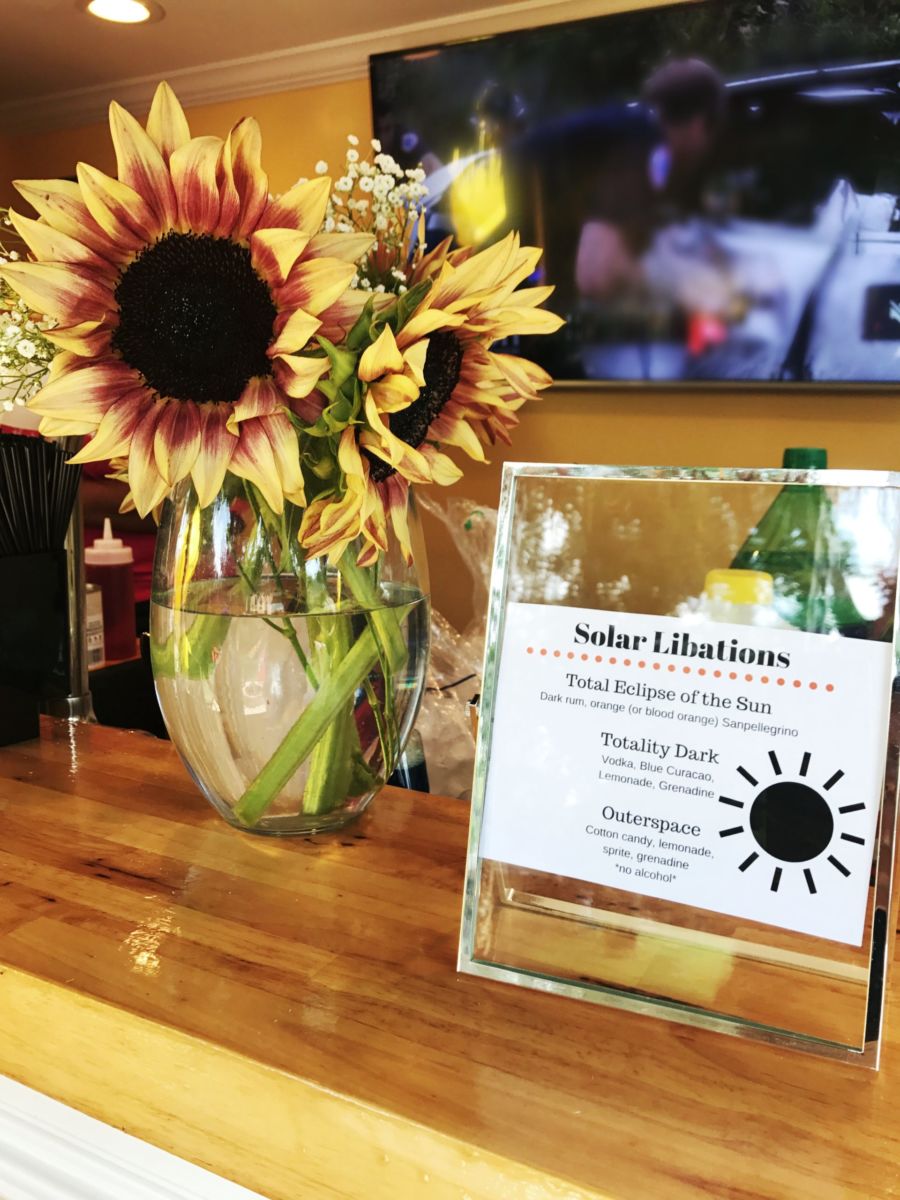 The kids were occupied (before totality) with a do-it-yourself craft table. They made glow in the dark slime …because its easy enough for them to do themselves and really isn't expensive. I bought a few plastic bowls, mixing spoons, and a measuring cup from the dollar store. I thought it would be cool for the kids to make glow in the dark slime since that would make it fit with out theme of totality. (find recipe below)
The most challenging part of slime if figuring out what to do with it once you've made it. And since most of the kids that were making it would be leaving the house that evening, I need to make sure that when they transported it it was in something sturdy …so their parents wouldn't hate me! I chose mason jars since they are made of sturdy glass and have lids. (Target had a pack of 12 for $6) I attached  "_______ was in the path of totality" labels to the front so that each kid could mark their names when they added the slime and we could avoid any of those "that jar is mine" conversations at the end.
I found the recipe for glow in the dark slime here. Note: this person uses Borax. We made batches with both Borax and baking soda + contact solution. I have since found out that recipes with Borax can be harmful if not washed off of children's hands correctly. Luckily, we didn't have any issues since there were mostly bigger kids making the smile, but it might be safer to swap the Borax for the baking soda + contact solution if you plan on making this with kids.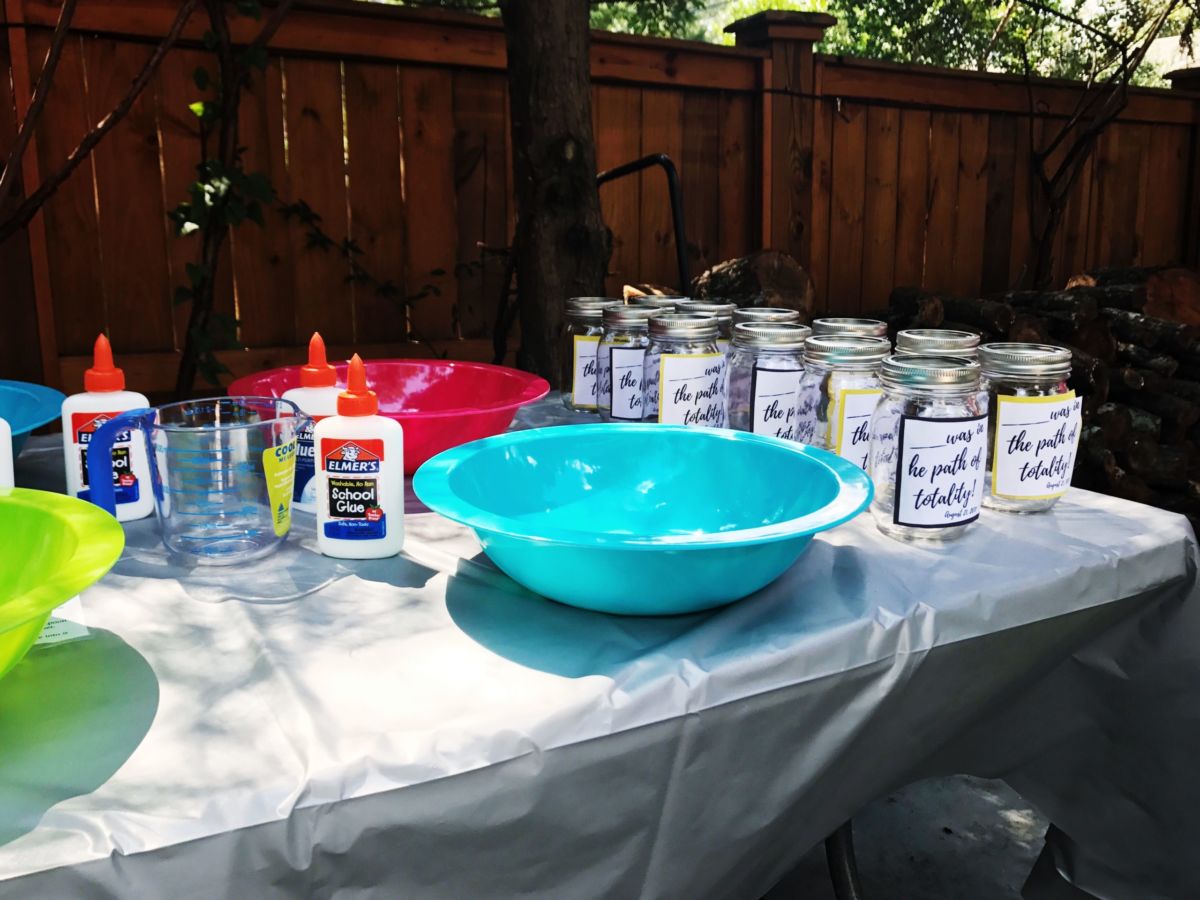 As I said before, I was honestly only excited because it was a chance to get together with friends and have the ultimate Monday afternoon happy hour. But then, when the moon began to float in front of the sun and you could see the small, dark crescent shape in front of the bright ball of gas…I started to understand why it had been hyped. It truly was a phenomenon. Then around 2:40, once the moon was directly in front of the sun, the true magic happened. For a little over 2 minutes there was no light from the sun! It was as if nighttime had come early. Of course, for those two minutes, we raved hard…as if it were nighttime– listening to the musical stylings of Future (specifically Gone to the Moon) lol. I was in awe of the magic the universe and God could create. And it was then that I understood why people travel to experience eclipses.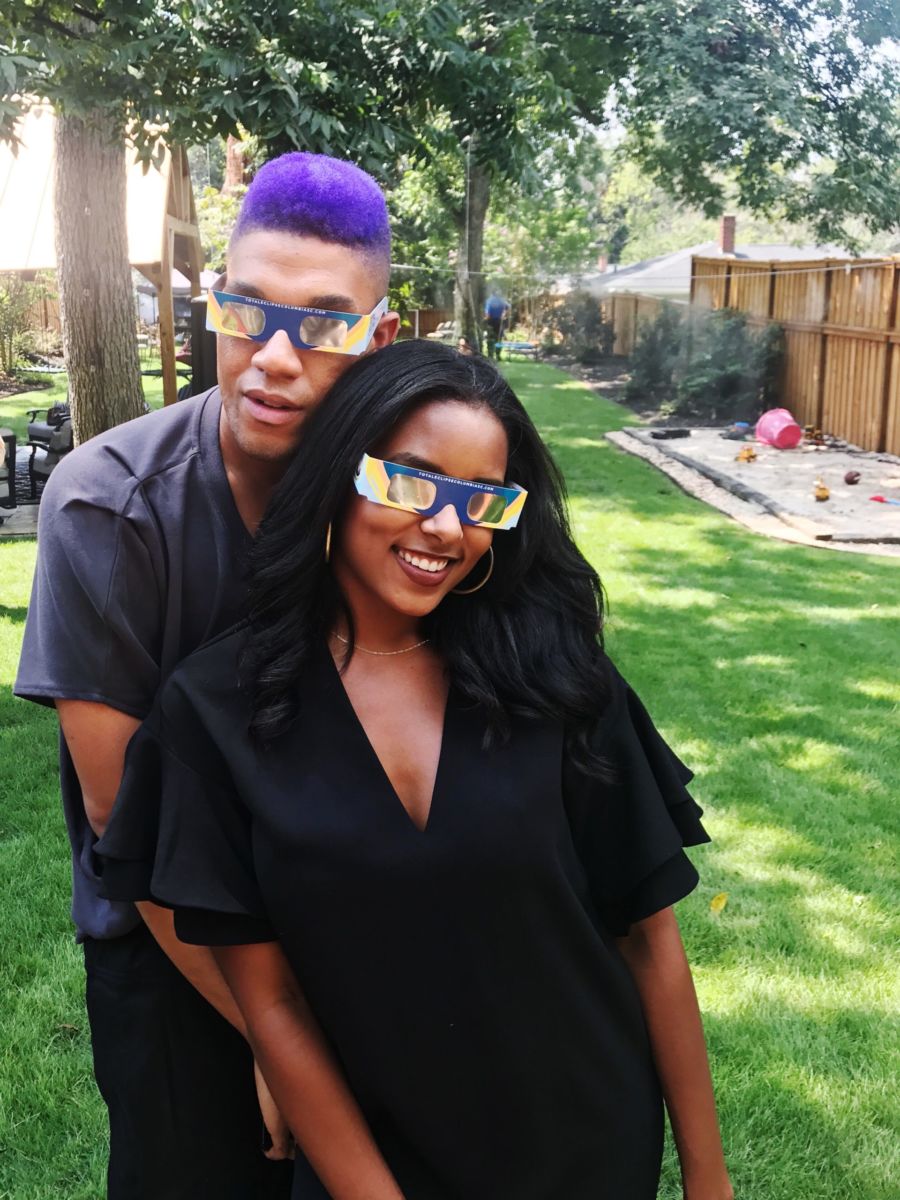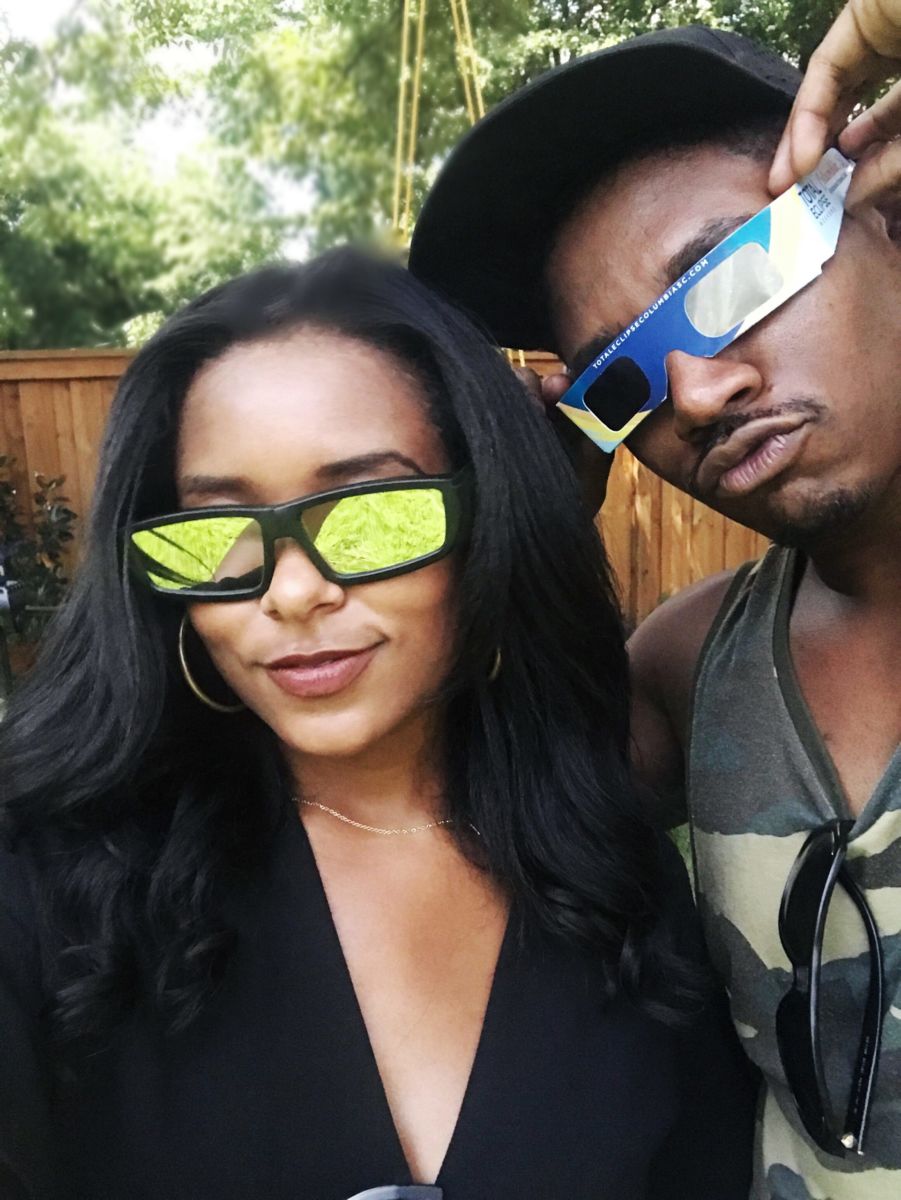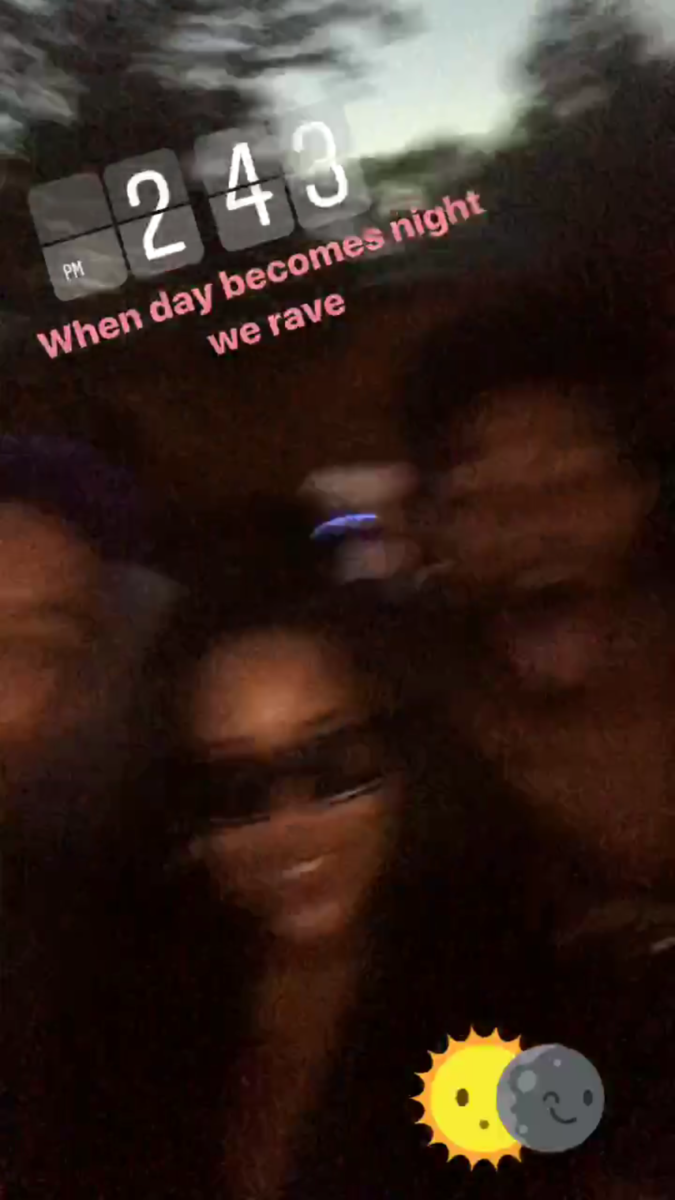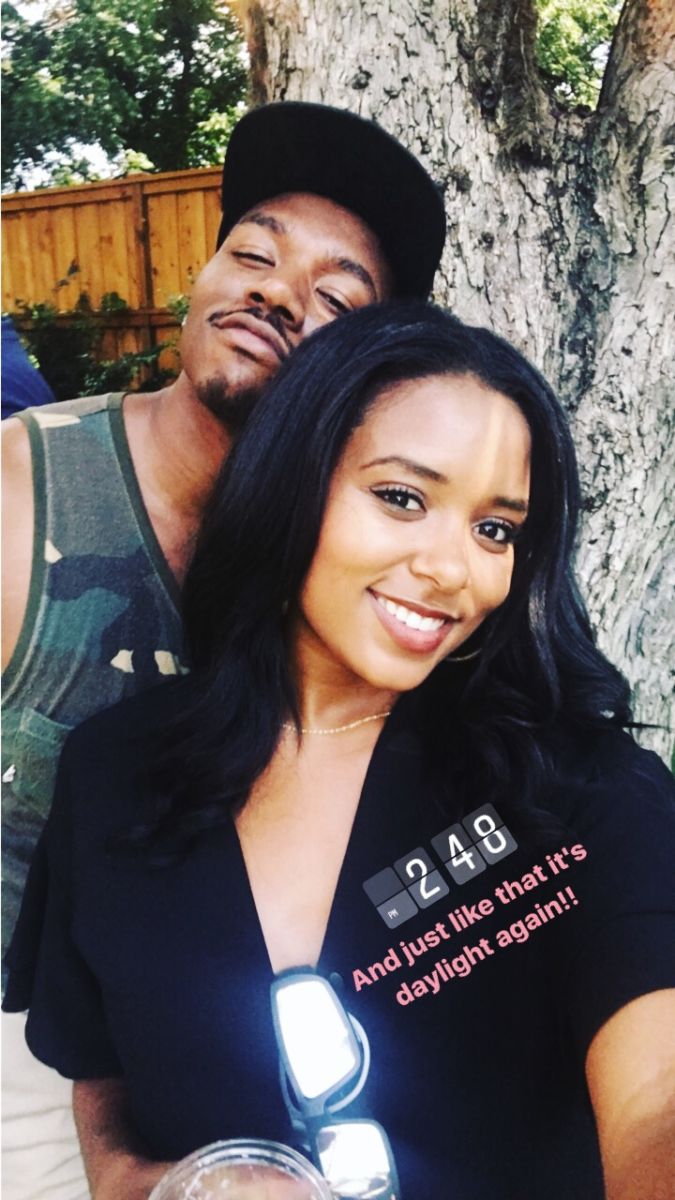 One of the tips for the eclipse that had been pounded in my head for months was to not let your attempts to get it on social media prevent you from experiencing it. After all, we were only in the path of totality for less than three minutes.
I decided to take that advice. I took a few snaps (of course), but I don't have many pictures from those two minutes. What I do have is much better. I have a memory that will go down as one of the best days of this summer and one of the greatest moments of my lifetime.
The evening ended with a few bushels of crabs (one of my all time favorite summer pastimes) and me passing out Solar Eclipse Survival Kits as parting gifts.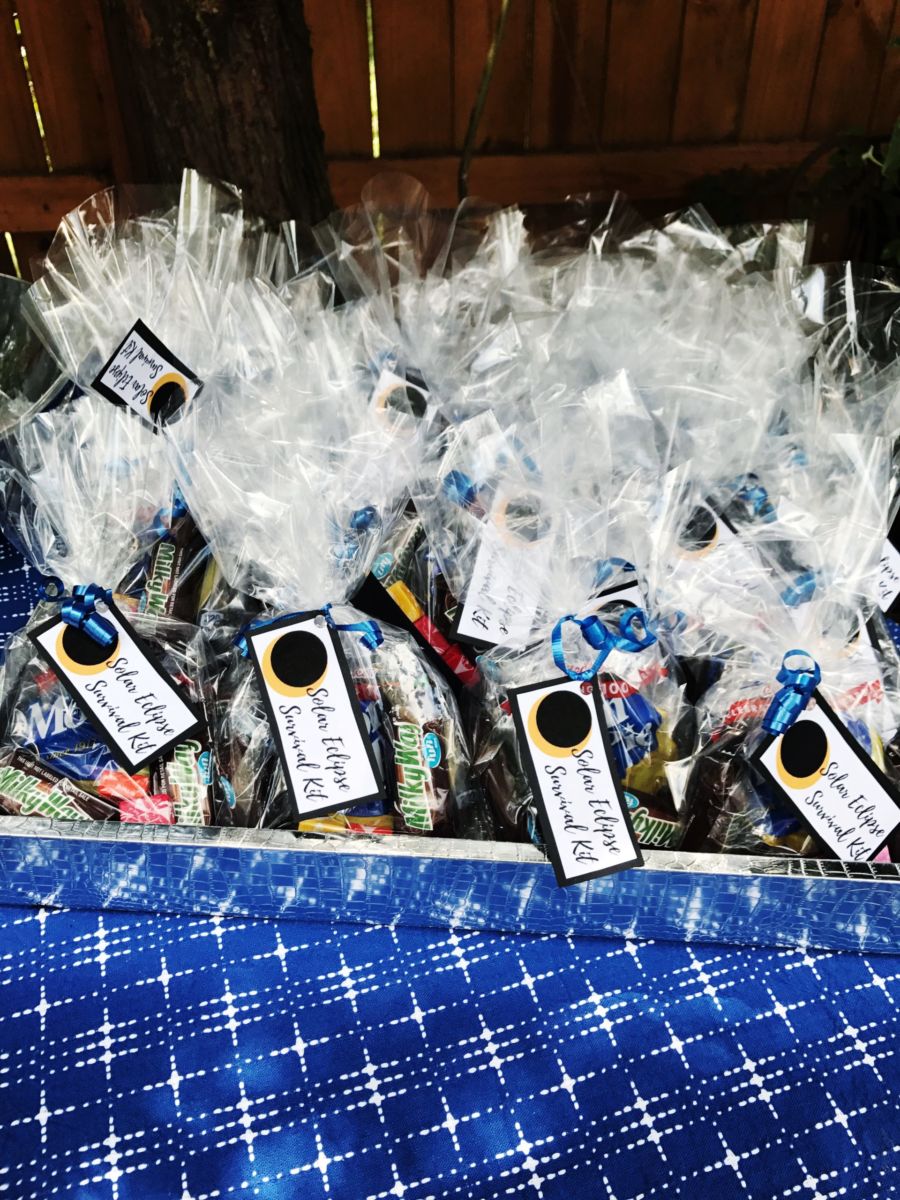 Survival kits:
Moonpie
Milkways
Starbursts