Y'all know how much I love the little garden that I started on my terrace last summer. It really is my happy place and where I find solace. I  truly missed it over the winter when everything was dormant and the weather was too brutal to sit outside. I counted down the days to spring when I could bring life back and enjoy it again.
When it was finally time to update my plants earlier this season I knew I wanted to include more veggies, but I wanted to choose ones that I would actually use. I did a little research and figured out which would be the best to plant on a porch. I soon realized, though, that insects and other critters usually got to the ripe ones before I did, so I've since incorporated Neem Oil— a natural pesticide that protects your garden from becoming a meal to unwanted guests.
If you've been wanting to plant more than just pretty flowers but don't have a ton of space or an area for a garden bed, here are five veggies you can plant in pots and actually enjoy when they're ready!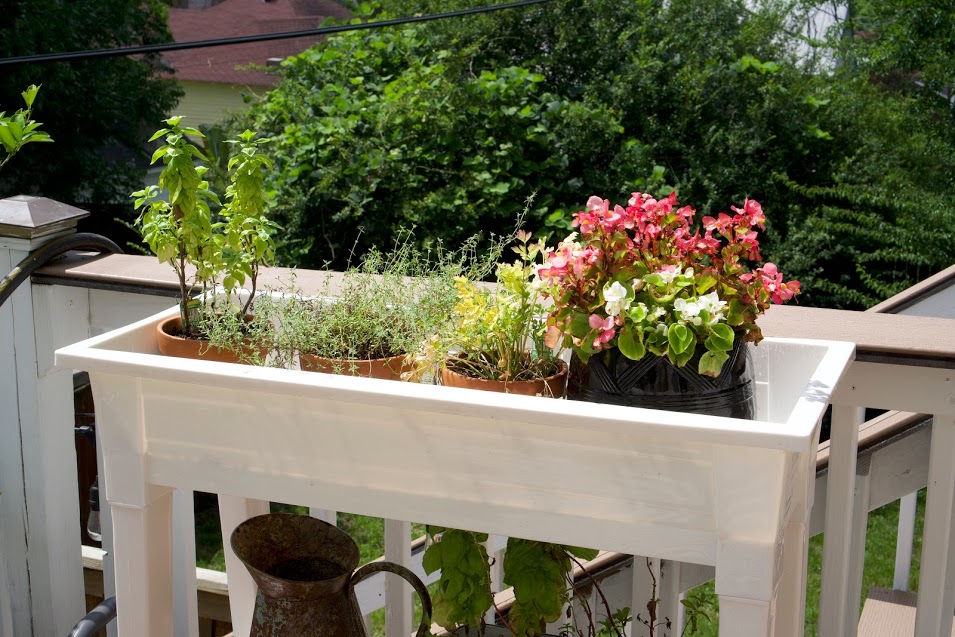 1. Tomatoes
Tomatoes are the perfect addition to your porch, because tomatoes grow vertically instead of filling out and spreading outside of the pot. Your porch will naturally protect your tomatoes from a good amount of pests. Tomatoes need a lot of direct sunlight with at least 6 hours a day! They also feed deep so they need at least a 14-inch pot to have successful growth. The bigger and deeper the pot, the better. Tomatoes also require deep watering and must be watered more frequently than the average plant. You can use wire mesh to create a tomato cage and add a layer of red mulch on the top of the soil before planting. I've potted Better Bush's hybrid tomatoes (determinate) in my mini garden on my terrace which comes in handy when I'm craving a homemade caprese salad.
2. Basil
Basil would also be great on a porch! Basil can be smaller and more compact than other plants. It would be easy to add on a table or on the railing. Basil needs warm air and sunlight for at least six hours a day. It should be kept moist and have good drainage, but should be checked daily for growth of fungus. Just make sure you pinch your basil every now and then so they grow fuller! Basil is really great for making pesto, and basil chicken, and it's perfect for an evening cocktail.
3. Sweet Peppers
If you're looking for a pop of color in your garden, try planting sweet peppers. There's a huge variety of sweet peppers that you can grow in a pot or container such as Sweet Bell Peppers, Bulgarian Carrot Peppers, Bolivian Rainbow Peppers, Fushimi Sweet Peppers, Jalapeno Peppers, and Shishito Peppers. Peppers LOVE the heat and sunlight. Make sure you put them in a warm and sunny spot outside so they can get a lot of direct sunlight during the day. The pot should be at least a foot in diameter and 10 inches deep. Make sure the soil you grab is perfect for the container, because it's important that the water stays level and drains quickly.
Here's a simple recipe on how to make homemade salsa using your sweet peppers from  Pinterest!
4. Green Beans (Porch pick)
If you're looking to grow green beans, try the Porch Pick variety. They pop off of the vine and make cleaning fast and easy. They may be small (which is perfect for potting), but they are filled with a ton of fresh flavor. The pot will need to be deep and have good drainage holes. Green beans love water so water them frequently. They are also very sensitive to the cold so make sure you plant them during a warm season with a lot of sunlight. Don't forget to cut their tops before cooking to ensure they steam  faster!
5. Kale
Kale is also great for a porch, because it doesn't need much space to grow. You can find some unique spots on your porch to liven up with this beautiful plant! Kale needs A LOT of sun, so keep it watered well to avoid wilting. If you apply some mulch at the top it will help retain moisture and keep the soil from drying out. Choose a pot with a diameter of at least a foot so the plant has space. They attract critters so use a topical pesticide spray and cover it with fine netting. It's a great addition to a variety of dishes such as spicy creamy kale pasta and kale + bacon salad. You can never go wrong when adding kale to a smoothie.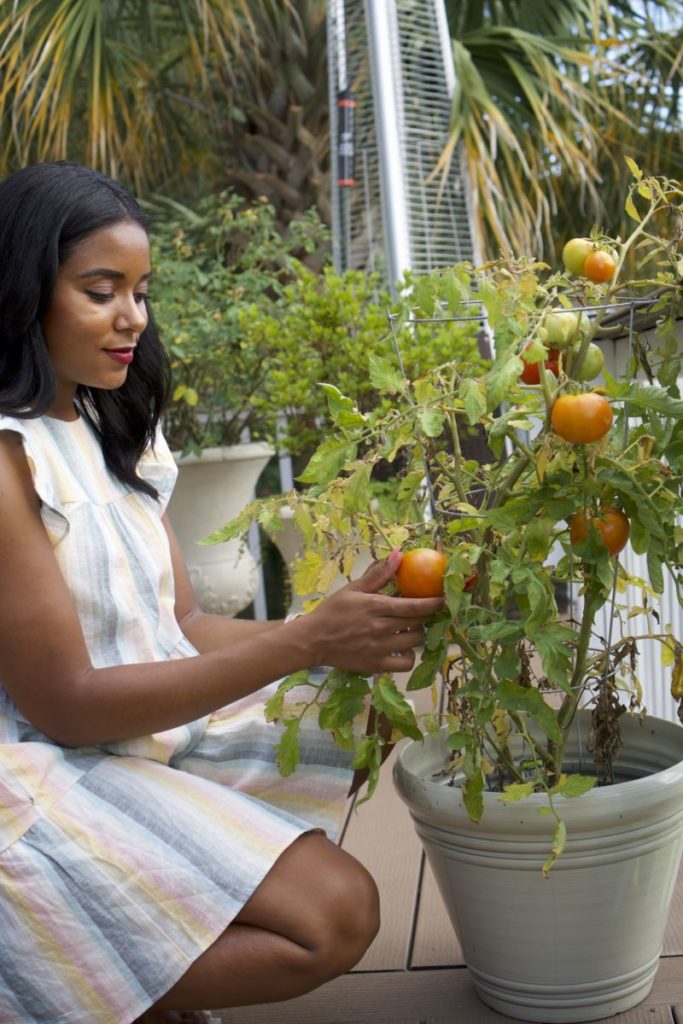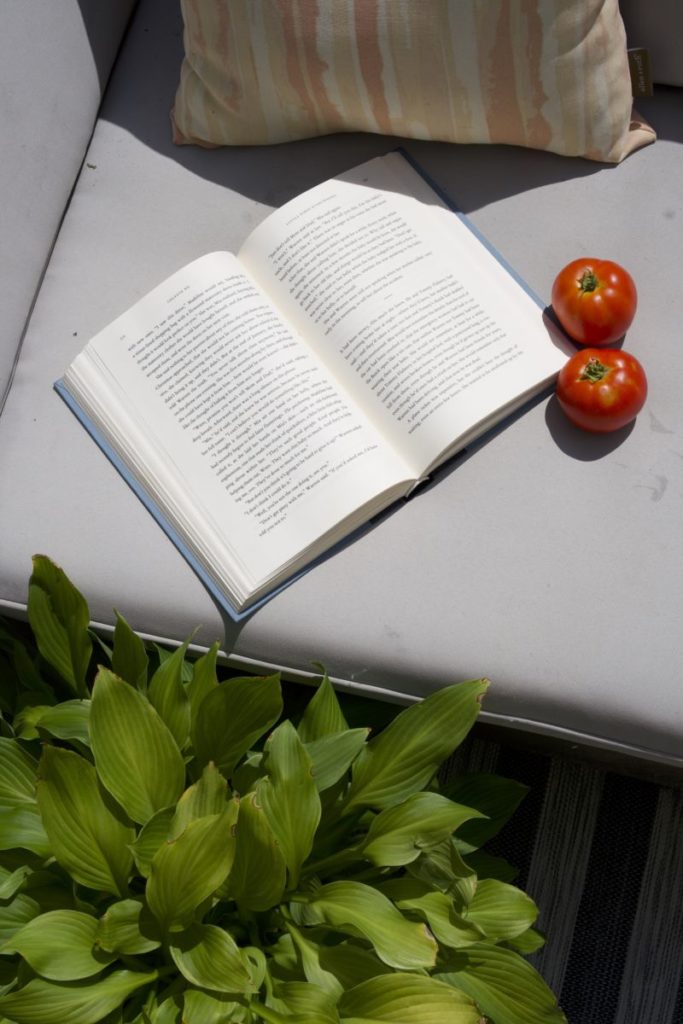 Is there another vegetable that you love and have grown on your porch? Share it with us in the comments below.