Our current Parisian-inspired collection with Show Me Your Mumu is live and has us missing every little thing about that city!! When we started planning for our Launch Day we knew we wanted to do something small and intimate, but we still wanted it to feel very special. So we opted for a simple, yet typical French celebration: champagne + cake! Lucky for us, we knew the exact place to find gorgeousssss Victorian-styled cakes right here in Columbia, SC!
For this installment of Sunday Sessions, the series where we showcase Black women in various industries, we want to introduce you to Daysia Mims, the woman behind Daysia Vu Cakes. She creates elegant, romantic-style cakes with fillings that you're seeing all over Instagram these days. We chose a classic vanilla cake with cheesecake filling and I promise you it was a delicious as it was beautiful. But we aren't use to seeing this type of cake around here, so wanted to learn more about Daysia, her small business,…and what her inspires her!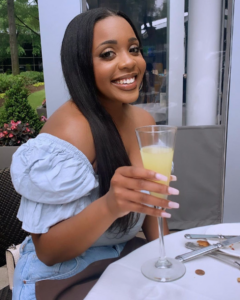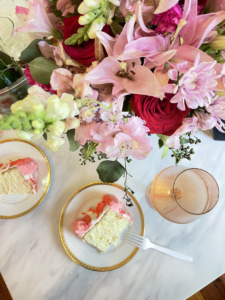 Here is what Daysia had to share: 
1. Where are you from?
I am originally from a small town called North Augusta, SC. But graduated from USC in 2021
2. What inspires you?
Music is extremely close to my heart. Listening to my favorite songs while baking or cooking. It eases my mood and keeps me motivated. Music also helps me alter my perceptions of the world, making it more pleasant and outgoing. That's probably why I listen to music all day every day!
3. Why'd you want to start your own business?
I wanted to start my own business so that I can create an opportunity to invest in my time and energy into something that I love and I love being able to build my own vision instead of someone else's.
4. How did you learn to bake
I learned how to bake from watching and observing the women in my family. My family has a history of women who enjoyed bringing our family together by baking delicious cakes and making food that we knew was made with love with every bite.
5. Favorite thing to bake?
My favorite thing to bake would probably be my brown butter chocolate chip cookies, classic vanilla cake.
6. What do you love most about baking?
I love baking because it's a chance for me to express myself. I can put my passion into the food I make, and I can share that with people who enjoy it. When someone comes across a sweet treat or any dish of mine and says "Wow, this tastes like love!" it makes me feel like I've reached them on an emotional level. I also love baking because of the science behind it. The processes are so intricate and complex, yet they all come together to create something amazing!
7. What has been the biggest challenge/reward for you when starting your own business?
The biggest challenge for me would be attracting new customers! With so many local bakeries, I continue to maintain originality and be as creative as possible to stand out amongst others. Also starting a business is new for me entirely. So along with working as a middle school teacher, I also spend the majority of my time researching and practicing to perfect my craft.
The biggest reward of starting my own business has been I've been able to work on something I really love and care about. A cake with designs usually takes hours and I've put in countless hours watching videos, and taking courses to help perfect my craft to say I started in February, and I'm really proud of the progress I've made. 
Interested in trying some of her baked goods? Click here to place your order!