There is no better feeling than being able to check something off of your bucket list!
While on my latest trip to Napa, I did just that. I was finally able to dine at THE French Laundry. You know…that world famous restaurant that has received like every honor & accolade imaginable and takes months to get a reservation?! Yeah, that one! Anyone who is anyone has eaten here (think: athletes, politicians, food critics, movie stars, EVERYONE). But to be honest, you don't just eat at The French Laundry, you experience it.
Often referred to as "the best restaurant in the world", the French Laundry is the vision of world renowned American-born chef Thomas Keller (who by the way is the ONLY American chef to ever hold multiple three-star ratings from the prestigious Michelin Guide). The food is mostly French but has contemporary American influences. Every day, the French Laundry serves two eight-course tasting menus (one for vegetarians & one for those who aren't) none of which use the same ingredient twice.
The restaurant is located in the town of Yountville in a quaint 1,600 square-foot rustic cottage. The structure was built in 1900 by a Scottish stonemason as a saloon. Since then, the building has served as a residence, a French steam laundry in the 1920s, and then a restaurant before Thomas Keller purchased it in 1994.
Although it is beautiful, most would probably miss the building while driving down Washington Street if not specifically looking for it. Their eyes would most likely shoot over directly across the street to Keller's culinary garden (where most of the ingredients used in his meals are grown) instead. However, if you take the portico to the courtyard you'd be able to truly appreciate the beauty of the structure as well as the perfectly manicured greenery. In the courtyard you'll find a floor to ceiling window that gives you peak into their historic kitchen as well as their iconic blue front door which serves as the entrance!
Inside, the restaurant is modest in size offering less than 20 tables total, however it seems much bigger as every table is always taken. The entire dining experience takes anywhere from 3 to 4 hours, so if you're traveling from the East Coast I definitely recommend a reservation for earlier in the evening. You wouldn't want to have any trouble staying awake during the most exciting (& expensive) meal of your life. Our reservation was for 5pm, which ended up being the perfect time as we left around 9pm (12am EST).
The table is set with custom French Laundry dinnerware and what is probably the world's most notable clothes pin. But what truly makes this restaurant special is its impeccable service. Each party has at least one waiter that is there to accommodate their every need for the entire night. If your fork drops, or you wine glass becomes empty they are there to fix it within seconds. And when each course is brought out, everyone's plate is placed down on the table at the same time. Its so fancy that you better not even think about wearing a t-shirt, shorts, or tennis shoes. Instead, pull out your favorite blazer, your most fashionable dress, and/or your fanciest heels.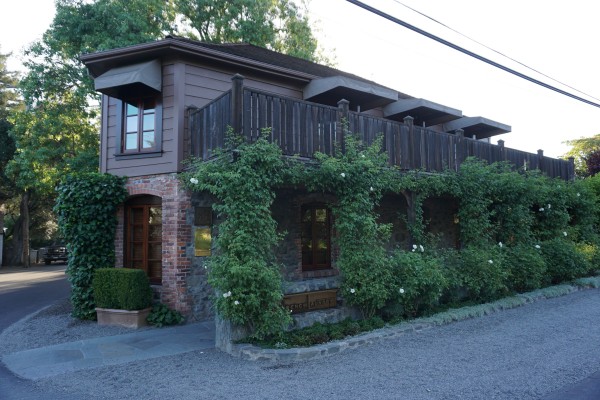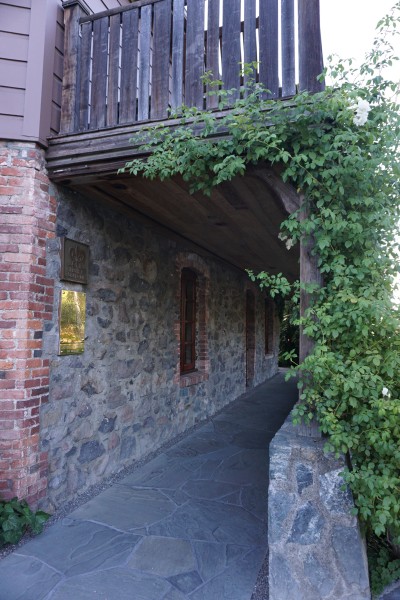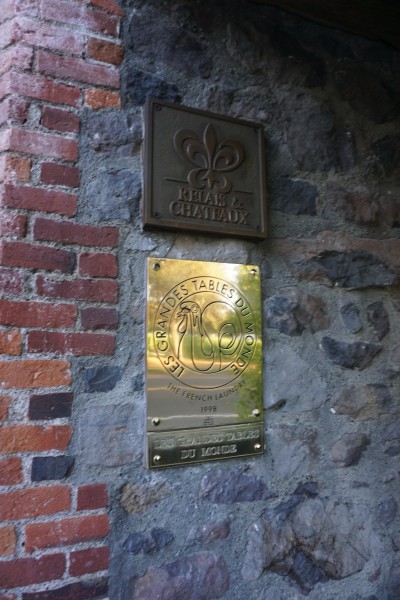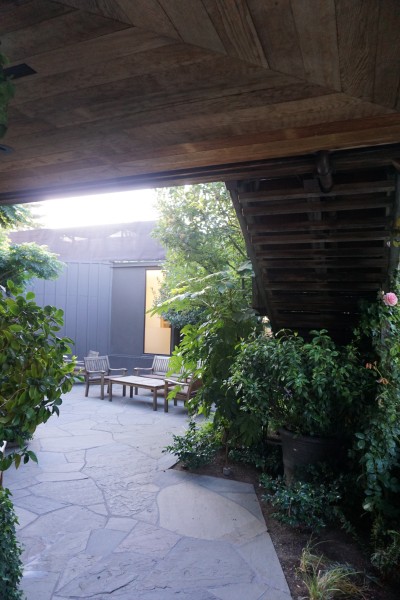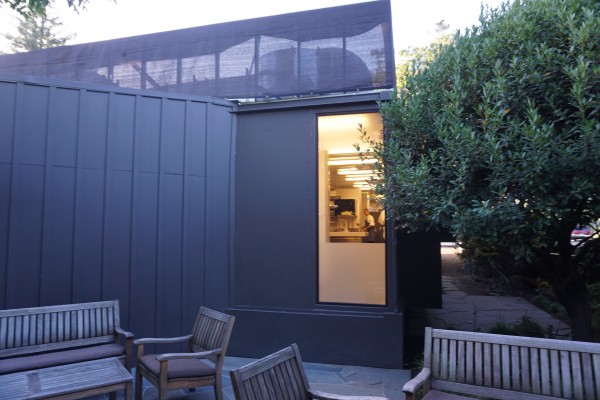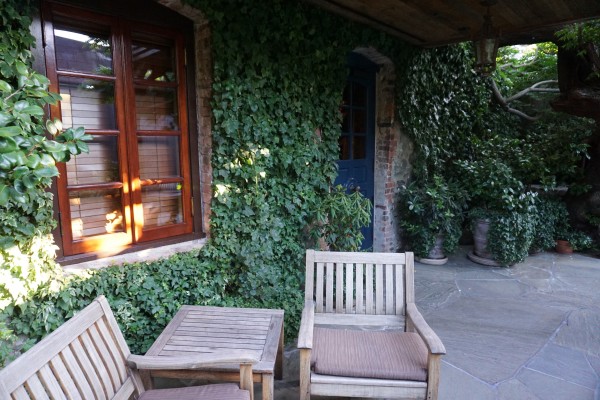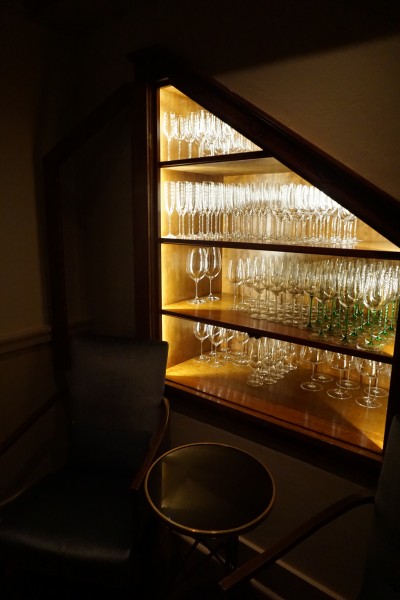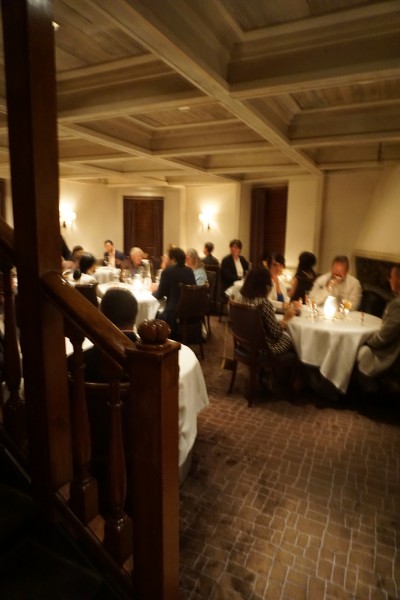 I'm going to attempt to outline all eight courses with you, mind you I am wholly intimidated by the prospect of explaining this as I am sure my words will be inadequate and I won't be able to accurately convey how this isn't just food, its edible art. This is because the cooking techniques and ingredients used by these chefs go far beyond my cooking experience and culinary knowledge.
I'd also like to apologize in advance for the poor photo quality, but a dimly lit restaurant after dusk won't produce the prettiest of images…and I refused to be THAT person that used a flash over nine times in one sitting. I couldn't embarrass my friends like that. Alas, poor quality images are better than nothing, so please bear with me.
As soon as we sat down we started with a bottle of champagne because…priorities. Besides, getting a reservation here was definitely worth a toast.
Course 1:
Oysters and Pearls- This dish was so sophisticated on so many levels. The taste weaved sweet, salty, and creamy, among a ton of other textures. This captivating journey for your taste buds was courtesy of Island Creek oysters and White Sturgeon caviar (that is almost impossible to access) being topped with creamy sabayon and tapioca. Even more, the dish was served with a "mother of pearl' spoon made of oyster shells. This spoon prevented the caviar from reacting with the metal which would ultimately change its taste. Its this attention to detail that made this the perfect introduction to what was in store for the rest of the night.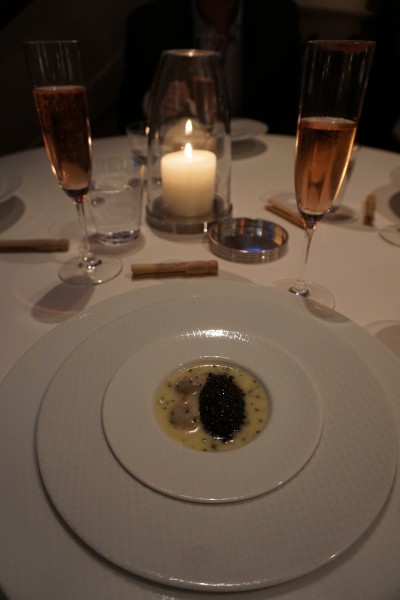 Before course two arrive, our waiter brought us the most delicious croissants from Bouchon (Keller's bakery in Napa) with TWO types of butter.
Course 2:
Duck Foie Gras Torchon-  As an avid lover of all foie gras, I just had to add this supplement to this course. The Moulard was from Élevages Périgord and took several days to prepare into foie gras torchon through a pretty extensive process which was developed in France. It was served chilled (but not cold) with warm Applewood smoked bacon and vegetables from Keller's culinary garden: Sun gold tomatoes, romaine lettuce, and a verge sauce made from garden tomatoes.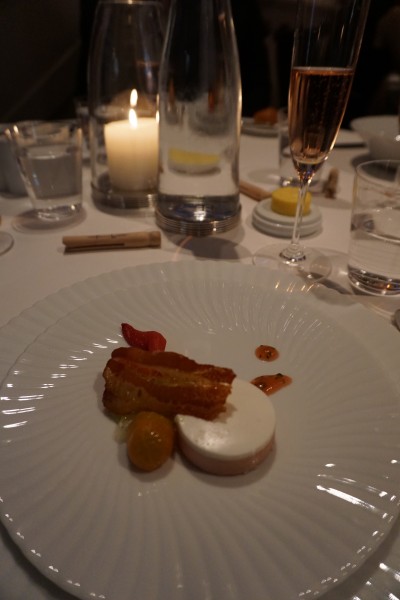 Unlike most other fine dining establishments, perhaps because they're located in the heart of wine country, The French Laundry allows you to bring your own bottle of wine for a small (sarcasm) corkage fee of $150.
So my friends took advantage of this opportunity to introduce me to their favorite red in all of Napa Valley, Keever's Cabernet Sauvignon. I must admit that although I am not a cab drinker, this was one of the most fruitful bottles of wine I have ever had. I am currently trying to figure out how I can get my hands on another bottle now that I'm back home in Columbia.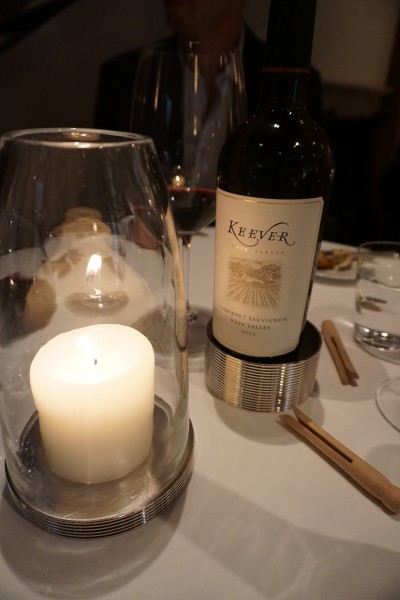 Course 3:
Fillet of Lubina-  There is nothing better than fresh fish prepared to perfection. The chef selected a seabass from the Mediterranean for this course, and though it may look small, don't let its size fool you. It was incredibly plump. This filet was everything you'd want out of fish: buttery, flakey, and flavorful. It was sautéed with eggplant chutney and paired with Summer squash confit, Cerignola olives, and a little basil from Keller's garden. Impeccable.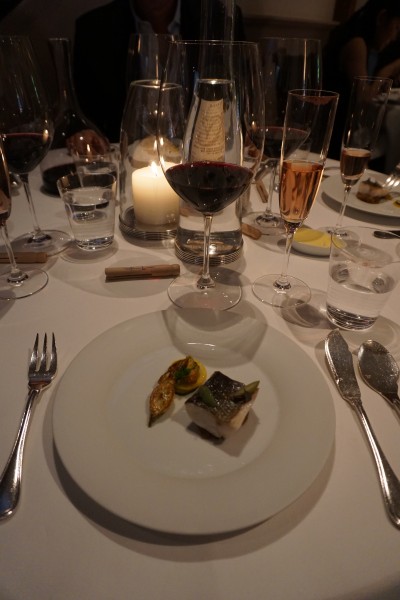 Course 4:
Maine Lobster- If I had to choose a favorite course, it would be tough, but I think I would choose this one. The sweet butter poached Stonington Maine Lobster was unlike any lobster I have ever had before (shocking!). Its flavor lingered on my taste buds long after the plate was removed from in front of me. It was paired with Ruby beets, pickled onions, sunflower sprouts, and garden dil emulsion.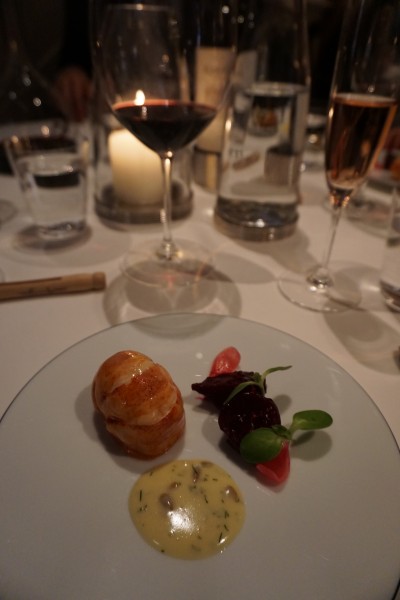 Course 5:
Boiled Egg with Australian Truffle- The chef soft boiled a Bantam Hen Egg and topped it with Jimmy Red corn Polenta enriched with Mascarpone, "Sauce Soubise" and shaved Australian black Winter truffle. My friend told me I had to have truffles while at The French Laundry because they are some of the most exclusive truffles on the planet. I may have let the waiter go little over board with the truffle shavings, however I've never tasted truffle so rich in flavor so it was still a great move.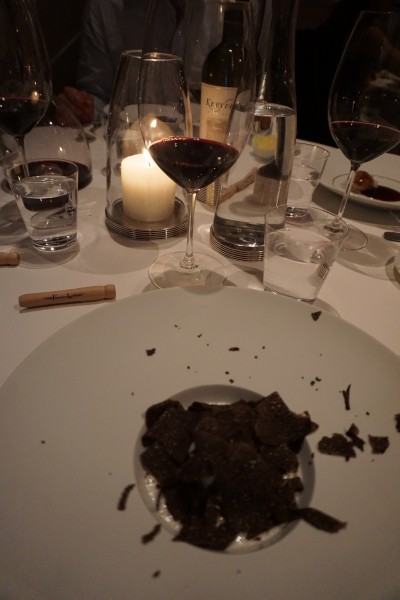 Course 6:
"Culotte de Bœuf"- As if the previous five courses hadn't been enough food, course six brought beef from Snake River Farms that was charcoal grilled and paired with a sweet Bordelaise sauce. Slow roasted garden carrots and caramelized shallots accompanied the meat for added taste. The meat was prepared so phenomenally that a knife wasn't even needed to cut it.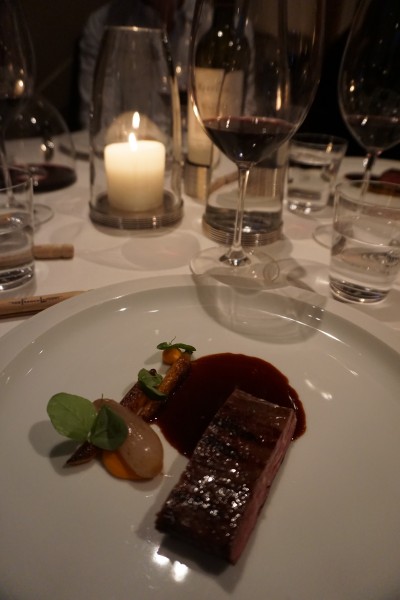 Course 7 & 8:
Assortment of desserts – How could you not want two courses of desserts? The waiter brought out desserts in a continuous fashion. They covered the entire dessert spectrum from mint chocolate chip ice cream to macaroons to mini doughnuts to chocolate covered macadamia nuts to house made truffle candies (I chose the s'mores flavor). There were even more that I can no longer recall.  I love anything sweet (except chocolate, don't judge me) so this was like heaven!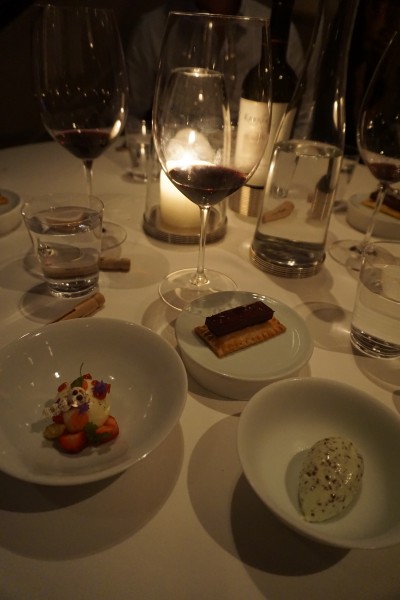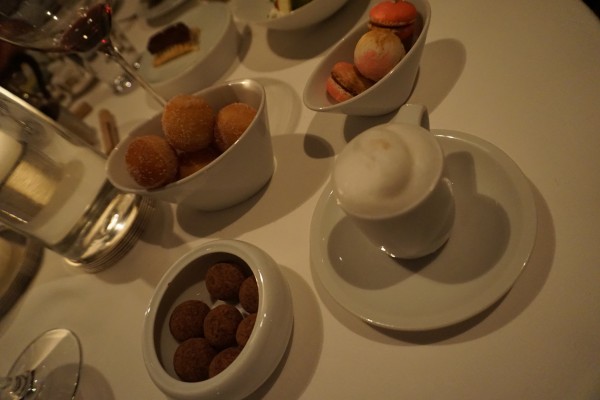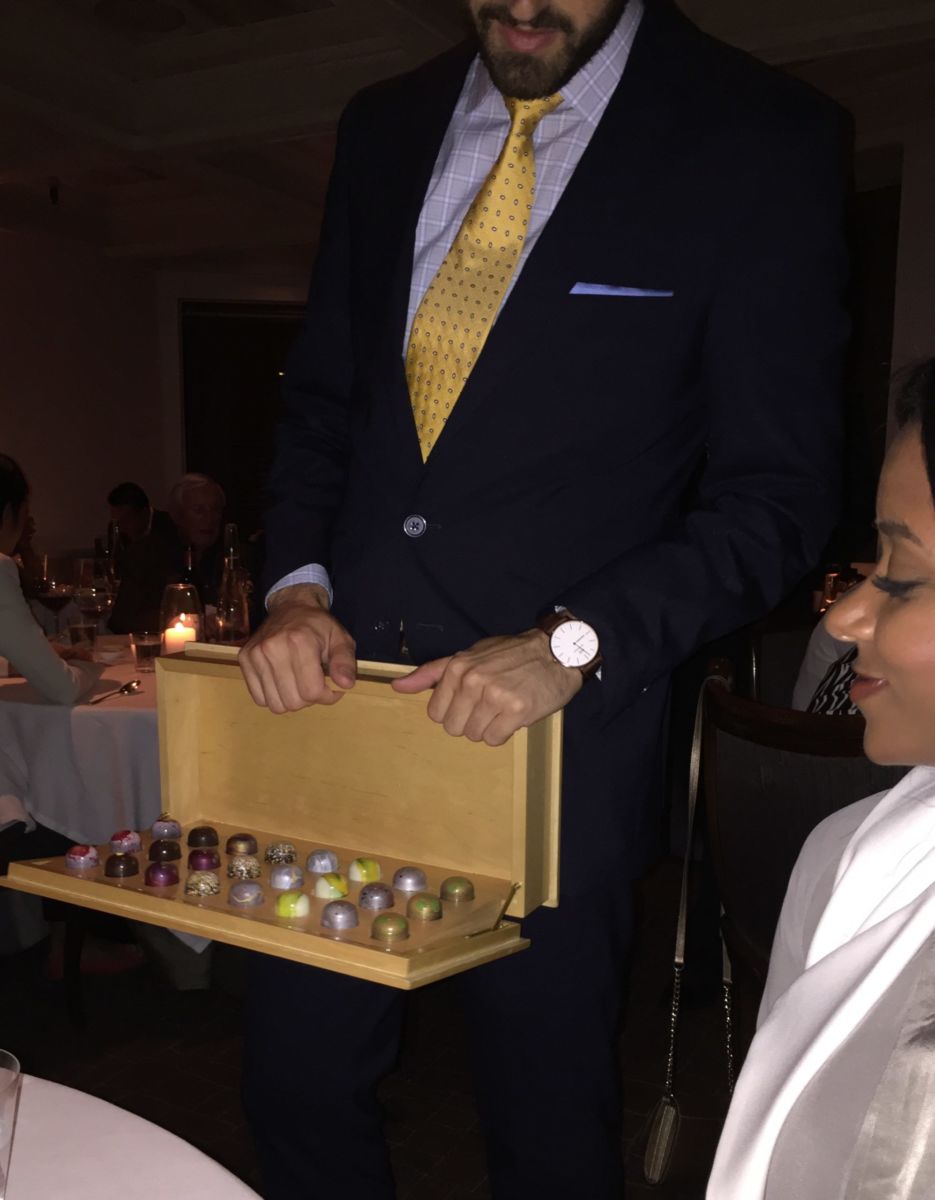 But the real treat came after dessert!
The ever so accommodating service manager, Alexander Merk, gave us a tour of the kitchen that they've been constructing for almost a year now and their temporary kitchen (which is currently for sale) . The new kitchen will truly be spectacular and fully loaded. My favorite detail, thus far, were the ceilings. They were designed to look like white sheets blowing on a clothes line (hence the name, French Laundry).
While there we had the opportunity to meet the man that heads the entire kitchen, Chef David Breeden. The most intriguing thing in the kitchen wasn't an appliance or any of the food, it was the television screen that displayed the kitchen of NYC's Per Se via real-time video feed so that when Thomas Keller is in either of his kitchens he is able to see whats going on in the other. SO BOSS!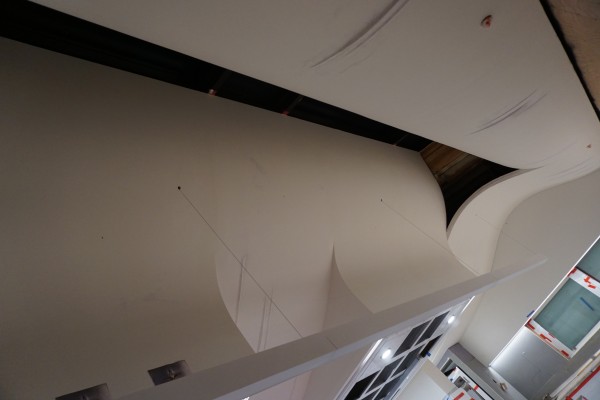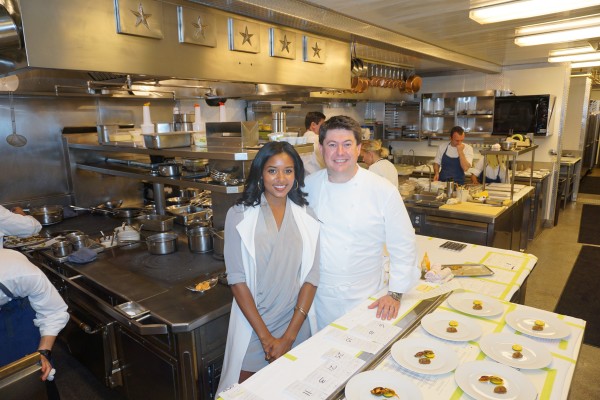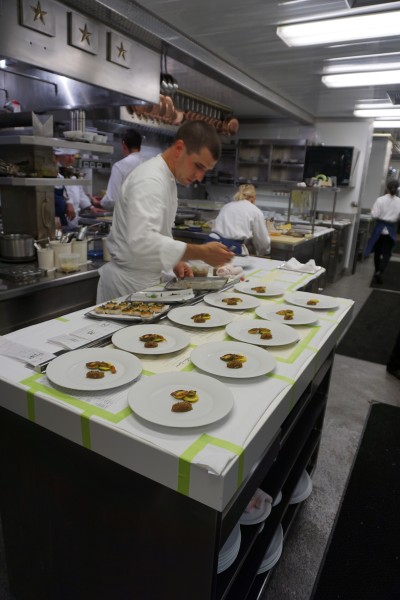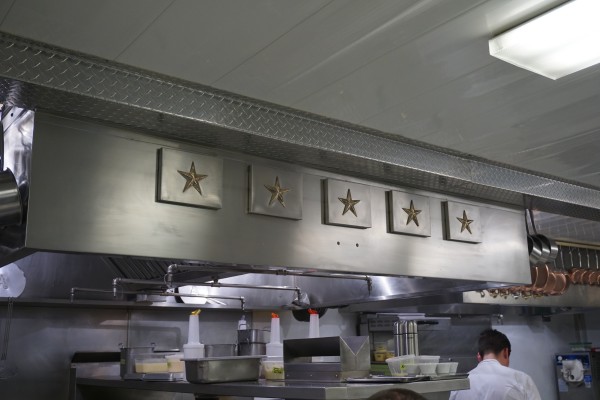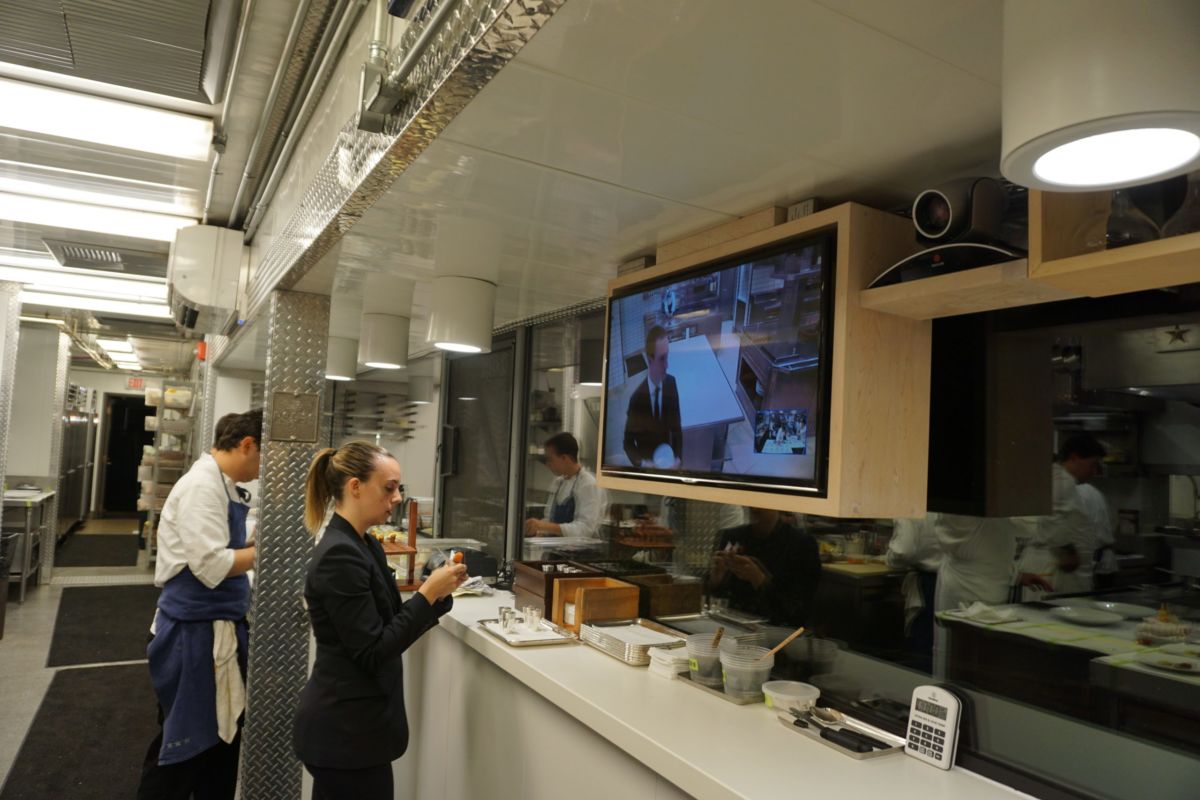 But if you can't get a tour of the kitchen from the inside, don't you worry. The restaurant's courtyard offers magnificent views of the chef's at work.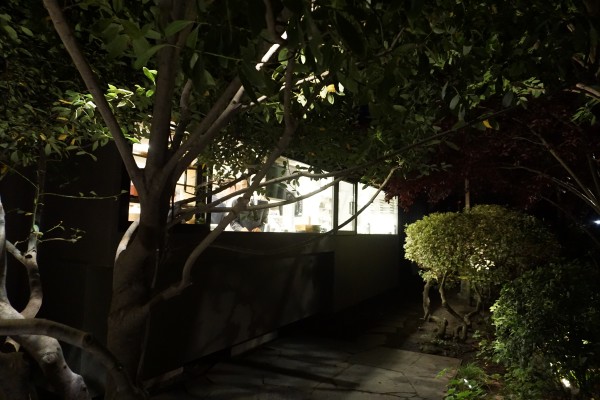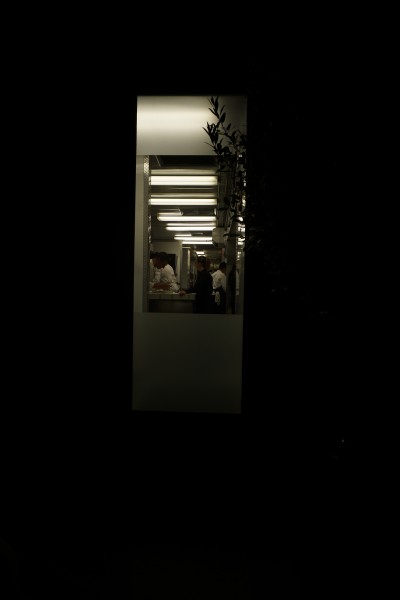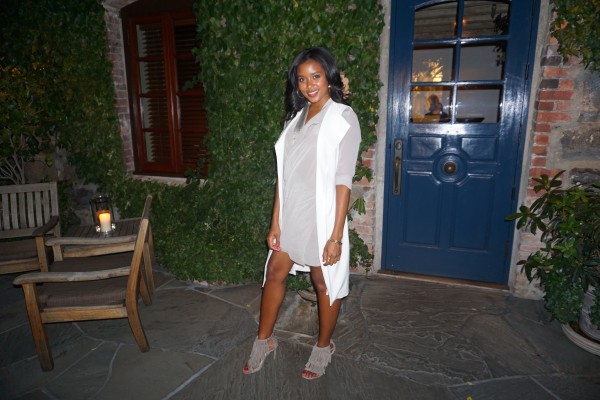 With such great service and the highest quality of food, its no wonder The French Laundry has won countless prestigious awards. They've displayed the most notable in the walkway to the kitchen. The Michelin Guide, one of the world's most renowned food starring systems, has been giving the restaurant 3 stars (the highest possible) ever since 2006. If you're wondering exactly what the three stars represent, this is how one Michelin guide explained them:
"One star denotes very good cooking in its category, and Michelin recommends that you should try the food there if the restaurant is on your path. Two stars denote excellent cooking worth a detour, and three stars represent exceptional cuisine worth a journey."
I can't think of a better way to describe this restaurant than simply it is worth the journey!