New York Fashion Week finally opened back up for in-person live shows, and we couldn't wait to see what the designers had in store for us this year. Since the pandemic started, it has taken a toll on the fashion world. Fashion trends have changed drastically, and as a result Fall 2021 is going for a more relaxed fit and streetwear style. After a global pandemic and digital shows, both fashion lovers and designers were ready to see what fashion could bring to 2022 and SoP has been excited to see how fashion would change again. NYFW is so exciting, but trying to keep up with all of the shows + collections can be overwhelming. Designers made sure to make a lasting impression, so we wanted to highlight the looks + the collections that blew us away!

As the first designer runway in Brooklyn's finest botanical garden this collection did not disappoint.  With its whimsical music and earthy tones, this designer's collection was the very personification of spring! Most of the pieces were draped or ruffled to resemble some of our favorite flowers in bloom and the entire collection really embodied nature. Most of the dresses were fluid and flowy as the models walked, and the fresh colors of fabric, reminded us of the plants blowing in the wind. Elaborate flower patterns were the perfect addition to the collection's overall feel and made the collection appear even more delicate + feminine. The collection is simple and perfect for the everyday person who wants to show their appreciation for spring. It features linen pants, shorts, skirts, and dresses that are easy to throw on when getting ready in the morning.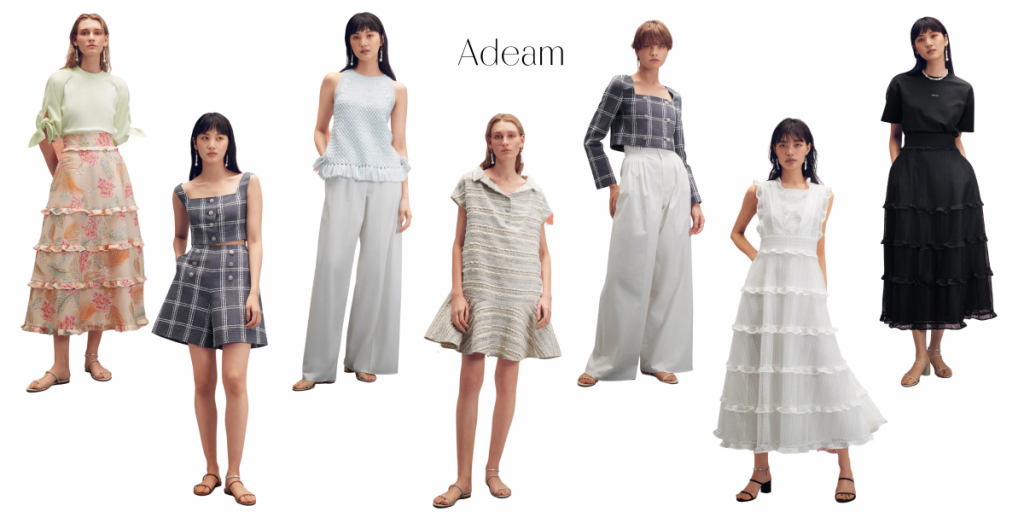 Unlike the previous designer, Adeam is staying far away from vibrant colors. Most of the collection opts for more muted tones of white, gray, and black. The collection still brings in the warm feeling of spring and the pieces definitely give off a spring vibe. The designers use of shape and texture has made these pieces come alive and become a stand-out this year. The overall tone of the collection is classic and laid-back. The wide-leg pants and fringe dresses are perfect for a stroll in the sand or walking up pebble stone walkways while on vacation. Pair any of the collection with a big hat and you're ready for whatever (or wherever) spring has in store for you!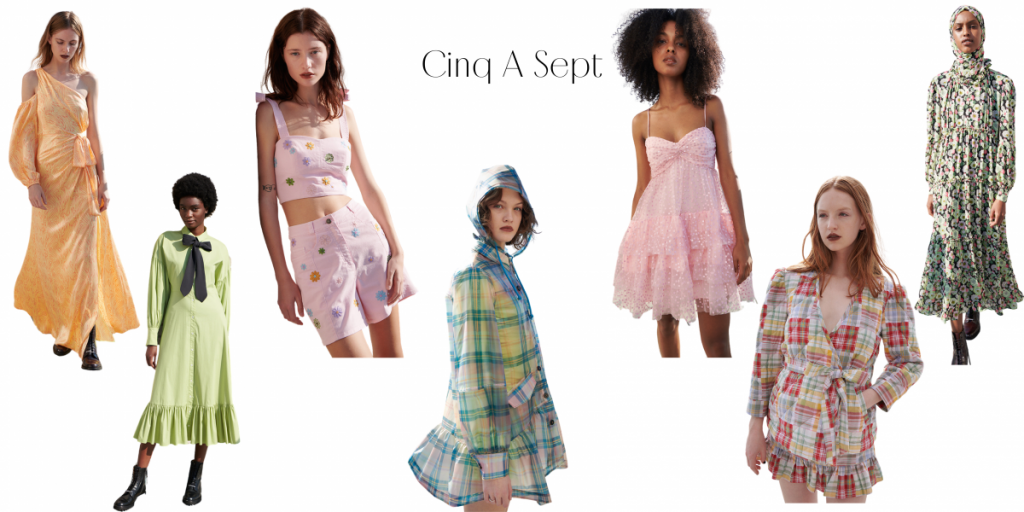 The key component of this great collection is pattern. There are only a few pieces in this collection that don't include a unique pattern. Combining lighter tones with patterns such as stripes and flower embroidery can make for the perfect spring dress. The collection gives off very chic girl vibes and we can picture a lot of the pieces being used this upcoming spring. Paired with sleek boots, these combinations are a perfect way to transition seasons, while staying prepared for unexpected April showers.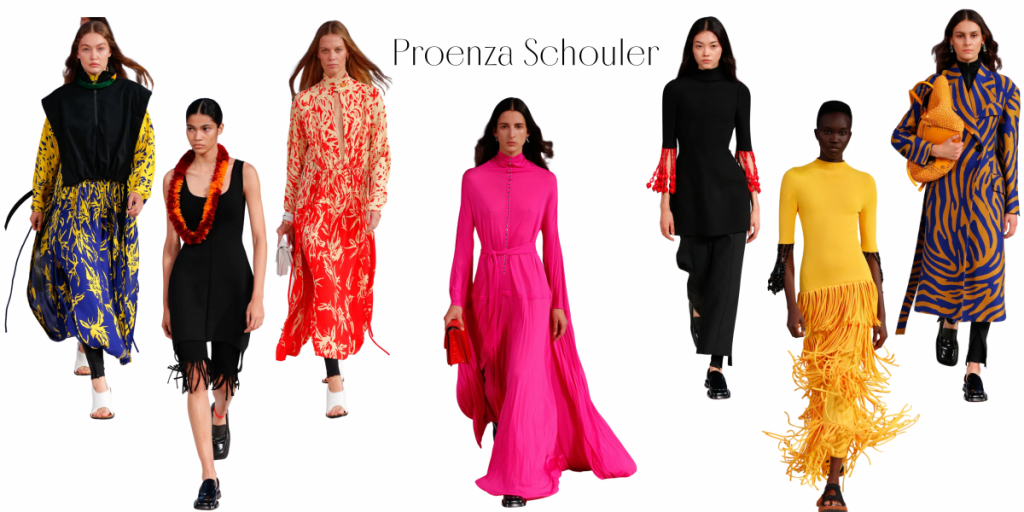 This designer is still obsessing over some of the new Fall 2021 trends, such as fringes and long flowing capes. This collection is STRONG and bold, which is what spring is all about as it is when nature comes out full-force and shows all it has to offer. The colors are rich and vibrant, especially the fuchsia. Each piece has its own individual appeal and vibe, and is most suitable for someone who doesn't like shorter dresses or earthy tones. This collection will appeal to those still in love with what fall trends had to offer.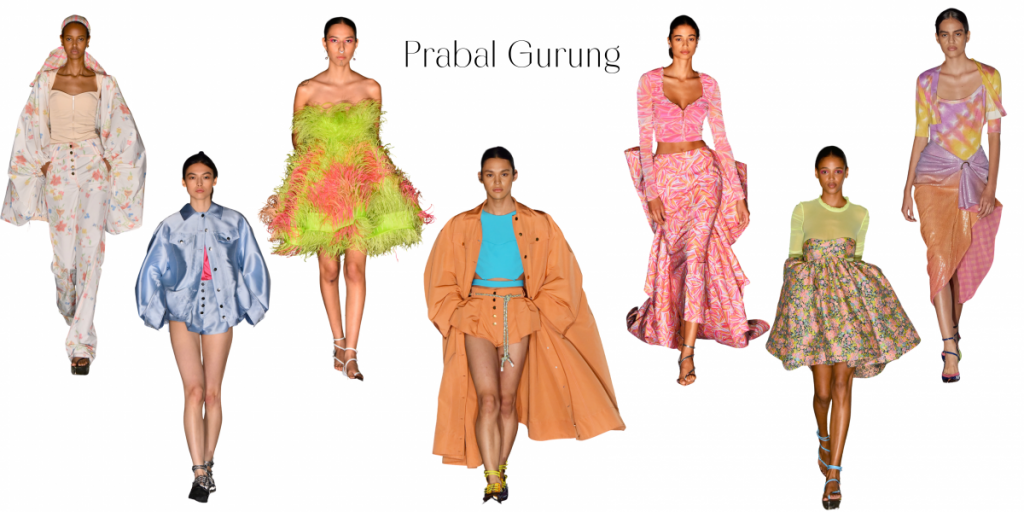 This collection is definitely made for the classic girly girl. With long flowing dresses and puffer babydoll dresses, this collection will be great for looking cute while wandering outdoors. The collection's colors remind us of those used in coastal wear. These might be great for a vacation somewhere tropical. The pastel colors and satin fabric makes these pieces stand out; they shine brightly in the light. The collection's use of bubblegum pink reminds us of the pop era, so if you're into that niche in fashion, this collection would be great for 2022.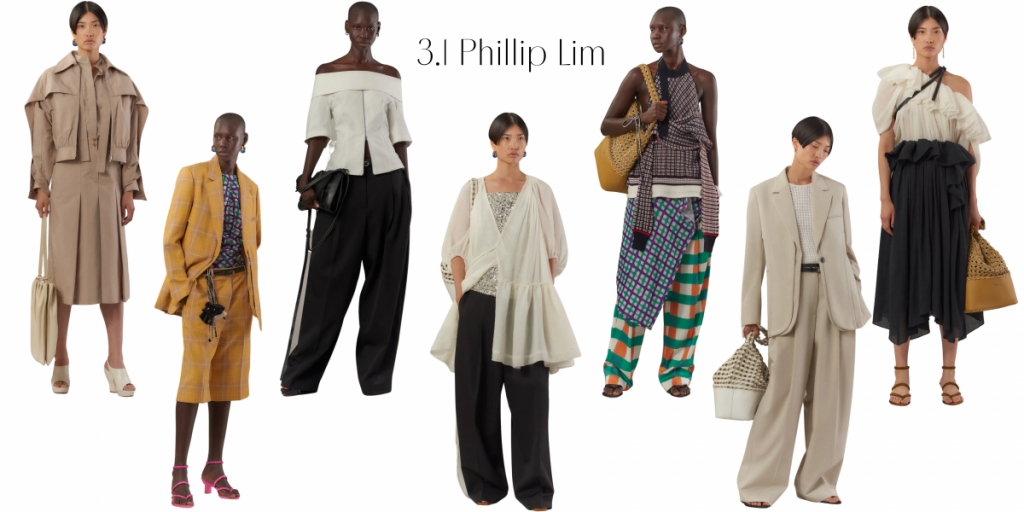 If you have an office job and just want to spice up your look this upcoming spring, 3.1 Phillip Lim's collection takes office attire to another level! The designer has played with the structure and shape of classic workwear pieces, such as the suit or knee-length skirt and made them into something more unique. We all get tired of the cookie-cutter looks of designs for work, but this collection shows that you can still make the office fashionable. Filled with layers and unique patterns, this collection is great for the person who wants to bring fashion to the everyday corporate setting.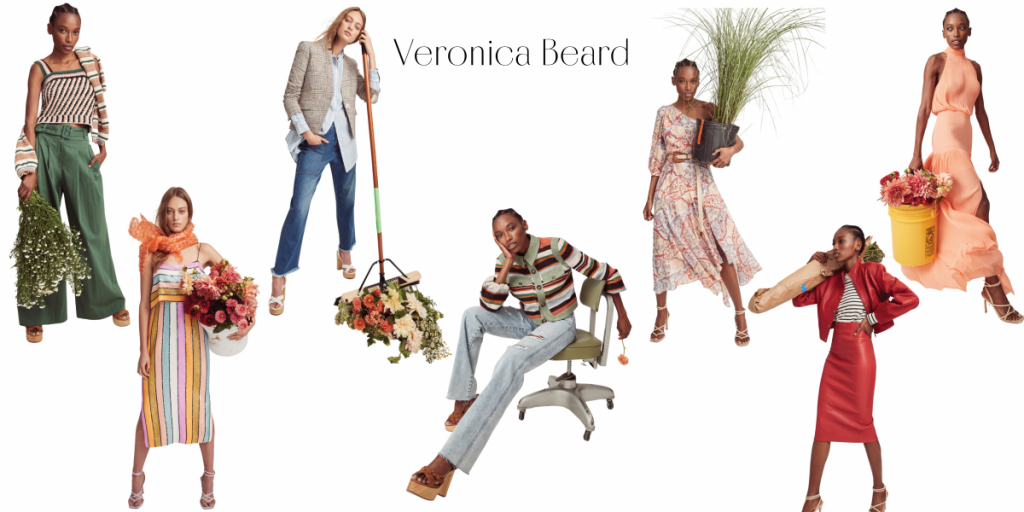 Set in a studio filled with greenery, this collection is showing that simple is better this upcoming year. This collection is more about wearability than showing off — Nothing over the top and perfect for the person who wants to feel fashionable without feeling like they have to take risks. All of the looks are easy and effortless. With baggy pants and flowy dresses, comfort is the top priority of this collection. The best part is these pieces transition perfectly from work to evening.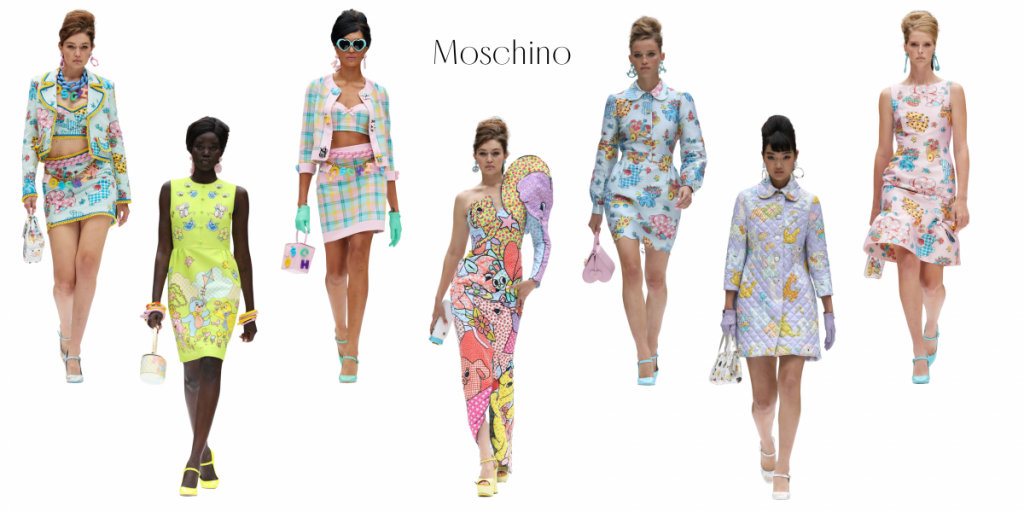 Known for their over-the-top caricatures of fashion, Moschino did not disappoint this time, as their fun girly pop style is perfect for 2022. Taking inspiration from childhood cartoons, the entire collection takes us back in time. Mixing some of the classic characteristics of vintage items with cartoon/comic prints and colors made for both a fun and unique show. Each piece stands out and seems like it is popping off of the model. If you aren't afraid to make a statement, this collection was made for you.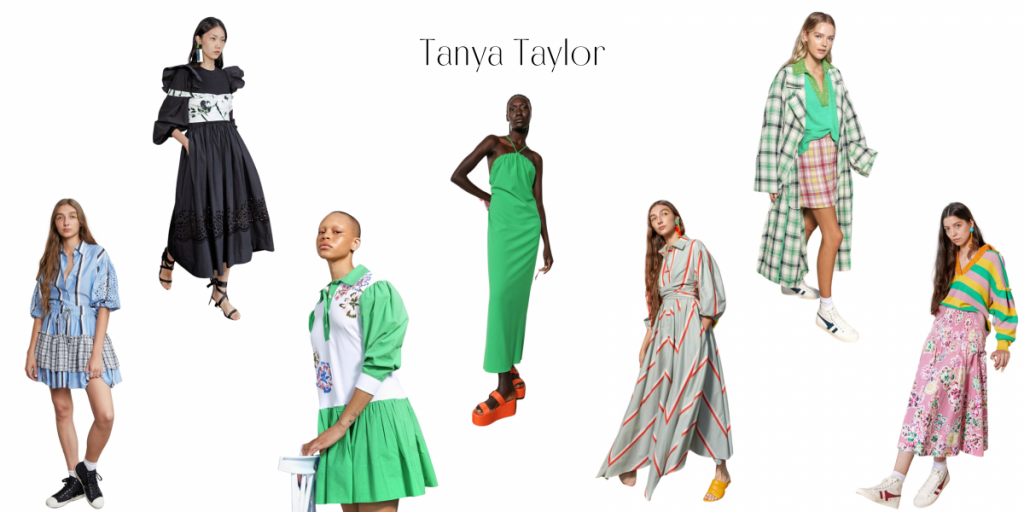 With an artistic approach, this collection helps reinvent "preppy" as it is filled with inspiration from school uniforms and artist tropes. Set in a painters room with lavish splatter paintings in the background, this collection is filled with easy dresses and knit sweaters and puts the spotlight on artisans. Everything about it is very creative + free spirited!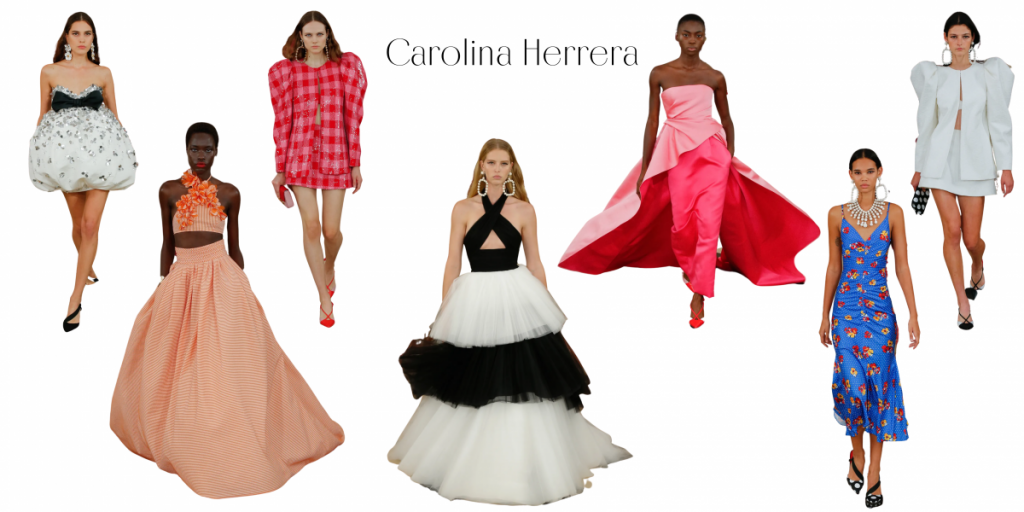 Tweed must be in for the spring, because this is the fifth designer we've seen who has incorporated tweed in their collection. Carolina focused on giving variety. The collection starts with short dresses and ends with voluminous ball gowns. The collection is more classic and modern, but there are hints of vibrant colors and patterns in some pieces. The pieces are all simple, but far from modest. The folding of the fabric and use of shape is exquisite.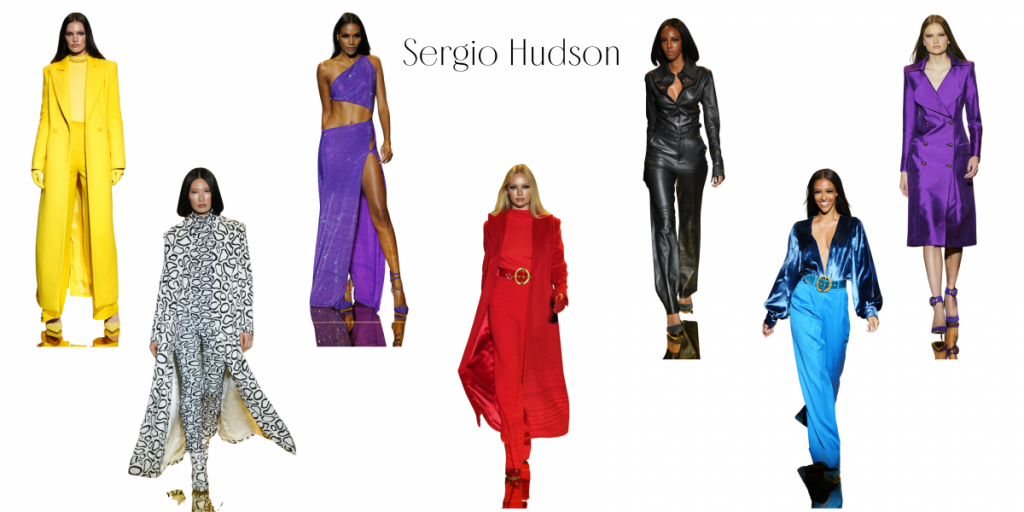 Y'all know the Sergio Hudson is a fave here at SoP, as he designed our founder's wedding set. And we're happy to report that this collection did not disappoint. It oozes glamour + early-2000s vibes. The all-leather outfits and the bold colors left an impression. With long trenches and comfortable pants, you'll be prepared for rain and random chilly days. The colors are perfect for standing out in the crowd during an evening out or even strutting down the city sidewalks at night. The reflective fabric paired with the sensational colors of blue, red, and yellow guarantee you'll turn heads with your eccentric outfit.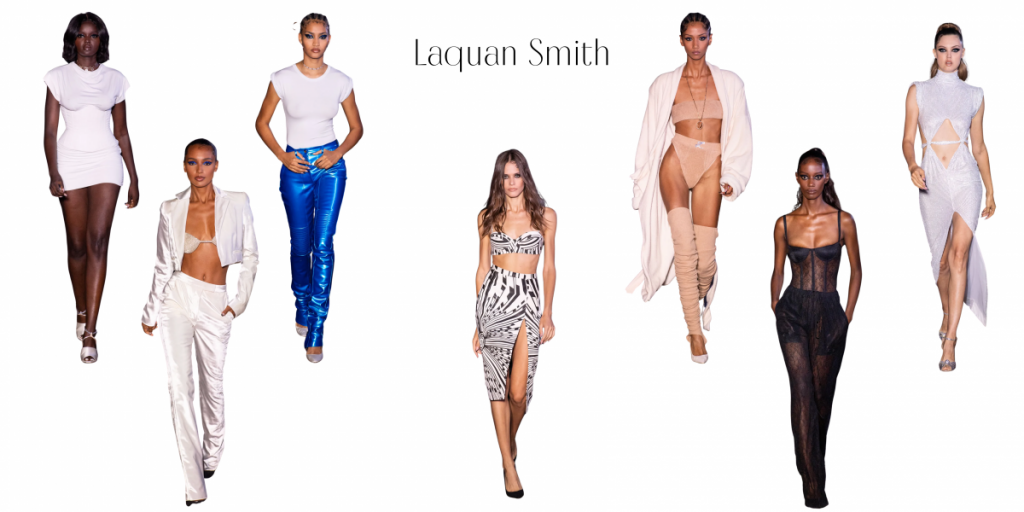 It's all about showing skin in Laquan Smith's latest collection, but this never overshadowed any of the outfits presented. Filled with nude tones, white, and the occasional hint of color this collection is great for those who are tired of living in sweats pants and just want to feel sexy again.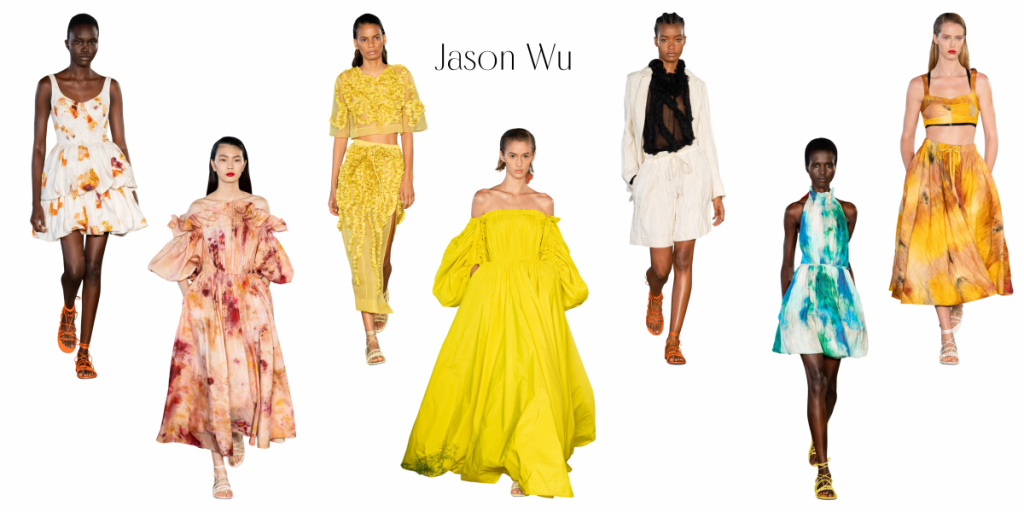 Water-color-dyed fabric is the primary fabric for most of the pieces in Jason Wu's latest collection and it SCREAMS "spring is here"! The collection really embraces nature and the fabric comes alive as it flows down the runway. The collection is strong-but still sensual. Florals have always found their place on a spring outfit, but Jason Wu finally made it something unexpected and less traditional.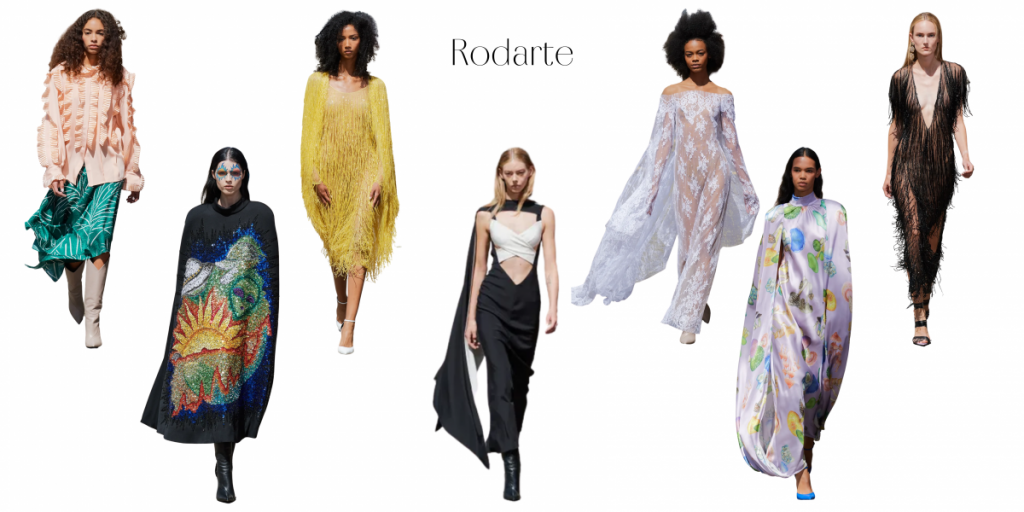 Details are the most memorable part of Rodarte's latest collection. Each piece is very different, but the details in all of them have been impeccable. Still hanging on to the trend of capes and fringe from the Fall 2021 ready-to-wear collections, the collection adds some touches of spring to fit the new season, such as suns rising over the mountains and yellow jewels.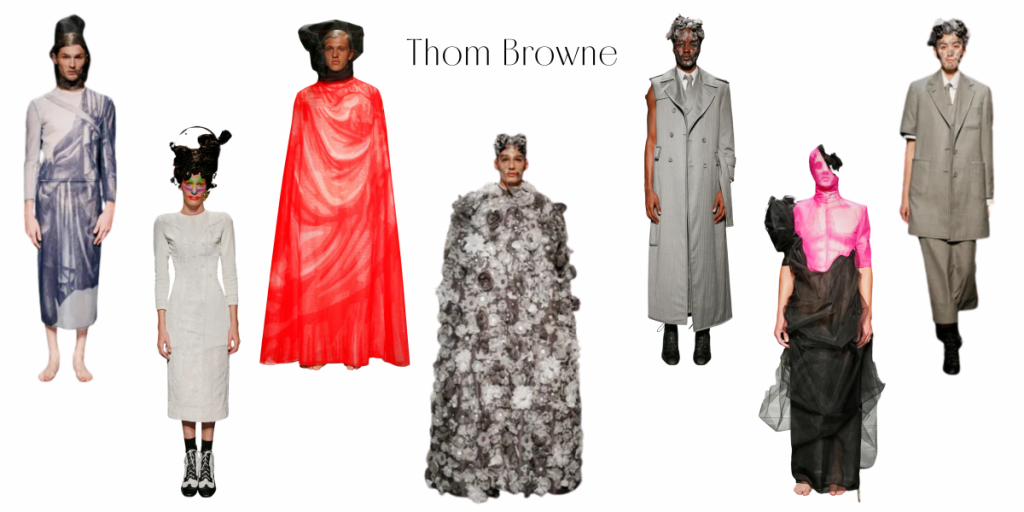 Over at Thom Browne they showcased a very unusual collection that turns away from some of spring's standard themes. No earthy tones or vibrant hues; gray was the color of choice. This collection is anything-but casual and that's what makes it memorable. The designer plays with proportions making the pieces more daring + dramatic and silhouettes.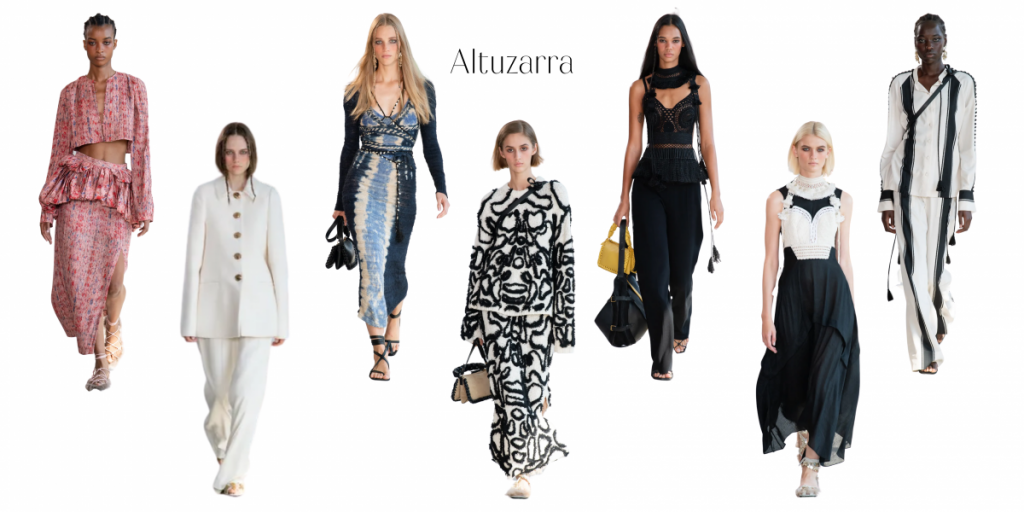 Altazurra was remarkable this week. The beach vibes are huge in this collection. If you want to look both stylish + comfortable while vacationing on the beach, these pieces are what you need! The linen pants and tassels were a great addition to the collection's overall feel. It's bold, but still uses some of the classics, such as gladiator sandals.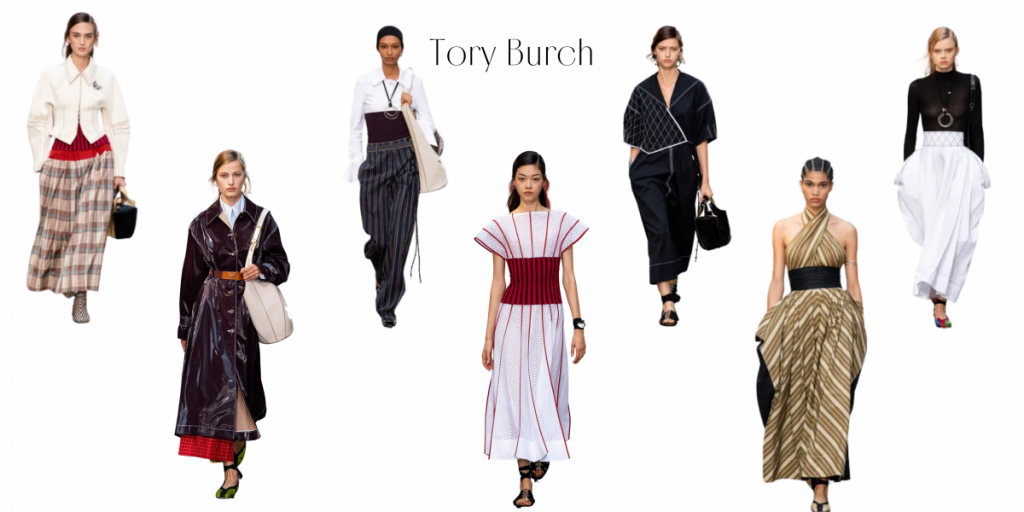 Another one of our favorites from NYFW! With tons of East Asian and Amish inspiration, Tory Burch's collection was surprising and a definite stand out this week. The entire collection is crafty and traditional, but quilted fabrics and embroidery made it brilliant! Cotton blend give it a farmhouse vibe and the deep-set red added the right amount of color to a more neutral line-up.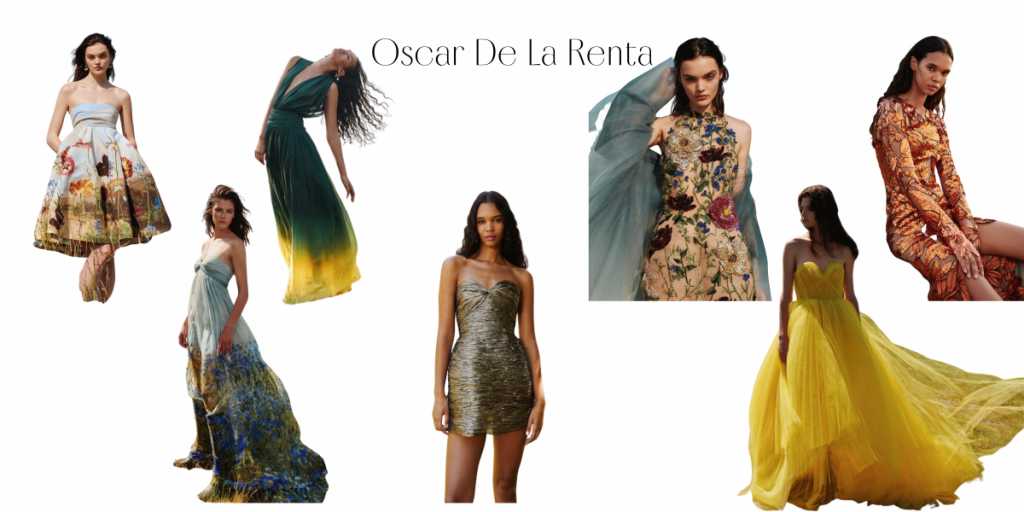 Unlike the previous designers who used a bit of eastern Asian inspiration, Oscar de la Renta's collection felt like visuals from a European tour. The dresses would suit for a luxurious stay in the Amalfi coast. The painted fabric and vine-wrapped dresses remind us of the region's landscapes and flower filled archways. This collection would be great for a spring-themed photoshoot and we look forward to seeing it on next year's red carpets.
Xx, The SoP Team